Spicy Tofu Tacos are a vegetarian taco with crispy baked tofu served with a sweet and spicy slaw that everyone will enjoy. A great tofu recipe for meat lovers.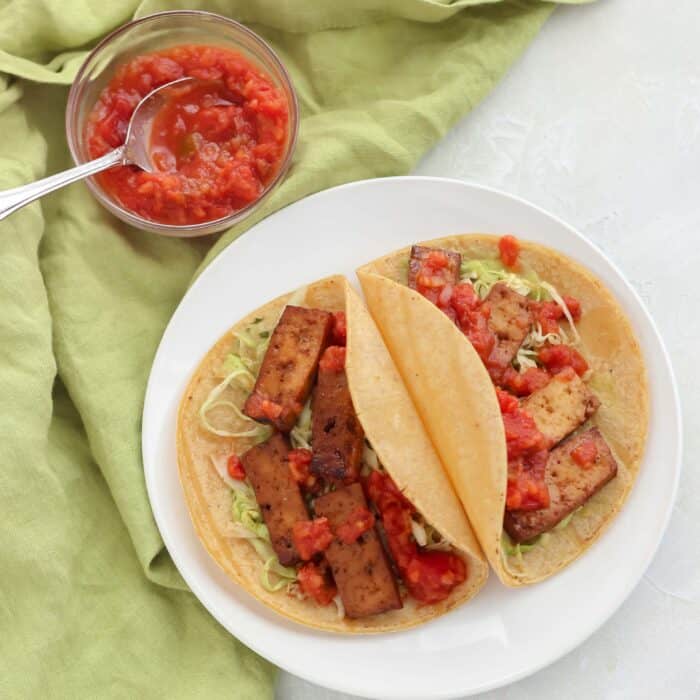 About Crispy Baked Tofu Tacos
It can be really hard to convince people that tofu is good, but if you cook it right, it can actually taste great!
Now don't worry, I'm not about to try make you switch to only eating vegan or vegetarian foods, but I do love increasing the amount of plants and plant-based protein I get in my life. Typically, it's more budget-friendly and can be kinder to the planet.
And I think eating a variety of foods is good for your health. So let's talk tofu.
Tofu often gets a bad reputation of being flavorless, boring and/or weird. But this Spicy Tofu for tacos is the opposite of that. It's flavorful, has a good texture and oh so tasty. I've now made this recipe multiple times, and everyone I serve it to always agrees with me that it is good.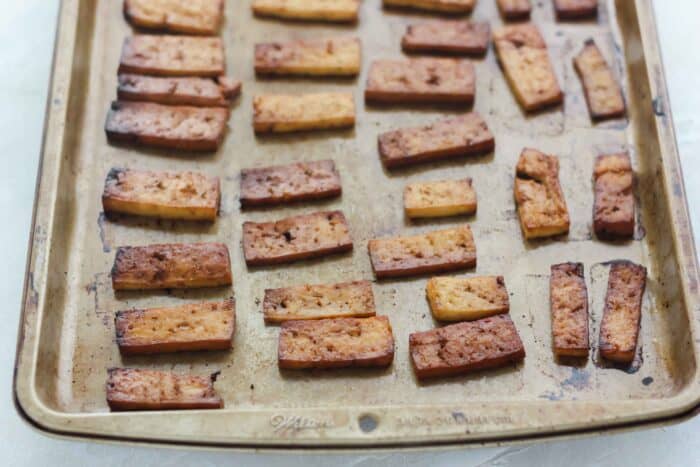 I started making tofu this way in 2011 from a recipe on the Peas and Thank You Blog. The blog no longer exists, but this tofu taco recipe need not be forgotten.
You press the tofu and marinate it in this spicy-sweet-tangy sauce that doubles as a sauce for the slaw to go on the tacos. Then you bake the tofu so it's crunchy on the outside and softer inside. Served in tortillas with the slaw and some avocado, and it's a filling, satisfying, delicious meal.
I might be partial, but I really think this is the best way to cook tofu.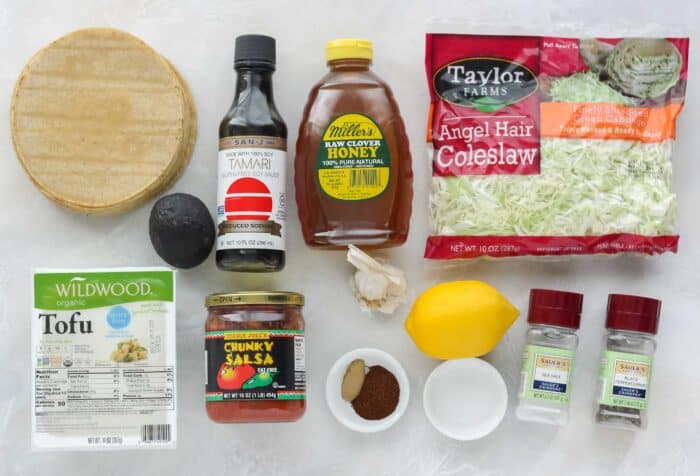 Ingredients
Tamari sauce: I prefer using tamari sauce over soy sauce because it is gluten free so it means more people can enjoy what you're making. However, soy sauce works well in this marinade.
Lime: You'll need a fresh lime or lemon to add a little tang and citrus flavor the the marinade. You can use bottled lime or lemon juice if needed without sacrificing much.
Honey: The honey gives the marinade a slight sweetness and richness. For a vegan version, you can substitute with maple syrup or granulated sugar. Use 2 teaspoons of maple syrup instead of using 1 tablespoon of honey. If using granulated sugar, use 1 tablespoon.
Garlic: Fresh garlic tastes best, but garlic powder works fine.
Spices: Chili powder and cumin give the marinade its hint of spiciness and add richness to the tofu. Since tofu doesn't have any flavor, you need the spices to give it some.
Tofu: For the tofu, try to use extra firm. If you can only find firm, it will work but the tofu might not be as crispy as it would be if you used extra firm. Either way, you'll press the tofu before marinating which will also help it to be more firm.
Corn tortillas: My preferred tortillas for tacos are corn tortillas, but you can also use flour tortillas or hard taco shells. Pick your favorite; they will all taste great.
Coleslaw: Look for a colorful slaw mix of cabbage and carrots. Most packages come in 12 to 16 ounces. You will have enough marinade for either size. If using the 12 ounce package, you might have excess marinade and that's ok. You can discard any you don't use. Broccoli slaw is another alternative.
Avocado: There isn't much fat in the recipe, so the avocado helps add some heart-beneficial fat will increasing the flavor and satisfaction of the tacos. You can also use a avocado sauce if desired or omit.
Salt & pepper: Basic salt and pepper will do. I typically use sea salt or kosher salt and freshly ground black pepper for the most flavor. You can also use red pepper flakes (¼ teaspoon) or cayenne pepper (⅛ teaspoon) in its place.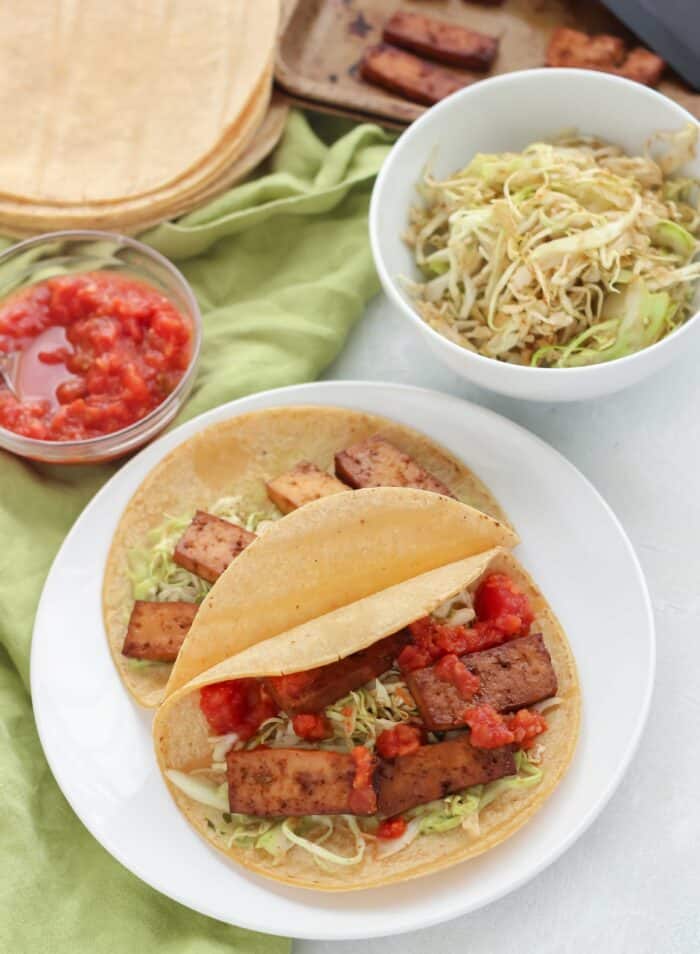 Cost of Recipe
tamari sauce 2 tablespoons: $0.42
lime 1: $0.33
honey 1 tablespoon: $0.28
garlic 1 teaspoon: $0.18
chili powder 1 teaspoon: $0.08
cumin ½ teaspoon: $0.07
extra firm tofu 14 ounces: $1.79
corn tortillas 8 small: $0.80
coleslaw 16 ounces: $1.49
avocado 1 medium: $1
salt ¼ teaspoon: $0.01
pepper ¼ teaspoon: $0.05
TOTAL COST: $6.50 (Based on San Diego Sprouts 2019) or $1.63/serving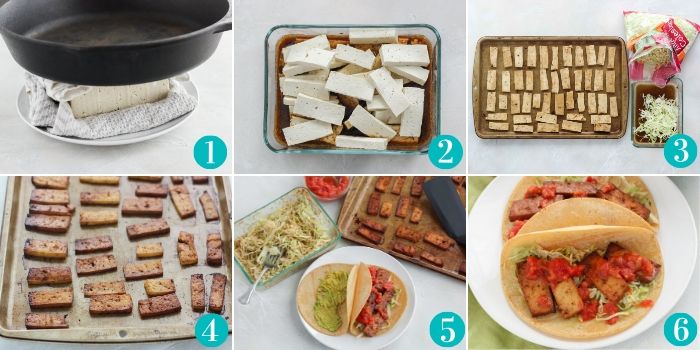 How to Make Tofu Tacos
Time needed: 4 hours and 35 minutes
No need to wonder How to Cook Tofu for Tacos. It's simple and here's the step by step directions:
Press the tofu. Then slice into pieces.

It's easy to do using kitchen towels and a cast iron skillet to press out the moisture.

Whisk together the marinade and add the sliced tofu.

Gently toss so all the tofu is coated in the marinade. Refrigerate, and if possible, flip halfway through marinating.

Arrange the tofu on a baking sheet in one layer.

Add the coleslaw to the marinade, and toss.

Broil the tofu.
Mash the avocado and warm the tortillas.

Then assemble.
Recipe Tips
Variations
Ingredient Options
Tamari sauce: Soy sauce can be used in place of the tamari sauce. However, it will no longer be gluten free.
Lime: Lemon can be used in place of the lime.
Honey: Maple syrup will give a slightly different flavor and will also make this taco vegan-friendly. Use a little less maple syrup, so it doesn't overpower the marinade. Alternatively, use granulated sugar in place of the honey.
Coleslaw: Cabbage slaw as well as broccoli slaw will both work. If you use broccoli slaw, I recommend letting the slaw sit in the marinade for a little longer so it's not too crunchy.
Corn tortillas: You can use flour tortillas or hard taco shells if desired.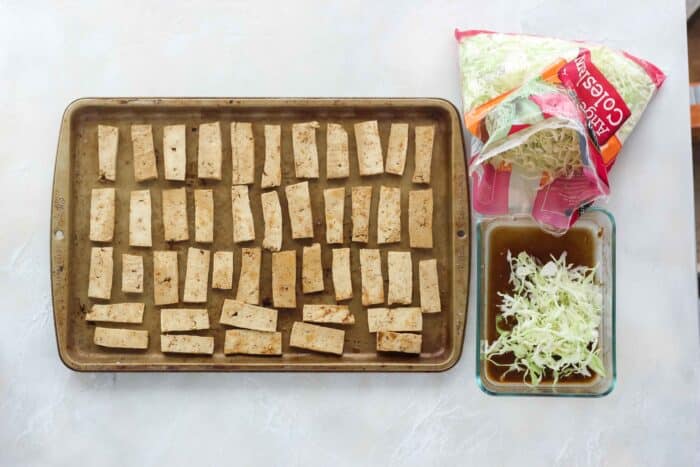 How to Make Allergy Friendly
This is already dairy free, egg free and vegetarian. To make vegan, use maple syrup or granulated sugar in place of the honey. This is gluten free as long as you use tamari sauce and double check the ingredients in the corn tortillas.
Alternative Prep & Cooking
You can cook the tofu on a stove if desired. Add 1 tablespoon of avocado or olive oil to a large skillet or griddle and heat over medium-high heat. Cook in one layer for about 5-7 minutes per side until crispy on each side.
Make Ahead Ideas
You can marinade the tofu up to 24 hours in advance. You can also bake the tofu in advance then reheat in a 350*F oven for about 5 minutes, until warmed through, right before assembling the tacos.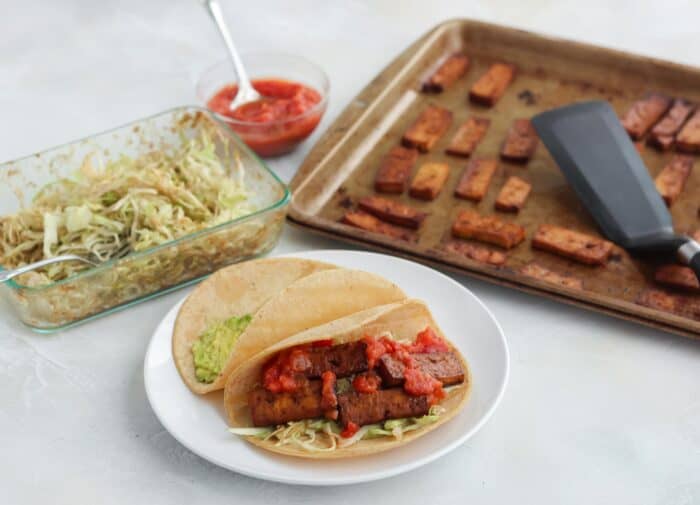 Storage Suggestions
Store everything separately in the fridge in airtight containers for up to 3 days. The slaw will wilt a little, and you'll need to put the tofu back in a 350*F oven to re-crisp.
I don't recommend freezing of the ingredients in these tofu tacos.
Nutrition benefits
These Tofu Tacos are a great way to eat more plant-based meals. Plus, you get lots of veggies from the coleslaw and nourishing fats from the avocado.
Additionally, it has 10g of fiber per serving which is almost half of the recommended amount per day. Plus, it's a good source of iron (17% RDA) and calcium (13% RDA), and high in Vitamin C (63% RDA).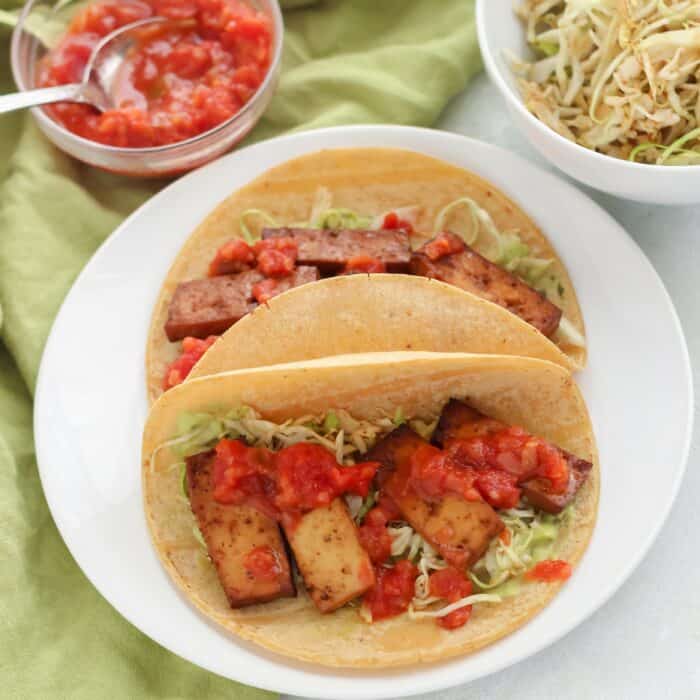 What to Serve with Tofu Tacos
These tofu tacos are a complete meal in one thanks to the tofu for protein, slaw for veggies, avocado for nourishing fats, and tortillas for carbohydrates. Adding salsa is another great addition for flavor and vegetables.
Final thoughts:
I seriously can't get enough of tofu prepared this way. It's one of my favorites recipes for meal lovers because the texture is nice and it's incredibly flavorful. Plus, everyone loves tacos!
MORE TOFU RECIPES YOU'LL LOVE:
---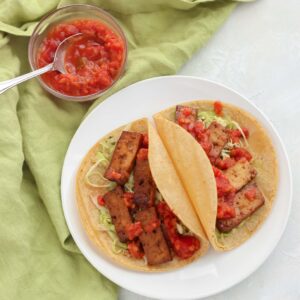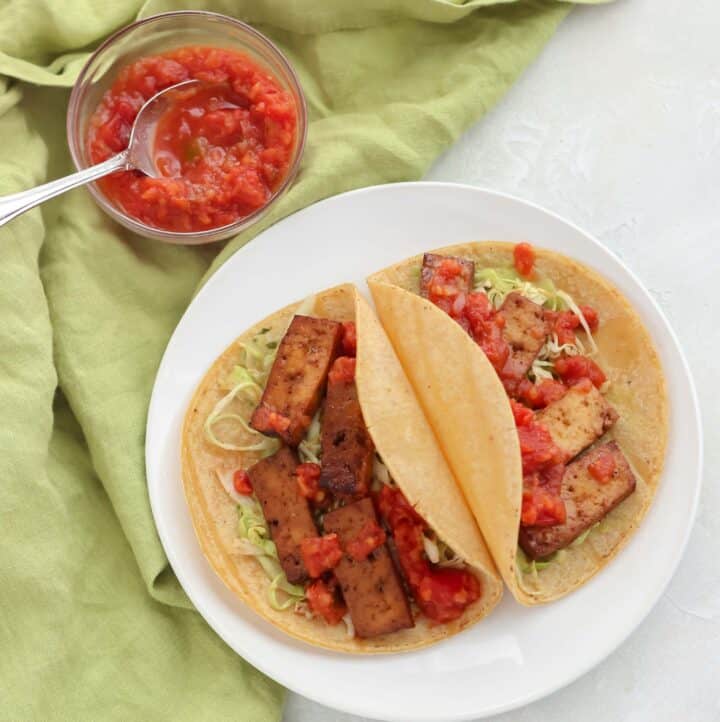 Tofu Tacos
Spicy Tofu Tacos are a vegetarian taco with crispy baked tofu served with a sweet and spicy slaw that everyone will enjoy. A great tofu recipe for meat lovers.
Print
Rate
Total Cost:
$6.50 || $1.63/serving
Ingredients
Marinade:
2

tablespoons

tamari sauce

or soy sauce

1

lime

juice, divided

1

tablespoon

honey

1

tablespoon

water

1

teaspoon

garlic

minced (2-3 cloves)

1

teaspoon

chili powder

½

teaspoon

cumin

¼

teaspoon

salt

¼

teaspoon

pepper

14

ounces

extra firm tofu

drained, pressed, and cut into slabs
For the tacos:
8

small

corn tortillas

16

ounce

package coleslaw

or cabbage mix

1

medium

avocado

salsa

for serving
Instructions
Make the marinade:
Combine the tamari sauce, juice of about ¾ of the lime, honey, water, garlic, chili powder, and cumin in a large container. Add the tofu pieces and put in the refrigerator.

Let it marinate for at least 4 hours or overnight. Make sure to turn the tofu every now and then, so all pieces are well marinated.
Cook the tofu:
Preheat the broiler. Place the tofu on a baking sheet (alternately line with parchment for easier cleanup). Broil the tofu for 5 to 7 minutes per side, depending on how crispy you want the tofu.

While the tofu is cooking, add the bag of coleslaw mixture to the remaining marinade. Close the lid and shake, making sure all of the coleslaw is covered in the marinade. Set aside.
Make your tacos:
Mash the avocado. Combine the remaining juice from the ¼ lime with the mashed avocado. Set aside.

Optional: Heat the corn tortillas in the microwave or in a dry skillet over medium-high heat.

Fill the warmed tortillas with the tofu strips, marinated coleslaw and mashed avocado. Serve with salsa if using. Enjoy!!
Notes
*Can use a lemon in place of lime.
*Use 12 to 16 ounce package of coleslaw
*To make vegan, use 2 teaspoons maple syrup in place of the honey. Or use 1 tablespoon granulated sugar in place of the honey.
What to Use in This Recipe
Did you try this recipe?
Be sure to leave a comment & recipe rating below. Bonus points for tagging @memeinge & #livingwellkitchen on Instagram! THANK YOU! xo
[showhide type="post" more_text="Click here for Tofu Tacos Nutrition Facts" less_text="Clear Nutrition Facts"]
*
Nutrition Facts
Tofu Tacos
Amount per Serving
% Daily Value*
* Percent Daily Values are based on a 2000 calorie diet.
*
[/showhide]
Meme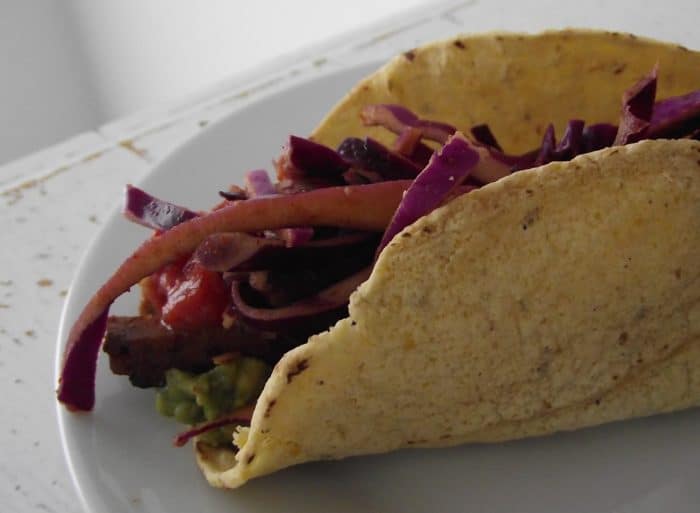 This post was originally published October 20, 2011. Text, recipe, and photos have been updated.
Doesn't this recipe look good?! You should probably share it: