Roasted Edamame is a great portable snack full of protein
I like to snack, and I think snacking is very important. I'd get too hungry if I didn't snack some between meals.
My typical snacks are things like fruit or yogurt or vegetables or something along those lines.
I really like edamame because it is green (a veggie yay!), and it has protein.
I've even done a post about edamame hummus which is delicious, and you should totally try it if you haven't done so yet!
Since I snack everyday and pretty much eat the same snacks, I can get a little burned out on some of my options.
Yes, edamame are delicious, but there's only so much I can eat day after day. Not to mention that it's not exactly the most portable snack. It needs a refrigerator or freezer and then a microwave to warm the edamame. Oh and some salt.
Lucky for you I have come up with a solution to all my "problems" - roasted edamame!
They are cooked, so you can keep them at room temp in an airtight container. You season them before roasting, so there's no need for you to have a salt shaker in your snack bag. And they are a different taste and texture of regular edamame, so I'm busting out of my snack rut.
The roasted edamame would also be a great snack to bring places.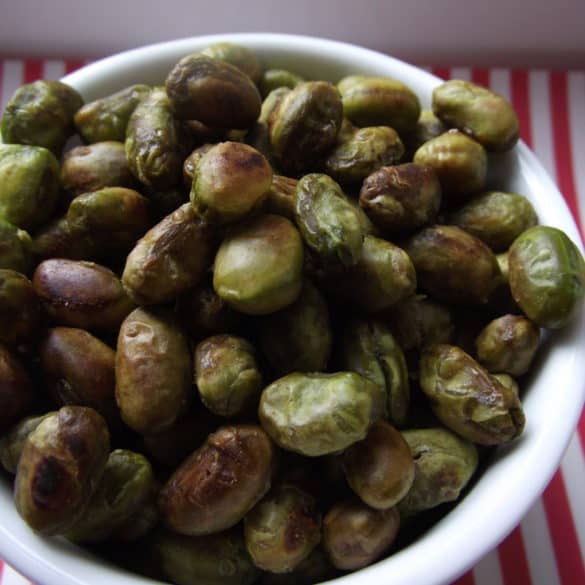 Ingredients
12

ounce

shelled edamame

frozen and thawed

1

TBSP

avocado oil

or olive oil

½

tsp

salt
Instructions
Preheat oven to 375°F. Drain the edamame, and make sure they are completely dry.

Combine all the ingredients in a bowl and toss until it is all combined and the edamame are all coated. Spray a large baking sheet with oil. Put edamame on baking sheet, making sure they are in a single layer on the baking sheet.

Roast in a preheated oven for 35-45 minutes. Make sure to stir them halfway through the baking time. If they start to get too dark, you can turn the oven down to 325°F.

Take them out of the oven when they are browned and pretty crispy (I kind of burned some of mine, but they were still good). Allow edamame to cool completely on the baking sheet. They will get crispier as they cool. Enjoy!
Notes
*Makes 2 cups.
*Keep in an airtight container for up to a week.
Did you try this recipe?
Be sure to leave a comment & recipe rating below. Bonus points for tagging @memeinge & #livingwellkitchen on Instagram! THANK YOU! xo
---
Meme