All about garlic including shopping & storage tips, conversions, nutrition facts, health benefits, fun facts, and recipe ideas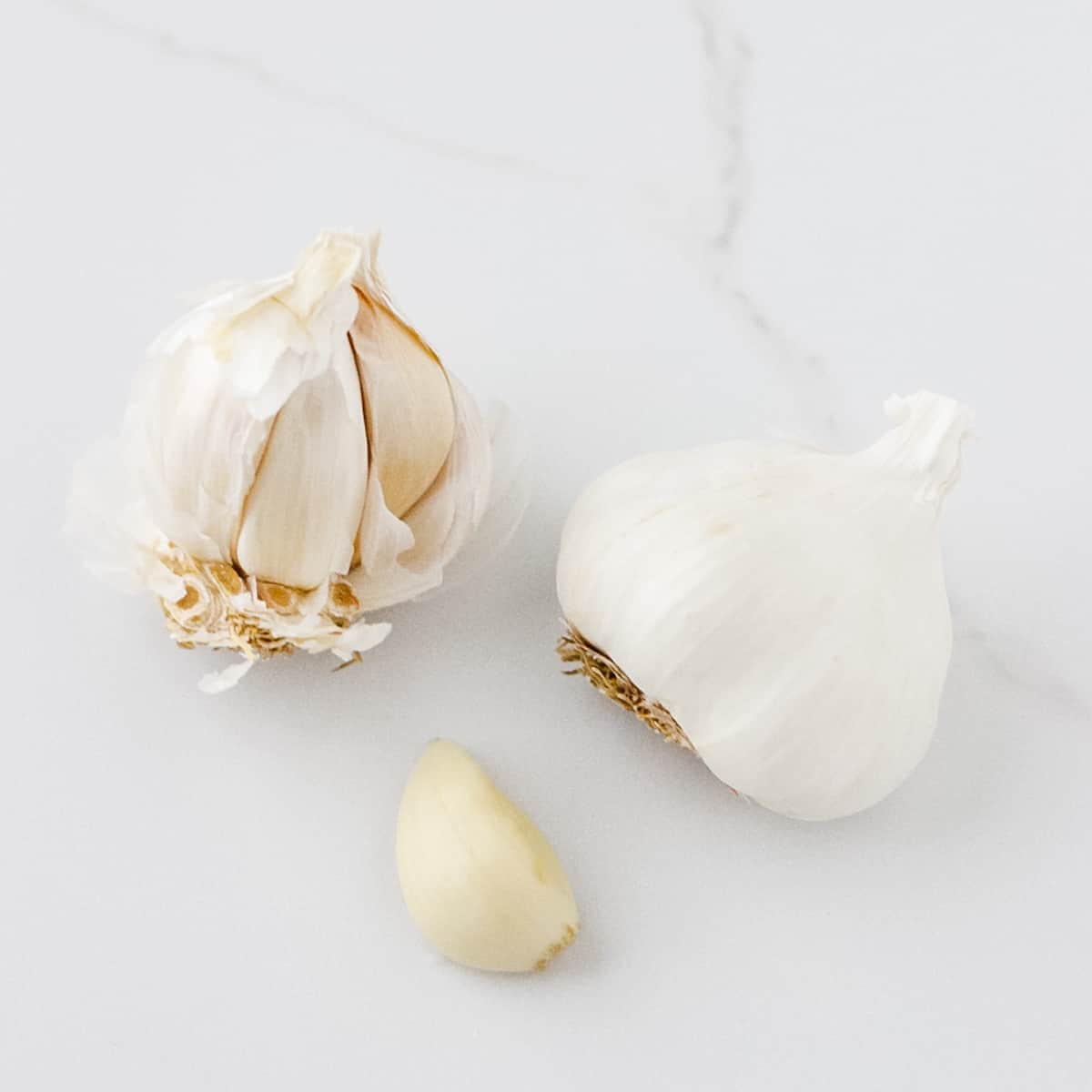 Garlic makes almost every savory recipe better in my opinion, and I almost always add a few extra cloves to recipes.
Bonus points for the fact that it not only tastes great but is also packed with health benefits like reducing the risk of certain cancers and cardiovascular disease.
As a member of the allium vegetables, it is a close cousin to onions, leeks, and chives.
Read on to learn all about this veggie...
Health Benefits
*Garlic and its bioactive constituents have been shown to exhibit antioxidant, anti-inflammatory, antibacterial, antifungal, immunomodulatory, cardiovascular protective, anticancer, hepatoprotective, digestive system protective, anti-diabetic, neuroprotective, and renal protective properties.
*Garlic consumption has been shown to decrease the risk of gastric cancer, prostate cancer, and colon cancer.
*It has been linked to reduced total cholesterol and LDL levels. For diabetic patients, garlic consumption lowered A1c and fasting blood glucose levels.
*One study showed that renal transplant recipients who chewed one clove of garlic per day, saw a decrease in cholesterol, triglycerides, blood pressure, and MDA (which is a marker of oxidative stress). Note that they didn't see significant benefits in those that swallowed the clove whole.
Nutrition Information
*1 tablespoon minced garlic (about 3 cloves) has 13 calories, 0g fat (0g saturated fat), 1.5mg sodium, 3g carbohydrates, 0.2g fiber, 0.6g protein, 5% Vitamin C, 6% Vitamin B6, 8% Manganese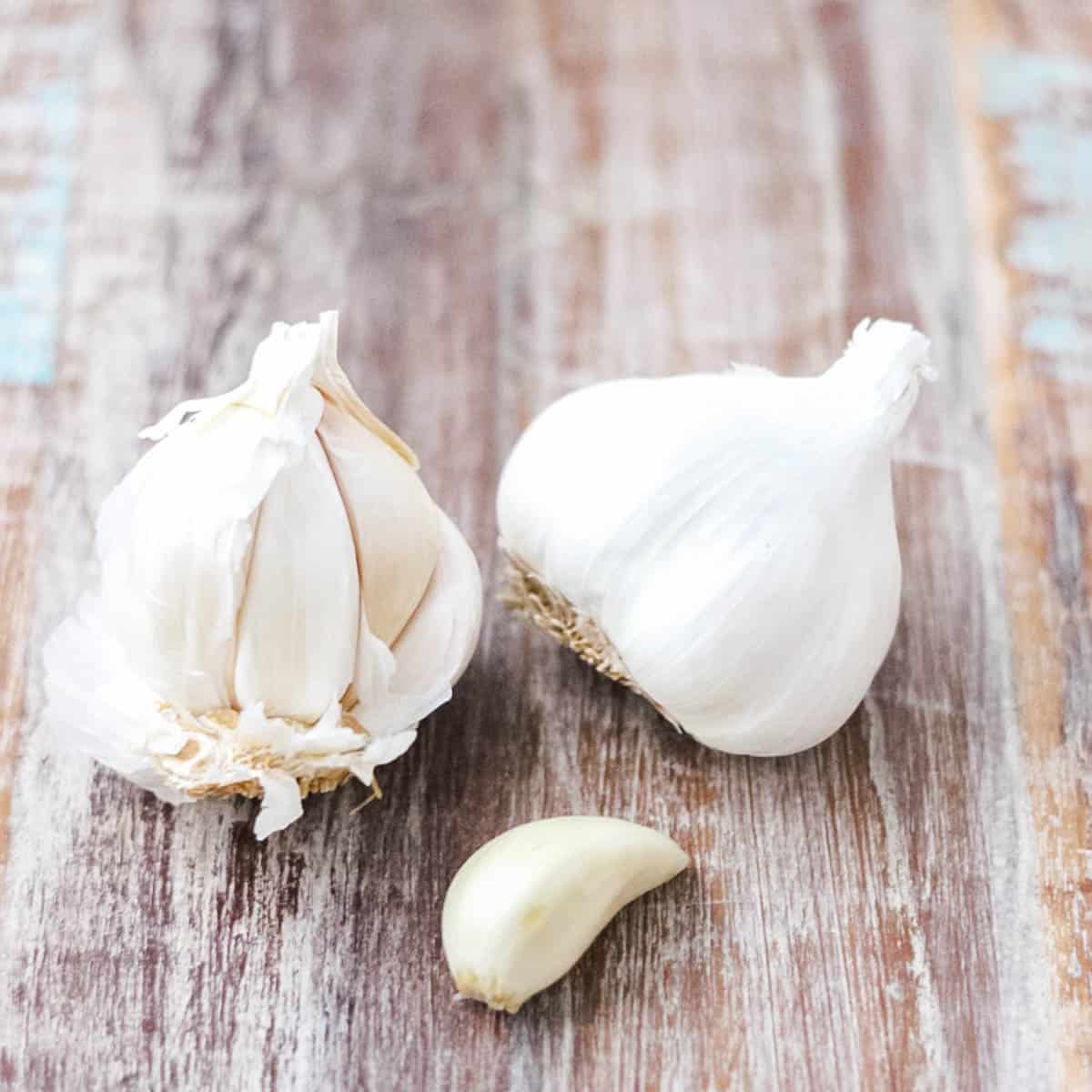 Amount
*Each head of garlic has about 16 cloves.
*One clove of garlic is about one teaspoon of minced garlic.
*When peeled, one clove of garlic is about 3 grams or 0.1 ounces.
Substitutes
*For each clove of garlic, ¼ teaspoon of garlic powder can be used, or use ½ teaspoon of garlic flakes. This works best in dishes that require cooking.
*Chives, shallots, and green onions can be used as a substitute. Use equal or double the amount needed, so if the recipe calls for 1 clove of garlic, use 1 teaspoon of chives or shallots. Then add more if needed.
Shopping and Storage Tips
*When shopping for garlic, buy tightly packed cloves that are blemish free and without sprouting.
*Garlic with green sprouts means it's likely older.
*Store garlic in a cool, dry place for up to 2 months. Do not keep it in the refrigerator.
*If your garlic starts sprouting green shoots, it is likely past its prime. The cloves will often be a little more bitter. Slice the clove vertically. Remove the green shoots out of the middle of the garlic and mince as normal — this should help lessen the bitter flavor.
*For garlic cloves with visible brown spots or blemishes, as long as they are not rotten, molded, smell funny, or change color, they are likely ok to eat (please use your best judgment and toss anything that's possibly questionable). Cut off visible brown spots or blemishes before mincing.
*Don't discard the garlic skins — rinse and save them in the freezer to toss in your broth. The skins add flavor and similar health benefits as garlic cloves, while also reducing food waste.
*The smaller you chop garlic, the stronger the flavor will be; larger garlic cloves will have a less-intense flavor.
*Raw garlic will be more intense in flavor (and have more of the sulfur-containing compounds); cooking it will make the flavor milder.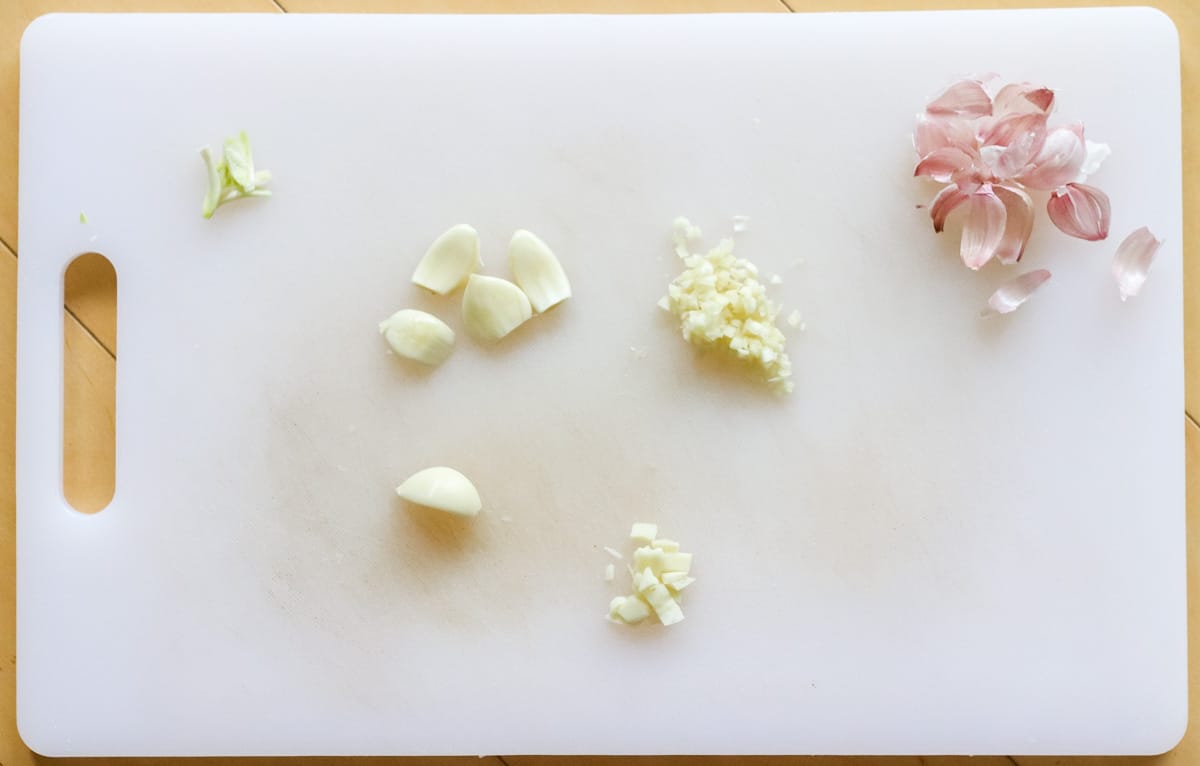 Fun Facts
*Many of garlic's benefits are shown in raw, crushed (or chopped) garlic. However, cooking can deactivate or destroy its benefits.
*One study found that allowing crushed garlic to "stand" for 10 minutes before cooking prevented the total loss of anticarcinogenic activity.
*Garlic is produced year-round, with China being the largest garlic-growing continent.
*California produces the most garlic in the United States.
*Gilroy, California is where much of the garlic is grown, processed, and shipped in the U.S., and it is commonly referred to as the "garlic capital of the United States."
*Dehydrated garlic accounts for about 75% of United States garlic consumption.
Budget-Friendly Ideas
*Garlic is already quite inexpensive at around $0.06 per clove.
*However, you can use garlic powder which has a much longer shelf life than fresh. Or you can buy garlic in bulk if you use it very often since it can last a few months with proper storage.
Garlic FAQ
What are the benefits of garlic?
Garlic and its compounds have antioxidant, anti-inflammatory, antibacterial, antifungal, cardiovascular protective, anticancer, liver protective, digestive system protective, anti-diabetic, neuroprotective, and renal protective properties.
Is it good to eat garlic every day?
Eating garlic every day can be beneficial to your health as long as you are not taking certain medications (like blood thinners), have surgery in the near future, or have been advised not to consume garlic
What is the healthiest way to eat garlic?
Raw, crushed garlic is usually shown to have the most benefits. Crushing the garlic is most important, so if you are cooking it, be sure to chop or mince. Then allow it to rest for 10 minutes before cooking.
Is garlic safe for dogs?
No, garlic is not safe for dogs to eat in any form. It is toxic to dogs.
Cooking Tips
*Garlic can easily burn, so don't cook on really high heat for long. It takes about 30-60 seconds for garlic to cook over medium to medium-high heat.
*Burned garlic can ruin a dish, so toss burned garlic and start over.
*Adding the garlic after you've sauteed the other veggies helps prevent burning.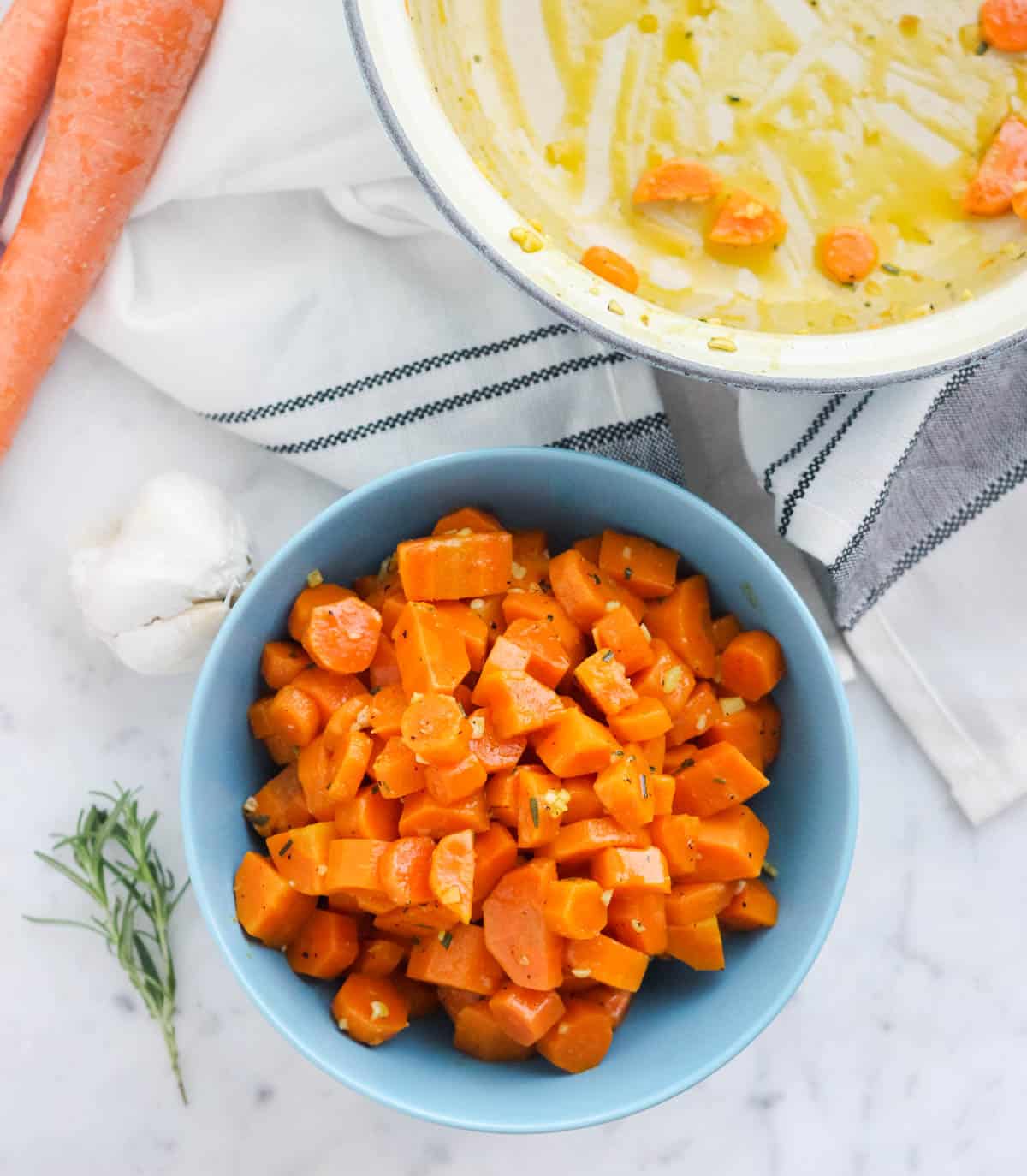 Best Garlic Recipes
Roasted Garlic Cauliflower Soup
Meme
---
Citations:
Jabbari A, Argani H, Ghorbanihaghjo A, Mahdavi R. Comparison between swallowing and chewing of garlic on levels of serum lipids, cyclosporine, creatinine and lipid peroxidation in renal transplant recipients. Lipids Health Dis. 2005;4:11. doi:10.1186/1476-511X-4-11
Ribeiro M, Alvarenga L, Cardozo LFMF, et al. From the distinctive smell to therapeutic effects: Garlic for cardiovascular, hepatic, gut, diabetes and chronic kidney disease. Clin Nutr. 2021;40(7):4807-4819. doi:10.1016/j.clnu.2021.03.005
Song K, Milner JA. The influence of heating on the anticancer properties of garlic. J Nutr. 2001;131(3s):1054S-7S. doi:10.1093/jn/131.3.1054S
Shang A, Cao SY, Xu XY, et al. Bioactive Compounds and Biological Functions of Garlic (Allium sativum L.). Foods. 2019;8(7):246. Published 2019 Jul 5. doi:10.3390/foods8070246
Commodity Profile: Garlic from Agricultural Issues Center at University of California
Nutrition Data for nutrition facts