How to make easy, healthy Hoisin Ground Turkey Lettuce Wraps. Great for summer lunches, light dinners, and for entertaining.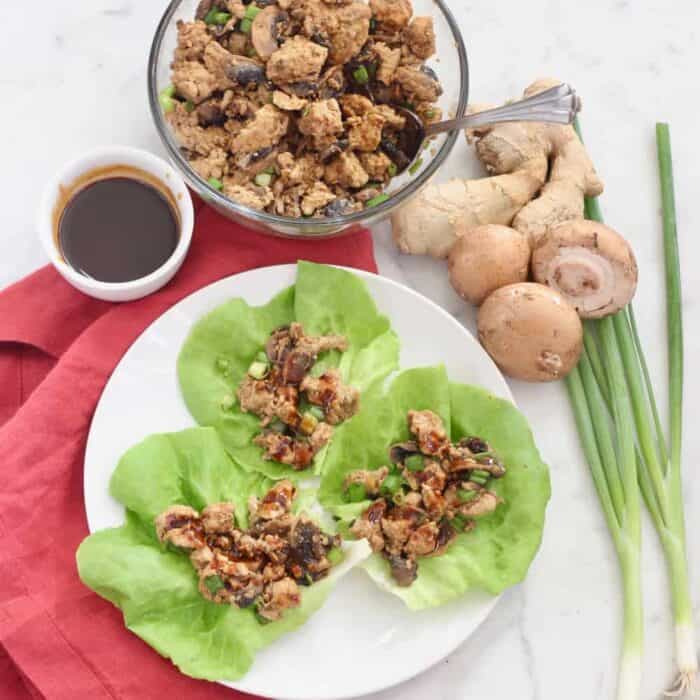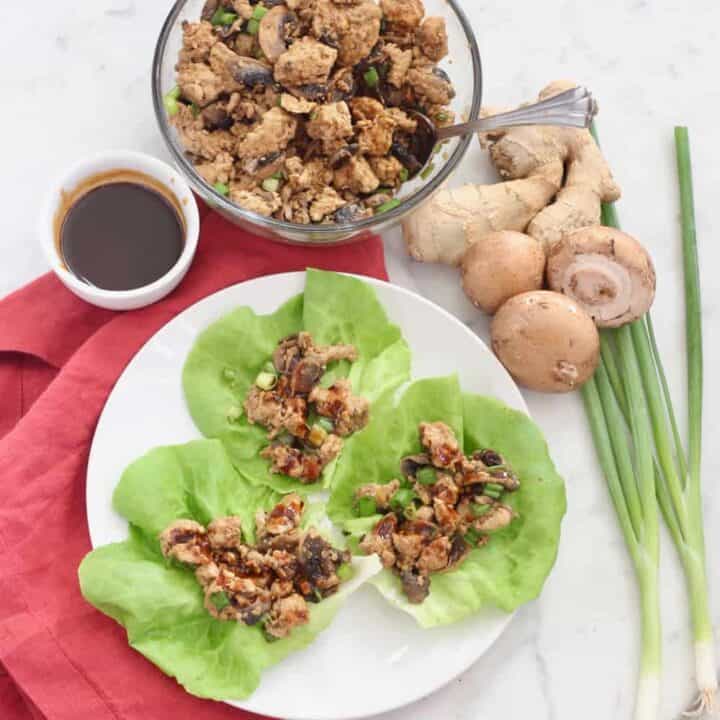 About Hoisin Ground Turkey Lettuce Wraps
Lettuce wraps bring me so much joy. They're refreshing, delicious, and messy. Plus, they're a fun way to add more veggies into your life.
The hoisin-based sauce is delightful with ground turkey and mushrooms. Slightly sweet hoisin balanced with salty tamari sauce for depth, rice vinegar for tanginess, sriracha for spice, and sesame oil for richness.
I started making these years ago when I found a recipe in Cooking Light magazine and have morphed to have my personal preferences.
Originally, there were water chestnuts in here, but I honestly didn't love them. Yes, they add a little crunch and texture. But they felt a little pointless, and I hated having to remember to buy them at the store. So now I leave them out.
Also, I use regular mushrooms and a little more. I like to use extra mushrooms because it helps stretch this meal a little more.
Sometimes I even double the mushrooms to feed more or to have extra for later. Plus, extra mushrooms mean extra veggies, and extra veggies are always a good thing.
For the sauce, you'll need five ingredients that are not at all hard to find. And the sauce is super simple to make. You just stir the sauce ingredients together while the turkey and mushrooms are cooking, and that's it.
Once you stir the sauce into the turkey, you're ready to enjoy your Hoisin Ground Turkey Lettuce Wraps!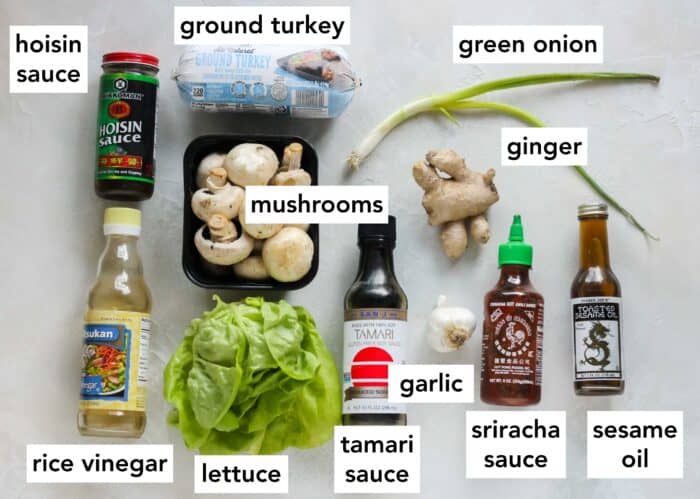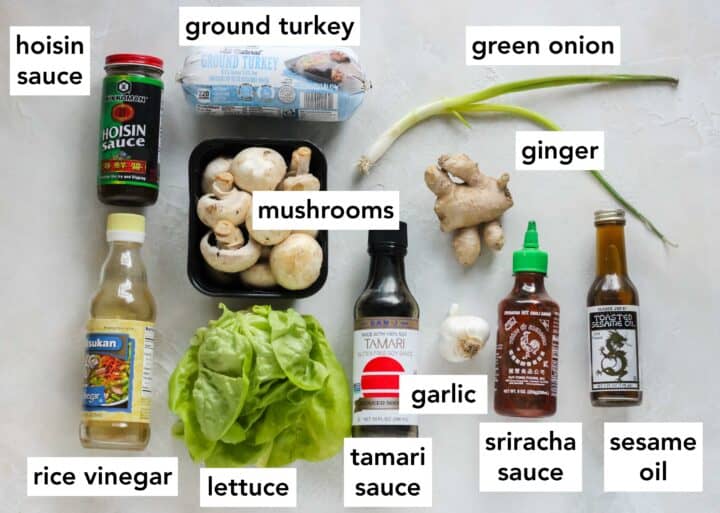 Ingredients
Ground turkey: Any type of ground turkey is fine. I typically use regular 85/15 ground turkey. If you decide to use ground turkey breast or extra-lean ground turkey, add an extra tablespoon of oil to the skillet before cooking the turkey and mushrooms to keep them from sticking.
Also, you can use ground chicken.
Mushrooms: White mushrooms (or button mushrooms) are what I usually use in this recipe. Feel free to use portobello, baby portobello, or crimini (or brown) mushrooms.
Garlic: Fresh garlic is added to this recipe for the best flavor, but garlic powder can be used in a pinch.
Ginger: Similar to garlic, fresh ginger is preferred. However, ground ginger can be ok.
Green onions: While these aren't 100% mandatory, I do like the slight kick the green onions give the Hoisin Ground Turkey Lettuce Wraps filling.
Hoisin sauce: Hoisin sauce is the base of the sauce for these lettuce wraps. Any store-bought or homemade hoisin sauce works.
Tamari sauce: The tamari sauce is used to add richness and saltiness to the sauce. I prefer tamari sauce to soy sauce simply because I like its taste. But you can easily replace the tamari sauce with soy sauce.
Rice vinegar: Vinegar gives your sauce a hit of brightness and tanginess to balance the flavors. Rice vinegar or rice wine vinegar will both work.
Sriracha sauce: The sriracha sauce gives these lettuce wraps a little kick to balance the other flavors. Feel free to decrease the amount or omit if you want these to be mild. I find the sauce to not be very spicy, but start with less than called for and increase as needed.
Sesame oil: A little bit of sesame oil goes a long way, and it's a crucial ingredient in the sauce to give it that nutty flavor. Use regular or toasted sesame oil. Make sure your sesame oil hasn't gone bad because it'll ruin the whole sauce; I like to store it in the fridge to help prevent that.
Lettuce: Boston lettuce, bibb lettuce, and iceberg lettuce all work well for lettuce wraps.
Cost of Recipe
ground turkey 1 pound: $3.98
mushrooms 8 ounces: $1.98
garlic 2 teaspoons: $0.12
ginger 1 teaspoon: $0.12
green onions 6: $0.60
hoisin sauce 4 tablespoons: $0.84
tamari sauce 4 tablespoons: $0.84
rice vinegar 2 tablespoons: $0.14
sriracha sauce 2 teaspoons: $0.06
sesame oil 1 teaspoon: $0.09
lettuce 1 head: $2.99
TOTAL COST: $11.76 (Based on San Diego Sprouts 2020) or $2.94/serving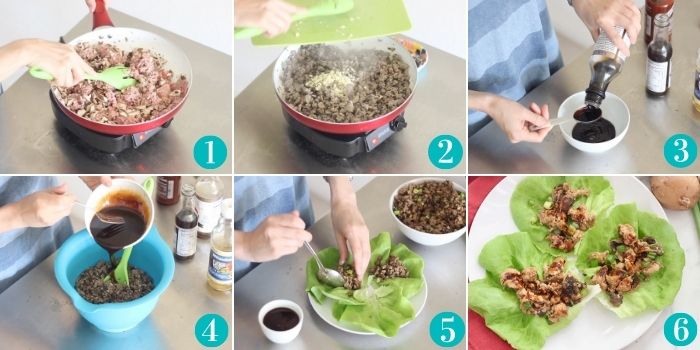 How to Make Hoisin Ground Turkey Lettuce Wraps
Time needed: 30 minutes
These Hoisin Ground Turkey Lettuce Wraps are a delicious, fun light dinner or lunch. They're a tasty way to eat extra veggies.
Cook the mushrooms and ground turkey in a large skillet.
Add garlic and ginger.

Sauté until fragrant.

Meanwhile, stir together sauce ingredients in a small bowl.
Pour sauce over the cooked turkey and mushrooms.

Use about half of the sauce.

Fill lettuce cups with turkey mixture.
Enjoy with extra sauce as a dipping sauce.
Recipe Tips
Variations
Ingredient Options
Ground turkey: Ground chicken will easily work in place of the turkey. Ground chicken or ground chicken breast will both work. Remember that chicken breast, like turkey breast, is very lean so you'll probably need to add oil to keep it from sticking.
Ginger: you can use ground ginger in place of fresh if needed. It won't be as tasty but it'll still be good. Use ¼ teaspoon ground ginger instead of fresh.
Garlic: substitute fresh garlic with ½ teaspoon garlic powder. There won't be too much of a taste difference.
Green onions: You could also use chives or add diced yellow or red onions to the skillet when adding the turkey to cook together for added flavor.
Tamari sauce: use soy sauce in place of tamari. Remember that soy sauce isn't gluten-free, so use tamari sauce if you need these to be gluten-free.
Vinegar: White wine vinegar, lime juice, or apple cider vinegar can be used in a pinch.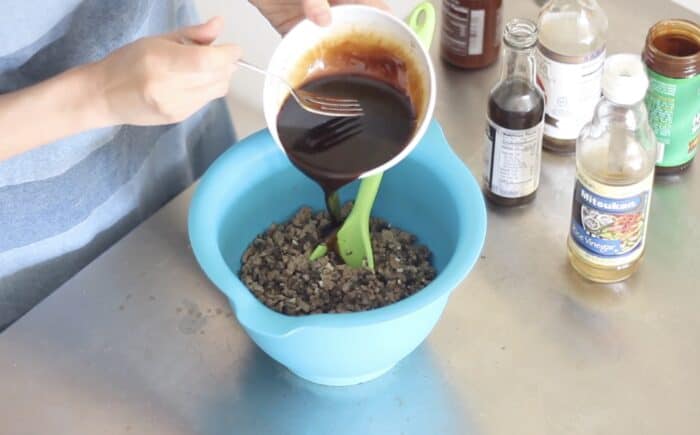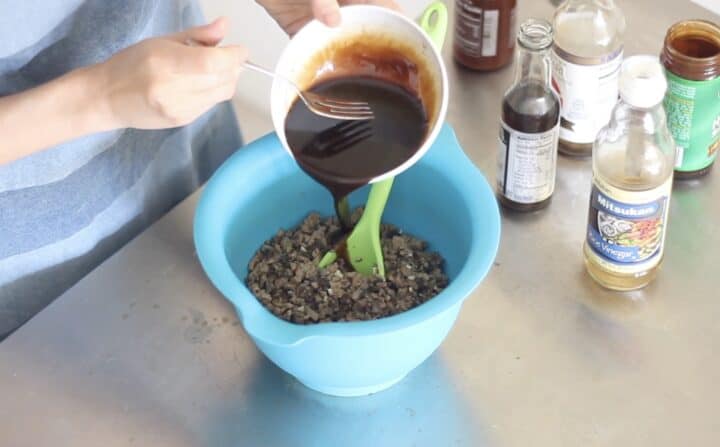 How to Make Allergy-Friendly
These are already dairy-free and egg-free. To make them gluten-free, use gluten-free hoisin sauce and tamari sauce. These are not soy-free. Double-check ingredients to make sure.
How to Fix a Mistake
Not enough sauce: add more (or make more). There isn't really a thing as "too much sauce" in these lettuce wraps.
Forget to add an ingredient (like green onions): simply stir it in at the end. Or omit if needed (in the case of garlic, ginger, or green onions).
Make-Ahead Ideas
Making these Hoisin Ground Turkey Lettuce Wraps ahead of time is a great option to save you time later. Simply cook the ingredients in the skillet and transfer to an airtight container. Mix together the sauce ingredients, and store those in an airtight container.
Storage Suggestions
Leftovers will last in the fridge for up to 4 days and in the freezer for up to one month. Simply reheat in the microwave or in a skillet over medium heat until warmed through.
Be sure to store separately so you can have a dipping sauce to use when enjoying the Hoisin Ground Turkey Lettuce Wraps.
Frequently Asked Questions
Nutrition Benefits
One of the best parts about lettuce wraps is that they are a tasty way to eat extra veggies. If nothing else, you're getting veggies in the wrap, but these Hoisin Ground Turkey Lettuce Wraps have extra with the mushrooms and green onions. So you're getting lots of vitamins and minerals plus a little fiber.
Thanks to the ground turkey, you get a hefty dose of protein which will give these staying power. However, these are low carb so don't forget to add some extra carbs to make this satisfying and satiated for enough time.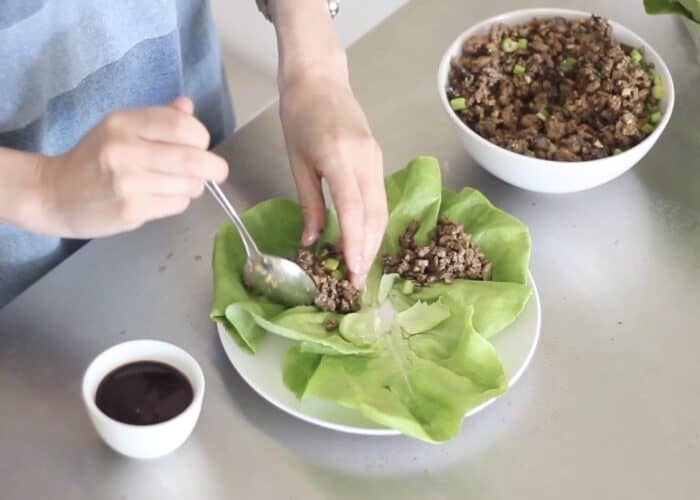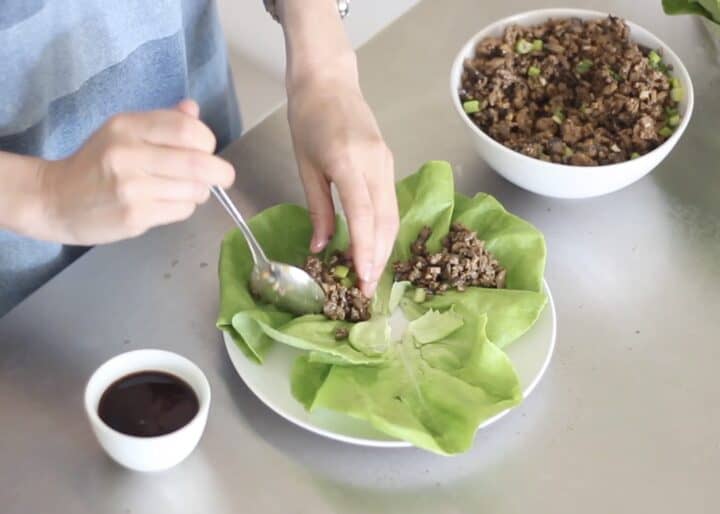 What to Serve with Hoisin Ground Turkey Lettuce Wraps
These lettuce wraps are very low in carbohydrates and calories, so you'll want to add an extra side or two to make sure you're satisfied.
To make these as easy as possible, I'd add some chips. You can even make your own Microwave Potato Chips without turning on the oven. Or Miso Potato Salad would also be a tasty addition.
Final thoughts:
There's something about a lettuce wrap that makes me so happy. Maybe it's the refreshing crunch you get from the cool lettuce or the fact that you get to eat with your hands. Either way, I love these saucy lettuce wraps full of flavor.
MORE LETTUCE WRAP RECIPES YOU'LL LOVE:
---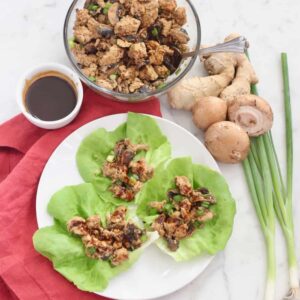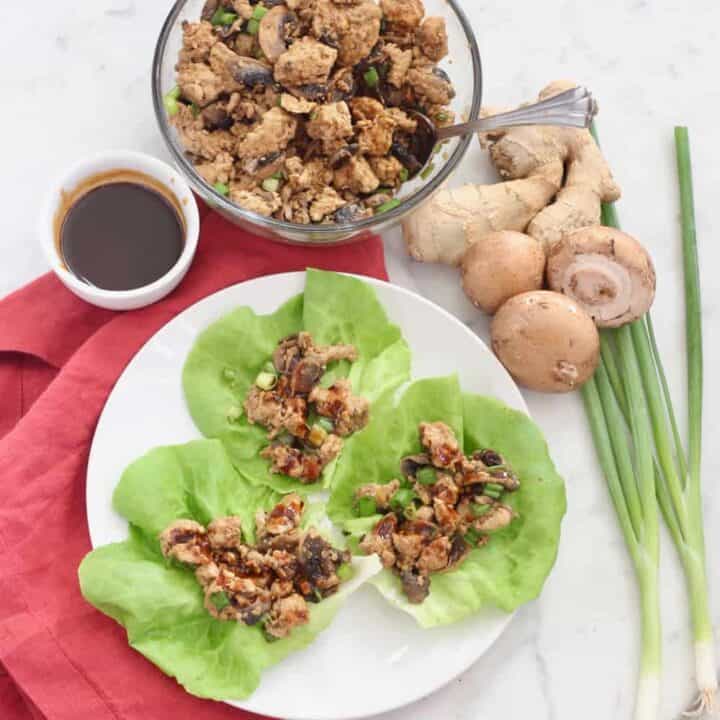 Hoisin Ground Turkey Lettuce Wraps
How to make easy Hoisin Ground Turkey Lettuce Wraps. Great for lunches, light dinners, and for entertaining.
Print
Rate
Total Cost:
$11.76 || $2.94/serving
Ingredients
1

pound

ground turkey

or ground chicken

8

ounces

mushrooms

about 8 mushrooms, diced

2

teaspoons

minced garlic

about 2 cloves garlic

1

teaspoon

minced fresh ginger

6

green onions

diced

4

tablespoons

hoisin sauce

4

tablespoons

tamari sauce

or soy sauce

2

tablespoons

rice vinegar

2

teaspoons

Sriracha sauce

1

teaspoon

sesame oil

8-10

large

lettuce leaves
Instructions
Heat a large skillet over medium-high. Add turkey and mushrooms to the skillet, and cook until turkey is done and mushrooms have released their juices, about 10 minutes.

Add in garlic and ginger, and cook for 2 minutes, stirring often.

Meanwhile, in a small bowl, whisk together the hoisin sauce, tamari sauce, rice vinegar, sriracha sauce, and sesame oil. Set aside.

Transfer the cooked turkey mixture to a large bowl. Pour half of the sauce (about ⅓ cup) in the turkey mixture, and mix everything together. Reserve the remaining (⅓ cup) of sauce for serving.

Serve turkey mixture in lettuce leaves with sauce. Enjoy!

What to Use in This Recipe
Did you try this recipe?
Be sure to leave a comment & recipe rating below. Bonus points for tagging @memeinge & #livingwellkitchen on Instagram! THANK YOU! xo
Meme
This post was originally published on August 27, 2012. Text, recipe, video, and photos have been updated.
---
Ground Turkey Lettuce Wraps Nutrition Facts
Nutrition Facts
Hoisin Ground Turkey Lettuce Wraps
Amount per Serving
% Daily Value*
* Percent Daily Values are based on a 2000 calorie diet.
Doesn't this recipe look good?! You should probably share it: