Easy Buffalo Chicken Salad is a spicy, flavorful version of chicken salad. Made without mayo or dressing but has all the delicious flavors of Buffalo Chicken Dip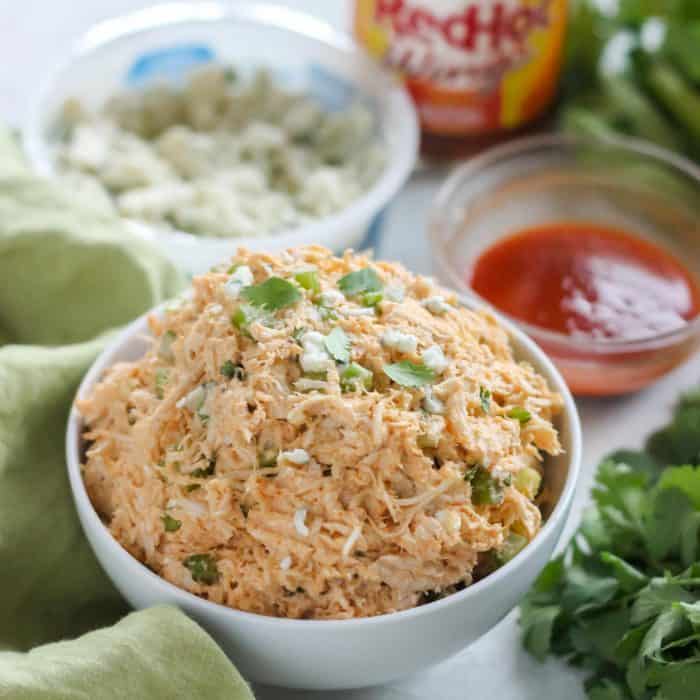 About Buffalo Chicken Salad
Chicken salad is excellent to keep in the fridge, so you always have a high protein, satisfying and delicious meal at the ready. However, eating the same chicken salad every single week gets boring.
But you know what's not boring? This Buffalo Chicken Salad! It's not boring at all. I mean doesn't chicken salad with buffalo sauce sound delish?!
Buffalo Chicken Salad is a chicken salad made with all the delicious flavors of Buffalo Chicken Dip. This healthy Buffalo Chicken Salad recipe has tangy yogurt, spicy wing sauce, rich blue cheese, fresh & crunchy celery, and chicken. And it's all mixed together, so it isn't a lettuce-based salad (though you could certainly serve this over lettuce).
Each bite of this has a balance of spicy, tangy, rich, and cooling flavors. While I am not a big fan of yogurt in chicken salad, the tanginess of the Greek yogurt in this Buffalo Chicken Salad works so well to balance out the spiciness of the buffalo wing sauce.
Another great reason to make this recipe is for the times you have leftover buffalo wing sauce in the fridge from making Buffalo Brussels Sprouts, Buffalo Chicken Dip or Crock Pot Buffalo Chicken Chowder.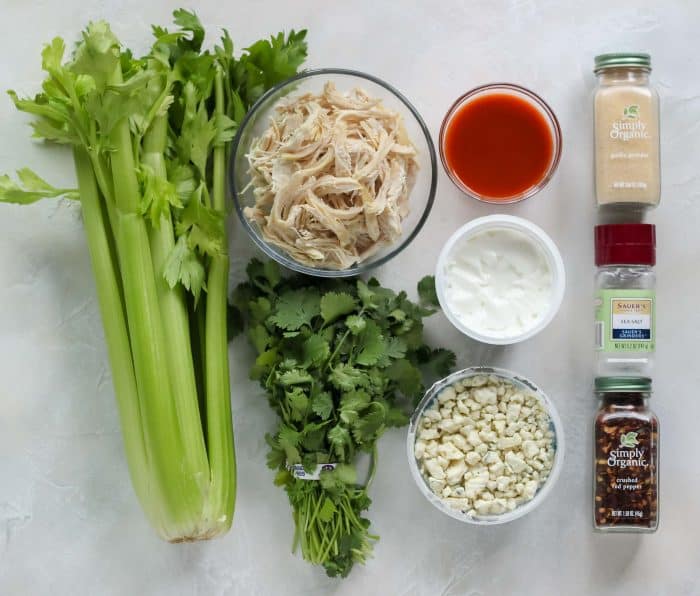 Best Ingredients
Yogurt: Use a plain, strained-style yogurt in the Buffalo Chicken Salad. Regular plain yogurt will be too thin and cause your chicken salad to be watery. I use Greek yogurt but Skyr/Icelandic yogurt or other strained-style yogurt will work. Typically, I refuse to use yogurt in chicken salad, but as mentioned above, it works perfectly in this recipe.
Wing sauce: Wing sauce is different from hot pepper sauce. Be sure to buy wing sauce or buffalo wing sauce and not hot pepper sauce because that will turn this into inedible peppery chicken salad.
According to the internet, you can make your own. However, it's worth it to me to save time by buying it at the store because you must buy hot pepper sauce anyway to make homemade wing sauce so you might as well save yourself the trouble and just buy it already made, right? The only time I think it's worth making at home is if you need to make it dairy free by using non-dairy butter.
Note: wing sauce is insanely high in sodium. If you are concerned about your sodium intake, I suggest skipping this Buffalo Chicken Salad and trying an alternative like the Hummus Chicken Salad or Curry Avocado Chicken Salad which are both lower in sodium (and even easier to lower the sodium as needed).
Chicken: Chicken salad is a great way to use up leftover cooked chicken from a rotisserie chicken, roasted chicken, chicken cooked in a crock pot or grilled chicken. You can also easily poach the chicken or cook in a skillet and let cool & shred before stirring into the yogurt-wing sauce mixture.
Celery: Adding fresh diced celery to the Buffalo Chicken Salad gives it a nice contrast of textures with some crunch and it helps freshen up the salad. Similar to the fresh herbs, I think it really makes this chicken salad taste great. Plus, I like to serve the Buffalo Chicken Salad with celery sticks (unless I'm making a Buffalo Chicken Salad Sandwich).
Garlic: Both fresh and powdered garlic work well in this recipe. For ease, I suggest using powdered garlic since it is likely already in your pantry and you do not have to do any peeling or mincing. But for more authentic garlic flavor, use fresh.
Red pepper flakes: The red pepper flakes add a little extra kick but are optional if you want to tone down the spiciness of the Buffalo Chicken Salad.
Salt: Ok so this is optional, and I use the teeniest tiniest bit of salt since the wing sauce already has a lot of sodium and the cheese adds more as well. However, I think even the smallest pinch helps enhance the flavor. But I often forget to add it, so it's an easy one to skip if you want.
Blue cheese: A little bit of blue cheese goes a long way, and the blue cheese is so tasty in this chicken salad. In my opinion, buying a piece of blue cheese and crumbling it at home gives better flavor than buying the blue cheese crumbles. However, if you like a more mellow blue cheese flavor, the blue cheese crumbles are great in this recipe.
And while I love the kick blue cheese gives this chicken salad, if you do not like blue cheese, you can skip it. It can easily be replaced or omitted.
Herbs: The fresh parsley brightens the Buffalo Chicken Salad, and I find it to be a really nice touch. An alternative is to use cilantro or dill, but use half of the amount of cilantro or dill than the recipe calls for and add more as needed.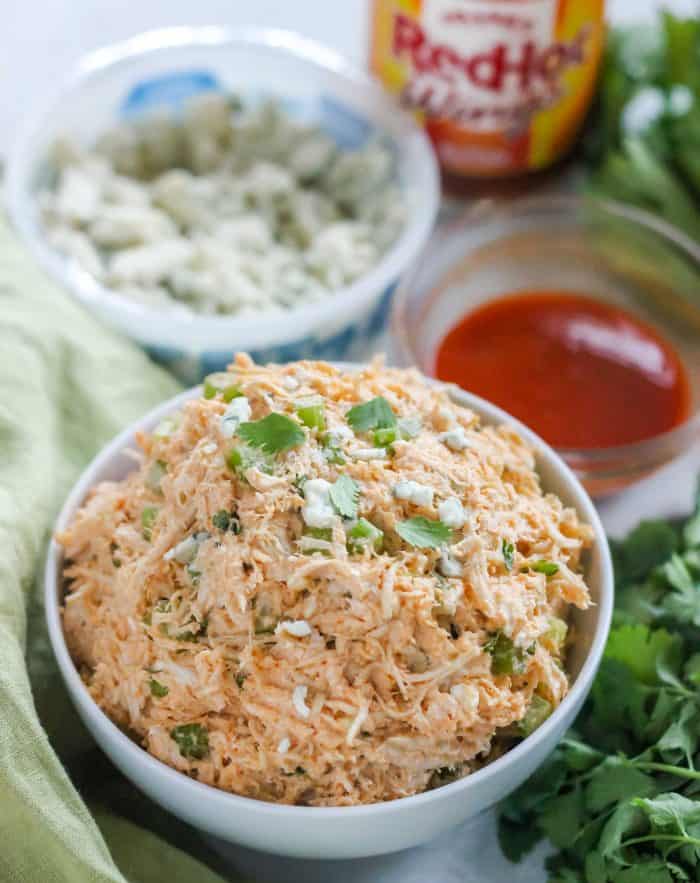 Cost
plain Greek yogurt ⅔ cup: $0.98
wing sauce ⅓ cup: $1.28
garlic 1 clove: $0.06
red pepper flakes ¼ tsp: $0.10
cooked chicken breast 1 pound: $4.59
celery 3 stalks: $0.42
fresh parsley ¼ cup: $0.25
blue cheese 2 ounces: $1.12
TOTAL COST: $8.80 (Based on San Diego Sprouts 2019) or $1.10/serving
How to Make Buffalo Chicken Salad
Time needed: 15 minutes
You just stir together wing sauce and yogurt, chop some celery and parsley, shred some cooked chicken, crumble blue cheese, and stir everything together. For the step by step:
Stir together yogurt, wing sauce, garlic and red pepper flakes.
Add in chicken, and stir well.
Stir in celery, parsley, and blue cheese.
Enjoy!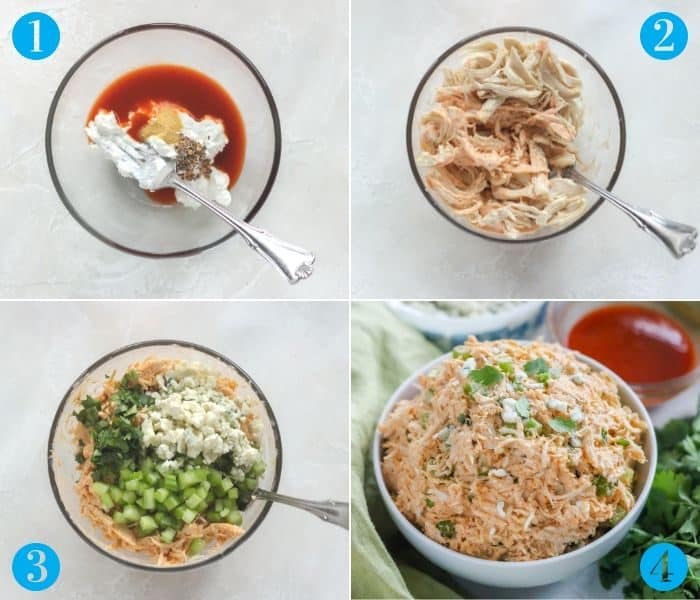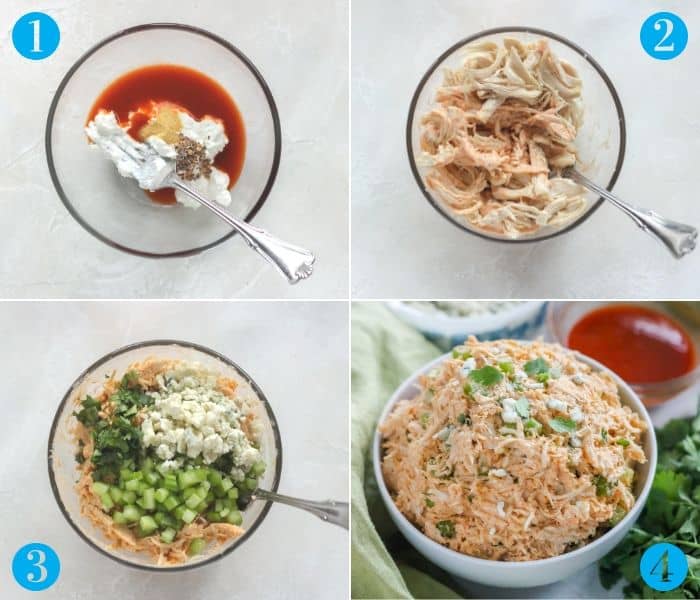 How to Make Buffalo Chicken Salad Sandwiches
In case you want to take this a step further, you can turn this chicken salad into a tasty sandwich. The Buffalo Chicken Salad Sandwich recipe isn't at all complicated, but here is the step by step:
Toast two slices of bread. I like to use a heartier, seedy whole grain bread so it holds up to the chicken salad.
Optional step: Mix a spoonful of yogurt and half a spoonful of buffalo wing sauce; spread it on each slice of bread. Or alternately, spread each slice with a few teaspoons of mayo.
Add a piece of lettuce to one slice. Top with a sliced tomato if desired.
Spread about ½ cup of Buffalo Chicken Salad onto the tomato (or lettuce) making sure to cover the entire space with chicken salad.
Top with another slice of tomato and/or lettuce if desired.
Then cover with the other slice of bread; cut the sandwich in half, and enjoy!
Recipe Tips
Variations
Ingredient & Flavor Substitutions
Garlic: You can use one clove fresh minced garlic in place of the garlic powder.
Herbs: You can use cilantro or dill in place of parsley, but start by using half the amount and increase as needed. If you must skip the fresh herbs, you can use dried herbs or add lemon. Use 1 teaspoon dried parsley in place of the fresh. For the lemon, add ½ teaspoon lemon zest and/or 1-2 tablespoons lemon juice to give it a little extra flavor that will be lacking without the freshness of the herbs.
Blue cheese: Not a fan of blue cheese? Omit it. Or you can use feta to add a little kick, or use gorgonzola for a lighter blue cheese flavor.
How to Make Allergy Friendly
Depending on the wing sauce you use, this is nut free, gluten free, soy free and egg free. Be sure to check the ingredients lists to make sure it doesn't have the allergen you are trying to avoid. If you want to make this dairy free, make your own wing sauce and use dairy free butter. Also, use a dairy free yogurt and omit blue cheese.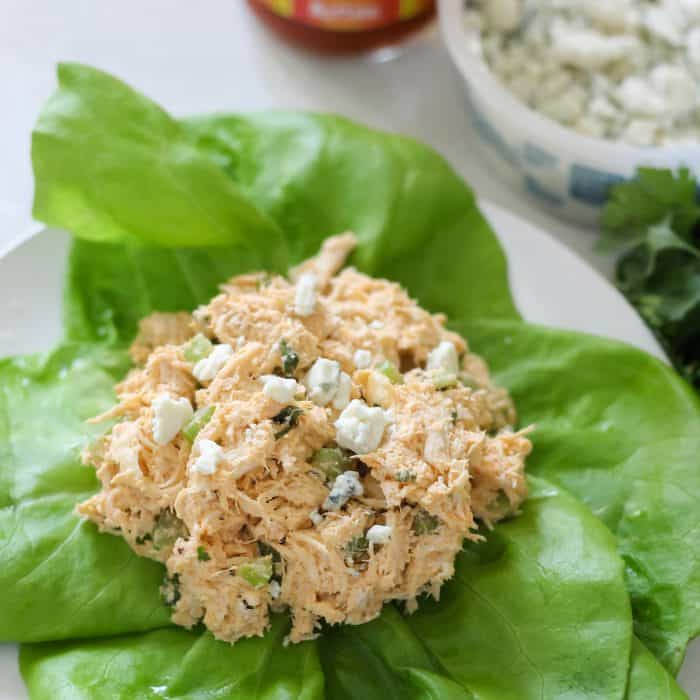 How to fix a mistake
Too much wing sauce: add a little more yogurt and chicken.
Tastes too salty: add more chicken, celery and/or yogurt.
Forgot parsley: add cilantro, dill or use dried parsley. Or skip the herbs and add a tablespoon of fresh lemon juice or ½ teaspoon lemon zest.
Not spicy enough: add an extra ¼ teaspoon red pepper flakes or ⅛ teaspoon cayenne pepper.
Lacks flavor: allow the chicken salad to sit for at least 30-60 minutes before adding more wing sauce, blue cheese, or red pepper flakes. You can also add lemon juice or additional herbs to enhance the flavor.
Make Ahead and Storage Tips
Chicken salad is best made ahead of time, and this chicken salad with buffalo sauce is no exception. There's nothing special to do other than I highly recommend making a double batch, so you don't run out too quickly.
Keep this tightly covered in a glass or plastic container in the fridge for up to 5 days. I do not recommend freezing chicken salad because the consistency is not right after defrosting.
It's best to keep this cold or on ice when not in the fridge, and make sure to not leave it out at room temperature for longer than 2 hours.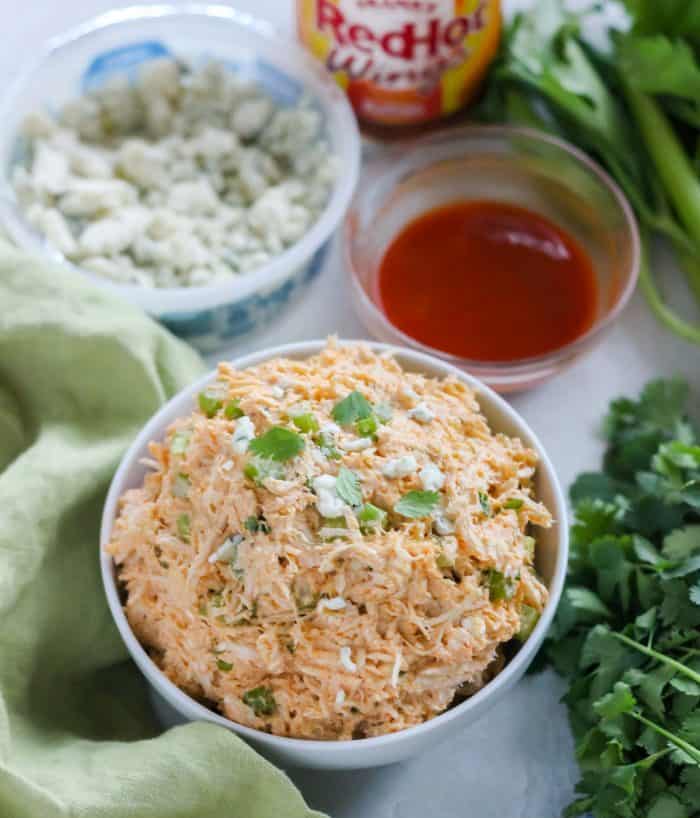 Nutrition Benefits
Chicken is full of protein along with many vitamins and minerals like Niacin which is important for cell growth and function, Vitamin B6 & Magnesium for supporting your nervous system, and Pantothenic Acid that helps your body break down macronutrients.
Yogurt provides your body with beneficial probiotics to promote gut health, immunity and digestion, and it is also a good source of Calcium for strong bones.
Is Buffalo Chicken Salad healthy?
While it's hard to pinpoint exactly what "healthy" is for each person, this Buffalo Chicken Salad with greek yogurt is high in protein and is a great recipe to get more veggies in your life since it pairs well with celery, bell peppers, carrots, and lettuce (as a salad or lettuce wrap).
I'm not big on focusing how many calories are in any recipe. I like to think about whether the recipe is delicious, satisfying and filling, and this recipe checks all three boxes. [But the nutrition facts for calories in the Buffalo Chicken Salad are included below the recipe if you'd like to know.]
The only thing you might want to consider with this recipe is that the sodium content is higher than regular chicken salad because of the buffalo wing sauce. If that is a problem, try another chicken salad recipe like Curry Avocado Chicken Salad and Hummus Chicken Salad.
What to Serve with this recipe
Serve your Buffalo Chicken Salad with celery sticks & crackers for a snack, serve over lettuce or in lettuce wraps for a light lunch, or serve on bread for a Buffalo Chicken Salad Sandwich. Note that the recipe is low in carbs, so add a serving or two of carbohydrates (fruit, crackers, chips, bread, etc.) to make this a more substantial meal.
Final thoughts:
If you're looking for a way to liven up chicken salad, this recipe for Buffalo Chicken Salad does the trick! Plus, it's a great way to use up any leftover buffalo wing sauce if you made Crock Pot Buffalo Chicken Chowder, Buffalo Brussels Sprouts, or Buffalo Chicken Dip.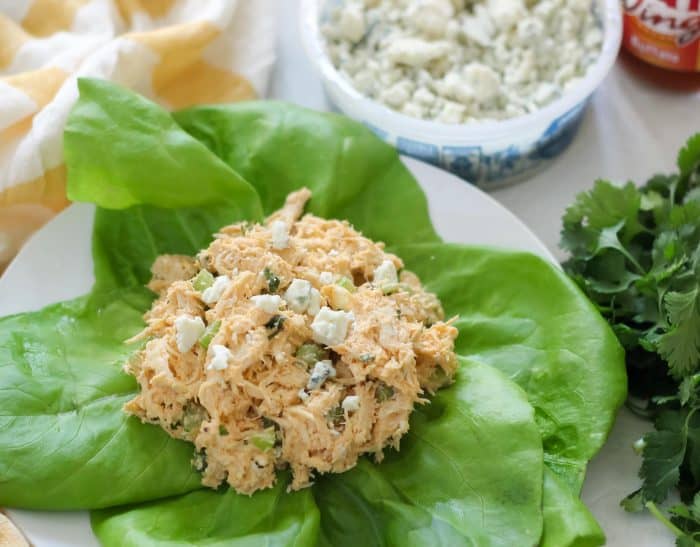 ---
MORE CHICKEN SALAD RECIPES YOU'LL LOVE: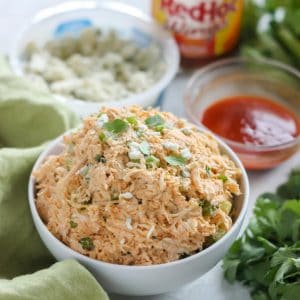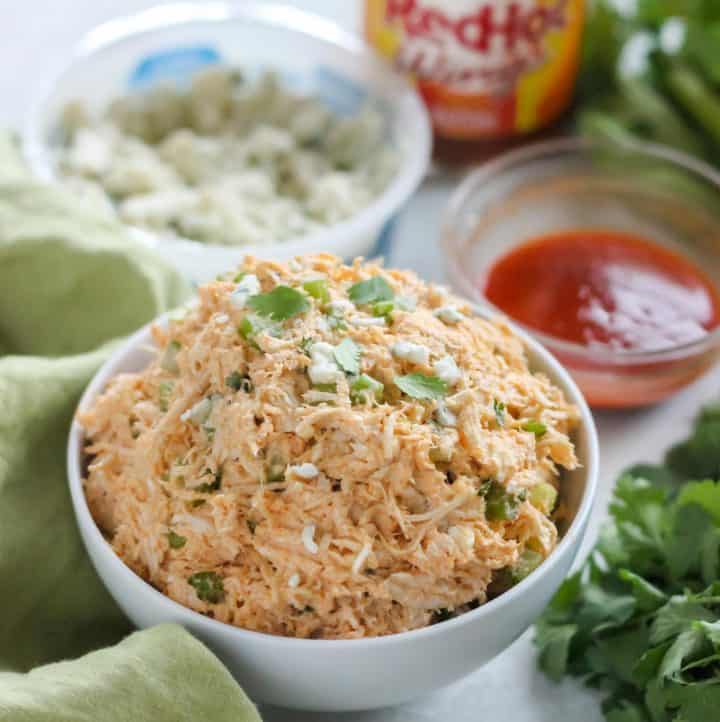 Buffalo Chicken Salad
Buffalo Chicken Salad is a spicy, flavorful version of chicken salad. Made without mayo or dressing but has all the delicious flavors of Buffalo Chicken Dip
Print
Rate
Total Cost:
$8.80 || $1.10/serving
Ingredients
⅔

cup

Greek yogurt

plain

⅓

cup

wing sauce

¼

teaspoon

garlic powder

¼

teaspoon

red pepper flakes

pinch

salt

optional

1

pound

cooked chicken breast

chopped or shredded (about 4 cups loosely packed)

3

stalks

celery

diced

¼

cup

fresh parsley

or cilantro, minced

2

ounces

blue cheese

crumbled (about ½ cup)
Instructions
Whisk together Greek yogurt, wing sauce, garlic powder, red pepper flakes, and pinch of salt (if using) until completely combined.

Add in shredded chicken, and stir until completely combined.

Stir in celery, parsley, and blue cheese.

Refrigerate for at least 30 minutes before serving. Taste and adjust seasoning as needed. Enjoy!
Notes
*Makes 4 cups
*I use the tiniest pinch of salt to enhance the flavor just a little bit. Can easily be omitted.
*Keep covered in refrigerator for up to 5 days.
What to Use in This Recipe
Did you try this recipe?
Be sure to leave a comment & recipe rating below. Bonus points for tagging @memeinge & #livingwellkitchen on Instagram! THANK YOU! xo
[showhide type="post" more_text="Click here for Buffalo Chicken Salad Nutrition Facts" less_text="Clear Nutrition Facts"]
*
Nutrition Facts
Buffalo Chicken Salad
Amount per Serving
% Daily Value*
* Percent Daily Values are based on a 2000 calorie diet.
*
[/showhide]
*Recipe based on this one from PreventionRD
Meme
This post was originally published July 15, 2013. Text, recipe, and photos have been updated.
Doesn't this recipe look good?! You should probably share it: