All about my trip to Lodi, California for the California Almond Board trip ~ growth, sustainability, and health benefits of almonds
Disclosure: my trip to Lodi was sponsored by the California Almond Board. However, I was not required to write this post nor was I compensated to write this post and all opinions are completely my own.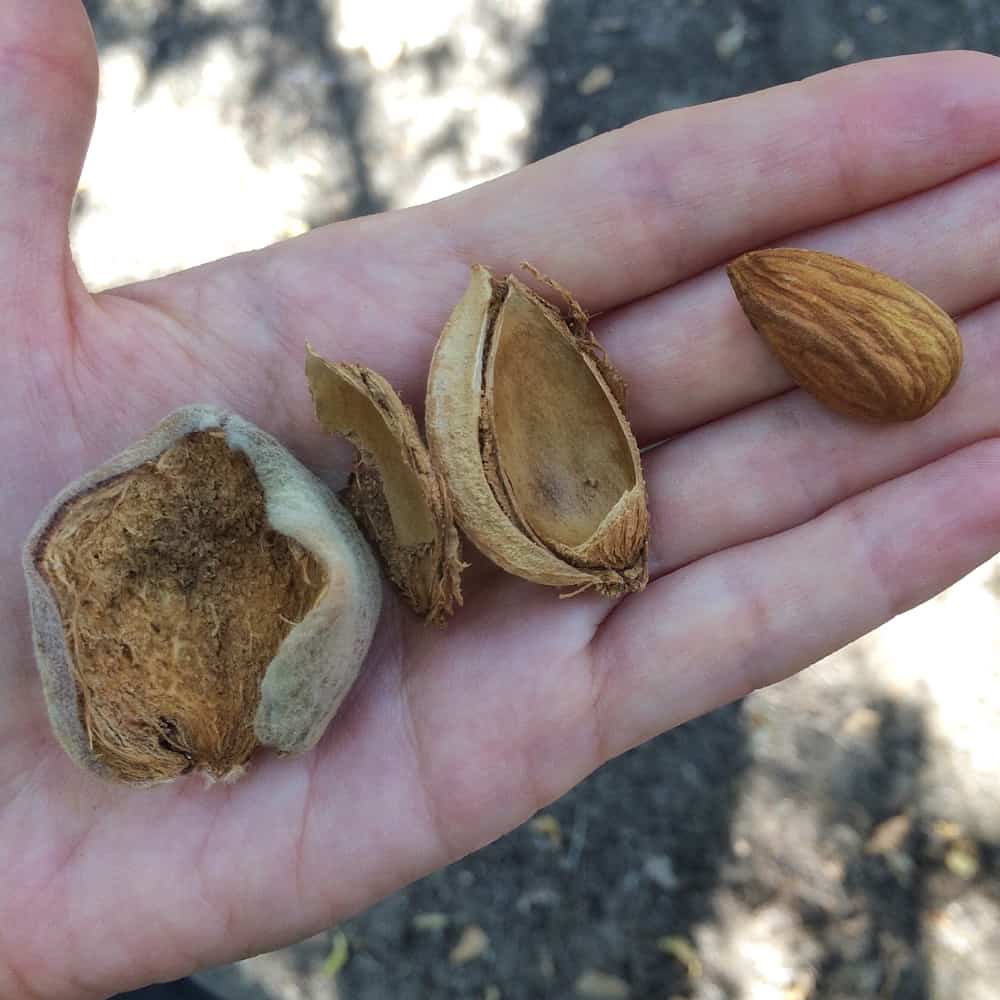 One of my favorite things I do is learning more about food, food companies, and food production. So it goes without saying that spending three days in Lodi, California with the California Almond Board would be the highlight of my month!
This is definitely a two-post trip. I can't put all the info I want to share in one post, so today I'll talk all about almonds and tomorrow I'll talk about what all we did on the trip.
How much water it takes to grow almonds
You've likely heard that almonds take a lot of water to produce. Some people claim it takes a gallon of water to produce one nut. That seems pretty outrageous, I admit. However, what's not mentioned is that the almond has three parts and almond growers are diligent in making sure all three parts are used.
The kernel is obviously the delicious nut you eat. Then you have the shell used as an alternate energy source to co-generate plants as well as for animal bedding, and the outer hull is used as livestock feed. So you're not just getting one nut out of each fruit from the almond tree, you are getting something from all three parts.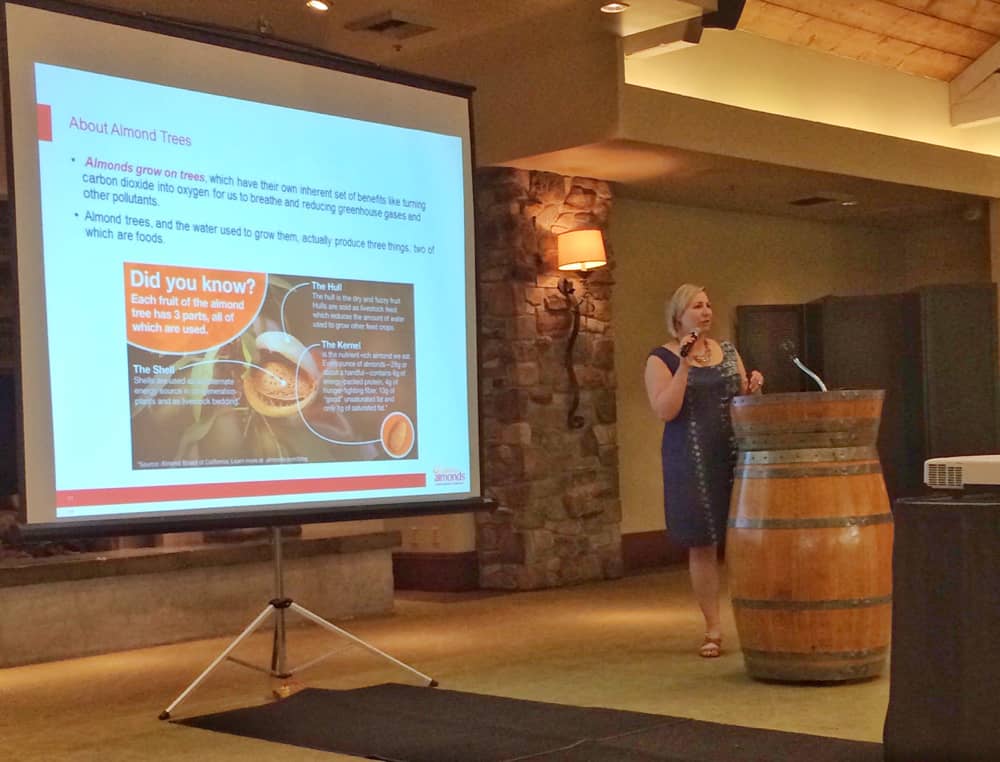 Yes, almonds require water to grow, but so does everything else you eat. Fun fact: even things that you don't eat require water to make.
The California Almond Board, a self-funding, non-profit research organization, spends millions of dollars researching and funding projects that improve water usage (as well as other things like bee pollination and health benefits of almonds). Because of this research, almonds have improved water efficiency by 33% in the past 20 years.
Almonds are grown on 13% of California's irrigated farmland but use less than 9% of the state's agriculture (not total) water.
Bottom line: Almonds aren't the water-guzzling demons they are made out to be in the media.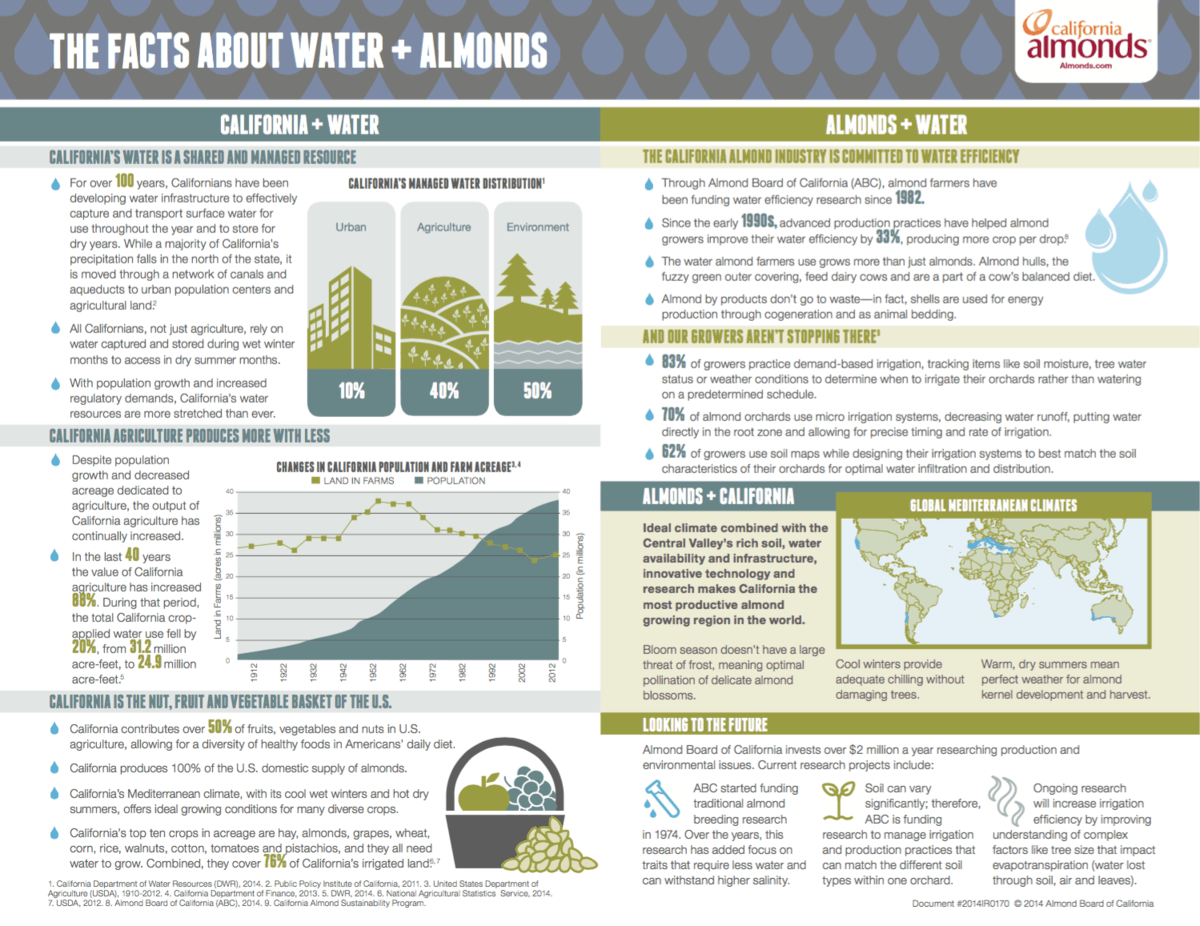 Growing Almonds
Growing almonds is a really interesting process.
You start by picking your variety of almonds to grow. Most orchards have three varieties and rely on these varieties to cross-pollinate because almond trees are not self-fertile.
Bees are incredibly important in growing almonds. It's a mutually beneficial relationship as the almond trees are a nutritious pollen source for bees.
With all the irrigation and bee pollination research, almond trees are producing over twice as much in the last 20 years.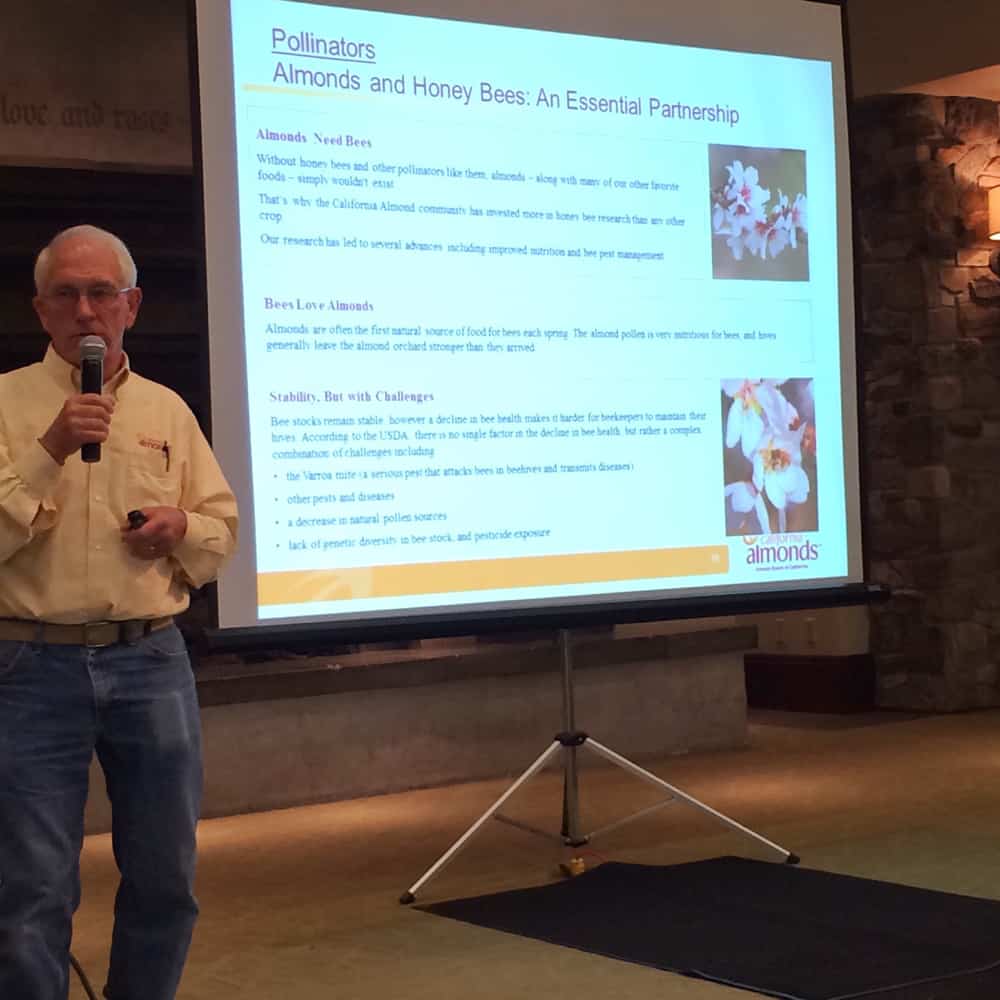 Most orchards use a micro-irrigation system and demand based irrigation scheduling and track soil, tree, and weather conditions to make irrigation decisions.
In the orchard, the farmers can check on-demand the status of the tree water pressure determining whether or not the tree needs more or less water. The farmer at almond orchard we went to showed us the tools they use and even the phone app they use to determine exactly how the trees are doing!
Almonds are harvested around August. They have 2-3 different harvest depending upon the tree varieties they have. They use a shaker to remove the fruit from the trees and allow the fruit to dry on the ground using the sun's power before sweeping the fruit to collect and process.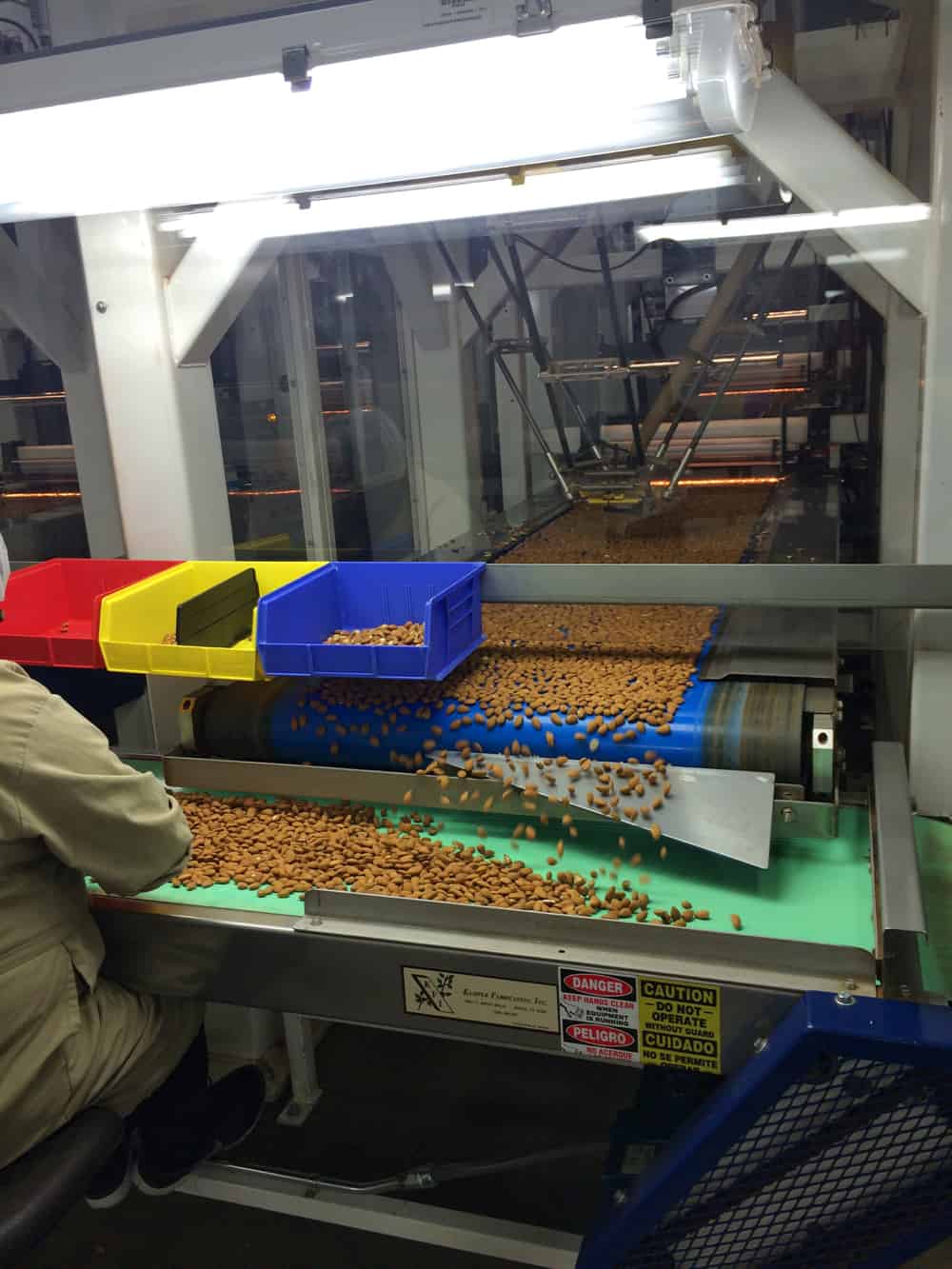 Almonds are hulled then shelled (if desired) and sorted for size and quality. Almond hulls are used as livestock feed, and the shells are used for alternative energy or for livestock bedding.
An orchard's lifespan is typically around 25 wonderful years.
Enjoying Almonds
There are so many different ways you can enjoy almonds: almonds whole, sliced, slivered, and halved, almond meal/flour, almond butter, almond oil, and almond milk.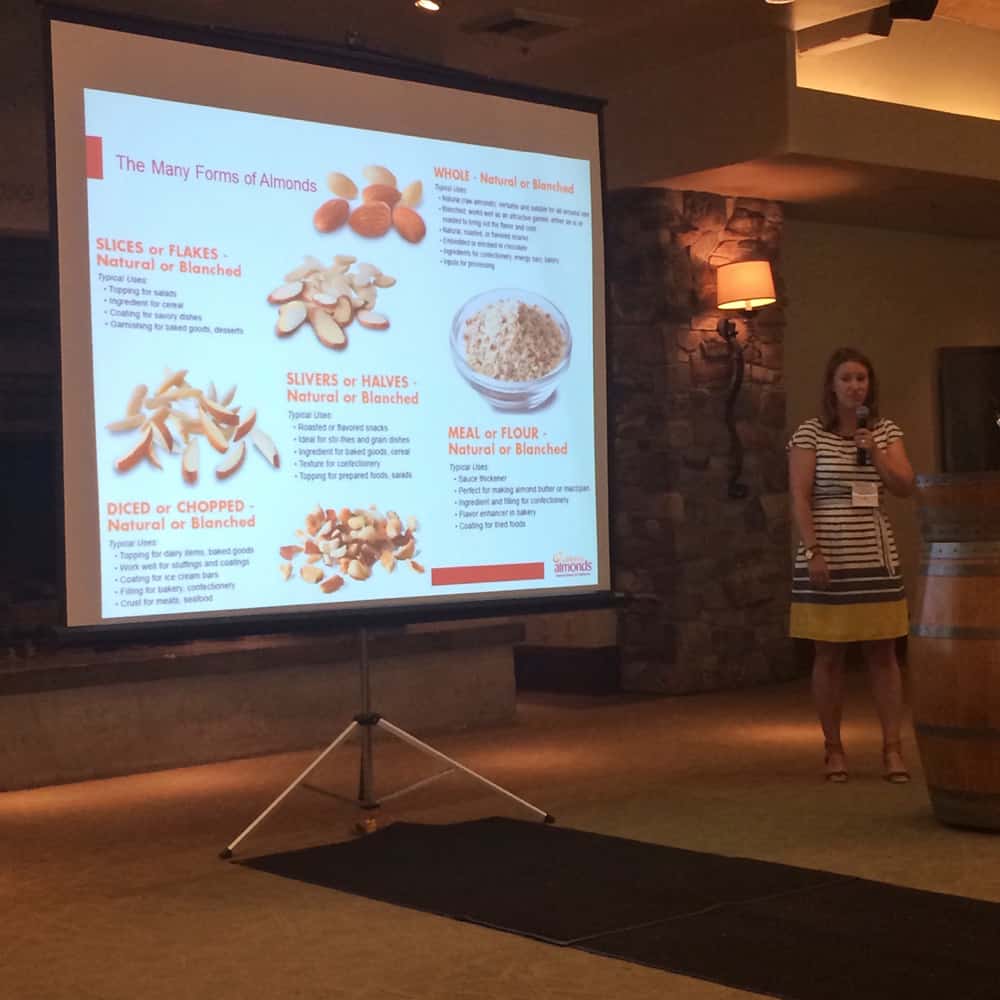 Almonds have lots of health benefits. For one ounce (about 23 almonds), you'll get 4g fiber and 6g protein, plus 35% vitamin E, 20% magnesium, 20% riboflavin, along with phytosterols! Lots of reasons to enjoy almonds 🙂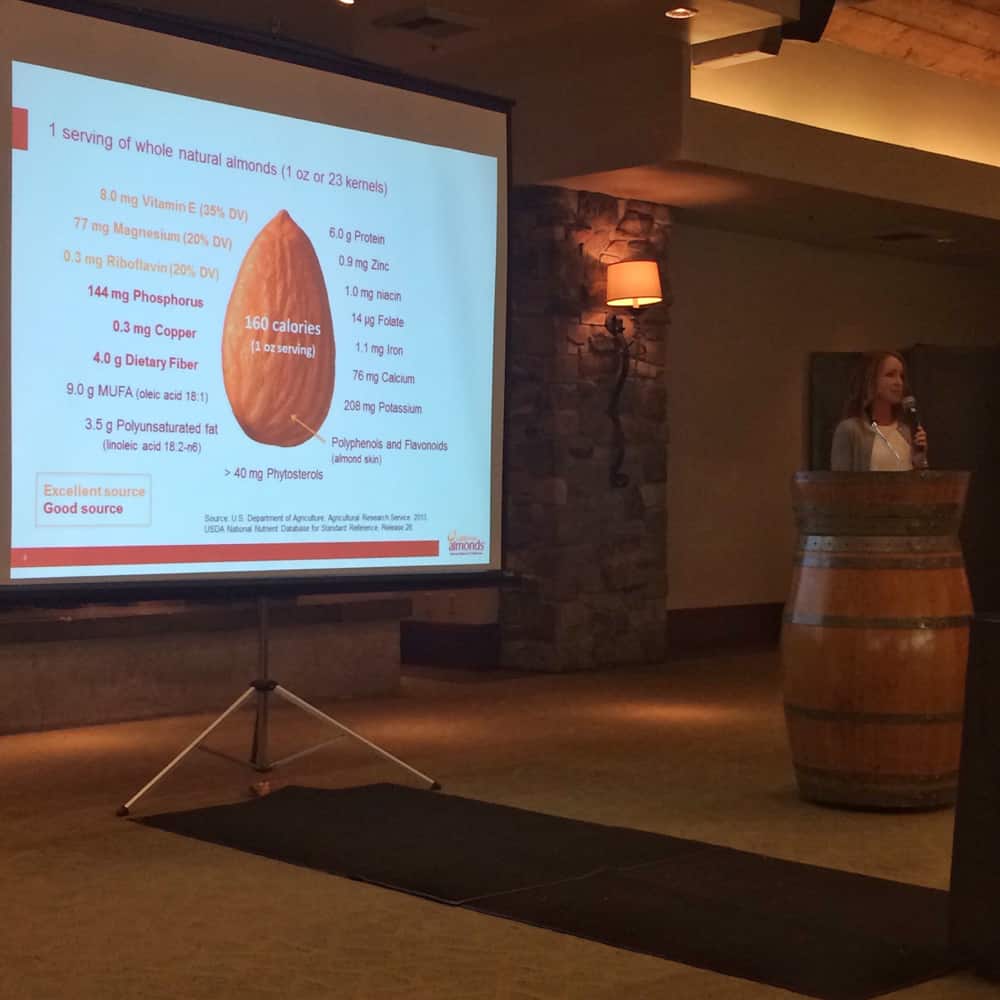 Disclosure: my trip to Lodi was sponsored by the California Almond Board. However, I was not required to write this post nor was I compensated to write this post and all opinions are completely my own.
Information is from the California Almond Board