Caprese Lentil Tomato Salad is a delicious, vegetarian summer lentil salad that's served cold, so it's great for warmer weather. High-protein, high-fiber, gluten-free lunch, snack, or dinner for spring, summer, and fall.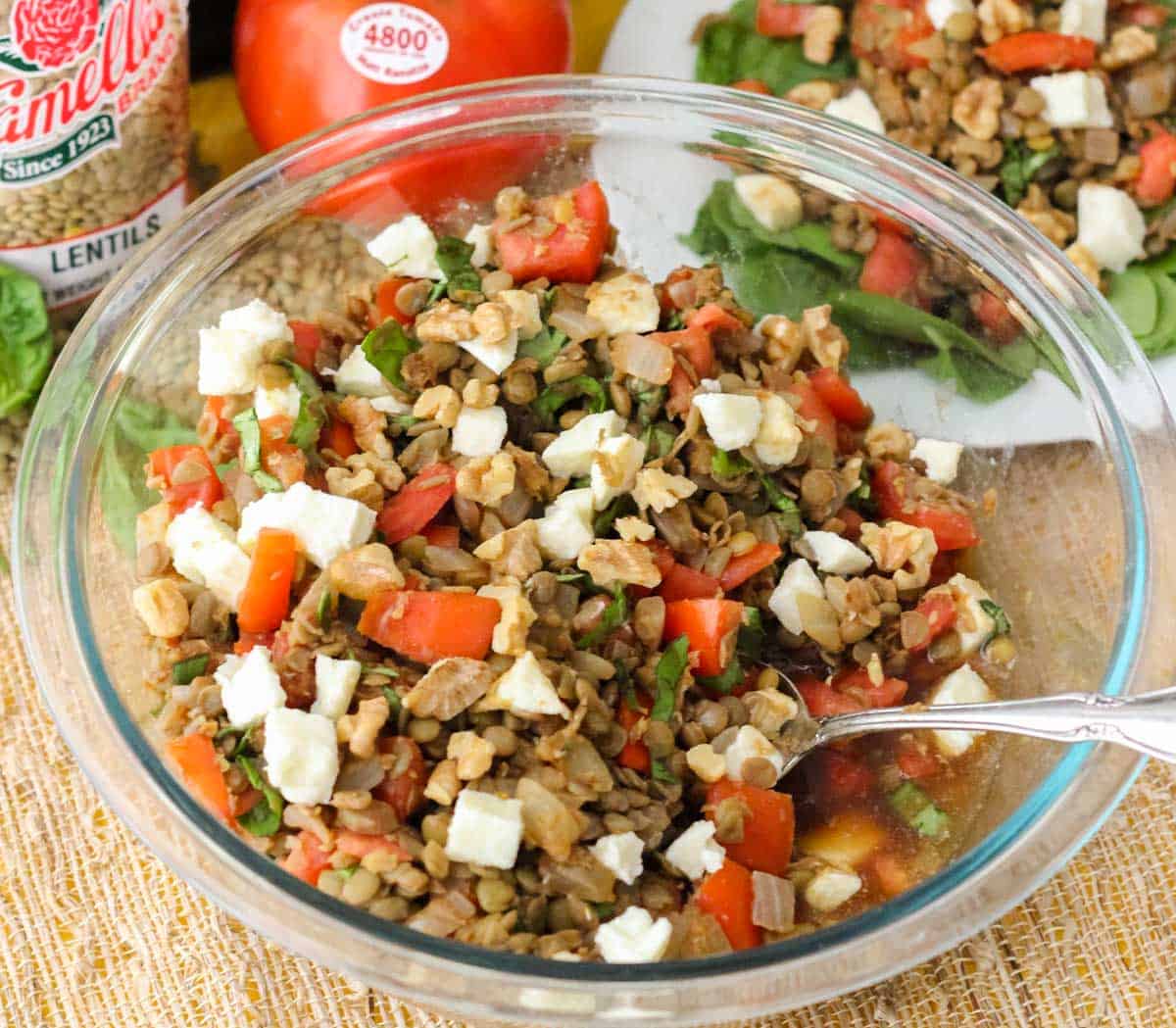 About Caprese Lentil Tomato Salad
Lentils are one of my go-to favorite protein choices to save money on my food budget as well as give my body energy.
They are full of fiber and plant-based protein.
Because lentils are a blank canvas, they are ready to be flavored however you like.
Some of my favorite ways to enjoy lentils are in the instant pot for lentil curry, as a sausage and lentils casserole, or in a cold sexy lentil salad with roasted veggies.
For this summer lentil salad recipe, we're using a Caprese salad as inspiration.
There are multiple layers to this salad to maximize the flavor.
Sautéing the onion brings out its natural sweetness and complements the tomatoes and balsamic vinegar quite nicely.
Cooking the lentils with the onion and then covering them in a balsamic dressing with fresh basil, garlic, and olive oil takes them to the next level.
And because it wouldn't be a Caprese salad without tomatoes and mozzarella, this lentil tomato salad is full of both.
To finish it off, walnuts add a delightful crunch to contrast the soft lentils, mozzarella, and tomatoes.
Not only is it wildly delicious, but this balsamic lentil salad is also high in fiber and protein, so you feel full and satisfied while nourishing your body.
And it's great to make at the beginning on the week, so you can grab it whenever you need something to eat.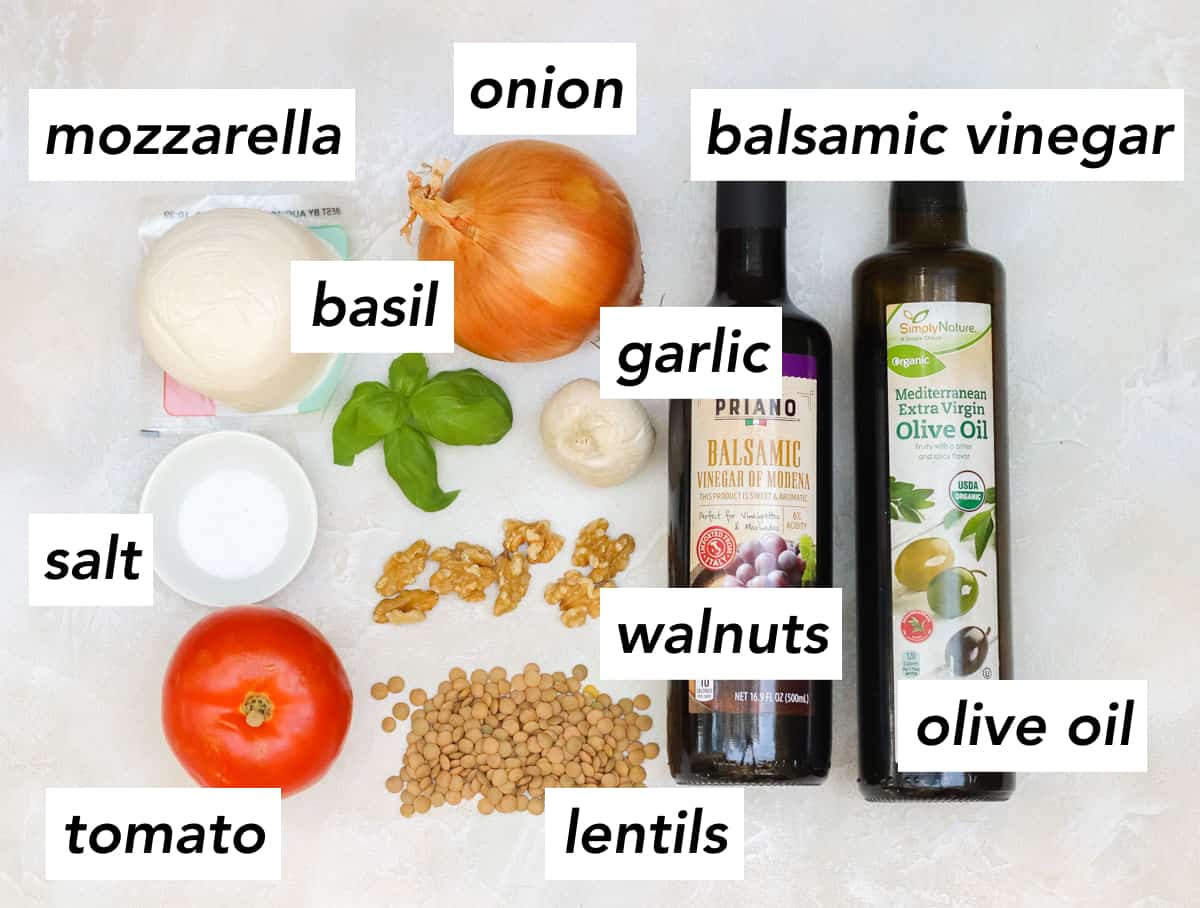 Ingredients
Oil: Since you use oil to sauté the onion as well as make the dressing, I recommend olive oil. However, avocado oil would also work.
Onion: The recipe has been tested using yellow onions, white onions, and Vidalia onions. They all work well. Red onions would also be a good choice.
Lentils: Green lentils hold typically hold their shape more so than red lentils after cooking, so green lentils are recommended in this summer lentil salad. They are also more budget-friendly and easier to find.
Tomatoes: Because tomatoes are important to this lentil tomato salad recipe, you want to use good tomatoes. Preferably when tomatoes are in season in summer and fall.
However, if you do not have good tomatoes, you can roast the tomatoes to improve their flavor. See the Alternative Prep & Cooking section below for more details.
Garlic: Raw garlic is added to the dressing for this summer lentil salad. If you do not want to eat raw garlic, you can add the garlic to the lentils while cooking or use garlic powder.
Want to learn about the health benefits of garlic? Check out this post about garlic.
Balsamic vinegar: For the classic Caprese salad flavor, use balsamic vinegar to make this balsamic lentil salad. Regular balsamic vinegar or white balsamic vinegar are both great choices. Other vinegar can be substituted if needed.
Seasoning: To season the recipe, you'll add fresh garlic, salt, and fresh basil. Simple additions that provide maximum flavor. I don't recommend using dried basil, but it could work in a pinch.
Mozzarella: A main ingredient in Caprese salad, fresh mozzarella is best for this lentil mozzarella salad. If needed, you can cube part-skim mozzarella from a block of cheese.
Walnuts: I love the crunch that the walnuts give this dish. Walnuts balance out the softer textures of lentils, mozzarella, and tomatoes perfectly.
Recipe Cost
olive oil 2 tablespoons: $0.48
onion 1 large: $0.68
lentils 1 cup: $0.98
tomatoes 1 pound: $1.98
garlic 1 clove: $0.06
balsamic vinegar ⅓ cup: $0.46
salt ½ teaspoon: $0.01
basil ½ cup: $0.98
fresh mozzarella 4 ounces: $2.08
walnuts 1 ounce: $0.45
TOTAL COST: $8.16 or $1.36/serving (Based on San Diego grocery stores 2023)
Note that this is not the recipe; it's simply to show the cost breakdown of ingredients. Scroll down to the full recipe to see the specific ingredients and directions.
How to Make Tomato Lentil Salad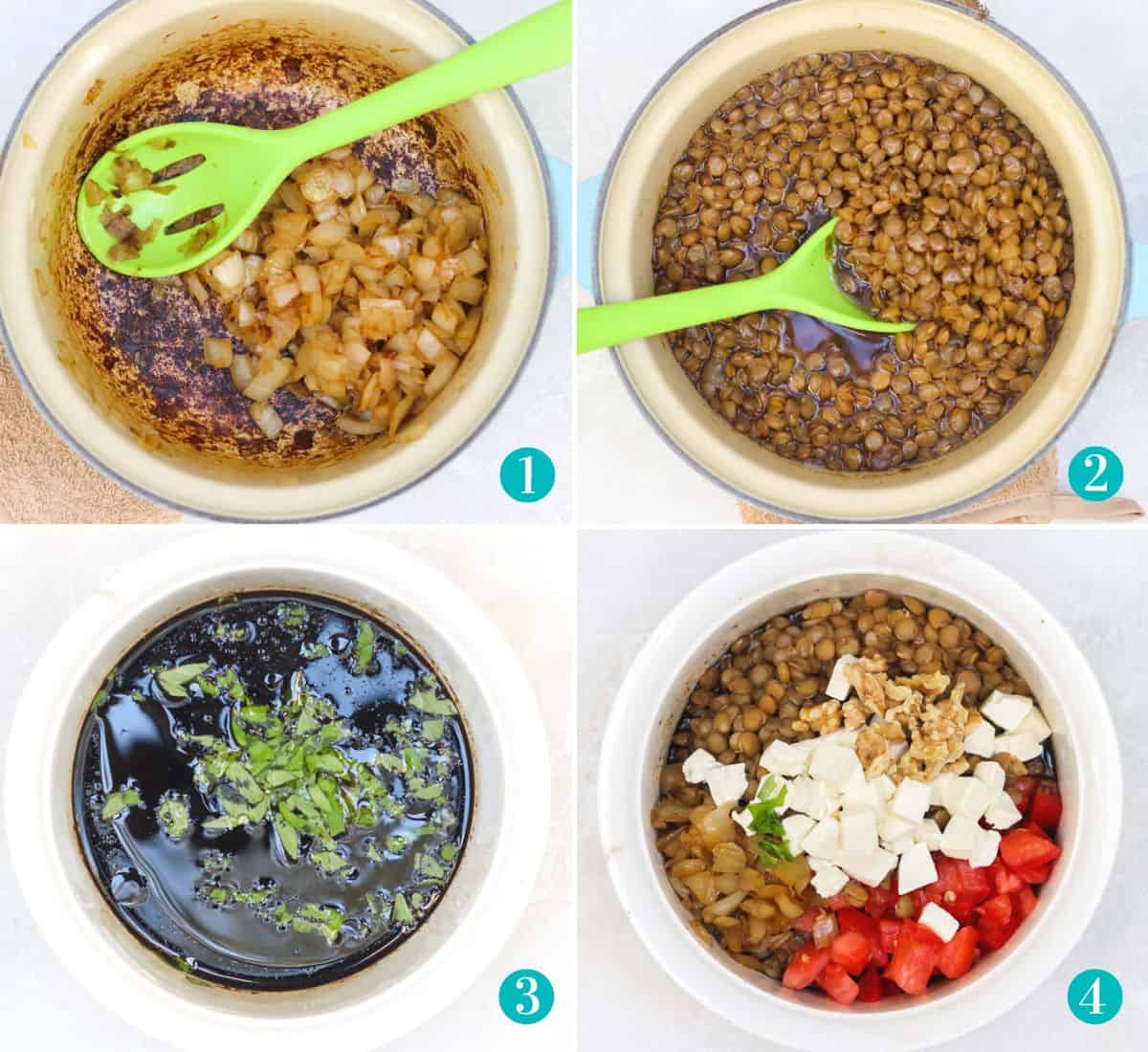 Time needed: 1 hour
Tasty summer lentil salad that's served cold, so it's a great high-fiber, high-protein meal or snack for warm weather.
Sauté onions in a pot.
Add lentils to the pot, and cook.
Meanwhile, make the balsamic dressing.
Stir everything together.

Enjoy!
Recipe Tips
*While the onions and lentils are cooking, chop the tomatoes and make the dressing.
I like to save the juice released from the tomatoes and add it to the dressing for maximum tomato flavor.
*Note that if the lentils are very warm after mixing with the dressing, you might want to wait before adding the mozzarella since it could melt the cheese.
You can put the salad in the fridge to cool for about 10 minutes and that should prevent the mozzarella from melting.
*Be sure to wait to add walnuts until just before serving. Otherwise, they will lose their crunchy texture.
Variations
Ingredient Options
Mozzarella: If you can't get fresh mozzarella, buy a block of mozzarella cheese and cube it for the salad. It will have less flavor but will still be tasty.
Basil: Fresh basil is unbeatable for this summer lentil salad, but dried basil is an option. Use ½ teaspoon dried basil and add to the lentils right after cooking & draining them. Another option is to use fresh parsley (½ cup), dried parsley (½ teaspoon), or dried no-salt-added Italian seasoning (½ teaspoon).
Walnuts: In place of walnuts, you can use pecans, pumpkin seeds, or sunflower seeds. Or you can omit them.
Flavor Substitutions
Balsamic vinegar: While balsamic vinegar is my preferred choice, you can change the flavor of this summer lentil salad by using equal parts lemon juice, white wine vinegar, or red wine vinegar.
Alternative Prep & Cooking
Tomatoes: In this recipe, the tomatoes should taste good. Yet, tomatoes don't always taste amazing depending on the season or the store you buy them from.
You can still make this summer lentil salad though!
Buy 1 pound of Roma, cherry, or grape tomatoes.
Halve the cherry or grape tomatoes. Or quarter the Roma tomatoes.
Toss them with 1 tablespoon of olive oil, ¼ teaspoon of salt, and ⅛ teaspoon of black pepper on a baking sheet.
Roast them for 15-25 minutes in a 425°F oven until the skin is soft.
Let cool before adding to the lentil salad.
How to Make Allergy-Friendly
This lentil tomato salad recipe is naturally gluten-free, egg-free, and soy-free.
To make it dairy-free, omit the mozzarella.
If you want this recipe to be nut-free, use an equal amount of pumpkin seeds or sunflower seeds. Or you can leave off the walnuts.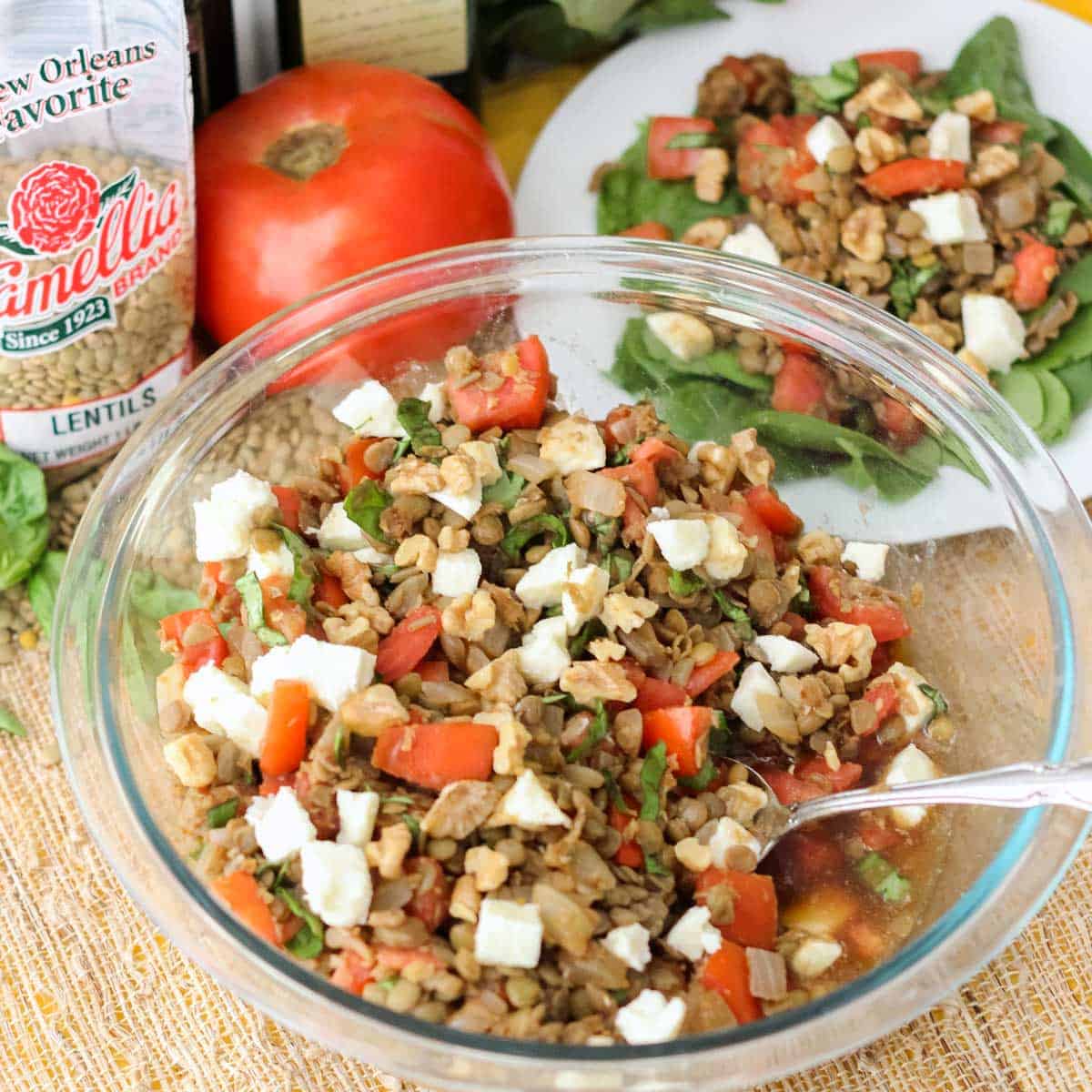 How to Fix a Mistake
Too tangy: If you feel like the vinegar flavor is too strong, add a pinch of sugar. This should help offset the tanginess.
Too dry: Add extra vinegar and oil (about 2 tablespoons of vinegar + 1 teaspoon of oil).
Too much liquid: You can drain some of the liquid off. However, I prefer to simply add extra ingredients to balance it out since the dressing is tasty and I don't want it to go to waste.
Some ideas are additional sauteed onion, chopped tomatoes (pat dry before adding), or extra cooked & drained lentils.
Additionally, you can serve it over lettuce or rice to soak up some of the dressing.
If the excess liquid is from the lentils, you might want to drain it and add more balsamic vinegar if needed.
Make-Ahead Ideas
This tomato lentil salad is excellent to prepare in advance. However, wait to add the walnuts until just before serving to preserve their crunchy texture.
That being said, the salad is still delicious if the walnuts have been added earlier. They simply won't be as crunchy.
Storage Suggestions
Store this balsamic lentil salad in an airtight container in the fridge for up to 6 days.
Because the ingredients do not freeze well, I don't recommend freezing this recipe.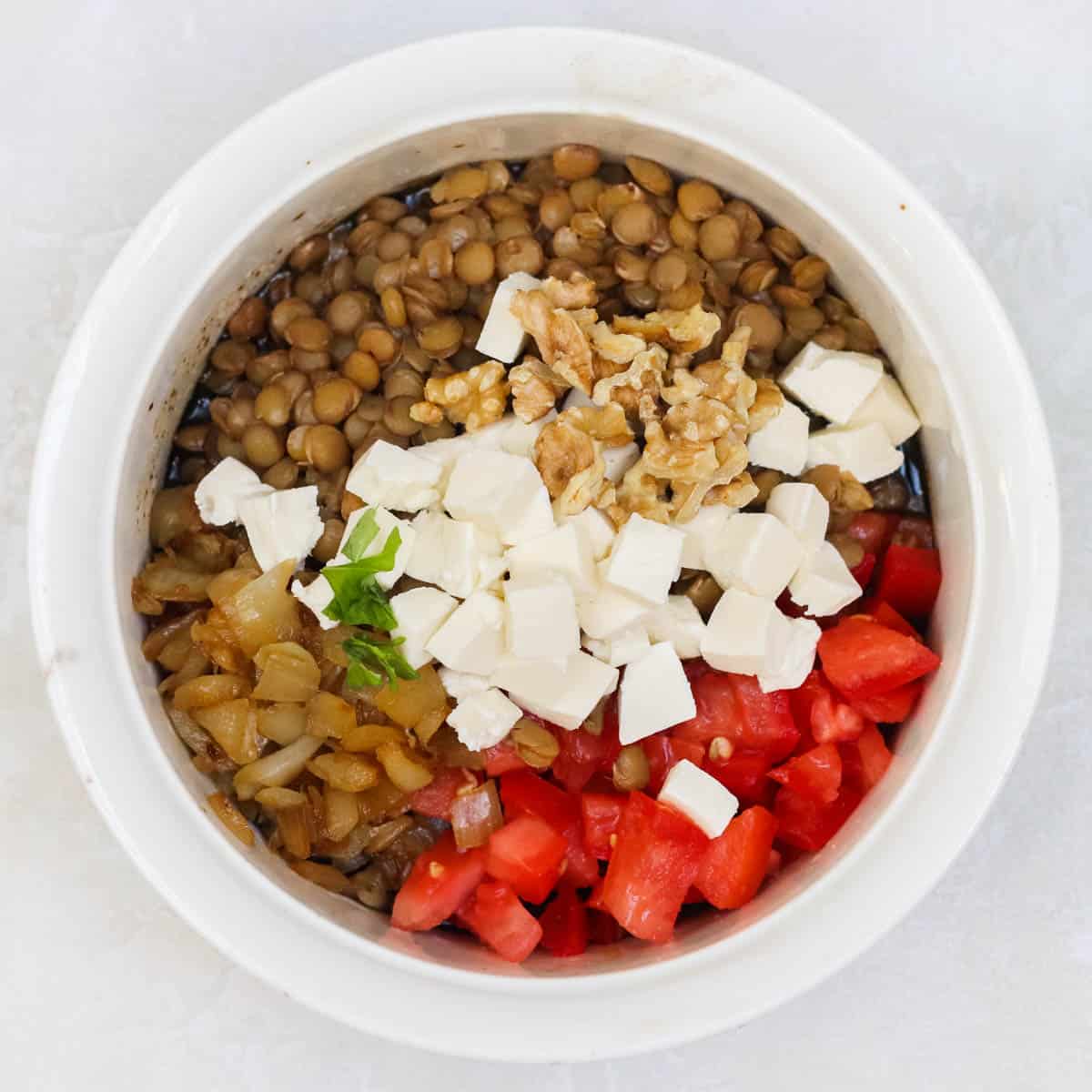 Frequently Asked Questions
Can you cook green lentils in advance?
You can cook green lentils in advance, especially for a cold lentil salad. Simply prefer as directed, drain, and store in an airtight container for up to 4 days. Then prepare the lentil salad when ready.
Can lentils be eaten cold?
Yes, lentils can be eaten cold. Lentils are delicious when cooked, cooled, and mixed with spices, veggies, and a dressing like this tomato lentil salad recipe.
Why do you put vinegar in lentils?
Vinegar enhances the taste of lentils. Because lentils have an earthy flavor, the vinegar brightens the flavor. Lemon and lime juice also work well with lentils.
Nutrition Benefits
Caprese lentil mozzarella salad is a good source of iron (17% RDA), calcium (14% RDA), potassium (14% RDA), Vitamin A (12% RDA), and Vitamin C (11% RDA).
One serving is very high in fiber - 11 grams, which is about 46% of the recommended amount. Combined with 14 grams of protein, this balsamic lentil salad keeps you full and satisfied.
Lentils also have resistant starch and cooling the lentils (as you do for this recipe) helps increase the resistant starch.
Resistant starch is linked to improved insulin sensitivity, lower blood glucose, and lower cholesterol.
Because resistant starch is not broken down by stomach acid, it's converted into butyrate in the large intestine.
Butyrate can improve digestion, enhance immune regulation, and fight inflammation and oxidative stress in the body.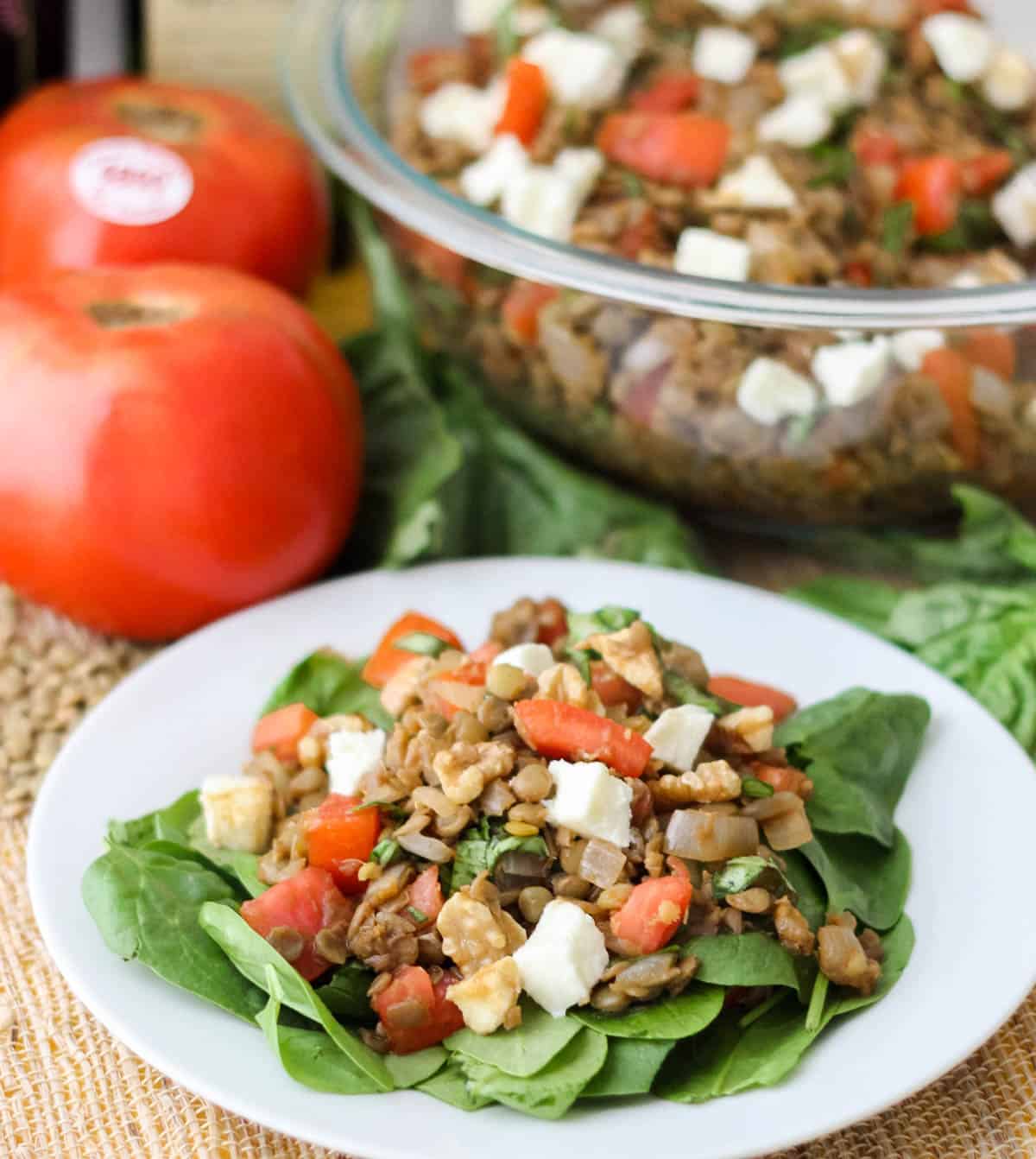 What to Serve with Caprese Lentil Tomato Salad
This balsamic lentil salad is great as a main course or a snack. You can enjoy it over lettuce for extra veggies, with a side of crackers or chips for dipping, or with rice.
Final thoughts:
This is one of my favorite recipes to make whenever the weather warms up. If you like Caprese salad, you will love this version as a summer lentil salad!
Plus, you can make a batch and enjoy it all week so you only have to cook one time for multiple meals.
MORE LENTIL RECIPES YOU'LL LOVE: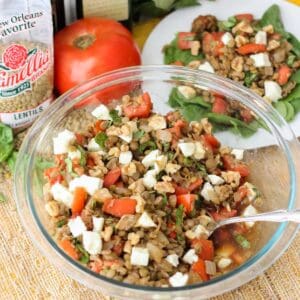 Caprese Lentil Tomato Salad
Caprese Lentil Tomato Salad is a delicious, vegetarian summer lentil salad that's served cold. A great high-fiber, high-protein meal or snack for the summer.
Print
Rate
Total Cost:
$8.16 or $1.36/serving
Ingredients
2

tablespoons

olive oil

divided

1

large

onion

diced

1

cup

lentils

dry

⅓

cup

balsamic vinegar

½

teaspoon

salt

1

clove

garlic

minced or crushed

2

medium

tomatoes

diced (about 1 pound)

½

cup

chopped fresh basil

4

ounces

fresh mozzarella

cubed

¼

cup

walnuts

chopped & preferably toasted (optional)
Instructions
Add 1 tablespoon olive oil to a saucepan over medium-high heat.

Sauté onion in oil for about 5 minutes until soft and lightly browned.

Add lentils to the saucepan, and cover with enough water to completely cover lentils with about one inch of water. Bring to a boil.

Cover the saucepan, reduce heat, and let simmer for about 30-35 minutes until lentils are tender but not mushy.

Drain the lentils immediately and stir together with the chopped tomatoes and garlic.

Whisk together balsamic vinegar, the remaining tablespoon of oil, and salt.

Pour the balsamic dressing over the lentil mixture.

Stir well, and add in the basil and mozzarella.

Sprinkle with walnuts just before serving, if using. Enjoy!
Notes
*Makes about 5-6 cups
*Omit mozzarella for a dairy-free salad.
*Use pumpkin seeds or sunflower seeds in place of the walnuts for nut-free. Or omit.
*You can serve the salad immediately or put it in the fridge to cool. It's good no matter what temperature it is.
*Note that if the lentils are still warm, the mozzarella could possibly melt a little. You can wait to cool the mixture to prevent this from happening.
What to Use in This Recipe
Did you try this recipe?
Be sure to leave a comment & recipe rating below. Bonus points for tagging @memeinge & #livingwellkitchen on Instagram! THANK YOU! xo
Meme
This post was originally published on July 14, 2014. Text, recipe, and photos updated
---
Caprese Tomato Lentil Salad Nutrition Facts
Nutrition Facts
Caprese Lentil Tomato Salad
Amount per Serving
% Daily Value*
* Percent Daily Values are based on a 2000 calorie diet.