Filling your body with wholesome, nutritious food doesn't have to be complicated or expensive! This tasty one-skillet dish proves that eating nourishing food is easy, budget-friendly, and most importantly, delicious!
Disclosure: I was asked to participate in the #OrganicforAll campaign as a member of the Healthy Aperture Blogger Network. I received free product for recipe testing and was compensated for my time.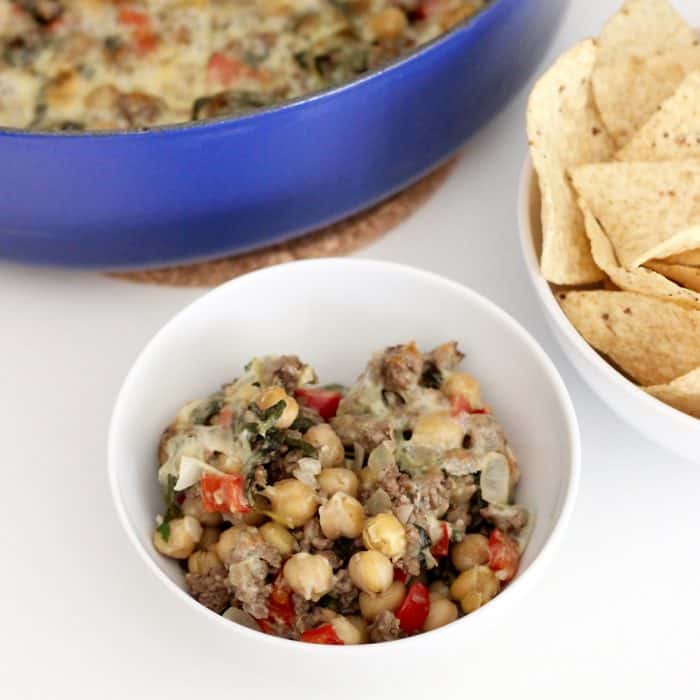 Do you ever read articles about nutrition or eating healthier or making sure you're not doing the "wrong things" and just feel overwhelmed?
Like... oh sure, if I had a personal chef I could do that or if I didn't want to enjoy the food I was eating I might consider that option or if I had all the money in the world I'd buy all organic food... and then you feel like giving up because it's too much and it's not possible for real life.
Total bummer.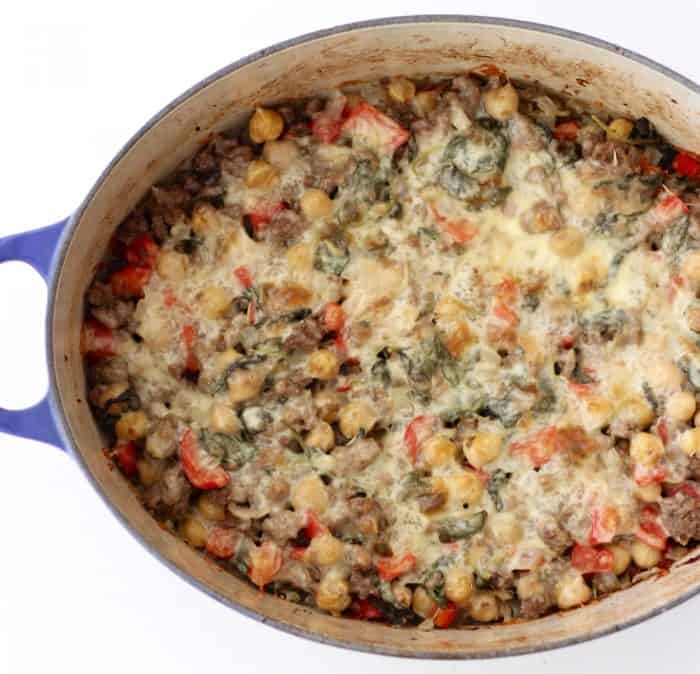 But we don't have to feel that way! I have found a solution to the I want to buy nutritious, preferably organic, delicious food problem!
O Organics® (the top-selling organic brand) makes it easy to add organic items into everyday meals without a lot of time, money or effort.
Easy? Not a lot of time, money, or effort? Sign me up. (and I did, which is why you have this tasty meal I'm about to tell you more about)
What's nice is that this isn't impossible to find. There's nothing worse than making your list and not being able to find something. Just look for that bright and shiny blue "O" on the O Organics® label. P.S. you can find O Organics® at your neighborhood Albertsons, Vons or Pavilions store.
I love that O Organics® makes organic food accessible and not super expensive or hard to find. And this year, they're adding over 100 new items (think produce and meats plus deli and snack items), so there are even more affordable USDA-certified organic options to choose from.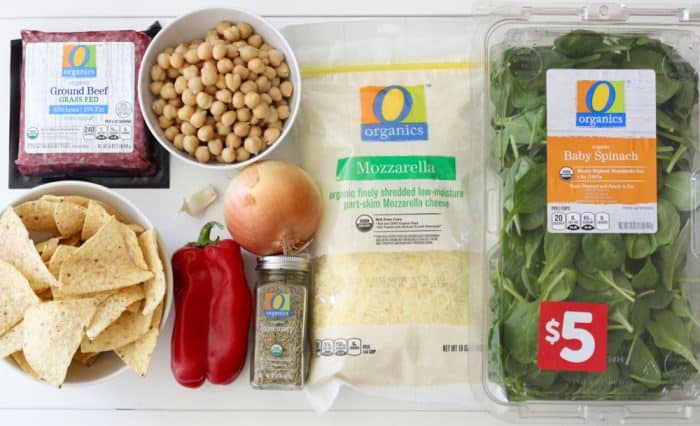 For example, I'm using O Organics® ingredients in this Cheesy Beef, Chickpea, and Spinach dish, so I know I'm feeding my body (and the other people eating with me) good stuff.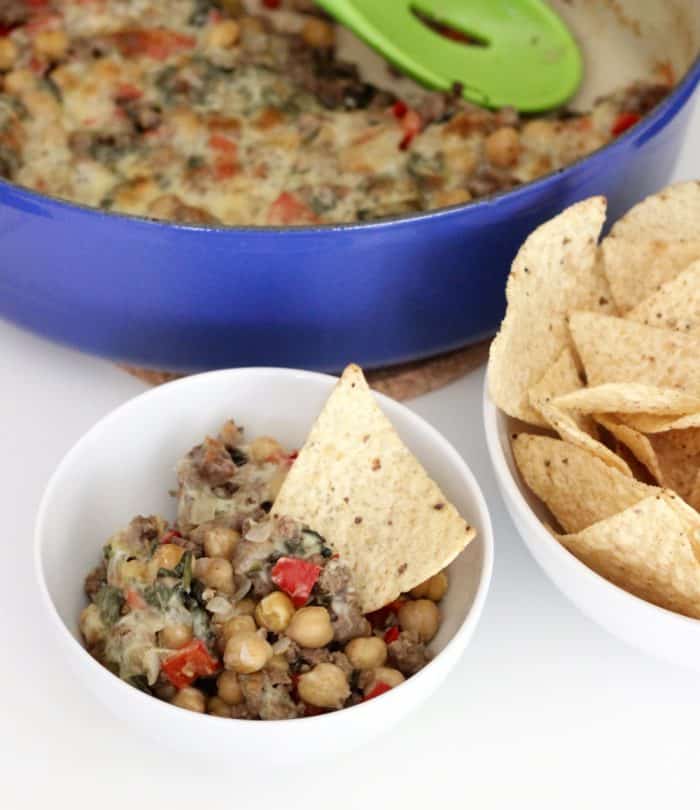 So many things about this skillet dish make me happy, so many in fact, I will give you a bulleted list:
tons of veggies - y'all know how much I love and live for veggies. This dish has two full servings of veggies per serving. Boom!
only 10 ingredients - ok, so technically 12 if you count water & salt. But that's it!
chips - any time chips are in my dinner, I feel so happy.
cheesy - bubbly cheese on top of anything improves your day by at least 16% (fun fact I just made up)
ready in under 45 minutes - technically, I think it could be made in 30 but I take forever to do anything and I was busy writing things down and testing and tasting (because someone has to do it)
wholesome & nutritious with no guilt involved - those rude articles that make you feel guilty for not doing this or that don't stand a chance next to this dish. This has all good things
deeeeeeeeeelicious - I don't feel like I need to describe this
one skillet - everything is cooked in one skillet so no extra dishes to wash (my favorite aspect because washing dishes does not improve my day)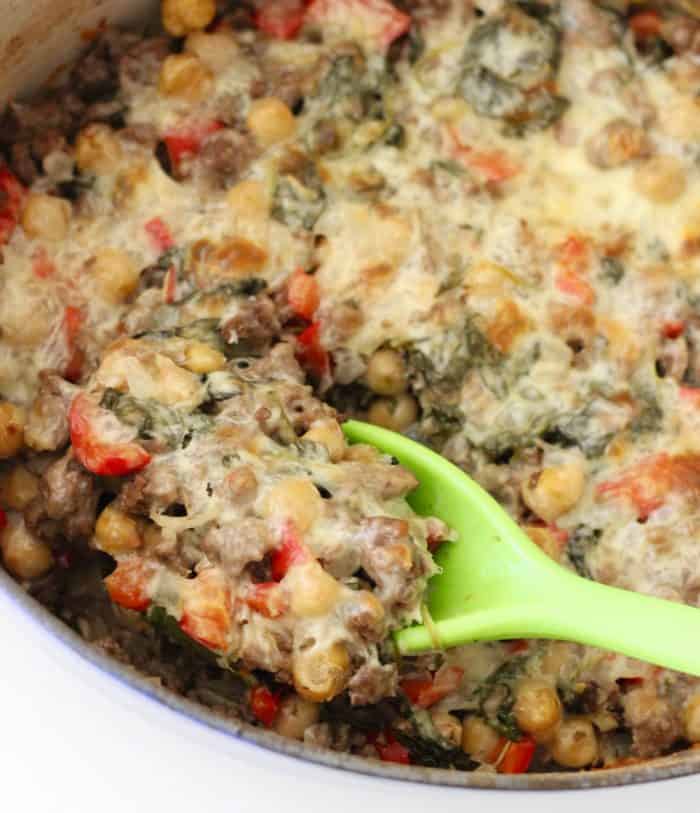 Bulleted lists aside, this dish is awesome.
If you are feeding people who want a little more spice, I highly recommend adding in ¼ teaspoon of cayenne pepper when you add the rosemary and salt. Or you can serve with some hot sauce on the side.
Whatever you do, make this recipe. (Reread the bulleted points if needed)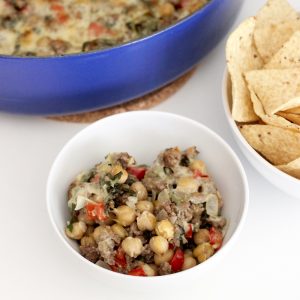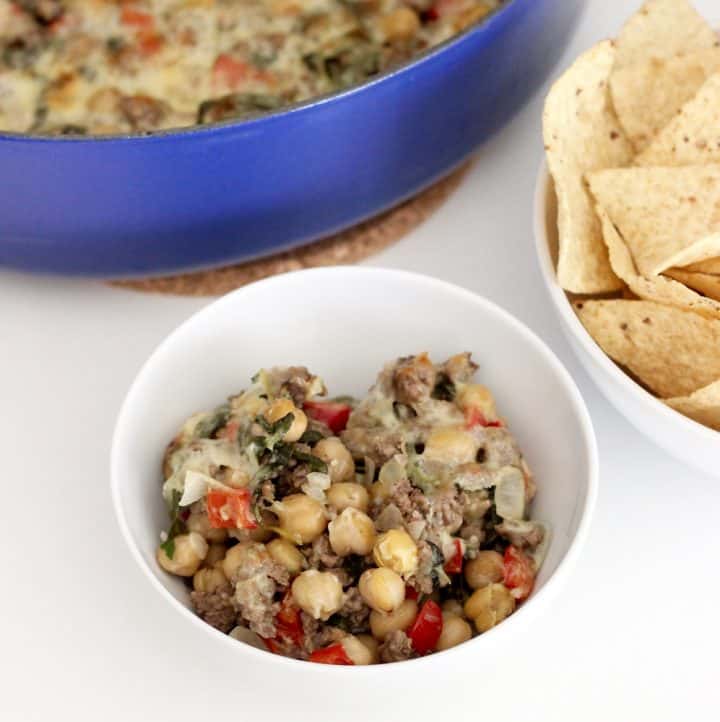 Cheesy Beef, Chickpeas and Veggies
Filling your body with wholesome, nutritious food doesn't have to be complicated or expensive! This tasty one-skillet dish proves that eating nourishing food is easy, budget-friendly, and most importantly, delicious!
Print
Rate
Ingredients
1

pound

O Organics® ground beef

1

medium

red bell pepper

diced

1

medium

onion

diced

1

clove

garlic

minced

½

teaspoon

O Organics® dried rosemary

½

teaspoon

salt

15

ounce

can chickpeas

rinsed & drained

6

cups

O Organics® baby spinach

1

tablespoon

apple cider vinegar

2

tablespoon

water

4

ounces

O Organics® shredded mozzarella cheese

1 cup

4

ounces

tortilla chips
Instructions
Preheat the oven to 475*F.

Add the ground beef, diced bell pepper, and diced onion to a large saute pan, skillet or french oven. Heat over medium-high heat and cook, stirring often, until the beef is cooked and the veggies have softened, about 10 minutes. Drain well and transfer back to the pan.

Add in garlic, dried rosemary, salt, chickpeas, baby spinach, apple cider vinegar, and water. Stir well. Let simmer for 10 minutes until most of the liquid has evaporated.

Cover with cheese, and carefully transfer to the oven. Bake for 8-10 minutes until cheese is bubbly and lightly browned.

Carefully remove from the oven and serve with tortilla chips. Enjoy!
Notes
*You want to use a shallow french oven, sauté pan, or skillet with at least 2-3 inch sides with a large surface area (so you have more melty bubbly cheese).
*You can use any color bell pepper.
*This is delicious as leftovers. Don't use the chips until ready to eat.
Did you try this recipe?
Be sure to leave a comment & recipe rating below. Bonus points for tagging @memeinge & #livingwellkitchen on Instagram! THANK YOU! xo
[showhide type="post" more_text="Click here for Nutrition Facts" less_text="Clear Nutrition Facts"]
*
Nutrition Facts
Cheesy Beef, Chickpeas and Veggies
Amount per Serving
% Daily Value*
* Percent Daily Values are based on a 2000 calorie diet.
*
[/showhide]
Meme