These tasty Corned Beef and Cabbage Lettuce Wraps, full of flavor and packed with veggies, will have you feeling satisfied and energized, not deprived!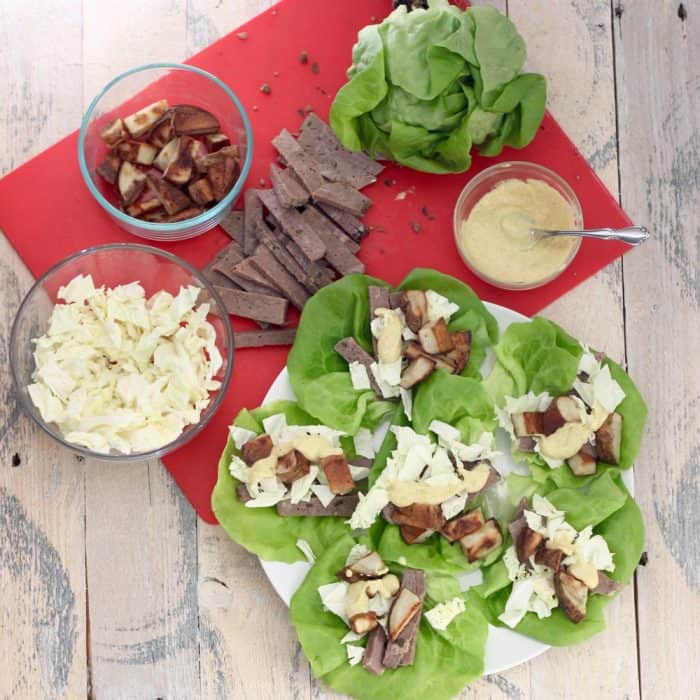 After Mardi Gras, all I can think about is vegetables.
It always amazes me that when I listen to my body -- something I have gotten a lot better at doing in the past few years -- instead of restricting or forcing it to eat "healthy" that it actually knows what it needs.
And after a week of adult beverages, snack foods instead of real meals, and very little veggies, my body is all "gimme every veggie that God has ever made!!!!"
So when I was brainstorming what I would make for a St. Patrick's Day recipe, I knew it needed a lot of veggies!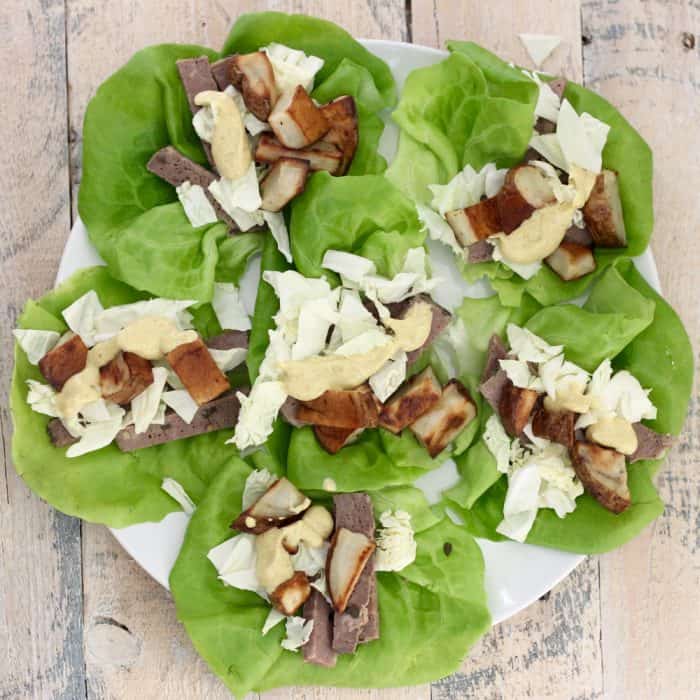 Lettuce Wraps are my favorite because the shell itself is a veggie. Then you can fill it with whatever. I usually go with more veggies because like I said, I need all the veggies I can get (don't we all!)
However, I have one gripe with lettuce wraps: they can feel a little diet-ish if you do them wrong. What do I mean? Well, when you only have veggies and protein in a meal, you feel less than satisfied. I do at least.
Carbohydrates exist for a reason and your body needs them. But instead of eating carbohydrates that make me feel sluggish and run down, like overly processed pretzels and chips and crackers and the like, I add the good stuff to these lettuce wraps: potatoes!
I am a potato lover through and through. Potatoes are THE BEST!
Plus, potatoes are commonly seen in corned beef and cabbage recipes, so I decided to use them as my carbohydrate in this dish. Roasting them gives a fun element to these lettuce wraps that keeps them feeling anything but diet-ish!
Next, we have the corned beef. First, I was not expecting how long it would take to cook corned beef. If When you decide to make this recipe, take that into mind. I demonstrate how I cooked mine in the video (by simmering on the stove for about 4-5 hours) but you can also use your slow cooker.
My slow cooker was occupied by next week's recipe video, so simmer on the stove I did.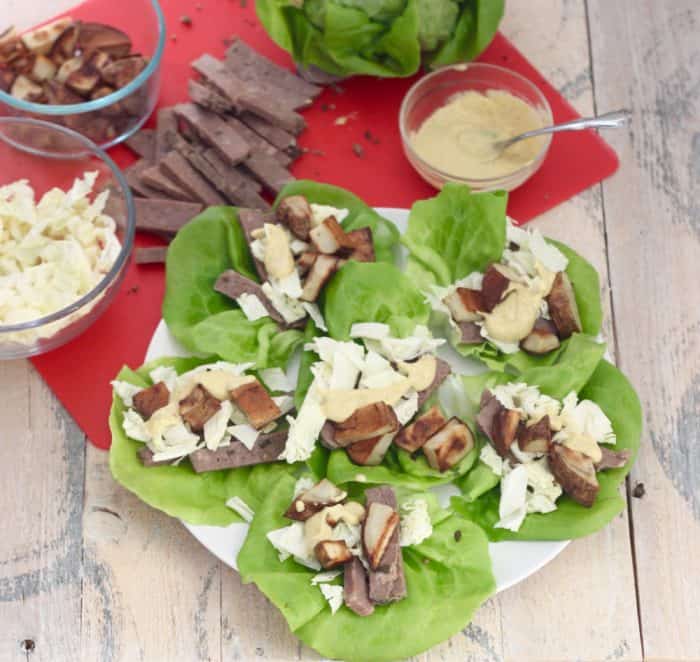 A few other corned beef tips:
*Look for a piece that is flatter instead of thicker to help decrease your cooking time.
*Buy a corned beef without added nitrates or nitrites. I've been to two grocery stores, Whole Foods and Trader Joe's, this week and found them at both.
*Rinse your meat after cooking (unlike me unfortunately). Juniper berries, mustard seeds and peppercorns get annoying as you're cutting and assembling and eating the lettuce wraps. Ha!
Also, this recipe would be great to use up your leftover corned beef.
Then we have the cabbage. I am not a huge fan of boiled cabbage. It smells so weird and frankly, I think the taste is pretty unappetizing.
Cabbage is a great veggie and can actually taste great! I like it roasted or shredded. I use savoy cabbage because I prefer the taste of fresh savoy cabbage to regular cabbage, but it's up to you.
You could also easily just buy pre-shredded cabbage saving you the trouble as well as the leftover cabbage you'll inevitably have.
Side note: with your leftover cabbage, try roasting it! It's crazy good! I also have a recipe coming Monday for using your leftover corned beef & cabbage, so stay tuned. Update: it's this delicious hash!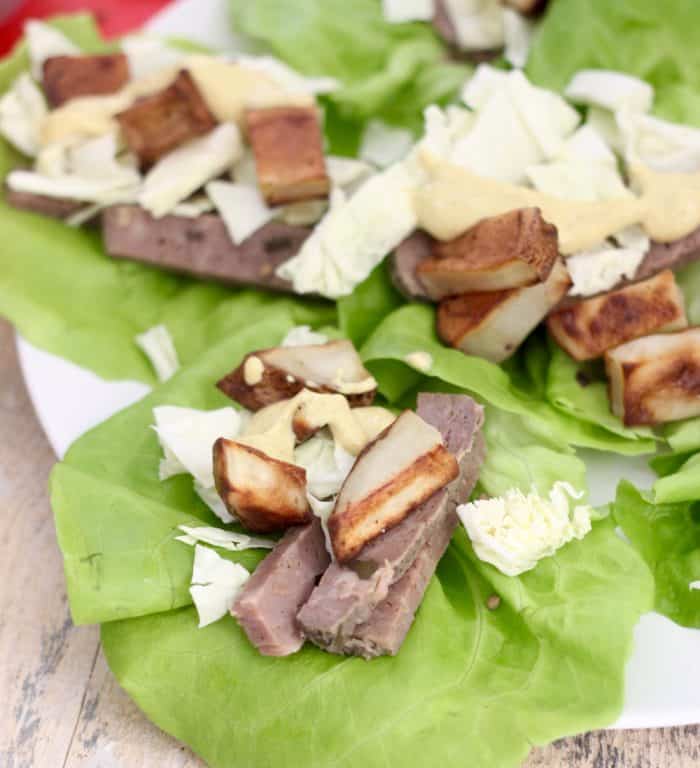 Last but not least, we have the sauce. To be honest, the sauce happened on a whim. I realized that I am probably the only human who loves salad and lettuce wraps without dressing/sauces. I know it's weird, but I actually like the way it tastes.
Knowing this, I decided I needed a sauce that would complement all the flavors in the lettuce wraps -- the savory roasted potatoes, the salty, slow cooked corned beef and the fresh, shredded cabbage -- without overpowering them. This mustard sauce does the trick and is quite delicious.
No worries if you are not a dairy eater. For a dairy-free version, use mayo and 1 teaspoon of apple cider vinegar in place of the yogurt. You can try a vegan mayo for an egg-free option.
And that wraps up these Corned Beef and Cabbage Lettuce Wraps. Pun intended 😉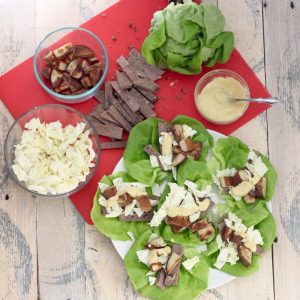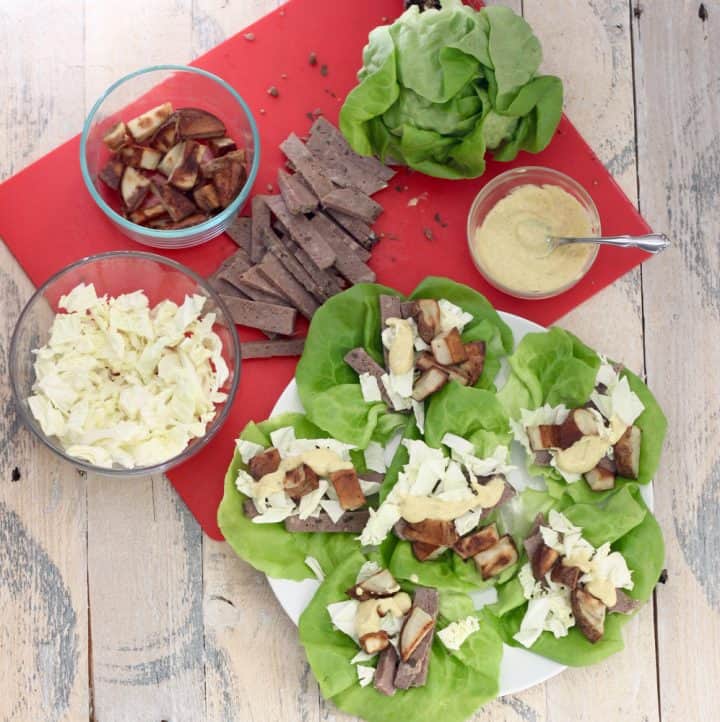 Corned Beef and Cabbage Lettuce Wraps
These tasty Corned Beef and Cabbage Lettuce Wraps, full of flavor and packed with veggies, will have you feeling satisfied and energized, not deprived!

Print
Rate
Ingredients
For the potatoes
½

pound

potatoes

chopped

2

teaspoon

olive or avocado oil

¼

teaspoon

black pepper

⅛

teaspoon

salt
For the sauce
¼

cup

plain greek yogurt

¼

cup

spicy mustard

1

teaspoon

brown sugar

or honey

⅛

teaspoon

salt

⅛

teaspoon

black pepper
For the Lettuce Wraps
2

cups

shredded fresh cabbage

12

lettuce leaves

12

oz

corned beef

cooked
Instructions
For the corned beef
Add the corned beef to a large pot and cover with cold water. Bring to a boil. Reduce heat to low and cover. Simmer for 3-4 hours until the meat is tender. Let cool.
For the potatoes
Preheat the oven to 425*F.

Toss the cubed potatoes with the oil, pepper, and salt. Add to a baking sheet and roast for

20 minutes

.

Stir (potatoes should easily release from the baking sheet) and roast for another

15-25 minutes

until golden. Set aside
For the sauce
Stir together the greek yogurt, mustard, brown sugar, pepper, and salt. Set aside.
For the lettuce wraps
Plate the lettuce leaves and fill each evenly with the cooled and sliced corned beef, shredded cabbage, roasted potatoes and top with a little sauce

For each lettuce wrap, you'll use a few slices of corned beef, about 2-3 tablespoons of shredded cabbage, about 2-3 tablespoons of roasted potatoes and 2-3 teaspoons of mustard sauce
Did you try this recipe?
Be sure to leave a comment & recipe rating below. Bonus points for tagging @memeinge & #livingwellkitchen on Instagram! THANK YOU! xo