Only seven ingredients make up this crispy fried pasta dish full of deliciousness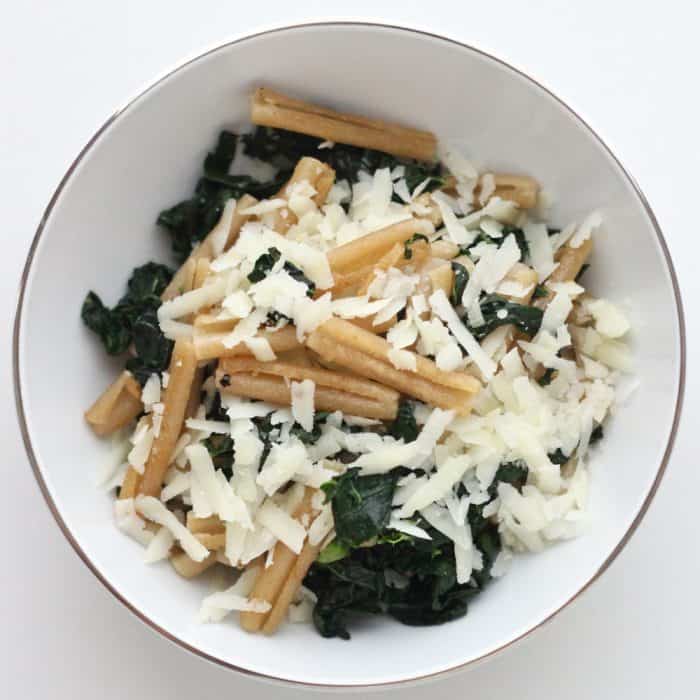 Oh hey there, tax season. Aren't you fun?!
This is the time of year when everyone is feeling the need for a budget, strapped for time, and at a loss for inspiration. Your new year's resolutions have likely fizzled out, and it's not yet time for summer. It's hot one day and cold the next.
The thought of making a nourishing meal isn't on the high priority list when you have one million other things going on in your life. I totally get it.
But I know how not-so-great I feel when I start relying more on take-out and convenience food than when I take a little extra time to prepare healthy meals that keep me feeling good (read: lots of veggies + protein + heart-benefiting fats + whole grains).
Let me help you take the guesswork out of what to cook when the thought of cooking something seems impossible.
Crispy Pasta with Kale and Parmesan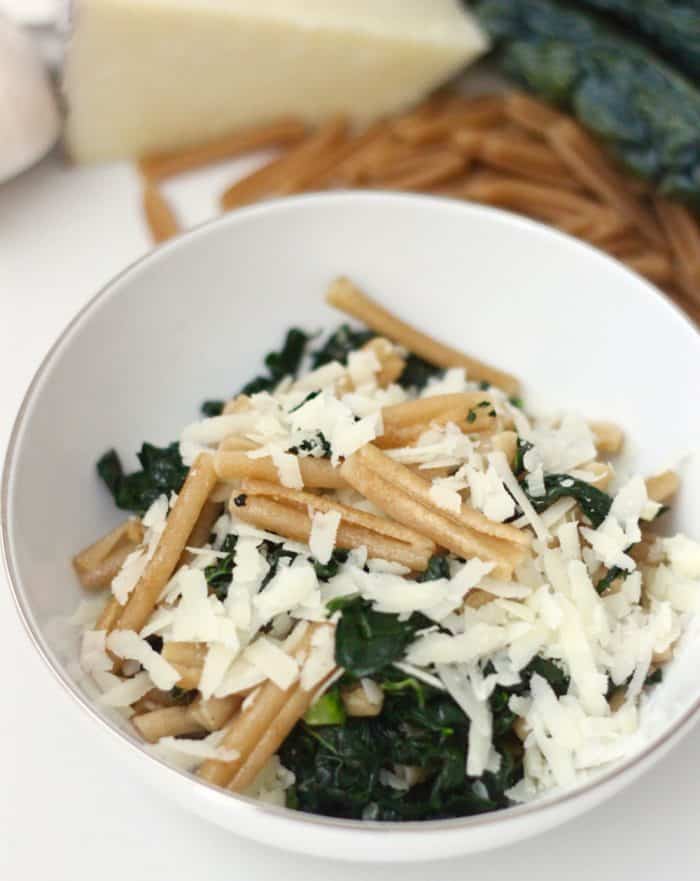 The best part is that this meal feels anything but diet-ish. Thank God! Who wants to feel deprived?! Not this lady.
To prove the point that you can have a nourishing meal that doesn't make you feel like you're eating tasteless diet food, I decided to fry pasta in butter.
No, really. I did. I cooked some pasta, then fried it in butter.
I should clarify: I cooked whole grain pasta, then fried it in a little bit of butter. It is so wonderful! Crispy pasta really should be a thing, especially when you add in all the kale in the world, garlic, and parmesan.
[clickToTweet tweet="Only 7 ingredients make up this crispy fried #vegetarian #pasta dish full of deliciousness!" quote="Only 7 ingredients make up this crispy fried #vegetarian #pasta dish full of deliciousness!"]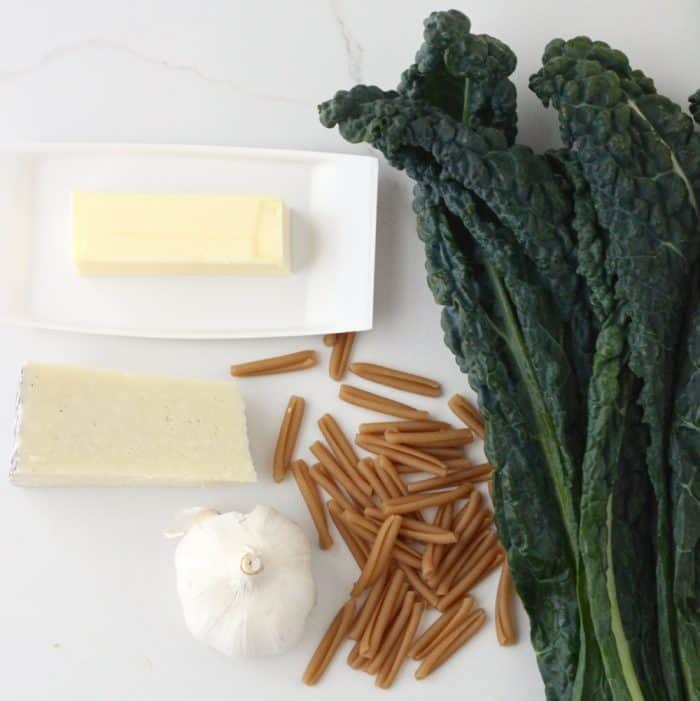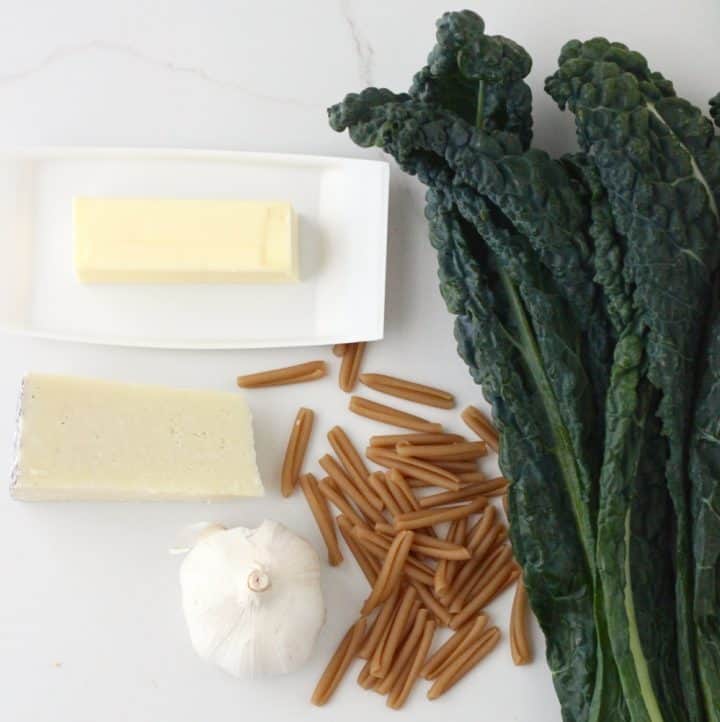 For the Recipe ReDux, we are creating 7 ingredient or fewer recipes to help you out this month in case your inspiration for filling you body with food that makes you feel good is all but gone.
For this crispy pasta dish, you'll need pasta (it can be whole wheat or any whole grain; just make sure it's whole grain), butter, kale, garlic, salt, pepper, and parmesan cheese. That's it!
You start out boiling the pasta. I used whole grain brown rice pasta because that's what was already open in my pantry. I like all pasta. Pick your favorite. You are bound to find a whole grain pasta that your family likes. It can be whole wheat, quinoa, brown rice, whatever.
Make sure to only boil the pasta until it is al dente (meaning it's not mushy or cooked all the way through). The best way to do this is to cook it about 2-3 minutes less than the recommended cooking time on the package. Once it's cooked, drain the pasta. Don't bother rinsing it, and reserve some of the pasta cooking water.
Heat some butter in a large skillet. You want a big surface area, so the pasta can go in one layer and every piece will be fried. This is important. All of the noodles deserve the luxury of being fried & crispy.
Remove the crispy pasta and toss in the kale and a little bit of the reserved pasta cooking water. Add your garlic and cook until the water has evaporated. Stir in the crispy pasta. Remove from heat and cover in parmesan. Done!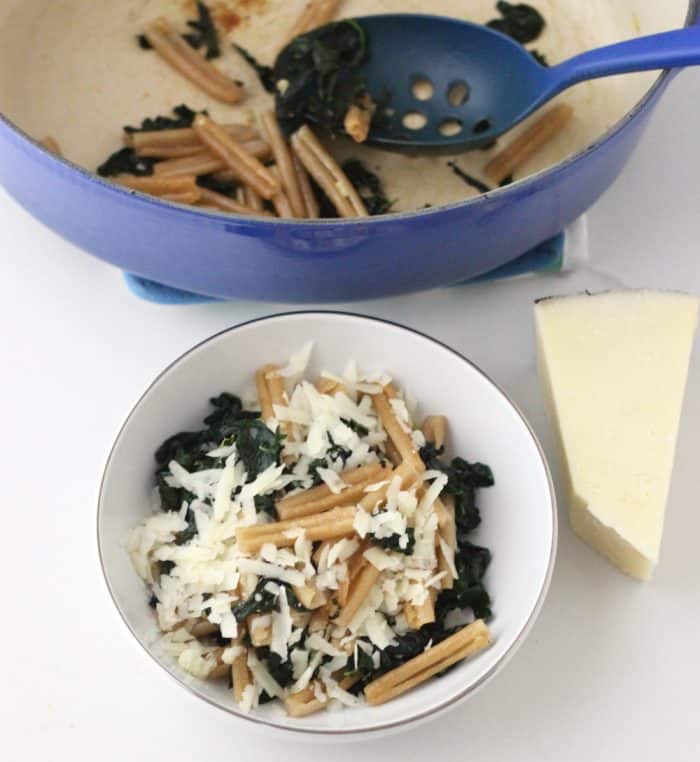 I really enjoyed it with some fresh squeezed lemon, but it doesn't need it. I just think lemon makes pretty much everything better (sorta like bacon).
Now you have absolutely no excuse not to make dinner for you or your family (the recipe easily halves).
It is best enjoyed immediately because the pasta doesn't stay as crispy, but you can remedy that by reheating in a dry skillet.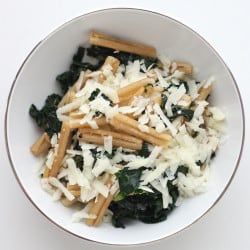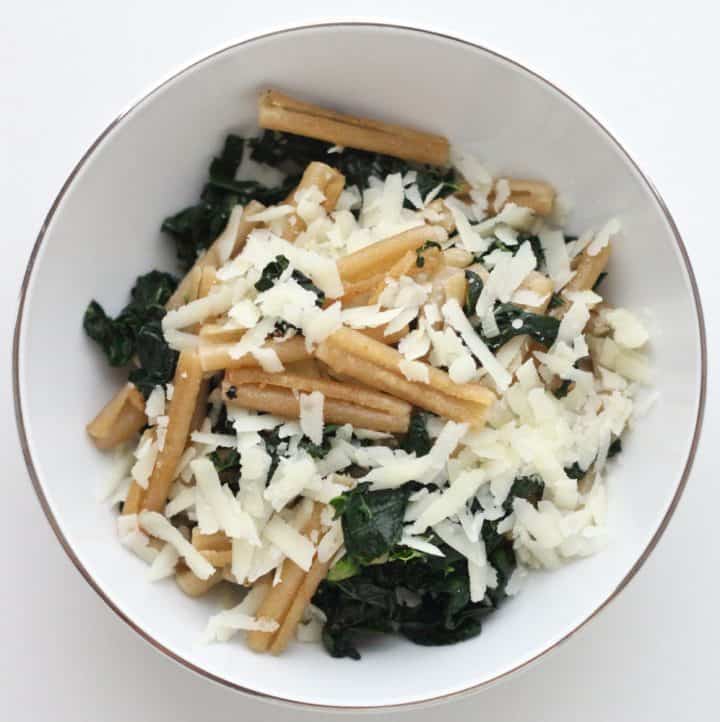 Crispy Pasta with Kale and Parmesan
Only seven ingredients make up this crispy fried pasta dish full of deliciousness
Print
Rate
Ingredients
6

ounces

pasta

about 2 cups dry

3

tablespoon

butter

16

ounces

kale

chopped, about 2 bunches or 12 cups

2

cloves

garlic

minced, 2 teaspoons

2

ounces

grated parmesan cheese

½ cup

½

teaspoon

salt

¼

teaspoon

ground black pepper

lemon

optional, for serving
Instructions
Bring a pot of water to a boil. Add pasta and cook for 2 minutes less than the package directions recommend. Drain and reserve ¼ cup pasta water. Set aside.

Heat the butter in a large skillet over medium-high heat until melted. Add the cooked & drained pasta in one layer. Cook in the butter for about 7 minutes until crispy then stir to cook on other sides for about 3 minutes. Remove from skillet.

Stir in kale, garlic, and reserved ¼ cup pasta water. Cook until kale has wilted and all of the liquid has absorbed, about 5 minutes. Stir in salt, pepper, and reserved pasta.

Enjoy immediately with freshly squeezed lemon if desired.
Did you try this recipe?
Be sure to leave a comment & recipe rating below. Bonus points for tagging @memeinge & #livingwellkitchen on Instagram! THANK YOU! xo
[showhide type="post" more_text="Click here for Nutrition Facts" less_text="Clear Nutrition Facts"]
*
Nutrition Facts
Crispy Pasta with Kale and Parmesan
Amount per Serving
% Daily Value*
* Percent Daily Values are based on a 2000 calorie diet.
*
[/showhide]
Meme
Check out all the other 7 ingredients or less recipes: