This quick and easy Mexican Cream Cheese Appetizer is great to take to summer gatherings because you can make it ahead of time, and the ingredients for the recipe are easy to find. It's also a great starter for parties any time of year.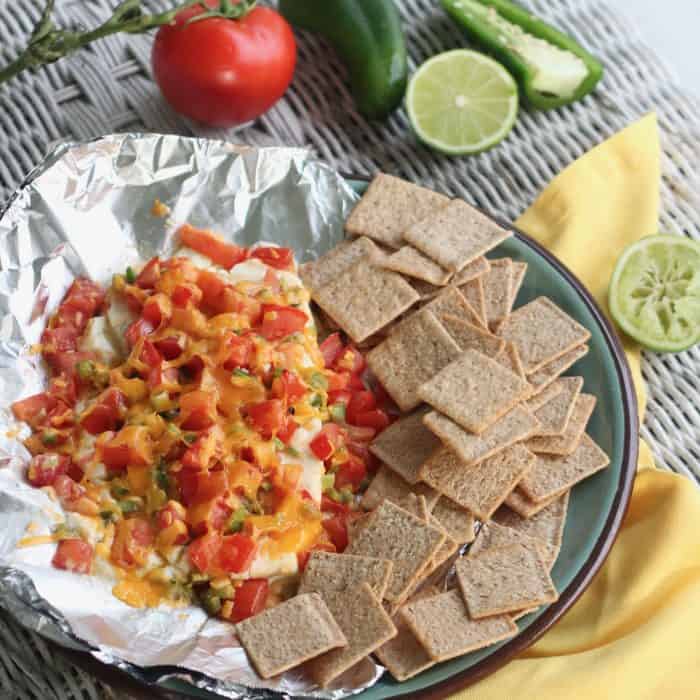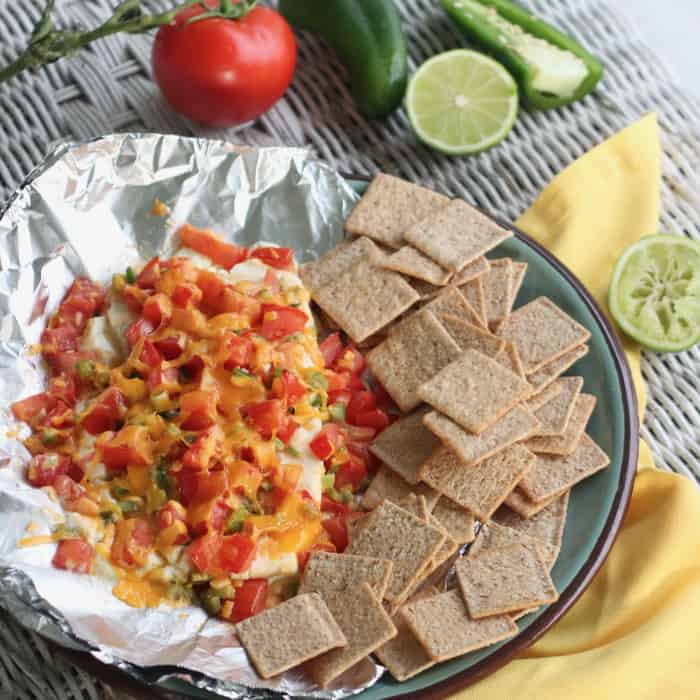 About Mexican Cream Cheese Appetizer
Do you ever realize you were supposed to bring an appetizer somewhere but you have no time to make anything let alone run to the store to get all the ingredients you need?
If you know what I mean then you will love this easy summer appetizer which happens to be delicious year round!
This Mexican Cream Cheese Appetizer is quick, easy, can be made-ahead, not too rich, and it has ingredients that are usually in your kitchen: cream cheese, garlic, tomatoes, cheese, oil, vinegar (or you can use lime or lemon juice), and spices. You can grab the crackers on the way to the party.
From start to finish, it took me 29 minutes to make, bake & serve. And everyone at the party will be glad you brought it!
Summer Appetizer Ingredients
Tomatoes: Use any type of tomatoes. I prefer chopped cherry or grape tomatoes, but roma tomatoes will also work. Be sure to remove excess juice and seeds. The reason I make this often in the summer is because tomatoes are obviously best in the summertime. However, since they are being baked, it's ok if your tomatoes aren't absolutely amazing.
Oil: Use olive, avocado, canola, peanut or vegetable oil would all work. You don't want to use an oil that has a strong, overpowering flavor like coconut oil or sesame oil.
Vinegar: I typically use apple cider vinegar or lime juice, but white wine vinegar, red wine vinegar, or lemon juice are also great options. It's a small amount but the tanginess helps balances the spices and richness of the cheese.
Spices: Chili powder, cumin, and paprika give flavor to this summer appetizer recipe (that can be enjoyed year round). Also, the garlic clove gives extra flavor but can be replaced with garlic powder.
Jalapeño: The jalapeño adds spiciness, but green onions can replace it for a more mild Mexican Cream Cheese Appetizer recipe. Remember when chopping the fresh jalapeño to be careful. It's helpful to wear gloves, or at least wash your hands well immediately after cutting. And avoid touching the ribs and seeds as much as possible (this is where most of the heat is).
Cheese: Cheddar cheese is what I usually use, but you could substitute with mozzarella or parmesan. Any type of mild cheese will work, so I wouldn't use something strong like blue cheese or brie.
Cream cheese: The best is a block of cream cheese. I think cream cheese from the tub would be ok (as long as you got regular, not fat free). However, it would require a little more effort because you'd need to spread it into a baking dish. With the block of cream cheese, you simply put it on parchment paper or foil. Regular or reduced-fat block of cream cheese will both work. Do not use fat-free cream cheese.
For serving: If you have it, I like to sprinkle with parsley or cilantro. You could also add chopped green onions or chives.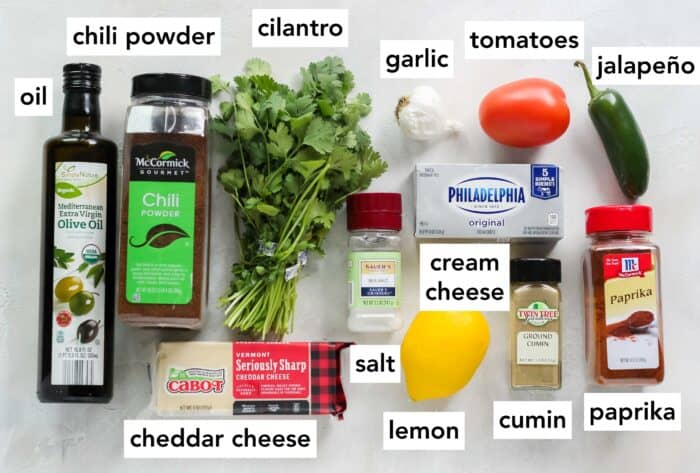 Cost of Recipe
Tomatoes 1 pint: $1.98
garlic 1 clove: $0.06
olive oil 1 teaspoon: $0.08
apple cider vinegar 1 tablespoon: $0.07
chili powder ½ teaspoon: $0.13
paprika ¼ teaspoon: $0.04
salt ¼ teaspoon: $0.01
cumin ⅛ teaspoon: $0.02
jalapeño 1 tablespoon: $0.10
cheddar ½ cup: $0.98
cream cheese 8 ounce package: $1.69
TOTAL COST: $5.16 (Based on San Diego Sprouts 2020) or $0.65/serving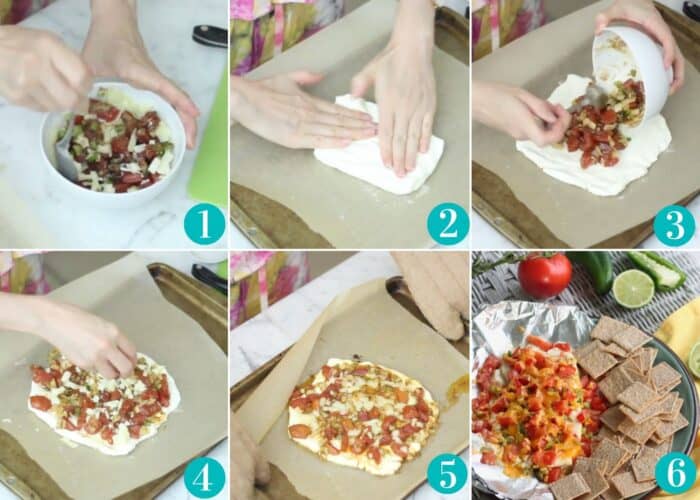 How to Make Mexican Cream Cheese Appetizer
This is such an easy appetizer that everyone enjoys. Just stir together the topping and pour it over a block of cream cheese. Then bake or grill it, and serve it with a box of crackers.
Preheat the oven or grill. Stir together the topping of tomatoes, garlic, oil & vinegar, spices, jalapeño, and some of the shredded cheese.
Place a block of cream cheese on a block of cream cheese, and mash it down some so it is thinner and has more surface area covering the foil.
Cover the cream cheese with the topping.
Sprinkle a little more cheese on top, and cook.
Pull out of the oven (or off the grill).
Place on a platter with a box of crackers, and serve!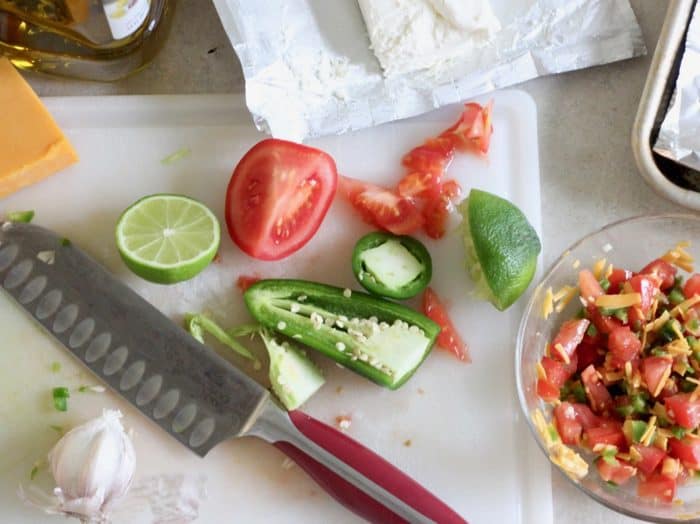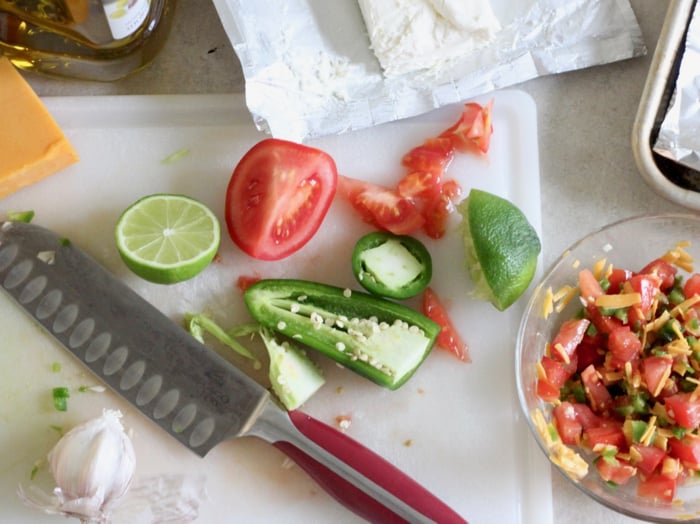 Summer Appetizer Recipe Tips
There aren't too many things that you need to know because this is so simple. You can make it immediately before serving or you can make it ahead of time.
Variations
Ingredient Options
Cream cheese: Regular cream cheese or reduced-fat cream cheese can be used here. I have made with both, and I don't notice the difference.
Vinegar: Apple cider vinegar, white wine vinegar, red wine vinegar, lime juice, or lemon juice all taste great here, too.
Oil: Olive oil, avocado oil, canola oil, peanut oil or vegetable oil are all acceptable.
Jalapeño: Green onions can be used in place of the jalapeño. Or replace with red pepper flakes. You'll need ½ teaspoon.
Garlic: You can use ¼ teaspoon garlic powder in place of the minced fresh garlic clove.
Alternative Prep & Cooking
This can be cooked on the grill or in the oven. If grilling, preheat to medium-high, and put the cream cheese on heavy-duty foil (or double the layer. You can also place on a baking sheet). Grill for 8-10 minutes until shredded cheese is melted on top.
How to Make Allergy Friendly
This is already gluten free, egg free, soy free. You can make it dairy free by using dairy free cheddar and cream cheese. However, I can't guarantee that it'll work out perfectly because I haven't tried it.
How to Fix a Mistake
Didn't press down the cream cheese: No worries! I sometimes forget (and you can see in the photos, that I didn't even do it when I photographed the recipe haha oops). You don't need to do anything to change it. The only difference is that you might have bites that have more of the topping and some bites that are more cream cheese. Pressing down the cream cheese helps make it a little more even, but that's all it does.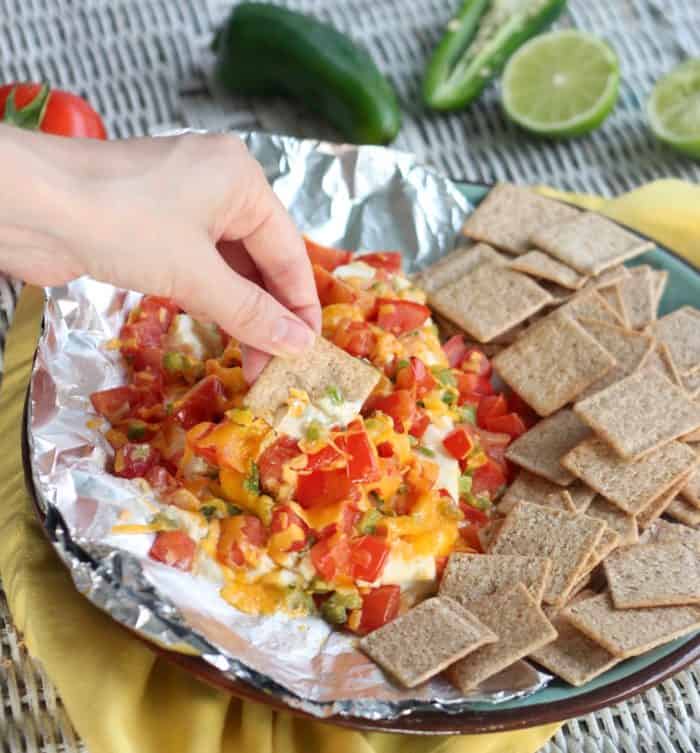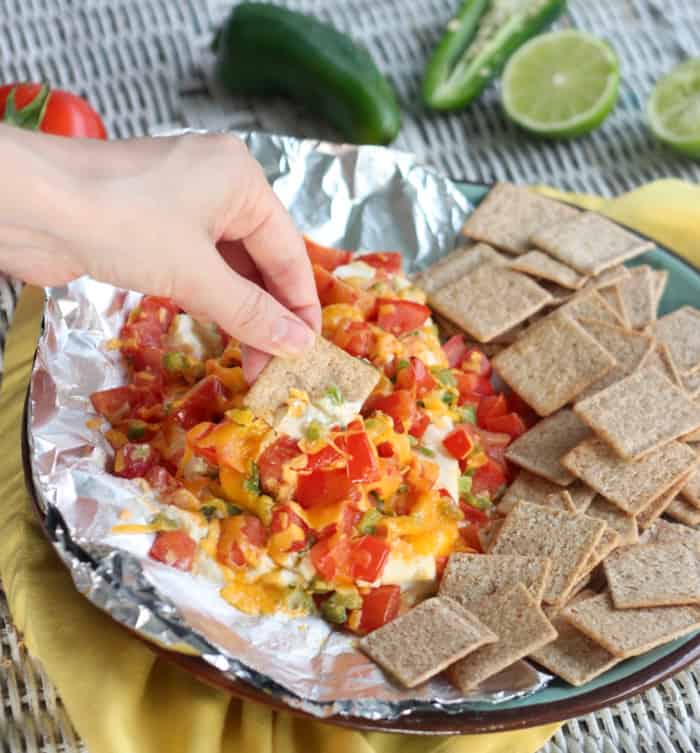 Make Ahead Ideas
You can make this the morning of or night before, stick it in your refrigerator, and either grill it or put it in the oven about 10 minutes before you need it. It's also pretty tasty at room temperature.
Storage Suggestions
Keep this in the fridge and reheat in the oven before serving again.
Frequently Asked Questions
Do you have to use foil or parchment?
No, but it makes it a lot easier to clean up. You can put this in a baking dish (that is oven safe or grill safe depending on your cooking method).
Nutrition Benefits
Most appetizers are pretty void of veggies, but I like how this one has at least a few on top of the cheese. It gives the heavy cream cheese a lighter flavor that makes this is great summer appetizer you can make year round. You do get a fair amount of protein in here thanks to the cheese. And if you use whole grain crackers to serve, you'll get a few extra grams of fiber.
What to Serve with this summer appetizer
I typically serve it with wheat crackers or tortilla chips. Anything you like to use for a cheesy dip works.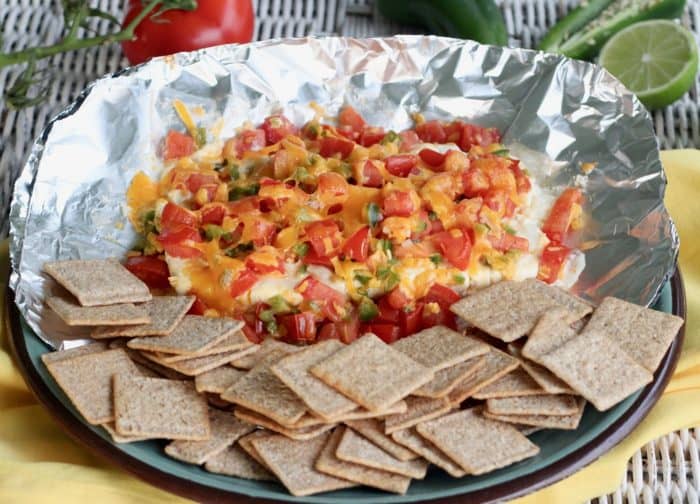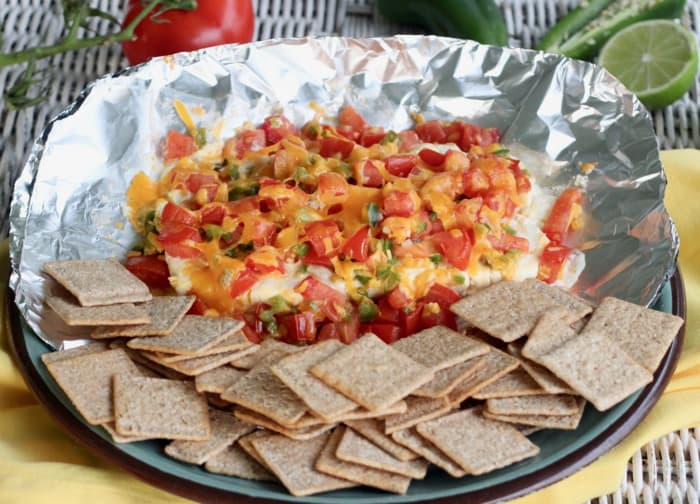 Final thoughts:
This is easy and delicious and everyone enjoys it. It is so nice to have this recipe for times when you need a crowd pleasing appetizer with ingredients that are not hard to find.
---
MORE SUMMER APPETIZER RECIPES YOU'LL LOVE: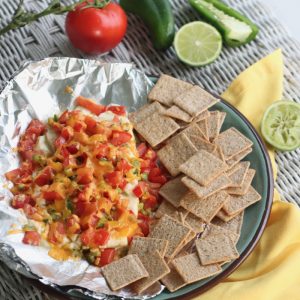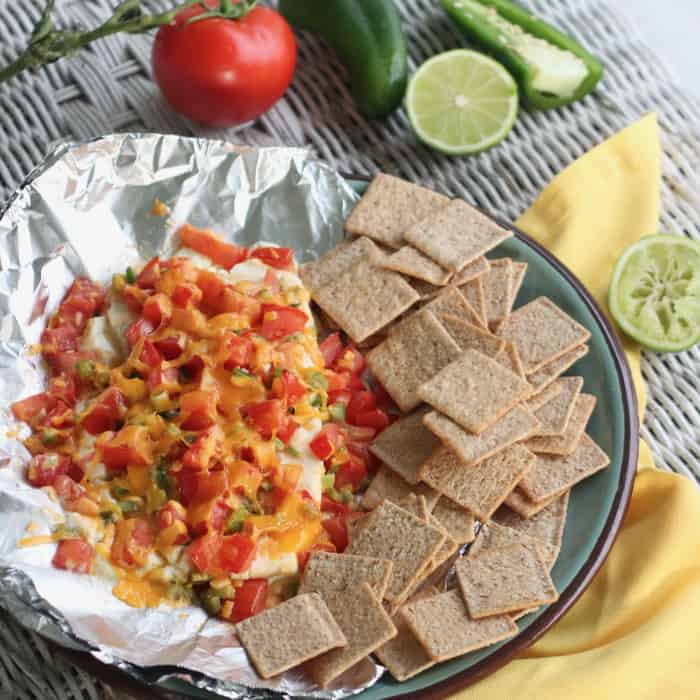 Mexican Cream Cheese Appetizer
This quick and easy Mexican Cream Cheese Appetizer is great to take to summer gatherings because you can make it ahead of time and ingredients are easy to find
Print
Rate
Total Cost:
$5.16 || $0.65/serving
Ingredients
¾

cup

diced tomatoes

1 small tomato or 16 grape tomatoes

1

clove

minced garlic

1

teaspoon

olive oil

1

tablespoon

apple cider vinegar

or lime juice

½

teaspoon

chili powder

¼

teaspoon

paprika

¼

teaspoon

salt

⅛

teaspoon

cumin

1

tablespoon

minced jalapeño

½

cup

shredded cheddar

divided

8

ounce

package cream cheese

1

tablespoon

chopped cilantro or parsley

optional
Instructions
Preheat the oven to 375°F or heat the grill to medium heat.

Stir together the tomatoes, garlic, olive oil, vinegar (or lime juice), chili powder, paprika, salt, cumin, jalapeños if using, and 6 tablespoons cheese.

Put the block of cream cheese on a sheet of heavy-duty foil or double layer of regular foil, and put on a baking sheet. Press down the cream cheese into a thinner layer.

Spoon the tomato mixture over the cream cheese. Sprinkle the remaining 2 tablespoons of cheese over everything.


Bake for 12 minutes or grill for 10 minutes.

Sprinkle cilantro or parsley on top if using, and serve with whole grain crackers.
What to Use in This Recipe
Did you try this recipe?
Be sure to leave a comment & recipe rating below. Bonus points for tagging @memeinge & #livingwellkitchen on Instagram! THANK YOU! xo
[showhide type="post" more_text="Click here for Nutrition Facts" less_text="Clear Nutrition Facts"]
*
Nutrition Facts
Mexican Cream Cheese Appetizer
Serving Size
4 tablespoons
Amount per Serving
% Daily Value*
* Percent Daily Values are based on a 2000 calorie diet.
*
[/showhide]
Meme
This post was originally published June 28, 2012. Text, recipe, and photos have been updated.
Doesn't this recipe look good?! You should probably share it: