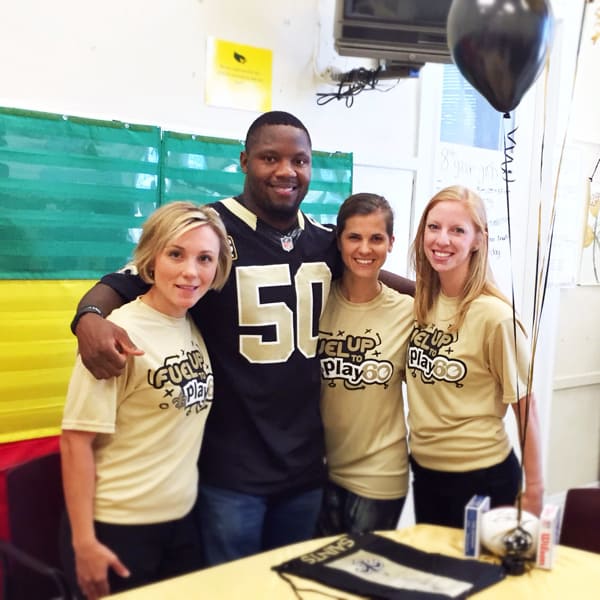 This Tuesday I had the pleasure of attending a fun event at to celebrate Fuel Up to Play 60. It was so fun to participate in the event and play with the kids!
Curtis Lofton was the surprise guest for the day, and the kids were beyond excited.
They had a little welcome party and gave him a sketch. Then we went to the cafeteria to listen to him speak.
He spoke to them about positive nutrition and lifestyle habits. His three main points were:
What you put into your body is what you're gonna get out.
60 minutes of play. Doesn't have to be all at once
Having a healthy lifestyle will help you live longer and love life!
It was great to see an influential person encouraging kids to start healthy habits at a young age. Then the kids were able to ask him questions. Here are a few of those questions:
What's your favorite vegetable?
Broccoli
What football moment will you cherish forever?
It's too hard to narrow it down to one. Second year in NFL, Curtis was able to buy his grandma a house, and that's a moment he'll be able to cherish the rest of his life.
How do you manage teammates that fail to give 100%?
Teamwork. Lean on your leadership. Build on those that give 100%. It must be a collective group effort to push others to get better.
What is your biggest challenge for healthy living?
Traveling; pack something healthy to keep on track
What if you have a not so good game? How do you prepare for the next one?
Be honest with yourself. Look at film and take notes what you should or shouldn't have none. Practice throughout the week. Practice make a strength and not a weakness.
During training, what is one thing that contributes to success?
A number of things... Teachers and coaches. Desire to be great.
After the question session and donation of money to the school, we played outside in different stations like hula hoops and jump roping
Meme