Not in the mood to cook? This five-ingredient Easy Mexican Stuffed Sweet Potatoes recipe has you covered and takes advantage of leftovers for a delicious meal that costs next to nothing. It's satisfying, helps prevent food waste, and requires little effort.
About Southwest Stuffed Sweet Potatoes
Creatively using your leftovers is one of the best methods for cutting food costs, but leftovers don't have to be boring. Hooray!
Leftovers can be delicious while saving you money, time, and effort. Take these Easy Mexican Stuffed Sweet Potatoes for example.
Their name may be long but their ingredients list is not. They require only 5 ingredients - 4 if you skip the cheese - and take serious advantage of leftovers (like cooked chicken or turkey and baked sweet potatoes).
I always overbuy sweet potatoes and then have them sitting around in the winter just begging to be used, especially around Thanksgiving so I can make my favorite roasted vegetables for thanksgiving. [And I always have leftover cooked turkey from holiday meals].
To save time and effort, I like to cook extra chicken, turkey, or ground beef to freeze for another time. It means I can buy the protein in bulk (which is usually more budget-friendly), plus I am already putting in the effort to cook. So why not save my future self the trouble later?
Cooking extra whenever I'm in the kitchen is one of my favorite ways to save myself time, energy, and money. Baking potatoes? Throw in a few extra to make these Mexican Stuffed Sweet Potatoes or twice-baked potatoes. Cooking chicken? Make extra and freeze it.
The other ingredients are pantry/fridge staples for me: salsa, beans, and cheese. And those don't require much work to use.
All in all, I love how easy this is to throw together. And I love that it's served in its own cute little potato package. Adorable, right? Right.
But you know what's even more adorable than the way these look? Their price per serving is $1.61! Thank you Mexican Stuffed Sweet Potatoes for not only being delicious & nutritious but for also being kind to my wallet!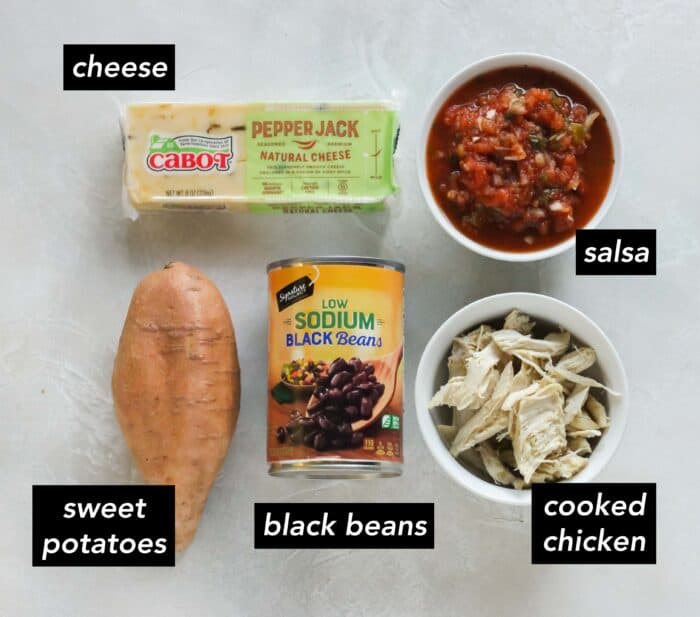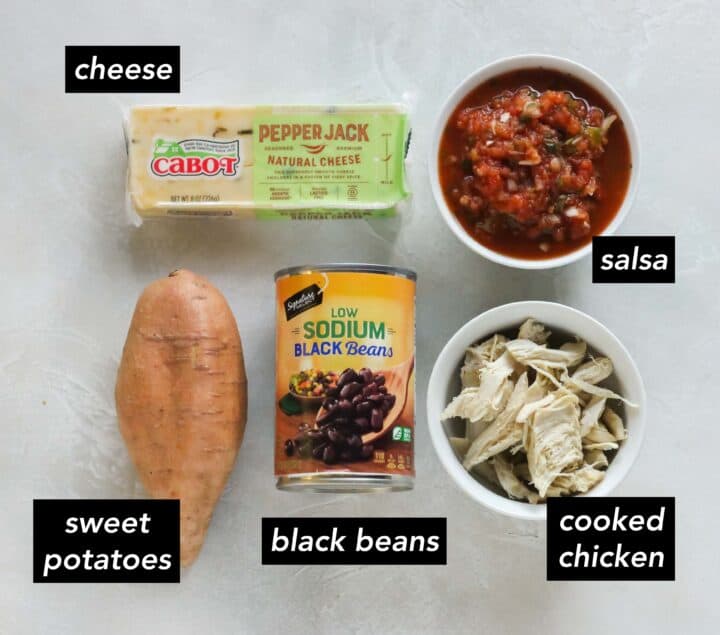 Ingredients
Sweet potatoes: I prefer to buy a bag of sweet potatoes instead of individual sweet potatoes because the potatoes are usually small-medium instead of very large (and one ends up being too much food for me). However, buying individual potatoes works well too. Additionally, you can use regular potatoes.
Chicken: These Mexican Stuffed Sweet Potatoes are great for using up the cooked protein you have that you don't want to waste. I typically use chicken (I try to keep cooked chicken or ground beef in the freezer at all times for times when I need a quick meal like this), but you can also use cooked turkey, ground beef, tofu crumbles, chopped veggie burger, or omit.
Black beans: The beans add more substance, protein, and fiber to your stuffed sweet potatoes. You can also use red beans, garbanzo beans (chickpeas), or white beans. If you aren't a fan of beans, you can skip them. For someone cautious of their sodium intake, be sure to use no-salt-added beans or cook your own from dried without using salt.
Salsa: Salsa is what ties the ingredients all together. Because salsa has so much flavor, there's no need for many seasonings. I usually use store-bought salsa, but homemade salsa also works well, especially if you want this recipe to have less sodium.
Cheese: Cheddar, mozzarella, feta, and Cotija cheese are all great options. Any kind of cheese you like will be delicious! I usually like to shred my own cheese, but pre-shredded cheese works just fine. Technically, the cheese is optional, but it's not really in my opinion 😉
Cost of Recipe
sweet potatoes 4 medium: $1.92
cooked chicken 4 ounces: $1.52
black beans 15-ounce can: $0.99
salsa ¾ cup: $1.01
cheese 2 ounces: $1
TOTAL COST: $6.44 or $1.61/serving (Based on San Diego Sprouts 2020)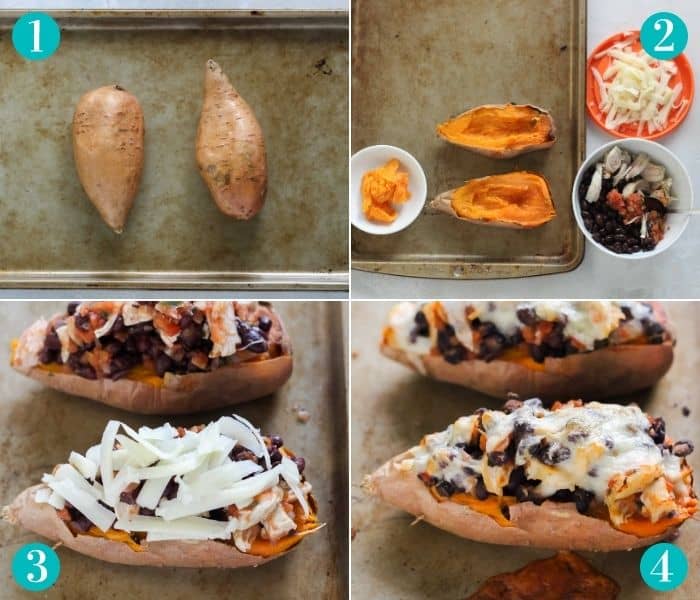 How to Make Mexican Stuffed Sweet Potatoes
Time needed: 30 minutes
This Mexican Stuffed Sweet Potato recipe is so easy to make and great for preventing food waste.
Cook the sweet potatoes.

You can bake or microwave them.

Stir together chicken, salsa, and beans.

Scoop out a little of the cooked sweet potato then fill with mixture. Transfer to oven.

Sprinkle with cheese, and cook.
Remove from oven, and enjoy!
Recipe Tips
Variations
After the sweet potatoes are cooked, you'll scoop a little bit of sweet potato out to make room for the stuffing. I prefer only scooping about 1 tablespoon of sweet potato per potato, and then I simply eat the excess sweet potato.
You can also stir the sweet potato into the salsa mixture if desired.
Ingredient Options
Potatoes: use regular potatoes if you want.
Chicken: cooked turkey (shredded or ground), ground beef, chopped veggie burger, or use extra beans. You can also omit it entirely.
Beans: red, kidney, garbanzo (chickpeas), or white beans will all work in place of black beans.
Flavor Substitutions
The flavor can be easily changed by using a different type of salsa. Salsa verde (green salsa) would be a great alternative and has a slightly sweeter, tangier flavor.
Alternative Prep & Cooking
You can do this entirely in the microwave, and here's how:
Microwave each potato for 3-4 minutes on High to cook.
Stir together chicken, beans, and salsa. Microwave on High for 30 seconds.
Stuff the potatoes, and microwave for 1 minute on High.
Sprinkle with cheese and microwave on High for 30-60 seconds or until cheese is melted.
I find that this is best to do for serving one. Use the measurements in the recipe card below for how much to use when only making one of these Mexican Stuffed Sweet Potatoes.
How to Make Allergy Friendly
The Mexican Stuffed Sweet Potatoes are already gluten-free, egg-free, and soy-free. To make dairy-free, simply use dairy-free cheese or omit the cheese. To make vegetarian, use a vegetarian meat substitute in place of the chicken or use extra beans.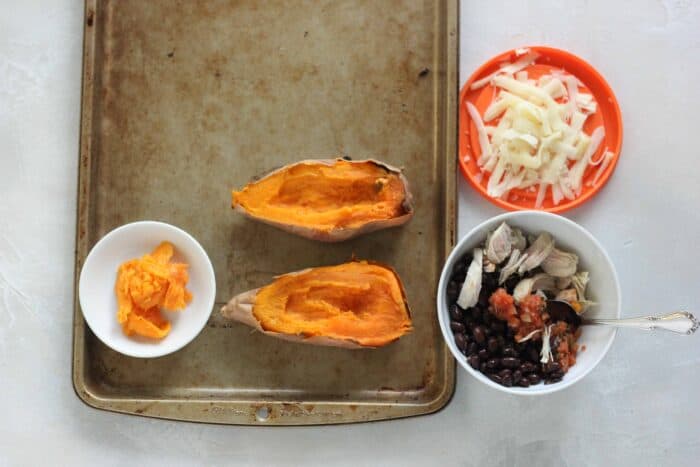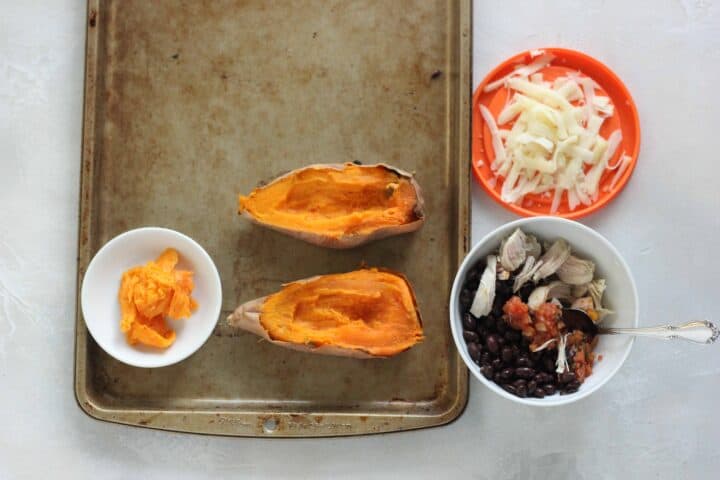 How to Fix a Mistake
Too much filling: If you feel like you've made too much filling for the potatoes, you can scoop out additional sweet potatoes to make room. Or you can just really overstuff these potatoes. To be honest, the filling never really stays inside the potato while you're eating it so it doesn't matter.
Make Ahead Ideas
You can bake the potatoes in advance and keep them in the fridge for up to 4 days. You can also shred the cheese in advance. Then stir together the mixture and bake when you are ready to eat.
Storage Suggestions
I doubt you'll have leftovers, but they can be stored in the fridge in an airtight container for up to 3 days. Simply reheat in the microwave at 45-second intervals (I find it helpful to cut in half and rotate the potato a few times while cooking). Or reheat in a 350*F oven until warmed through.
I don't recommend freezing these because the texture of the cheese and potatoes will not be as desirable.
Frequently Asked Questions
Nutrition Benefits
Sweet potatoes are full of fiber and vitamin A, chicken, and black beans stuff these babies with nourishing protein. Plus, salsa adds more veggies to the mix.
What to Serve with Mexican Stuffed Sweet Potatoes
These are filling simply by themselves and are already pretty balanced. However, feel free to serve it with extra salsa, a side salad, sauteed green beans, or buffalo brussels sprouts. You can also top it with some chopped cilantro, parsley, or green onion.
Final thoughts:
This is one of my go-to "I'm too hungry to cook but I need something substantial and delicious. And I don't want to order takeout" recipes. These Mexican Stuffed Sweet Potatoes are easy, nutritious, inexpensive, and oh-so-tasty.
MORE LEFTOVER RECIPES YOU'LL LOVE:
Mexican Stuffed Sweet Potatoe​s
Not in the mood to cook? This five-ingredient Easy Mexican Stuffed Sweet Potatoes recipe has you covered and takes advantage of leftovers for a delicious meal that costs next to nothing.
Print
Rate
Total Cost:
$6.44 or $1.61/serving
Ingredients
4

small

sweet potatoes

about 1.5 pounds total

4

ounces

cooked chicken

about 1 cup cooked

15

ounce

can black beans

rinsed and well-drained

¾

cup

salsa

2

ounces

cheese

shredded, about ½ cup (optional)
Instructions
Preheat the oven to 400*F. Scrub sweet potatoes and poke a few times with a knife. Bake on a baking sheet for 1 hour until soft. Or cook potatoes in a microwave for 4-6 minutes per potato, depending on size.

Take potatoes out of oven and let cool for a few minutes. Unwrap and slice in half lenghtwise. Transfer potato halves to a baking sheet.

Meanwhile, stir together chicken, black beans, and salsa.

Use a spoon to scoop out some (about a tablespoon or two) of the inside of each sweet potato to make some room for your filling. Pack about ⅓ to ½ cup chicken-bean-salsa filling onto each potato.

Bake in oven for 10 minutes until filling is hot. Serve or if desired, top each potato with about 2 tablespoons of cheese and bake another 5 minutes. Enjoy!
Notes
*depending on the size of the potato, you'll need about ⅓ cup to ½ cup filling per potato. The recipe makes just about 3 cups filling.
*To Serve One:
1 small/medium sweet potato
¼ cup chicken
⅓ cup black beans
(a little less than) ¼ cup salsa
¼ cup shredded cheese
Follow directions as listed.
What to Use in This Recipe
Did you try this recipe?
Be sure to leave a comment & recipe rating below. Bonus points for tagging @memeinge & #livingwellkitchen on Instagram! THANK YOU! xo
This post was originally published on December 2, 2014. Text, recipe, and photos have been updated.
Meme
Mexican Stuffed Sweet Potato Nutrition Facts
Nutrition Facts
Mexican Stuffed Sweet Potatoe​s
Serving Size
2 potato halves
Amount per Serving
% Daily Value*
* Percent Daily Values are based on a 2000 calorie diet.