Roasted Vegetable Lentil Salad is a versatile, veggie-packed, budget-friendly vegan lentil salad that doubles as a side or a main dish.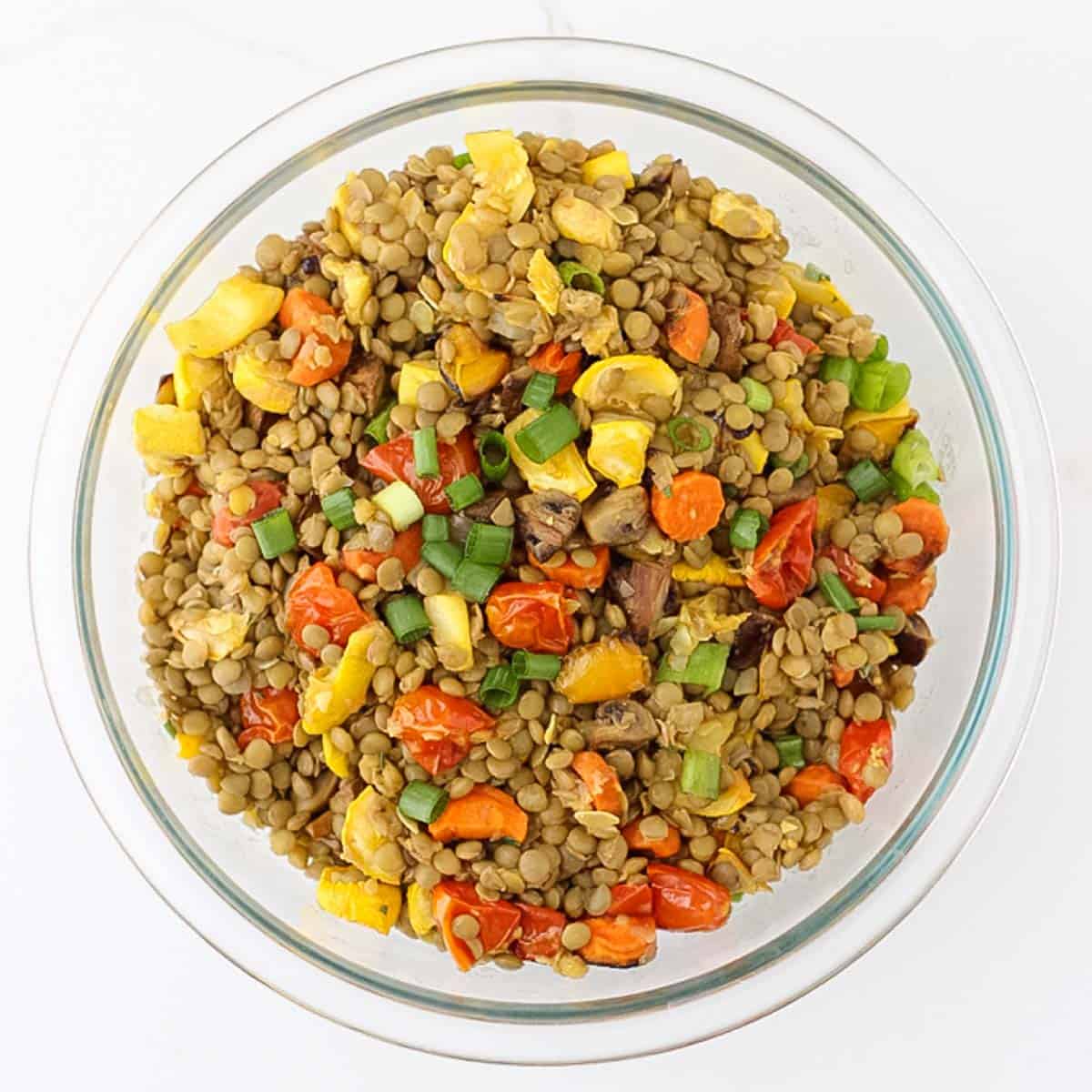 Lentils with Roasted Vegetables
Roasting vegetables is probably my all-time favorite vegetable preparation, and I have tons of recipes using them like roasted vegetable pizza, roasted veggie grilled cheese, roasted veggie salsa, roasted veg soup, roasted veggies for Thanksgiving, and more.
So of course it only makes sense to make a sexy lentil salad with those roasted vegetables, right? Right!
I like to cut up any vegetable I can get my hands on and roast them all.
Buy whatever veggies are on sale because those are typically the seasonal ones and taste the best.
While the veggies are roasting, I take one of my favorite budget-friendly protein sources, lentils, and simmer those.
Then make a quick dressing and toss it all together when everything is done cooking.
So while there is some prep work (chopping the veggies, roasting them, cooking the lentils, and whisking together a dressing), it is worth it!
You get this glorious Roasted Vegetable Lentil Salad that makes a huge batch (over 8 cups) and can be served multiple ways.
Simply put, the salad is more than worth the little bit of prep work and cooking time because it is so versatile and budget friendly.
Plus, it's simply begging for you to make it your own by using your favorite veggies and dressing ingredients.
The flavorful roasted veggies are tossed into a bowl of cooked lentils with a light lemon dressing seasoned with garlic and rosemary for a simple yet delicious meal.
Feel free to use whatever vegetable combination you like, you just need about 10 cups of chopped veggies to make the perfect ratio of veggies to lentils.
Change up the herbs and/or use vinegar in place of the lemon juice. Add some cheese if you want extra flavor & protein; do whatever you want with this tasty lentil salad.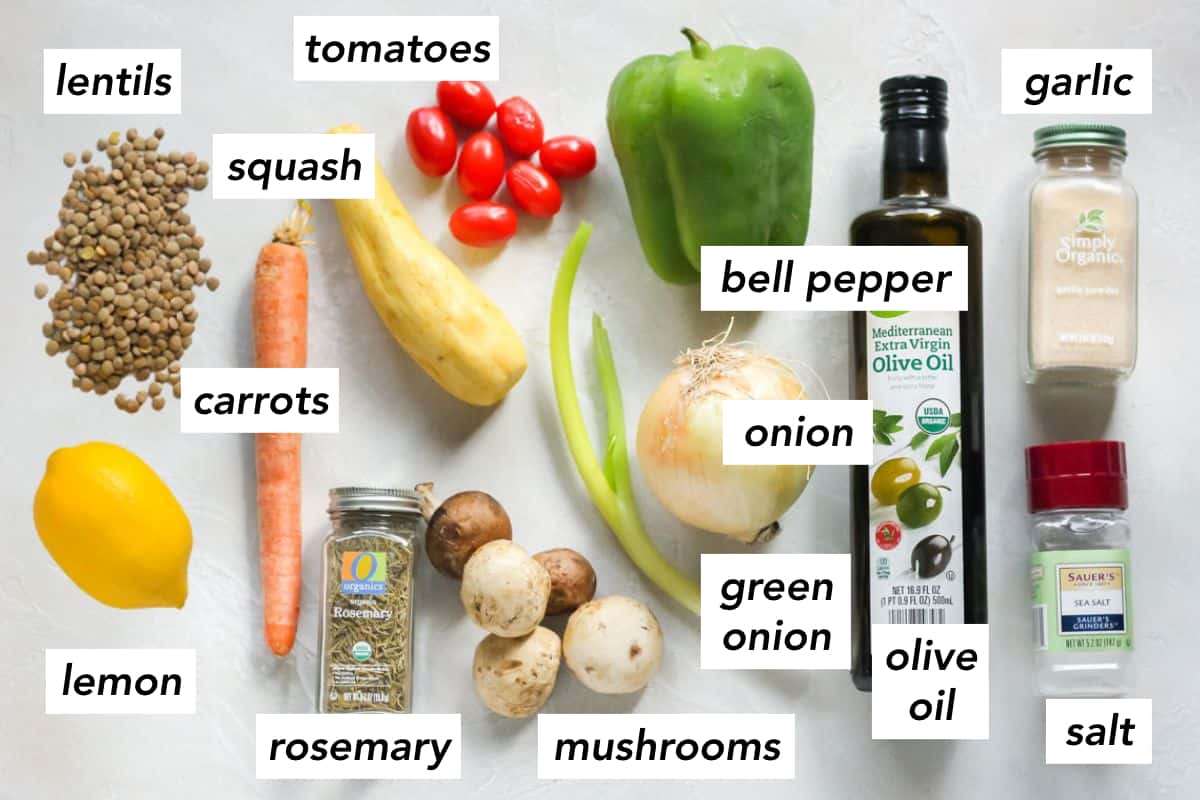 Ingredients
Oil: Olive oil is usually what I use because I always have it in the pantry, but avocado oil will work as well.
I like using olive oil in the dressing part of the recipe because it gives the dressing a little more flavor, so you could always use avocado oil to roast the veggies and extra virgin olive oil to toss in the dressing. It's up to you. However, be sure not to skimp on the oil because the flavor will suffer a little bit in my opinion.
Veggies: For this recipe, I typically use onions, bell peppers, yellow squash, cherry tomatoes, carrots, mushrooms, and green onions. However, pretty much any veggie you love, have on hand or find on sale can be used.
You need about 10 cups of chopped fresh veggies, so use whatever combination of veggies you want. Some other veggies that I love roasted are zucchini, cauliflower, broccoli, and Brussels sprouts.
Lentils: I use green lentils because I find that they hold their shape better in lentil salads like this versus red lentils.
Herbs: Rosemary is my go-to for this roasted veg and lentil salad, but I think that thyme, basil, or parsley would also be delicious. You can use either fresh or dried herbs in this recipe; they both taste great.
Lemon: The lemon really brightens the flavor of this dish, and I love lemon with roasted veggies (with garlic and rosemary, especially). If you don't have lemon, use white wine or red wine vinegar.
However, I prefer it with the lemon juice. You can use bottled lemon juice if needed.
Salt: Kosher salt, sea salt, and table salt will all work. You simply need the salt to enhance the flavors of the veggies and dressing.
Garlic: Both garlic powder and fresh garlic are options for this recipe. I use them interchangeably and honestly don't notice much of a difference. Use fresh garlic if you have it; otherwise, garlic powder is fine.
Recipe Cost
olive oil 3 tablespoons: $0.72
onion 1 large: $0.68
bell pepper 1 medium: $0.72
yellow squash 4 medium: $2.40
cherry tomatoes 1 pint: $1.98
carrots 2 medium: $0.40
mushrooms 8 ounces: $1.98
lentils 2 cups: $1.96
lemons 1: $0.50
rosemary 1 teaspoon: $0.12
salt 1 teaspoon: $0.01
garlic powder ¼ teaspoon: $0.02
green onions 4: $0.40
TOTAL COST: $11.89 or $1.49/serving (Based on San Diego grocery stores 2023)
Note that this is not the recipe; it's simply to show the cost breakdown of ingredients. Scroll down to the full recipe to see the specific ingredients and directions.
How to Make Roasted Vegetable Lentil Salad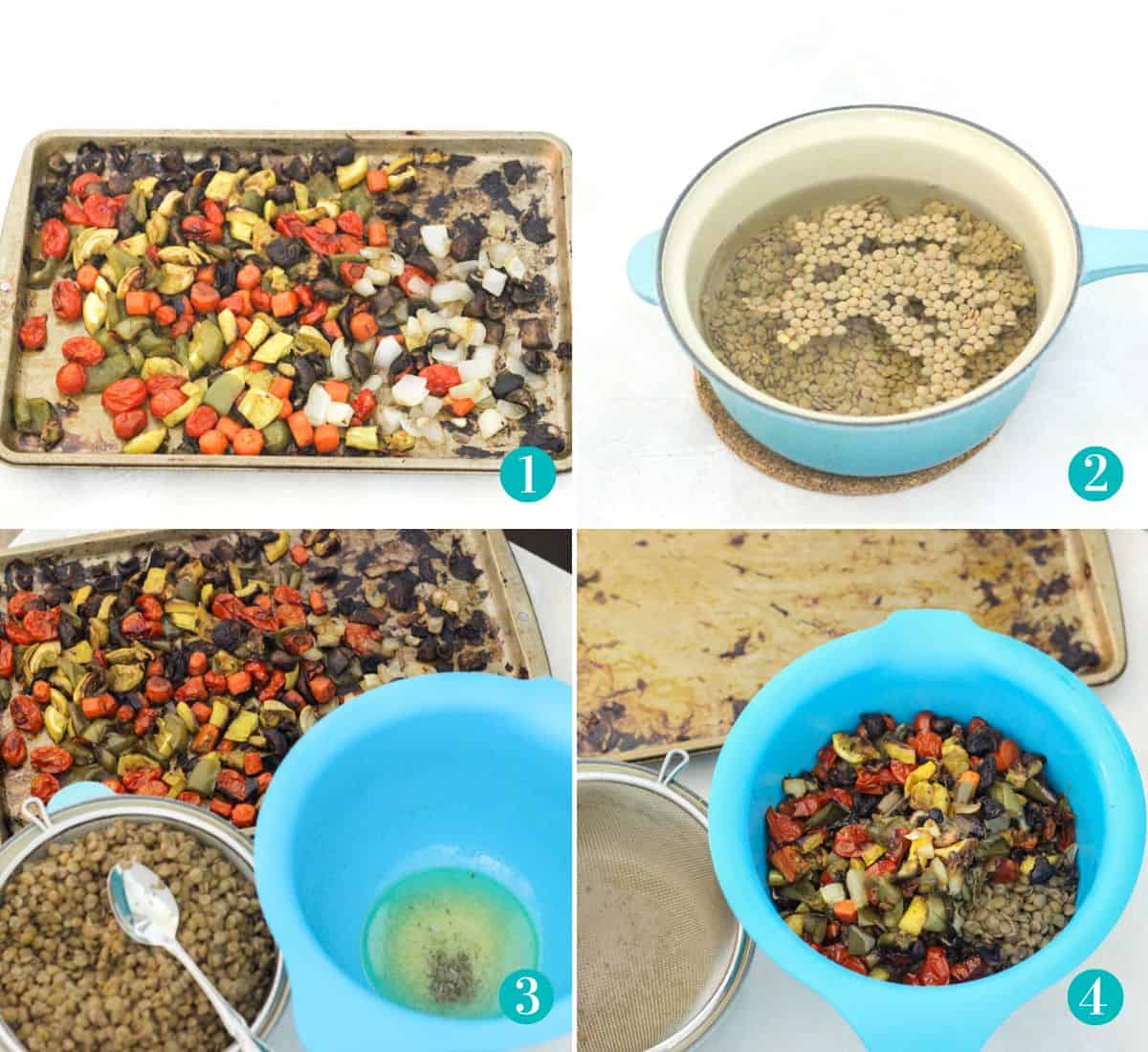 Time needed: 1 hour and 25 minutes
To make this lentil salad with roasted vegetables, you'll roast the veggies, cook the lentils, whisk together a dressing, and stir it all together.
Roast the veggies.

If you are using veggies that take drastically different amounts of time to cook (for example eggplant versus onions), I suggest putting these on separate baking sheets.

Cook the lentils.
Whisk together the dressing ingredients in a large bowl. Drain the lentils.
Stir the lentils into the dressing. Add in the roasted veggies.

Enjoy!
Recipe Tips
This vegan lentil and roasted vegetable salad is so simple to make, but here are a few tips, variations, and ideas to make it your own.
To ensure that your veggies are given enough time to cook without burning the other veggies, separate the veggies by how long they take to roast.
If you are using veggies that take different amounts of time to cook (for example eggplant which cooks in less time versus onions which take longer to roast), I suggest putting these on separate baking sheets.
Typically, onions, bell peppers, and carrots take about the same time. And tomatoes, mushrooms, eggplant, and squash take a similar amount of time to cook.
Variations
Ingredient Options
Veggies: Almost every veggie tastes great roasted. Some great options include onions, bell peppers, yellow squash, cherry tomatoes, carrots, mushrooms, zucchini, eggplant, cauliflower, and Brussels sprouts.
Lemon juice: You can use vinegar in place of the lemon juice, or use different herbs in place of the rosemary.
Flavor Substitutions
Lemon: If you want a tangier dressing, use apple cider vinegar. White wine vinegar and red wine vinegar will also work, but they will give a lighter flavor. Balsamic vinegar is another alternative, and it will make the salad a little sweeter versus the tanginess from the apple cider vinegar.
How to Make Allergy-Friendly
This is already gluten-free, dairy-free, egg-free, nut-free, soy-free, and vegan. So it's allergy-friendly as it is. Hooray!
How to Fix a Mistake
Forgot an ingredient: Honestly, the only ingredients that are mandatory are oil, lentils, some kind of veggies, and salt. Adjust accordingly to desires, dietary preferences, and what's in your kitchen.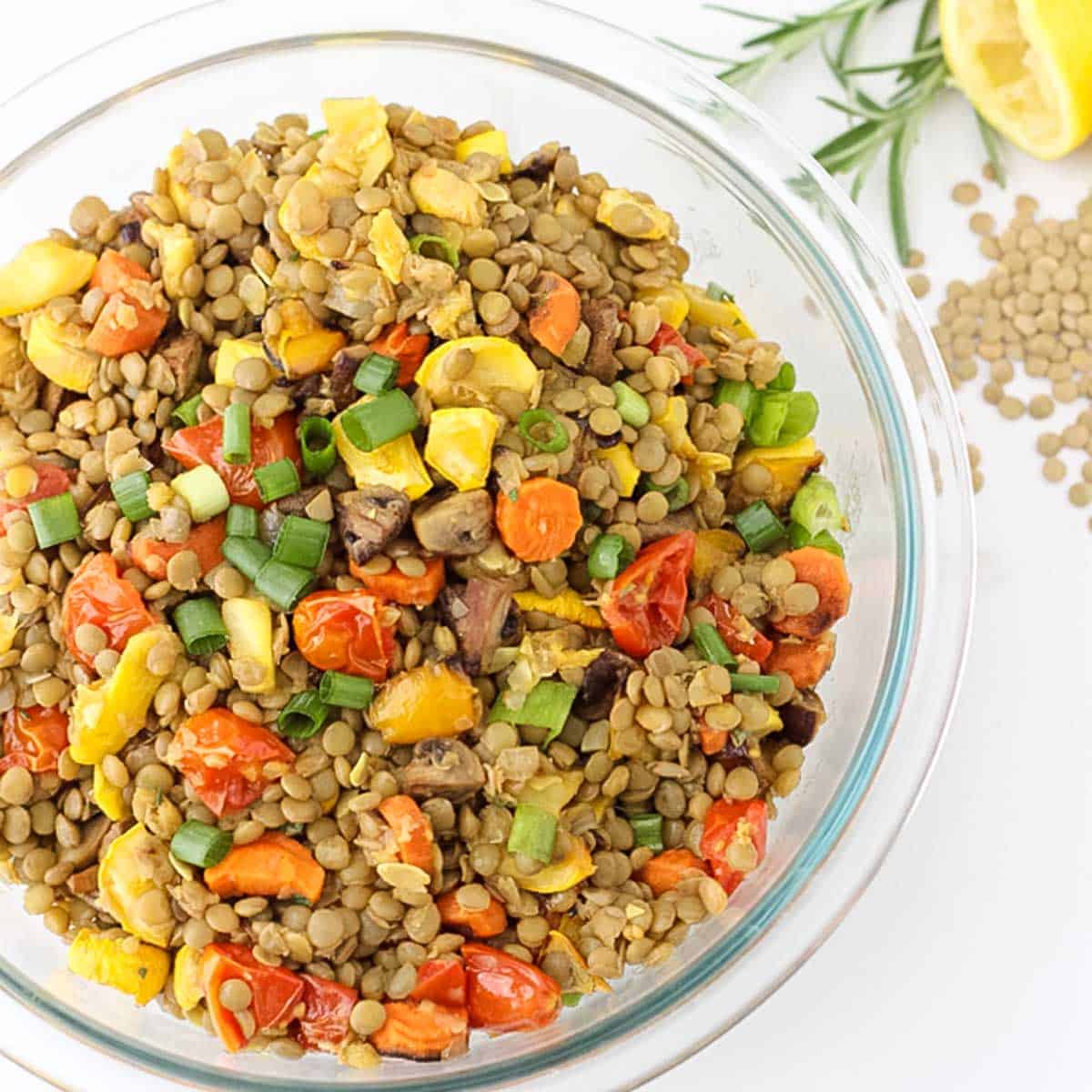 Make-Ahead Ideas
This is a great recipe to make ahead of time. You can keep this in the fridge for about 7 days, so I love to make it on a Sunday or Monday to enjoy when I'm hungry during the week.
Make as directed and keep in the fridge.
Alternatively, you can roast the veggies plus cook the lentils, and keep them in the fridge. Stir together the dressing and add the roasted veggies and cooked lentils when ready.
However, this will not really change much as the texture and taste remain the same whether they are immediately mixed together or combined and then served later.
Storage Suggestions
This keeps well, tightly covered in a glass or plastic container for up to 5-7 days. I recommend eating within 5 days, but it has held up for almost one week in my fridge.
I do not recommend freezing as it can cause the texture of the veggies to change and become mushy when defrosted.
Frequently Asked Questions
What can you add to cooked lentils?
The options are practically endless. Some great additions to cooked lentils include veggies, fresh herbs, cheese, nuts, and proteins like roasted chicken, baked tofu, roasted beef, sliced sausage, or ground turkey.
Can you freeze lentil salad?
It's not recommended to freeze lentil salad. The texture of the veggies and the lentils will suffer some when defrosted. The veggies will break down, and the lentils will become mushy.
Nutrition Benefits
Lentils are great because they are inexpensive and packed with protein and fiber. You don't have to eat a vegan or vegetarian diet to eat lentils.
Veggies & herbs are full of vitamins, antioxidants, fiber, and more. Eating a variety of them — like in this salad — gives you an array of nutrients your body craves.
If you are looking for a vegan meal, this is a great option because it gives you protein plus fiber, and it is delicious.
Each serving of roasted vegetable lentil salad has 17 grams of fiber (over 70% of the RDA) and 15 grams of protein.
Plus, it's an excellent source of Vitamin A (70% RDA), Vitamin C (63%), potassium (28% RDA), and iron (28% RDA).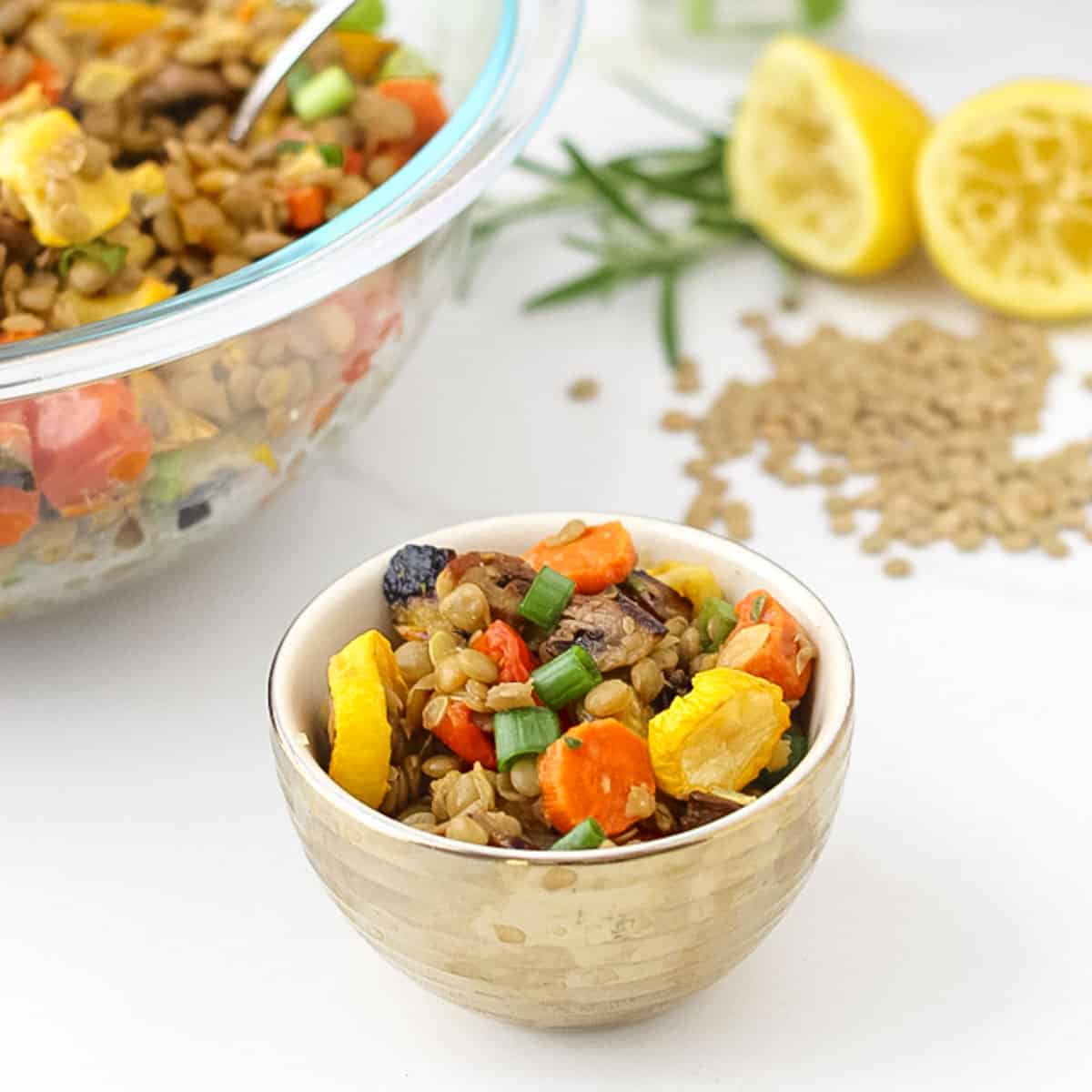 What to Serve with Roasted Vegetable Lentil Salad
This is a complete meal in and of itself.
However, sometimes I'll stir in some cooked chicken or tofu and/or cheese, and serve it over a bed of lettuce.
Final thoughts:
This is one of my favorite salads to have in the fridge for meals and snacks during the week.
While it takes a few minutes to chop the veggies, once you are finished, there isn't too much work to do.
Plus, it makes a huge amount so you can have food already prepared in the fridge for you at any time. And it's great as a side dish or main meal.
MORE LENTIL RECIPES YOU'LL LOVE: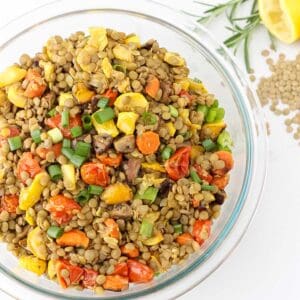 Roasted Vegetable Lentil Salad
Roasted Vegetable Lentil Salad is a versatile, veggie-packed, budget-friendly vegan lentil salad that doubles as a side or a main dish.
Print
Rate
Total Cost:
$11.89 or $1.49/serving
Ingredients
3

tablespoons

olive oil

divided

1

large

onion

chopped, about 2 cups

1

medium

bell pepper

chopped, about 1 cup

4

small

yellow squash

chopped, about 4 cups

1

pint

cherry tomatoes

halved if desired, or grape tomatoes

2

medium

carrots

chopped, about 1 cup

8

ounces

mushrooms

chopped, about 3 cups

2

cups

dry lentils

¼

cup

lemon juice

from 1 lemon

1

teaspoon

fresh rosemary

minced

1

teaspoon

salt

¼

teaspoon

garlic powder

4

green onion

chopped, about 1 cup
Instructions
Preheat oven to 425°F. Line two baking sheets with foil or parchment for easier cleanup, if desired.

Toss the chopped onions, bell peppers, squash, carrots, and mushrooms with 2 tablespoons of olive oil. Spread evenly on baking sheets in one layer. Transfer baking sheets to oven and roast for 45-60 minutes, stirring halfway through cook time.

Meanwhile, put lentils in a pot and cover with enough water to completely cover lentils with about one inch of water. Bring to a boil. Cover the saucepan, reduce heat, and let simmer for about 30-35 minutes until your lentils are tender but not mushy.

Drain the lentils immediately and add to a large bowl.

When veggies are roasted, stir them into the lentils.

Whisk together the lemon juice, rosemary, salt, garlic powder, and remaining one tablespoon of olive oil.

Stir into lentil-veggie mixture. Stir in green onions.

You can serve it immediately or place it in the fridge to cool. It's good no matter what temperature it is. Enjoy!
Notes
*Can also use ½ teaspoon of dried rosemary or dried thyme. Use a ½ of dried herbs or 1 teaspoon of fresh herbs.
*Makes 8 cups
What to Use in This Recipe
Did you try this recipe?
Be sure to leave a comment & recipe rating below. Bonus points for tagging @memeinge & #livingwellkitchen on Instagram! THANK YOU! xo
Meme
This post was originally published on May 18, 2015. Text, recipe, and photos have been updated.
---
Roasted Vegetable Lentil Salad Nutrition Facts
Nutrition Facts
Roasted Vegetable Lentil Salad
Amount per Serving
% Daily Value*
* Percent Daily Values are based on a 2000 calorie diet.