This easy, comforting Ginger Turmeric Tea is full of immune boosting spices with a deliciously spicy & sweet flavor
Disclosure: I was asked to participate in the #TasteTruvia campaign as a member of the Healthy Aperture Blogger Network. I was compensated for my time.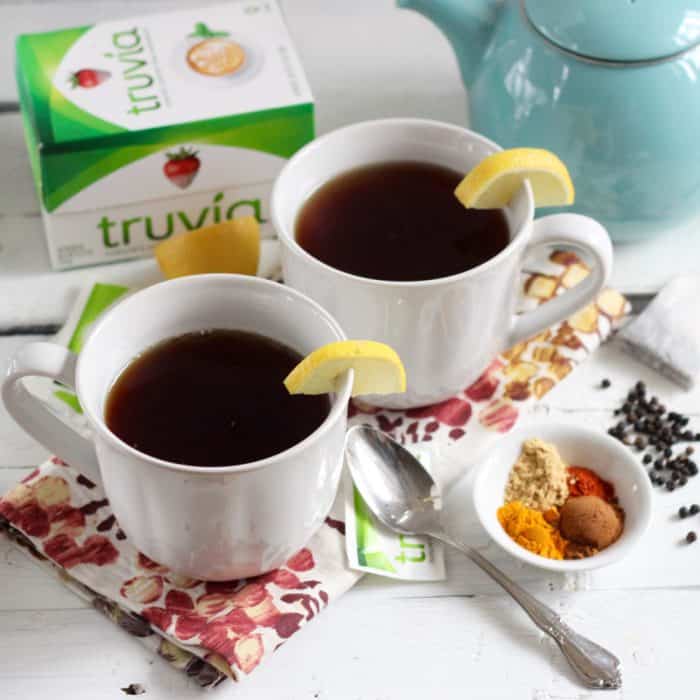 Apparently, it's hot tea month (yay for food holidays!)
But for me, it's always hot tea month. Always!
I drink at least 4 to 6 cups of tea a day. No lie.
I start my day with a cup or two of white tea. Then have a cup of an herbal tea around lunchtime. Tea time is between 3 and 5 with my afternoon snack. Then I have at least one cup of herbal tea before bed.
[clickToTweet tweet="ad: Sweet + spicy Ginger Turmeric #Tea full of immune boosting spices, lightly sweetened w/ @truvia" quote="ad: Sweet + spicy Ginger Turmeric #Tea full of immune boosting spices, lightly sweetened w/ @truvia"]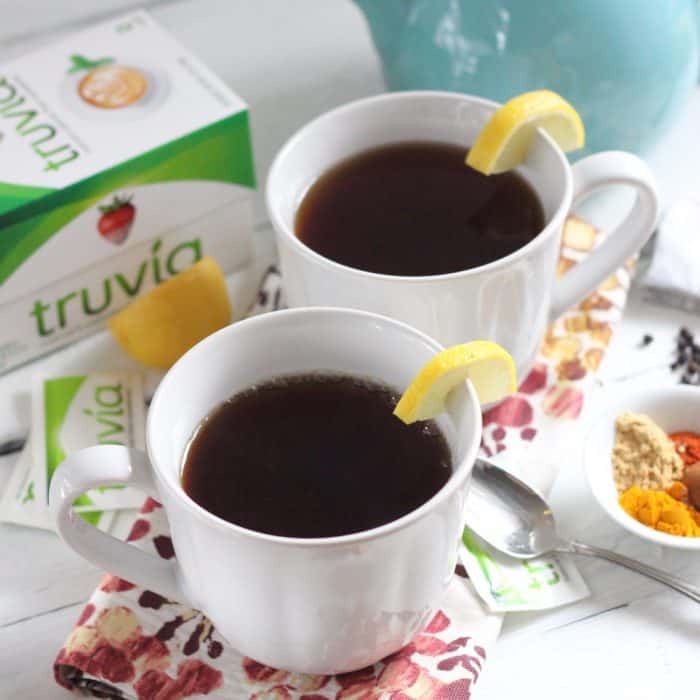 When I tell you there are a minimum of 300 servings of tea in my apartment, I am not even a little bit exaggerating. In fact, I'm underreporting the amount of tea I have on hand. (I bought a few of those boxes from 100 count boxes from Costco, and I like options, ya know...)
Even when it's hot outside, you better believe there will be a cup of tea next to me as I work, cook, watch tv, whatever.
To me, tea is not only delicious, it's therapeutic and calming; plus, it's a great way to stay hydrated (as long as you're not drinking a ton of super caffeinated teas).
I've never been a huge fan of plain water, but I know how important it is to hydrate.
I've also always been really sensitive to caffeine, so I love that tea has much less caffeine than coffee.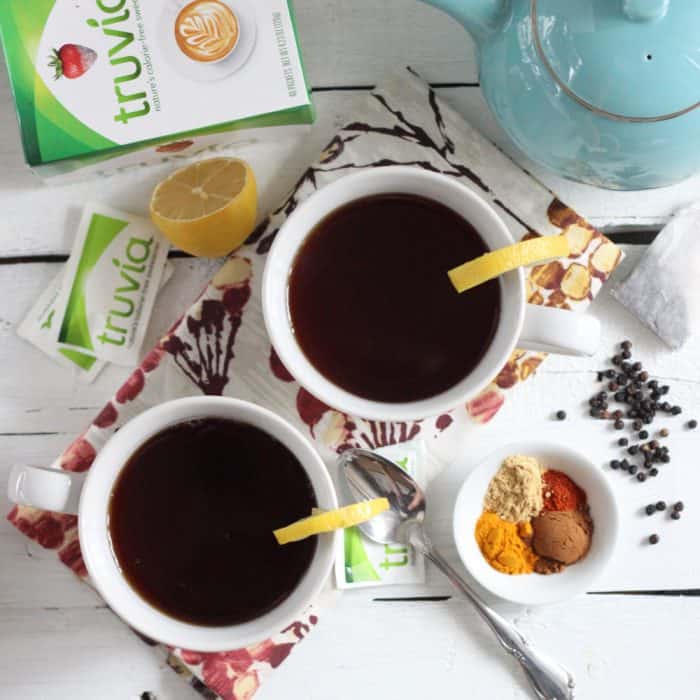 After vowing not to get sick this year (after a week of not having my voice in November), I have been researching and doing everything I can to keep my immune system in tip top shape.
Yesterday, I shared a few of my favorite items that I consume to keep my immune system booming, and I bet you can probably guess that tea is on that list.
Spices, namely turmeric, ginger, cinnamon, and pepper, are also on that list. All those spices work to keep your immune system running. Turmeric has been shown to fight inflammation. Ginger aids in digestion, and cinnamon is antimicrobial.
You need black pepper to help absorb the curcumin, the compound responsible for turmeric's anti-inflammatory powers. And cayenne pepper can help with congestion.
Pair all these spices together with some black tea and you have magic. Ok, wait. Not magic just yet. Because if you take a sip of this tea, you will want to spit it out because it's spicy. It needs something sweet to balance out that spiciness!
Enter Truvia® Natural Sweetener, a natural, great­ tasting, zero­ calorie sweetener made with stevia leaf extract, which happens to be the sweetest part of the stevia leaf.
It sprinkles into your tea just like sugar and is basically this Ginger Turmeric Tea's best friend.
While I'm not scared of sugar, I know it doesn't make me feel good if I consume too much. That's why I like using Truvia® since it tastes like sugar (with no weird aftertaste!) but doesn't make me feel that dreaded sugar crash after.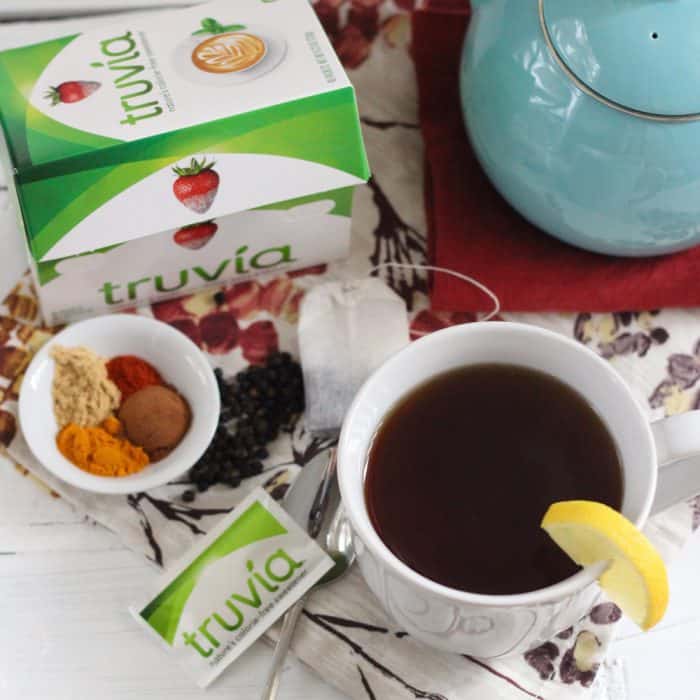 Whether or not turmeric and ginger are going to keep me from getting sick this year is up for debate, but this tea's amazing flavor is not. Moveover turmeric latte, there's a new turmeric drink in town!
P.S. If you find yourself craving this stuff all.day.long. you might want to buy decaffeinated black tea, so you're not bouncing off the walls at 10pm. Not that I know from experience or anything...
One more fun fact: if you aren't a black tea fan, skip it. This tea is still delish without it!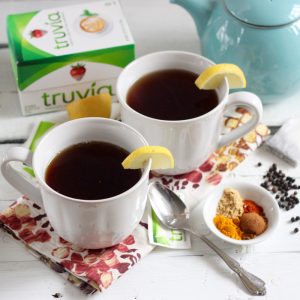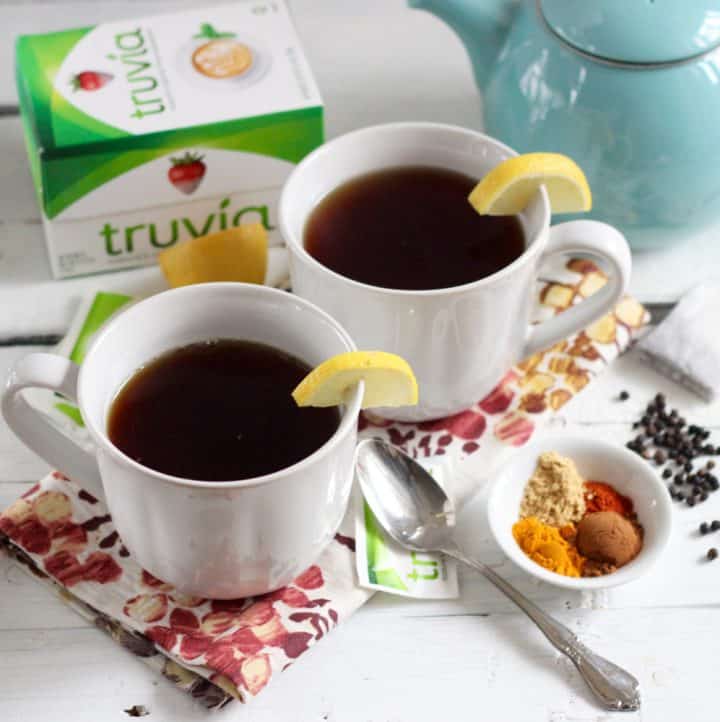 Ginger Turmeric Tea
This easy, comforting Ginger Turmeric Tea is full of immune boosting spices with a deliciously spicy & sweet flavor
Print
Rate
Ingredients
24

ounces

water

1

teaspoon

turmeric

¾

teaspoon

ginger

½

teaspoon

cinnamon

¼

teaspoon

cayenne pepper

⅛

teaspoon

black pepper

2

bags

black tea

2 teaspoon loose leaf tea

2

packets

Truvia® Natural Sweetener

lemon for serving

if desired
Instructions
Bring the water to rolling boil.

Line a strainer or tea strainer with a coffee filter. Add the spices, and pour the hot water on top. Steep for 8 minutes. Add the tea and steep for another 3-5 minutes depending on how intense you like your tea flavor to be.

Pour into two cups and stir one Truvia® Natural Sweetener packet into each cup. Serve with lemon if desired Enjoy!
Notes
*Feel free to play around with the spiciness and sweetness. Use a little more cayenne for a spicier tea or less for a less intense version.
Did you try this recipe?
Be sure to leave a comment & recipe rating below. Bonus points for tagging @memeinge & #livingwellkitchen on Instagram! THANK YOU! xo
Meme
Pin for later: