Health benefits of red meat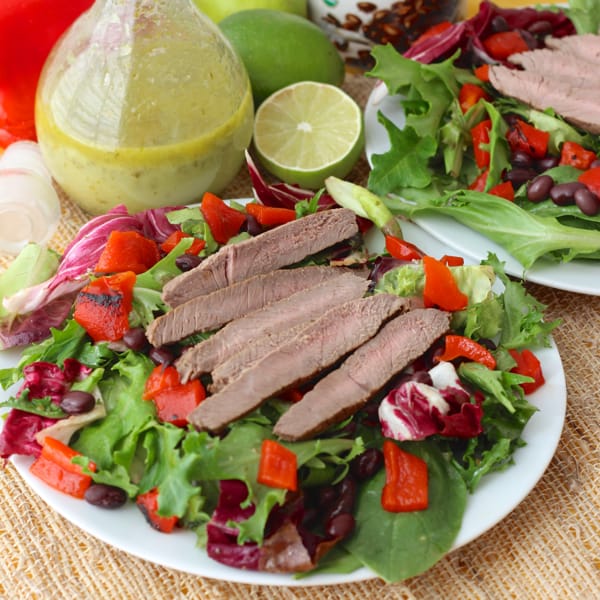 Whenever I tell someone what my job is, they get defensive and respond with something along the lines of "I'm bad; I sometimes eat hamburgers." or "Don't hate me, but I eat red meat."
Yeah, so do I...
Red meat is not the enemy. In fact, I love red meat!
There are a lot of different cuts of red meat that can fit into a healthy lifestyle. Not only does red meat fit in a healthy diet, but it provides iron, Vitamin B12, Vitamin B6, selenium, niacin, and zinc. It is also a great source of high-quality protein.
However, to get the most benefits out of red meat consumption you should do a few things:
Make sure to choose a lean cut of meat.

The USDA grading system can help you make your choice - "Prime" cuts contain the highest amount of fat, so try to avoid these. "Select" cuts will be your leanest options of meat.
Grass-fed beef is usually leaner than grain-fed beef.

Limit portion sizes. Be sure to stick to less than 18 ounces per week. Having more than that ups your risk for developing health problems like heart disease and cancer.

While I'm on that subject, limit processed meats (like cured bacon, hot dogs, lunch meat - anything that has nitrates or nitrites in them)! Luckily, it's easier to find products that are nitrate and nitrite free.

Be careful when cooking meat since it can cause harmful carcinogens (compounds that can cause harm to your body) to form.

Choose lean meats - fat can cause flare-ups that will char the meat

Trim fat from meat before cooking.

Marinate before cooking. Use a lower/no sugar marinade because sugar can also cause flare-ups
Limit high-heat cooking. Use lower temperatures when grilling, and avoid frying.
Do not over-cook or char meat. Remove any charred areas after cooking.
There are many options for a lean cut of beef:
When you're at the grocery store lean options include sirloin steak, flank steak, strip steak, and lean ground beef (with less than 6% fat).
If you are at a restaurant filet mignon, strip steak, top sirloin, and a t-bone steak are all good choices.

Make sure you leave off the butter and added sauces; add vegetables instead.
Oh, and stick to a reasonable sized portion. A serving size is 4 ounces, but it can be triple that at restaurants. Eat half or a portion that is about the size of a deck of cards.
Here is a list of the 29 Lean Cuts of Beef from the Beef It's What's For Dinner website. They have some good recipes on there, too.
Eye Round Roast and Steak
Sirloin Tip Side Steak
Top Round Roast and Steak
Bottom Round Roast and Steak
Top Sirloin Steak
Brisket, Flat Half
95% Lean Ground Beef
Round Tip Roast and Steak
Round Steak
Shank Cross Cuts
Chuck Shoulder Pot Roast
Sirloin Tip Center Roast and Steak
Chuck Shoulder Steak
Bottom Round (Western Griller) Steak
Top Loin (Strip) Steak
Shoulder Petite Tender and Medallions
Flank Steak
Shoulder Center (Ranch) Steak
Tri-Tip Roast and Steak
Tenderloin Roast and Steak
T-Bone Steak
Have a great weekend!
Meme