No need to stress about what to give the kids in your life for Christmas. This gift guide was created by kids five to ten years old and includes tons of options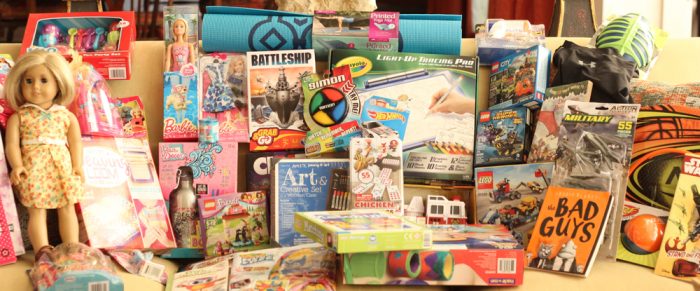 Ever wonder what to give the kids in your life?
Wonder no more. I enlisted the help of my two favorite seven-year-olds (and a few of their helpful friends) to come up with ideas for Christmas gifts. These gifts are great for kids between 3 and 10 years old.
Hope this helps relieve a little holiday stress 🙂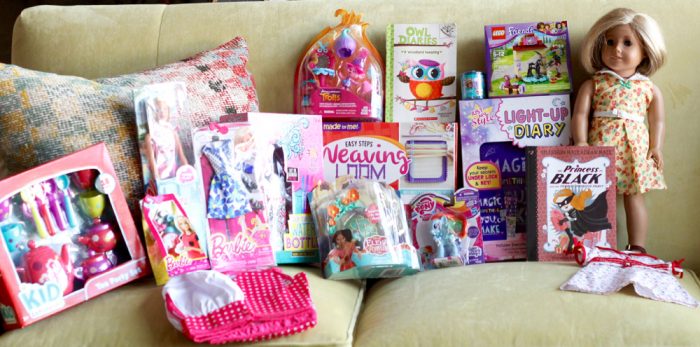 For girls...
American Girl Doll & Accessories
American Girls dolls have been popular for quite some time and are a fun gift for girls. They are a little pricy but you can always buy clothing and accessories to go with the dolls. Every doll needs an extra outfit, right?!
If you're looking for budget-friendly options, Target and Walmart have their own line for American Girl clothes and accessories as well as their own dolls. Make sure that you get clothing and accessories for an 18 inch doll (wherever you choose to buy), so they can be used on any of the dolls.
Barbie's are a classic gift that you can't go wrong (unless you find the one that looks like a streetwalker).
Barbie can still do it all, so you have many options for gift giving opportunities.
I've seen kids between ages two and nine playing with Barbie. This is a classic toy that is enjoyed whether it's their first or fifteenth.
Every little girl (and big girl) loves some lip gloss or lipstick. I enjoy giving these Beautycounter Lip Conditioners because they are very moisturizing and fun to wear (and taste & smell delicious!) but they also have no unpleasant ingredients, chemicals, scents, etc.
Yay for giving gifts that doesn't have unwanted side effects! Plus, my sister doesn't mind me giving my seven-year-old niece this Beautycounter rose lip conditioner that has a light color but not too intense.
(Note: My niece and nephew also really like the Shampoo & Body Wash, so I usually give them a bottle just for fun)
I may or may not have purchased this gift just for me. If you have a quirky kid that you're never sure what to give them, this is a winner. (me as a kid)
If they like to do crafts or cook, you will make them happy when they can make their own hot pads to use while baking cookies or give to friends & family.
A water bottle is such an excellent gift with this current trend of nice bottles. Some have cool designs. Many can keep water cold or hot for hours. Our personal favorite is the one that you can decorate yourself!
It's encouraging girls (and boys) to drink more water because it's cool to carry a water bottle. This is one fad/trend I can totally get on board with (and hope it never goes away)!
What girl didn't have a diary growing up?! And what girl didn't want her brother snooping through that diary?! No one haha.
Journaling (or writing in a diary) is very therapeutic but also really fun. A diary or a journal is an excellent gift to encourage girls (or boys too) to write out their feelings, document their favorite moments in life, and more.
I love reading my old diaries and travel journals. It reminds me of things I completely forgot (and always make me laugh)
Dress Up Clothes & Accessories
You can never have enough dress up clothes. Never. Boys need dress up clothes, too!
Capes, crowns, Belle's ball gown, masks, complete superhero costumes, fireman, police officer, the list goes on...
It's fun to get dress up clothes that complement your recipient's personality. Do they love to help their parents in the kitchen? A chef's hat & apron are the perfect gift.
Can't get enough Disney Junior or princesses? They need an Elena of Avalor doll or accessories.
Do they only talk about Star Wars? Well, they need a lightsaber and maybe even a Luke or Leia costume! (p.s. Amazon is definitely not always your cheapest bet, but it's easy)
Find out what the kid in your life enjoys and buy them that!
Every play date needs a good tea time. And every stuffed animal needs to attend a tea party.
[clickToTweet tweet="#Holiday gift guide for kids created by kids for 5 to 10 years old w/ tons of options for everyone!" quote="#Holiday gift guide for kids created by kids for 5 to 10 years old w/ tons of options for everyone!"]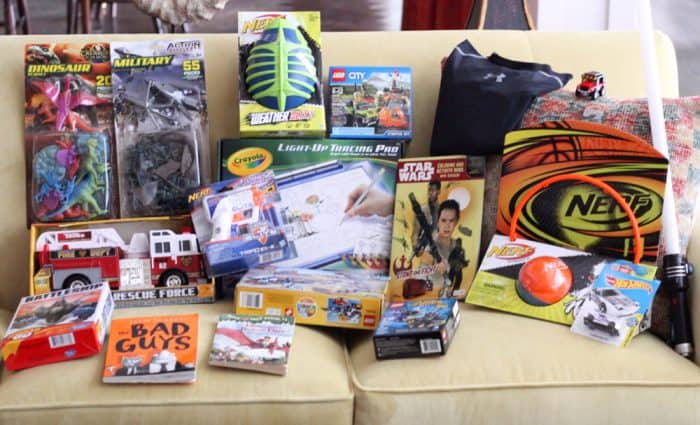 For boys...
Legos
Legos are for everyone, little or big, boy or girl! Buy the Lego Duplos for kids ages 2-5 then move up to the regular Legos as they get older. The age ranges are written right on the box.
There are tons of different options for every interest in the world. Want to make an entire city of Legos? How about making a city?!
Not a fan of Lego City? Create your favorite Star Wars/Superhero/Ninja Turtle/Minecraft scene.
Lego Friends are fun for girls who aren't interested in the City, Superhero, Ninja Turtle, Mine Craft, or think they're too old for the princess options.
There are more options than I could list here! Explore your options at the store or online (and try not to feel overwhelmed)! We recommend asking the person you're giving Legos to what kind they'd want.
Football, Soccer, Basketball, or Baseball
It's getting harder and harder to get kids to go outside. A new ball makes them want to spend more time outside throwing the ball, shooting some hoops, etc. and less time focusing on a screen. Less screen time + more outside time for the win!
Trucks and Cars
Trucks & cars can be as small or as big as you want. Small cars/trucks are fun to race and play with friends or carry around. Bigger ones are fun because they usually make fun noises (and drive you crazy at 6am). Go even bigger and you can get the ones that you can drive yourself.
These are great for getting kids to use their imaginations, and they learn all about these items. Kids that like dinosaurs, they want to know more about them. For a young child that likes animals, you can grab farm animals and they will naturally want to know what sound that animal makes, where it lives, and what it does. It's a fun way to get your kid to learn.
[clickToTweet tweet="Need #gifts for kids in your life? This #holiday gift guide created by kids has tons of options!" quote="Need #gifts for kids in your life? This #holiday gift guide created by kids has tons of options!"]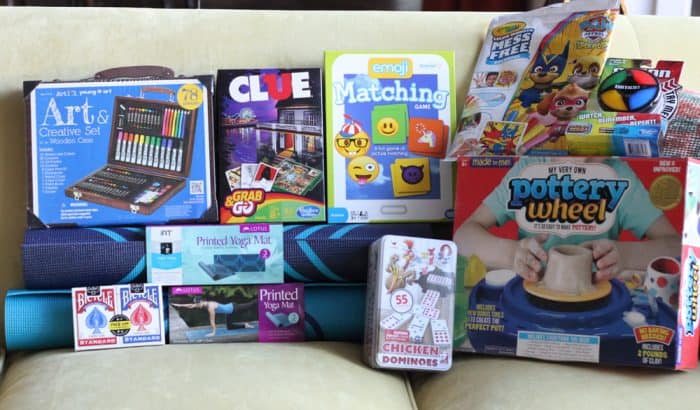 For everyone...
Color Wonder Mess Free Coloring Pad & Markers
This is a great gift for younger kids! The beauty of this is that kids get to color and parents don't have to worry about the mess. They have tons of options for coloring pads, and you can find them almost everywhere.
Yoga Mats (or other exercise related items)
Anything to inspire kids to get up and move is a great gift. Teaching your kids that moving their bodies because it is fun and it makes them feel good is so important! A yoga mat can be used for tons of exercise options and is an easy item to roll up to save space.
Exercise Clothes
If the person has every ball, goal, etc. why not give them something to go out and play in? There's a million brands to choose from. Walmart & Target have some great options. You can pretty much buy them everywhere.
When I was little, I never loved getting clothes. But my personal elves tell me that these days they really like getting a new pair of fun leggings, quick-dry sports shirt, or shorts with a cool pattern or a certain brand's logo. All were on the elves' lists.
Who doesn't want a homemade vase (that may or may not leak)?! A pottery wheel is a fun gift that encourages kids to explore their artistic side.
Everyone young and old is getting into the coloring game. Art sets encourage creativity in kids and can help destress adults.
Games
Dominoes, Matching Game, Battleship, Monopoly, Apples to Apples, Clue, and regular old Playing Cards are our family favorites
Books
Board books for younger kids are great.
My all-time favorite books to read out loud (and then have your kids read back to you as they get older) are Goodnight, Goodnight Construction Site, The Day the Crayons Quit, How Do Dinosaurs Say Goodnight, Pete the Cat, Duck on a Bike, and Little People: Christmastime is Here!
The Owl Diaries, The Bad Guys, and the Key Hunters are perfect for the 1st & 2nd graders you know.
Harry Potter series, The Land of Stories, and My Weird School are great for the 3rd & 4th graders.
And that about wraps it up. Drop a comment below if you think of anything else you want me to add!
Meme
Note: I totally recommend using websites that have eBates! Don't have eBates?! Get it. Now! It gives you cashback on online purchases.
Also, you can get the Wikibuy app, and it will let you know if something is cheaper on another website than Amazon.
Pin for later:


Be sure to watch our video where we talk about some of our favorites:
[ssp-video]