This easy Instant Pot Salsa Chicken uses only a few wholesome ingredients you can keep on hand to make a quick, healthy, delicious meal. Using frozen chicken, salsa, and a few veggies, you can have dinner ready in less than one hour with little effort and basically no planning. This gluten free, dairy free meal is great for meal prep, too!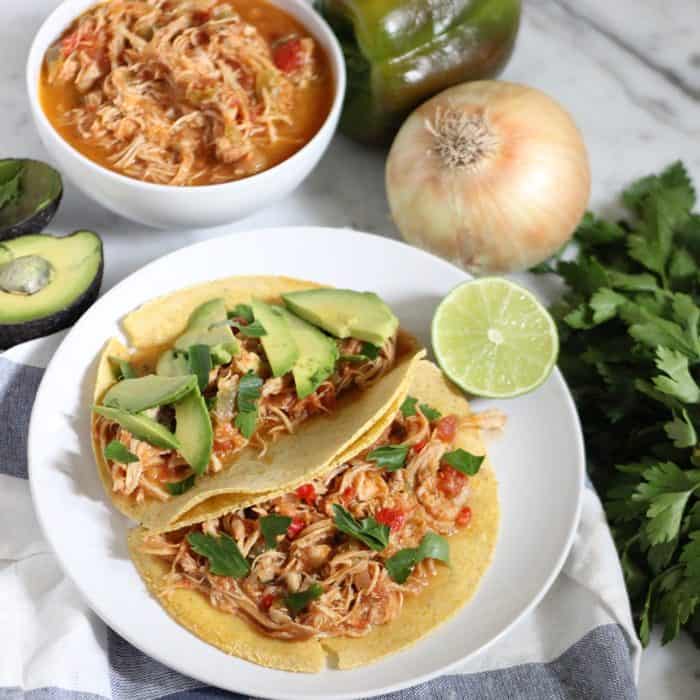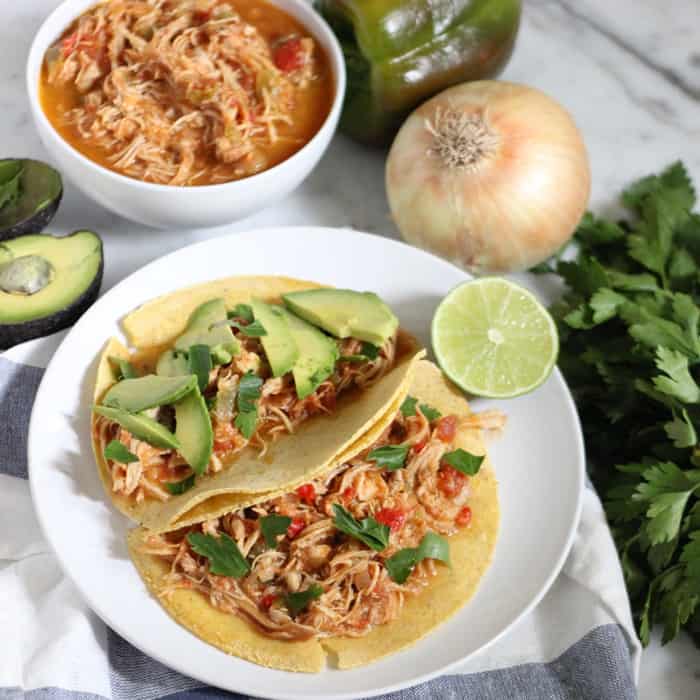 Disclosure: I might make a commission for purchases made through links in this post at no extra cost to you.
My Instant Pot is seriously the hero of my kitchen. And I cannot believe how much I love it.
I use it at least twice a week, and some days I actually use it more than one time.
Initially, I was very hesitant to even get an Instant Pot®. I had so many reasons why I didn't need one:
I didn't have room for it.
I didn't know how to work a pressure cooker.
Was it really that amazing?
Would it really save me that much time?
Would I blow up my house?
I already have a slow cooker, I don't need something to make food instantly.
the list goes on...
Then I saw someone make shredded chicken using frozen chicken breast. Frozen chicken breast?! Is that safe? Is that weird?
Once again, I had so many questions as to why a pressure cooker was really going to be such a game changer in the kitchen. Then I caved and bought one for myself to try last Christmas.
And I haven't looked back since. Why? Because it really is life changing. Think: saves time, saves effort, saves stress (because it saves time so I don't always have to plan ahead haha).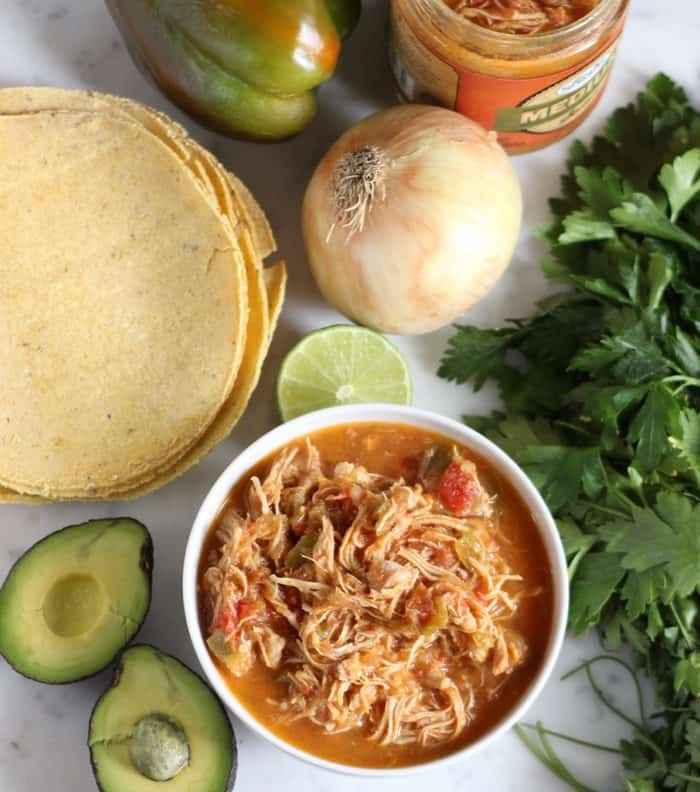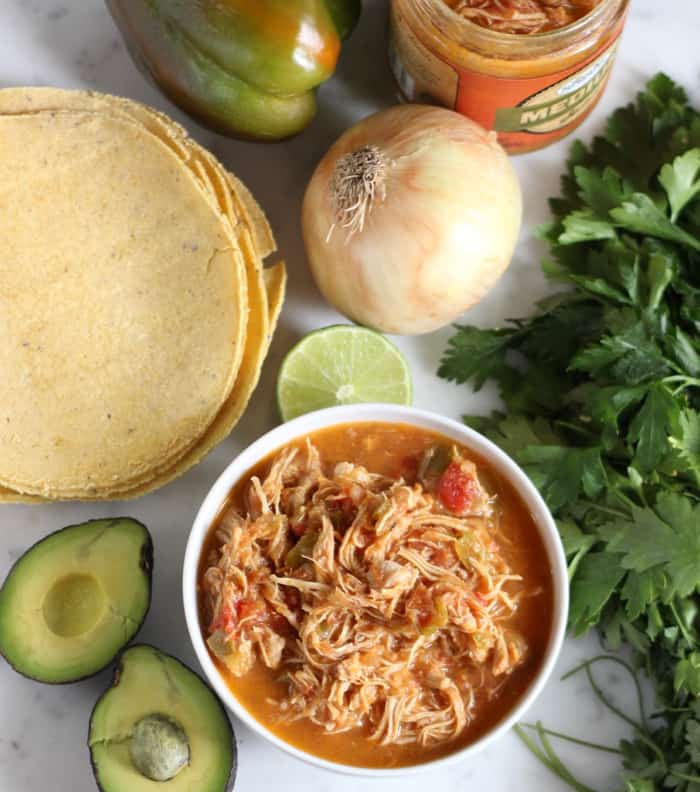 Why you should make Instant Pot Salsa Chicken
This Instant Pot Salsa Chicken is seriously the main reason I love my Instant Pot® so dang much! And I think I make it at least twice a month (if not more) which is a big deal in my house since I'm always testing new recipes.
It's fool proof and can be adapted to your taste preferences and whatever you have in your kitchen.
Also, I prefer using frozen chicken because it's usually less expensive and you don't have to mess with raw chicken. I mean, yes, frozen chicken is raw but it feels less messy than fresh raw chicken does for some reason.
Is it safe to use frozen chicken in the Instant Pot?
So is it safe to use frozen chicken in your Instant Pot?
Yes, it's safe. It's actually safer than cooking in a slow cooker because the Instant Pot® cooks the chicken so fast that it is in the temperature danger zone -- the temperature range for when food-borne bacteria can rapidly grow -- for only a short amount of time.
When it's in the slow cooker, the chicken thaws and is cooked at a much slower rate so it is in the temperature danger zone for a lot longer and usually for longer than is technically safe.
If you don't want to cook frozen chicken (or don't have it), you can easily use fresh raw chicken and cook for half the time.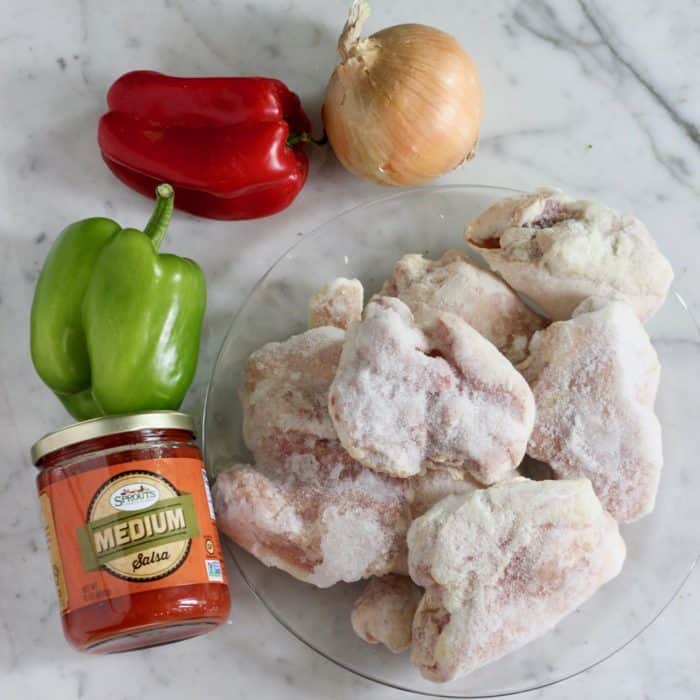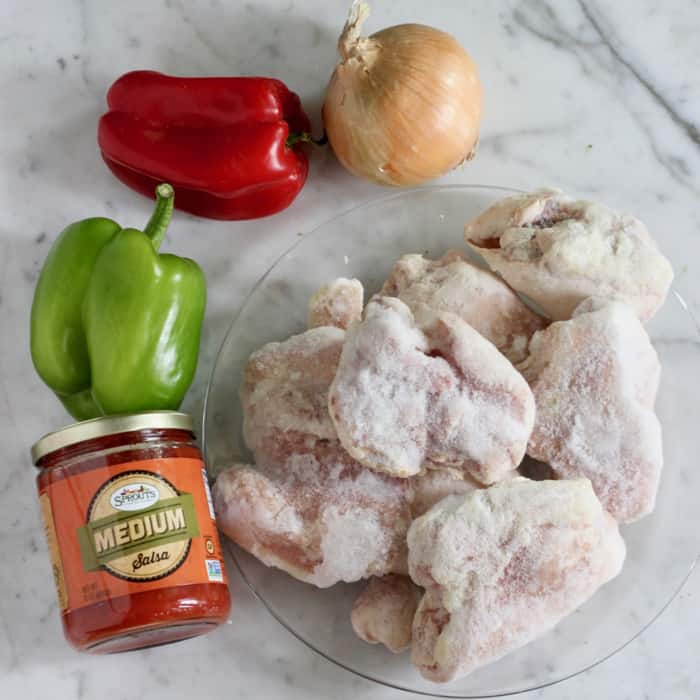 How to Make this easy Instant Pot chicken recipe
Chop two bell peppers and an onion (or use frozen) and throw in the Instant Pot.
Then add your chicken and a jar of salsa.
Add a little water to the salsa jar to make sure you get all the salsa out of it, and pour on top.
Cook, shred, and enjoy!
It is SO simple!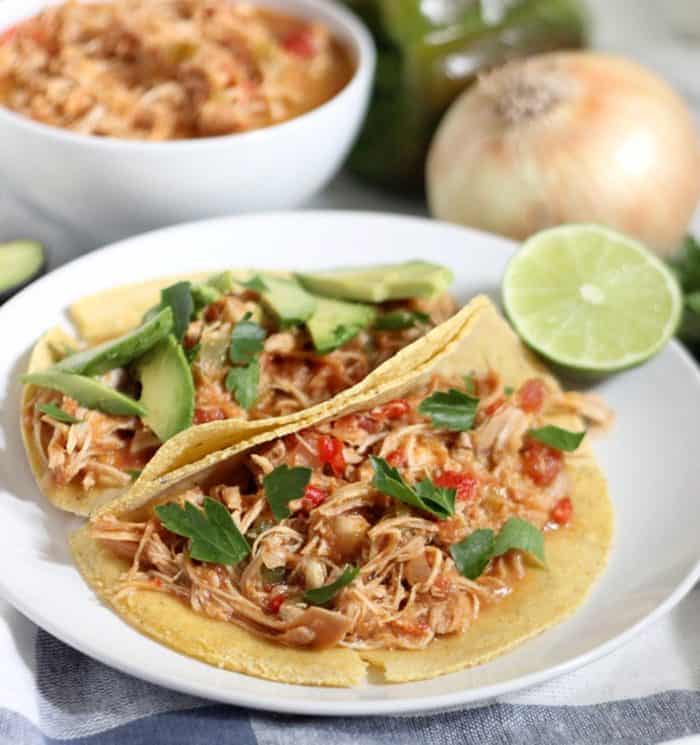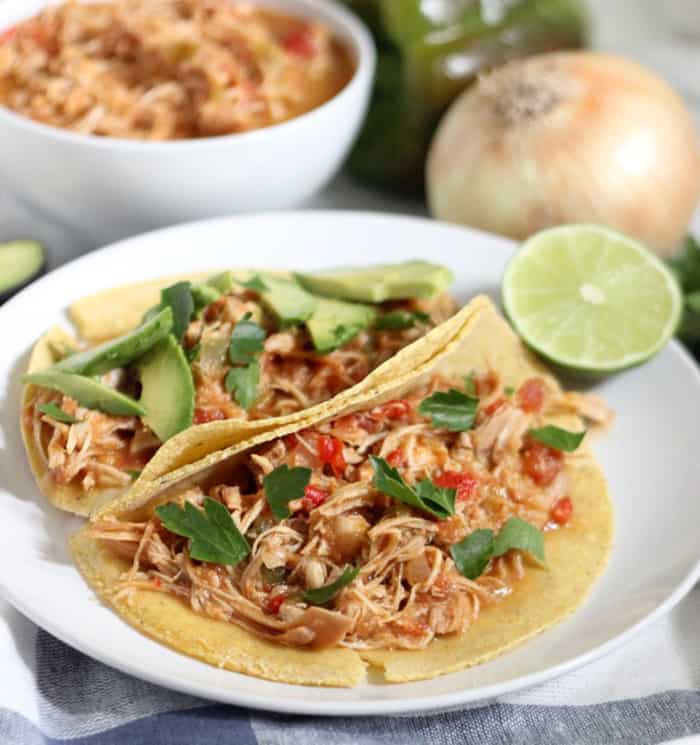 Tips for Making Instant Pot Chicken
The best salsa for the recipe
The best salsa is really just your favorite salsa. I honestly use whatever salsa is on sale at the store that week.
I like to change it up occasionally and use salsa verde one week and a regular salsa another week and then a "fancy" salsa like mango black bean another week.
Any salsa will work in this recipe.
Make Ahead Tips
This is a great recipe for meal prepping for the week. In fact, it is one of my favorite (and only) things that I do to meal prep for the week.
Prepare and save the leftovers in an air-tight container in the fridge for up to 5 days and in the freezer for up to one month.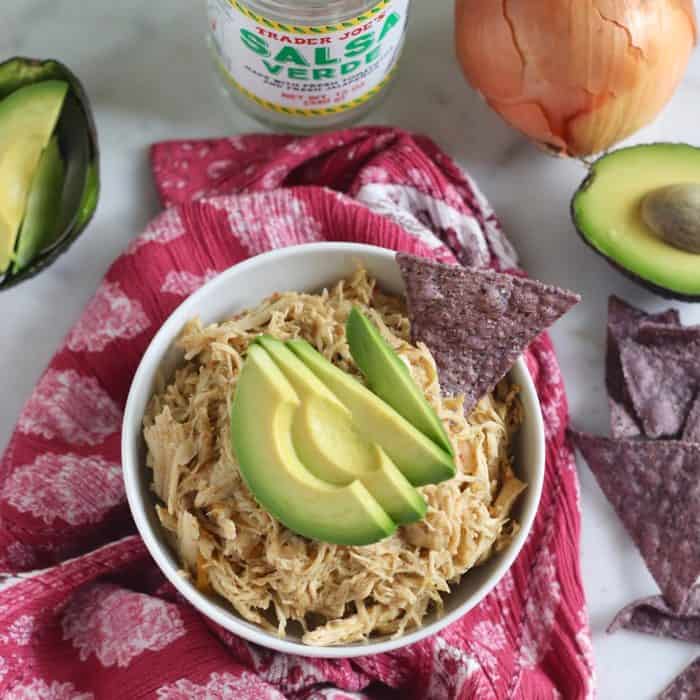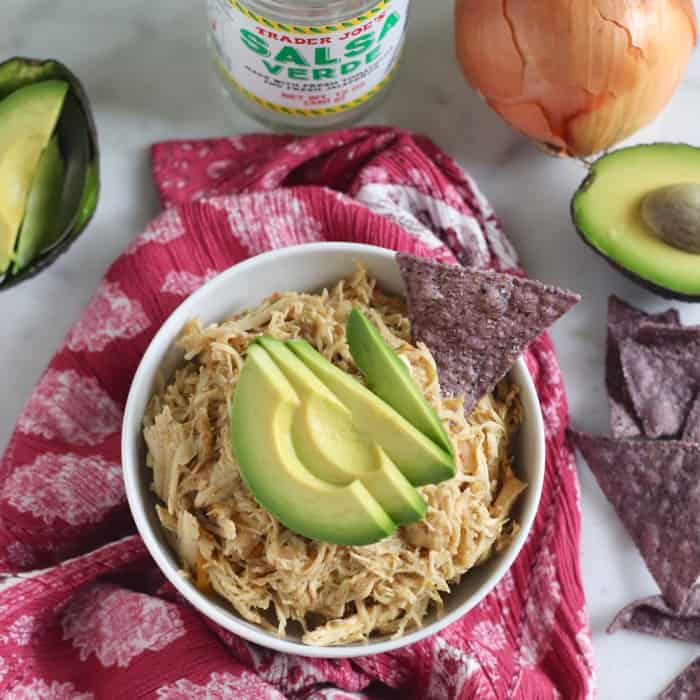 Variations & Substitutions
Meat substitutions:
You can easily use chicken thighs in this recipe. I usually go back and forth between chicken thighs and chicken breast, and usually use whatever was on sale at the store that week. However, with the chicken thighs, there will be a little more grease in the Salsa Chicken when it is cooked.
You can also use pork loin or pork tenderloin.
As noted above, you can use frozen or fresh raw chicken. I personally use frozen which I think is easier, but it's completely up to you.
Veggie substitutions:
While the bell pepper and onions are not mandatory to make this recipe work, I really like having the extra veggies. In fact, I usually use two peppers. I appreciate that I can throw this in a bowl and eat with chips and not have to worry about getting in extra veggies -- they're already in my bowl!
If you don't like onions, use only bell peppers. If you don't like bell peppers, use only onions. Or don't use either. Carrots, celery, and tomatoes would also work well in this recipe.
Alternative prep & cooking methods:
If you don't have an Instant Pot®, you can make this in the slow cooker. I've actually done another video on Slow Cooker Salsa Verde Pork that I really like.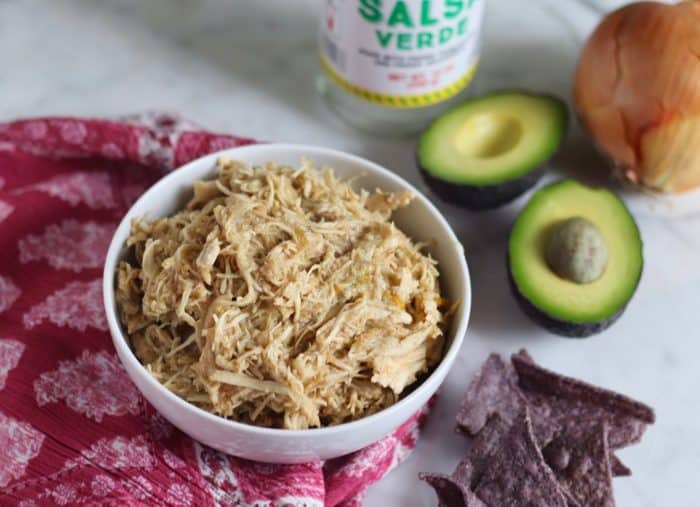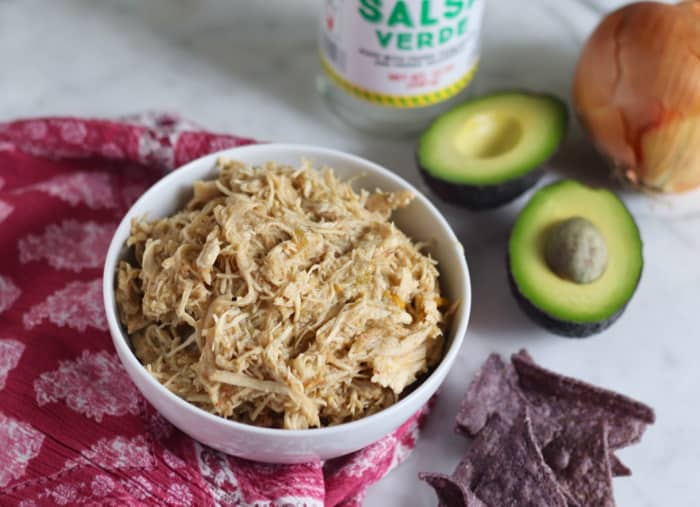 What to serve with this dish
Because this recipe has protein and veggies in it, all you need to do is add a carb and you're good to go!
I serve mine with tortilla chips or in tortillas or over cooked quinoa or brown rice. I've even served it alongside some mashed potatoes.
It's also really taste when you add some sliced avocados. Or drain off the liquid and add over some chips. Sprinkle with cheese and make nachos. (Y'all know nachos are my fave!)
Final thoughts:
I cannot recommend this recipe enough. Anytime I have a friend that is debating whether or not to buy an Instant Pot®, this is the recipe I tell them about and it convinces people 99% of the time to buy one.
I'm seriously so thankful for this recipe because I do not have to plan ahead. I try to keep a jar of salsa in my pantry and a bag of frozen chicken in the freezer, so I can have a meal ready in less than an hour. And I always have onions on the counter or diced bell peppers in the freezer (but even if I don't, I don't worry because you get some veggies in the salsa).
What are you waiting for?! Try this recipe to realize how much the Instant Pot® really does save your life.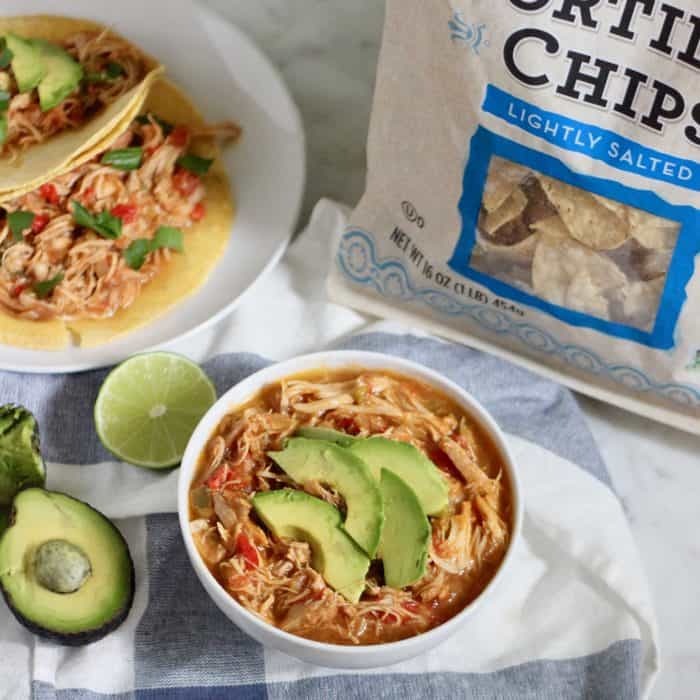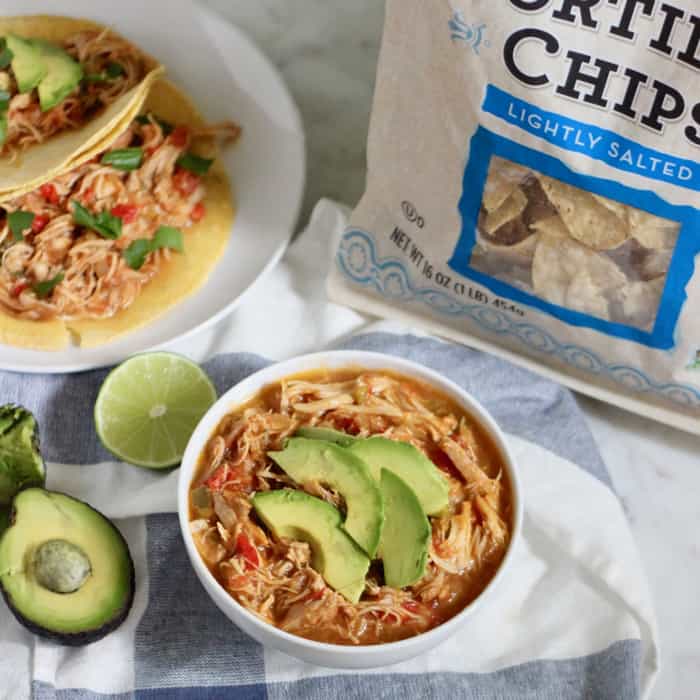 ---
MORE INSTANT POT RECIPES YOU'LL LOVE:
---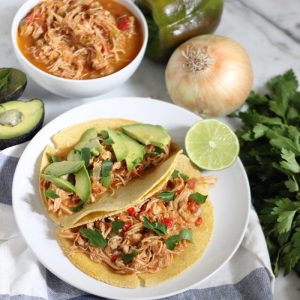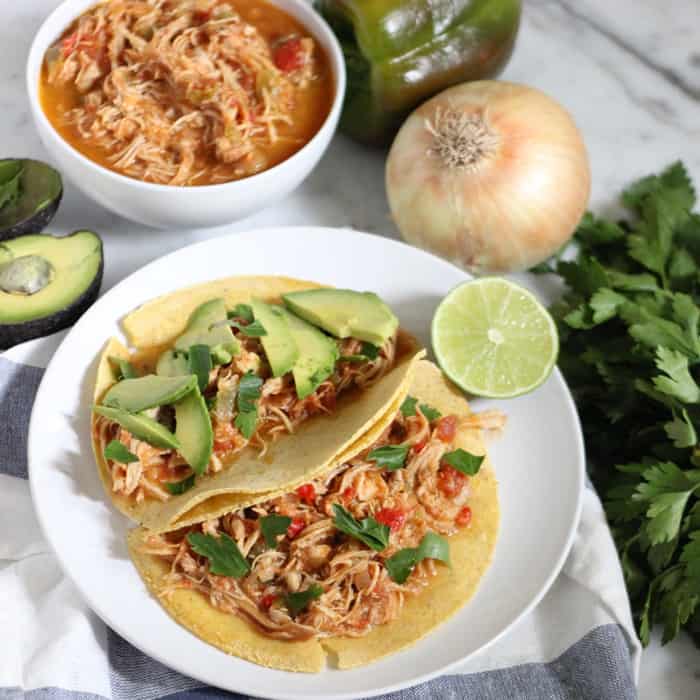 Instant Pot Salsa Chicken
This easy Instant Pot Salsa Chicken uses only a few wholesome ingredients to make a healthy, delicious meal for in under an hour with little effort or planning
Print
Rate
Ingredients
1

large

onion

diced

2

medium

bell peppers

diced

12

ounce

salsa

any kind

2.5

pounds

chicken breast

frozen or fresh

½

cup

water
Instructions
Add onions, pepper, salsa, and chicken to the Instant PotⓇ. Pour water into the salsa jar and pour into pot.

Close & lock the lid of the Instant PotⓇ, and cook on high pressure for 20 minutes for frozen chicken or 10 minutes for fresh chicken.

When the time is done, let the pressure cooker release pressure naturally for 10 minutes then turn the valve to Venting to release remaining pressure.

Remove chicken and shred. Return the the Instant PotⓇ and stir together.

If you want the mixture to be thicker, turn the Instant PotⓇ to Saute and cook for 10-20 minutes until it thickens.
Notes
*Makes 9 cups
*Use chicken breasts or thighs.
*Can use 12-16 ounces salsa.
Did you try this recipe?
Be sure to leave a comment & recipe rating below. Bonus points for tagging @memeinge & #livingwellkitchen on Instagram! THANK YOU! xo
[showhide type="post" more_text="Click here for Nutrition Facts" less_text="Clear Nutrition Facts"]
*
Nutrition Facts
Instant Pot Salsa Chicken
Amount per Serving
% Daily Value*
* Percent Daily Values are based on a 2000 calorie diet.
*
[/showhide]
---
Meme
Doesn't this recipe look good?! You should probably pin it for later: