Mediterranean Meatball Flatbread uses frozen foods to prove that snacks don't have to be boring to be easy. Think savory Tuscan meatballs with a rich pesto on a flaky flatbread crust, you'll be craving this for more than snack time.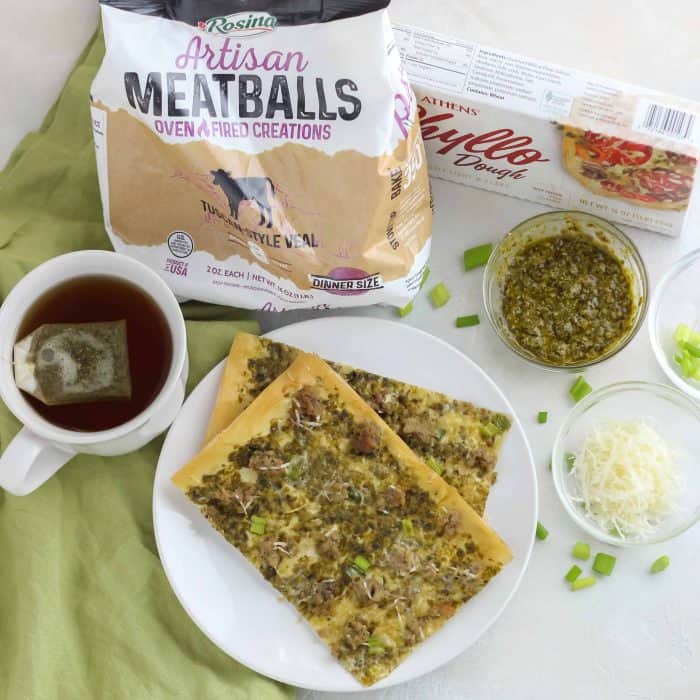 This post is sponsored by the National Frozen & Refrigerated Foods Association, however all opinions are my own.
Why you should make this Mediterranean Meatball Flatbread
Easy to make snacks need not be boring and this Mediterranean Meatball Flatbread proves it! Think savory Tuscan meatballs with a rich pesto on a flaky flatbread crust. Mmm!
This is an incredibly satisfying, ultra delicious flatbread that only requires a few ingredients that keep for a long time in your kitchen thanks to the freezer. Plus, you get a nice amount of protein from the meatballs along with some veggies in the pesto and green onions.
Why frozen foods deserve a space in your kitchen
I'm an equal opportunity snacker; I like both savory and sweet snacks. However, my main requirements for a snack are that it is easy to make and really delicious. Bonus points if the snack has a some protein along with a fruit or veggie.
While I love to spend a fair amount of time in the kitchen, this isn't always the norm. And sometimes I go through phases where cleaning more than one bowl or pan is out of the question.
Enter frozen foods to save me from having to do any elaborate preparation, cooking, or cleaning. This is especially important when I'm hungry and ready for a snack.
Frozen foods offer a long shelf life and with easy preparation – plus fruits and veggies are frozen at the peak of ripeness, locking in beneficial nutrients.
The nice thing about the frozen foods you find in the grocery store today is that they are chef-inspired recipes that are created to meet a wide variety of preferences that are flexible to your eating needs. This is probably why my freezer is always busting at the seams. I love me some frozen food!
That being said, I'm taking some of my favorite frozen foods -- meatballs and phyllo dough -- and making a delicious flatbread with them. And this is how easy it is...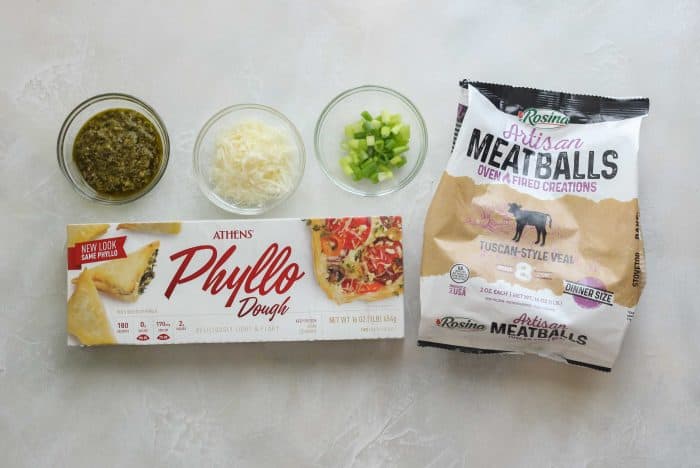 How to make this savory filling snack
Microwave meatballs, and quarter.
Grab a few pieces of phyllo dough. You can also use mini phyllo cups if you'd rather have these in a mini handheld version. Place them on a baking sheet.
Spread some pesto over the phyllo dough.
Top with quartered meatballs, green onions, and sprinkle with cheese.
Bake, slice, and enjoy!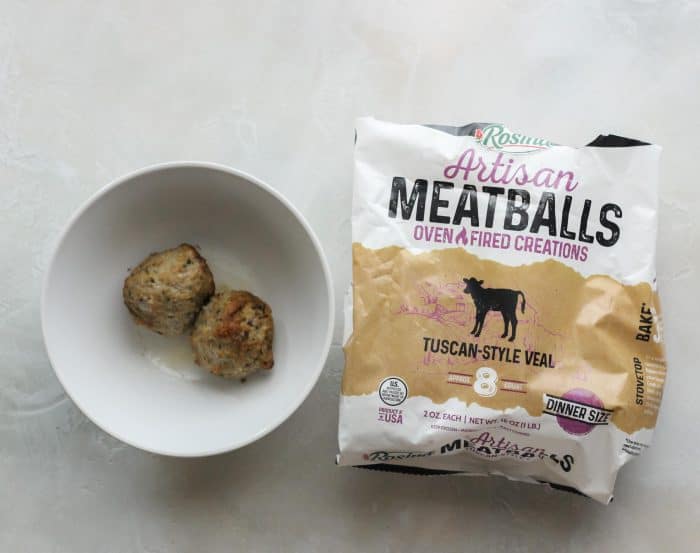 Tips for Making this easy mediterranean flatbread
Make Ahead Tips
Thanks to the frozen food aisle, most of the work has been done for you meaning you don't really need to do anything ahead of time for this recipe.
The only thing you need to do is be sure to thaw the phyllo dough, so I pop it in the fridge in the morning for my afternoon snack. The phyllo dough keeps in the fridge for up to one month, but seeing as I'm partial to my freezer, I prefer to keep it in the freezer so I always have a snack option on hand!
If you want to double the recipe and keep it on hand in the fridge for later, you certainly can but the flatbreads will not be very crispy. You can reheat them in the oven to help crisp them up a wee bit.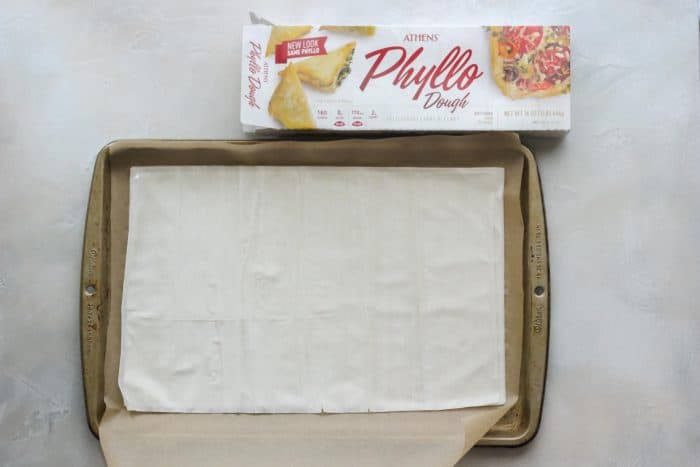 Variations
Substitutions:
If you are not a fan of parmesan cheese, you can easily use mozzarella or cheddar. I wouldn't use a sharp or extra sharp cheddar as the flavor might overpower the pesto and meatballs, but a mild cheddar would work well.
Alternative prep & cooking methods:
If you can find the Athens Mini Phyllo Shells, you can use them in place of the phyllo dough. Place a few on a rimmed baking sheet and add a half teaspoon of pesto to each shell. Drop in a chopped meatball and sprinkle in some green onions and cheese. Bake and enjoy!
Storage Tips:
Let cool and store tightly wrapped in the fridge. You can enjoy cold or reheat in a dry skillet over medium heat for best results.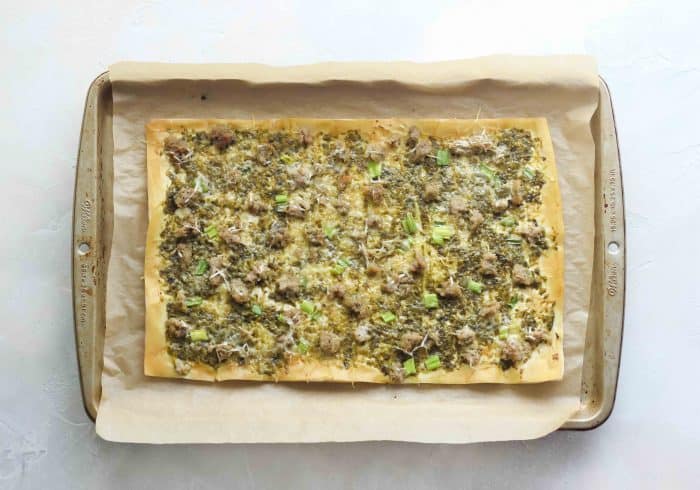 What to serve with this dish
Because this is a snack, I like to serve this with some tea or a glass of water. If you are extra hungry, a piece of fruit would be a nice addition to this flavorful snack.
Final thoughts:
Ditch the boring snack because you think you don't have time to prepare anything. This snack takes less than 10 minutes to prepare and about the same amount of time to bake. You can make for a crowd or to serve one, and they are also delicious as a light lunch or dinner.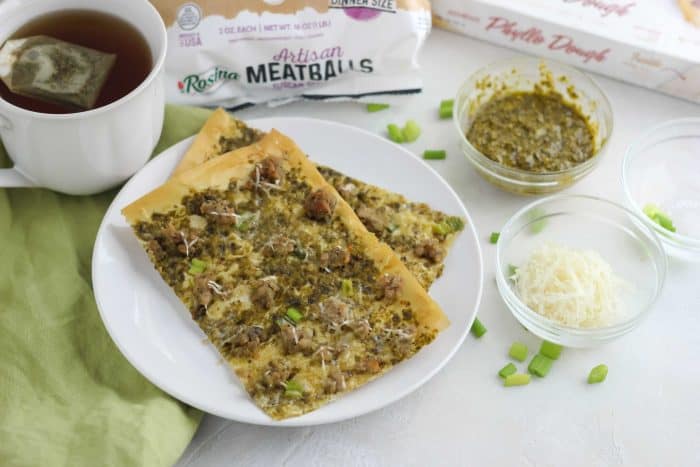 ---
MORE RECIPES YOU'LL LOVE USING FROZEN INGREDIENTS:
---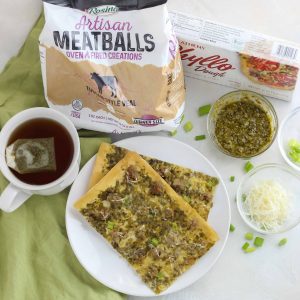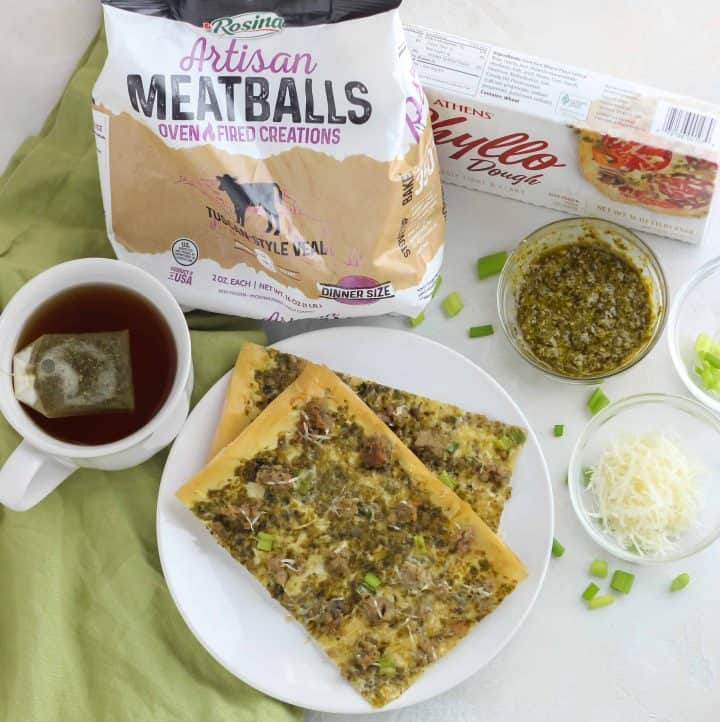 Mediterranean Meatball Flatbread
Mediterranean Meatball Flatbread uses frozen foods to prove that snacks don't have to be boring to be easy. Think savory Tuscan meatballs with a rich pesto on a flaky flatbread crust.
Print
Rate
Instructions
Place the meatballs in a microwave-safe bowl, and microwave on high for 2 minutes. Let cool for 5 minutes and carefully cut in small pieces.

Meanwhile, place the phyllo dough on a baking sheet lined with parchment, and spread evenly with pesto. Place the chopped meatballs on the pesto, and sprinkle with green onions and parmesan cheese.

Transfer flatbread to oven, and bake for 10-13 minutes until phyllo is lightly browned and cheese is melted.

Cut in half and enjoy!
Notes
*Be sure to thaw the phyllo dough; place it in the fridge in the morning for an afternoon snack.
What to Use in This Recipe
Did you try this recipe?
Be sure to leave a comment & recipe rating below. Bonus points for tagging @memeinge & #livingwellkitchen on Instagram! THANK YOU! xo
[showhide type="post" more_text="Click here for Nutrition Facts" less_text="Clear Nutrition Facts"]
*
Nutrition Facts
Mediterranean Meatball Flatbread
Serving Size
0.5 flatbread
Amount per Serving
% Daily Value*
* Percent Daily Values are based on a 2000 calorie diet.
*
[/showhide]
---
Meme
Doesn't this recipe look good?! You should probably share it: