Jalapeño Pimento Cheese is high in protein with no mayo or yogurt. Spicy pimento cheese recipe made with jalapenos and cottage cheese.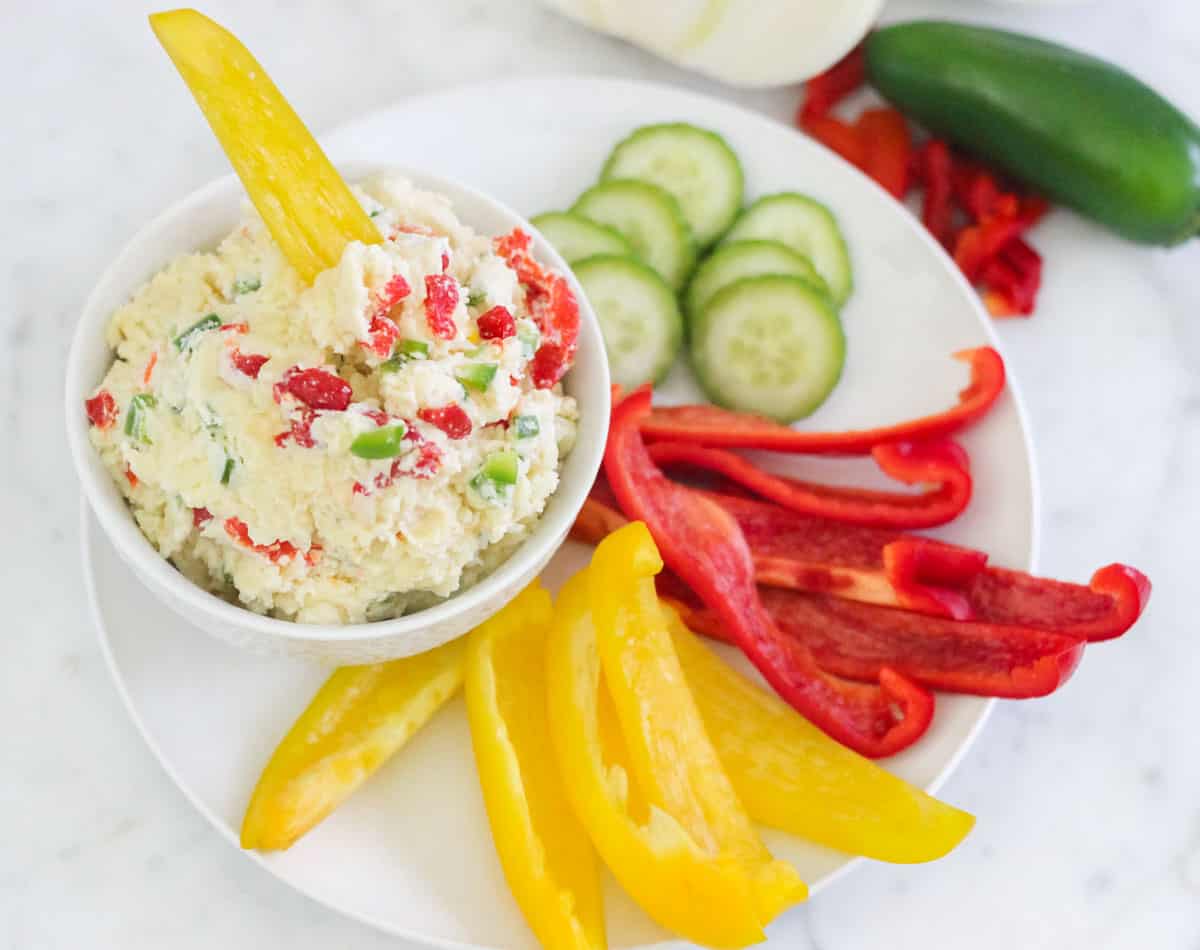 About Jalapeño Pimento Cheese
Pimento cheese is a cheesy spread or dip that's made with pimentos (or pimientos) and shredded cheese.
Typically, mayo holds the mixture together. However, cottage cheese binds together this no mayo pimento cheese.
It takes an extra step of blending the cottage cheese with onion and a little liquid, but it's worth it to get a creamy and flavorful sauce.
Plus, it boosts the protein in this spicy jalapeno pimento cheese.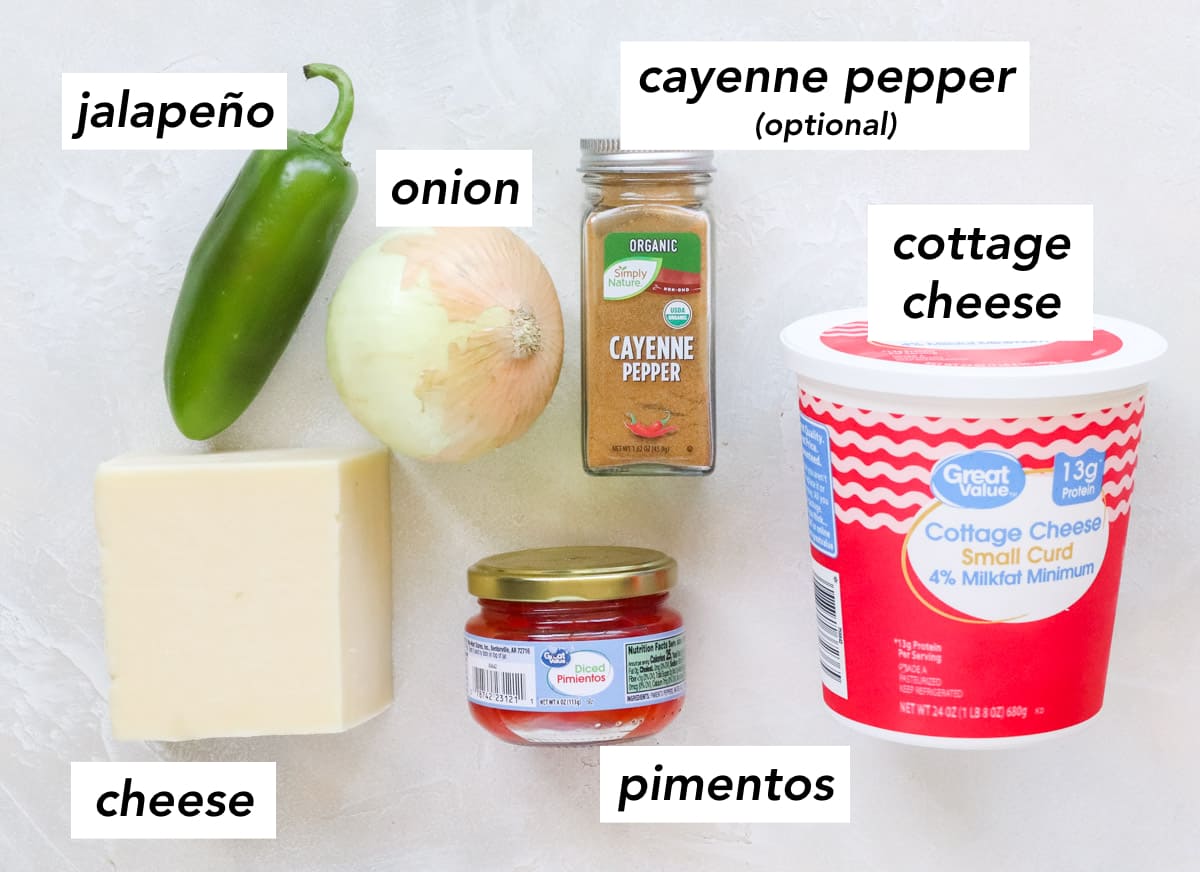 Ingredients
Cheese: Cheddar is typically used for pimento cheese. Monterey Jack, Pepperjack, Colby, and mozzarella (from a block, not from the fresh ball of mozzarella) are alternative options.
Cottage Cheese: Blended cottage cheese binds the jalapeno pimento cheese recipe together. It is used in place of mayo typically used for pimento cheese.
Liquid: To help thin the sauce just a little bit, you'll add liquid. You can use water, milk, or the liquid in the pimento jar. That being said, be sure to drain the pimentos well so the pimento cheese isn't runny.
Jalapeño: For a spicy pimento cheese, add jalapeno. Any spicy pepper will also work well.
Onion: A little bit of grated or diced onion is added to give it flavor. It's important to measure the onion because too much will overpower the other flavors. Because you add the onion to the food processor, you'll be able to blend it into the sauce to prevent big onion chunks in your pimento cheese spread.
Cayenne Pepper: If the jalapeno isn't very spicy, you can add a little cayenne pepper for more heat. However, it's optional.
Pimentos: Diced or sliced pimentos can be used for this healthy pimento cheese. You can find them in the canned veggie aisle of the store, near the jarred olives.
Pimento Cheese Price
Cheese 16 ounces: $3.98
Cottage cheese 6 ounces: $0.65
Jalapeno 1 medium: $0.14
Onion 3 tablespoons: $0.12
Cayenne pepper ¼ teaspoon: $0.01
Pimentos 4-ounce jar: $1.78
TOTAL COST: $6.68 or $0.42/serving (Based on San Diego grocery stores 2023)
Note that this is not the recipe; it's simply to show the cost breakdown of ingredients. Scroll down to the full recipe to see the specific ingredients and directions.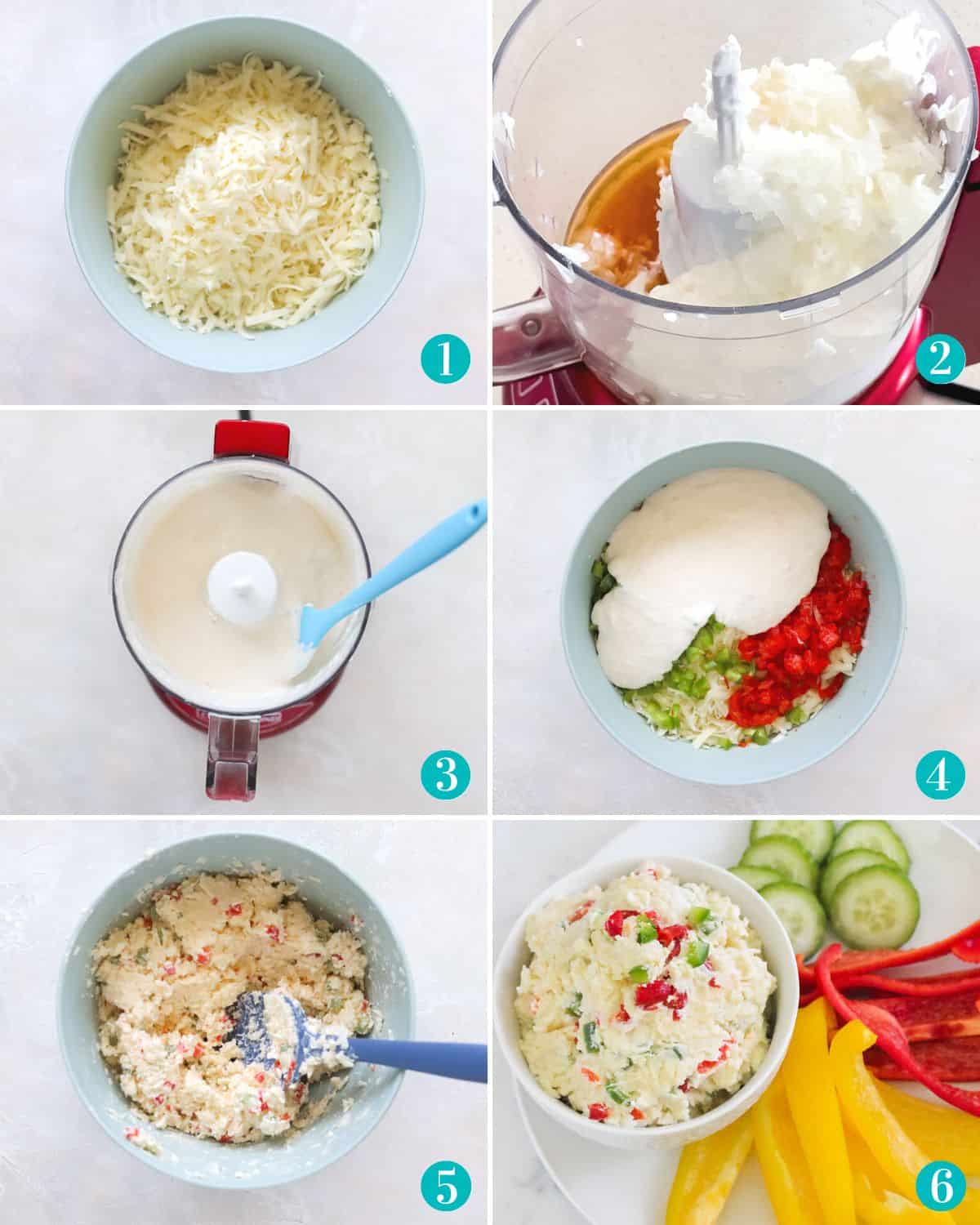 How to Make Pimento Cheese
Time needed: 1 hour and 15 minutes
Using cottage cheese as a binder, you can easily make this delicious, high protein, no mayo pimento cheese with jalapenos.
Grate cheese into a bowl.

Set aside.

Add cottage cheese, liquid, and diced onion to a mini food processor.
Blend together.
Pour sauce over the cheese, diced jalapenos, and diced pimentos.
Stir it all together.

Refrigerate for at least an hour.

Enjoy!
Recipe Tips
Variations
Ingredient Options
Cheese: In place of cheddar, use Monterey Jack, Pepperjack, Colby, or mozzarella (in a block, not fresh form).
Flavor Substitutions
To decrease spiciness: Use less jalapenos or omit them. Also, skip the additional cayenne pepper.
Alternative Prep & Cooking
If you don't have a food processor or blender, you can mash the cottage cheese with a fork and mince the onion. Then stir everything together.
The texture might be a little chunkier, but it will still be tasty.
How to Make Allergy-Friendly
This pimento cheese with jalapeno recipe is naturally gluten-free, egg-free, soy-free, and nut-free.
Pimento cheese usually has mayo so it is not egg-free. But thanks to the cottage cheese, this no mayo pimento cheese recipe is egg-free.
It obviously has a lot of dairy, but if you can find a good dairy-free alternative for cottage cheese and shredded cheese, you can try it. However, I have not found any suitable options to recommend.
How to Fix a Mistake
Too runny: Add a little extra cottage cheese to the sauce, and blend. This should thicken it. However, if you have already stirred together everything, you can add some more grated cheese or blot it dry with a towel.
Too thick: Add a splash of water and stir well.
Make-Ahead Ideas
Jalapeño Pimento Cheese is best made ahead of time, so the jalapeno and onion flavors have time to infuse the cheese.
Storage Suggestions
Store in glass or plastic air-tight containers in the fridge for up to 7-10 days.
Freezing pimento cheese is not recommended as the texture will change undesirably when it defrosts.
Frequently Asked Questions
What is Pimento Cheese?
Pimento cheese is a creamy, versatile, and flavorful dip or spread. This beloved appetizer or snack can be enjoyed so many ways, and it's easy to prepare.
Is pimento cheese healthy?
Depending on how you define healthy, this pimento cheese can be a nutritious option. Most pimento cheese is made with mayo. Yet, this no-mayo pimento cheese is made using cottage cheese to increase the protein.
Can you freeze pimento cheese?
Freezing pimento cheese is not recommended. The cheese does not freeze well and the texture will change undesirably once defrosted.
However, you can freeze it to add to something later like a casserole.
Nutrition Benefits
What to Serve with Pimento Cheese
Final thoughts:
MORE PIMENTO CHEESE RECIPES YOU'LL LOVE: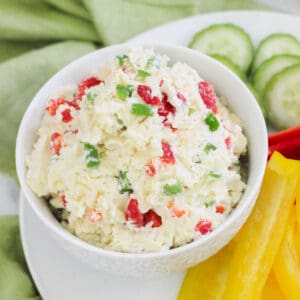 Jalapeño Pimento Cheese
Jalapeno Pimento Cheese is high in protein with no mayo or yogurt. Spicy pimento cheese recipe made with jalapenos and cottage cheese.
Print
Rate
Total Cost:
$6.68 or $0.42/serving
Ingredients
16

ounce

cheddar cheese

shredded

¾

cup

cottage cheese

1

tablespoon

water

1

medium

jalapeño

minced

3

tablespoons

onion

grated

⅛

teaspoon

cayenne pepper

optional

4

ounce

jar diced pimentos

drained
Instructions
Grate the cheese into a large bowl.

Meanwhile, blend cottage cheese, onion, and liquid in a food processor or blender until smooth.

Stir blended cottage cheese into grated cheese. Stir in jalapeño, pimentos, and cayenne pepper, if using.

Cover and refrigerate at least an hour or overnight.

Enjoy with sliced veggies or crackers. Keeps in the refrigerator for about 5-7 days.
Notes
*Makes 4 cups
*For the liquid, you can use

milk, water, or liquid from pimentos.
What to Use in This Recipe
Did you try this recipe?
Be sure to leave a comment & recipe rating below. Bonus points for tagging @memeinge & #livingwellkitchen on Instagram! THANK YOU! xo
Meme
This post was originally published on September 4, 2012. Text, recipe, and photos have been updated.
---
Pimento Cheese Nutrition Facts
Nutrition Facts
Jalapeño Pimento Cheese
Amount per Serving
% Daily Value*
* Percent Daily Values are based on a 2000 calorie diet.
Carbs in Pimento Cheese
There are 2 grams of carbohydrates in this Jalapeno Pimento Cheese recipe.
Pimento Cheese Calories
In ¼ cup of No Mayo Pimento Cheese, there are 126 calories.