Pumpkin "ice cream" is a nutritious, three-ingredient soft-serve treat that is perfect for celebrating the fall season no matter the temperature outside. It's also nice for soothing a sore throat if seasonal allergies are getting to you.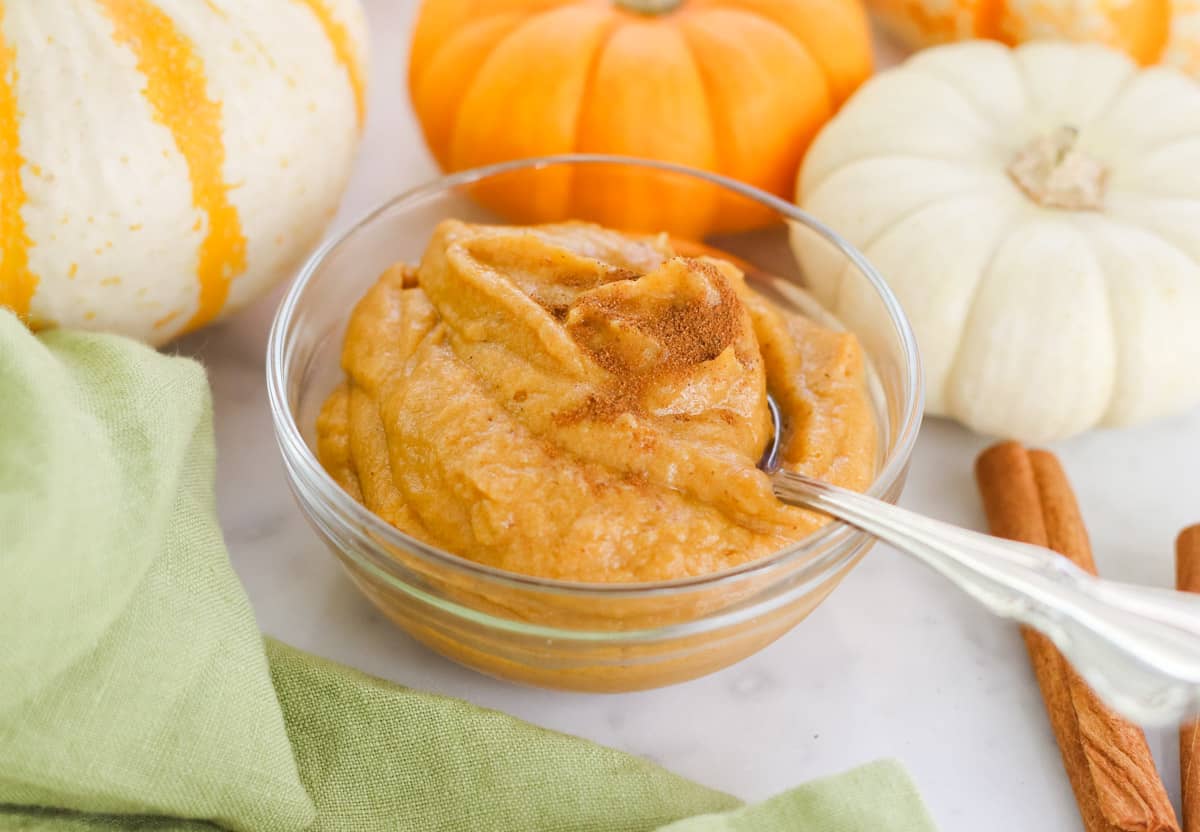 About Pumpkin Banana Ice Cream
Sometimes it's just too hot to enjoy warm pumpkin dishes like Mexican pumpkin soup, pumpkin macaroni & cheese, or pumpkin chili. That's where this pumpkin ice cream with frozen bananas comes in.
You get the pumpkin flavor without heating you up.
Plus, it's a great way to use up any leftover canned pumpkin as well as for soothing a sore throat from seasonal allergies.
To be clear, this isn't actually ice cream - there is no cream or milk. It has more of the consistency of soft serve.
While it's not a direct substitute for ice cream, it is still creamy and delicious.
Pumpkin Banana Ice Cream will satisfy your desire for a cold treat, and it's a tasty way to get more fruits & veggies in your day.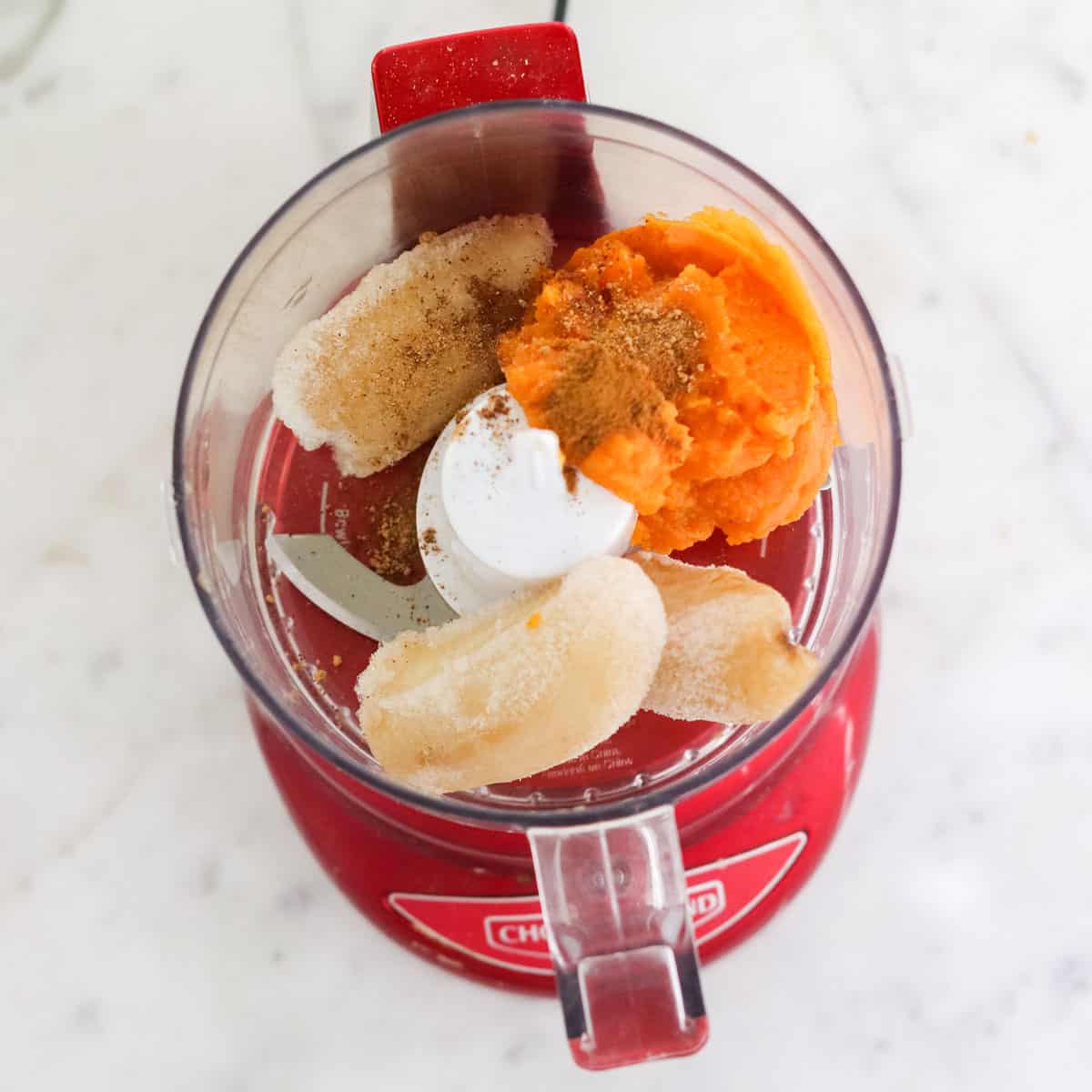 Note about Pumpkin Nice Cream
This was originally referred to as pumpkin "nice cream," but that term is unhelpful and inaccurate. It makes it seem like the fact that it's "nice" makes it better than regular ice cream. Or that it's morally superior to eat this "nice cream" over regular ice cream.
Food guilt is not allowed here because it ruins the pleasure of food.
If you're trying to let go of food guilt, the way you talk about food matters. Examples of statements that reinforce food guilt: "I'm bad for eating ice cream" or "it's better to eat banana nice cream"
Need a little guidance or assistance?
Grab a copy of this helpful resource so you can start enjoying food again and stop feeling guilty when eating 💕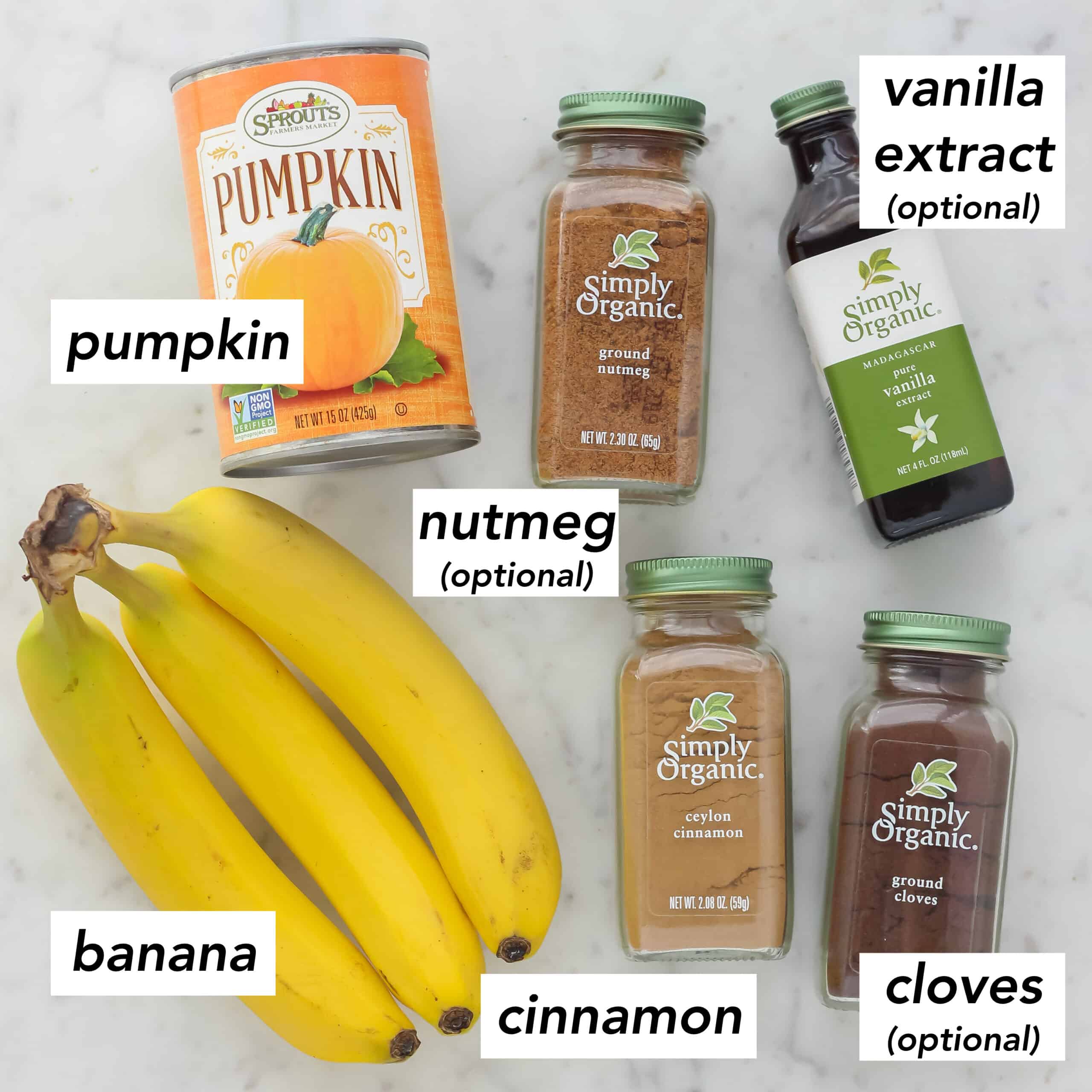 Ingredients
Pumpkin: Any pumpkin puree, whether fresh or canned, is what you need. You can even freeze leftover canned pumpkin puree in ice cube trays and use them to make this pumpkin ice cream with banana. You'll use about 2 or 3 standard-sized ice cubes (an ice cube is about 2 tablespoons each).
Banana: It's imperative that you freeze the banana in advance, so the mixture will be thick, creamy, and (most importantly) frozen. A small banana or half of a large is recommended to start. But add more if needed.
Cinnamon: Without cinnamon, pumpkin and banana ice cream is a little boring and flavorless. If you like less cinnamon flavor, use half the recommended amount and add more as needed.
Optional ingredients
Nut butter: Want this to have more protein and fat so it can be a snack? Add nut butter. Both peanut butter and almond butter taste great.
Spices: Additional spices you can add to give it extra pumpkin spice flavor are ground cloves and nutmeg. Just a dash or two. A dash of ground ginger would also be tasty.
Vanilla extract: Vanilla makes everything taste better, and this pumpkin banana ice cream is no exception. If you're feeling fancy, add a dash of vanilla. But it's totally optional.
Cost of Recipe
pumpkin puree: $0.27
banana 1 small: $0.24
cinnamon ⅛ teaspoon: $0.01
TOTAL COST: $0.52 (Based on San Diego grocery stores 2022)
Note that this is not the recipe; it's simply to show the cost breakdown of ingredients. Be sure to scroll down to the full recipe to see the specific ingredients and directions.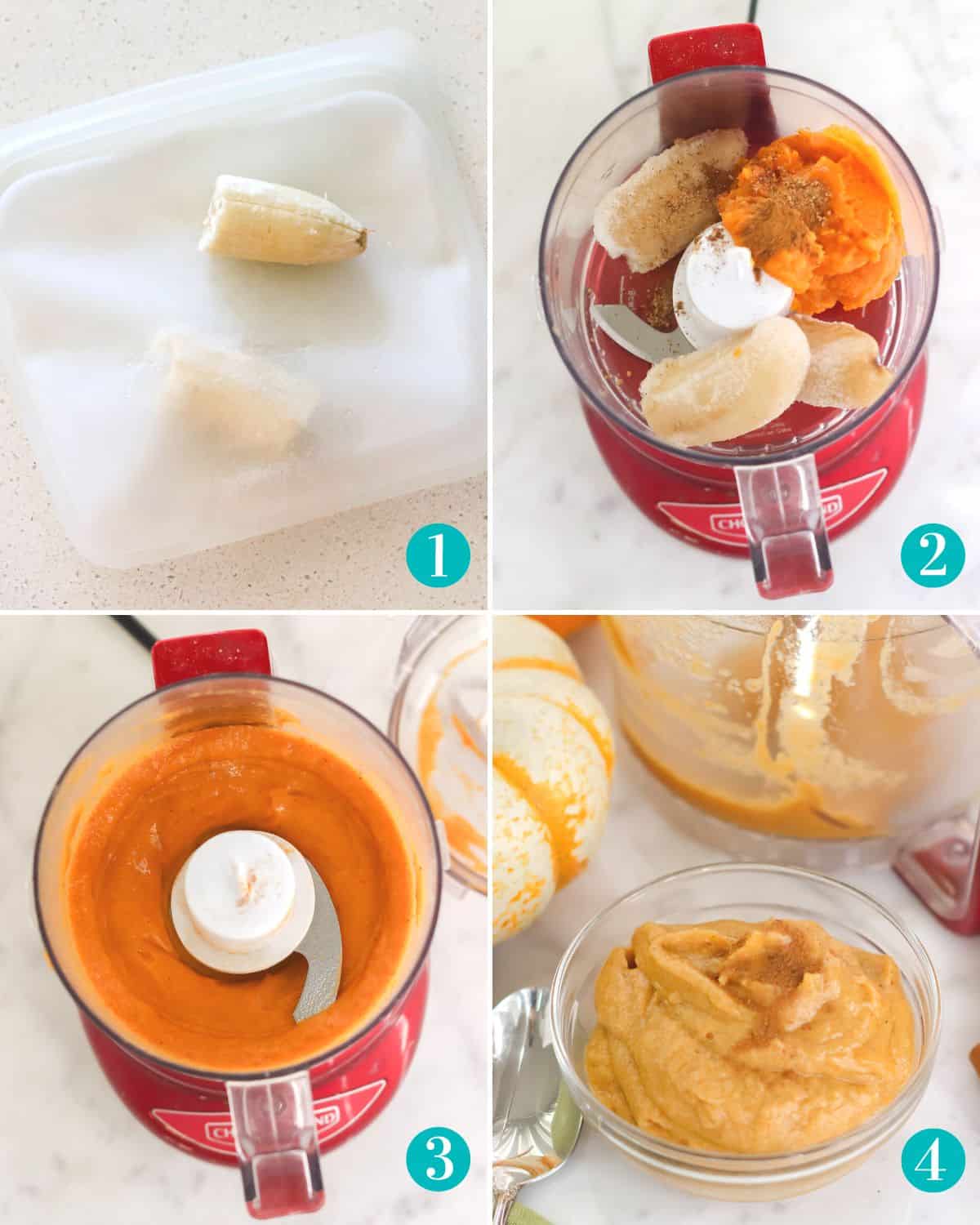 How to Make Pumpkin Banana Ice Cream
Time needed: 4 hours and 5 minutes.
Making pumpkin ice cream is easy! Freeze the banana. Then blend together the banana, pumpkin, spices, and peanut butter, if using. Enjoy!
Freeze a banana.
Add banana, pumpkin puree, and cinnamon to a mini food processor.

If you're using vanilla extract, other spices, or nut butter, add them now.

Blend.

Taste and add extra ingredients if needed.

Transfer to a bowl, and enjoy!
Recipe Tips
Don't forget to freeze the banana at least 4 hours before you want to enjoy this pumpkin banana ice cream.
Variations
Ingredient Options
Spices: Feel free to ditch the cloves and nutmeg. The depth it gives this "ice cream" is nice, but the spices are not mandatory.
Sweetener: The combo of the sweet banana and spices really gives you enough flavor, but you can add honey or maple syrup if you want this to be sweeter.
Nut butter: For more staying power, add a tablespoon of nut butter. Peanut butter, almond butter, cashew butter, and sunflower seed butter would all be great options.
Alternative Prep & Cooking
A mini food processor is easiest, but you could also use a small blender or anything that would make a single-serving smoothie.
How to Make Allergy-Friendly
This is already gluten-free, dairy-free, soy-free, nut-free, vegan, and vegetarian. If you add nut butter, it will no longer be nut-free. Use sunflower seed butter if needed.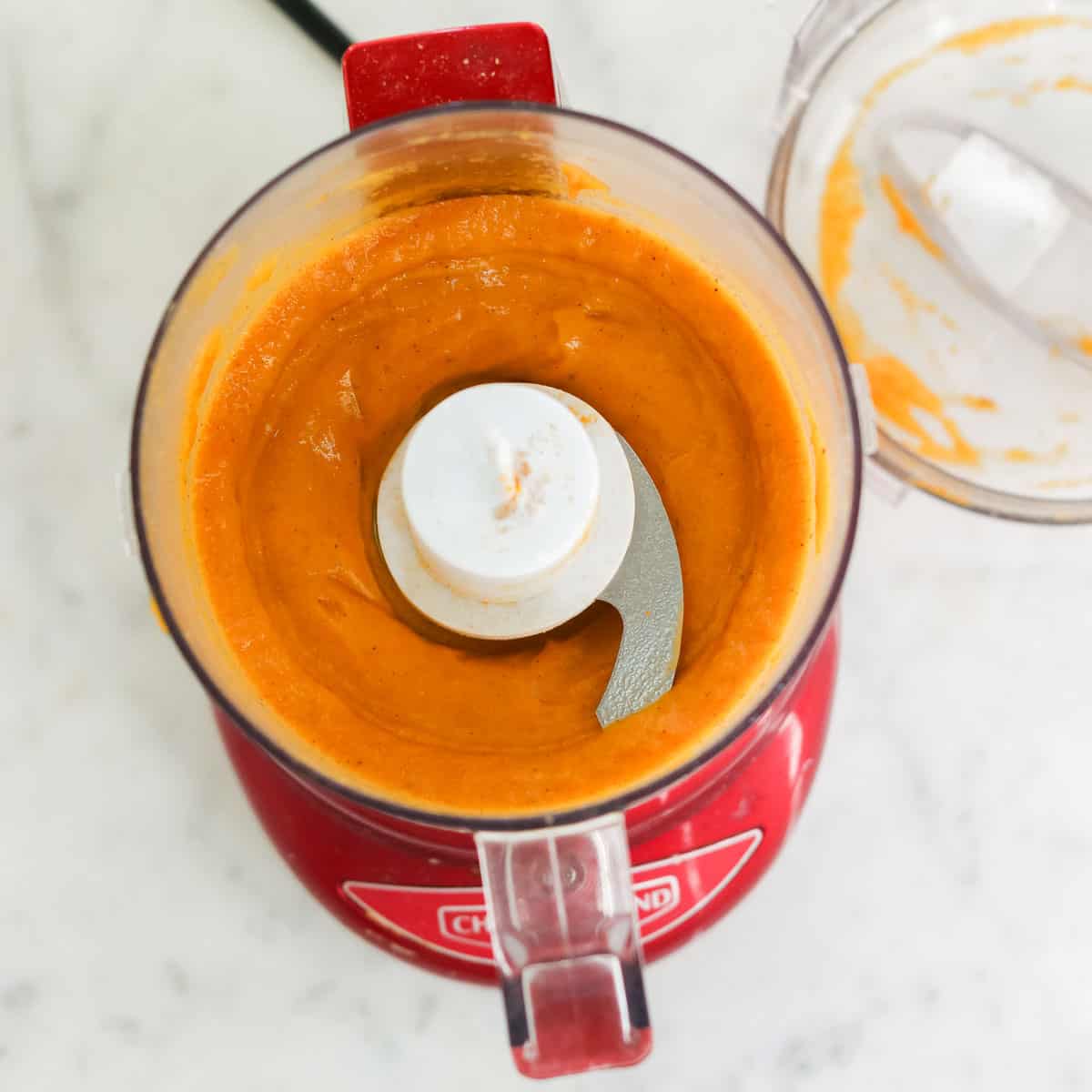 How to Fix a Mistake
Too thick: Thin the mixture with a spoonful of water.
Too thin: Put the mixture in the freezer to harden for 15-30 minutes. Stir then freeze until it's thick enough for you.
Too much spice: Add a spoonful of pumpkin puree and/or banana.
Make-Ahead Ideas
This banana pumpkin ice cream tastes best right after preparing, but you can pop it back in the freezer right after blending to make sure it is extra cold and creamy.
This tastes more like a soft serve, but adding it to the freezer after blending will help harden it up a little bit.
Storage Suggestions
This is best enjoyed immediately after making, but you can keep the prepared "ice cream" in an airtight container in the freezer for a few days. After that, the consistency is off.
Frequently Asked Questions
Nutrition Benefits
Banana Pumpkin Ice Cream is packed with nutrients, like 15% of the recommended daily amount of Potassium and Vitamin C, as well as over 250% recommended daily amount of Vitamin A.
It also has 5 grams of fiber to help you feel more satisfied.
What to Serve with Banana Pumpkin Ice Cream
This can be dessert or snack or even breakfast, but it doesn't have much protein. Either add nut butter or serve it with some kind of protein like a hard-boiled egg, avocado chickpea toast, egg muffins, or breakfast stuffed peppers.
Final thoughts:
This is too easy and too delicious not to try! Plus, it's a great way to use up leftover pumpkin puree.
Banana pumpkin ice cream is a delicious, nutritious, and refreshing snack that will get you in the fall spirit even if the weather isn't.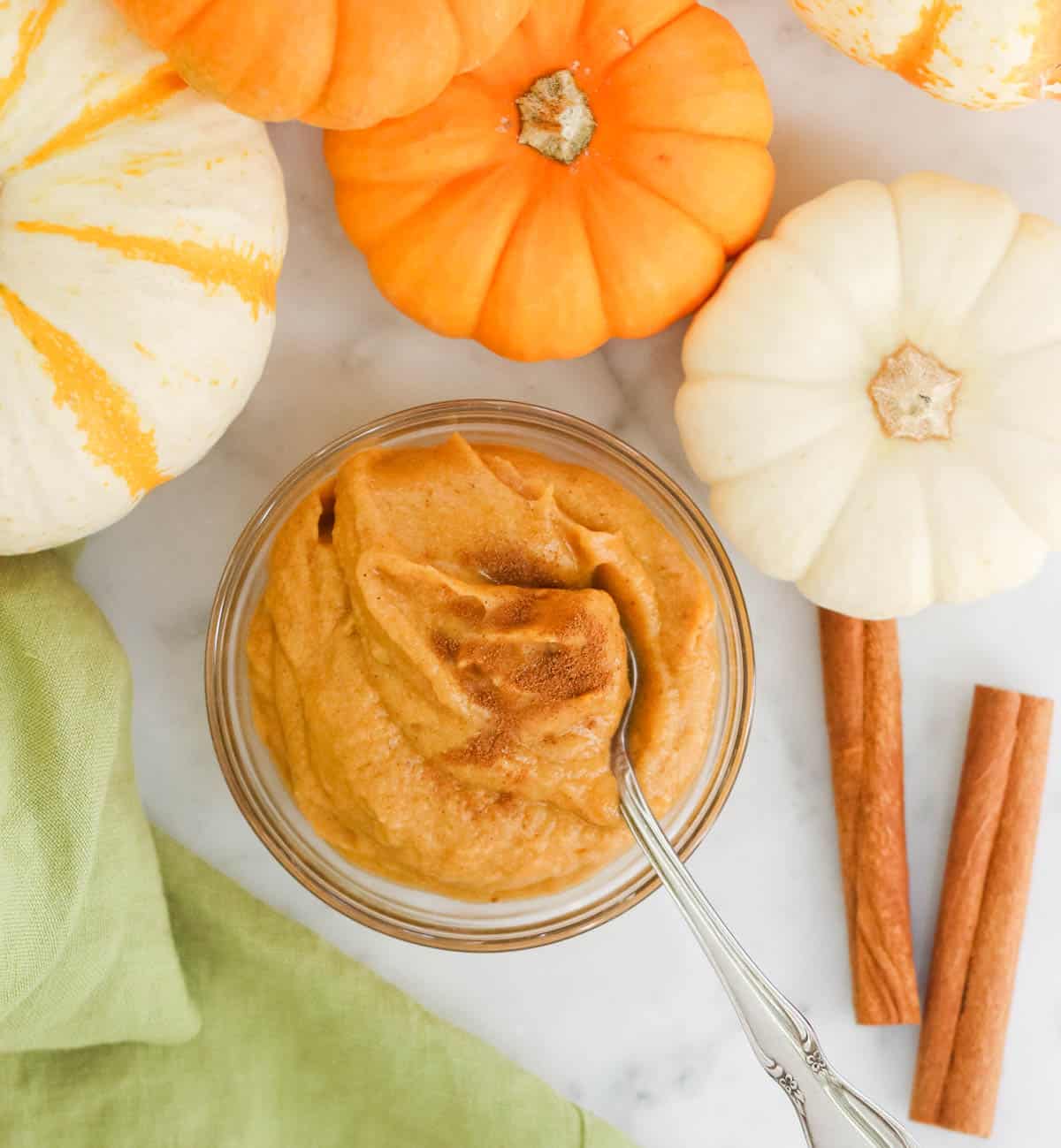 MORE PUMPKIN RECIPES YOU'LL LOVE (that won't warm you up):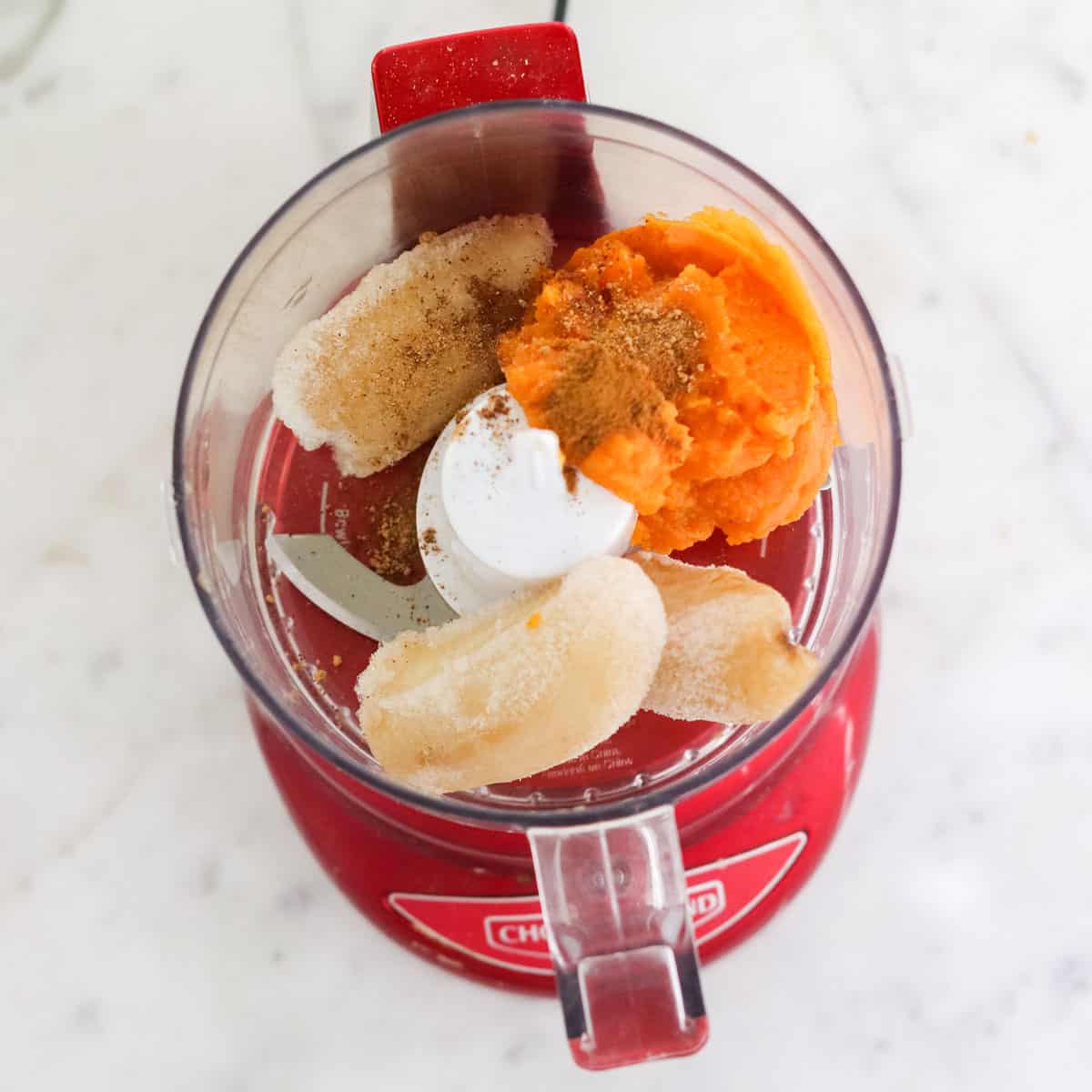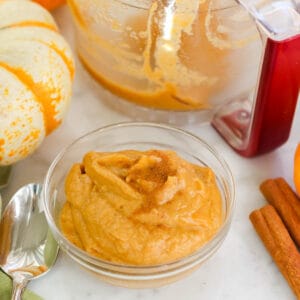 Pumpkin "Ice Cream"
Pumpkin "ice cream" is a nutritious, three-ingredient soft-serve treat that is perfect for celebrating the fall season no matter the temperature outside.
Print
Rate
Ingredients
1

small

banana

frozen

⅓

cup

pumpkin puree

⅛

teaspoon

ground cinnamon

dash

cloves

optional

dash

nutmeg

optional

¼

teaspoon

vanilla extract

optional

1

tablespoon

nut butter

optional
Instructions
Add all the ingredients to a blender or mini food processor.

Taste and add addiitonal spices or sweetener if desired.
What to Use in This Recipe
Did you try this recipe?
Be sure to leave a comment & recipe rating below. Bonus points for tagging @memeinge & #livingwellkitchen on Instagram! THANK YOU! xo
Meme
This post was originally published on October 3, 2014. Text, recipe, and photos have been updated.
---
Pumpkin Ice Cream Nutrition Facts

Nutrition Facts
Pumpkin "Ice Cream"
Amount per Serving
% Daily Value*
* Percent Daily Values are based on a 2000 calorie diet.
*Nutrition facts do not include peanut butter.
Nutrition facts with 1 tablespoon of peanut butter: