Mexican Pumpkin Soup is a tasty vegan soup full of veggies that comes together in less than 35 minutes. Full of pantry ingredients, this nourishing soup is easy and budget friendly.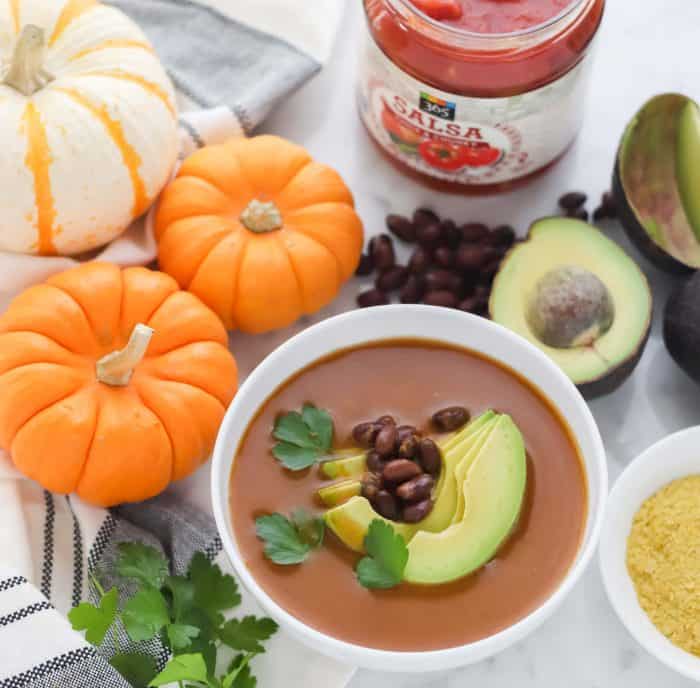 About Mexican Pumpkin Soup
While pumpkin has never been my favorite flavor, I do really love it in soups and chilis. It adds a touch of sweetness, creaminess and richness that you don't find from many other ingredients.
In college, I would go to schools and do cooking demonstrations for parents & children to show families how it was easy to make nourishing meals that everyone loved. One demonstration, I made this pumpkin soup recipe along with recipes for pizza casserole, a pasta dish, and turkey roll-ups.
Out of all four recipes, the pumpkin soup was by far the favorite. There was none left by the end of the demonstration, and both parents and kids loved it!
Not only is it delicious, this vegan pumpkin soup is super simple and quick. Plus, it is mainly made of ingredients you can keep in the pantry so you never have to stress about having a nutritious meal that you can make in 35 minutes.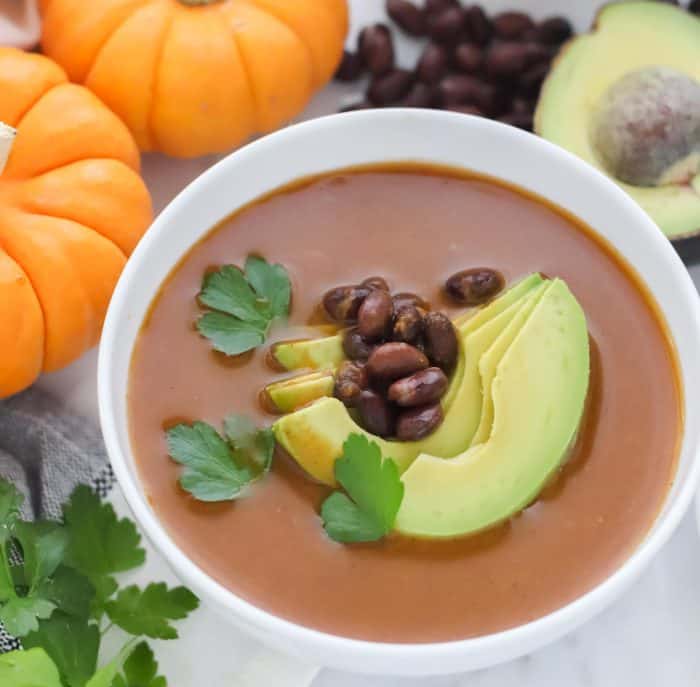 Easy Pumpkin Soup Ingredients
Oil: Avocado oil or olive oil work well in this recipe. I usually use olive oil, but you're using a small amount so it's not a noticeable difference, and you could even use butter if needed (this would make it no longer dairy free/vegan unless you used a non-dairy butter).
Garlic: This pumpkin soup has a lot of garlic to give it tons of flavor. You can mince it with a knife or use a microplane grater to avoid having to do any chopping. Another option is to buy minced garlic, so all you need to do is measure it out. Alternatively, one teaspoon of garlic powder will work in a pinch to replace the one tablespoon of fresh garlic.
Spices: Chili powder and cumin are the two spices used in this pumpkin soup. Because of these spices and the salsa, you don't really even need salt especially if you top the soup with cheese. If you do not have these spices, you can skip them if needed. The soup won't have as much flavor, but the salsa does give it enough flavor in a pinch.
Broth: Be sure to use no salt added, unsalted or low sodium broth if possible because the salsa adds a fair amount of sodium. Vegetable, chicken and beef broth all work in this soup. Alternatively, you can use water in place of the broth without sacrificing too much flavor.
Pumpkin: You need one 15-ounce can of pumpkin for this soup, and it must be 100% pumpkin puree. Do not get pumpkin pie filling or your soup will be really weird.
Black beans: The beans add substance along with plant-based protein and fiber. Feel free to substitute with garbanzo beans (chickpeas) or kidney beans. You can skip the beans if desired and add a can of drained corn for some carbohydrates. I try to buy low sodium beans if possible, so the sodium isn't super high in the soup. However, if you are not sensitive to sodium, there's no need to worry too much about it.
Salsa: You can use pretty much any kind of salsa in this recipe, and the beauty of the salsa is that you can change the flavor for whatever flavor you're in the mood for. As mentioned with the broth and beans, salsa is higher in sodium so if you are concerned with sodium, you can use this homemade lower sodium salsa (it's super easy to make).
Toppings: There are tons of options for toppings. For example, you can use extra beans, chopped cilantro or parsley, shredded cheese, nutritional yeast, avocado slices, crushed tortilla chips, or cooked chicken, turkey or ground beef. Customize the soup however you like.
If you decide to add cooked chicken, turkey or ground beef, I recommend stirring it into the soup about 5 minutes before serving so it has time to warm through.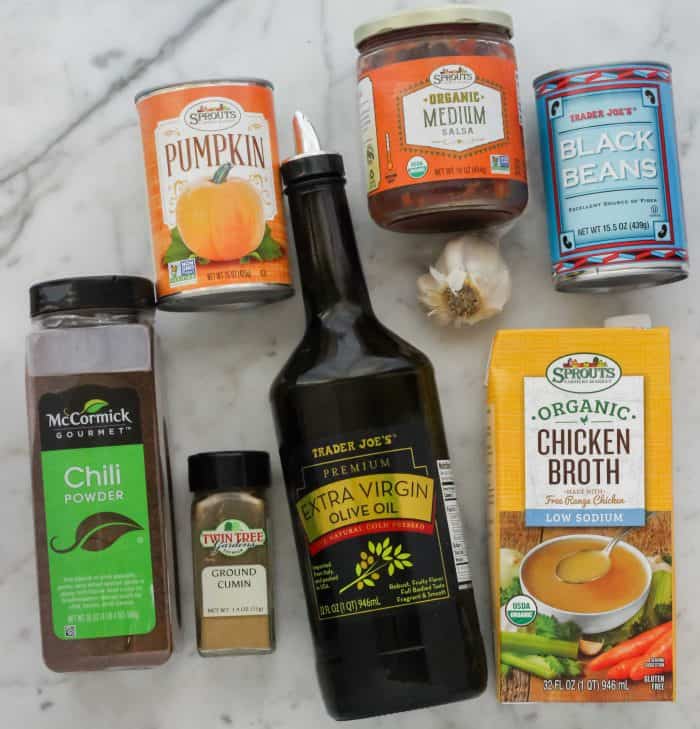 Cost of Mexican Pumpkin Soup
olive oil 1 teaspoon: $0.08
garlic 3 cloves: $0.18
chili powder 1 tablespoon: $0.25
cumin ½ teaspoon: $0.07
broth 4 cups: $1.98
pumpkin 15 ounce can: $0.98
black beans 15 ounce can: $0.98
salsa ¾ cup: $1.02
TOTAL COST: $5.54 (Based on San Diego Sprouts 2019) or $1.39/serving
How to Make Easy Pumpkin Soup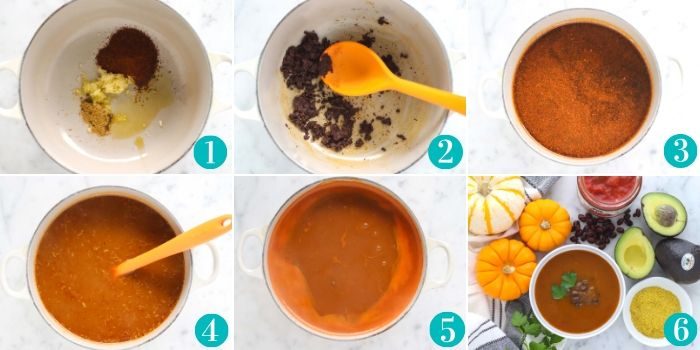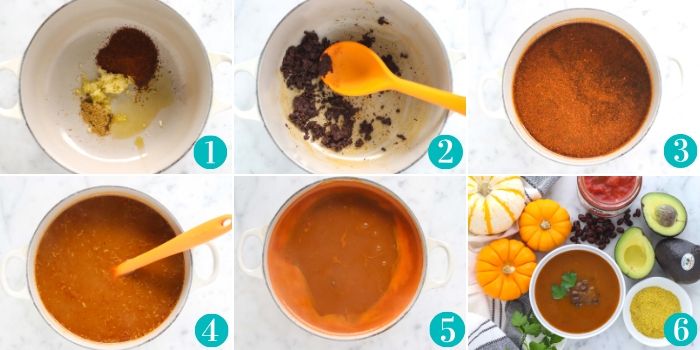 Time needed: 35 minutes.
This soup is super easy to make. Here's how to make this Easy Pumpkin Soup recipe
Add the oil, spices and garlic to a soup pot.
Cook, stirring the mixture until fragrant.

About 1 minute

Add broth and stir well.
Pour in salsa.

Bring to a boil. Reduce heat to simmer.

Simmer for 15 minutes.

This can cook for longer if needed. You might need to add more broth or water if the soup gets too thick.

Serve with desired topping, and enjoy!
Tips for Making Pumpkin Soup
Variations
Ingredient Options
The best way to alter the flavor of this salsa pumpkin soup recipe is to change the salsa. You can use any salsa you like.
Fresh garlic can be substituted with garlic powder if needed. In place of the 1 tablespoon of fresh minced garlic, use 1 teaspoon of garlic powder.
How to Make Allergy Friendly
Luckily, this soup is already allergy friendly. It's gluten free, dairy free, soy free, egg free, nut free, and vegan. The toppings you add could change that but the soup as it's written is free of those allergies.
Make Ahead Tips
As with pretty much all soups, this easy pumpkin soup is great to make ahead. There are not many things to prepare ahead of time since you only need to mince the garlic (or buy minced garlic), measure the spices, rinse & drain the black beans, open the containers of pumpkin, broth and salsa.
Storage Suggestions
This pumpkin soup recipe keeps well in the fridge in an airtight container for up to 5 days. You can freeze it for up to 6 weeks.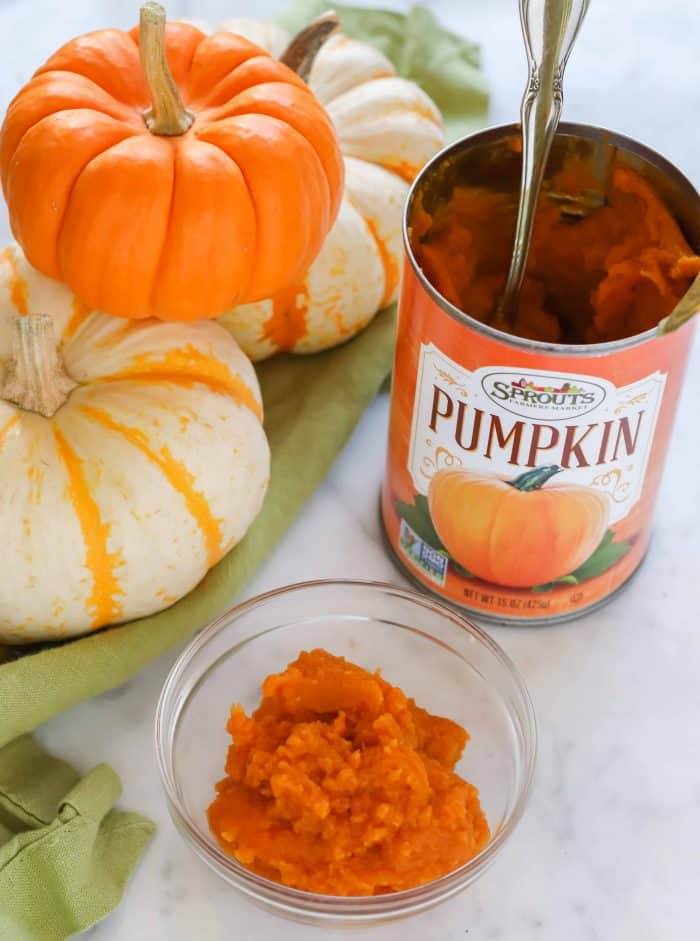 FAQs
Nutrition Benefits of this Spicy Pumpkin Soup Recipe
Not only are pumpkins synonymous with the fall, they are good for you too! Here are some of the nutritional benefits of pumpkins:
Full of antioxidants & phytonutrients

excellent source of Vitamin A
good source of Vitamin C

Good source of iron and copper
The seeds inside the pumpkin are also really good for you! Here are some of my favorite pumpkin seed recipes:
What to Serve with this Dish
This pumpkin soup is pretty complete with its veggies, carbohydrates, plant based protein and nourishing fat. Feel free to top your soup with shredded cheese, nutritional yeast, avocado slices, extra beans, chopped cilantro or parsley, crushed tortilla chips, or cooked chicken, turkey or ground beef. You can really add whatever you like!
Pumpkin cornbread would also be delicious with this tasty vegan pumpkin soup.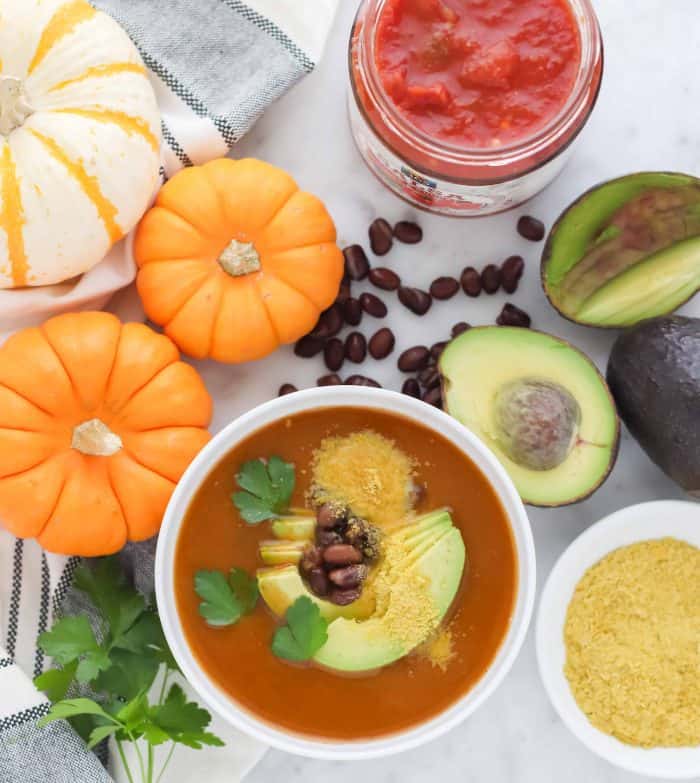 Final thoughts:
This easy Pumpkin Soup recipe is excellent for so many reasons including the fact that it's easy, tasty, and budget friendly. Almost all of the ingredients are pantry ingredients, so it's one of those stand-by recipes in case you don't have time to plan or go to the grocery store.
And if you are busy trick or treating this Halloween, feel free to throw this together to give your body some extra nutrients and pumpkin love. But this soup is great year round!
MORE SAVORY PUMPKIN RECIPES YOU'LL LOVE:
Easy Pumpkin Soup Recipe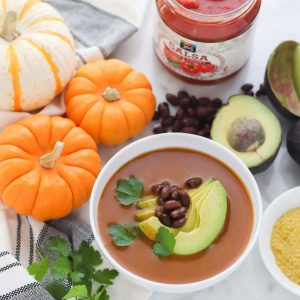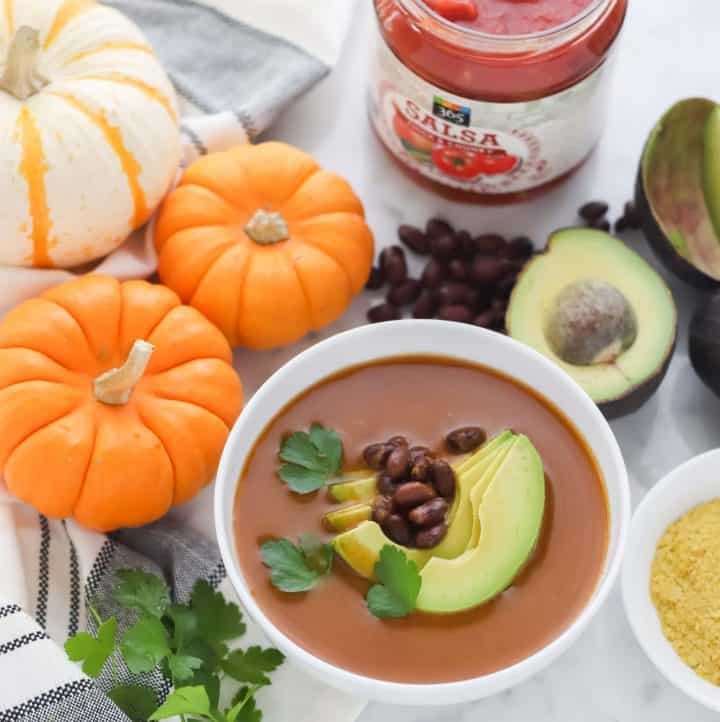 Mexican Pumpkin Soup
Mexican Pumpkin Soup is a tasty vegan soup full of veggies that comes together in less than 35 minutes. Full of pantry ingredients, this nourishing soup is easy and budget friendly.
Print
Rate
Ingredients
1

teaspoon

olive oil

1

tablespoon

garlic

minced

1

tablespoon

chili powder

½

teaspoon

cumin

4

cups

broth

or water

1

(15 ounce can)

pumpkin puree

100% pure pumpkin

1

(15 ounce can)

black beans

rinsed and drained

¾

cup

salsa

toppings of choice
Instructions
Heat oil over medium in a small Dutch oven or saucepan. Stir in the garlic, chili powder and cumin, and cook for one minute.

Pour in the chicken broth, and bring to a simmer. Stir in the pumpkin. Stir in the beans and salsa, and bring the soup to a boil, about 5 minutes.

Reduce the heat and simmer for 10 to 15 minutes.

If adding cooked chicken (see notes) stir in now, and simmer another 5 minutes.

Ladle soup into 4 bowls, and top each bowl with desired toppings. Enjoy!
Notes
*Makes about 7 cups
*Can replace minced garlic with 1 teaspoon garlic powder if needed.
*Feel free to add any toppings desired: sliced avocado, chopped green onions, crushed tortilla chips, fresh cilantro or parsley, shredded cheese, extra beans, nutritional yeast, cooked tofu, chicken, turkey or ground beef...
For 8g more protein per serving, add 1 cup cooked, chopped or shredded chicken or ground beef (¼ cup per serving).
For 7g more vegetarian protein per serving, top with 1 cup shredded cheese (¼ cup per serving).
For 5g more vegan protein per serving, top with 1 cup nutritional yeast (¼ cup per serving).
Did you try this recipe?
Be sure to leave a comment & recipe rating below. Bonus points for tagging @memeinge & #livingwellkitchen on Instagram! THANK YOU! xo
[showhide type="post" more_text="Click here for Nutrition Facts" less_text="Clear Nutrition Facts"]
*
Nutrition Facts
Mexican Pumpkin Soup
Amount per Serving
% Daily Value*
* Percent Daily Values are based on a 2000 calorie diet.
*
[/showhide]
What to use in this recipe:
Meme
This post was originally published October 26, 2011. Text, recipe, and photos have been updated.
*Based on this recipe from Hungry Girl
Doesn't this recipe look good?! You should probably share it: