These Ricotta and Fig Bites are sweet, salty, tangy, savory bites of goodness! Perfect for a vegetarian, gluten free snack or appetizer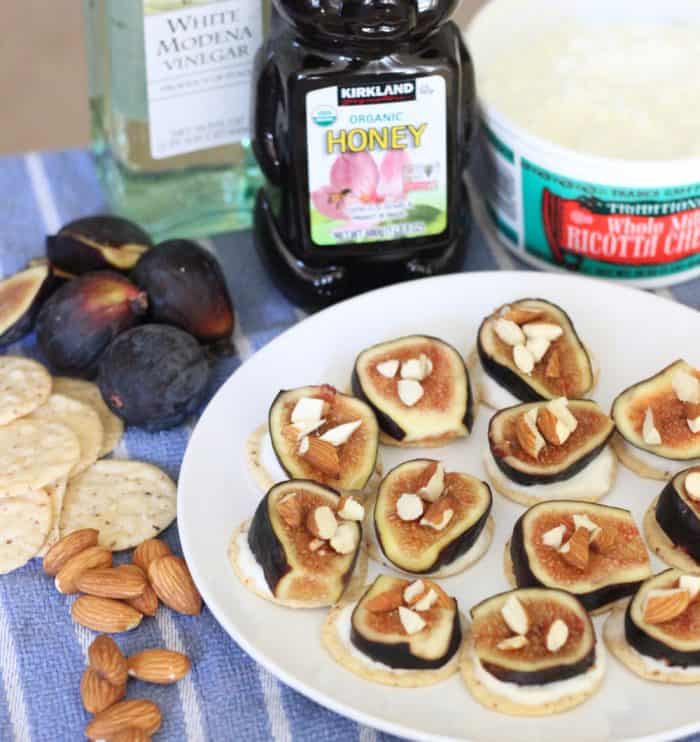 It's just about time for football season which means it's time for a tailgating recipe!
Most of the tailgate food you see is chips & dip, chili, etc. And while that's awesome, sometimes it's nice for something new and different. Kinda like these Ricotta and Fig Bites.
They might not sound like your average tailgate food, and I assure they're not. And I mean that in a really good way. There are so many flavors in one bite. Every sweet, salty, tangy, savory bite.
I cannot claim this recipe as my own; I must give credit to a restaurant I recently visited in Little Italy in San Diego, Kettner Exchange. My friend, Lauren, ordered their fig toast and we all swooned over it. Lauren even posted her own version of the recipe. Clearly, we loved it 🙂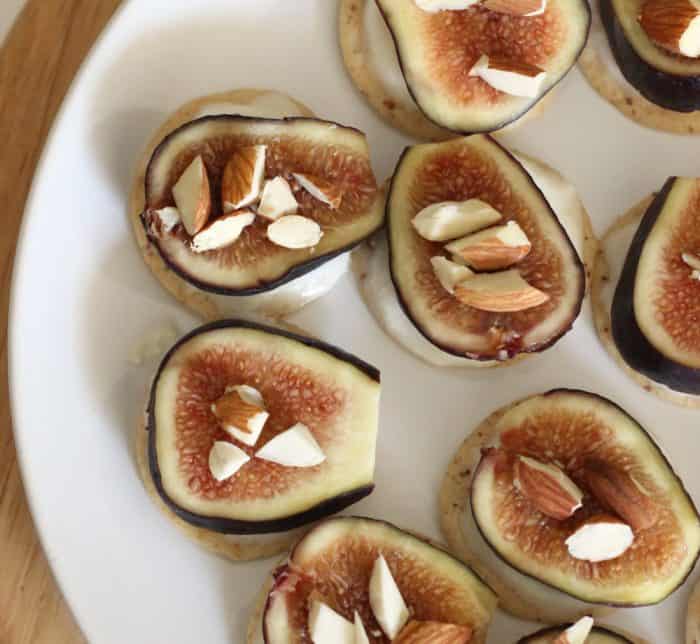 Lucky for us, figs are everywhere - they are in season late summer through fall, so I say we take advantage!
To make these bites, you'll just need a few things. Figs, ricotta (duh and duh), almonds, honey, white wine vinegar, salt, and crackers. That's it. Well, those things and basil. I forgot to put basil on there (in the pics) and then realized they were even better with basil. You should use basil if you have it.
I chose almond thins for my crackers to get a little extra almond flavor in these babies, but whatever cracker you prefer is a good choice.
Just a little note, I don't recommend making these in advance. What I like to do is slice the figs, stir together the ricotta, honey & vinegar, and chop the almonds and basil. Then when I'm ready to serve, I assemble them. That helps keep the crackers crispy.
I used whole fat ricotta in my version, but I think I will used part-skim ricotta next time because it tends to be less runny. Whole fat ricotta is the bee's knees, but I don't want runny ricotta on my crackers. This wasn't noticeably runny, more of a just-in-case kinda deal.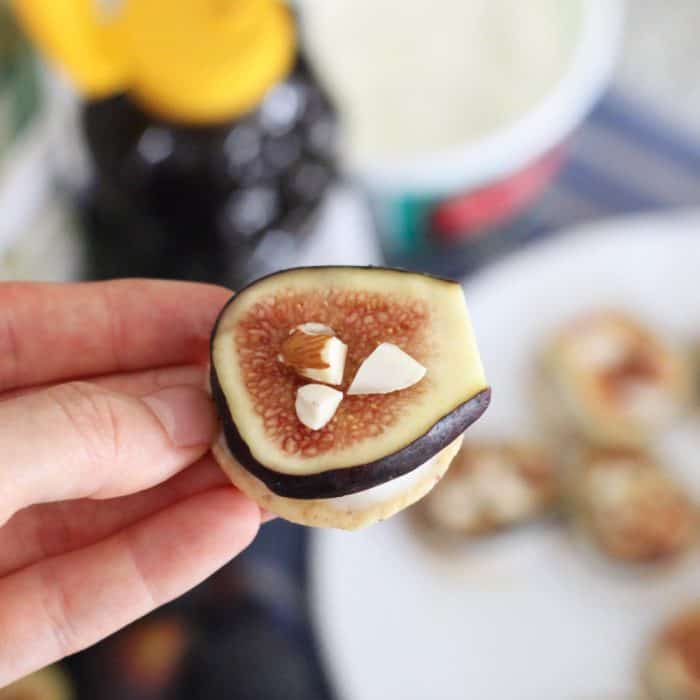 Being totally transparent, I'm not a huge pro-football fan, but I like to eat. And I like to watch football games, but just to be clear, my heart lies in college football.
That being said, I grew up cheering for the Saints and spent almost five years in New Orleans before moving out to San Diego a few weeks ago. No matter what, I'll celebrate eating football any chance I can get.
And I felt like it would be weird to be all out in California and making bacon wrapped tater tots. Don't worry I am posting those in a few weeks, and I still say y'all and "I" with a real thick accent. I don't think that's ever going away (un)fortunately. I mean I'm from Alabama...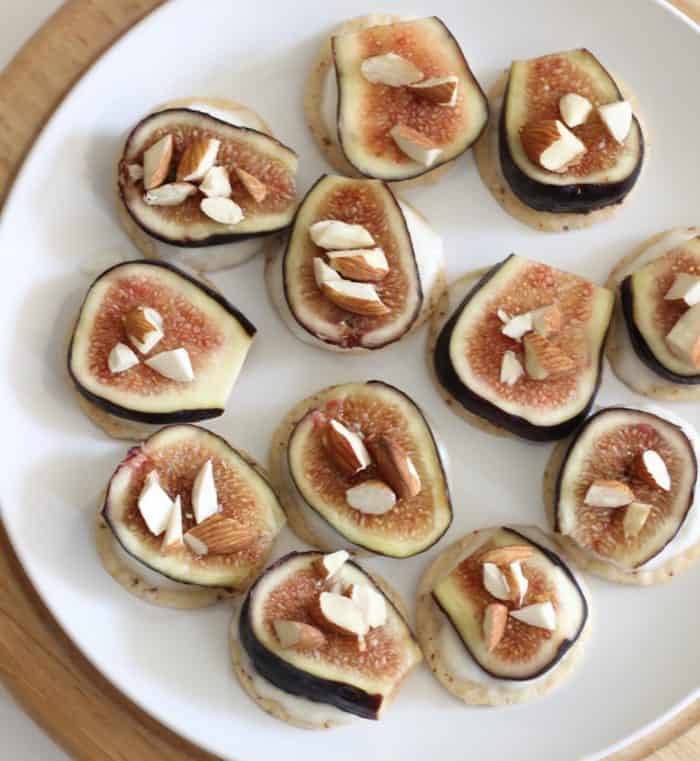 Either way, these Fig and Ricotta Bites hold their own.
They're not the lame "diet" food on the table. They're the surprisingly awesome and addicting bites of goodness on the table.
So you should try them out. Even if that means you eat them for lunch or dinner or a snack, they're good no matter what time of day!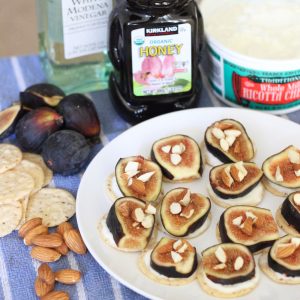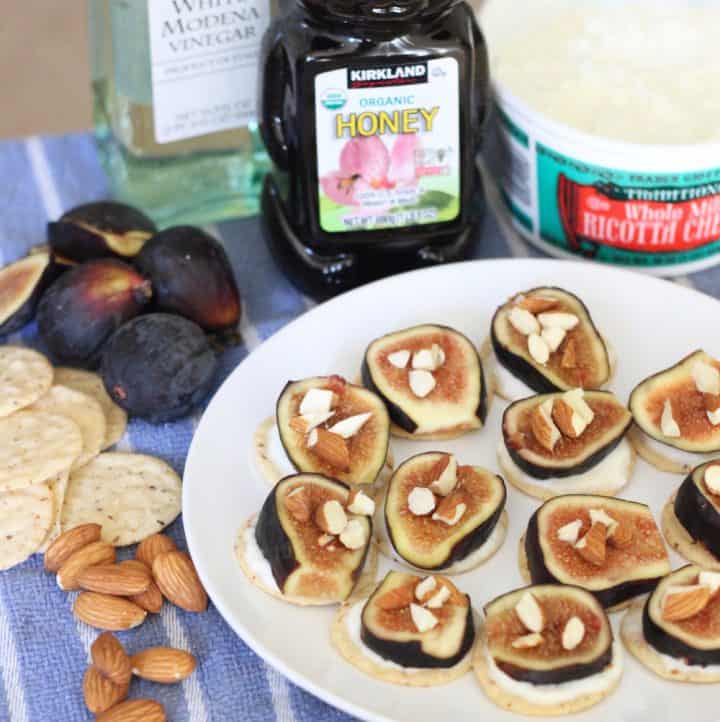 Ricotta and Fig Bites
These Ricotta and Fig Bites are sweet, salty, tangy, savory bites of goodness! Perfect for a vegetarian, gluten free snack or appetizer
Print
Rate
Ingredients
¼

cup

part-skim ricotta cheese

2

teaspoon

honey

1

teaspoon

white wine vinegar

⅛

teaspoon

salt

24

round

crackers

8

medium

figs

sliced vertically into thirds

3

tablespoon

chopped almonds

1

tablespoon

chopped basil

optional
Instructions
Stir together the ricotta, honey, vinegar, and salt.

Top a cracker with ½ teaspoon of the ricotta mixture. Place a piece of fig on top and sprinkle with a few chopped almonds and basil leaves if using.

Repeat with remaining ingredients. Enjoy!
Notes
*I highly recommend adding chopped basil!
*Almond Nut-Thins were used as cracker but any cracker will work
*Depending on cracker size, you might need a few more or less crackers
*Makes 24 bites
Did you try this recipe?
Be sure to leave a comment & recipe rating below. Bonus points for tagging @memeinge & #livingwellkitchen on Instagram! THANK YOU! xo
[showhide type="post" more_text="Click here for Nutrition Facts" less_text="Clear Nutrition Facts"]
*
Nutrition Facts
Ricotta and Fig Bites
Amount per Serving
% Daily Value*
* Percent Daily Values are based on a 2000 calorie diet.
*
[/showhide]