Make this tasty and nourishing Roasted Vegetable Pizza in under 30 minutes thanks to a few time-saving tips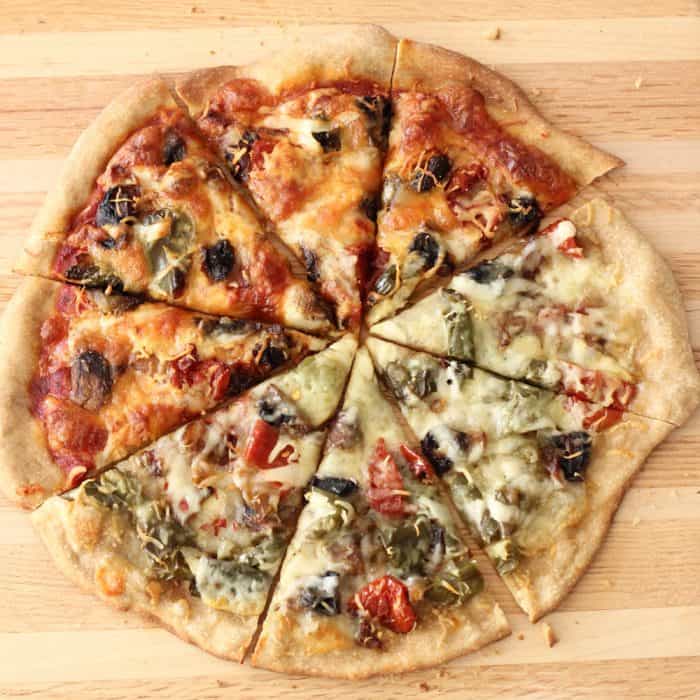 Pizza is a regular staple in my diet. At least once a week, I make or order some version of a pizza whether it be a flatbread pizza, pizza stuffed mushrooms, or even pizza pasta soup.
And yes this is slightly embarrassing but I have a "regular" order at Dominos: 1 large thin crust pizza with pepperonis, green bell peppers, mushrooms, and onions. If someone else is joining me then I'll order an extra; I don't share my large. I plan on eating the entire pizza thank you very much.
But most of the time I eat pizza, I like to make it myself. Dominos is delicious but I know that I can make an equally tasty pizza with a lot more nutritious ingredients.
Enter this Roasted Vegetable Pizza.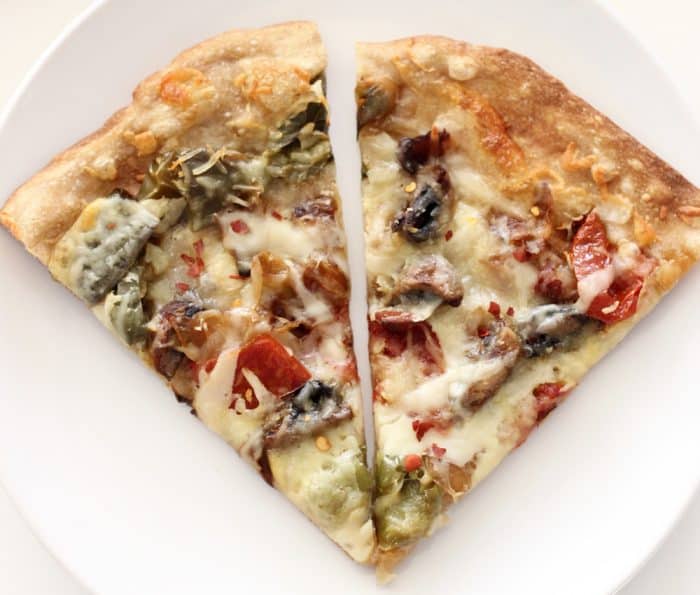 What I love so much about this roasted vegetable pizza is that it is a cinch to make. Buying store bought pizza dough and using leftover roasted vegetables saves you tons of time.
Buying high quality convenience items (like whole grain pizza dough) and making extra (like roasting extra veggies) are two of my favorite tips to help me get meals on the table in less than 30 minutes.
For this pizza, I used store bought pizza dough, but another great option is to use pre-baked pizza crust. Both are great options. The dough has a more authentic/homemade feeling to it, but it takes a few extra minutes to make. Take your pick based on the amount of time you have to spend in the kitchen: about 2 minutes (pizza crust) versus 8 minutes (pizza dough).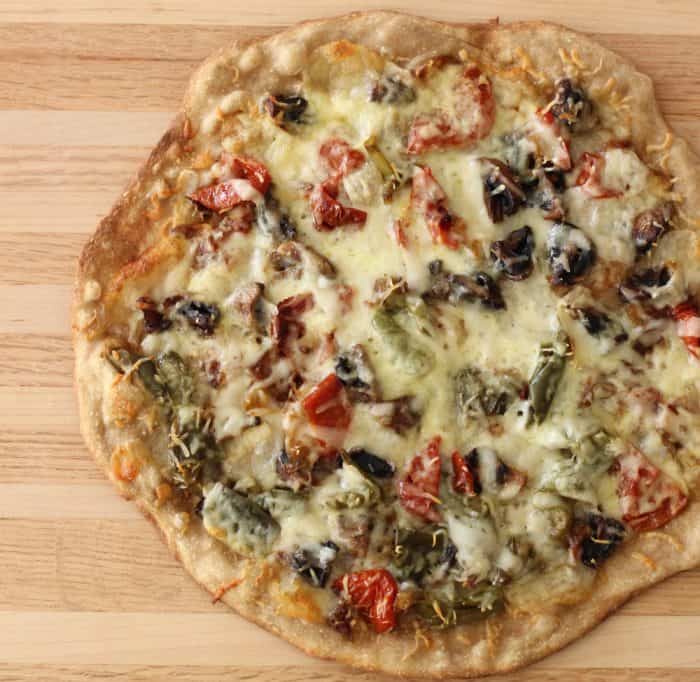 For my pizza, I actually cut the dough in half to make a thinner crust. Personally, I like thinner crust because more surface area is covered with goodness. And I also like being able to eat more slices of pizza (and thick crust fills me up too fast).
Feel free to keep the crust in one piece but remember that one pound of dough should serve about 4-8 people. Plus, with the dough, your pizza crust will puff up and get a little thicker in the oven. So make sure to stretch it out pretty thin. You can use a rolling pin but that's one more item I have to wash.
The pizza dough will need to come out of the fridge to rest at least 30 minutes before using. You can do this 30 minutes before preparing the pizza or even hours ahead of time if the ingredients are just flour, yeast, salt, and water.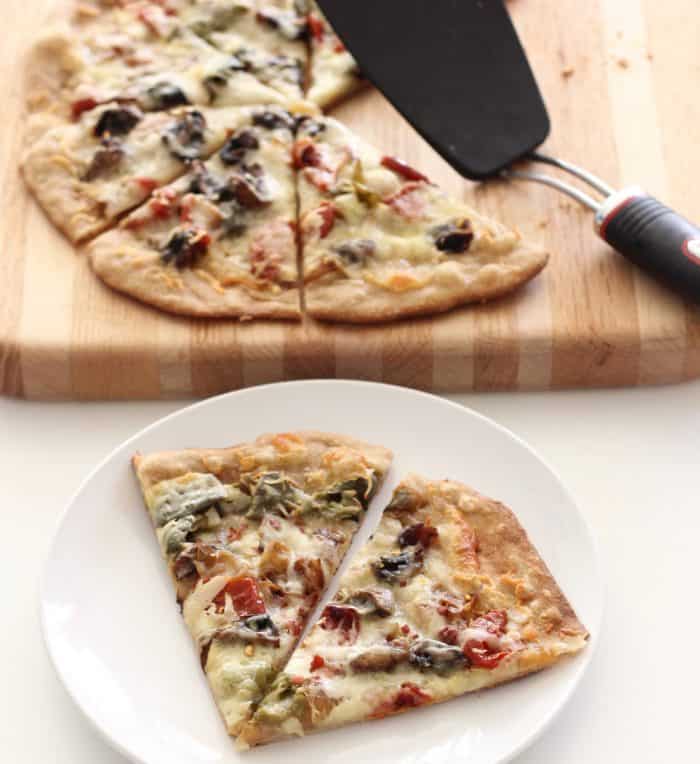 I love having extra roasted vegetables because they are delicious on or with everything. Roasted veggies are my favorites. I think I could eat them every day and still love them.
You can pretty much roast anything - except celery is kinda weird roasted. Don't roast celery. Or spinach, for that matter. But yeah, you can roast almost any veggie.
And it couldn't be easier. Chop your veggies, throw on a casserole dish or a rimmed baking sheet, toss with oil, and roast. You can add in some minced garlic, salt, and/or rosemary if you're feeling fancy, but those are just for fun and not mandatory. Make sure you roast extra because, like I said, they are delicious on everything.
K, so you have roasted vegetables and pizza dough/crust. Now you need cheese and pizza sauce (if you want to use pizza sauce).
My favorite trick for making perfectly chewy and crispy pizza is to not overload the dough with toppings. It's tempting because cheese and anything else you put on the pizza is obviously delicious, but too much will make a soggy crust. And a soggy crust is a no-go.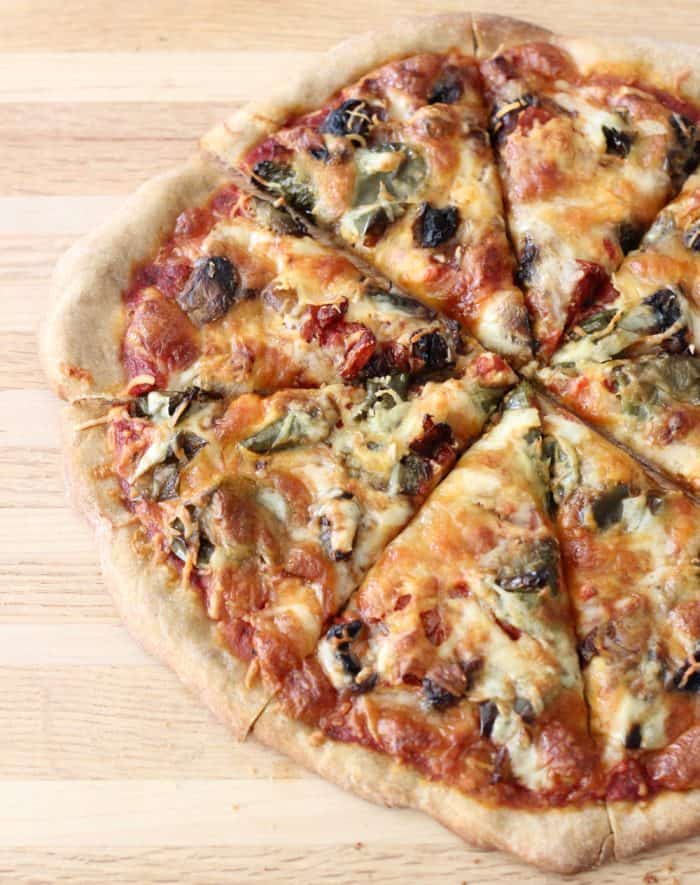 I made one pizza with pizza sauce and one without. After eating both pizzas, I decided that I liked the pizza sauce version best, but both were delish!
I think it has something to do with the pizza sauce I make. It's soo good. Not to toot my own horn, but I make a delicious pizza sauce that is incredibly simple to make. It's also nice because you probably have the ingredients in your kitchen. I never remember to buy pizza sauce, but I always have canned tomato paste and sauce. Add in a few spices and you're ready to go!
Here's a fun tip: freeze your extra pizza sauce in ¼ cup portions or freeze in ice cube trays. Then you don't have to defrost the entire thing of pizza sauce when you just need a little bit, and it saves you from having to make it every time you need pizza sauce. Which, if you're me, is a lot.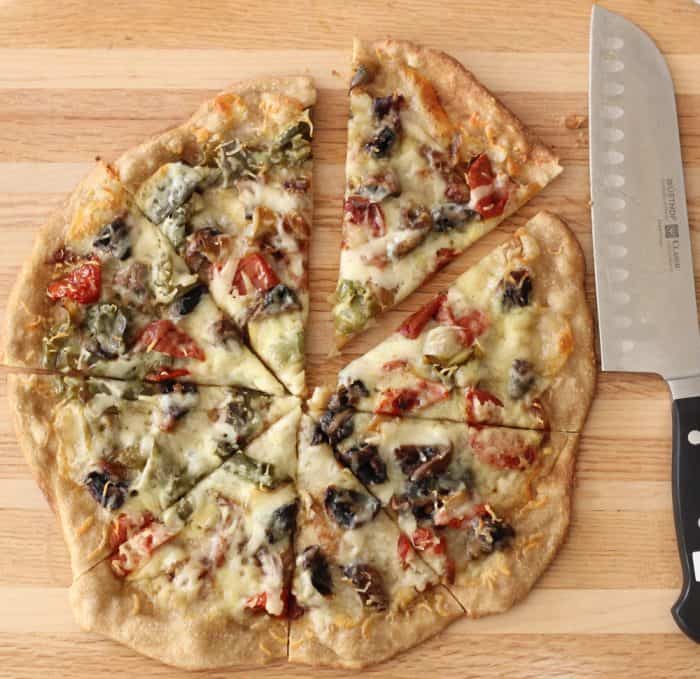 Whether or not you decide to use pizza sauce really doesn't matter.
What matters is that you bask in the glory of this super simple homemade pizza. You get all the credit plus the perks of homemade pizza (hello, party for your tastebuds) but it took almost no time to make thanks to some simple tips for helping you get homemade, nourishing meals on your table in 30 minutes or less.
Toot toot! (That's me tooting my own horn + your horn because this pizza is horn-tooting worthy!)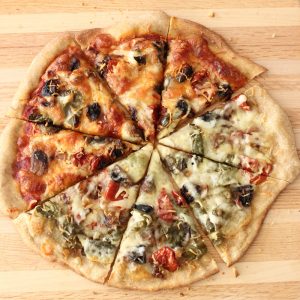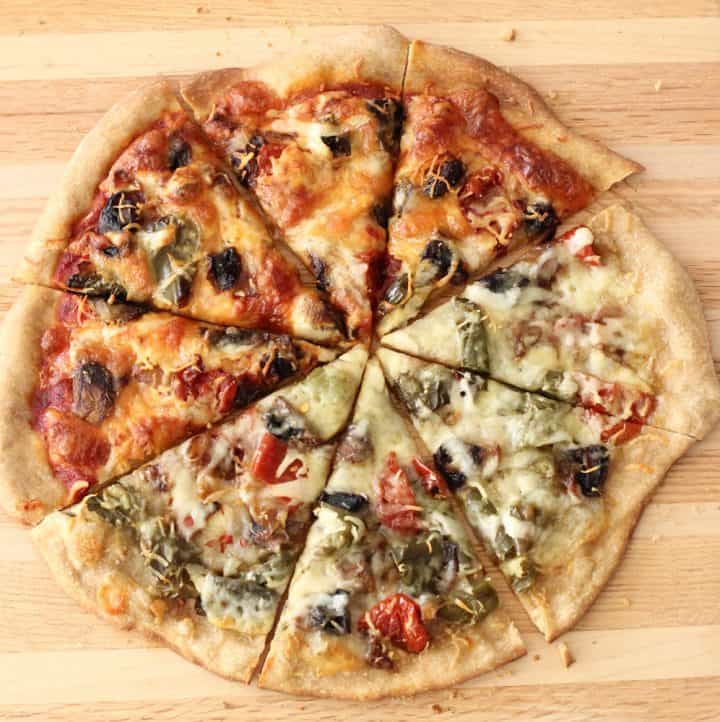 Roasted Vegetable Pizza
Make this tasty and nourishing Roasted Vegetable Pizza in under 30 minutes thanks to a few time-saving tips
Print
Rate
Ingredients
1

pound

whole grain pizza dough

2

tablespoon

oil

¾

cup

pizza sauce

optional

1 ½

cups

roasted vegetables

4

ounces

mozzarella cheese

1 cup, shredded

2

ounces

parmesan cheese

½ cup, shredded
Instructions
Remove the dough from the fridge at least 30 minutes. Preheat the oven to 450*F.

Cut the dough in half. Add one tablespoon each of oil to two baking sheets (one tablespoon per baking sheet) and spread around to cover the area the pizza dough will go. Place pizza dough on baking sheet, and stretch to a large size. It might be helpful to stretch it and let it rest for a minute and restretch.

Once it is to a desired size, spread equal amounts of the

pizza sauce

on the dough, if using. Sprinkle with half of the cheese and the roasted vegetables. Cover in the remaining cheese. Bake for 10-12 minutes until crust is golden brown and dough is cooked through. Slice & enjoy!
Notes
*Follow the package instructions on baking your pizza dough or crust.
*If not using pizza sauce, use some of the oil to spread over the crust before adding the veggies & cheese.
Did you try this recipe?
Be sure to leave a comment & recipe rating below. Bonus points for tagging @memeinge & #livingwellkitchen on Instagram! THANK YOU! xo
[showhide type="post" more_text="Click here for Nutrition Facts" less_text="Clear Nutrition Facts"]
*
Nutrition Facts
Roasted Vegetable Pizza
Amount per Serving
% Daily Value*
* Percent Daily Values are based on a 2000 calorie diet.
*
[/showhide]
Meme