Roasted Vegetable Pizza is a tasty, nourishing dinner ready in under 30 minutes thanks to a few time-saving tips.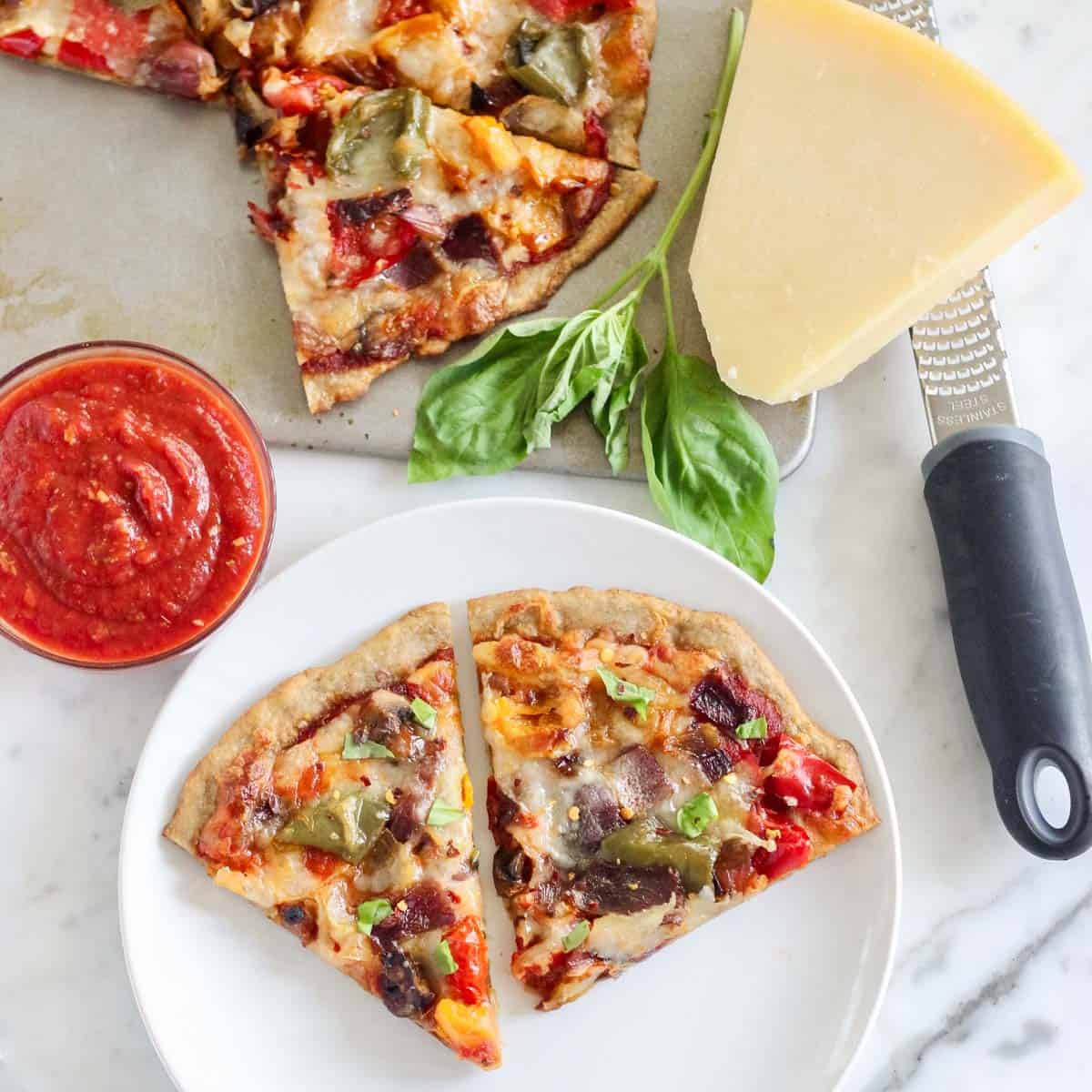 About Roasted Veggies Pizza
Need a time-saving meal using convenience foods? Try this Roasted Veggie Pizza!
While you can certainly make your own homemade pizza dough, it can save time and effort to buy store-bought pizza dough or crust.
Convenience foods are lifesavers when it comes to preparing easy meals, and they can certainly be enjoyed as a part of a healthy diet.
Additionally, preparing extra roasted veggies when you are already chopped & roasting veggies, means you'll have veggies ready to top your pizza.
I love having extra roasted vegetables because they are delicious on or with everything.
Plus, roasted veggies for Thanksgiving are one of my personal favorites and top 10 most popular recipes.
You can pretty much roast any veggie! And it couldn't be easier.
Chop your veggies, throw on a casserole dish or a rimmed baking sheet, toss with oil and roast. You can add minced garlic, salt, and/or rosemary if you're feeling fancy, but those are just for fun and not mandatory.
Make sure you roast extra because, like I said, they are delicious on everything.
You can also make roasted vegetable salsa or lentil salad with roasted vegetables.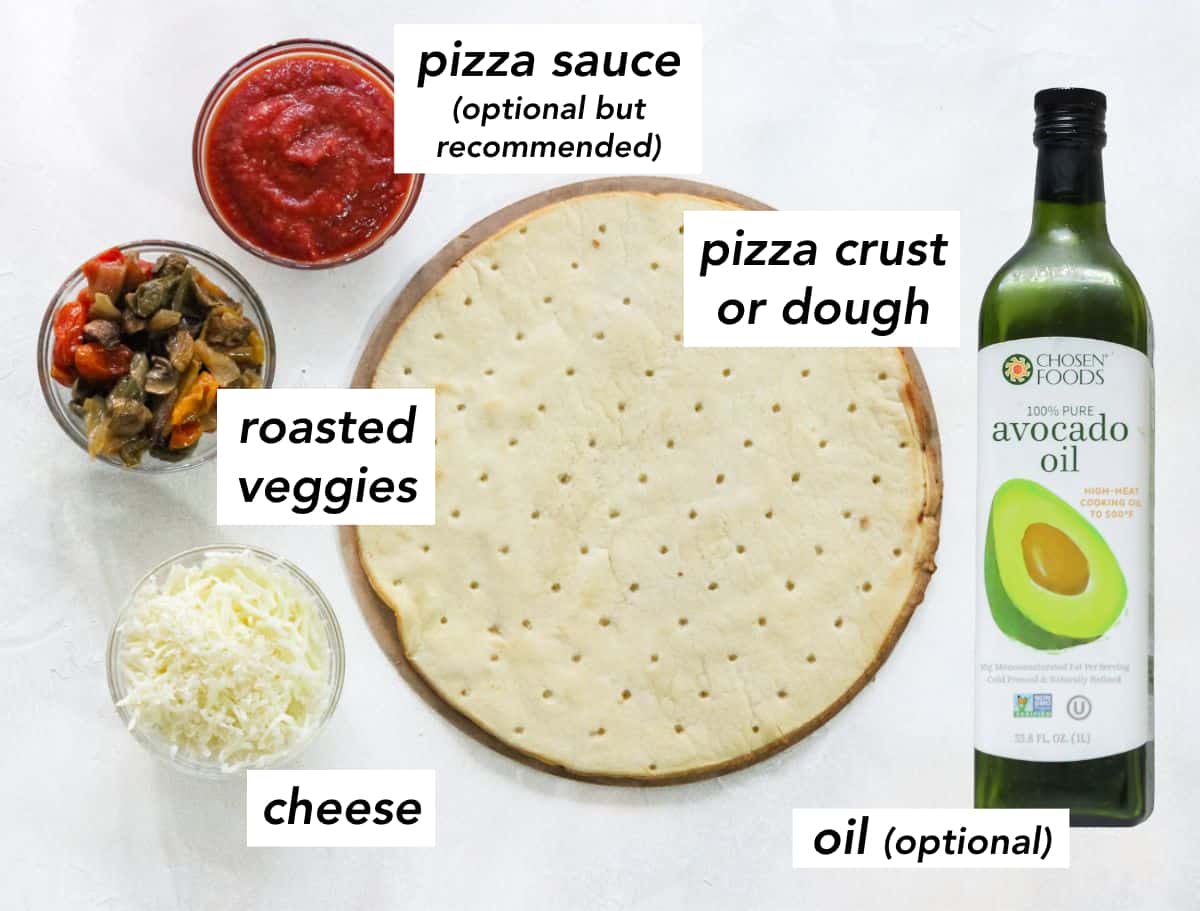 Ingredients
Pizza Dough/Crust: You can make this roasted veggie pizza recipe using pizza dough or pizza crust.
Oil: You only need oil if you are using pizza dough. Since the crust is pre-baked, it won't stick to a baking sheet like pizza dough might.
Olive oil, avocado oil, canola oil, or vegetable oil would all work. Coconut oil might work but will possibly give your pizza a slight coconut flavor.
Cheese: Mozzarella and parmesan cheeses are the two I typically use on this roasted vegetable pizza. Cheddar, Monterey Jack, provolone, and gruyere are alternatives.
I prefer using a combo of cheese if I have it to add extra flavor to the pizza, but you really only need one cheese. It'll still be tasty!
Pizza Sauce: After testing this recipe with and without pizza sauce, I highly recommend using pizza sauce. And it's even better when you make your own, super easy low sodium pizza sauce.
Roasted vegetables: Any roasted veggies you have will work well. If you are using frozen roasted vegetables, let them defrost and drain off any excess liquid before topping the pizza.
Recipe Cost
Pizza dough 1 pound: $3.58
Oil 2 tablespoons: $0.48
Pizza sauce ¾ cup: $0.72
Roasted veggies 1.5 cups: $1.80
Mozzarella cheese 4 ounces: $2
Parmesan cheese 2 ounces: $1.28
TOTAL COST: $9.86 or $2.47/serving (Based on San Diego grocery stores 2023)
Note that this is not the recipe; it's simply to show the cost breakdown of ingredients. Scroll down to the full recipe to see the specific ingredients and directions.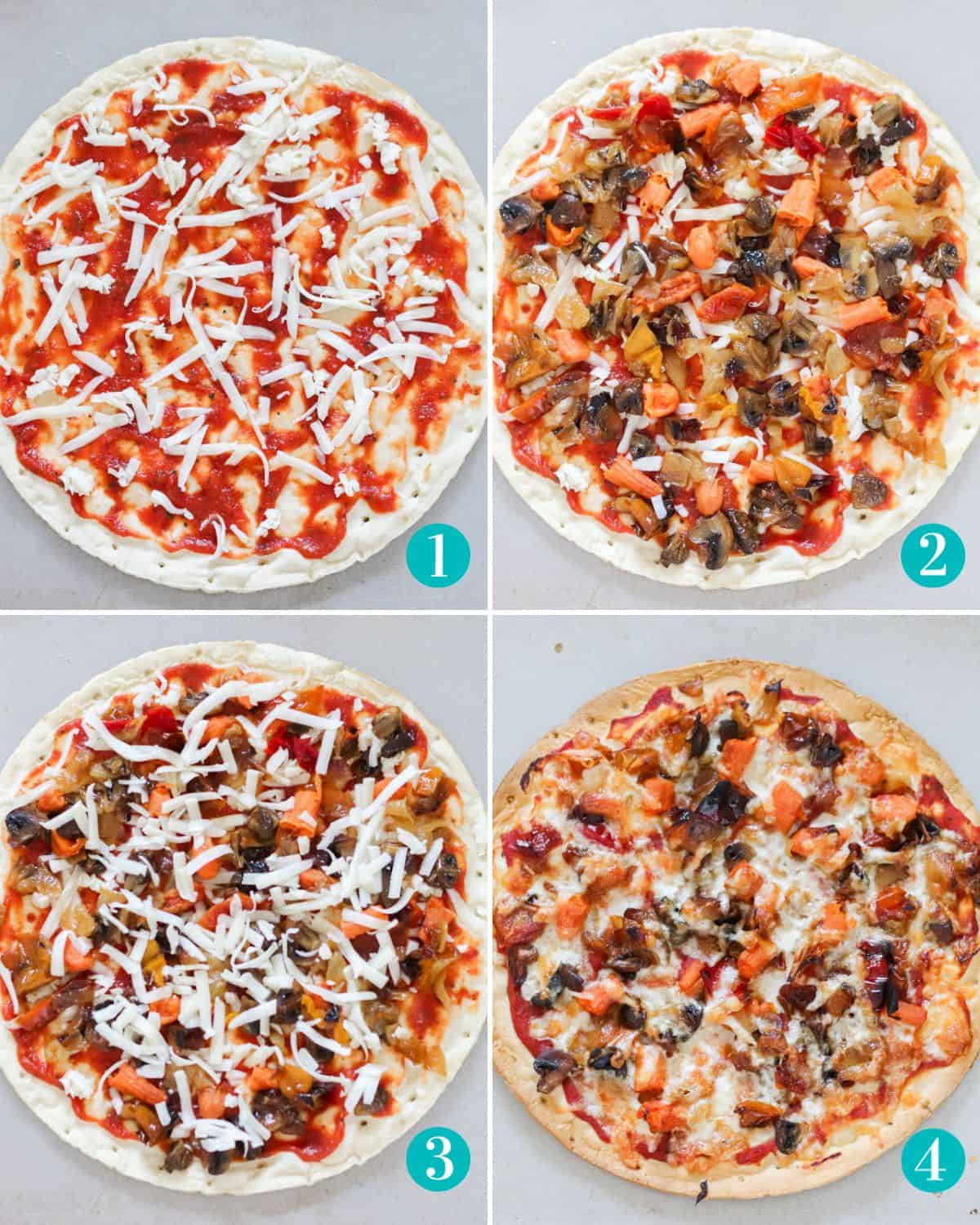 How to Make Roasted Veggie Pizza
Time needed: 25 minutes
This super easy roasted veggies pizza will become a weeknight favorite.
Top pizza crust or dough with pizza sauce and a little cheese.
Cover with roasted veggies.
Sprinkle with the remaining cheese, and bake.
Remove from oven, and enjoy!
Recipe Tips
You'll notice that some of the photos are of pizza using homemade dough and some with prepared pizza crust.
Both options work, but my preferred choice is with pizza sauce.
My favorite trick for making perfectly chewy and crispy pizza is to not overload the dough with toppings.
It's tempting because cheese and anything else you put on the pizza is obviously delicious, but too much will make a soggy crust. And a soggy crust is a no-go.
I made one pizza with pizza sauce and one without. After eating both pizzas, I decided that I liked the pizza sauce version best, but both were delish!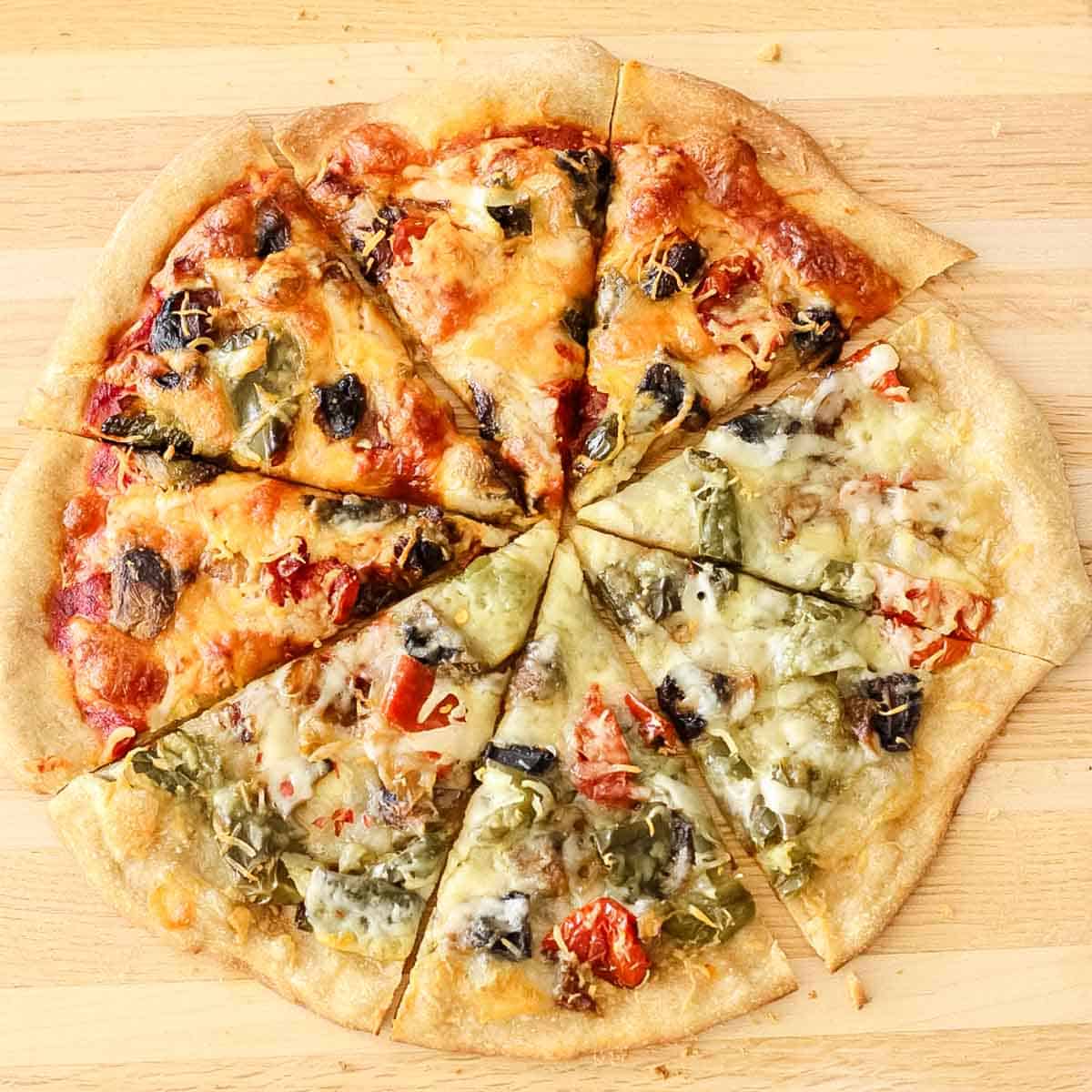 Variations
Ingredient Options
Veggies: Any cooked veggies will work. You can use grilled veggies or sauteed veggies.
Toppings: Feel free to add pepperoni, cooked sausage, or cooked chicken. You can also sprinkle with fresh herbs.
Pizza Dough vs. Crust
The dough has a more authentic/homemade feeling to it, but it takes a few extra minutes to make.
Take your pick based on the amount of time you have to spend in the kitchen: about 2 minutes (pizza crust) versus 8 minutes (pizza dough).
For my pizza, I cut the dough in half to make a thinner crust. I like thinner crust because more surface area is covered with goodness.
With the dough, your pizza crust will puff up and get a little thicker in the oven. So make sure to stretch it out pretty thin. You can use a rolling pin but it's not necessary (and it's one more item to wash).
Be sure to remove the pizza dough from the fridge to rest for at least 30 minutes before you start to make the pizza, so it is easier to stretch.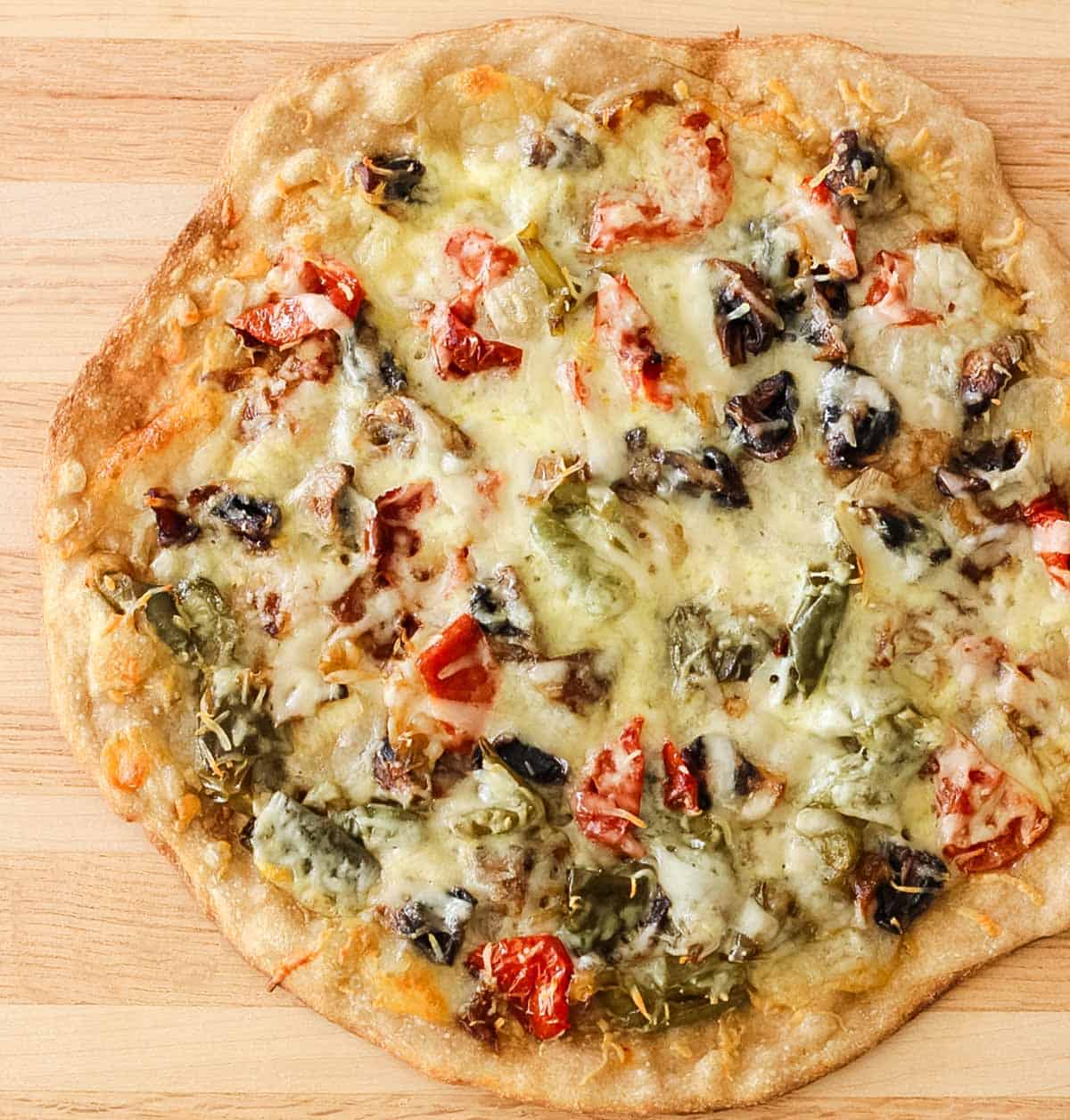 How to Make Allergy-Friendly
Roasted Vegetable Pizza is vegetarian, nut-free, soy-free, and egg-free.
Check the ingredients on your pizza crust to make sure it doesn't have any ingredients you are looking to avoid.
Because of the cheese, there is dairy, but you can use dairy-free cheese to make this dairy-free and vegan.
For a gluten-free roasted veggie pizza, look for a gluten-free pizza crust. I use a cauliflower crust to make it gluten-free.
In fact, many of the photos are of a cauliflower crust roasted vegetable pizza, like this one right here: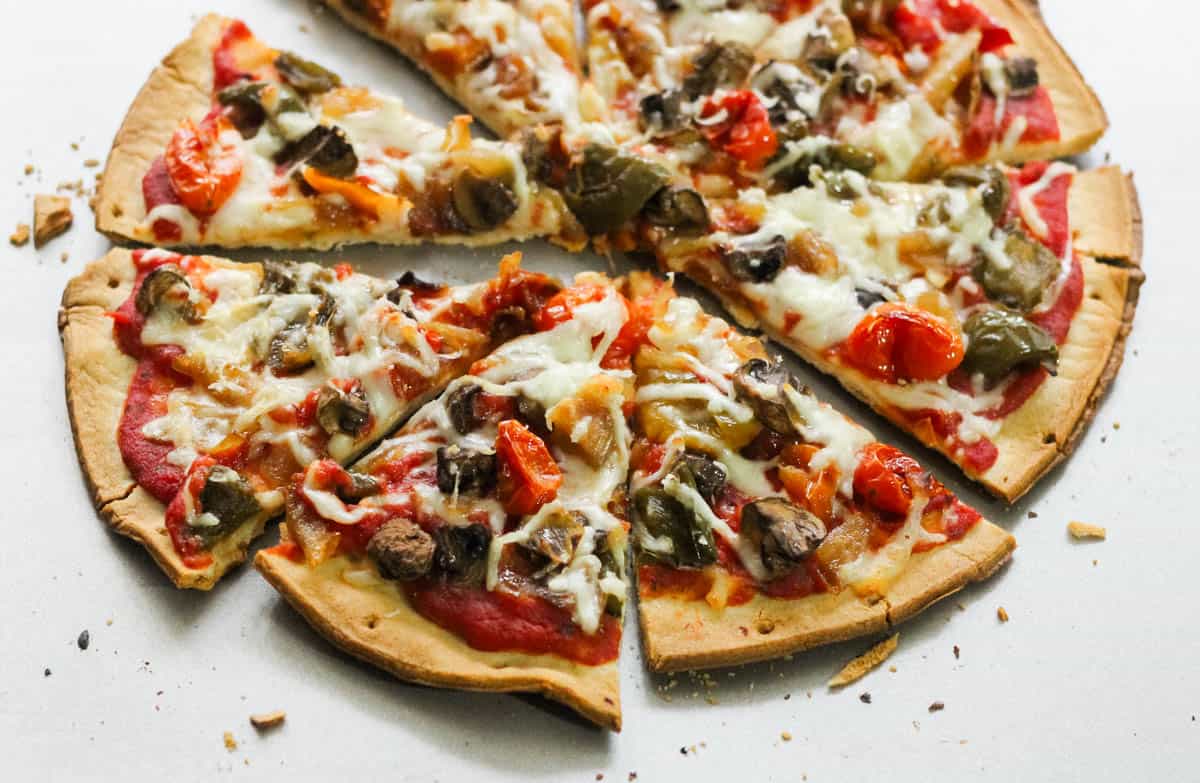 How to Fix a Mistake
Make-Ahead Ideas
This roasted veggies pizza recipe is best made just before serving.
But you can make sure all the ingredients are ready to assemble - like shredding the cheese and roasting the veggies if needed.
Storage Suggestions
Store roasted veggies pizza in an airtight container in the fridge for up to 5 days or the freezer for up to 1 month.
If freezing, I recommend using a bag so you can remove all the air. This will help it stay fresh for longer.
To reheat:
Microwave: This is fastest but the crust can get soggy. Reheat on a microwave-safe plate at 100% power in 30-second increments.
Skillet: For a crispier crust, place it in a dry skillet over medium heat until warmed through.
Oven: Reheat in a 300F oven on an ungreased baking sheet for 5-15 minutes until it's hot.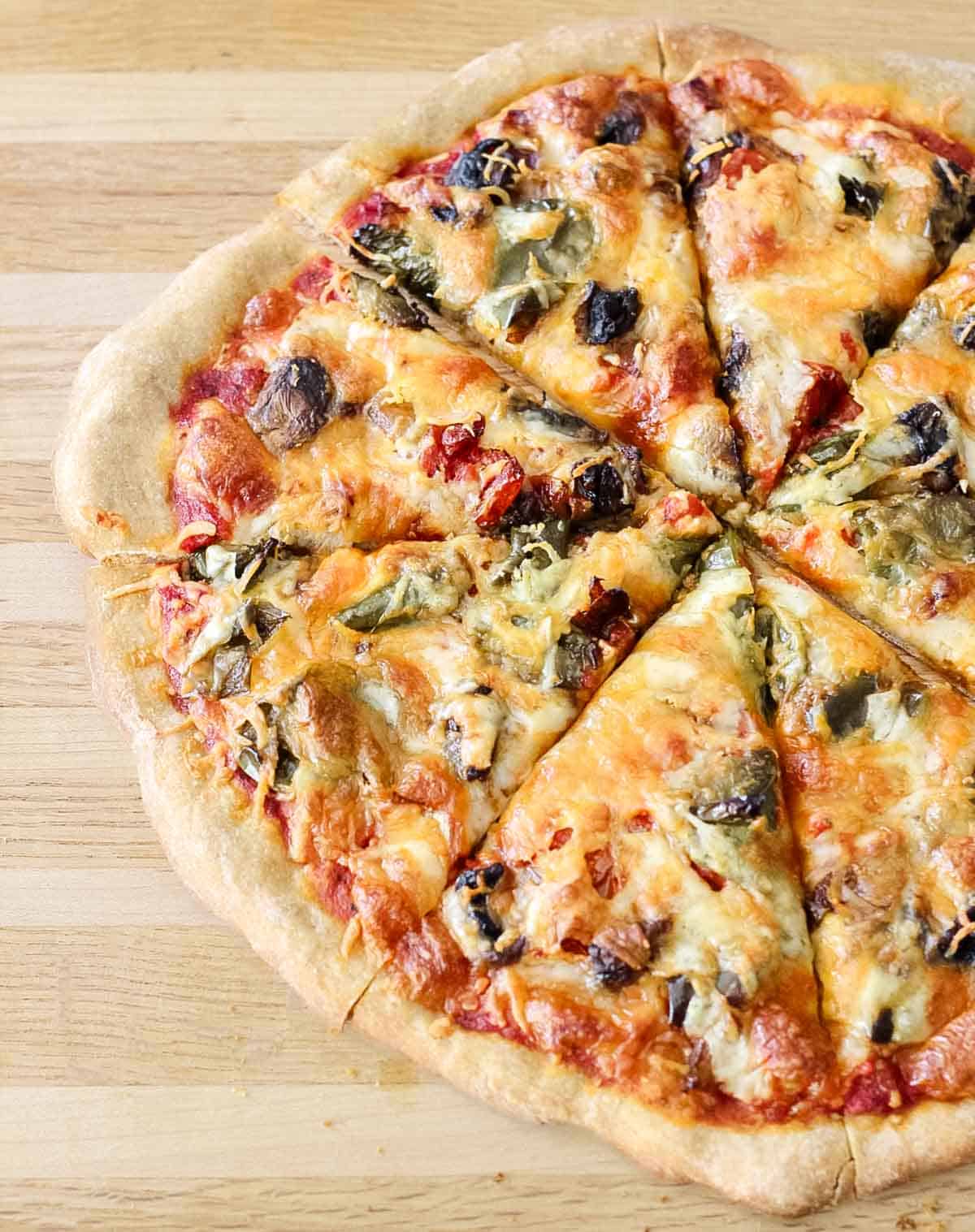 Frequently Asked Questions
What vegetables to put on pizza?
Peppers, onions, mushrooms, tomatoes, and garlic are a few great vegetable options for pizza. Zucchini, eggplant, cauliflower, and broccoli are also tasty.

Because veggies release juices, be careful to not add too many vegetables. Or cook them before topping the pizza.
Do vegetables go under or over cheese on pizza?
Putting a layer of cheese then veggies and covering with a little more cheese is best. Yet, veggies can go over or under cheese on a pizza and it is just fine.

They simply stay on the pizza more if there is a thin layer of cheese under the veggies and over the veggies.
Can you freeze roasted vegetable pizza?
Yes, you can freeze roasted veggies pizza! Place slices in an airtight container, making sure to remove all excess air, and freeze for up to a month.
How do you keep vegetable pizza from getting soggy?
To prevent a soggy vegetable pizza, add a thin layer of cheese and/or pizza sauce before adding veggies. Also, using already cooked veggies, like roasted veggies, helps because their juices have been released.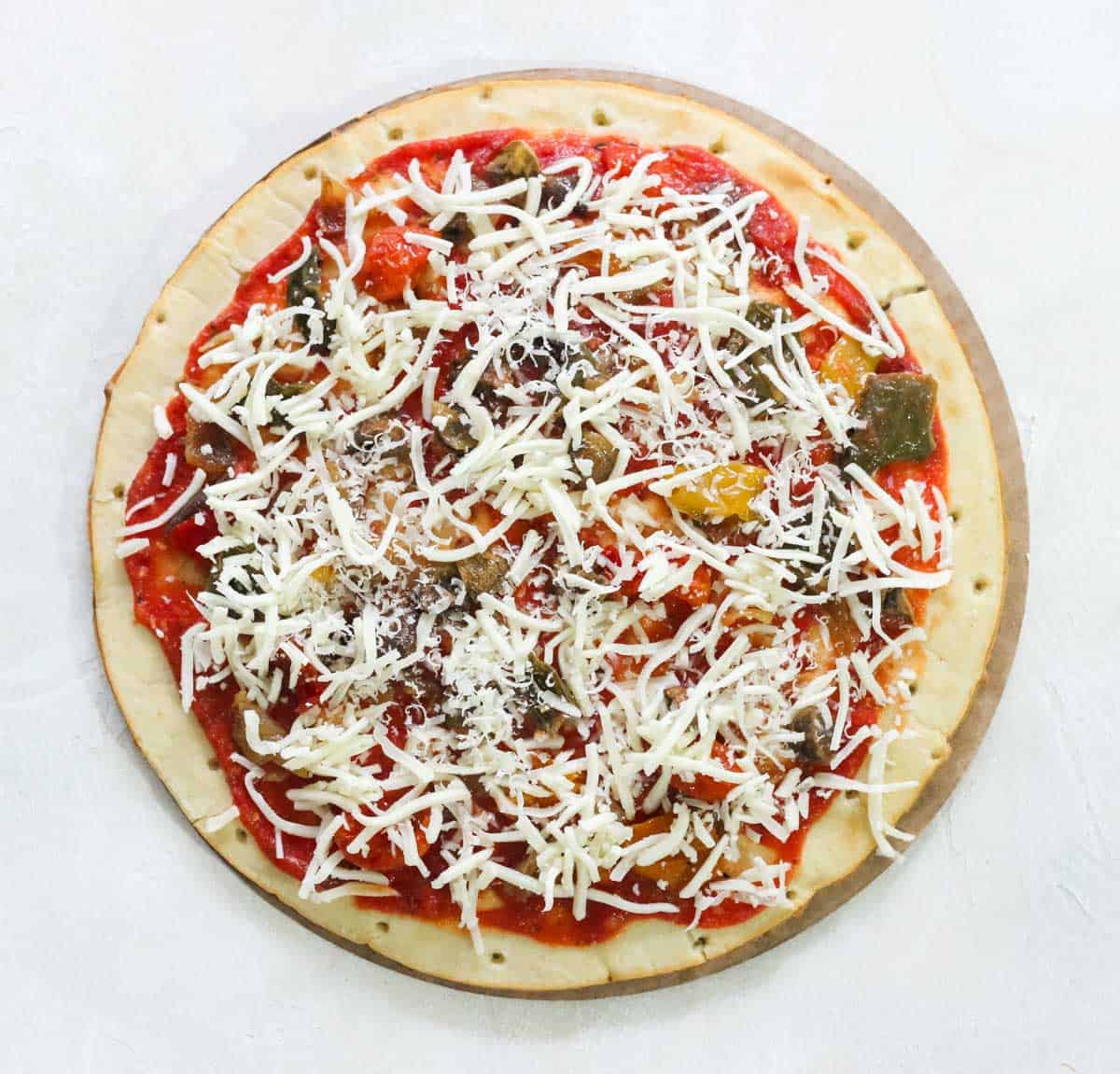 Nutrition Benefits
Pizza offers a balance of nutrients thanks to the carbs in the crust, protein from cheese, and veggies in pizza sauce and toppings.
Because the veggies have been roasted, they cook down and ½ cup of cooked veggies equals a serving of veggies. So you get 1-2 servings of veggies per serving of pizza.
Plus, each serving provides 22 grams of protein, 6 grams of fiber, 63% RDA of Vitamin C, 41% RDA of calcium, 28% RDA of Vitamin C, and 13% RDA of potassium.
Based on many factors like how you cut your pizza and whether you use pizza dough or pizza crust, serving size will differ.
However, the serving is calculated for ¼ of the entire recipe.
What to Serve with Roasted Vegetable Pizza
Salad is always a good partner to pizza. You can toss some chopped romaine or mixed greens with Avocado Cilantro Lime Dressing, Strawberry Balsamic Salad Dressing, or Miso Sauce.
Another easy side dish is Sauteed Frozen Green Beans or try any of these Vegetable Side Dish recipes.
Then again, feel free to simply enjoy your roasted veggies pizza by itself.
Final thoughts:
What I love so much about this roast vegetable pizza is that it is a cinch to make. Buying store-bought pizza dough and using leftover roasted vegetables saves you tons of time.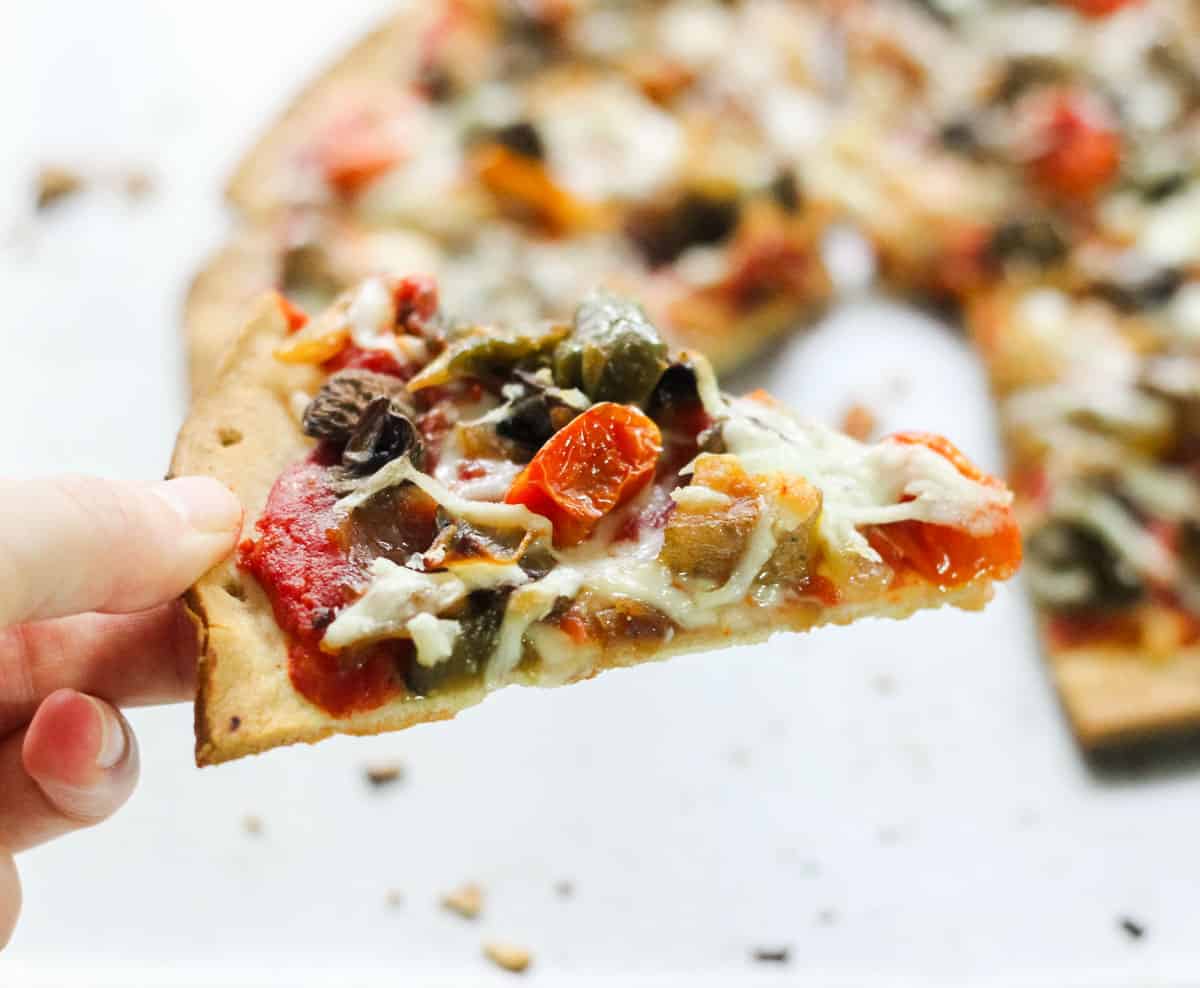 MORE PIZZA RECIPES YOU'LL LOVE: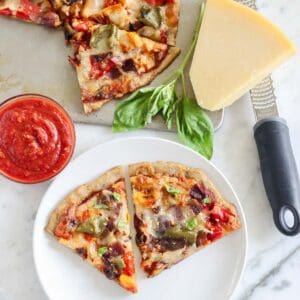 Roasted Vegetable Pizza
Roasted Vegetable Pizza is a tasty, nourishing dinner ready in under 30 minutes thanks to a few time-saving tips.
Print
Rate
Total Cost:
$9.86 or $2.47/serving
Ingredients
1

pound

pizza dough

2

tablespoons

oil

¾

cup

pizza sauce

optional

1 ½

cups

roasted vegetables

4

ounces

mozzarella cheese

shredded (1 cup)

2

ounces

parmesan cheese

shredded (½ cup)
Instructions
Remove the dough from the fridge at least 30 minutes. Preheat the oven to 450*F.

Cut the dough in half. Add one tablespoon each of oil to two baking sheets (one tablespoon per baking sheet) and spread around to cover the area where the pizza dough will go.

Place pizza dough on a baking sheet, and stretch it to fit the pan. It might be helpful to stretch it and let it rest for a minute and restretch.

Once it is to a desired size, spread equal amounts of the pizza sauce on the dough, if using.

Sprinkle with half of the cheese and the roasted vegetables. Cover in the remaining cheese.

Bake for 10-12 minutes until the crust is golden brown and cooked through. Slice & enjoy!
Notes
*Check the package instructions on baking your pizza dough or crust and adjust as needed.
*If not using pizza sauce, use some of the oil to spread over the crust before adding the veggies & cheese.
*If you use a pre-baked pizza crust, omit the oil. Simply top the pizza crust with sauce, cheese, and veggies as described in the instructions.
What to Use in This Recipe
Did you try this recipe?
Be sure to leave a comment & recipe rating below. Bonus points for tagging @memeinge & #livingwellkitchen on Instagram! THANK YOU! xo
Meme
This post was originally published on September 20, 2016. Text, recipe, and photos have been updated.
---
Roasted Veggies Pizza Nutrition Facts
Nutrition Facts
Roasted Vegetable Pizza
Amount per Serving
% Daily Value*
* Percent Daily Values are based on a 2000 calorie diet.