Roasted Vegetable Salsa packs in the veggies and flavor for a delicious, allergy free, vegan condiment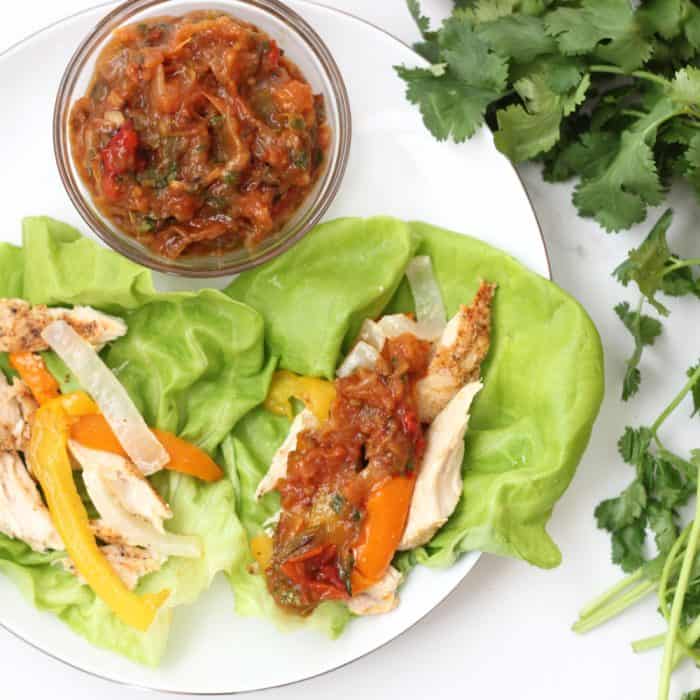 Salsa is one of my favorite condiments. Actually, it is my all-time favorite condiment. I always always have salsa in my fridge and usually have a backup in the pantry when the current jar runs out.
I use it for/on/in everything. Salsa is delicious on eggs, on baked potatoes, with chicken, in soup, with chips, on tacos (duh), and so much more!
The best part about salsa for me is that it adds extra veggies to your day. I'm always trying to find ways to eat more veggies, and salsa is the perfect way to add more veggies to your diet.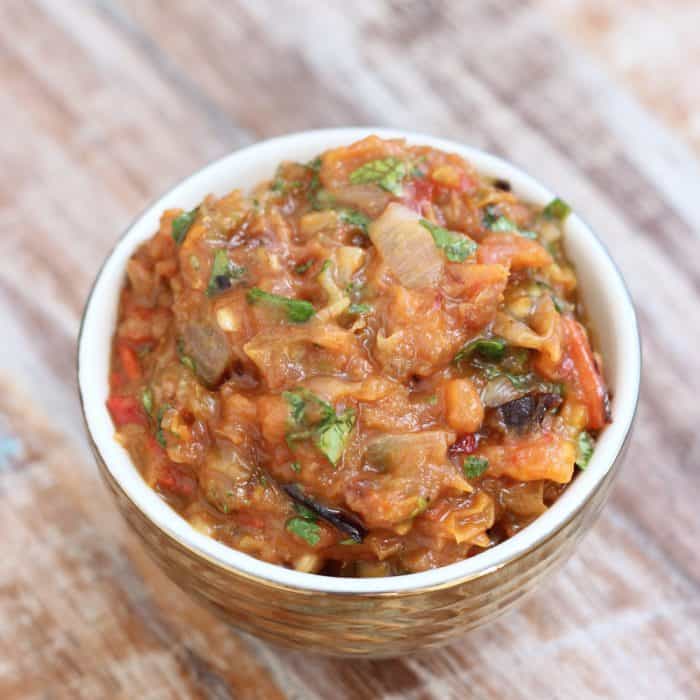 In honor of Cinco de Mayo next Thursday, I decided to create my own homemade salsa.
I've made multiple versions of salsa and felt like it was time to make a new version. Plus, I'm in refrigerator clean-out mode since I'm moving out on Saturday (ah!) and salsa is a great way to use up any produce in your kitchen.
Since roasted veggies are God's gift to taste buds, I thought that a roasted vegetable salsa would be a delicious addition to my salsa collection.
The roasted veggies give the salsa a whole new dimension of flavors not present in a fresh tomato or canned tomato salsa. The addition of peppers to the mix really takes this to the next level.
Like I said before, I love that salsa packs in the veggies. There are 5 cups of veggies in this batch of salsa (which makes about 1 and ¼ cup salsa). That means that just ¼ cup of this Roasted Vegetable Salsa gives you a full serving of veggies.
Whoever said it was too hard to get enough veggies in your day didn't have this salsa and that is oh so sad.
Let's change that fact, and make more salsa, people!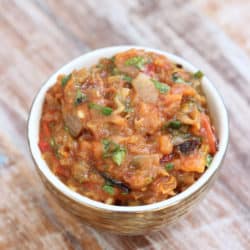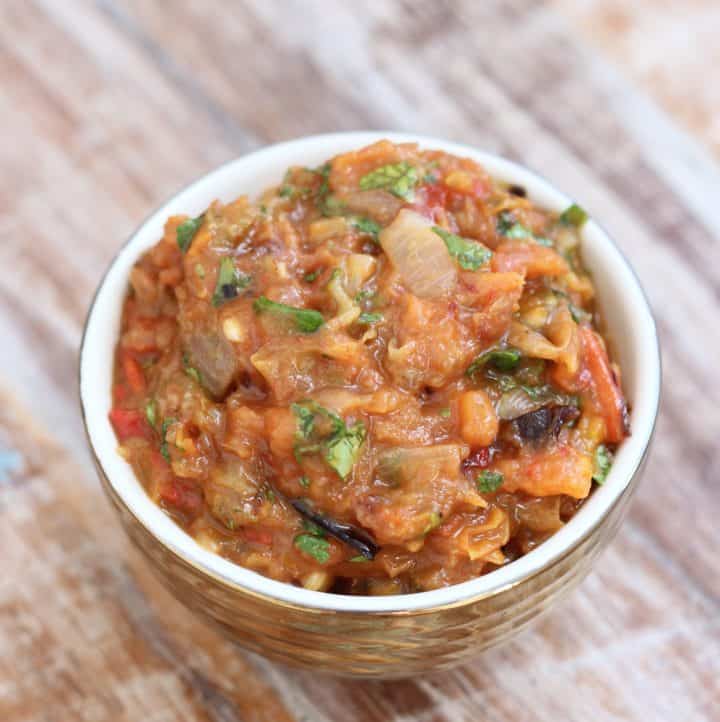 Roasted Vegetable Salsa
Roasted Vegetable Salsa packs in the veggies and flavor for a delicious, allergy free, vegan condiment
Print
Rate
Ingredients
1

cup

sliced bell peppers

1 medium bell pepper

1

cup

chopped onions

1 medium onion

3

cups

cored & chopped tomatoes

3 medium tomatoes

2

tablespoon

chopped jalapeño

1 small jalapeño

1

tablespoon

olive oil

1

teaspoon

chopped garlic

2

tablespoon

apple cider vinegar

1

tablespoon

chopped cilantro

¼

teaspoon

salt
Instructions
Heat oven to 450*F for 20 minutes. Stir vegetables and add garlic. Roast for another 20-25 minutes. Remove from oven and let cool.

Once the veggies are cool, transfer them to a food processor. Add in the vinegar, cilantro, and salt. Pulse until the veggies and chopped and it has the desired salsa consistency you prefer. Refrigerate for up to 7 days.
Notes
*You can use red or white wine vinegar in place of the apple cider vinegar if desired.
*Makes 1 ¼ cups
Did you try this recipe?
Be sure to leave a comment & recipe rating below. Bonus points for tagging @memeinge & #livingwellkitchen on Instagram! THANK YOU! xo
[showhide type="post" more_text="Click here for Nutrition Facts" less_text="Clear Nutrition Facts"]
*
Nutrition Facts
Roasted Vegetable Salsa
Amount per Serving
% Daily Value*
* Percent Daily Values are based on a 2000 calorie diet.
*
[/showhide]