An easy hash brown breakfast casserole recipe loaded with hash browns, vegetables, eggs, cheese, and flavor for a hearty morning meal cooked all in one skillet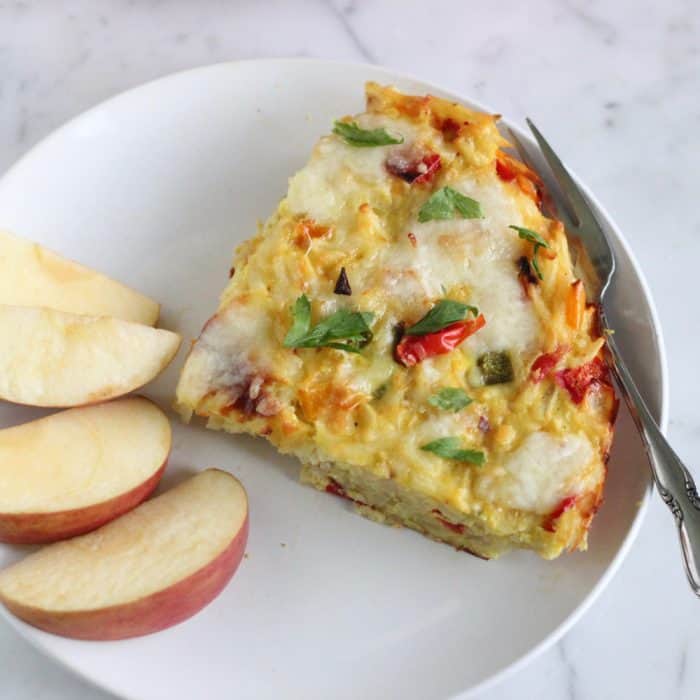 Getting veggies in at breakfast is one of my favorite ways to feel bright and shiny.
Bright and shiny?
Yes, I love the way eating lots of veggies and fruit makes me feel. I always have more energy and just feel better.
Not in a moral way. I don't believe that eating certain foods can make you good or bad. But I do know that certain foods can make you feel good or bad (or better or worse).
Meaning, I try to eat more of the foods that make me feel good because who wants to feel bad all the time?! Certainly not me!
Anywho, this month's Recipe ReDux challenge is to create a savory breakfast.
Rise and Shine with a Savory Breakfast: The trend of protein-packed breakfasts is catching on and back-to-school time is looming. This month, show us new healthy takes on eating savory or dinner-inspired dishes for breakfast. Think egg burritos, beans and rice, or maybe even pasta?!
I've made tons of savory breakfast dishes in the past because I usually feel better when I eat a savory breakfast since it usually means veggies are involved. (Pasta, Egg Muffins, Burgers, Enchiladas, Tostadas)
That doesn't mean I can't or won't enjoy a sweet breakfast because I love them. In fact, I eat protein pancakes most mornings. But when I'm not eating protein pancakes, I am usually eating some kind of savory egg dish full of veggies.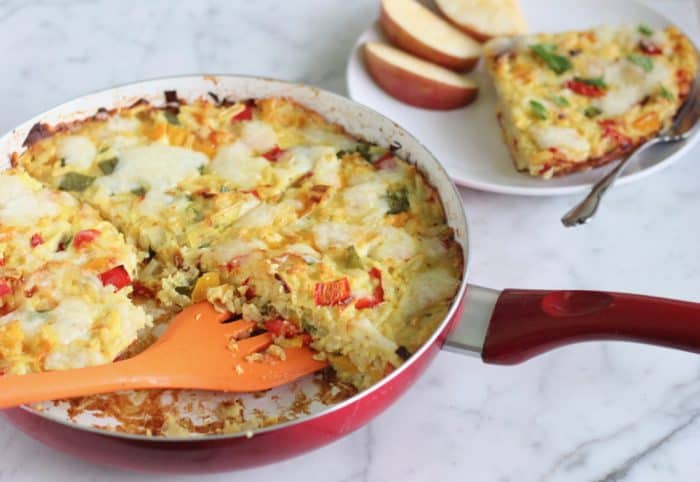 I am in the middle of photographing every single recipe for the cookbook I am creating with my grandmother right now, so any extra cooking I am doing for my blog must be done with as little effort as possible.
Skillet or one pot meals are totally my thang right now.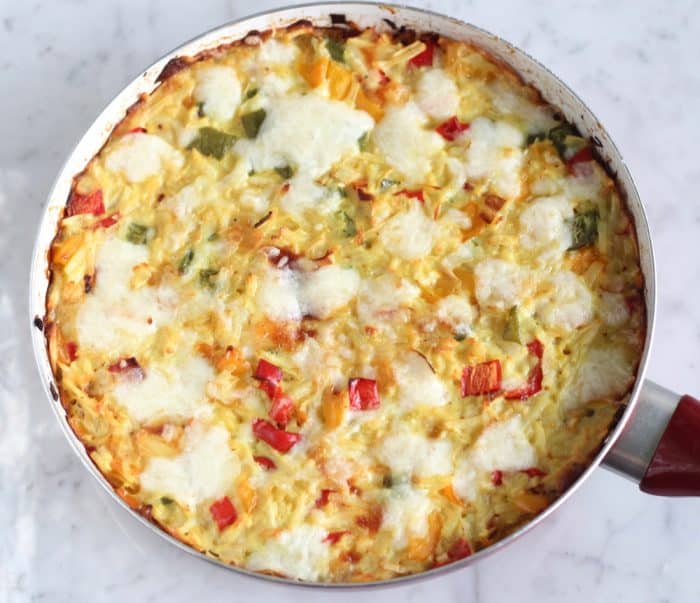 And I'm pretty sure no one has extra time to wash extra dishes, so one pot/skillet/sheet pan meals always win!
This skillet breakfast casserole is actually based off one I am putting in the cookbook. One that I just happen to test multiple times and "forget" to photograph so I could have an excuse to keep making it 😉
Seriously, this stuff is gold. No really, it's a gold color. See?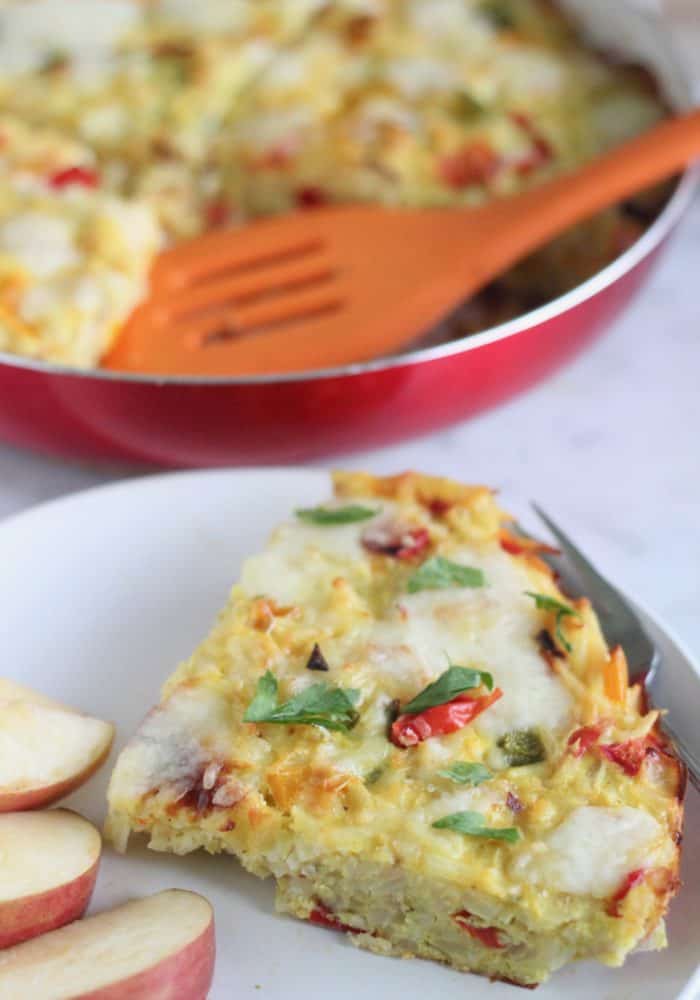 I added turmeric to make it a pretty gold color. Plus, turmeric has been shown to offer some health benefits. (See this turmeric tea for more turmeric love).
There are some other spices in there to give it extra delicious flavor then it's covered in cheese.
A note when you are mixing the eggs with the hot hash browns and veggies. Make sure to only add a spoonful of hash browns at a time, so you don't cook the eggs. You want to temper the eggs, so they stay uncooked before adding to the oven. (Watch the video to see what I mean)
Also, this is a pretty hefty serving size, so if you are serving not-so-hungry humans, you could probably serve 5 or even 6. Personally, I am starvin' Marvin when I wake up, so ¼ of the casserole was the perfect serving size for me and kept me full until at least lunchtime.
Oh and this would also be a delicious breakfast for dinner meal. Plus, leftovers are tasty. You can even freeze extras if needed.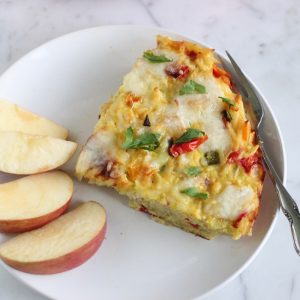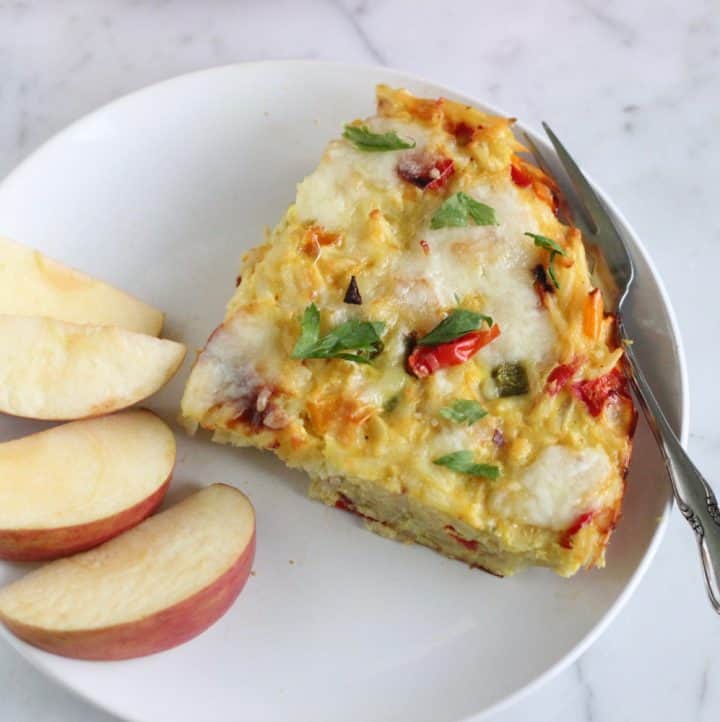 Skillet Hash Brown Breakfast Casserole
An easy hash brown casserole recipe with a hefty dose of hash browns, vegetables, eggs, cheese, and flavor for a hearty breakfast cooked all in one skillet
Print
Rate
Ingredients
2

tablespoon

oil

avocado or olive, divided

15

ounce

hash browns

or shredded potatoes

½

cup

milk

whole or 2%

4

large

eggs

2

medium

bell peppers

diced, any color

1

medium

onion

diced

¾

teaspoon

salt

½

teaspoon

oregano

¼

teaspoon

garlic powder

¼

teaspoon

turmeric

1

cup

shredded cheese

cheddar or mozzarella
Instructions
Preheat the oven to 375*F.

Heat one tablespoon of oil in a large skillet. Add the hash browns to the skillet and cook for 5-7 minutes on one side. Stir and cook another 5-7 minutes until the hash browns are lightly browned.

Meanwhile, whisk together the eggs and milk.

When the hash browns are done, spoon a little at a time into the egg mixture. Don't add them all at once or you risk scrambling the eggs. Stir in all the hash browns and set aside.

Add the remaining tablespoon of oil to the skillet and add the diced bell peppers and onions. Cook for 7-10 minutes until veggies are soft.

Spoon some of the bell peppers & onions into the egg mixture along with the salt, oregano, garlic powder, turmeric, and red pepper flakes. Stir well and add the skillet with the remaining veggies.

Add ½ cup cheese, and stir everything together in the skillet. Transfer to the oven and bake for 40 minutes.

Sprinkle with remaining ½ cup cheese and bake another 10-15 minutes until cheese is bubbly. Enjoy!
Did you try this recipe?
Be sure to leave a comment & recipe rating below. Bonus points for tagging @memeinge & #livingwellkitchen on Instagram! THANK YOU! xo
[showhide type="post" more_text="Click here for Nutrition Facts" less_text="Clear Nutrition Facts"]
*
Nutrition Facts
Skillet Hash Brown Breakfast Casserole
Serving Size
0.25 casserole
Amount per Serving
% Daily Value*
* Percent Daily Values are based on a 2000 calorie diet.
*
[/showhide]
Meme