Southwest-inspired cornbread is cheesy & delicious. It's great alone or with pulled pork. Bonus: it's whole grain!
On Monday, I posted a recipe for Crock-Pot Pulled Pork.
In the picture, there's some cornbread, and IÂ love cornbread. Cornbread improves every meal.
Well, I didn't really talk about the cornbread the other day. I just suggested you serve your pork with cornbread...
I can't stand it when I see a picture on a blog for something, and there's no recipe. It's not that I am incapable of finding a recipe for that item, but I'm already on that blog and just want to find it there.
So to prevent you from thinking I'm one of those people that posts pictures and talks about things without sharing, here is the recipe for the cornbread I ate with my pulled pork.
It's not a typical Southern cornbread. This one is more Southwest inspired, which is probably the reason I think it goes so well with the pork. Both are Southwest inspired.
Cornbread is really easy, and you probably already have the ingredients in your kitchen. I never buy buttermilk because it's so easy to make yourself: just add a tablespoon of lemon juice or vinegar to 1 cup milk; let it sit and then you have "buttermilk."
Hopefully, you already have the ingredients for the pulled pork in your crock-pot simmering away. Then you can make the cornbread now and have a wonderful meal tonight.
However, if you
A) haven't had a chance to make the pulled pork, then I suggest you do that tomorrow
Now that I've solved your problems, here's the recipe: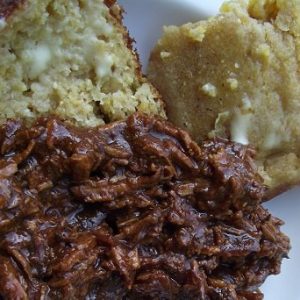 Southwest Cornbread
Southwest-inspired cornbread is cheesy & delicious. It's great alone or with pulled pork. Bonus: it's whole grain!
Print
Rate
Ingredients
1 1/2

cups

milk

1 1/2

tablespoon

lime juice

or vinegar (white or apple cider)

1

cup

cornmeal

1

cup

white whole wheat flour

2

tablespoon

sugar

3/4

teaspoon

salt

1/2

teaspoon

chili powder

1/4

teaspoon

cumin

1/4

teaspoon

paprika

1

teaspoon

baking powder

1/2

teaspoon

baking soda

1/2

cup

sharp cheddar cheese

shredded

4

ounce

can diced green chilies

2

tablespoon

oil
Instructions
In a glass or plastic measuring cup, add lime juice (or vinegar) to milk. Let sit for at least 10 minutes.

Preheat oven to 425°F. Spray an 8" or 9" baking pan with non-stick spray. Make sure it is well coated.

In a medium sized bowl, whisk together cornmeal, flour, sugar, salt, chili powder, cumin, paprika, baking powder, and baking soda. Stir in milk/lime juice mixture, cheese, green chiles, and oil until combined. Try not to over-mix.

Pour batter into prepared baking pan. Bake in preheated oven for 20-25 minutes. Allow to cool on a wire rack for at least 15-20 minutes. Cut into 9 pieces. Enjoy!
Did you try this recipe?
Be sure to leave a comment & recipe rating below. Bonus points for tagging @memeinge & #livingwellkitchen on Instagram! THANK YOU! xo
This recipe was shared onÂ
Have a great weekend!
Meme