The Top 10 Kitchen Utensils You Need to enjoy cooking. These ten utensils will help make your time in the kitchen easier and much more enjoyable. Because no one wants to be scraping cooking off a baking sheet with a knife.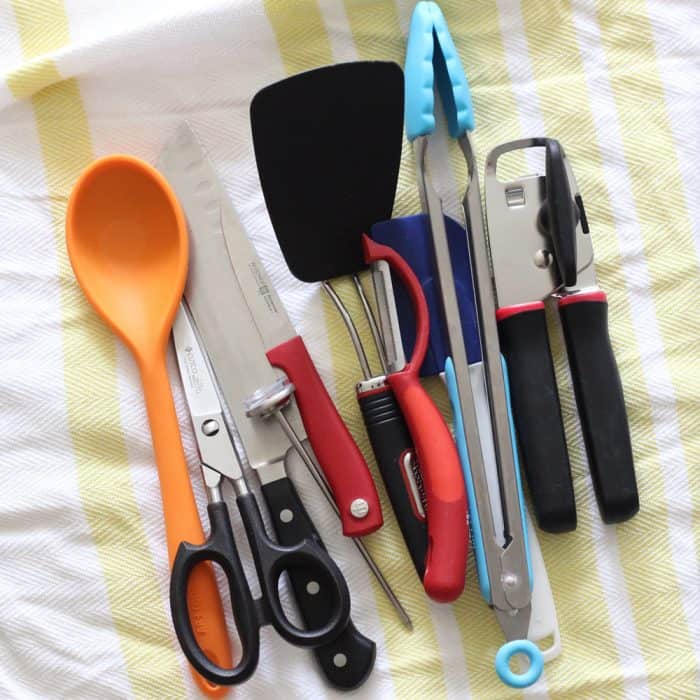 This post has taken many forms. The top 5 kitchen tools you need. What you need in your kitchen drawer. and many other brainstorms went on. None worked because, um, I'm sorry but one needs more than 5 things in their kitchen if you plan on cooking and actually enjoying it.
Yes, I'm sure if you never wanted to cook than 5 tools would be fine and dandy. But take it from me, not having the right tools is miz.
When you go to your kitchen after a long busy day and you realize the plan you had for dinner is now completely ruined because you don't have a can opener or a spatula, you'll be pretty annoyed. [FYI, wine openers will not open cans despite the what the gods of google say. If anyone has tips for opening up a can without a can opener (without losing a finger), I'd love to hear them.]
However, having too many things can be super annoying. Everything is crowding your kitchen and you can't find that little knife and then ouch! found it.
When I was moving, I had to only pack the essentials, the utensils I absolutely could not live without, and these are my 10 most used, most necessary kitchen utensils.
Ten is a nice round number and is a reasonable amount of things to have. Yes, there a few other items that I have and think are pretty awesome (hey there, microplane grater. I think you're groovy and you are my bestie when I make my Ginger Berryade Kombucha). But your recipe hopes and dreams will not be ruined without them.
[clickToTweet tweet="The Top 10 Kitchen Utensils will help make your time in the kitchen easier and much more enjoyable." quote="The Top 10 Kitchen Utensils will help make your time in the kitchen easier and much more enjoyable."]
These ten that I'm about to share will do pretty much everything you need to do in a kitchen for someone who is looking to tackle the basics in cooking and maybe a little beyond. It's a great place to start. With that said, let's get started.
A good knife -- It pains me to watch people chop an onion or pretty much any other vegetable with a small knife. Get a good chef's knife. They are a little bit pricier but holy cow they are worth it. If you are miserable chopping veggies, why would you ever do it? You won't (or you will dread it) which is why you need a good knife to make it a whole helluva lot easier to cut veggies. (I use a 6 inch knife which I find perfect, but I don't love really big knives. They are too much for me.)
A good paring knife -- A small knife is important for a lot of things. Ever tried cutting strawberries with an 8 inch chef's knife? Ha! It's certainly not easy, nor is it a good idea. This is why you need a smaller paring knife. Note: I have this set of three and love them all, but one is sufficient.
Kitchen scissors -- these are so important to me. Kitchen scissors are mandatory in my kitchen. I do everything with them. If you need to cut a green onion but really don't feel like pulling out the cutting board and aforementioned knife, just use the scissors. They work like a charm. Need to cut pizza? Skip the pizza cutter which basically only has one function, and use kitchen scissors to cut instead. I like the ones that separate for easier cleaning, but they are a little pricey. (thanks to my sister for this pair!)
Can opener -- a can opener only has one function but nothing else really does that function as efficiently (and safely) as a can opener. And you're probably going to open up a can pretty often, especially if you like to stick to a budget.
Vegetable peeler -- oh this vegetable peeler is a life saver. You'll need to peel your veggies and you end up cutting off way more than necessary when you use a regular knife to peel vegetables. Plus, it's annoying. If you ever want to eat a butternut squash, you're gonna need a vegetable peeler, and I strongly recommend this one! A vegetable peeler also can help you "cut" things. Sometimes, I'll just peel carrots into strips and then use the knife to chop them up really well. I like doing this when I make my egg muffins so you're not biting into a huge bite of carrot.
Thin spatula -- trying to get cookies off a baking sheet with a bulky spatula is a nightmare. Your cookies end up smashed and ugly and often stuck to the sheet. No good. It's also challenging to flip fish or an omelet with a thick spatula.
Meat thermometer -- no one wants to eat overcooked meat and eating raw chicken scares the bajeebers out of me. Grody to the max. What's a girl to do? Use a meat thermometer. It's the best way to determine if your food is done. If for nothing else, you'll know when you can finally pull the turkey out of the oven on Thanksgiving. And that in and of itself is worth the $7 it costs to buy one. (But I mainly use it to roast chicken because roasted chicken is THE BEST!)
Cooking spoon -- everyone raves about a wooden spoon and while I like cooking with one, I usually end up not loving it. Why? well, you can't soak it when you want to clean it, so you better hope there's no dried food on it. Plus, it makes me nervous that I'm spreading ickiness when I cook ground beef with one. I feel like I can't get it clean enough no matter what. This is a personal preference, but I highly recommend a silicone spoon or plastic if that's all you can find. They are great for sautéing, mixing, and you can use them to cook as well as serve.
Stirring Spatula -- this spatula is important not only when baking (it's pretty much mandatory when you're trying to scrape batter out of a bowl), but it's helpful to get the last bit of sauces out of the bowl or pancake batter into the skillet. I hate wasting and a spatula like this is the key to getting it all out.
Note: the spatula pictured is fine, but the best ones are single molded silicone or rubber. That way, the top part doesn't come off and trap bacteria. The link above is to one of these spatulas.
Tongs -- personally, I like the long handled tongs because I can use them to reach things in the oven without having to take it out of the oven. They're also great for the grill so you're not getting your hand too close to the heat. If you have a freakishly small drawer, you can get the shorter handled ones. Tongs are mandatory no matter what their size, and I prefer the kind that have a manual lock (like the ones pictured or in the link).
And there you have it. My 10 must haves for my kitchen utensil drawer.
I have a few honorable mentions:
Meme
I'd love to know, what are your favorite kitchen utensils? Did I leave any off the list that you must have in your kitchen?
Disclosure: it's mentioned on the footer and in my privacy policy, but just a heads up that these links are affiliate links. It doesn't cost you anything but I do make a small commission if something is purchased through that link (and appreciate it!!)