Over 20 great gifts to give and receive this holiday season!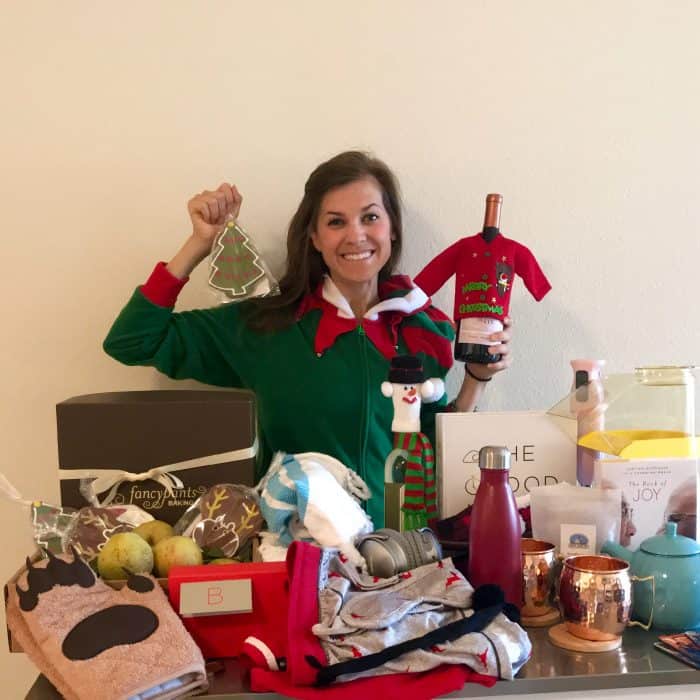 For the one who loves to read... The Book of Joy
This book is a lovely read that is light hearted yet thought provoking. It's about bringing joy into your life even when life isn't perfect (because it never will be).
For the one who is conscious about what goes in and on their body... Beautycounter Kiss Kiss Gift Set or any other gift set
(note: the Kiss Kiss Gift set is no longer available. However, you can check out the lip conditioner or any other amazing gift set they have!)
Beautycounter is pretty much the only thing I buy to put on my skin. While I am not a crazy-face when it comes to toxins and all that other unnecessary junk in many of our skin products and makeup, I do try my best to avoid those unwanted things.
You can't go wrong with giving Beautycounter because all of the products are amazing and you can feel give giving someone something they will actually use and enjoy!
For the one who looks forward to her daily cuppa... Tea Pot with Infuser
A special touch is to go to your local tea store and buy a bag of loose tea just for the new pot you're giving. I buy mine from Point Loma Tea here in San Diego. Their tea is heavenly. My personal favorite is the Strawberry Fields White Tea but all are delish!
For the cookie lover... Fancypants Baker cookie set
These cookies have quickly become my favorite things! What initially brought me to love these is that they use veggie based colors for their icing, so I can enjoy the (tasty) cookie without thinking about the artificial junk/colors. I also really appreciate that they are made in a dedicated peanut/tree nut free facility, so you don't have to stress about that.
They have gift boxes on their website and you can also order them separate from a gift box. These would be great stocking stuffers, too!
For the one who loves to snuggle... Warm Pajama Set
Pretty sure I will be living in these pajamas when it gets cold outside. The shirt is super soft and the shorts are warm and even have pockets! I like the extra touch of including an eye mask, too. It's nice to have my eyes covered in the morning since the sun wakes up earlier than me.
For the one who's always cold... Alpaca Throw
These handwoven throws made in Ecuador are luxurious, soft and cozy but not bulky. My mom bought two in September and loves them, and my mom is always cold (like me) so she's full of blanket wisdom.
Note that the "blanket" is big, like queen size bed big, and the "throw" is more of a blanket for your sofa.
For the one who loves to lounge... TOMS Slippers
I love my TOMS, all 4 pairs. That might seem excessive but they are comfortable, durable, and I love the business model of giving a pair of shoes to someone in need when I buy a pair.
These slippers are fluffy and soft on the inside with rubber soles, so you can run outside for a second if needed and you don't have to take those comfy slippers off!
For the one who always chats about her favorite workout... S'well bottle
These water bottles keep liquids cold for 24 hours or hot for 12 hours. I've left the bottle in my hot (hot!) car then returned to find some ice still in the bottle! I've also poured hot tea in the bottle and forgotten about it, only to find hot tea in my bottle hours later.
For the one who stops buy unexpectedly... Wine!
Don't be caught empty handed! Instead, grab a few of these silly wine bottle covers or a regular wine gift bag if that's more your style, and have a bottle ready for someone who happens to give you a present and you didn't have them on your list.
An alternative is to give them a bottle of homemade infused vodka, or for a nonalcoholic beverage, a bottle of your own brewed kombucha are great options.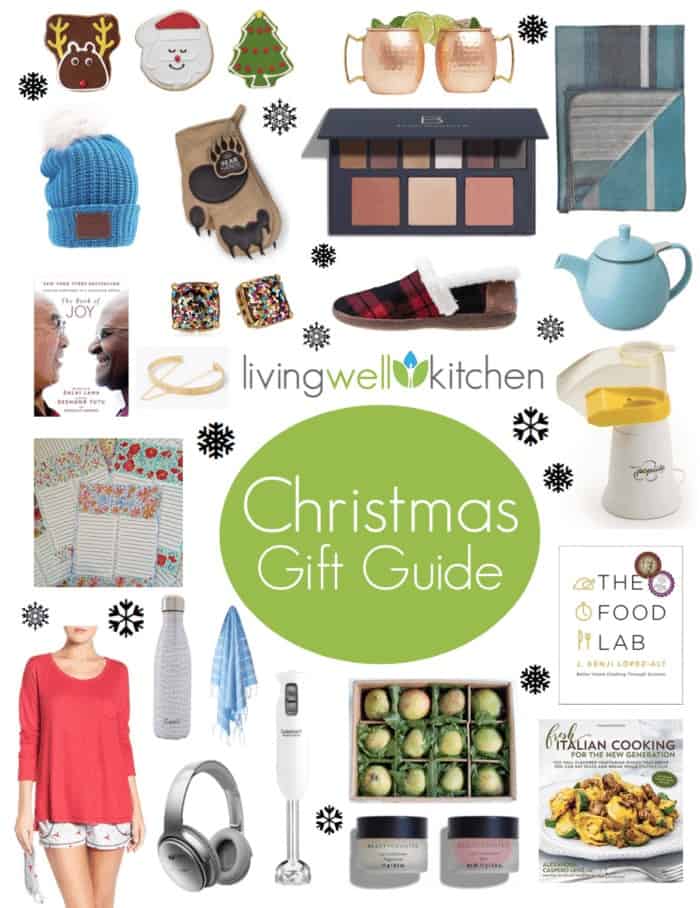 For the one who lives in the kitchen... Turkish dish towels
Turkish towels are super absorbent but take up almost no room. They also look nice in your kitchen. Personally, I use Turkish Towels for my bath towels, and they are life changing. They are a huge space saver and absorb lots of water.
For the one who loves soup... Immersion blender or other kitchen gadget
An immersion blender is a must-have gadget if you plan on making soups. I use it at least once a week during the soup-weather months.
However, you could always buy a different but equally as desired kitchen gadget like a mini food processor (another personal favorite).
For the one who wants to nourish their body with delicious and tasty food... Fresh Italian Cooking
This cookbook written by my friend Alex from Delish Knowledge is full of delicious, plant-based recipes that nourish your body while leave you feeling satisfied. All your classic favorites plus some new recipes to fall in love with are in this book, and yes, there's pasta (no diet food here)!
For the one who likes to experiment in the kitchen... Serious Eats Cookbook
This cookbook is definitely a big one! It weighs at least 5 pounds and is over 600 pages of insightful kitchen wisdom. I find myself giggling at the author and consistently having lightbulb moments. There are in-depth explanations (without being boring or overwhelming) and tasty recipes.
For the one who loves to snack... Popcorn maker
Popcorn is something I eat almost everyday and love it. While I'm not against the microwave, I don't necessarily love the idea of microwaving my popcorn in one of those plastic containers. And using brown paper bags gets wasteful with the amount I eat popcorn.
Enter this handy air popped popcorn popper. It takes less than 3 minutes to pop and is great for your friend (or you!) that loves to snack.
For the one who likes a good craft cocktail... Copper Mugs
These copper mugs are 100% copper (no metal lining) and keep your Moscow mules or drink of choice cold and festive. They're nice because they aren't super expensive like many copper mugs are, and they even come with matching coasters to keep your tables clean.
For the one who is always laughing... hilarious (but practical) oven mitts
These oven mitts are hysterical and make me smile every time I use them. They also happen to be quite sturdy and keep me from getting burned when I hold hot things. Many novelty oven mitts can't claim that, so these are definitely a great item!
For the one who forgets events and birthdays... Eden Walker Flora Birthday Calendar
Everything Eden creates is wonderful! I just got her Advent calendar for the holidays, but these birthday calendars are perfect for someone who doesn't want to have to check Facebook everyday to see if it's someone's birthday. You can also note important anniversaries or events to remember ever year. They are cheerful and fun!
For the one who loves to sparkle... Kate Spade Mini Small Square Stud Earrings
These sparkly earrings consistently receive compliments. They are not overpowering but they are bright and fun! You can wear them for casual outings or nice events.
For the one who loves to help others but look good doing it... Soko Earrings
I really love the Soko brand because the artisans that make the jewelry retain 25-35% of the profits compared to a measly 2-3% of standard markets. And the artisans use locally-sourced and eco-friendly materials whenever possible. If you like jewelry, definitely check out Soko!
For the one who loves to help others but look good doing it (but doesn't wear jewelry)... Love Your Melon beanie
These beanies are my favorite. They have tons of color options and a few style options, too. I like that they are made in the USA.
The best part is they are dedicated to helping kids with cancer. Each purchase provides a child with cancer a beanie of their own; plus, 50% of their profits goes to pediatric cancer research.
I have the Black Speckled Beanie and just bought the Cool Blue and Mint Cuffed Beanie, so I'll be warm all winter... yes, it sometimes gets chilly enough in San Diego to wear a beanie 😉
For the ones who is always traveling... Bose Quite Comfort Noise Cancelling Headphones
Remember when your friend got off the plane frazzled because a baby cried for the entire 6 hour flight? Well, your noise troubles are no more when you put on these cushioned over-ear headphones.
I can take a walk on the windy beach and have a conversation on the phone without having to repeat myself multiple times because the wind keeps whooshing into the microphone.
P.S. Don't give these to your friend who is always distracted and crosses the street without crosswalks and is always on the phone. That person needs to hear everything 😉
For the Instagram rockstar... Personalized Photo Coasters
People no longer print their photos, they just land on social media accounts and then get forgotten about weeks after they've been posted. Find a few of your favorite photos and have them printed on coasters. Your table stays ring free and you get to enjoy those photos that would have been forgotten.
For the one who has everything... a paperwhite or orchid
Both are elegant flowers that look wonderful on a side table, coffee table, or kitchen counter. They are guaranteed to brighten your day. Plus, plants are really good to have in your house!
For the one who has everything but also has a black thumb... Harry and David pears
The best pears in the land come in that box, and I look forward to them yearly. They are a nice way to show that you are thinking of someone without giving them a bunch of candy or other junk food. Harry and David also has other fruits you can send and fruit of the month options. I prefer the simplicity of a box of pears, but take your pick.
Tell me: What is on your holiday gift list?!
Be sure to watch the Facebook Live video for some good laughs 😉
Pin for later: