Using tofu in this tasty taco casserole keeps your budget in check while adding fiber and plant based protein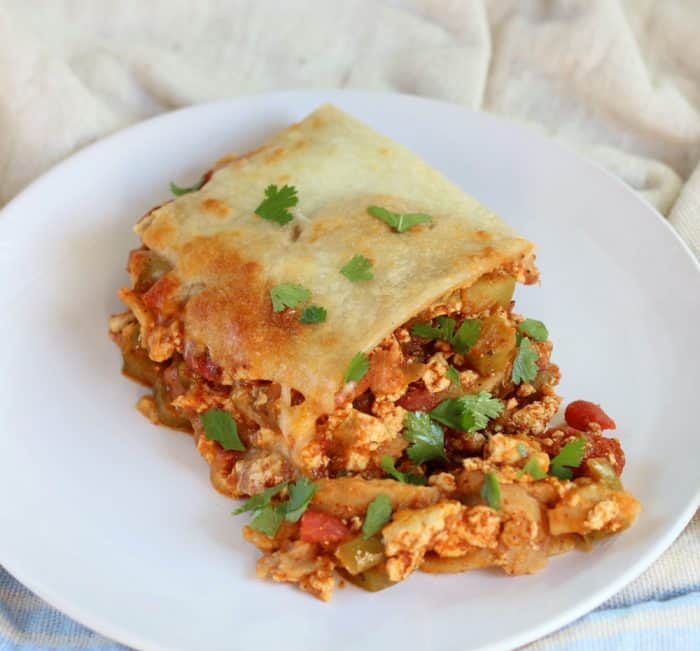 Buying in bulk can be a great way to save money on your food budget. Can be. Not always.
For example: buying a 10-pound bag of carrots for one person.
Unless I want to be orange, I don't think it's physically possible to eat 10 pounds of carrots before they go bad. (I don't own a juicer or I'd totally juice them. RIP 7 pounds of carrots).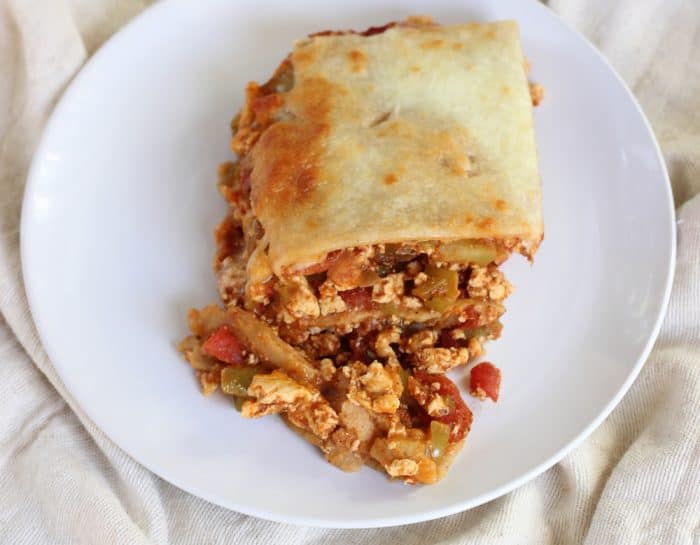 It's so easy to get sucked into the trap of buying in bulk to save money. Kind of like the time I bought a box of 4 packages of tofu.
For a girl that loves bacon as much as I do, one might be surprised that I actually bought a box of tofu, but I really do like tofu if it's prepared the right way.
However, it's not the first protein I jump to eating. I don't wake up and think "I can't wait to make something with tofu today!"
So I'm not exactly positive what persuaded me to buy a box of it; it was probably because the expiration date was 6 weeks in advance. Or maybe it was the lady at Costco that was passing out samples. Or maybe it was because I went to Costco hungry. (Biggest mistake EVER! Never go to Costco hungry unless you have more than one refrigerator and an extra closet for food storage).
[clickToTweet tweet="Need a casserole for #MeatlessMonday or Taco Tuesday? This #vegetarian #casserole works for both!" quote="Need a casserole for #MeatlessMonday or Taco Tuesday? This #vegetarian #casserole works for both!"]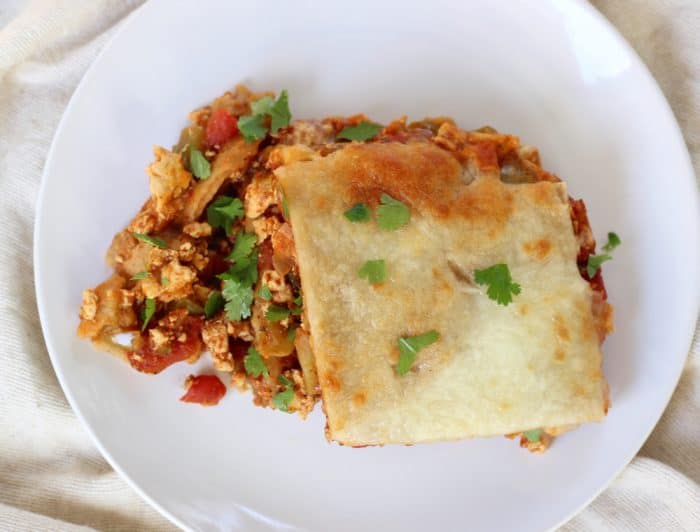 Anywho, the expiration date is this week, so I've been making tofu like cray (and actually coming up with some pretty tasty meals like this casserole).
With October 4th being Taco Day and all "hello, ultimate #TacoTuesday!" I figured I'd make some type of taco meal with tofu. I wasn't feeling a basic taco, and I had some corn tortillas on the cusp of going bad. So I made a casserole with tofu and tortillas.
And it's an amazing casserole that is a glorious, veggie-filled meal for the cooler days to come. It also makes you realize that tofu is an awesome protein to buy in bulk to try (or not forget about if you've tried it before).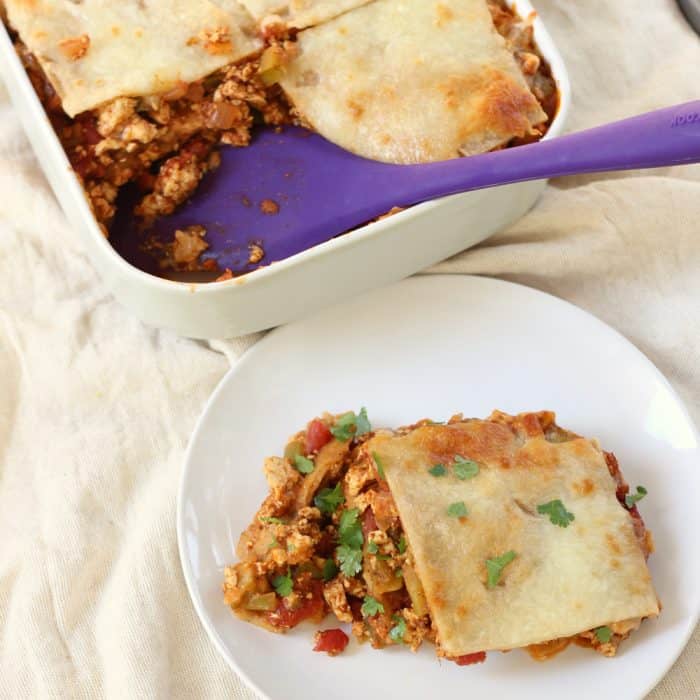 Thank you, Tofu Taco Casserole, for renewing my faith in tofu and making me happy that I bought it in bulk.
Those people that say tofu is gross can shove it, or I have a better idea: they can shove this taco casserole in their mouth and realize what they're saying is completely untrue.
P.S. If you're really into food holidays, October 4th is also Vodka Day. Tacos & vodka? That can totally work! Mojitos + Tacos = a really good day.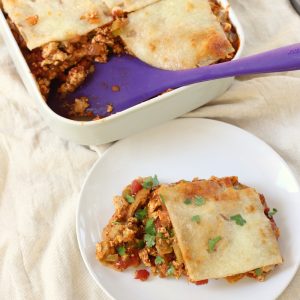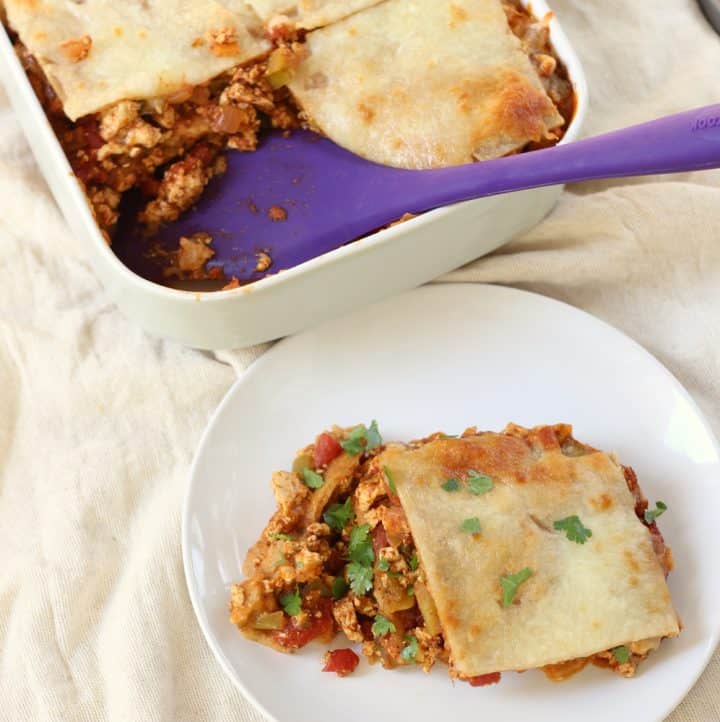 Tofu Taco Casserole
Using tofu in this tasty taco casserole keeps your budget in check while adding fiber and plant based protein
Print
Rate
Ingredients
1

teaspoon

olive oil

1

medium

onion

diced (1 ¼ cups)

1

medium

bell pepper

diced (1 ¼ cups)

14

ounces

extra firm tofu

or firm, crumbled

4

teaspoon

chili powder

1

teaspoon

paprika

1

teaspoon

cumin

1

teaspoon

garlic powder

½

teaspoon

dried oregano

½

teaspoon

sugar

¼

teaspoon

salt

¼

teaspoon

coriander

optional

⅛

teaspoon

cayenne pepper

optional

15

ounce

no salt added diced tomatoes

undrained

4

ounce

can chopped green chiles

undrained

6

small

corn tortillas

sliced in half

1 ¼

cup

shredded cheese

5 ounces

2

tablespoon

chopped fresh cilantro

for serving
Instructions
Preheat the oven to 350*F.

Add the olive oil to a large skillet, and sauté the onions and bell peppers for 5 minutes until soft.

Stir in the tofu, making sure it is crumbled and resembles ground beef, about 3 minutes.

Stir in chili powder, paprika, cumin, garlic powder, oregano, sugar, salt, coriander and cayenne pepper if using. Make sure to stir well until the veggies and tofu are completely coated with seasoning.

Pour in tomatoes and their juices plus the green chiles. Stir well. Simmer for 10 to 15 minutes until most of the liquid has absorbed.

Place 4 tortilla halves on the bottom of an 8 inch square baking dish. (Tip: Place the straight edges of the sliced tortilla along the edges of the casserole dish, so the round parts of the tortillas slightly overlap)

Cover with half of the taco mixture (about 2 ½ cups). Sprinkle with ¼ cup cheese. Top with 4 more tortilla halves (2 whole tortillas).

Cover with remaining mixture. Sprinkle with ¼ cups cheese. Top with remaining 4 tortilla halves and cover the tortillas with the remaining ¾ cup cheese.

Bake in the preheated oven for 25-30 minutes until cheese is bubbly. Remove from oven and let sit for 5 minutes before serving. Sprinkle with cilantro if desired. Enjoy!
Notes
*This is a vegetarian dish but can easily be made vegan by using dairy-free cheese. *You can skip the bottom tortilla layer if desired. *Omit the cayenne pepper if you don't like slightly spicy dishes.
Did you try this recipe?
Be sure to leave a comment & recipe rating below. Bonus points for tagging @memeinge & #livingwellkitchen on Instagram! THANK YOU! xo
[showhide type="post" more_text="Click here for Nutrition Facts" less_text="Clear Nutrition Facts"]
*
Nutrition Facts
Tofu Taco Casserole
Serving Size
0.25 casserole
Amount per Serving
% Daily Value*
* Percent Daily Values are based on a 2000 calorie diet.
*
[/showhide]
---
Meme
Doesn't this recipe look good?! You should probably pin it for later: