Celebrate tomato season with this delicious, easy appetizer with only 7 ingredients!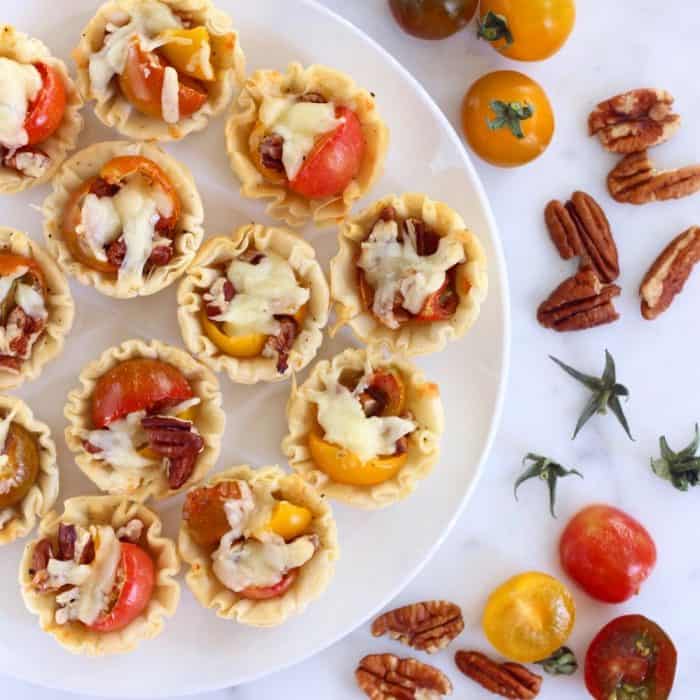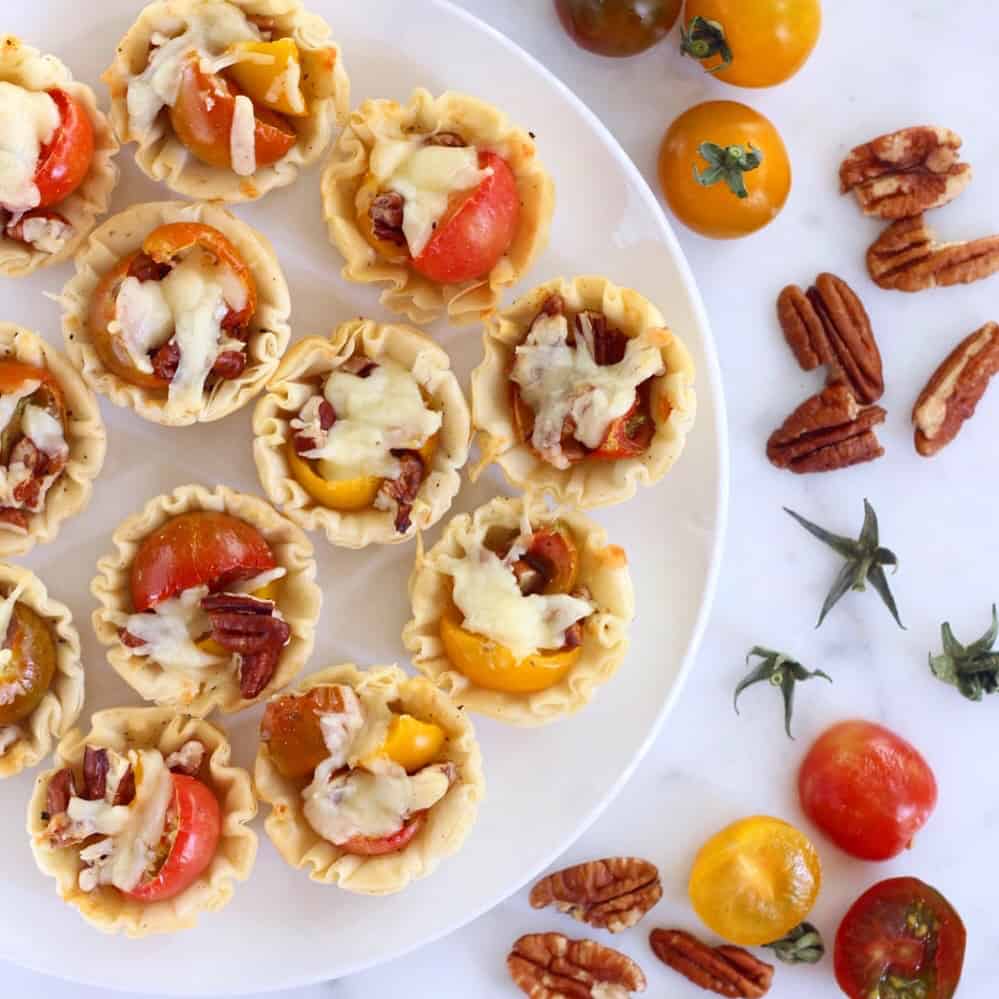 Eating seasonally is something I grew up doing. My parents were always big on getting the best produce that was in season.
Berries for $6 in the winter just because I wanted them? That was never gonna happen.
First, out of season produce is never as tasty as in-season, and the extra cost is silly when there are other great (but different) options available that season.
While I was usually on board with this idea because taste is a major player in why I'll eat something, I was never really looking forward to tomato season when I was younger.
Or to be more specific, when I didn't know how delicious tomatoes could be.
[clickToTweet tweet="Celebrate #tomato season with this delicious, easy #appetizer with only 7 ingredients!" quote="Celebrate #tomato season with this delicious, easy #appetizer with only 7 ingredients!"]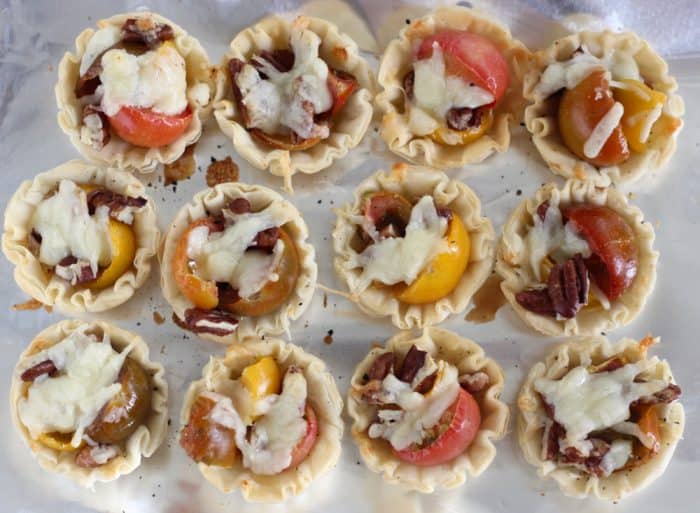 While I grew up in a family of tomato-lovers, I just couldn't get behind the hype.
That is until I had tomato pie.
Never had tomato pie? Well, you're surely missing out.
It's a pie crust covered in cheese, topped with freshly sliced tomatoes, seasoned with salt and pepper, and baked.
Tomato pie is pure bliss.
But something about making a pie crust or having a whole tomato pie to finish is daunting.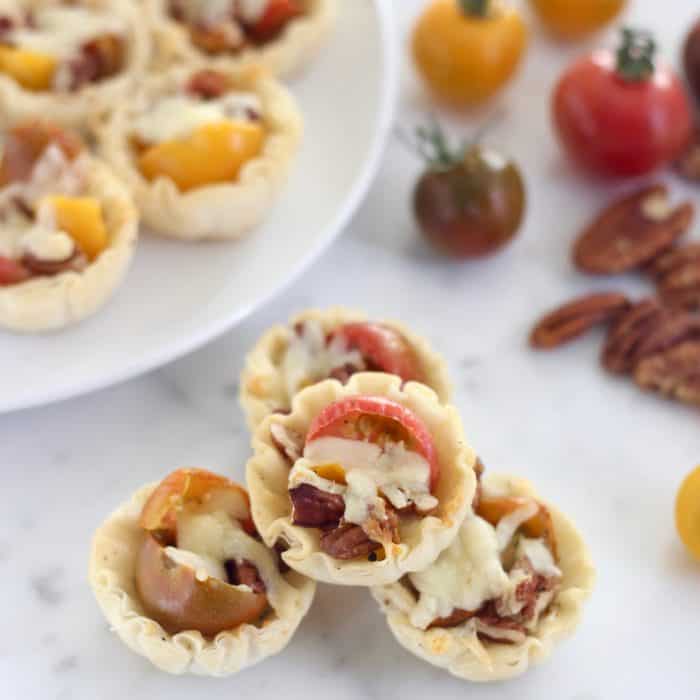 Enter mini phyllo cups. Those things are brilliant. And they are perfect to make tomato pie. Mini tomato pies, so everyone can have their fair share. (P.S. They are also perfect to make mini crawfish pies, too!)
Your tomato pie skeptics can taste one and decide whether or not they want another (they will). And your tomato-lovers can have lots of delicious tomato pie bites.
Something that is extremely important with tomato pie is that you A) cover the tomatoes in salt and drain before cooking and B) you season them well with salt and pepper.
Technically, you are adding salt to help them release their juices so really you need only focus on making sure not to forget the freshly cracked black pepper. I promise it makes a difference.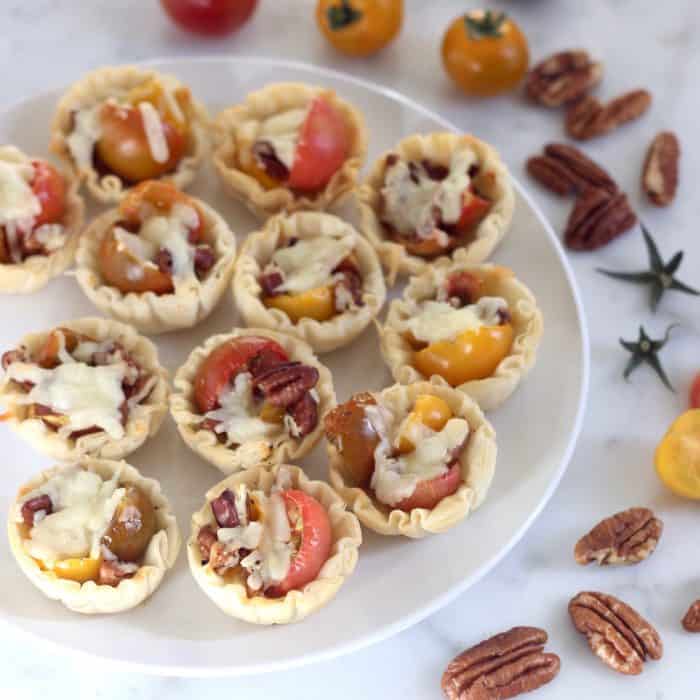 Something that is optional but really takes it up a notch is adding fresh herbs. I tried them with and without, and while the herb-free version was good, the version with herbs was better. Thyme and basil will both work.
One more great thing about this recipe is that it only has 6 ingredients (or 7 if you use herbs). Perfect for a late summer gathering or early fall party!
**Get the recipe on my friend Kara's blog**
Meme
Pin for later: