Walnut Crusted Fish with White Bean and Walnut Salsa is a delicious dish full of omega-3 fatty acids, fiber, and tons of tasty summer veggies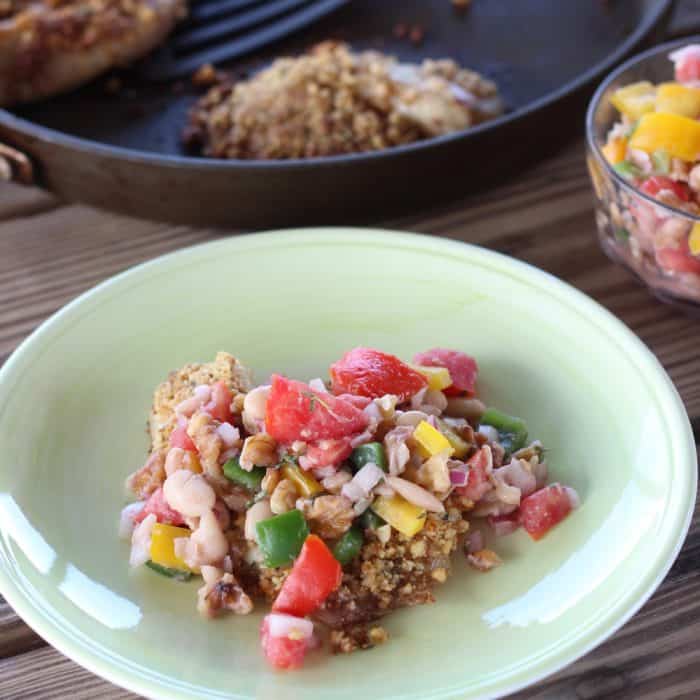 Walnuts are rockstars in the culinary department. Not only are they incredibly nutritious with their omega-3's & fiber, they are also a versatile ingredient in many recipes or even enjoyed by themselves.
You can do so many things with walnuts to add more nutrients to your meals but also make your food taste even better. What's the point of making something if it isn't tasty? (No point, if you ask me)
Walnuts are perfect in dishes, sprinkled on top of salads or pizza, as a coating (see below), or as a snack. You can't go wrong with a walnut, y'all.
One of my all time favorite cold salads and my absolute favorite pizza would be incomplete without walnuts. And you absolutely need Walnut Chocolate Chip Cookies in your life. You can even eat those cookies for a nutritious breakfast.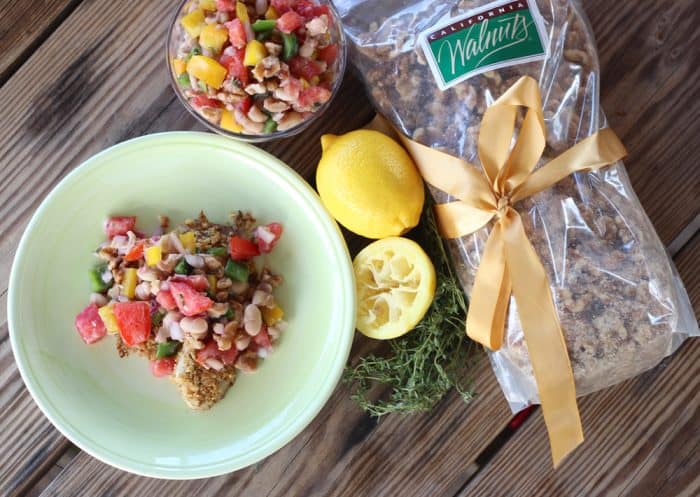 Then you have this walnut crusted fish. Holy moly is it good! I couldn't even wait to go get a fork before I dug into this recipe. I prepared it over the weekend at our bay house and brought the dish outside to take photos.
Typically, I take photos and then taste the recipe. I realized once I was finished photographing my beautiful meal that I forgot to bring a fork outside. That long walk down the wharf was prohibiting me from tasting my dish, and I was dying to know the results.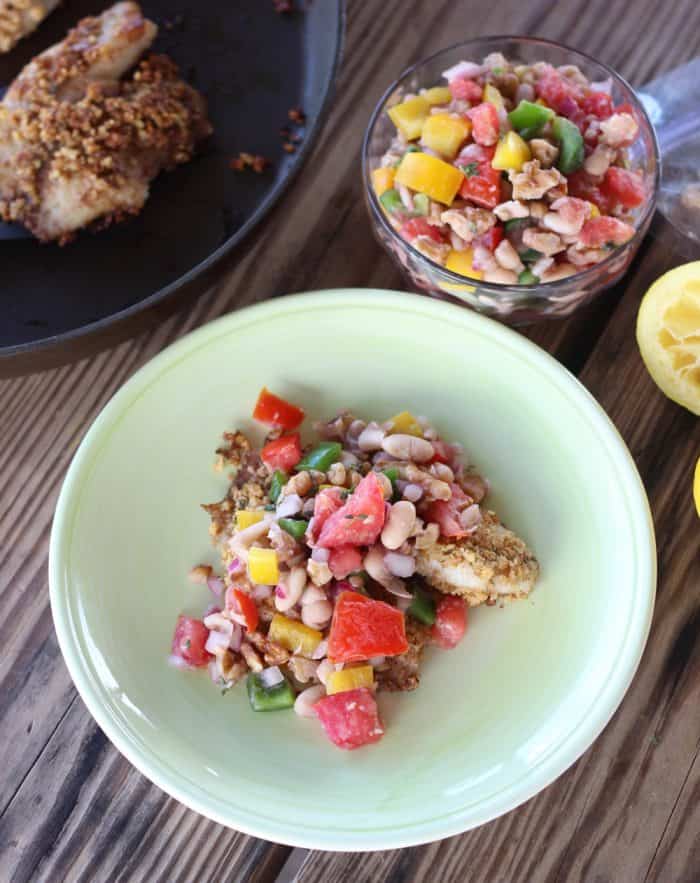 I decided that eating with my fingers would be perfectly acceptable around my friends and family, so eat with my fingers I did. And I'm glad that I didn't have to wait another second before I got to dive into this delectable dish!
Don't let the longish list of ingredients and instructions scare you away.
First of all, this isn't hard and doesn't take too much time. You will have to chop some veggies and pull out the food processor for a quick pulse to make the walnut coating.
This is when a mini food processor comes in handy.
Make sure when you're making the walnut crumbs that you don't blend the walnuts and turn it into walnut butter. Yes, walnut butter is delish, but it's not the best coating for fish.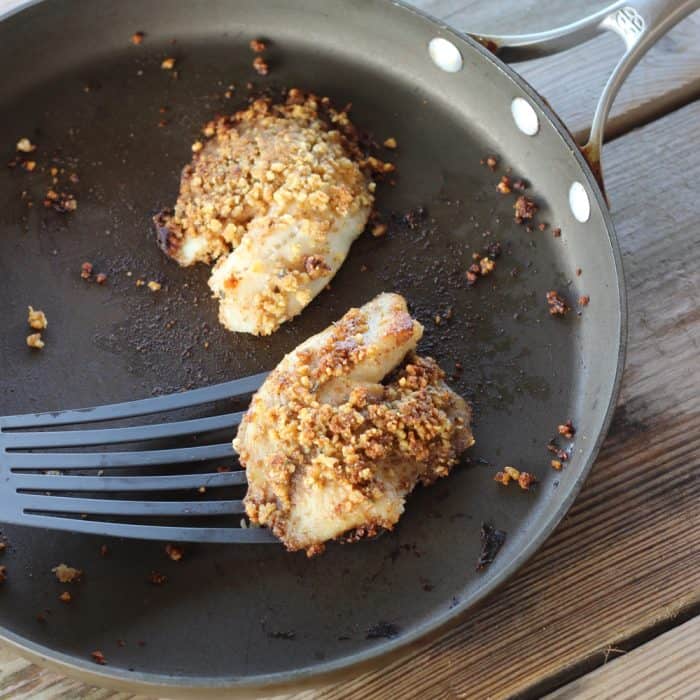 Most of the ingredients are repeated, like the walnuts, thyme, olive oil, salt, and lemon.
You'll want to zest the lemon then juice it. You just need one lemon, but it's much easier to zest a lemon with it hasn't been cut and juiced. Fun fact.
I prefer to toast the walnuts for the salsa because it helps develop their favor a little more plus it helps keep them crunchy. I don't mind that the walnuts get a little bit soft when they sit in the salsa for a few hours. It's still incredibly tasty.
You don't use all of the salsa, so you can use it to keep that walnut love in your life for a few extra days. Not only is it tasty on seafood, it's great over eggs or served as a dip/appetizer with some chips.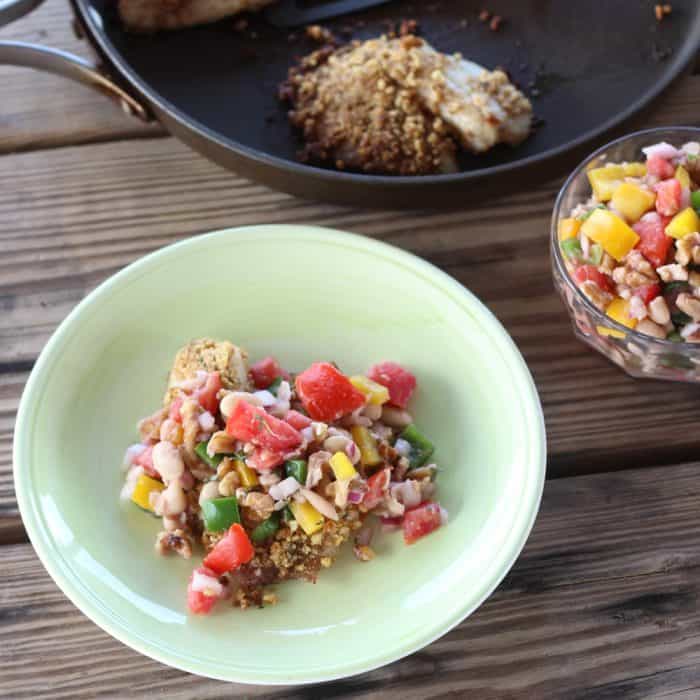 If you are not consuming dairy, use unsweetened & unflavored almond or coconut milk. The milk is really there just to help the walnuts stick to the fish.
Speaking of sticking to the fish, the walnuts can occasionally have a little trouble sticking on the fish especially if the walnuts get wet before getting on the fish. That's why it's important to only put half of the walnut crumb mixture onto the plate. Then you'll have the other half of the walnut mixture to coat the last few pieces of fish.
I don't really like extra steps, so I don't love the idea of having to flour the fish then dip into a wet batter then into the walnut coating. I know it would make it stick better, but I think this does the trick just fine. Plus, it doesn't even matter. You're going to be topping the fish with the walnut salsa anyway, so you can't even see the spots where the walnut crumbs didn't stick. That, along with the addictingly delicious taste, is the beauty of the salsa 🙂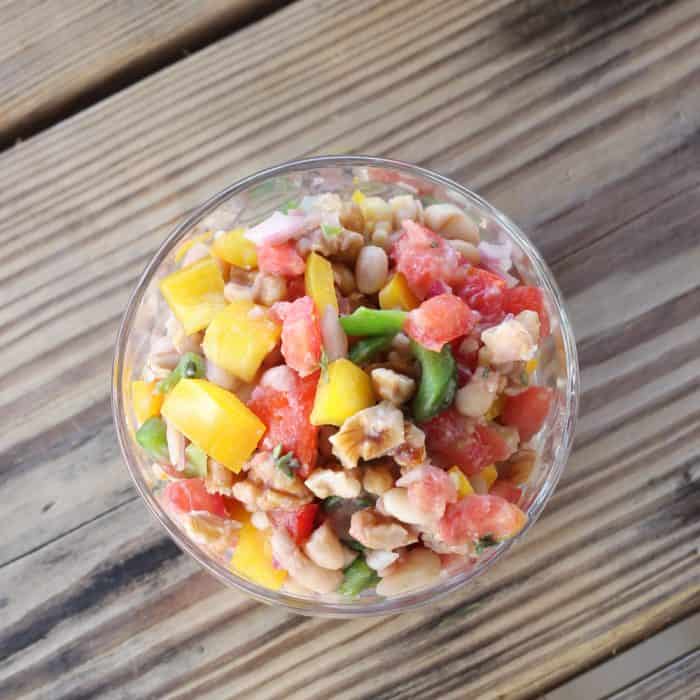 Enjoy this meal with any white fish you like. To be honest, I just used frozen & thawed tilapia. Not at all fancy but no one could tell and everyone was shocked that the fish was actually tilapia.
Base the amount of time you bake the fish on how thick your fish is. My fillets were quite thin, so they only took about 4 minutes. A thicker fish fillet will take a little longer so just keep an eye on them to make sure the walnuts don't burn. If they start getting too golden in color, you can cover the skillet with foil.
If you happen to loathe seafood or fish, this would be equally delicious made with chicken. And if you eat a vegetarian diet, feel free to only make the salsa. You won't regret it!
Oh and one last thing: don't forget to keep an oven mitt on the skillet handle. There's nothing more miserable than grabbing the skillet handle after it's spent 10 minutes in a 450 degree oven... Unfortunately, I know this from experience. I typically just leave a hot pad on the handle to remind myself.
And that, my friends, is that. Enjoy!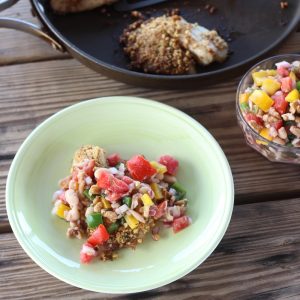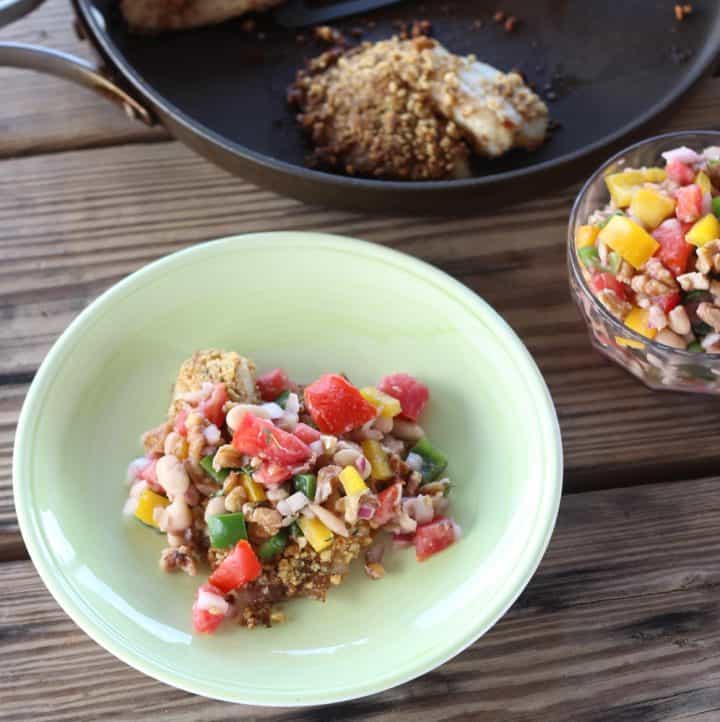 Walnut Crusted Fish with White Bean and Walnut Salsa
Walnut Crusted Fish with White Bean and Walnut Salsa is a delicious dish full of omega-3 fatty acids, fiber, and tons of tasty summer veggies
Print
Rate
Ingredients
For the salsa:
2 ½

cups

chopped tomatoes

2 medium tomatoes

1

cup

chopped yellow bell pepper

1 medium pepper

1

cup

chopped green bell pepper

1 medium pepper

½

cup

chopped red onion

½ medium onion

1

tablespoon

fresh thyme

¼

teaspoon

lemon zest

¼

cup

lemon juice

1

tablespoon

vinegar

½

teaspoon

salt

1

tablespoon

olive oil

15

ounce

can white beans

rinsed & drained

1 ½

cups

walnuts

chopped & toasted
For the fish:
4

4-6 ounce

fish fillets

2

cups

milk

½

teaspoon

cayenne pepper

divided

1

cup

walnuts

2

teaspoon

fresh thyme

1

teaspoon

lemon zest

½

teaspoon

garlic powder

½

teaspoon

salt

1

tablespoon

olive oil
Instructions
For the salsa
In a glass or plastic bowl, stir together tomatoes, yellow bell pepper, green bell pepper, red onion, fresh thyme, lemon zest, lemon juice, vinegar, salt, and olive oil. Carefully fold in the white beans. Set aside.
For the fish
Preheat the oven to 450*F.

Add the fish to a shallow dish and sprinkled with ¼ teaspoon cayenne pepper. Cover with milk and set aside.

Add the walnuts, fresh thyme, lemon zest, garlic powder, salt, and remaining ¼ teaspoon cayenne pepper to the bowl of a food processor.

Pulse walnuts until they turn into crumbs. Be careful not to blend the walnuts and turn it into walnut butter. Transfer half of the walnut mixture to a plate.

Heat a large oven-proof skillet over medium-high heat. Add the oil.

Take one fillet out of the milk and let excess milk drip off. Place the fillet onto the plate with the walnut mixture and press the fish into the mixture to get the walnuts to stick. Flip and repeat on the other side. Transfer to the skillet.

Repeat with a second fillet. Then add the remaining walnuts to the plate. Press any extra walnut crumbs onto the fish in the skillet.

Cook the fish in the skillet for about 4 minutes. Flip the fish and transfer the skillet to the preheated oven.

Cook for 5-8 minutes until the fish fillets are done. Remove from oven. Be careful to not hold the hot handle without an oven mitt.
To serve
Fold the toasted walnuts into the salsa. Taste and add a little salt if needed.

Plate the fish fillets and top with salsa. Enjoy!
Notes
*The salsa recipe makes 6 cups of salsa. Salsa keeps refrigerated for up to 4 days.
*Omit the ¼ teaspoon of cayenne pepper added to the walnut mixture for a less spicy dish.
What to Use in This Recipe
Did you try this recipe?
Be sure to leave a comment & recipe rating below. Bonus points for tagging @memeinge & #livingwellkitchen on Instagram! THANK YOU! xo
[showhide type="post" more_text="Click here for Nutrition Facts" less_text="Clear Nutrition Facts"]
*
Nutrition Facts
Walnut Crusted Fish with White Bean and Walnut Salsa
Serving Size
1 piece of fish + 4 tablespoons walnut salsa
Amount per Serving
% Daily Value*
* Percent Daily Values are based on a 2000 calorie diet.
*
[/showhide]