Wild blueberries add a powerful punch to this tangy & sweet smoothie that is fiber-filled, protein-packed, and full of probiotics
Disclosure: By posting this recipe I am entering a recipe contest sponsored by the Wild Blueberry Association of North America and I am eligible to win prizes associated with the contest. I was not compensated for my time.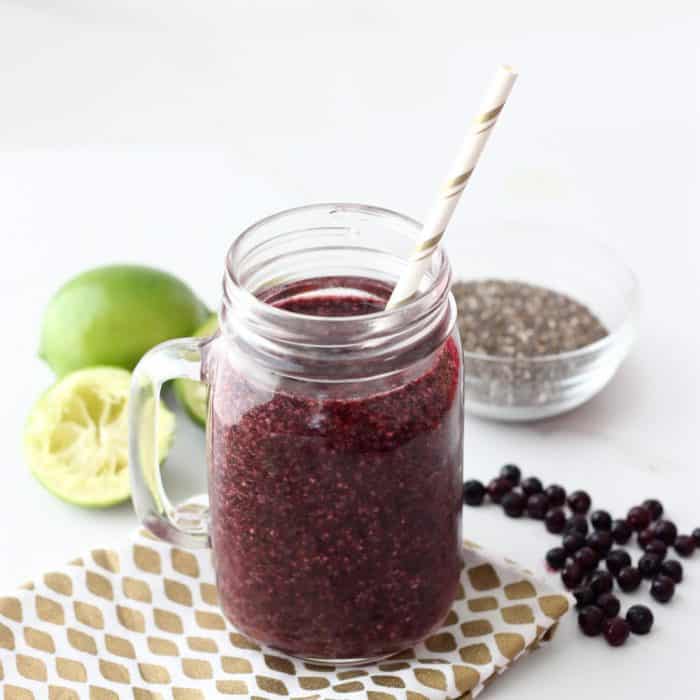 Just the thought of blueberries brings me to summer.
I can't get enough blueberries when they are in season. But when they're not in season, I still enjoy my beloved blueberries by buying them in their frozen form.
I usually just grab whatever the grocery store has, but recently I started buying wild blueberries because they're so incredible!
They look tiny, and when I think of tiny blueberries (especially when they are slightly purple/red) I think tart and usually don't feel that excited about them. But not wild blueberries! They may be tiny, but they are full of sweetness, not to mention lots of other goodness. Think antioxidants, fiber, and vitamins & minerals. Never underestimate the power something so small can have!
Wild blueberries actually have twice the antioxidants as regular blueberries, and since they are frozen, all the nutrients are preserved (as opposed to when a fruit is picked then transported to the store where it can gradually lose some of its nutrients as it sits on the store shelf).
[clickToTweet tweet="AD: @wildbberries add a powerful punch 2 this #vegan #smoothie filled w/ protein, fiber + probiotics" quote="AD: @wildbberries add a powerful punch 2 this #vegan #smoothie filled w/ protein, fiber + probiotics"]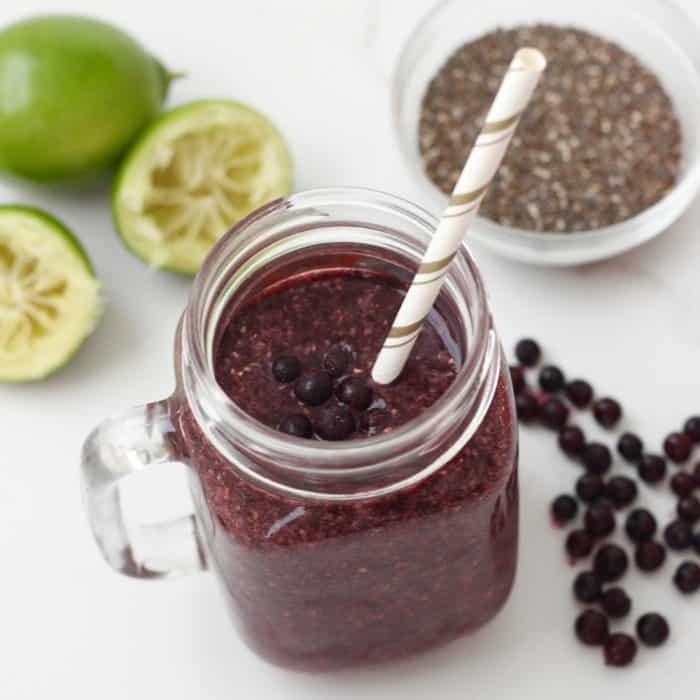 Typically, I put yogurt in my smoothies because I like the protein boost and wealth of nutrients + probiotics. Yay for a happy tummy.
But occasionally, I am either out of yogurt or I want to appeal to my non-dairy eating readers. So for this smoothie, I used chia seeds (like I've done before with great results) to add protein (and fiber, like whoa!!).
But what about probiotics? Everyone should be getting those beneficial bacteria in their bellies.
To remedy the lack of probiotics in this smoothie with only wild blueberries, spinach, chia seeds, and lime juice, I added kombucha. Kombucha is a fermented tea beverage, and it's packed with probiotics! Plus, it's slightly fizzy and a teeny tiny bit sweet.
I make my own kombucha because it's easy to do and saves me tons of money compared to buying it in the store. I also like that I can customize my flavors, and I love the fact that it looks like I have science experiments happening in my kitchen. #nerdalert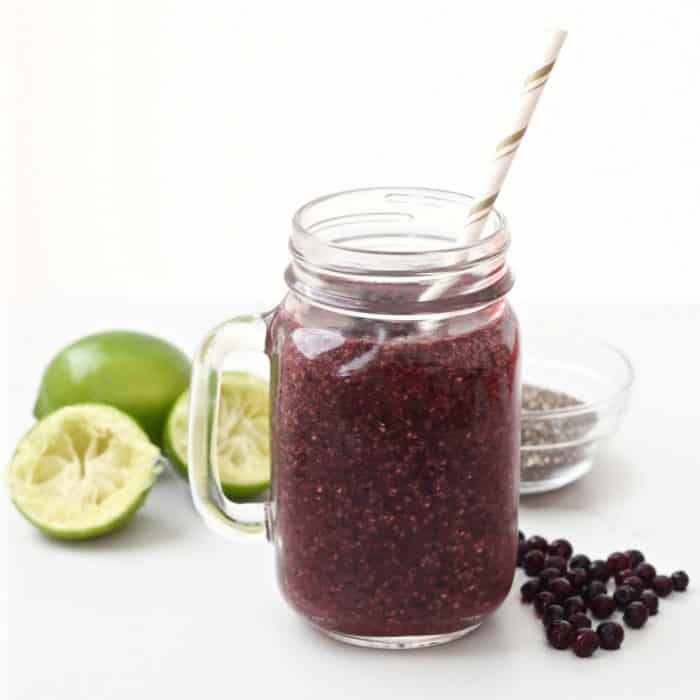 The kombucha not only adds its beneficial probiotics to this smoothie. It adds a fizzy component plus a whole other flavor dynamic not present in your typical smoothie. I love it! I'm pretty sure all of my future smoothies will now have kombucha in them.
If you've never tried kombucha, here's a little forewarning... It kinda smells (and tastes) like vinegar. Some people really don't love kombucha, but adding it into your smoothie is a great segue to get it in your day.
More importantly, the tiny blueberries have natural sweetness that balance out the tanginess of the lime juice and kombucha for a perfect flavor mashup.
If you like things really sweet, I recommend tasting the smoothie and adding a touch of honey if necessary (I didn't use it).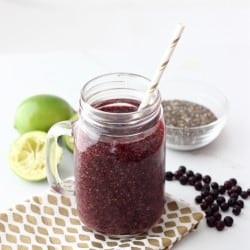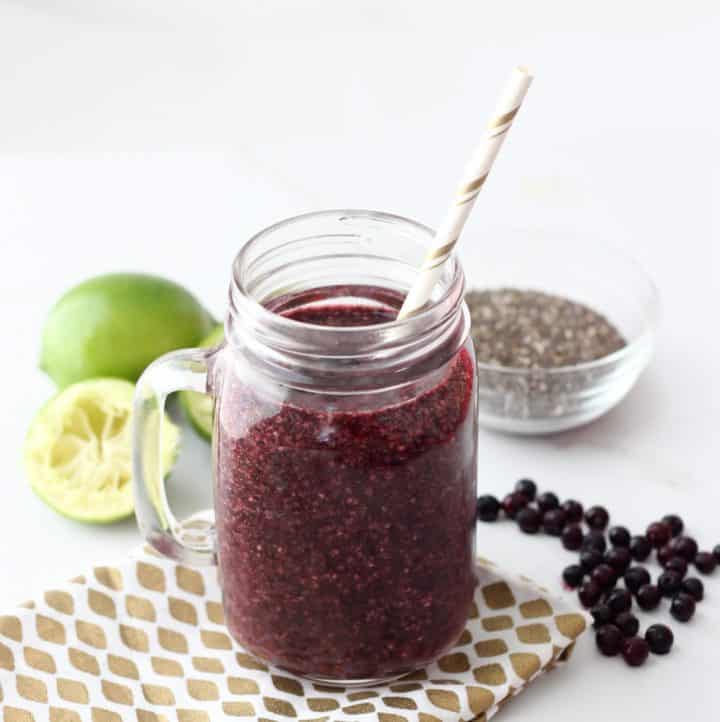 Wild Blueberry Limeade Smoothie
Wild blueberries add a powerful punch to this tangy & sweet smoothie that is fiber-filled, protein-packed, and full of probiotics
Print
Rate
Ingredients
1

cup

wild blueberries

1

cup

spinach

¼

cup

chia seeds

¼

cup

freshly squeeze lime juice

about 2 limes

½

cup

kombucha

½

cup

water

1

teaspoon

honey

optional
Instructions
Add all of the ingredients to a blender and blend until smooth. Taste and add honey if desired. Enjoy immediately 🙂
Notes
*Look for wild blueberries in your grocery store's frozen food section
*For vegan, use maple syrup or other sweetener if desired
Did you try this recipe?
Be sure to leave a comment & recipe rating below. Bonus points for tagging @memeinge & #livingwellkitchen on Instagram! THANK YOU! xo
[showhide type="post" more_text="Click here for Nutrition Facts" less_text="Clear Nutrition Facts"]
*
Nutrition Facts
Wild Blueberry Limeade Smoothie
Amount per Serving
% Daily Value*
* Percent Daily Values are based on a 2000 calorie diet.
*
[/showhide]
Meme
Tons of other bloggers have been posting their favorite way to use wild blueberries in smoothies. Be sure to find them using the #WildYourSmoothie hashtag on social media!
Have you ever tried wild blueberries?
Want more smoothies? Check out my Smoothie Pinterest board:
Follow Meme // Living Well Kitchen's board Smoothies on Pinterest.
Pin for later: