Learn how to make Ginger Berryade Kombucha which is a fizzy, delicious, probiotic-filled explosion of berries, ginger, and lemonade flavors. Includes a video so you know exactly what to do.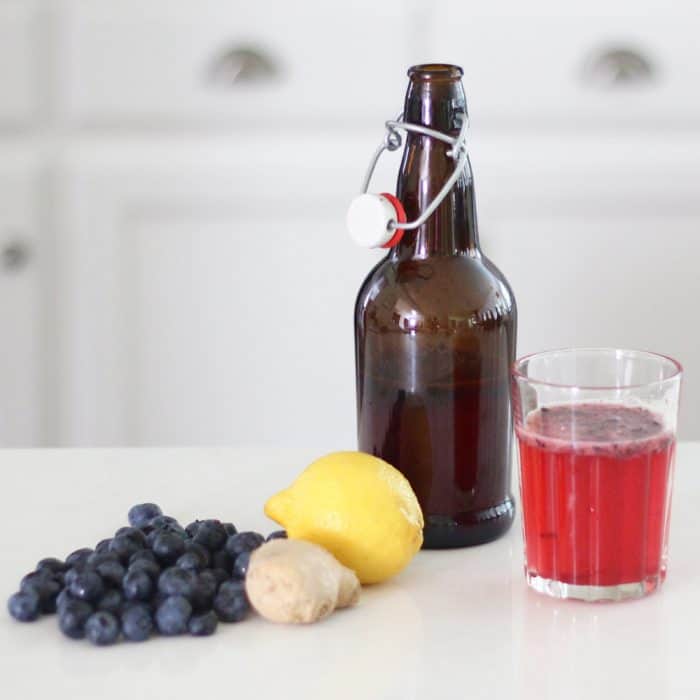 Remember when we made kombucha last month? Hopefully, your batch is ready to be bottled because I have a recipe for the best way to flavor your kombucha.
It's my absolute favorite flavor and be forewarned, it'll make you love kombucha.
You'll have to remember that you can't drink more than 8-16 ounces without running the risk of a little stomach upset (because of ALL the probiotics in the kombucha if your stomach isn't accustomed to them).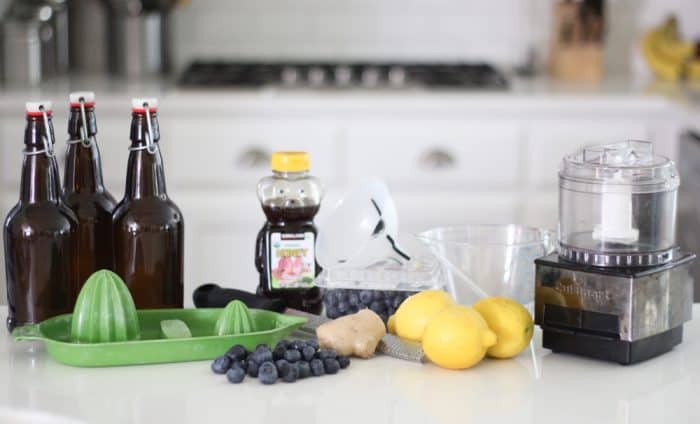 It's incredibly simple to make. You just need some kombucha, berries -- I prefer a combination of berries but the farmers market I went to that day was out of strawberries (wah?!) so I just grabbed blueberries. It's delish either way -- lemon juice, ginger, and some honey.
Honey is optional but I like adding a little.
It helps your kombucha be a little fizzier, and if you brew your kombucha for longer than 4 weeks, you're probably gonna want some honey to it to make it a little bit sweeter.
[clickToTweet tweet="Ginger Berryade #Kombucha is a fizzy, delicious, probiotic-filled explosion of delicious flavors!" quote="Ginger Berryade #Kombucha is a fizzy, delicious, probiotic-filled explosion of delicious flavors!"]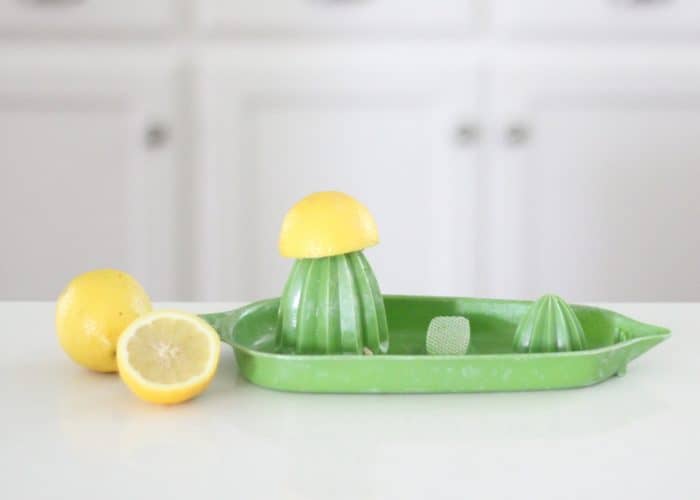 Juice your lemon(s) and grate the ginger then put all the ingredients in a little food processor or blender, and blend away.
Then transfer it into your desperately-needing-some-flava bottled kombucha.
You can immediately transfer this to the fridge, but a second fermentation helps the flavors blend a little more; plus it makes it fizzier and fizzier is more fun, amiright?
So just stick those flavored bottles on the counter next to your next batch of kombucha and let ferment for another day or two.
Pop them in the fridge (to stop the fermentation) and grab a bottle when you're ready for fizzy, delicious, probiotic-filled explosion of flavors.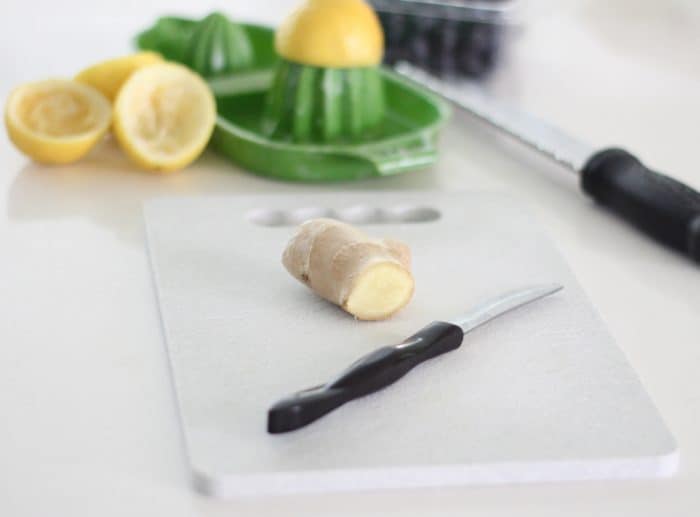 Fun fact: drinking too much kombucha in one day can make your stomach unhappy.
So drink this stuff cautiously, and by cautiously I mean don't drink 48 ounces in one day.
Even if you want to.
It's that good.
Basically, if you're trying to get on the kombucha train but you think it tastes too much like vinegar, this is the way to go!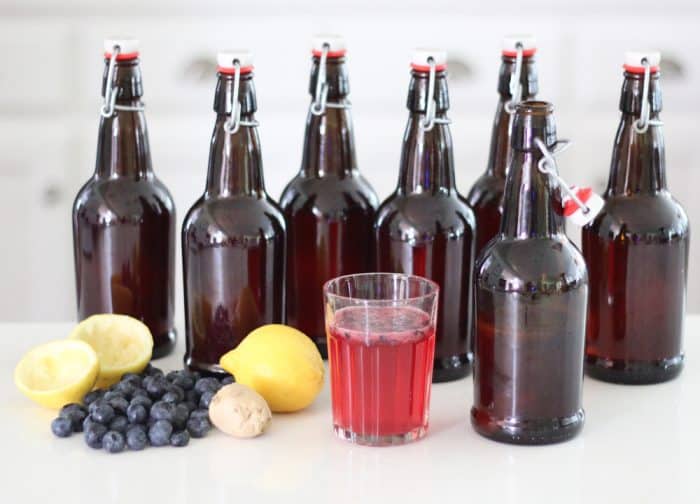 Here's the video for your viewing pleasure.
I also included the recipe that you can print as well as the video transcript at the bottom of the post.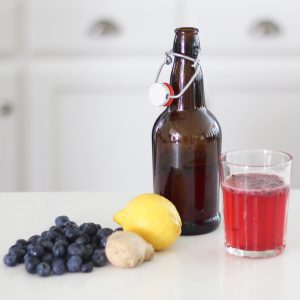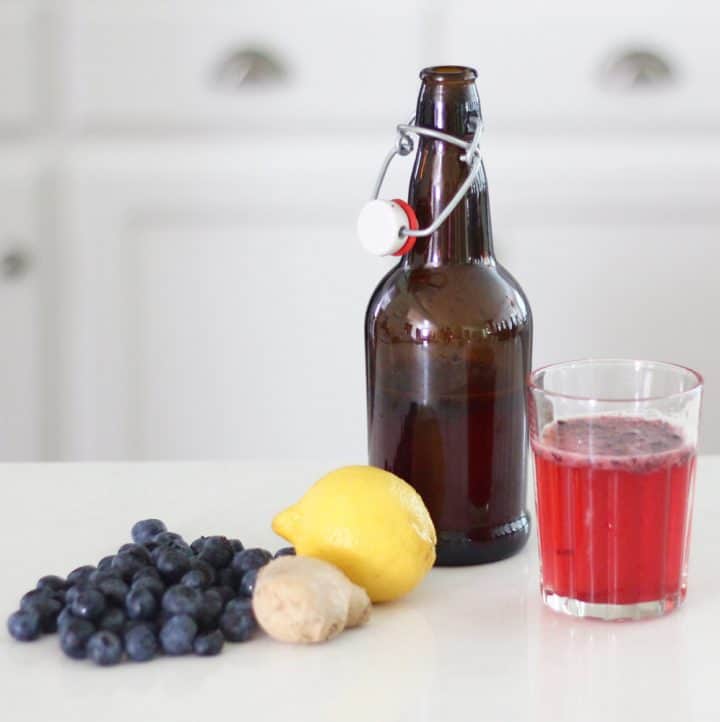 Ginger Berryade Kombucha
Ginger Berryade Kombucha is a fizzy, delicious, probiotic-filled explosion of the delicious flavors of berries, ginger, and lemonade.
Print
Rate
Ingredients
14

cups

kombucha

ready to be bottled

1

cup

berries

any berries

2

lemons

enough to make ⅓ cup lemon juice

1

tablespoon

honey

1

inch

piece of fresh ginger
Instructions
Add berries to a mini food processor.

Juice 1 to 2 lemons to make ⅓ cup lemon juice. Add the lemon juice to the food processor

Peel and grate the fresh ginger and add to the food processor.

Add a tablespoon of honey if desired. If you brewed your kombucha for a longer amount of time you might want to add two tablespoons because it won't be as sweet

Blend all the ingredients until smooth. Transfer to a cup.

Using a funnel, add a few tablespoons of the mixture into your bottles with brewed kombucha.

Close the bottles and transfer to a cool place for a day or two for a second ferment.

Refrigerate after one or two days because refrigeration stops the fermentation.

When you're ready to drink, carefully pop open the bottle, pour, and enjoy!
Video
Notes
*From one batch of kombucha, you'll get about 14 cups
*Any berries work. I prefer blueberries or strawberries or a combination of both
*A one inch piece will give you about 1 tablespoon of fresh ginger
*This mixture makes about 1 cup (or 16 tablespoons). An average batch of kombucha will make about 14 cups which is about 7 (16 ounce) bottles, so you will probably use between 2 and 3 tablespoons per bottle.
*A second ferment will help the flavor develop a little more and cause your kombucha to be fizzier.
Did you try this recipe?
Be sure to leave a comment & recipe rating below. Bonus points for tagging @memeinge & #livingwellkitchen on Instagram! THANK YOU! xo
Here's what I use for this reicpe:
Here's what I use to make the Kombucha: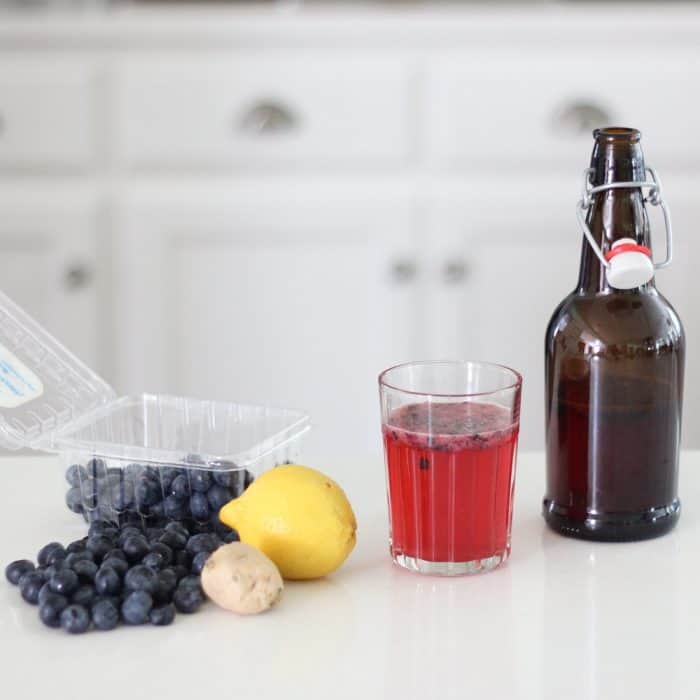 Video Transcript:
Ginger Berryade Kombucha
[You'll need
brewed kombucha ready to be bottled
1 cup berries. Any berries work. I prefer blueberries or strawberries or a combination of both
2 lemons or enough to make ⅓ cup lemon juice
1 tablespoon of honey
1 inch piece of fresh ginger
a mini food processor or blender, a funnel, a measuring cup, a microplane grater, and a citrus juicer if desired
Add one cup of berries to a mini food processor.
Juice 1 to 2 lemons to make ⅓ cup lemon juice. Add the lemon juice to the food processor
Peel and grate the fresh ginger and add to the food processor. A one inch piece will give you about 1 tablespoon of fresh ginger
Add a tablespoon of honey if desired. If you brewed your kombucha for a longer amount of time you might want to add two tablespoons because it won't be as sweet
Blend all the ingredients until smooth
Transfer to a cup
Using a funnel, add a few tablespoons of the mixture into your bottles with brewed kombucha. An average batch of kombucha will make about 14 cups which is about 7 (16 ounce) bottles, so you will probably use between 2 and 3 tablespoons per bottle.
Close the bottles and transfer to a cool place for a day or two for a second ferment. This will help the flavor develop a little more and cause your kombucha to be fizzier.
Refrigerate after one or two days because refrigeration stops the fermentation.
When you're ready to drink, carefully pop open the bottle, pour, and enjoy! ]
Meme
Pin for later: