Miso dressing is an easy, versatile sauce that adds a flavorful punch to any dish! This tasty, vegan sauce makes everything taste better.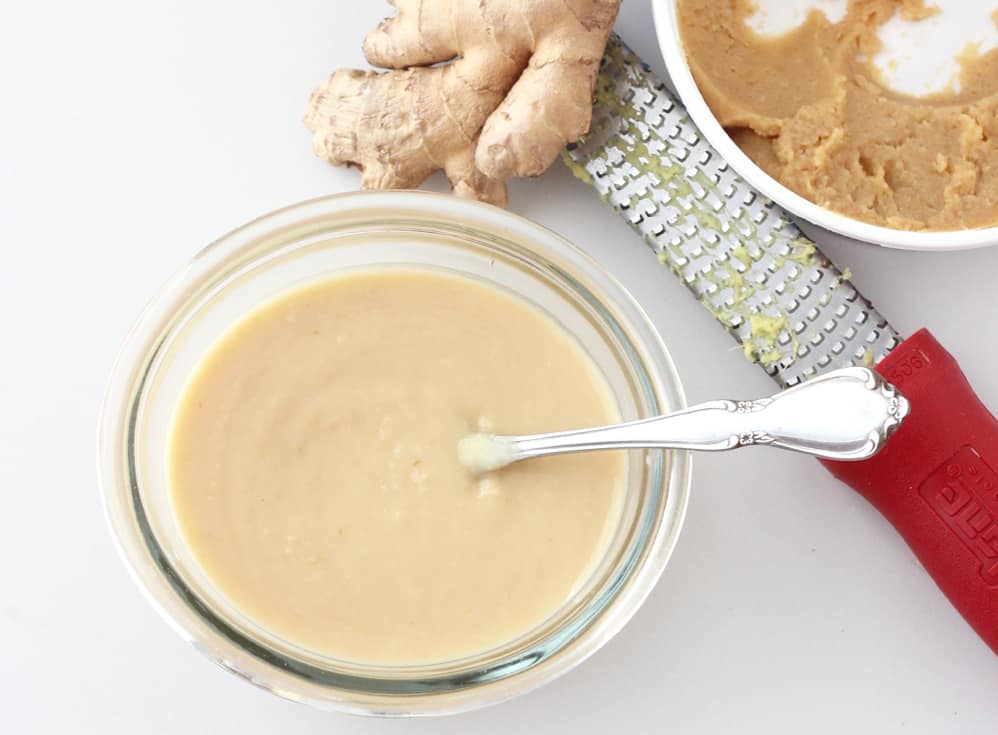 About Miso Sauce
Miso has a rich, irreplaceable umami flavor, so if you're looking to level up a meal or dish, this miso sauce recipe undoubtedly does the trick.
Mixed with grated ginger, a touch of sesame oil, and some vinegar to brighten the miso sauce, you'll love the combination of flavors that can be used as a sauce for chicken, fish, tofu, sauteed or roasted veggies, or salads.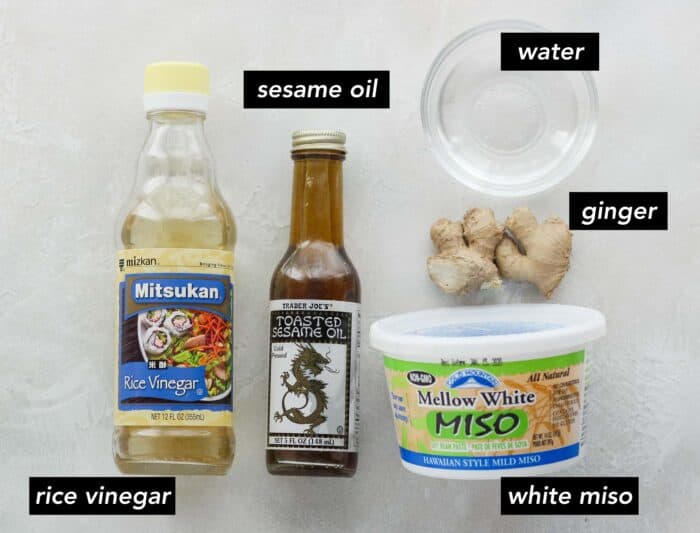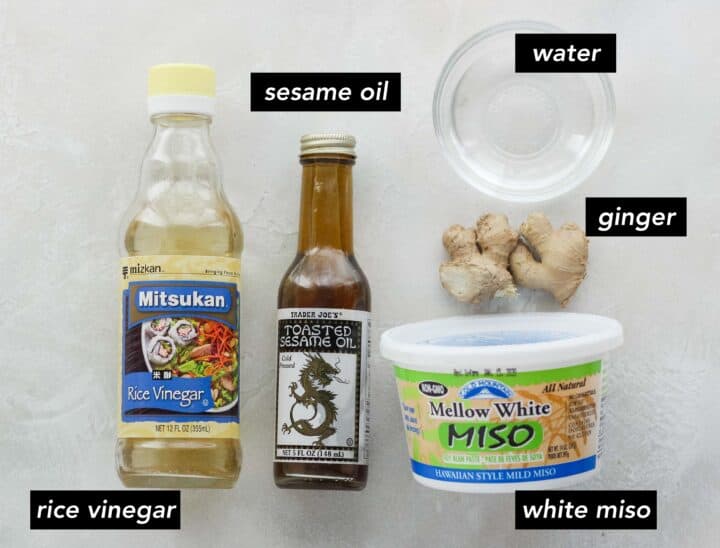 Ingredients
Ginger: Fresh ginger is what you'll need for this miso sauce. Peel and grate the ginger to start. You can also finely mince the ginger, but I like to grate it so it mixes into the sauce more evenly.
Miso: White miso, or Shiro miso, is the type of miso used in this recipe. It has a more mild flavor and is easier to find than other miso varieties. Be sure you always use a clean spoon to scoop out miso paste so you don't contaminate the miso paste, which can last for a long time in the fridge.
Rice vinegar: The vinegar adds some acidity to this rich sauce that helps brighten it. I usually use rice vinegar or rice wine vinegar, depending on what is in my pantry (or what the store has available). You can substitute with apple cider vinegar, white vinegar, white wine vinegar, or lime juice.
Sesame oil: Either toasted sesame oil or regular sesame oil will work well. Remember that a little bit goes a long way with sesame oil, so don't go overboard here. Also, taste your sesame oil before using it because it can easily go bad (in fact, I like to keep my sesame oil in the fridge to help prevent it from going rancid too quickly).
Water: Pretty self-explanatory but you'll use the water to thin the sauce out a little bit. You can use less what for a thicker sauce or more water for a thinner sauce.
Cost of Recipe
Ginger 1 teaspoon: $0.36
Miso paste 4 tablespoons: $0.92
Rice vinegar 3 tablespoons: $0.21
Sesame oil 1 teaspoon: $0.09
Water 2 tablespoons: $0
TOTAL COST: $1.58 or $0.40/serving (Based on San Diego Sprouts 2021)
Note this is not the recipe; it's simply to show the cost breakdown of ingredients. Be sure to scroll down to the full recipe to see the specific ingredients and directions.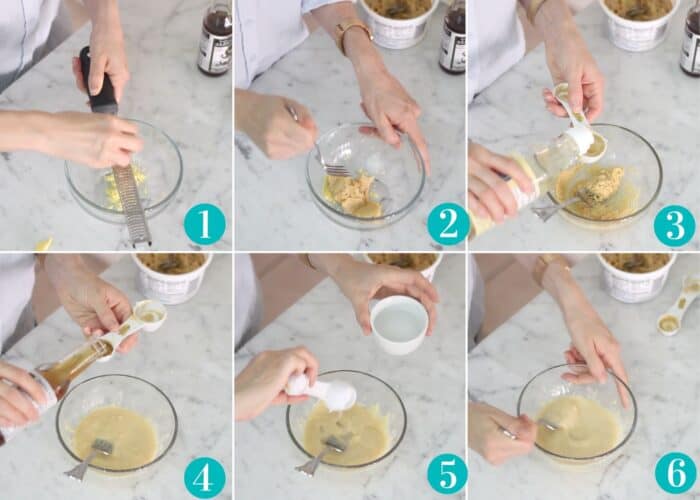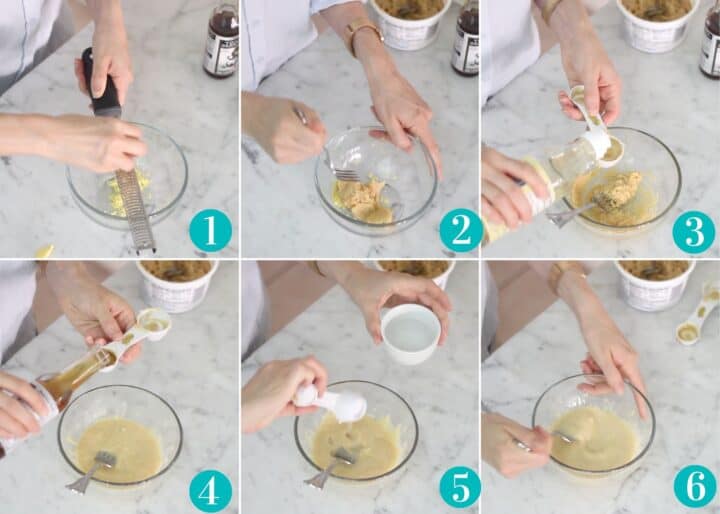 How to Make Miso Sauce
Time needed: 5 minutes.
It is so easy to make this miso sauce. Simply grate the fresh ginger then you whisk everything together, and you're done! Here are the exact steps for how to make miso dressing:
Grate the fresh ginger into a bowl.
Add miso.

Stir ginger and miso together.

Add vinegar.

Stir together.

Add sesame oil.
Add water.
Stir together.

Enjoy!
Miso Sauce Recipe Tips
Variations
Ingredient Options
Miso: If you'd like a richer miso flavor, use yellow or red miso.
Vinegar: In place of the rice vinegar in this miso sauce, use rice wine vinegar, apple cider vinegar, white vinegar, white wine vinegar, or lime juice.
Oil: Either sesame oil or toasted sesame oil will work. I typically use toasted sesame oil because it seems to be easier to find. In a pinch, olive oil or peanut oil could work. However, you will be missing a flavor component that could dull the sauce a little. You might want to try adding a little more olive oil if needed because it doesn't have as strong of a flavor as sesame oil does.
How to Make Allergy Friendly
This miso sauce recipe is already gluten-free, nut-free, egg-free, and dairy-free. Because miso is made from soybeans, it is not soy-free and can't be made soy-free.
How to Fix a Mistake
Too thin: If you want a thicker sauce, add a teaspoon of miso paste until it has the consistency you like. You might also want to add a little extra grated ginger.
Too thick: Add extra water 1 tablespoon at a time. You could also add broth if you want to thin it out without diluting the flavor too much.
Too much miso: Add additional water or broth to taste. Start with 1 tablespoon of liquid at a time. If the ginger or vinegar flavors become too muted, add more grated ginger or vinegar one teaspoon at a time to taste.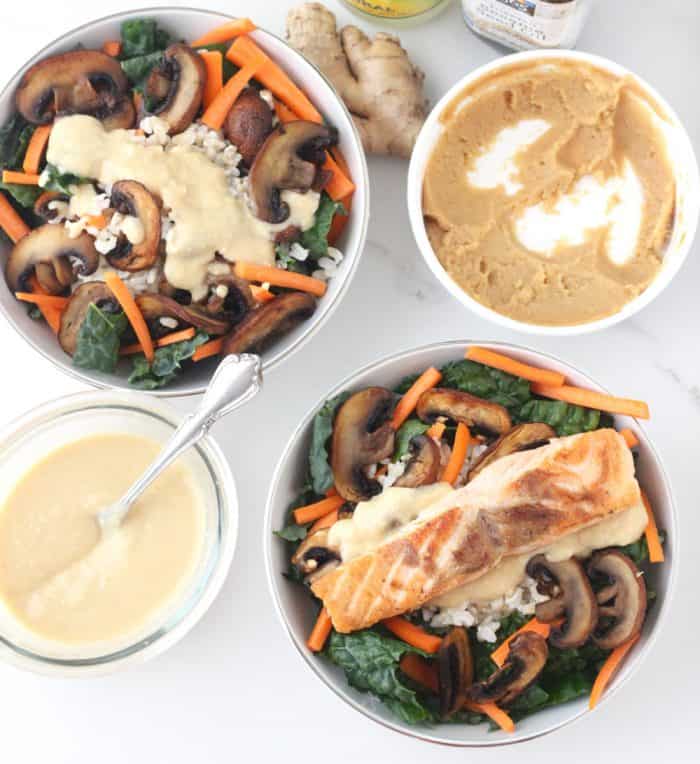 Make Ahead Ideas
This miso sauce is best if you make it ahead of time, so it has time to develop the flavors. And I love that I can keep this in the fridge for more than just a few days.
Miso Sauce Storage Suggestions
Keep this in an airtight glass or plastic container in the fridge for up to 2 weeks. It is possible to freeze the miso sauce for up to 6 weeks, but the texture will possibly change once thawed.
Frequently Asked Questions
What is Miso Paste
Miso is a soybean paste that is fermented with koji (or koji mold) and salt. There are different types of koji used to ferment the miso including rice koji, barley koji, and soybean koji. It is fermented for 3 months up to 3 years.
Why Should You Eat Miso
Miso is great and not just because it adds a unique flavor.
Since miso is fermented, it is packed with beneficial bacteria that aid in digestion (i.e. probiotics).
Miso is full of vitamins & minerals including copper, manganese, and Vitamin K. It also has phytonutrients, including antioxidants, phytosterols, and soy isoflavones.
Different Types of Miso
Generally speaking, the color of miso is based on the fermentation period as well as what the soybeans are fermented with and how much.
White miso (the kind used in this recipe) is lighter since it is fermented for a shorter period of time, and it is fermented with a large percentage of rice koji.
If you are just starting out with miso, I recommend white miso. It's also better for more mild flavors like sauces and dressings. Plus, white miso is typically easier to find at most grocery stores.
Red miso is fermented with a higher percentage of soybeans and it is fermented for a longer period of time. As a general rule of thumb, the darker the miso means the longer the fermentation process, and the more intense the flavor.
There are a variety of miso types to explore. For more interesting info on miso, check out the Umami Information Center website.
Where to Find Miso
You can find miso in your grocery store's refrigerator section.
It's usually in health food stores and most large grocery stores. I've found miso at Whole Foods, Sprouts, Rouses, Von's, Ralph's, and some Trader Joe's.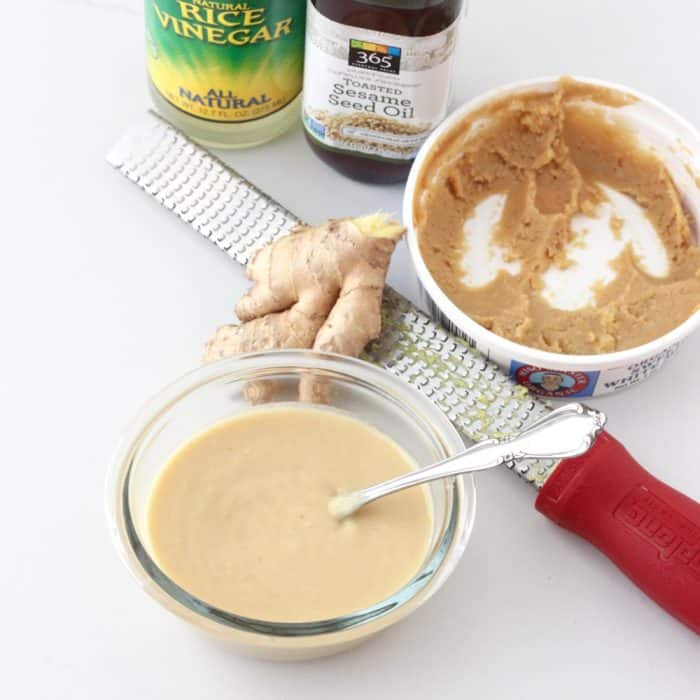 What Does Miso Dressing Taste Like
This miso dressing is indescribably good. The flavors are hard to pinpoint, but they all work together so well.
Salty, earthy, slightly fishy (in a good way), savory miso mixes with peppery & fragrant ginger, acidic vinegar, and rich sesame oil.
Miso has such an interesting flavor that you just need to try it to understand. If you've ever had miso soup, you'll know what I mean. Honestly, there is no substitute for miso because its flavor is so unique.
How to Use Miso Sauce
This miso sauce is quite versatile and adds a flavorful punch to any dish.
A Miso Brown Rice and Kale Bowl is perfect for using your miso sauce, but some of my favorite ways to enjoy this miso dressing are to add it with your sushi, served with tuna or salmon, tossed with cooked chicken, drizzled over sauteed green beans or broccolini, or made into a potato salad.
Miso dressing changes a boring salad into a delicious one and can make any meal more exciting. It's a great way to start incorporating more miso into your life.
Nutrition Benefits
Not only is this miso sauce delicious, but it's also highly nutritious. Plus, since sauces make everything taste better, it might encourage you to try new foods and have more variety in your diet.
Since miso is fermented, it contains probiotics, specifically A. oryzae from the koji. This probiotic has been linked to anti-tumor effects and anti-inflammatory effects on some digestive disorders. The koji has also been studied as a prebiotic, a substance that feeds the helpful bacteria in your body.
Miso is full of vitamins & minerals including copper, manganese, and Vitamin K. Plus, it has phytonutrients, including antioxidants, phytosterols, and soy isoflavones.
Ginger is also anti-inflammatory and has antioxidant benefits. Additionally, it can help with nausea and indigestion.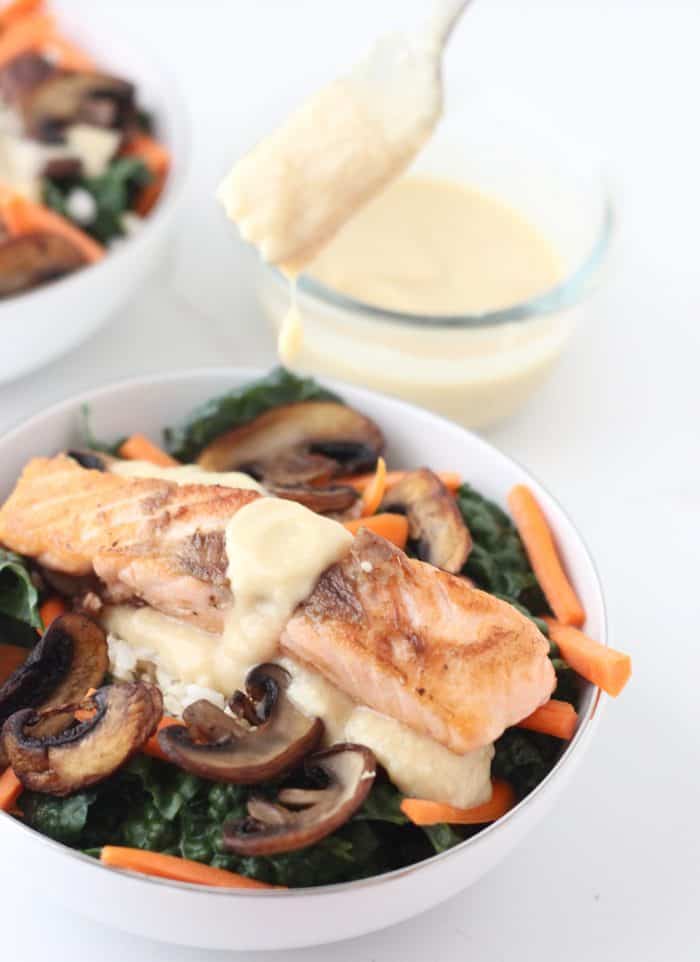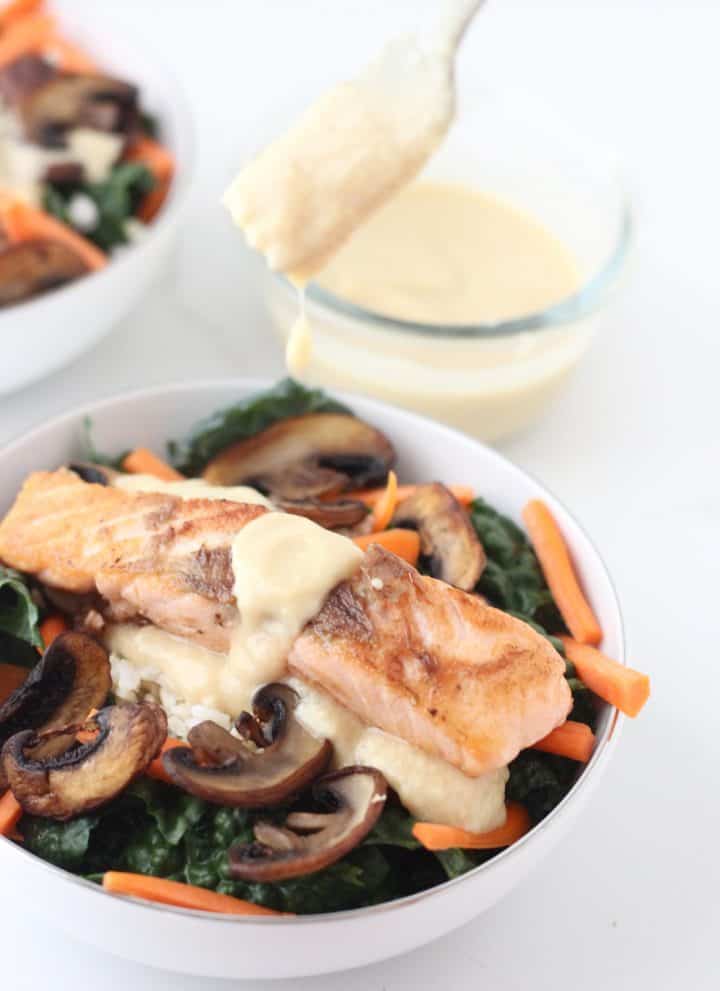 Final thoughts:
Keeping a jar of this homemade miso sauce in the fridge will make you so happy. Serve it on almost anything to keep your dishes from being boring. You can use it as a sauce, as a dressing, or even as a marinade.
MORE MISO RECIPES YOU'LL LOVE: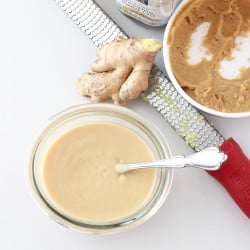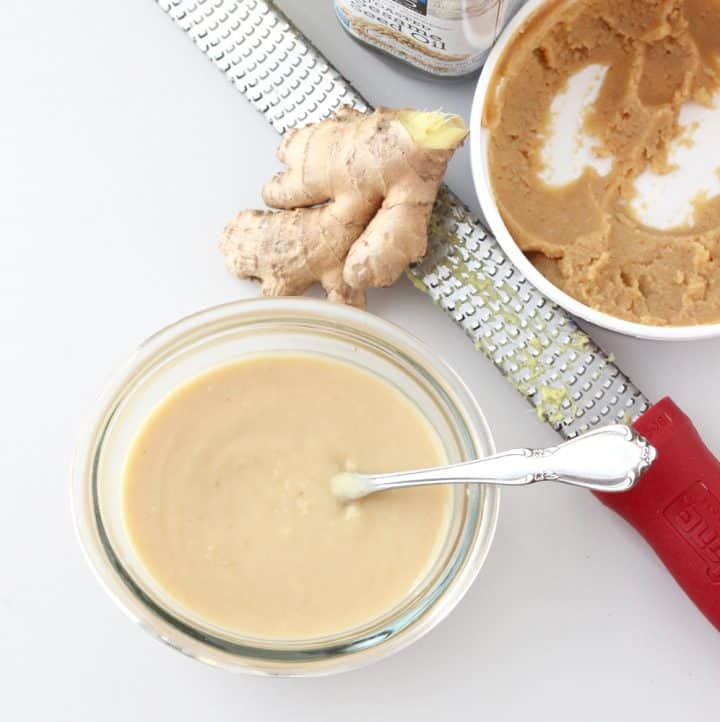 Miso Sauce
Miso dressing is an easy, versatile sauce that adds a flavorful punch to any dish! This nutritious, vegan sauce makes everything taste better.
Print
Rate
Total Cost:
$1.58 or $0.40/serving
Instructions
Whisk together all ingredients. Cover and refrigerate until use.

Keeps for about 1-2 weeks, tightly covered, in the fridge.
Video
Notes
*Makes ½ cup sauce
*Add 1-2 teaspoons more miso paste if you want a richer miso flavor.
*Rice wine vinegar, white vinegar, white wine vinegar, apple cider vinegar, or lime juice can be used in place of rice vinegar.
*Sesame oil can be toasted or regular.
What to Use in This Recipe
Did you try this recipe?
Be sure to leave a comment & recipe rating below. Bonus points for tagging @memeinge & #livingwellkitchen on Instagram! THANK YOU! xo
Meme
This post was originally published on March 28, 2016. Text, recipe, and photos have been updated.
---
Miso Sauce Nutrition Facts:
Nutrition Facts
Miso Sauce
Serving Size
2 tablespoons
Amount per Serving
% Daily Value*
* Percent Daily Values are based on a 2000 calorie diet.
Doesn't this recipe look good?! You should probably share it: