How to make a super simple, five ingredient chocolate sauce made with chocolate chips. This easy homemade chocolate sauce recipe is great for drizzling over desserts like cheesecake, dipping for fruit, or topping ice cream!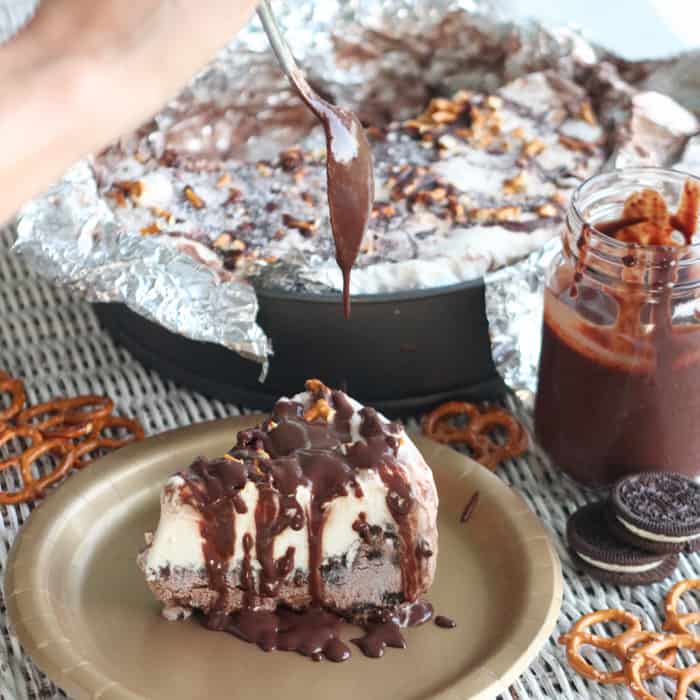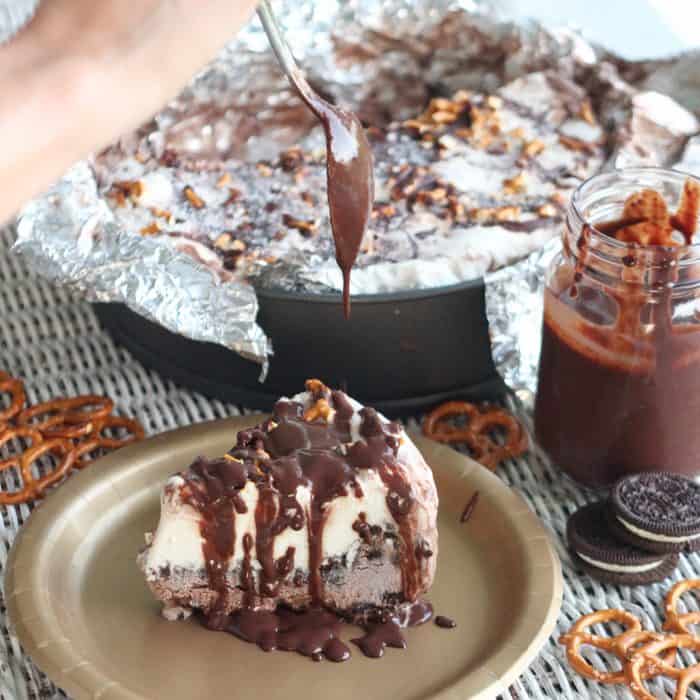 I made this easy homemade chocolate sauce to put on a recipe in my future cookbook I'm working on with my grandmother Nan, and it's basically the easiest and best ice cream cake/pie thing ever. And this is coming from an ice cream cake obsessed family.
The original recipe for the chocolate sauce came from Nan via text message. It called for light Karo corn syrup, but I didn't want to buy corn syrup.
I have some in my pantry at home, but I just couldn't bring myself to purchase it for the weekend just to make the sauce for an ice cream pie in which the sauce would not be the star. Little did I know that the star would, in fact, be the chocolate sauce. (Ok, well the ice cream pie and the chocolate sauce were equally loved)
Luckily, we're all family because I'm pretty sure every person dipped their finger in the saucepan with the chocolate sauce in it at least once. The good news is that Karo syrup was not a make or break ingredient, and stirring together the sugar and water was completely sufficient.
The other thing I changed regarding the original recipe is that I used milk instead of cream.
The most important thing is that with all those changes it's still just as delicious! Love it when that happens, and it ends up being really good.
Why you should make this chocolate sauce recipe
Everyone needs a good homemade chocolate sauce recipe, and this one is ever so simple. A few steps is all it takes to have a homemade sauce, and you only need four ingredients!
And if you've ever wondered how to make chocolate sauce with chocolate chips, now ya know!
How to Make Chocolate Sauce with Chocolate Chips
Like I said before, this is super simple.
Put sugar + water in a saucepan.
Add milk.
Simmer.
Stir in chocolate chips until smooth, and add vanilla.
Pour over everything because this stuff is magical.
Tips for Making Easy Chocolate Sauce
There aren't too many special things you need to know about this chocolate sauce.
The only main thing I want to stress is that this is more of a drizzling sauce and not as thick. However, if you serve it straight from the fridge, it is pretty thick and can hold up on a spoon (unlike the photo below which is when it was slightly warm or room temperature).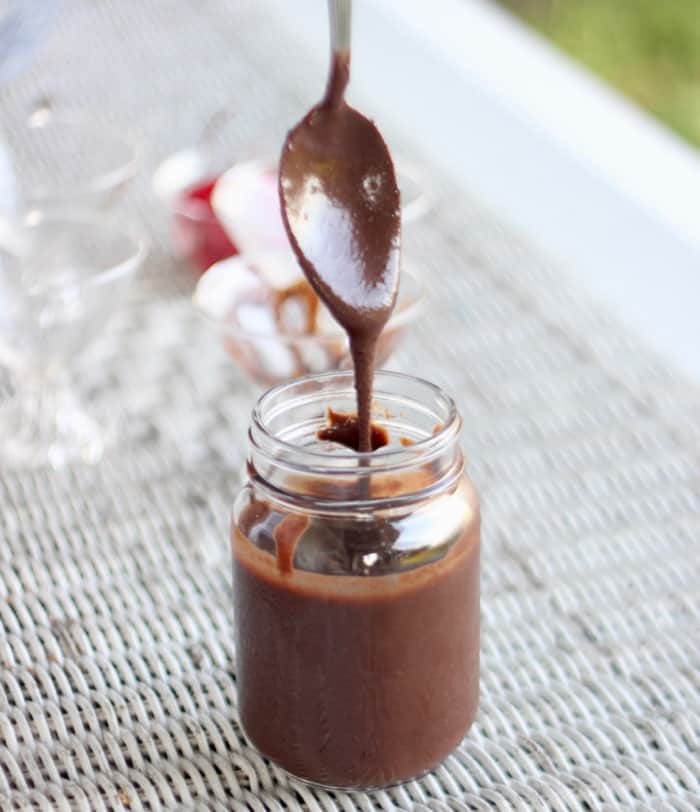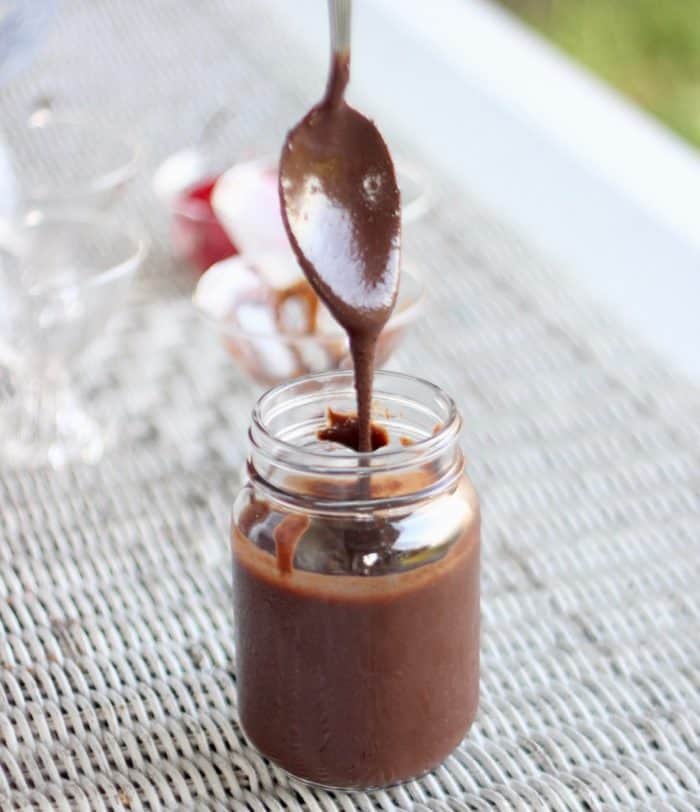 Make Ahead Tips
This is great for making ahead of time, and it keeps in the fridge for up to 10 days or in the freezer for 2 months. No need to do anything special to make this ahead of time. Prepare as directed then transfer to a container, and refrigerate or freeze.
If you are freezing this, I recommend freezing it in smaller portions so you don't have to defrost the entire batch to get some of this chocolate sauce in your life.
Nan always has this in her freezer because it's so easy to heat up and serve with ice cream for an effortless yet lovely dessert that everyone loves.
Variations & Substitutions
Allergy substitutions:
This can easily be made dairy free by using dairy free chocolate chips and a non dairy milk like almond milk. The sauce might be a little bit thinner, but it will still be delicious.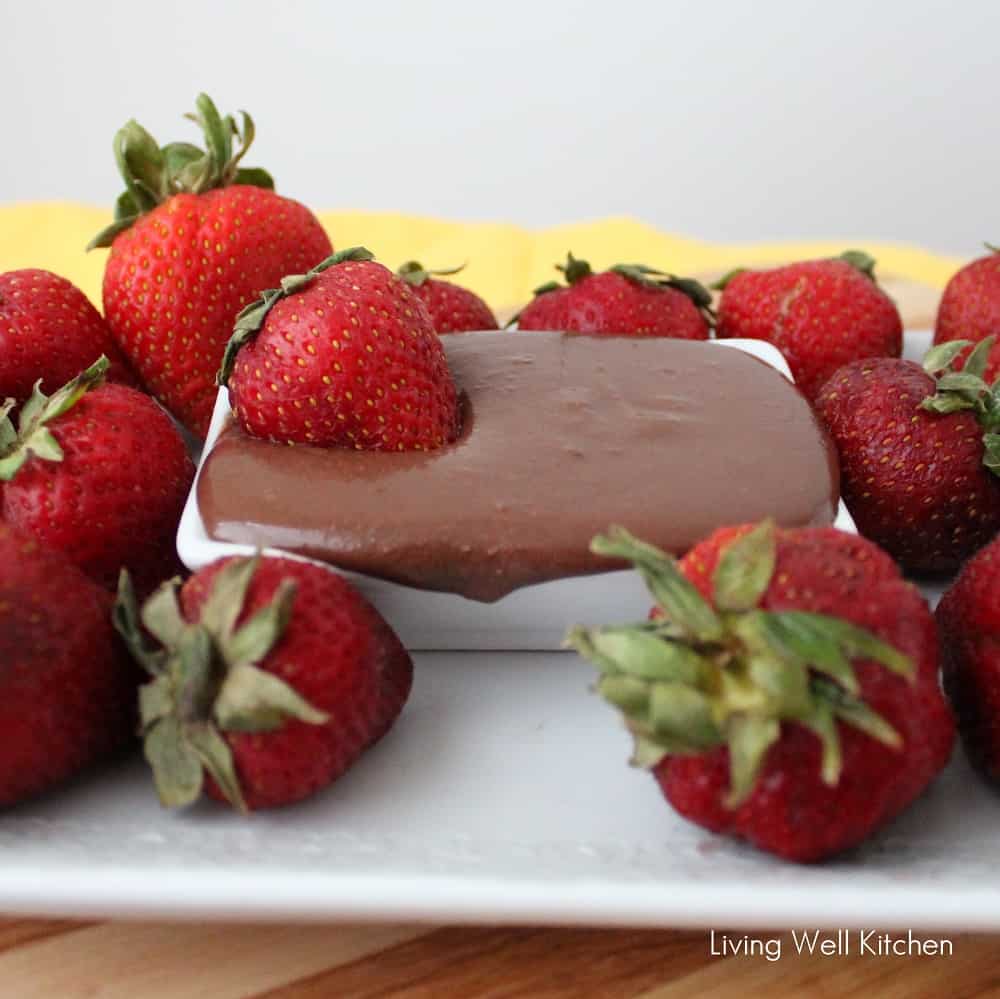 What to serve with this chocolate sauce
The most important thing to serve with this chocolate sauce is this Easy Ice Cream Cake. If you make the chocolate sauce and you don't make that ice cream cake, you are severely missing out!
But this chocolate sauce is great drizzled over ice cream, cheesecake, apple slices, brownies, cookies, anything!
We actually made s'mores using this sauce. Here's how:
Spread the chocolate sauce (right from the fridge so it's thicker) onto the inside of half of a graham cracker and set aside.
On the other half of a graham cracker, place a large marshmallow.
Microwave for 10-30 seconds — depending on your microwave — until it puffs up.
Remove from the microwave and smash it on top of the chocolate. Enjoy!
You can also make apple nachos with it by drizzling the warm chocolate sauce over sliced apples. Sprinkle with chopped nuts for a little extra protein, and enjoy!
Final thoughts:
It's definitely more saucy than it is thick, so take that into consideration when you are preparing this. You can eat this homemade chocolate sauce over ice cream or cheesecake, with strawberries or apple slices for dipping, spoon over apple slices, or whatever.
I love making apple nachos with sliced apples, this chocolate sauce, and some chopped nuts. It's similar to the apple nachos with homemade caramel sauce — so tasty!
---
MORE CHOCOLATE RECIPES YOU'LL LOVE:
---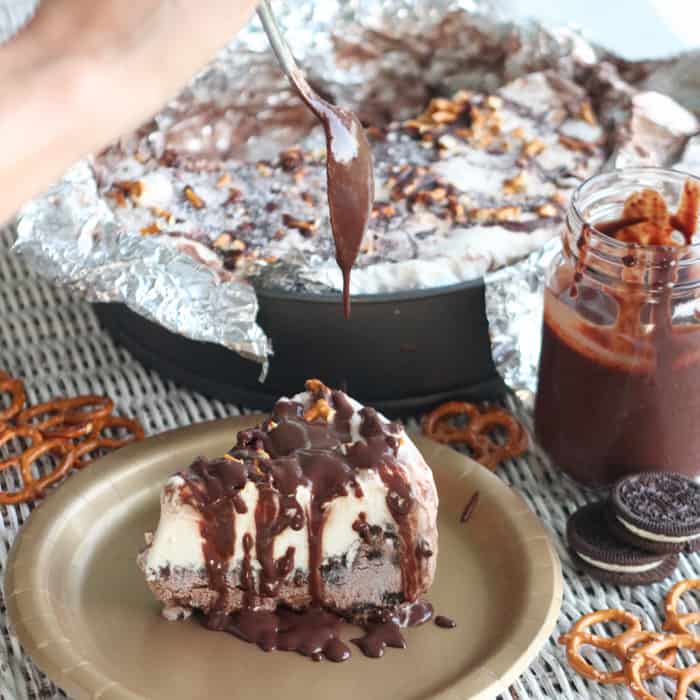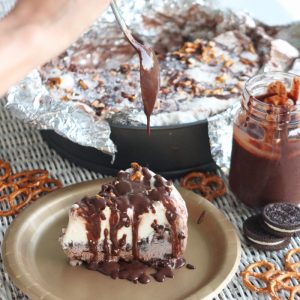 Easy Chocolate Sauce
A super simple, four ingredient recipe for chocolate sauce that uses chocolate chips. Great for dipping, topping, or really anything!
Print
Rate
Instructions
Stir together the sugar and water in a medium saucepan and heat over medium. After 2 minutes, add in milk. Bring to a simmer.

Add in chocolate chips, and remove from heat. Stir until chocolate chips are completely incorporated. Add vanilla extract, and stir until smooth.

Serve warm or cold. Keep refrigerated for up to 2 weeks (or freeze for a month or so).
Notes
*Makes 2 cups
*This has a thin, drizzling consistency. If you want a thicker sauce, use directly from the refrigerator. You can also try using 2 tablespoons of water instead of 1/3 cup. 
Did you try this recipe?
Be sure to leave a comment & recipe rating below. Bonus points for tagging @memeinge & #livingwellkitchen on Instagram! THANK YOU! xo
What to use in this recipe:
---
Meme
Doesn't this recipe look good?! You should probably share it for later:
74