A combo of warming spices makes these soft whole-grain Ginger Cookies without Molasses perfect for the holidays and Christmas time.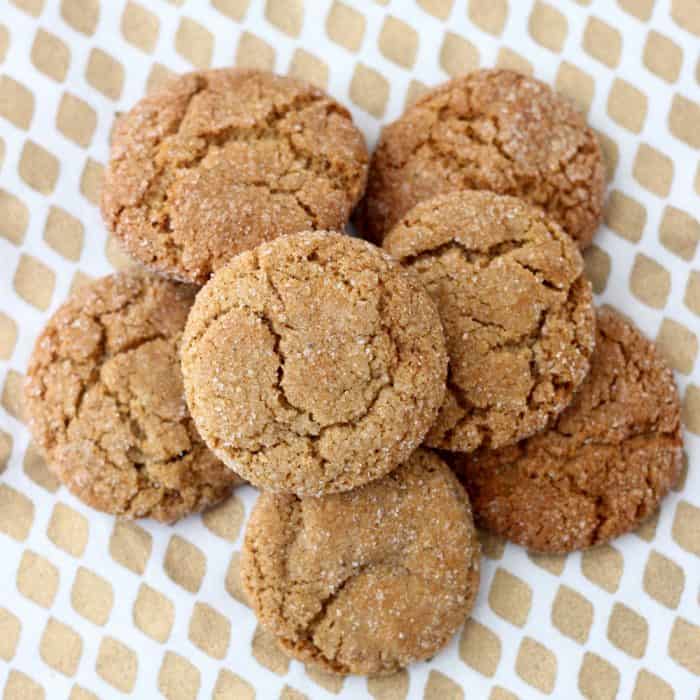 About Soft Ginger Cookies without Molasses
Ohhhh these ginger cookies... they're Christmas in cookie form.
They have that warm ginger flavor with hints of cinnamon, cloves, & nutmeg. But none of the flavors are too pronounced. They all just blend together perfectly and make sheer merriment in a cookie.
Make sure you prepare the dough in advance. That's what makes these cookies so great. All the flavors need time to hang out & spend time together so they can get to know each other well. But every second of waiting is worth it for these!
Lucky for me and my empty pantry, there is no molasses in these soft gingersnap cookies. Instead of using molasses in the gingersnaps, you'll use a combo of granulated sugar, brown sugar, and honey.
Meaning you don't have to go to the grocery store to buy molasses just to make cookies and then forget about it in your pantry (if you do have some molasses, I highly suggest making your own BBQ sauce).
When I first made these cookies, the girls I babysit for loved them the most out of the 5 different cookies we tested, and I agreed. They continued to be loved by my friends and family and all of you!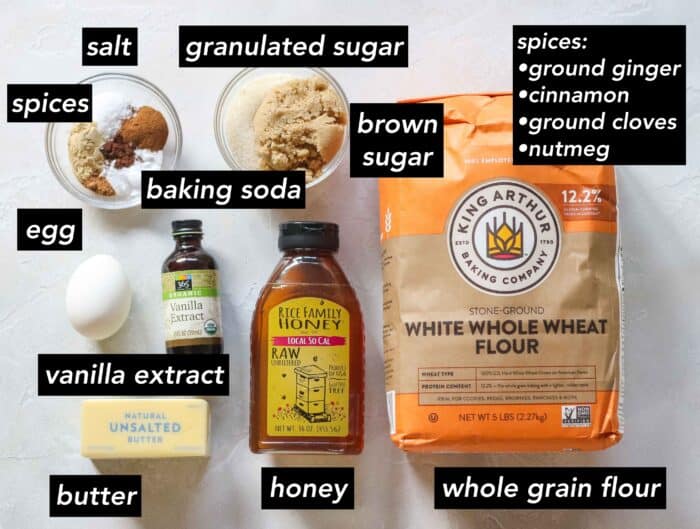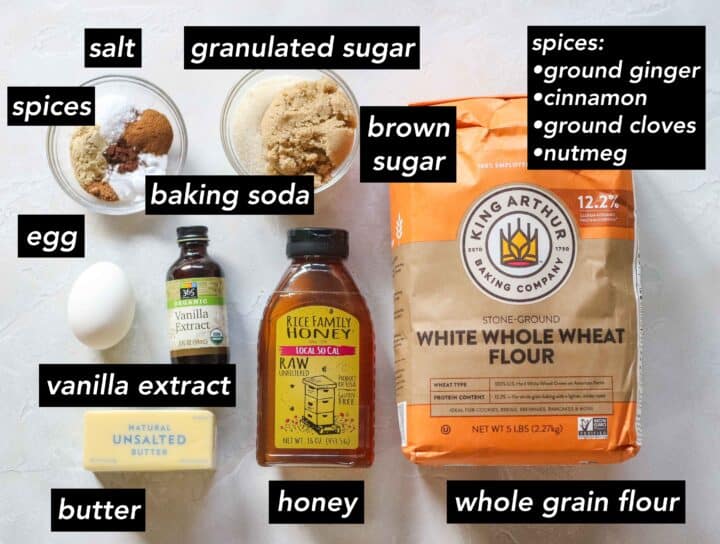 Ingredients
Whole grain flour: I prefer whole wheat pastry flour or white whole wheat flour. Do not use regular whole wheat flour; it's too hearty and your cookies will be very dense. You can also use all-purpose flour, and all-purpose gluten-free flour will work.
Spices: The spices in these soft ginger cookies without molasses have ground ginger, ground cinnamon, ground cloves, nutmeg.
Baking soda: You need baking soda to keep your cookies from being too dense. I haven't tried any substitutes, so I can't give any options with confidence that they'll work.
Salt: All baked goods need salt in my opinion. It helps intensify the sweetness. You can use any type of salt you have. I usually use kosher salt or table salt. They both work.
Granulated sugar: You'll use regular granulated sugar for the cookies as well as for rolling the cookies before baking. Technically, rolling the cookies is an optional step but I like doing it. I tried using turbinado sugar for rolling, and I found it difficult to make it stick to the cookies.
Brown sugar: Either light or brown sugar will be great in these cookies. The brown sugar helps them stay soft, and gives them a richer flavor than the molasses usually give. I think dark brown sugar imparts more flavor, but I usually use light brown sugar because that's what I have on hand.
Butter: Unsalted butter is best in baking. Also, make sure your butter is room temperature so it creams with the sugar easily.
Honey: Use any honey you like. Also, don't stress if your honey is raw or any specific type. They will all taste good in here.
Vanilla extract: Cookies must have vanilla extract in my opinion. It really amps up the flavor. I prefer real vanilla extract instead of imitation, but it's up to your personal preference, budget, and access.
Egg: Use a large egg for the right balance of wet ingredients to dry. Take the egg out of the fridge at least 15 minutes before you start preparing the dough if possible to help it mix into the mixture best.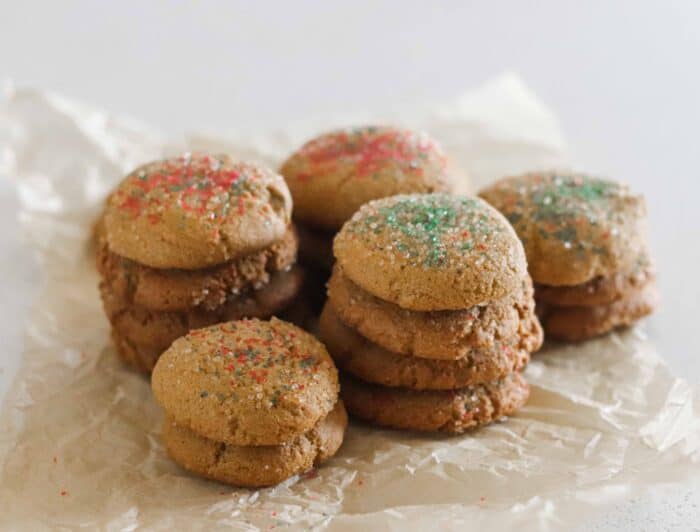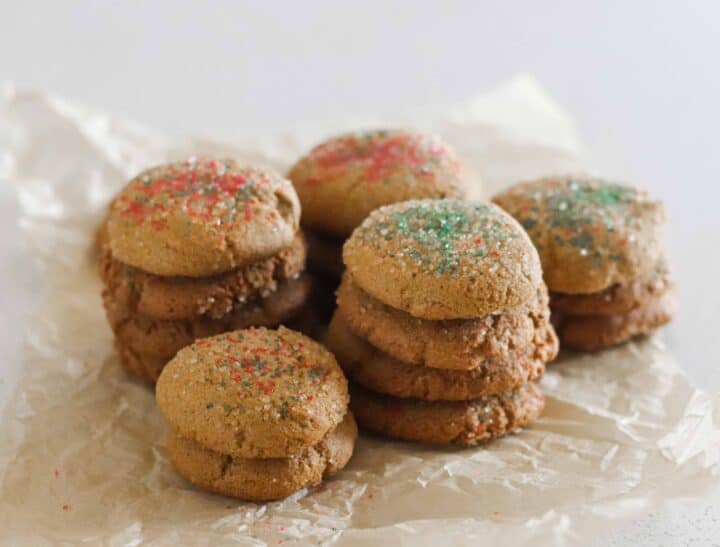 Cost of Recipe
Whole grain flour 2 cups: $0.56
Ginger 2 ¼ teaspoons: $0.25
Cinnamon 1 ¼ teaspoons: $0.09
Ground cloves ¼ teaspoon: $0.04
Nutmeg ⅛ teaspoon: $0.02
Baking soda 1 ½ teaspoons: $0.02
Salt ½ teaspoon: $0.02
Granulated sugar ¾ cup + 3 tablespoons: $0.23
Brown sugar ¼ cup: $0.12
Butter 7 tablespoons: $0.77
Honey 2 tablespoons: $0.56
Vanilla extract 1 teaspoon: $0.59
Egg 1 large: $0.23
TOTAL COST: $3.50 or $0.13/cookie (Based on San Diego Sprouts 2020)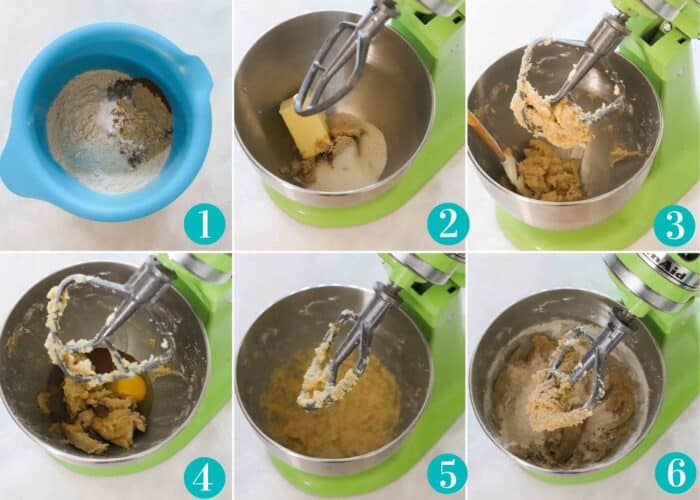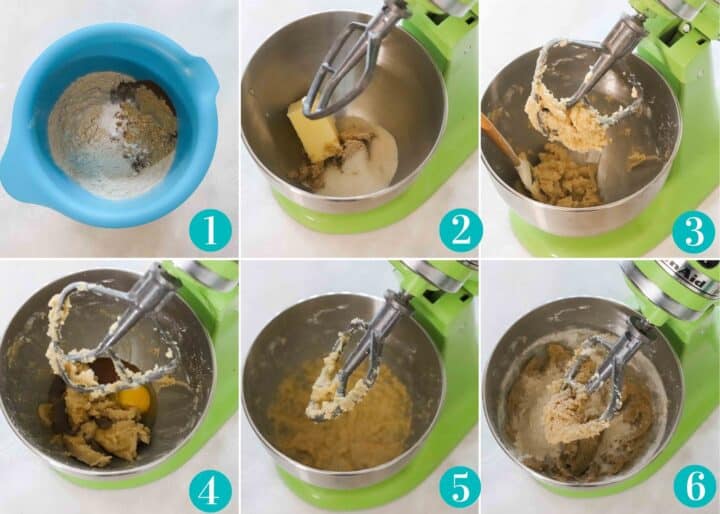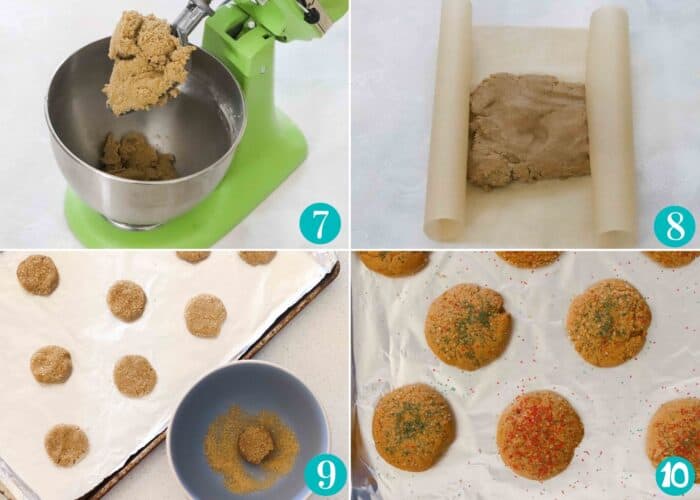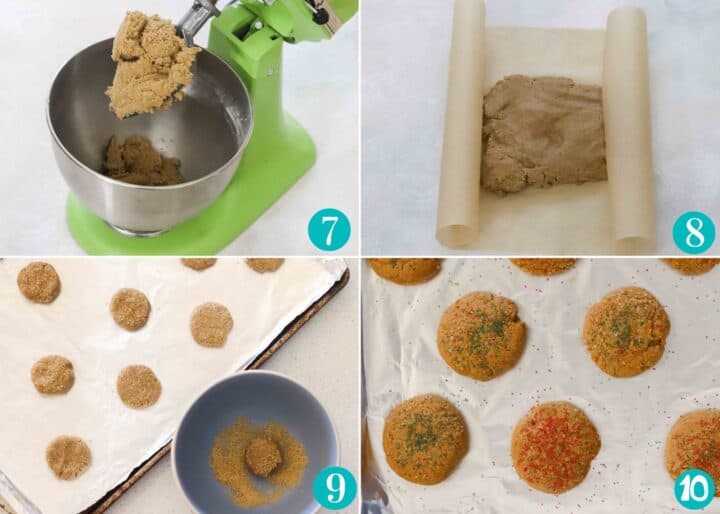 How to Make Ginger Cookies without Molasses
Time needed: 2 hours and 30 minutes.
Making these soft gingersnap cookies without molasses is as easy as making basic cookie dough then waiting for a few hours for the dough rest. Then roll the dough in sugar (if desired) and bake. All the photos included are to help you see what the dough will look like at each stage.
Whisk together the flour, ginger, cinnamon, cloves, nutmeg, salt, and baking soda. Set aside.

You can use a whisk or fork to do this. You simply want everything stirred in so there are no clumps of baking soda or spices.

Cream together the butter and sugars.

Beat for about 2 minutes until creamy.

Scrape down the sides.
Add egg, honey, and vanilla extract.
Beat until everything is incorporated.

The cookie dough will be very liquidy now.

Add half of the flour mixture.

Beat until just incorporated. Scrape down the sides, and add remaining flour.

Mix until all of the flour is completely incorporated.

Do not keep mixing after it's all completely incorporated to prevent tough cookies.

Transfer dough to parchment or wax paper or to an airtight container.

Refrigerate for at least 2 hours or up to 48 hours. You can also freeze the dough in tablespoon-sized balls.

When ready to bake, remove the dough from the fridge. Preheat the oven.

Roll dough in sugar. Press into flat circles on the baking sheet about 1-2 inches apart. Bake.

Remove from the oven, and transfer to a cooling rack or plate. Enjoy!
Recipe Tips
*Be sure not to overmix the dough. If you taste the dough once all of the flour is incorporated, it will be really chewy and seem like it needs longer to mix.
Do not keep mixing after it's all completely incorporated though because otherwise, you could end up with tough cookies.
*You can sprinkle the cookies with color sugar if desired. The cookies will not flatten much in the oven, so press them down to your desired thinness before baking.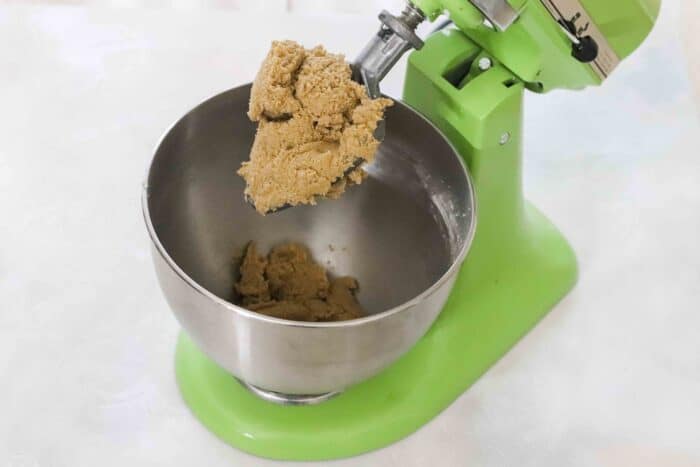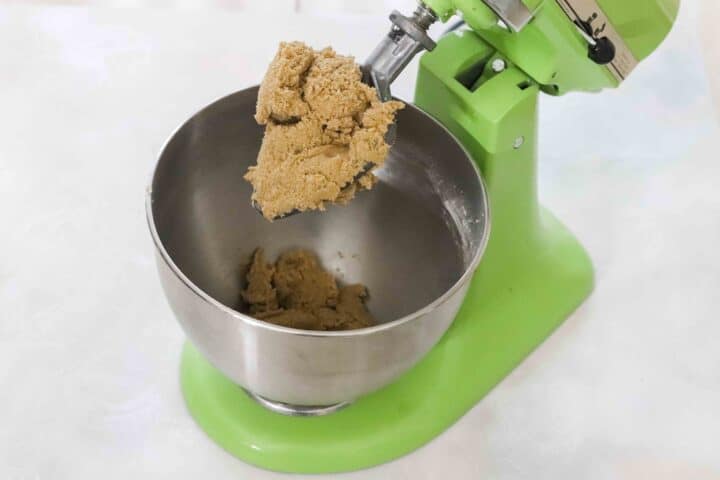 Variations
Ingredient Options
Flour: Whole wheat pastry flour, white whole wheat flour, regular all-purpose flour, and gluten-free all-purpose flour all work well.
*Do not use regular whole wheat flour.
Ginger: The ginger is irreplaceable here, and you'll use ground ginger for these ginger cookies. I have not tried using fresh ginger, so I don't know how to substitute ground ginger for fresh.
Cloves: If you aren't a fan of cloves or don't have it, you can cut the amount to ⅛ teaspoon or omit it entirely. Your cookies will have a touch less flavor, but they will still be tasty.
Nutmeg: Same as the cloves; the nutmeg isn't mandatory but gives more depth of flavor to your cookies. Omit if needed.
How to Make Allergy Friendly
These cookies are soy-free and can easily be made dairy-free or gluten-free. Use gluten-free all-purpose flour for gluten-free cookies. Use dairy-free butter for a dairy-free cookies.
I do not recommend using oil in place of the butter in this ginger cookie without molasses.
I have not tried making them without eggs, so I would try these Whole Wheat Sugar Cookies if you want an egg-free cookie.
How to Fix a Mistake
Baking is a little less friendly on mistakes compared to cooking. If you forget to add an ingredient, you can always try adding it in later but beware that your cookies might not taste the same or it might have a slightly different texture.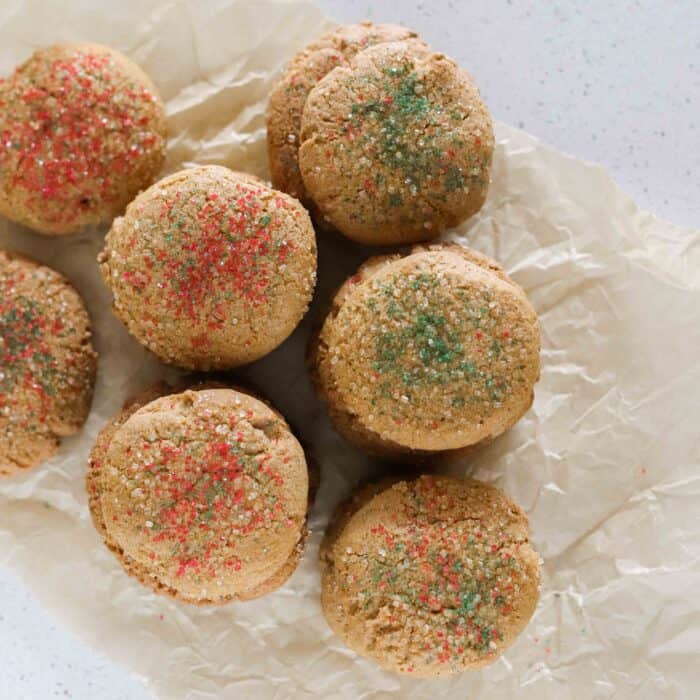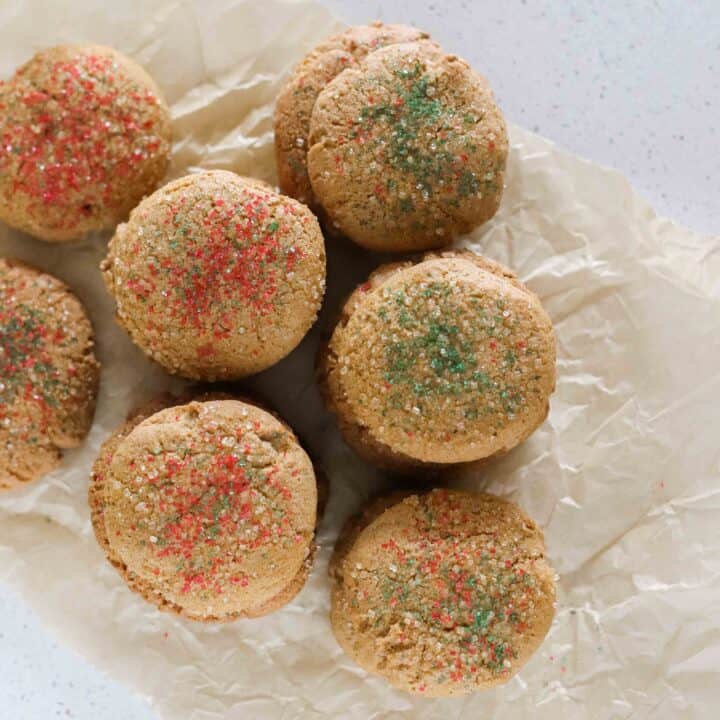 Make Ahead Ideas
The great thing about this dough is that it is best when made ahead, so you can prepare in advance then bake when ready. Simply follow the instructions as written.
Be sure to store the dough in an airtight container so the dough doesn't absorb any of the other flavors present in the fridge or freezer though.
Also, the dough freezes well, so freeze in tablespoon-sized balls and bake when ready to enjoy. Place on a baking sheet then preheat the oven. By the time the oven is preheated, the dough should be soft enough that you can press it down a little to flatten. You'll probably bake about the same time as if the cookie dough was from the fridge, but check and add a minute or two if needed.
Storage Suggestions
Store baked cookies in an airtight container for up to 5 days. The cookies start to taste less fresh after about 2-3 days.
Another alternative is to make these flatter, and then turn them into ice cream sandwiches with vanilla or chocolate ice cream. Or use a lemon gelato as the ice cream filling. Wrap in foil or parchment and store in an airtight container in the freezer. (They will need at least 2-4 hours to harden before serving)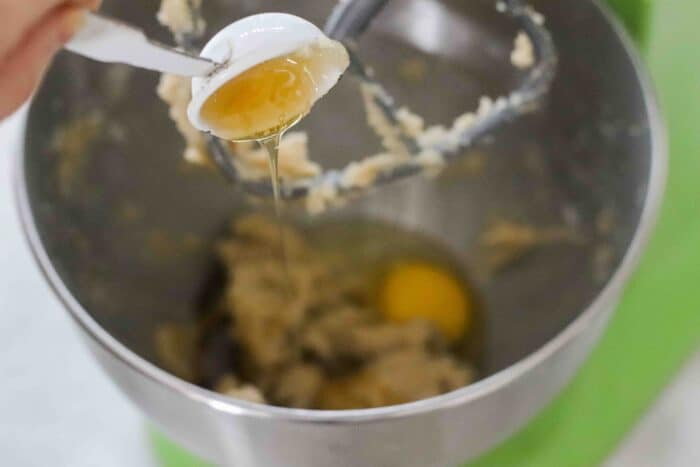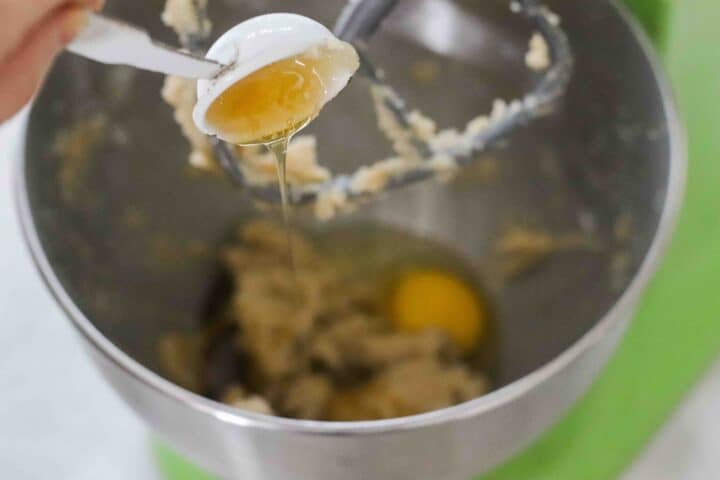 Frequently Asked Questions
What can I use instead of molasses in gingerbread cookies?
You can use brown sugar and honey along with granulated sugar to sweeten ginger cookies and give them a deep, rich flavor without having to use molasses.
Are these ginger cookies made without molasses crispy or soft?
These gingersnap cookies made without molasses are soft as long as you don't over-bake them. Overbaking or overmixing the cookies will cause them to be dense and/or hard.
Nutrition Benefits
Cookies aren't known for their nutritional value, but life without cookies is sad. Enjoy the cookies because they taste good and make you happy, and try to stress less about eating only "healthy" food.
The one perk these cookies have over most cookies is that they are made with whole grains so they have a smidge of extra fiber compared to a normal cookie.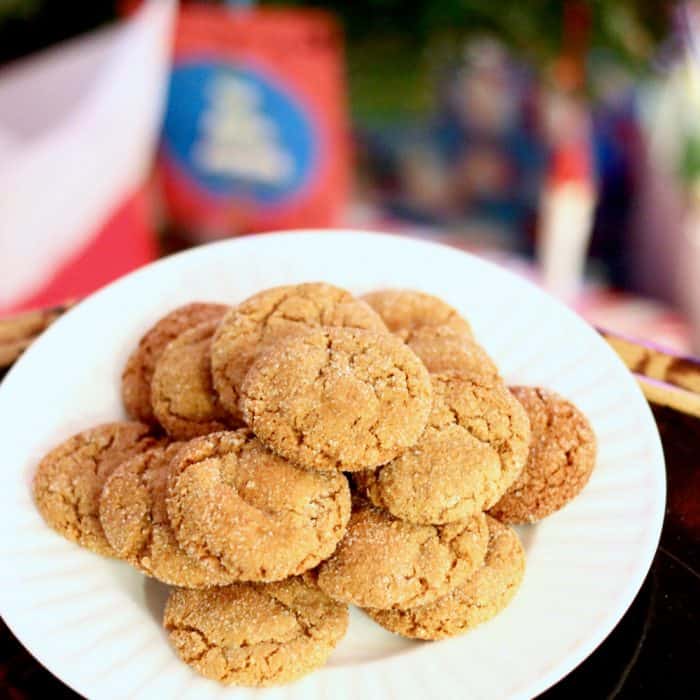 What to Serve with Gingerbread Cookies without Molasses
I'm a big fan of enjoying these after a holiday meal or at snack time during the Christmas season. But they are great any time of year. If enjoying after a meal, then there's no need to serve them with anything, but a glass of milk could be a nice accompaniment or a Tia Maria Drink.
Or how about cookies for breakfast? I sometimes like to eat these soft ginger cookies with a hardboiled egg and some gingerbread coffee for extra merriment. Or they'd be a tasty and fun source of carbs alongside Egg Muffins or Breakfast Stuffed Peppers.
Final thoughts
If you need an easy holiday cookie that can be made ahead of time or doesn't require the patience rolled-out cookies, then you've found it in these soft ginger cookies made without molasses. The spices make your whole house smell festive and you'll be rewarded with a tasty sweet (but not overly sweet) treat!
They could be a great gift or put the cookie dough in a tin and give someone the gift of cookies whenever they want one. (See this post on gifting cookie dough for ideas, but simply use this recipe for the dough).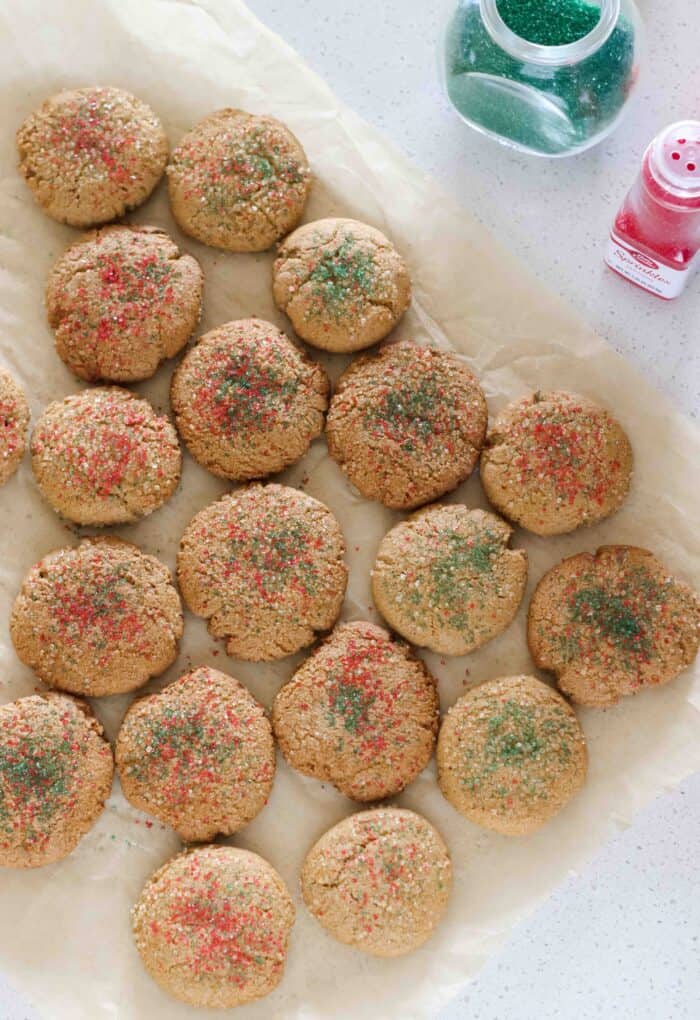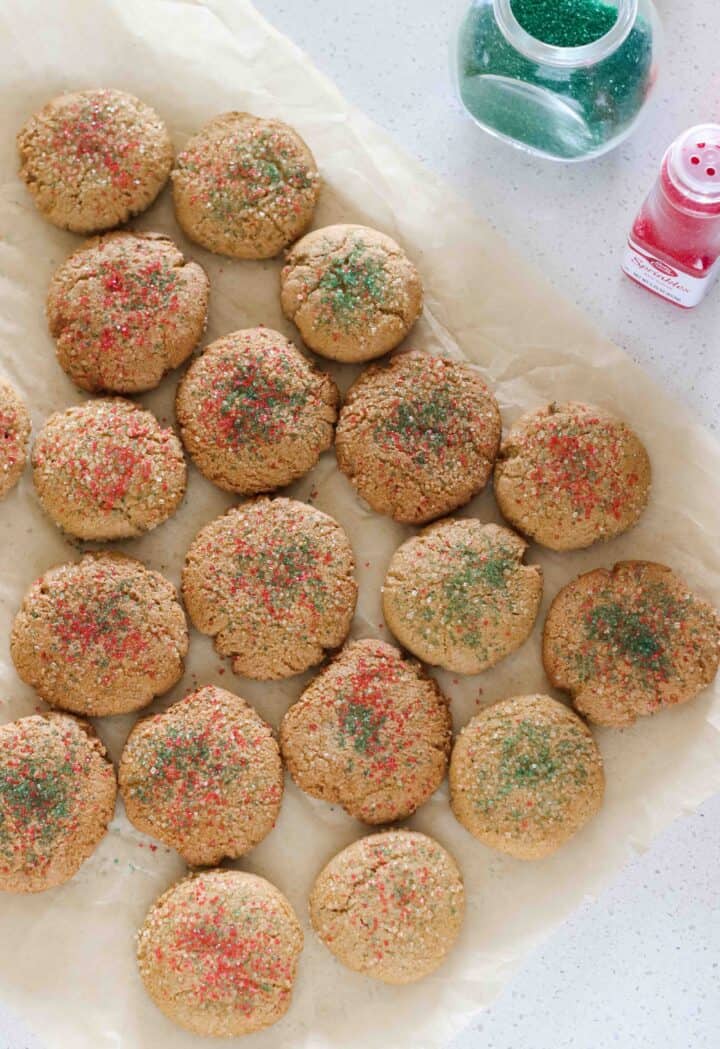 MORE HOLIDAY POSTS YOU'LL LOVE:
---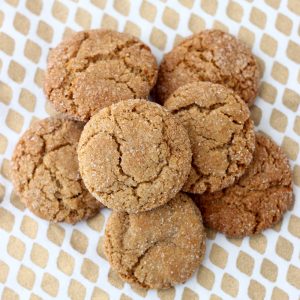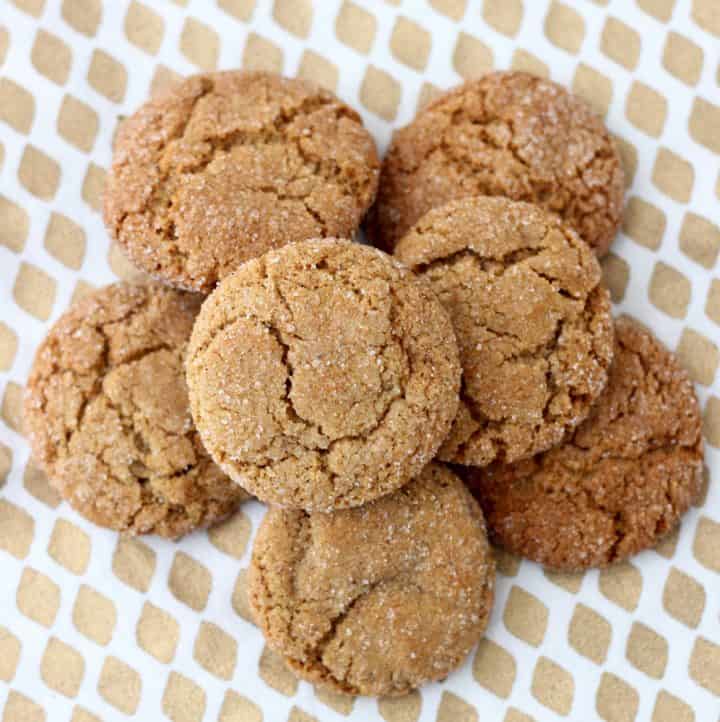 Soft Gingersnaps without Molasses
A combo of warming spices makes these soft whole-grain Ginger Cookies without Molasses perfect for the holidays and Christmas time.
Print
Rate
Total Cost:
$3.50 or $0.13/cookie
Instructions
In a medium bowl, whisk together flour, ginger, cinnamon, cloves, nutmeg, baking soda, and salt. Set aside.

In the bowl of an electric stand mixer, cream together ¾ cup granulated sugar, brown sugar, and butter for about 2 minutes. Add in honey, vanilla, and egg. Mix until well combined, about 1-2 minutes.

Add half of the flour mixture into the butter mixture, and beat on low for 30 seconds. Add remaining flour mixture and beat until completely incorporated, but don't over-mix.

Wrap dough in wax paper or parchment paper and refrigerate for at least 2 hours or over night if possible.

When ready to bake, preheat oven to 350°F.

Put remaining 3 tablespoon sugar in a small bowl. Take tablespoon sized pieces of dough and roll them into balls. Then roll those into the sugar.

Put cookies about 2 inches apart on baking sheets, press down, and transfer to a preheated oven. Bake for 8-11 minutes until lightly browned. Let cool on pan for 5 minutes then transfer to cooling racks or plate to cool completely. Enjoy!
Notes
*White whole wheat flour and whole wheat pastry flour work well. Do not use regular whole wheat flour. Another option is all-purpose flour, and you can use gluten-free all-purpose flour too. Whatever flour choice you make, use 2 cups flour.
*

Dark brown sugar will give the deepest flavor, but light brown sugar works just as well.
*Any type of honey is fine.
*You can skip rolling the cookies in extra sugar if desired. You can also sprinkle with color sugar, or do both.
*The cookies will not flatten much in the oven, so press them down to your desired thinness. The thinner you press the cookies, the shorter your bake time will be.
*I prefer a shorter bake time so they are softer. But since ovens differ, check after 8 minutes and bake longer if desired. Also, leaving them on the baking sheet helps them get crispier if you want.
*Store in airtight containers at room temperature for up to 5 days.
*Based on a recipe from Cooking Light.
What to Use in This Recipe
Did you try this recipe?
Be sure to leave a comment & recipe rating below. Bonus points for tagging @memeinge & #livingwellkitchen on Instagram! THANK YOU! xo
This post was originally published on December 6, 2012. Text, recipe, and photos have been updated.
Meme
---
Gingerbread Cookies without Molasses Nutrition Facts
Nutrition Facts
Soft Gingersnaps without Molasses
Amount per Serving
% Daily Value*
* Percent Daily Values are based on a 2000 calorie diet.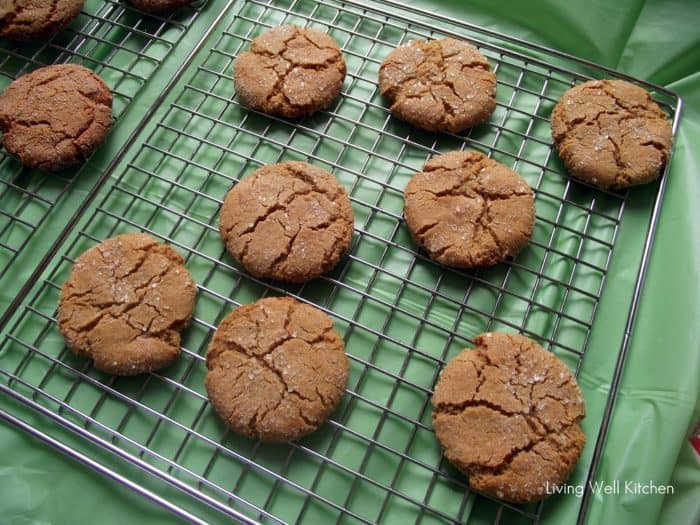 Doesn't this recipe look good?! You should probably share it: