Guinness Stew is a hearty beef stew made on the stovetop with meat, potatoes and veggies slow simmered in a rich broth made with Guinness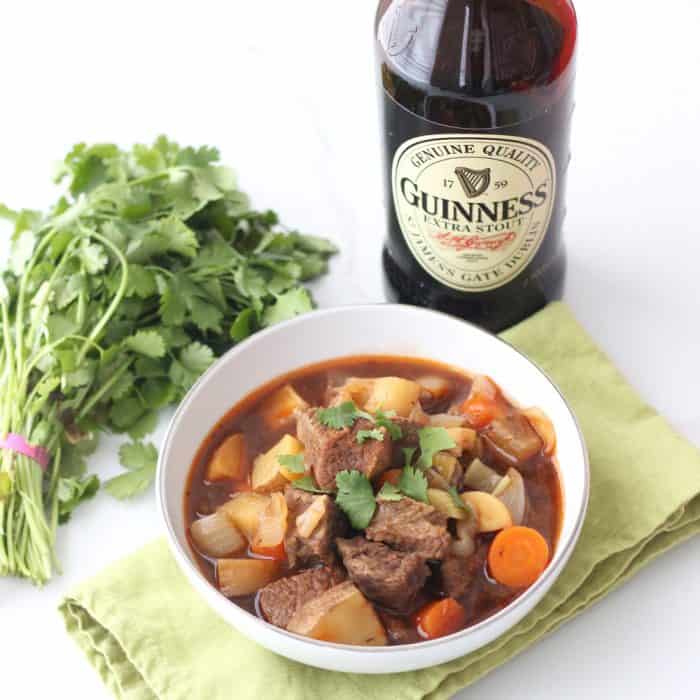 St. Patrick's Day is right around the corner, and while I'm not a super huge St. Patrick's Day celebrator I thought it would be fun to do a few recipes for the holiday.
One of my lovely blog readers requested some healthy recipes to cook her meat-loving husband. So I made a stew with meat and potatoes and lots & lots of veggies.
Then I thought I'd take it one step further and make a nourishing meal that was not only packed with veggies, meat, and potatoes but also added some beer! That's a surefire way to make someone happy.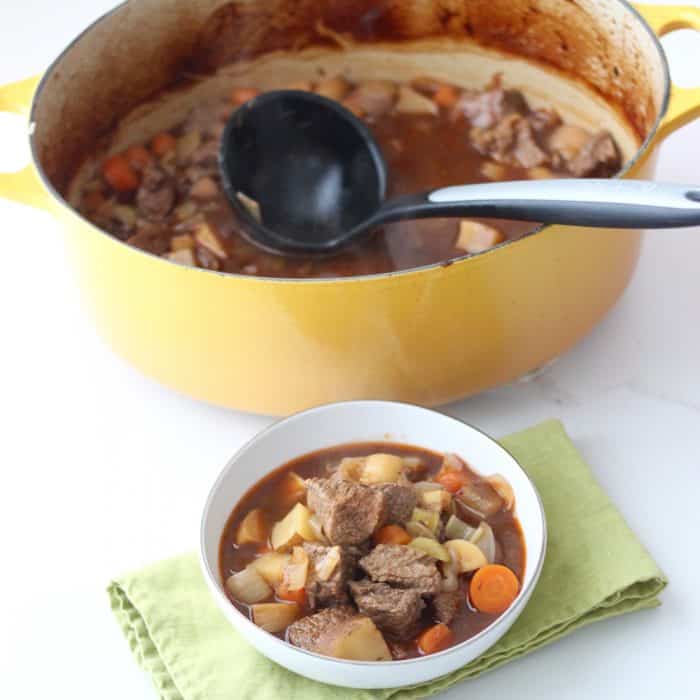 This stew is hearty with a rich broth. Up the happiness factor by serving with an ice cold Guinness on the side.
Don't save this stew only for March 17th; it's good any time of year.
Plus, it's pretty easy to make.
To prepare, you'll cut up a roast (I used kitchen scissors to cut off extra fat & cut the meat into 1-inch pieces. It makes life so much easier than using a knife in my opinion) and chop the veggies.
Then you'll sear the meat -- this is usually what I do while I am chopping the veggies. Once the meat is brown on all the edges, you transfer it to a plate and wipe out any grease.
Don't skip this step or your broth will be really greasy and not good.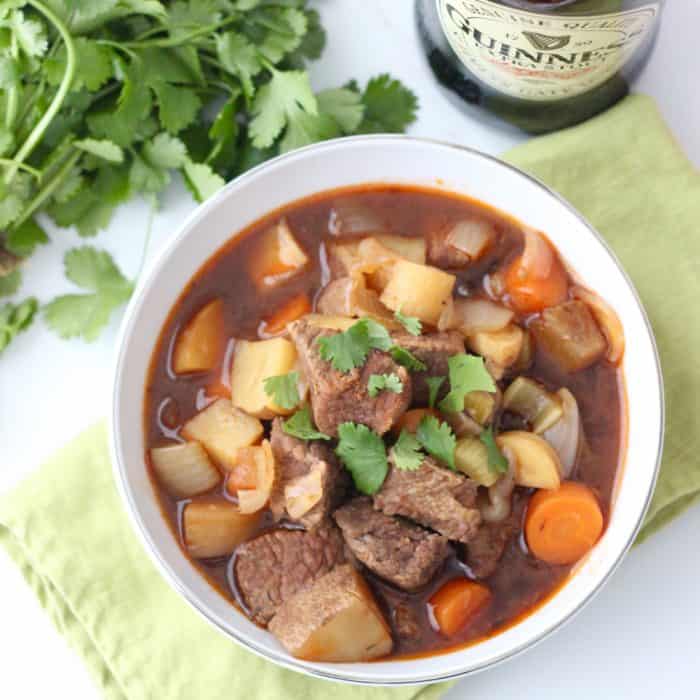 Next, sauté the veggies until they are lightly golden and add all the remaining ingredients plus the seared roast to your pot. Pop this into the oven and let cook for a few hours.
Two hours later, you have tender meat in a rich and flavorful broth with the perfect balance of veggies and potatoes. Like I said before, I highly recommend serving the stew with a Guinness on the side, but you do you.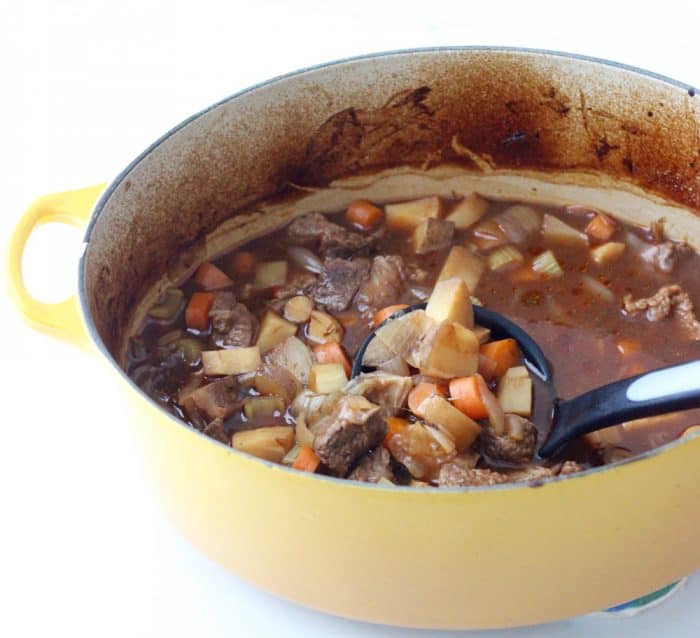 The only thing I regret about this stew is that I didn't use mushrooms.
I meant to get them but didn't realize until I was halfway home and didn't feel like walking back to the store.
Don't do what I did. Don't forget mushrooms.
For the sake of recipe authenticity, my photographed recipe does not have mushrooms. However, I highly recommend adding them, so I put notes on how much & where to add in the recipe notes. Then again, if you're not a mushroom fan (wha?!), leave them out. Like I said before, you do you.
Whatever you do, make this stew.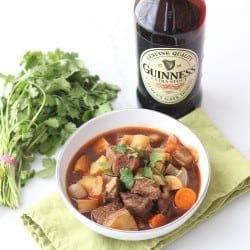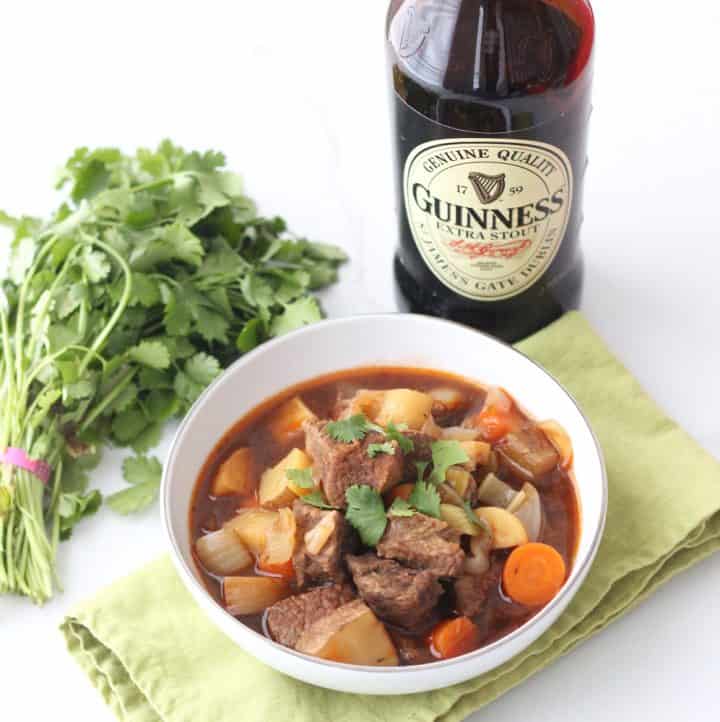 Guinness Stew
Guinness Stew is an easy, hearty beef stew made on the stovetop with meat, potatoes and veggies slow simmered in a rich broth made with Guinness
Print
Rate
Ingredients
1.75

pounds

roast

chopped into 1-inch pieces

2

medium

onions

3 cups, chopped

3

large

carrots

3 cups, chopped

3

celery stalks

¾ cup, chopped

2

tablespoon

tomato paste

2

parsnips

2 cups, chopped

2

small

potatoes

2 cups, chopped

2

teaspoon

thyme

dried

½

teaspoon

salt

3

cups

beef broth

or chicken broth, unsalted

2

cups

Guinness

fresh parsley for serving

optional
Instructions
Preheat the oven to 325°F.

Heat a large oven safe dutch oven or pot (with a lid) over medium-high heat. Add beef and sear on all sides until golden brown, about 5 minutes per side. Transfer to a plate, and wipe out any excess grease.

Add onions, carrots, and celery to the pot. Sauté for about 10 minutes.

Add in tomato paste and stir until veggies are coated. Add in parsnips, potatoes, thyme, salt, and reserved seared meat. Pour in chicken broth and Guinness, and stir well.


Cover and transfer to the preheated oven. Cook for two hours until broth has thickened and meat & veggies are tender.


Serve with fresh chopped parsley if desired. Enjoy!

Notes
*You can use any cut of beef desired. Eye of round, top round roast or bottom round roast are all good choices.
*Be sure to cut your beef across the grain. It helps me to cut it on a diagonal to prevent any pieces from being cut with the grain. Cutting with the grain can cause your meat to be tough.
*This would be really good with mushrooms. Use 8 ounces of sliced mushrooms (about 3 cups). Add in with the onions, carrots, and celery.
*Look for smaller parsnips, and peel them if they are extra fibrous (usually bigger ones).
Did you try this recipe?
Be sure to leave a comment & recipe rating below. Bonus points for tagging @memeinge & #livingwellkitchen on Instagram! THANK YOU! xo
Recipe based on this Slow Cooker Guinness Stew recipe from Simply Recipes