A kale salad so good, you'll think about it in your dreams. This isn't your ordinary boring salad!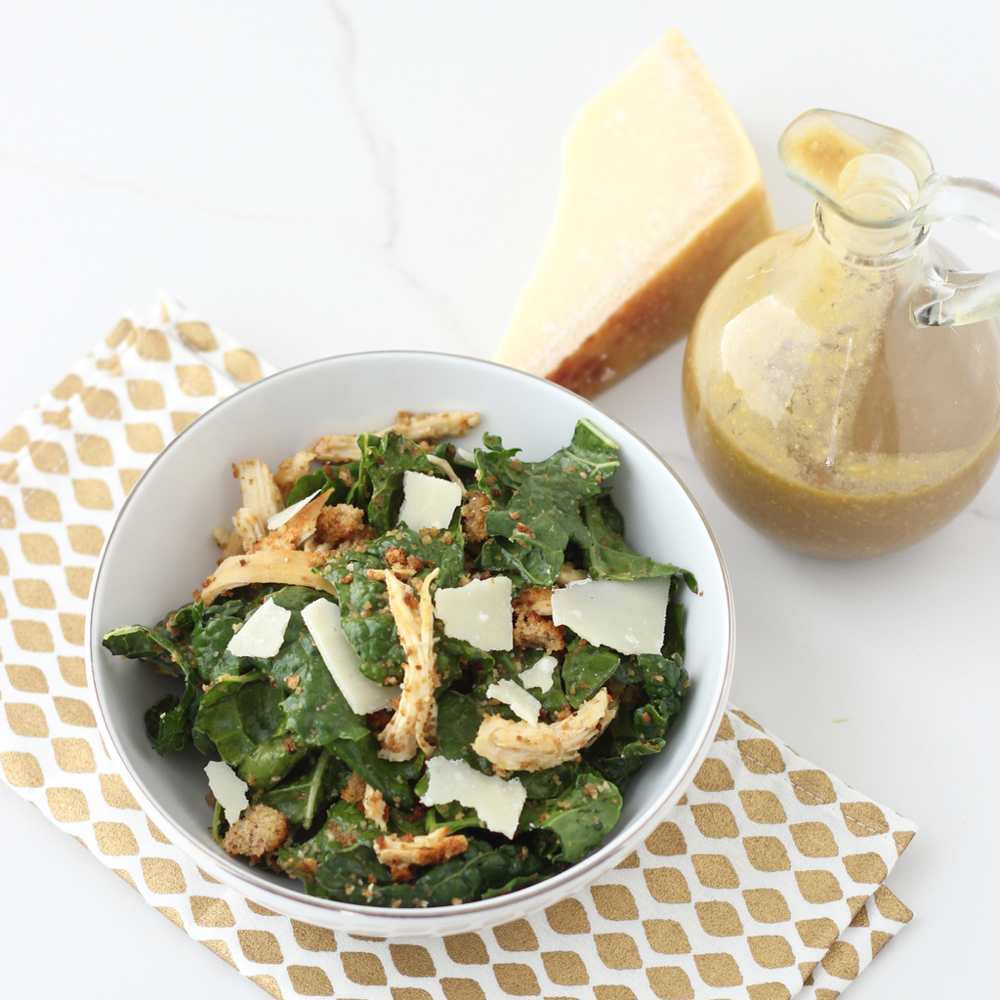 Did my LunchingWell Lunch Club post the other month inspire you to start your own lunch club? If it didn't, then this surely will...
Kale Caesar Salad
Ok so if you're not a fan of kale, maybe that doesn't make you super excited. But I'm not really a huge fan of kale either, and this kale salad rocks my socks off!
My best advice for non-kale lovers is to use lacinato kale or dinosaur kale. It has a much more mild flavor than the regular kale you see at the grocery store. Most grocery stores now carry lacinato kale, so it's definitely worth finding. [Oh and if you want to learn more about Kale, check out my post all about Kale]
If you didn't see it already, you'll first need to make this Avocado Balsamic Caesar Dressing. So get to it -- I'll wait the 4 minutes it takes to make...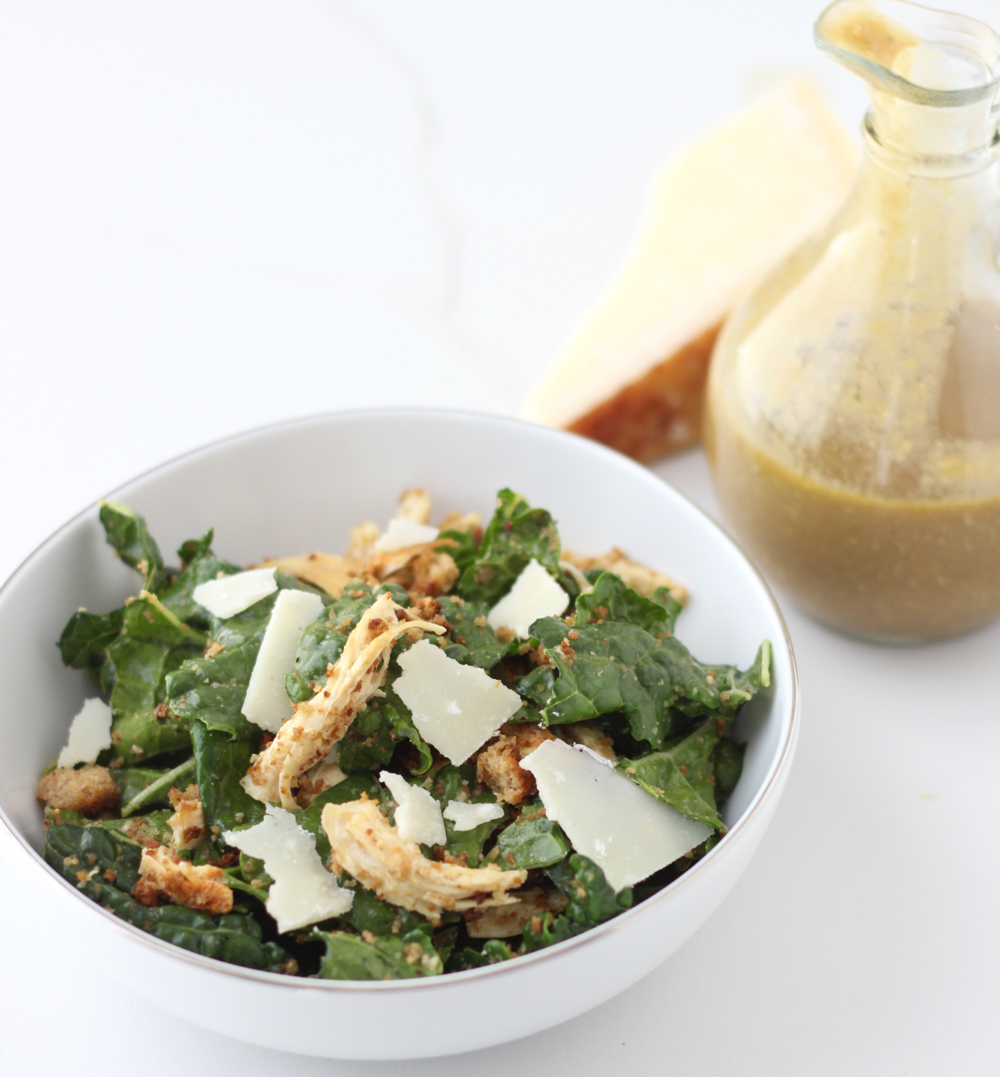 Ok, so now that you've made the dressing, let's get to this incredibly delicious salad that I think about often. Like at least once a week. It's so good. So good.
There are four components to this salad: kale, dressing, chicken, and croutons. I'll break them down for you...
1) Kale -- yes, even you kale lovers will love this salad. Like I mentioned earlier, be sure to use lacinato or dinosaur kale. It makes a world of difference in helping the kale to not be so... so kale-tasting.
To help soften the kale, you can rub a little olive oil on the kale before dressing. Personally, I just make sure to use a pretty generous amount of dressing, so I can skip massaging the kale with oil.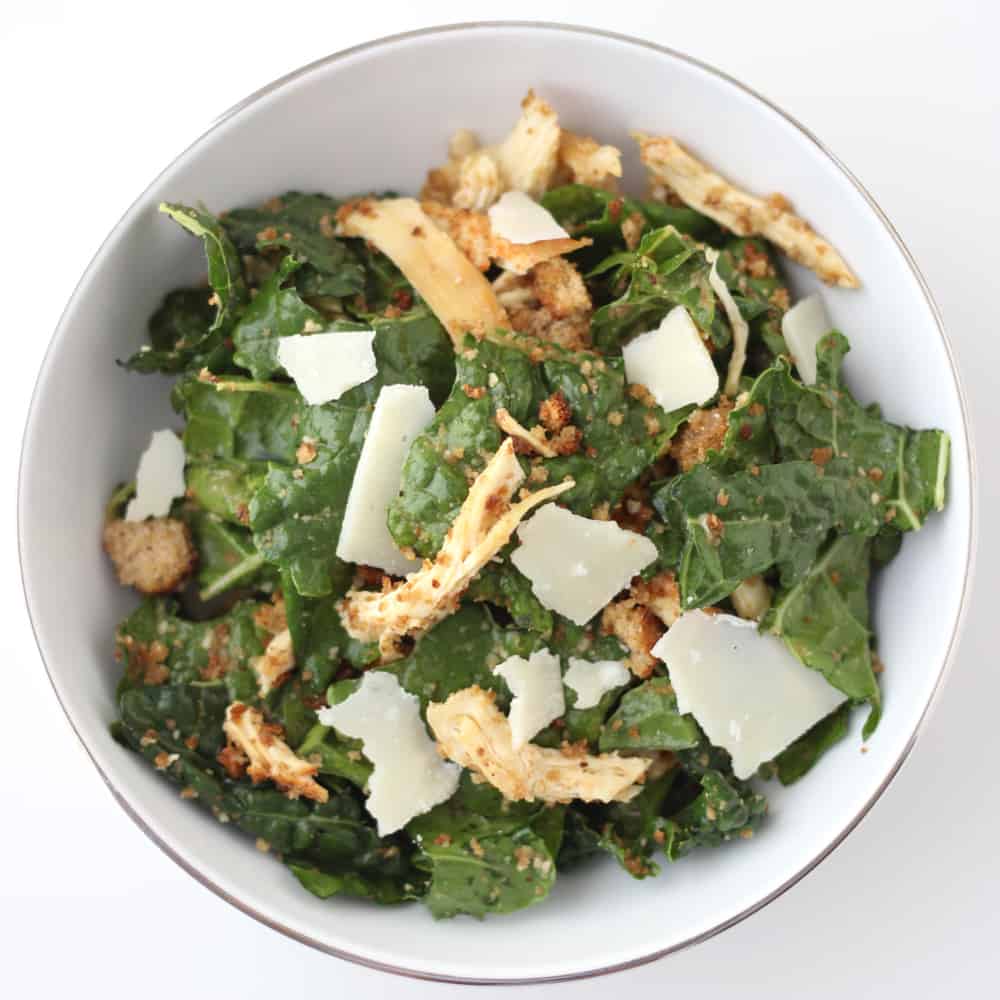 2) Dressing -- I posted this dressing yesterday, and I love it. It's easy and incredibly flavorful.
It has all the components of Caesar dressing you love -- the tart brightness of lemon, the richness from olive oil and avocado, the thickness thanks to the avocado, and the saltiness from the anchovies.
3) Chicken -- you really can cook your chicken in whatever method you like most. I typically go for convenience and that either means pan-frying or poaching. You could even buy a rotisserie chicken, and just use the shredded chicken from that. Funny enough, the chicken is not really the star of this meal, so you don't need to stress over it.
[clickToTweet tweet="A kale caesar salad so good, you'll think about it in your dreams!" quote="A kale caesar salad so good, you'll think about it in your dreams!"]
4) Croutons -- last but not least, the croutons. Personally, my favorite part of the salad. I would previously just use stale bread and chop it into cubes then bake in the oven with some olive oil and salt.
Those were delicious and all, but what if every bite could have a crouton piece? That's the dream, no?
Then my friend Rémy, who is a genius, introduced me to the magic of these croutons. You make them similar to how you make regular croutons, but you'll just need to make sure to crush the bread a little. I use my food processor.
They're almost like a cross between cubed bread and bread crumbs, and they are perfect! Every bite has the crunchiness and extra flavor of a crouton. Yay for no boring bites of salad!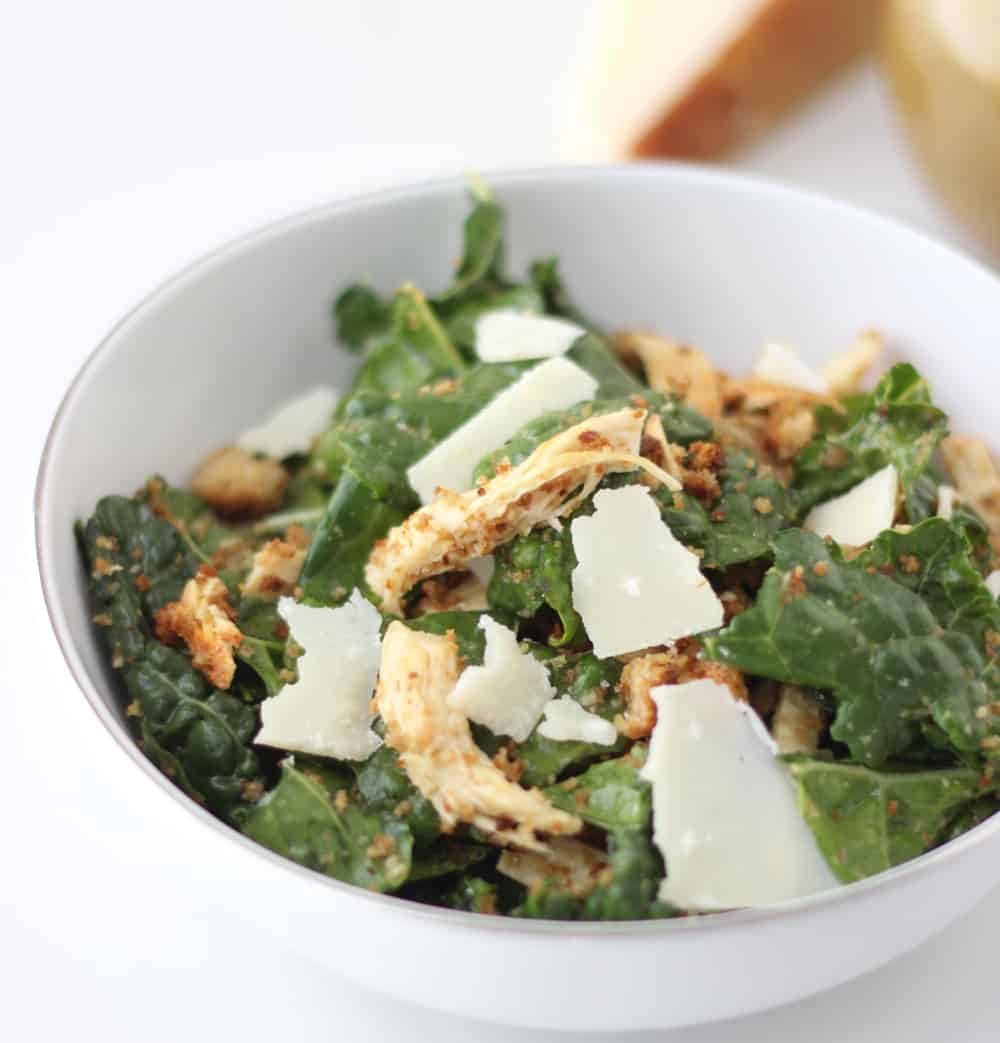 It sounds like a lot, but it's a pretty streamlined process, especially after you start making it weekly.
Make the croutons, cook the chicken, then toss everything together and you have a savory, substantial, and scrumptious salad!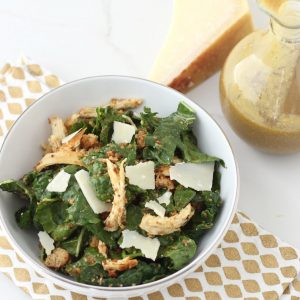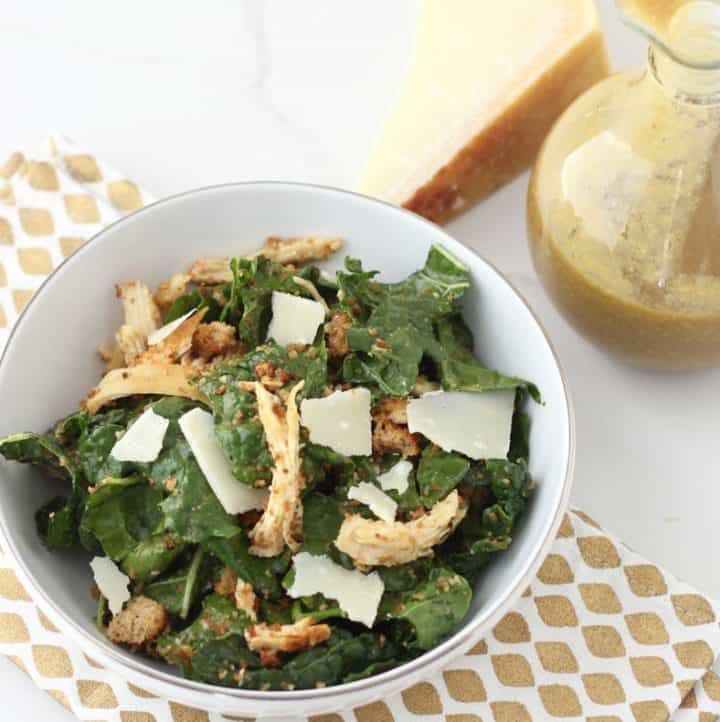 Kale Caesar Salad
A kale salad so good, you'll think about it in your dreams. This isn't your ordinary boring salad!
Print
Rate
Ingredients
for the croutons:
4

ounces

whole grain bread

1

tablespoon

olive oil

⅛

teaspoon

kosher salt

or sea salt
for the chicken:
1

tablespoon

olive oil

or avocado oil

1

pound

chicken breast

½

teaspoon

paprika

¼

teaspoon

garlic powder

¼

teaspoon

salt

⅛

teaspoon

cayenne pepper
for the salad:
2

bunches

kale

about 12 cups, chopped

1

oz

parmesan cheese

sliced
Instructions
Preheat the oven to 350*F. Line a baking sheet with foil (for easier clean up).

Tear the bread into small pieces and crumbs. You can also use a food processor to quickly chop it. Add the bread crumbs and pieces to the baking sheet and toss with 1 tablespoon olive oil and salt. Bake for about 10 minutes, stirring every few minutes, until toasted. Remove and set aside.

Meanwhile, heat a large skillet oven medium high heat. Add remaining tablespoon of olive oil to skillet. Sprinkle both sides of chicken with paprika, garlic powder, salt, and cayenne pepper. Cook chicken in hot skillet for about 5-7 minutes per side, depending on thickness of chicken, until done. Remove from skillet and chop.

When ready to make salad, toss together kale and Avocado Balsamic Caesar Dressing until well coated. Toss in cooked chicken and croutons. Add more dressing if needed. Serve immediately, topping with sliced parmesan if desired. Enjoy!
Notes
*4 ounces of bread is about 4 slices. Stale bread is best so it can absorb the olive oil.
*You can use 12 oz. shredded cooked chicken in place of cooking it here. You'll get about 3-4 cups chicken.
Did you try this recipe?
Be sure to leave a comment & recipe rating below. Bonus points for tagging @memeinge & #livingwellkitchen on Instagram! THANK YOU! xo
[showhide type="post" more_text="Click here for Nutrition Facts" less_text="Clear Nutrition Facts"]
*
Nutrition Facts
Kale Caesar Salad
Amount per Serving
% Daily Value*
* Percent Daily Values are based on a 2000 calorie diet.
*
[/showhide]
Meme
Pin for later: