A cheesy and filling taco casserole cooked in one pot, meaning easy clean up for a meal full of veggies and flavor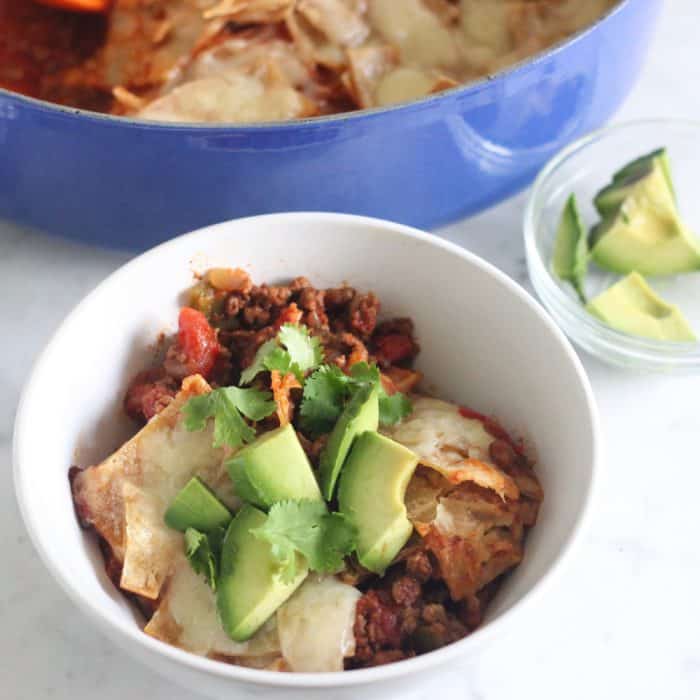 School season means everyone is looking for easy dinner ideas. My idea of an easy dinner is cooking in one pot or one skillet.
Only one pot to wash? Yes, please!
Last week I cooked a breakfast casserole in a skillet, but today I have one for dinner.
And holy moly, it's tasty and easy, and budget-friendly.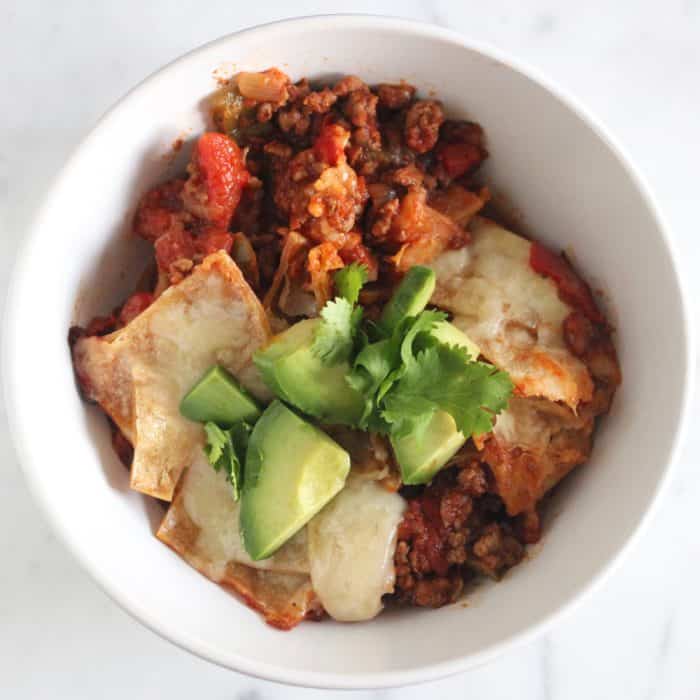 Thanks to canned tomatoes, this meal requires very little prep work.
I love using canned tomatoes! Like I may or may not have an obsession with them. Why? Oh let me tell you why...
First, canned tomatoes are delicious! I don't know about you, but fresh tomatoes have never been my favorite. Obviously, a good fresh tomato is, well, good or even more than good. But there are so many times that fresh tomatoes are subpar or sad.
With canned tomatoes, you get the tomatoes picked at their peak ripeness and canned to perfection. That means all their nutrients are stored in that little can for you to enjoy year-round, which brings me to my second reason I love canned tomatoes so much...
They have no "season" because you can get canned tomatoes any day of the year, and you know they're going to be flavorful.
Canned tomatoes are also very budget-friendly and require very little prep work.
If you can open a can, you can enjoy canned tomatoes.
No washing. No chopping. Nothing but opening a can and enjoying the fact that you practically did no work to get that beautiful red color in your dish.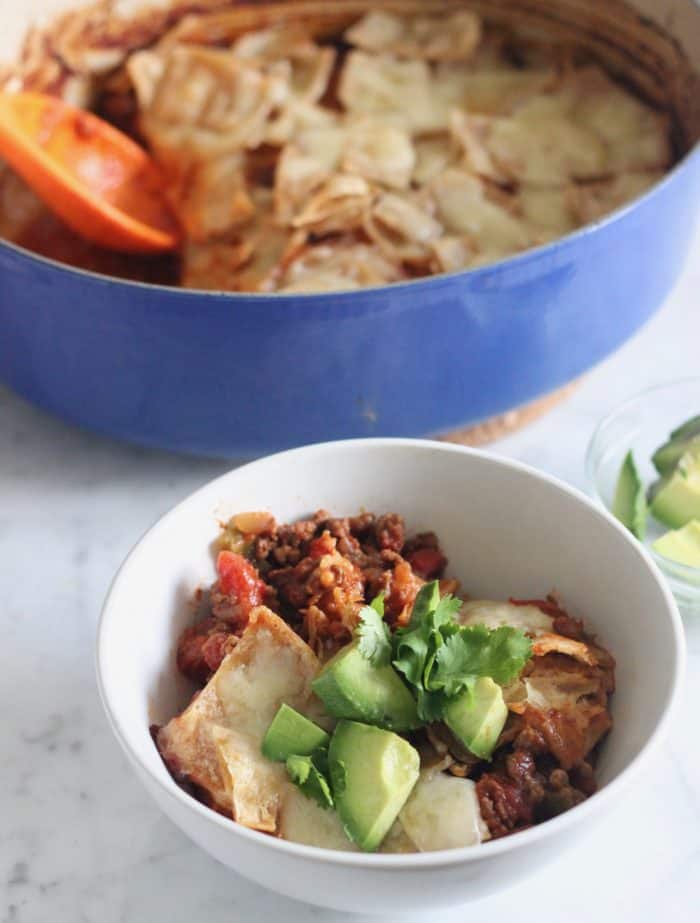 Plus, they're packed with nutrients.
Canned tomatoes offer the same benefits as fresh like antioxidants, vitamins, and minerals: Vitamin C, Vitamin K, biotin, and potassium to name a few. Also, the heat used to can the tomatoes helps release the lycopene stored in these red beauties which is less bioavailable in their fresh counterparts.
Lycopene is a phytochemical that has been shown to help promote heart health and prevent certain cancers like prostate cancer plus so much more.
Before I get to the recipe, something I want to address because it's recently been in the news is regarding BPA in canned tomatoes.
In my opinion, the benefits of canned tomatoes far outweigh the possible negative side effects of consuming canned tomatoes that are canned in a BPA-lined can.
You can easily find BPA-free canned tomatoes because over 95% of the retail tomatoes are already BPA-free, or purchase them in glass jars, boxes, or pouches.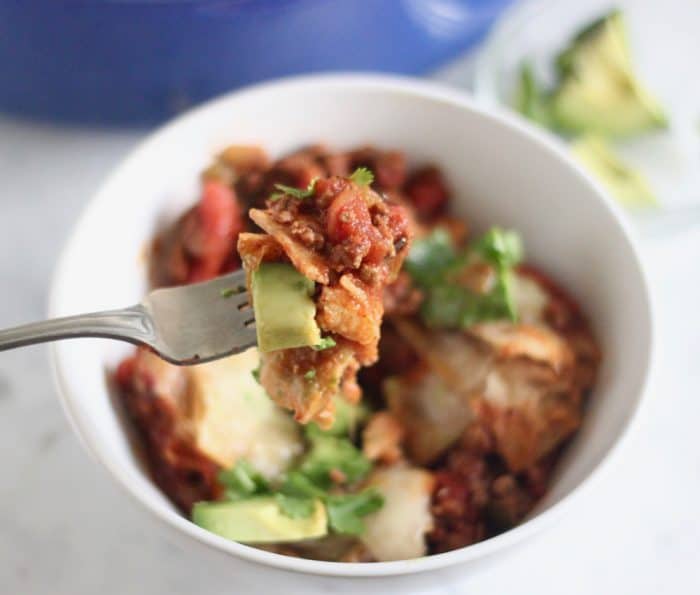 P.S. This meal can be changed based on your dietary preferences...
Don't eat beef? Use ground turkey.
Vegetarian? Use chopped mushrooms.
Don't eat dairy? Skip the cheese or use dairy-free cheese.
Don't eat corn? Use flour tortillas.
Gluten-free? You're good... follow the recipe because it is naturally gluten-free (but make sure that your tortillas are gluten-free which corn tortillas are).
And there you have it, a deeeeelicious one-pot recipe perfect for a busy weeknight.
Just watch how easy it is...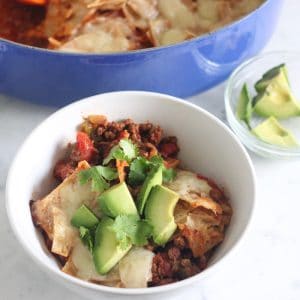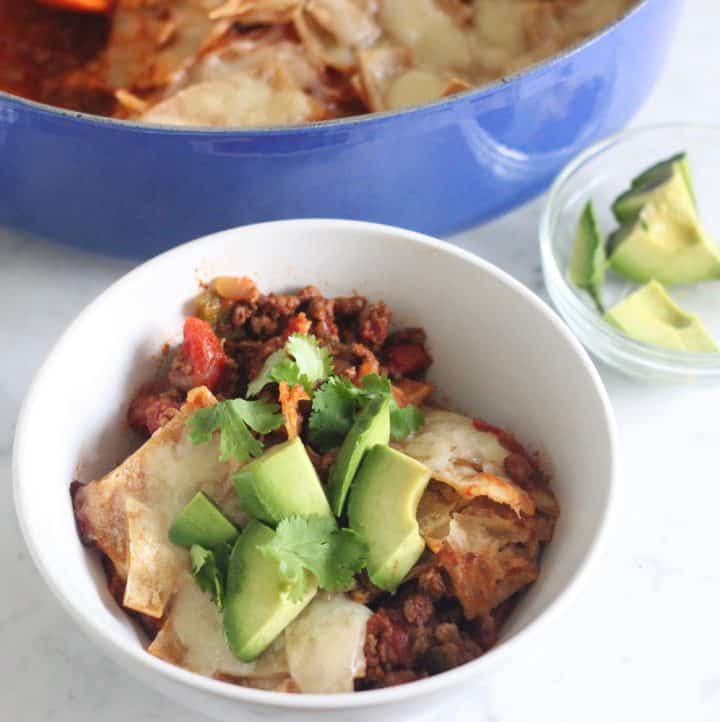 One Pot Taco Casserole
A cheesy and filling taco casserole cooked in one pot, meaning easy clean up for a meal full of veggies and flavor
Print
Rate
Ingredients
1

pound

ground beef

2

medium

bell peppers

diced

1

medium

onion

diced

1

tablespoon

chili powder

1

teaspoon

paprika

1

teaspoon

cumin

1

teaspoon

garlic powder

½

teaspoon

oregano

½

teaspoon

salt

¼

teaspoon

cayenne pepper

¼

teaspoon

ground coriander

15

ounce

can diced tomatoes

8

ounce

can tomato sauce

1

cup

shredded cheese

4 ounces, divided

6

small

corn tortillas

chopped
Instructions
Preheat the oven to 375*F.

In an oven safe pot or skillet, add the ground beef, bell peppers, and onions over medium-high heat. Cook, stirring occasionally, for 10-15 minutes until the meat is done.

Drain or pat the excess grease with paper towels.

Add the chili powder, cumin, garlic powder, oregano, salt, cayenne pepper, and coriander to the beef and veggies. Stir well.

Stir in the tomato sauce and diced tomatoes. Simmer over medium heat for 10-15 minutes, stirring occasionally.

Remove from heat, and top with half of the cheese. Top with chopped tortillas and top the tortillas with the remaining cheese.

Transfer to the oven and bake until the cheese is bubbly, about 10 minutes. Let sit for 5-10 minutes before enjoying!

Did you try this recipe?
Be sure to leave a comment & recipe rating below. Bonus points for tagging @memeinge & #livingwellkitchen on Instagram! THANK YOU! xo
Nutrition Facts
Nutrition Facts
One Pot Taco Casserole
Serving Size
0.25 casserole
Amount per Serving
% Daily Value*
* Percent Daily Values are based on a 2000 calorie diet.