Rosemary Pecan Baked Brie needs only 5 simple ingredients to make an easy, tasty, sweet and savory appetizer
Disclosure: I was asked to participate in the #UseNectar campaign as a member of the Healthy Aperture Blogger Network. I was compensated for my time.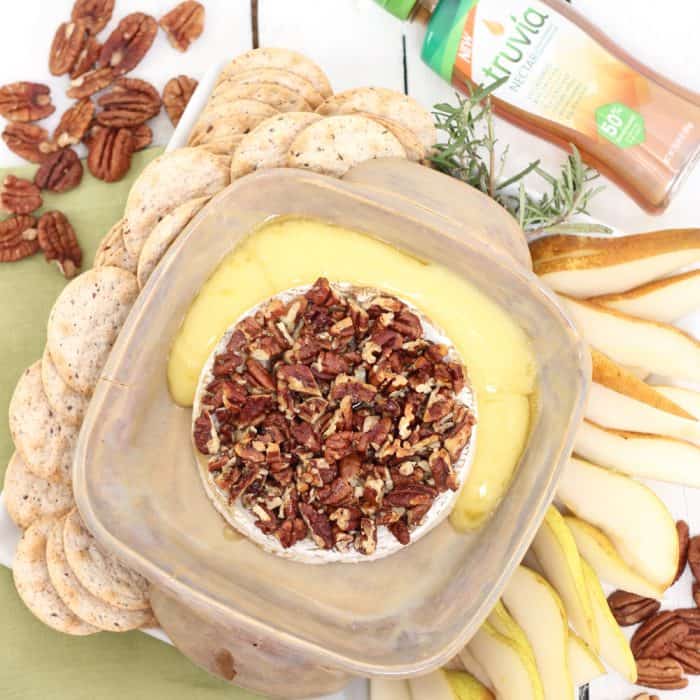 Never in the history of ever has someone said "I am looking for a really elaborate recipe that is going to take me a long time to make and cause me a lot of stress."
Or "wow, I'm busy! But I have a holiday party to attend and I'd like to spend a really long time making an appetizer."
Or "the grocery store is so peaceful during the holidays. I'd like to go there and spend a really long time searching for ingredients that are hard to find and then eventually end up wasting because they're so random."
Or "I'd like to make a recipe that is filled with added sugar that doesn't actually taste that good but I end up eating the whole thing anyway."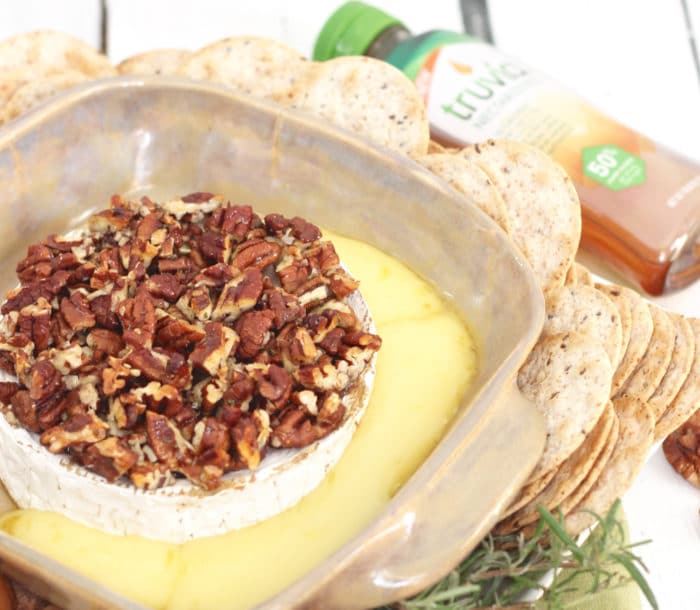 I mean, right? Why would anyone ever say those things?!
Luckily, I have the perfect antidote to those horribly wrong comments.
This Rosemary Pecan Baked Brie is the answer to your 'I need of a deliciously cheesy appetizer that takes minutes to make, can be made ahead or right that moment, and only uses 5 easy to find ingredients.'
To make these tasty cheesy appetizer, you need brie, fresh rosemary, pecans (or walnuts if you'd rather use those), salt, and Truvia® Nectar.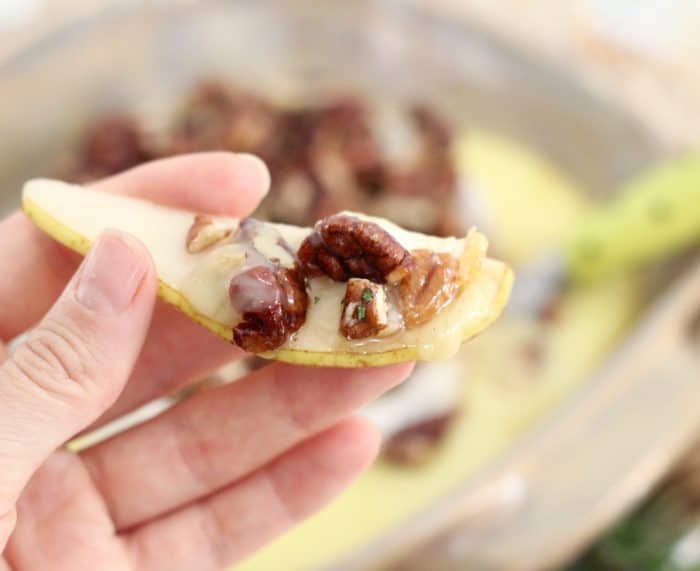 What's Truvia® Nectar? It's a sweetener that's a blend of honey and stevia leaf extract that tastes almost exactly like honey but has half of the sugar and twice the sweetening power.
What's nice is that this appetizer is not loaded with sugar like most baked brie recipes with honey are. Many recipes I found had 1/4 cup of honey plus brown sugar! What?! I'm all for sweet things, but that's an unnecessarily large amount of sugar.
Thanks to the Truvia® Nectar, you can use a small amount but still get that savory sweet flavor in this app. Since the holidays are usually a sugar-fest, this recipe offers the alternative.
And it's also great for Diabetes Month (which is November) especially since you're not adding a pastry shell around it, which is completely unnecessary. You want to taste all that goodness instead of just a bunch of pastry. Brie should be enjoyed not covered.
This appetizer celebrates the brie with a few extra flavors that go so well with this creamy, satisfying appetizer.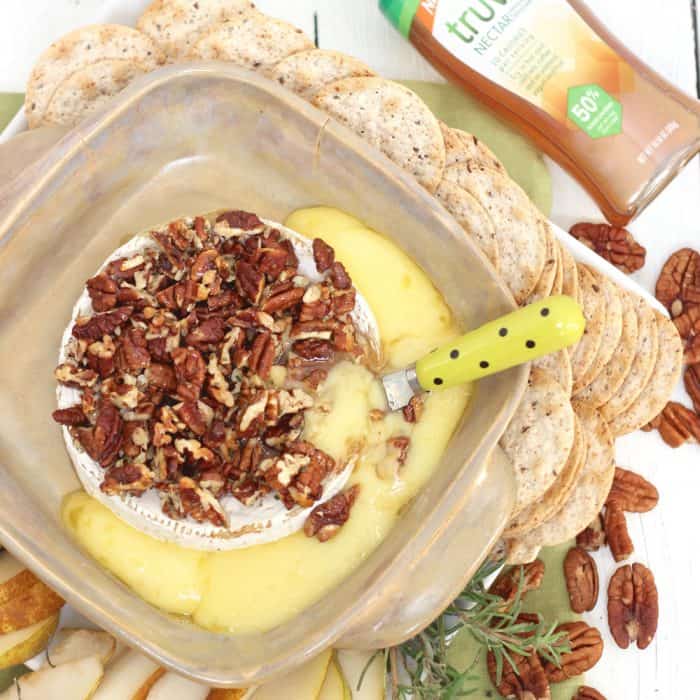 Since I got a bottle of this Truvia® Nectar the other week, I have been adding it to tons of things. I add a little tiny bit in my tea, and it is lovely especially with lemon. I add it to my pancake batter, so I can use less syrup in the morning. You can add it to anything that you'd use honey in, except you'll use half (since it's twice as sweet).
No more feeling stressed and frazzled because you are in need of a quick, easy, delicious appetizer that everyone will love. You have this baked brie. It's savory and sweet. It's great with crackers, sliced apples, and sliced pears. Enjoy!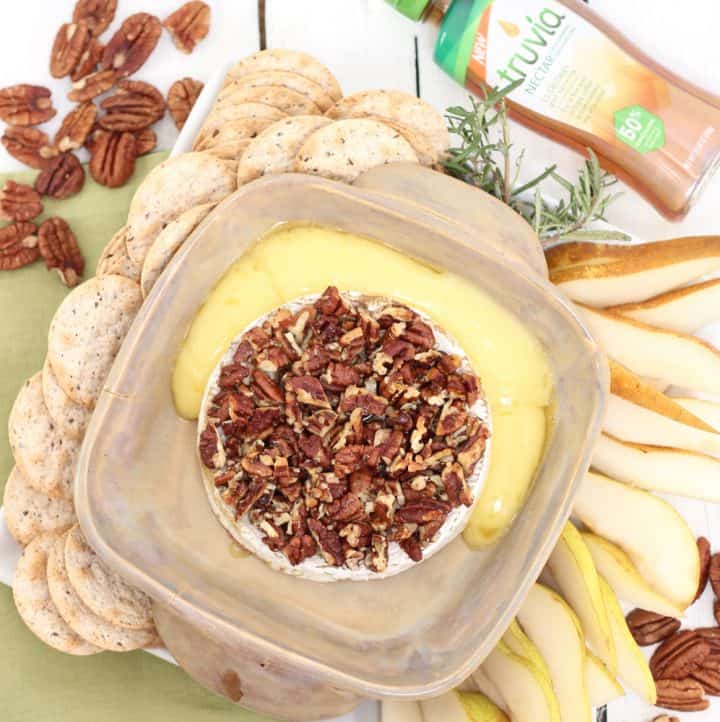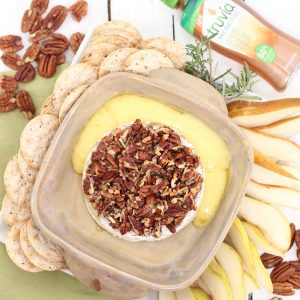 Rosemary Pecan Baked Brie
Rosemary Pecan Baked Brie needs only 5 simple ingredients to make an easy, tasty, sweet and savory appetizer
Print
Rate
Ingredients
8

ounces

brie

1/2

cup

chopped pecans

1

TBSP

Truvia® Nectar

1/4

tsp

minced fresh rosemary

dash of coarse sea salt or kosher salt

about 1/16 tsp
Instructions
Preheat the oven to 350*F.

Place the brie on a shallow medium-sized baking dish.

In a small bowl, stir together pecans, Truvia Nectar, rosemary, and salt. Top the brie with the pecan mixture.

Transfer to oven and bake for 15 minutes. Remove from oven and serve with crackers or sliced pears and apples. Enjoy!
Did you try this recipe?
Be sure to leave a comment & recipe rating below. Bonus points for tagging @memeinge & #livingwellkitchen on Instagram! THANK YOU! xo
Meme
Pin for later: