A goodie-filled salad inspired by a meal in Sedona. This Sedona Quinoa Salad is full of veggies, quinoa, dried fruit, and more. This gluten free, dairy free salad recipe can easily be made vegan by substituting chickpeas for the chicken.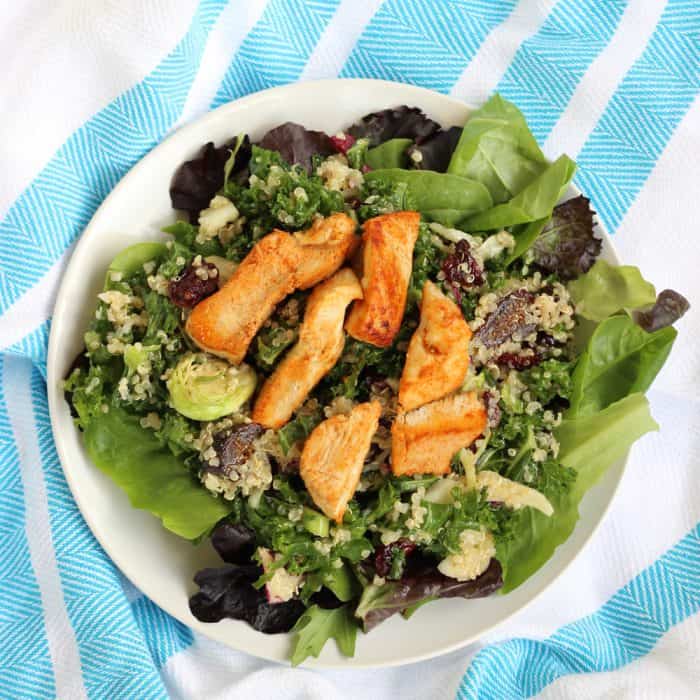 A few weeks ago, I packed up my car with all my stuff (yes, pretty much everything) and drove across the country with my sister and her twin seven year olds.
Pretty much everyone told me I was crazy because A) what made me decide to do this? B) how was I going to get all my stuff in my car? and C) why in the world would I want to travel in the car for seven days with two kids?
I explained A) a little bit in a post earlier this summer, but here's the short story:
I've wanted to live in California for quite a while. So random, I know, especially when you're from Alabama. Ever since I visited Napa with my mom my senior year of college (8 years ago whoa!), I wanted to move out here. But every time I thought about it, I always had a reason not to move. Then finally, I was discussing with some friends last August that I felt like moving, I realized that moving across the country wasn't ever going to get any easier. Why not just do it now? If I don't like it, I'll move back. If I like it, cool. So that's what I decided to do.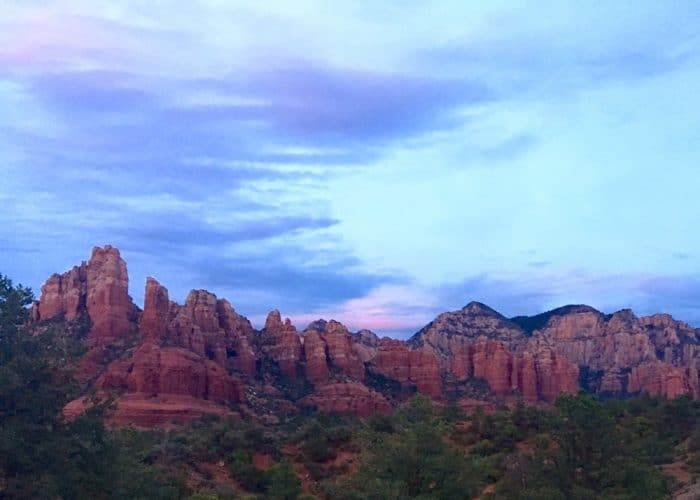 B) some how, some way, by the power of God, I got most of my stuff in my car! It was a bit of a tight squeeze, but I did it.
Yes, there are a few things I am getting shipped out here like cake pans and a steamer basket and random goodies like that. But I whittled down all my things into what I would need. Luckily, it doesn't really get too cold to San Diego (according to everyone and their mom plus the Weather Channel), so I didn't have to pack jackets or big things like that.
All that being said, I had to buy a lot of stuff when I got out here. All of my furniture except my tv is new. Despite the mandatory kitchen items like my Kitchen Aid and my Ninja, most of those things had to be purchased as well. I'm still getting my kitchen together... Y'all buying spices gets quite pricey!
C) My niece and nephew are God's gift to Earth. They are the two greatest kids ever. I may or may not be partial, but we survived 2670 miles in 8 days and 7 nights without a hitch.
Well, there was one little moment when we got to Amarillo and realized that our "hotel" was a little less-than-ideal. It was actually quite funny. I honestly don't know how I didn't get in a wreck when we were driving down the interstate and I pointed out the sketchy hotels on the side of the interstate laughing and saying "oh my gah what if we had to stay in there" at the same moment as I noticed that the hotel we had booked was in fact among these gems of Amarillo. We couldn't breathe we were laughing so hard. But that was really the only issue.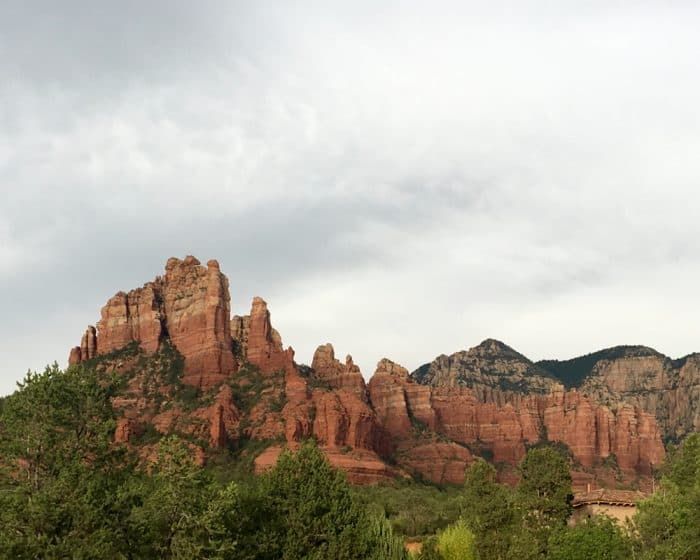 In a nutshell, the trip was awesome!!
We went to National Parks, my niece and nephew got to go hiking for the first time (and then a few more times), we stood on a corner in Winslow Arizona (good luck getting that song out of your head), we practiced yoga with some trees, we saw sites that pictures don't do justice, plus a lot more.
Every night at dinner, we discussed our favorite parts of the day and favorite moments of the trip up until that point.
Things like "the second hotel in Amarillo where we spent the night", "the popcorn they served as the appetizer in that restaurant in our hotel" and other similar events were always the funniest.
I love how kids get so excited over things you take for granted when you get older. Every time we walked into a hotel, it was like we were walking into a mansion filled with diamonds.
After the trip was over, and we could safely say "whoa! I can't believe nothing bad happened on our trip! That was so fun! and how did no one get in any fights?!" we decided to pick our favorite spot.
[clickToTweet tweet="Sedona Quinoa Salad is full of veggies, quinoa, dried fruit, and more! Easily made #vegan" quote="Sedona Quinoa Salad is full of veggies, quinoa, dried fruit, and more! Easily made #vegan"]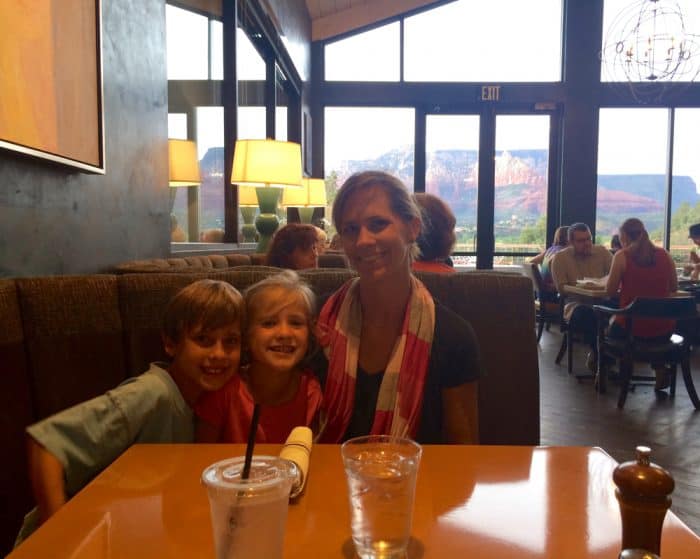 Sedona won as both my sister's and my favorite spot.
The hotel (Arabella Hotel Sedona) where we stayed was perfect. It wasn't right in the middle of Sedona but just on the outside of the busy town. There were a few trails right outside our door, a perfect spot to watch the sunset, fire pits to enjoy in the evening, and a little shopping center with restaurants within walking distance.
Obviously, we had to eat dinner, so we went to The Hudson a few steps from our hotel.
And there, at this little restaurant, I found the Sedona Quinoa Salad: grilled chicken, quinoa, super greens, cabbage, chicory, broccoli, Brussel sprouts, dried craisins, black figs, cinnamon almonds, poppy seed dressing.
It was literally exactly what I wanted at that moment, and it lived up to my expectations. I skipped the almonds because my niece is allergic to nuts. But the salad was still just as delicious. The view was even better (see photo above)!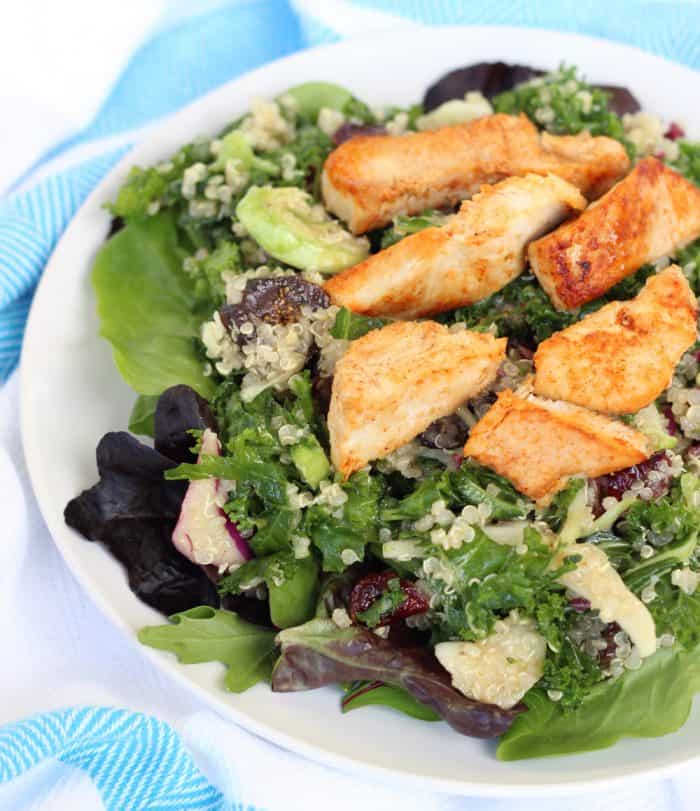 The 800+ previous words get me to why I am making this salad. Obviously, I'm posting it because it's tasty and filled with veggies (because I am a fruit & vegetable junkie).
But it's also Recipe ReDux time, and this month's theme is A Vacation-Inspired Recipe: Start unpacking your favorite vacation memories. Think about a trip you took state-side or internationally and create a healthy recipe from an unforgettable meal you enjoyed. Or, create a recipe from a native ingredient you saw or tasted on your travels.
So here we are at this salad. The Sedona Quinoa Salad, filled with all the goodies you can imagine. A salad filled with goodies is the only way I want to eat salad. I am not a rabbit and have no interest in eating diet food.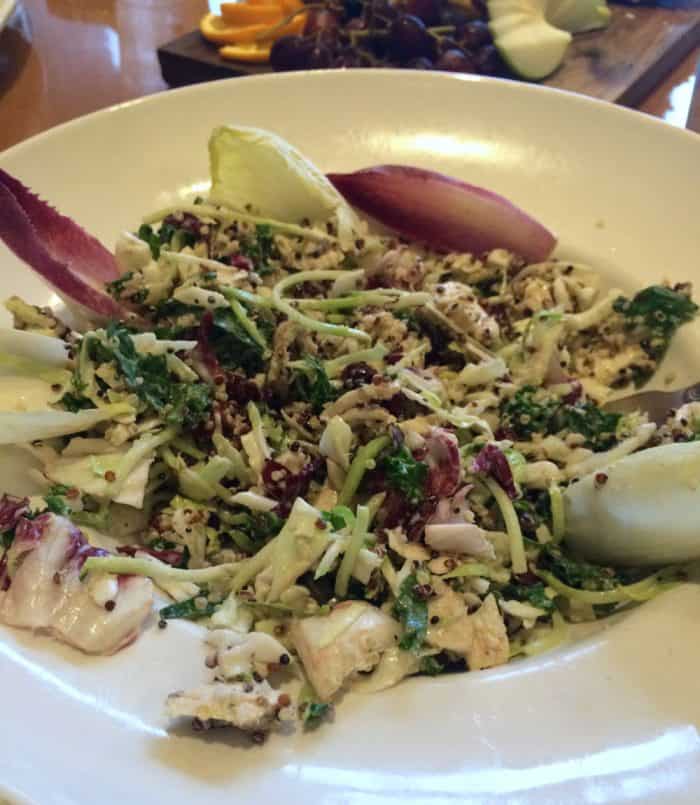 Per usual, I used the salad I enjoyed in Sedona as a guide. I was not about to buy all those ingredients individually for one salad.
Ok, I actually was going to because all those ingredients are what made the salad so tasty, but luckily I didn't have to. I mean I don't really need broccoli, red cabbage, green cabbage, Brussels sprouts, and tons of lettuce hanging around my apartment all at one time. Not even I can eat all those veggies before they go bad.
I found a salad mix at Trader Joe's that had brussels, green & red cabbage, kale, and broccoli. Score! Just look for a mix of cruciferous veggies like those. Don't drive yourself crazy trying to find that exact mix.
Next, you'll want to make your quinoa. This salad is a great way to use up any leftover cooked quinoa you have hanging around as well. We also have the chicken which I seasoned with some paprika, garlic powder, and salt and pan-fried. If you're not into chicken you can skip this step and substitute the chicken with cooked chickpeas (about ½ cup per serving).
If you are making your quinoa for the salad, make sure you give yourself enough time to let it cool down before adding super hot quinoa to your cruciferous veggie mix (that would be the kale, cabbage, etc.)
Then you make a little dressing and toss it all together. Remember how I said I was just getting my kitchen together? Well, I forgot poppy seeds, so no poppy seed dressing. While this was sad, it wasn't too terrible (i.e. it was still really delicious).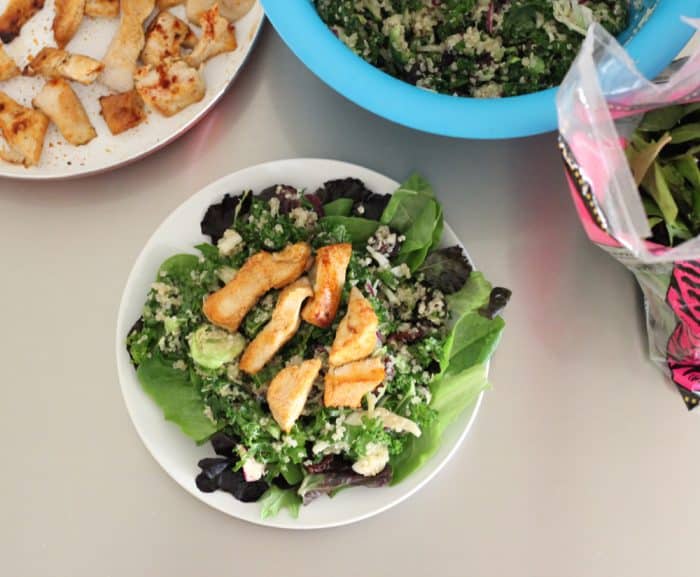 Once you've tossed all the goodies together you're ready to enjoy. I serve this over a bed of extra lettuce because more veggies is always a good idea.
This salad makes 2 to 4 servings depending on how hungry you are.
If you're serving two Starvin' Marvins then you'll probably only get two servings out of it. But for a regular meal hungry kind of day, you can probably get three to four.
I've been eating this for a few days and feel pretty full after a more modest portion. Hey, cruciferous veggies plus that extra fiber from the dried fruit & quinoa fill you up!
If you're still reading, God bless you. To reward you, I give you the tasty, goodie-filled Sedona Quinoa Salad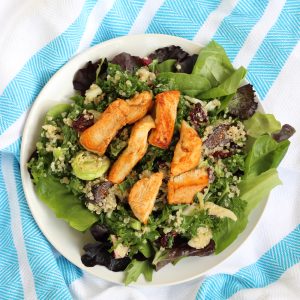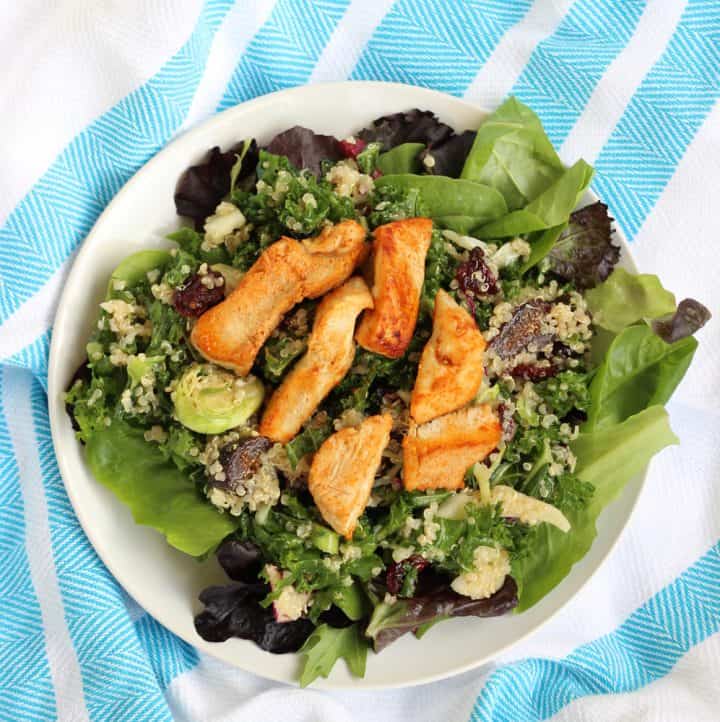 Sedona Quinoa Salad
A goodie-filled salad inspired by a meal in Sedona. This Sedona Quinoa Salad is full of veggies, quinoa, dried fruit, and more.
Print
Rate
Ingredients
½

cup

dry quinoa

rinsed

1

cup

water

¾

pound

chicken

½

teaspoon

salt

divided

¼

teaspoon

paprika

¼

teaspoon

garlic powder

3

tablespoon

white wine vinegar

1

teaspoon

mustard

1

teaspoon

honey

1

tablespoon

olive oil

6

cups

cruciferous veggie mix

5 ounces

½

cup

dried black mission figs

chopped

½

cup

dried cranberries

4

cups

salad greens

5 ounces
Instructions
Add the quinoa and water to a medium saucepan. Bring to a boil, reduce heat to low, and cover. Cook for 15 minutes until all liquid has absorbed. Transfer to a large glass or plastic bowl to cool.

Meanwhile, heat a large non-stick skillet over medium-high heat. Sprinkle the chicken with ¼ teaspoon salt, paprika, and garlic powder. Add chicken to the hot skillet and cook for 5-7 minutes per side, until chicken is done. Set aside and slice.

Stir together the vinegar, mustard, honey, and remaining salt in a small bowl. Whisk in olive oil. Pour dressing over cooled quinoa. Stir well.

Add the cruciferous vegetable mix to the quinoa and stir well to combine. Add in dried figs and cranberries. Toss well to combine.

Add a cup or two of lettuce to a plate or bowl. Top with quinoa salad mixture (1 ½ cups for a four serving meal or 3 cups to serve two) and a few slices of chicken. Enjoy!
Notes
*Apple cider vinegar will work as a substitute for white wine vinegar
*If you're not using a non-stick skillet, use an extra 2 teaspoons of oil to cook the chicken. Add when heating the skillet.
*You can transfer the cooked quinoa to a bowl and put in the freezer to help it cool faster. The quinoa doesn't need to be cold, but it shouldn't be hot. You want it to be around room temperature.
*You can use leftover cooked quinoa. You need 2 cups cooked quinoa for this recipe.
*The cruciferous veggie mix can have a combination of red cabbage, green cabbage, broccoli, kale, brussels sprouts, etc. Any mix will work.
*For the salad greens, any lettuce will work. I usually use just a basic spring mix or other lettuce mix.
*Make this vegan by skipping the chicken and substituting cooked chickpeas using ½ cup per serving
Did you try this recipe?
Be sure to leave a comment & recipe rating below. Bonus points for tagging @memeinge & #livingwellkitchen on Instagram! THANK YOU! xo
[showhide type="post" more_text="Click here for Nutrition Facts" less_text="Clear Nutrition Facts"]
*
Nutrition Facts
Sedona Quinoa Salad
Amount per Serving
% Daily Value*
* Percent Daily Values are based on a 2000 calorie diet.
*
[/showhide]
Meme
Be sure to check out all the other vacation-inspired recipe creations: