Use a cast iron skillet for a delicious, juicy burger, and up the flavor by adding blue cheese, caramelized onions and arugula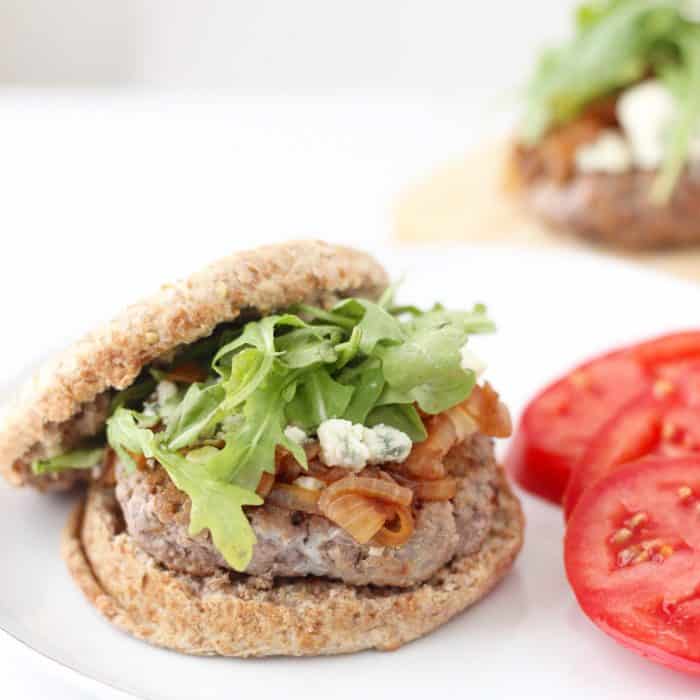 When I think hamburgers, I think grill. But when you live in an apartment in a city that is in a chronic drought, you don't have a grill.
I'd first like to mention that it is still so strange to me how different the weather in San Diego compared to New Orleans & Mobile.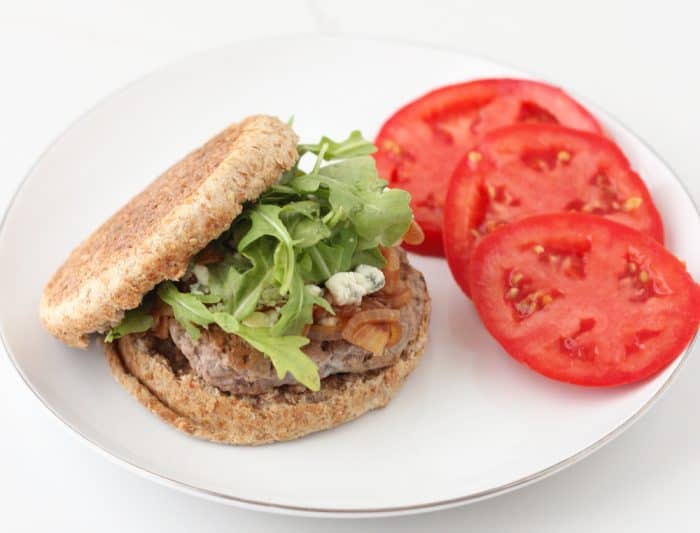 Ok, now that that's out of the way, let's talk burgers.
I love burgers, but I rarely eat them at home since I don't have a grill.
However, I knew there had be a way to make burgers without having a grill and figured that if you can make steak in a skillet, you should be able to make a burger in one too, right?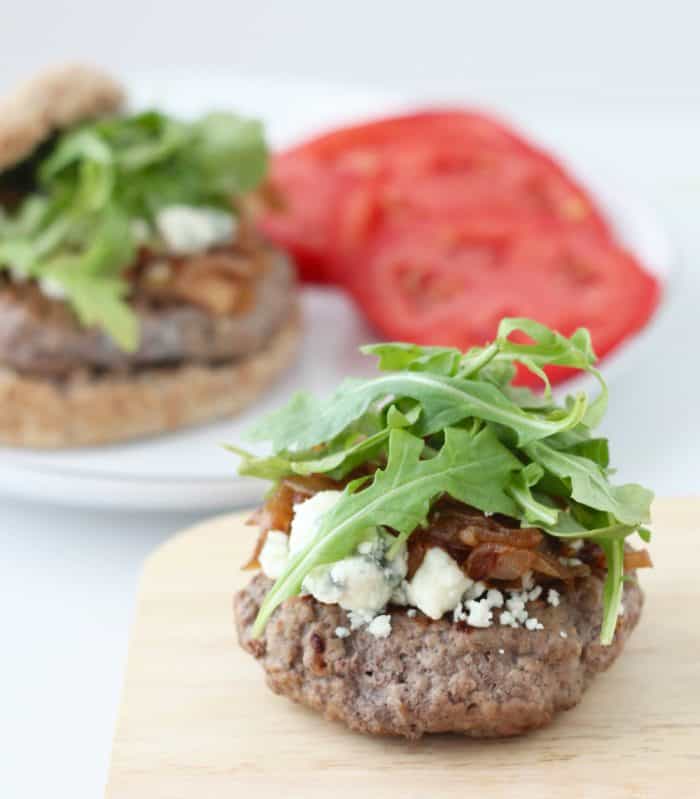 Right!
It's simple too. And you don't have to worry about having or dealing with a grill.
So you could make a regular burger if you want to buuuuuuut what if you added a little blue cheese in there for a blue cheese burger?
It'd be a really good idea.
And you know what's an even better idea?
Making caramelized onions to go on top of that burger. And you can make those caramelized onions right in the cast iron skillet while your burgers are hanging out and getting all blue cheesy.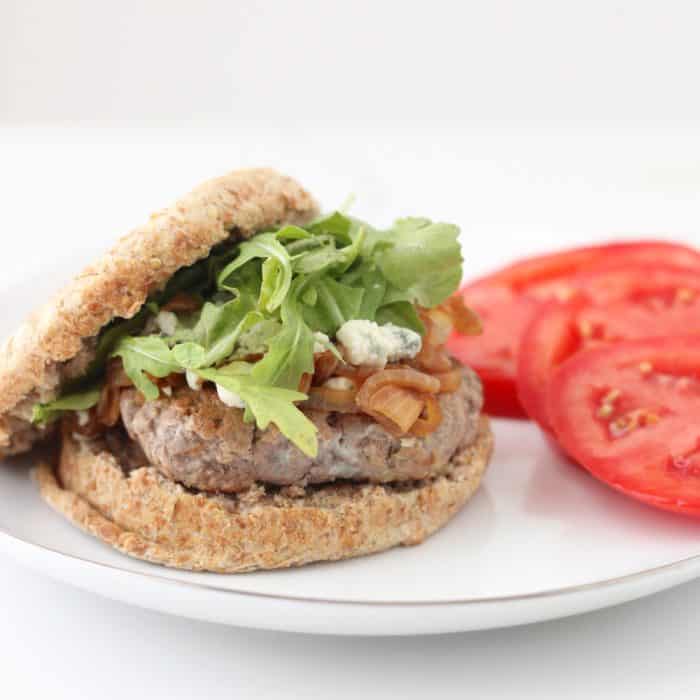 But before you finish the burger, add some arugula for extra color, nutrients and flavor, and you've got yourself a winner!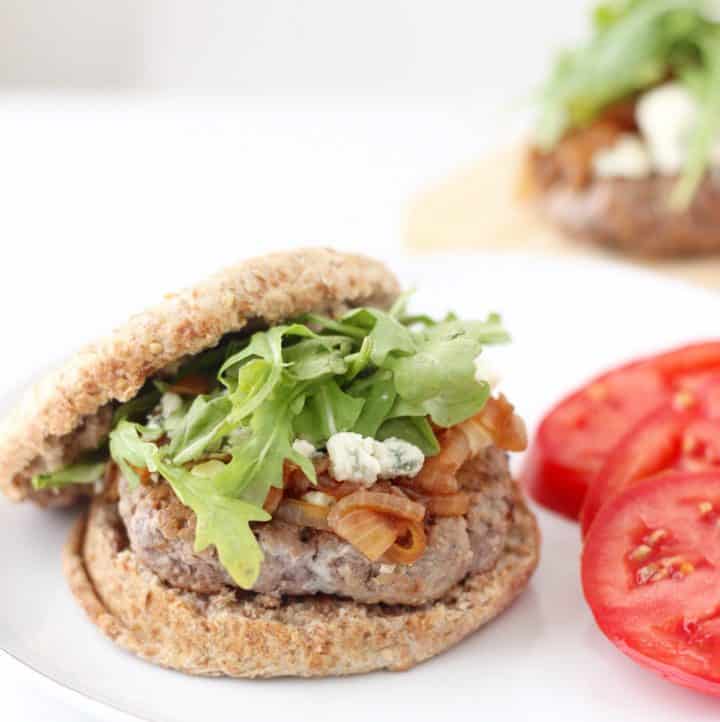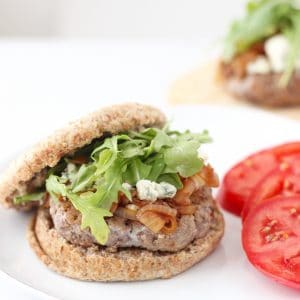 Blue Cheese, Caramelized Onion, Arugula Burger
Use a cast iron skillet for a delicious, juicy burger, and up the flavor by adding blue cheese, caramelized onions and arugula
Print
Rate
Ingredients
For the burgers:
1

pound

ground beef

lean

1/4

cup

blue cheese

crumbles

1/4

tsp

salt

1/4

tsp

black pepper

1

tsp

worcestershire sauce
For the caramelized onions:
1

TBSP

butter

or oil

1

pound

onions

sliced
For serving:
1

cup

arugula

1/4

cup

blue cheese

divided

4

hamburger buns

whole grain, optional
Instructions
For the burgers:
Gently stir together beef, 1/4 cup blue cheese, salt, black pepper, and worcestershire sauce just until incorporated.

Shape into 4 thin patties, and refrigerate.
For the onions:
Heat a cast iron skillet until hot over medium heat. Add the butter (or oil) to a large cast iron skillet, and add the onions.

Stir well, breaking up the onions and coating the onions in the butter.

Cook for 10 minutes. Stir and reduce heat to medium-low. Cook for another 25-35 minutes, stirring every 5-10 minutes, until golden brown. Remove the onions from the skillet and set aside.
Make the burgers:
Add the oil to the skillet and turn the heat to medium-high. Place the burgers in the hot skillet and cook for about 3-5 minutes until the burger easily releases.

Flip the burger and reduce heat to medium. Cook until the burger reaches desired doneness. (Note: I cooked mine about 5-8 minutes for a medium/medium-well burger)

Remove from heat and let rest a few minutes before serving
To serve:
Serve each burger with about 1 tablespoon blue cheese, 1/4 cup onions and 1/4 cup arugula with or without a hamburger bun. Enjoy!
Notes
*Using lean (but not extra lean) ground beef keeps the amount of grease splattering to a minimum. I personally don't use extra lean ground beef because I like a little fat to give the meat flavor and tenderness.
Did you try this recipe?
Be sure to leave a comment & recipe rating below. Bonus points for tagging @memeinge & #livingwellkitchen on Instagram! THANK YOU! xo
What I used to make this recipe:

Meme