This simple recipe only needs four ingredients for a festive and fruity margarita perfect for celebrating Mardi Gras, Margarita Day, or any day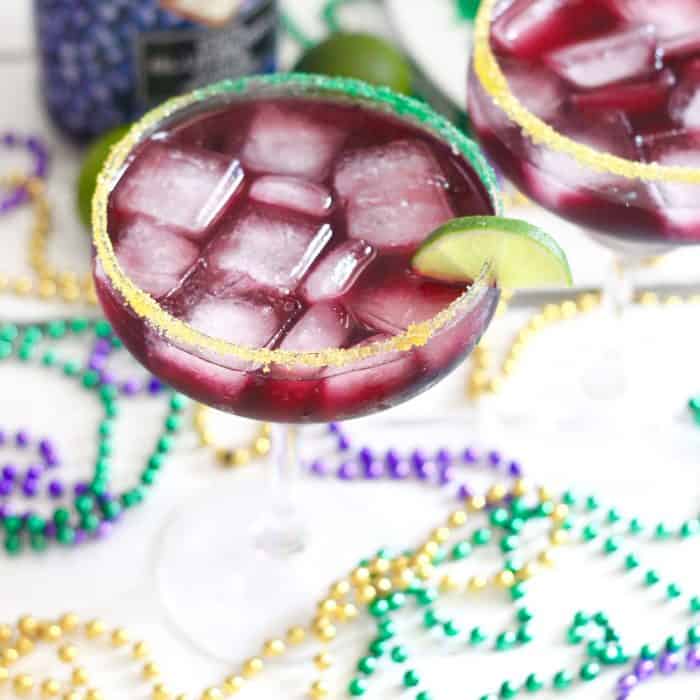 Celebrating insignificant moments is one of my favorite parts about life.
Food holidays, half birthdays, and just being outside are all reasons for celebration.
Which is why I decided to celebrate margarita day again this year. (I celebrated it a few years ago with some tasty Grapefruit Margs)
And I took it a step further by making these festive Mardi Gras margaritas. Now, obviously you can leave out the green and gold sugar and you've still got a tasty margarita. But with Mardi Gras in less than two weeks, it seems like is the perfect cocktail to celebrate with.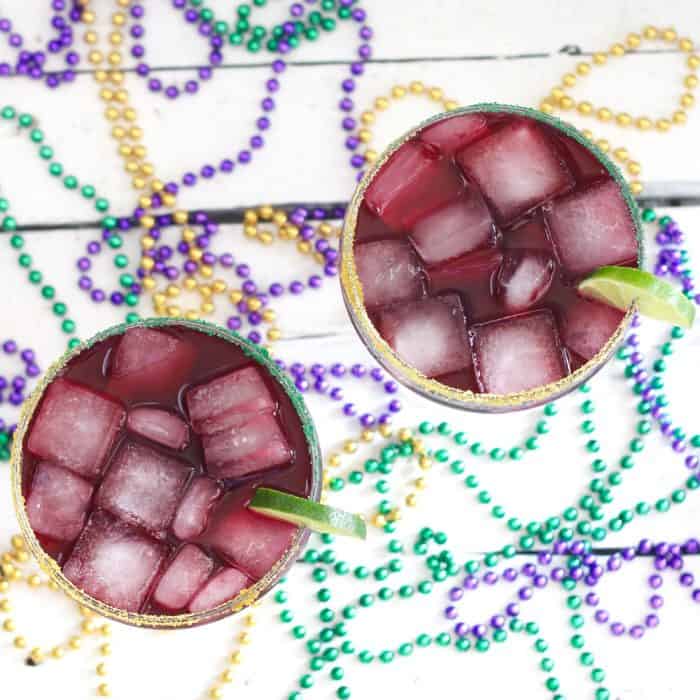 This recipe couldn't be much easier, thanks to buying 100% blueberry juice. You are welcome to smash your own blueberries but I chose not to do this for two reasons.
1) I don't like wasting the blueberries and to get the juice you have to toss out some of the blueberries (so sad).
2) I don't like taking extra steps and smashing the blueberries then straining them is just a little too much work for me when there's a much easier, more efficient alternative: buying blueberry juice.
Now make sure you get 100% blueberry juice. None of that juice cocktail junk is allowed in these margs. Please don't disgrace the name of margaritas with junk and tons of added nonsense.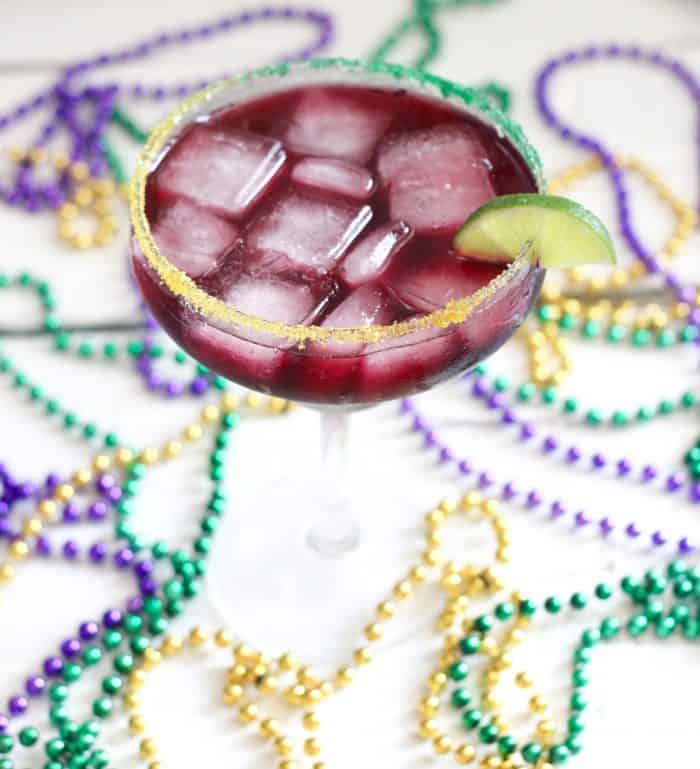 Here's a little tip to get extra mileage on your margs: If you are like me and like really big drinks (that aren't super strong), I like to make this recipe and add about 4-8 ounces of lime flavored seltzer or soda water.
Obviously you'll need a bigger cup but you get more without sacrificing too much flavor. And you can always add a splash or two extra of lime or blueberry juice.
I think margaritas are personal, so feel free to play with the ingredient amounts. Sometimes I want things a little sweeter so I'll add more triple sec. Other times, I'll use a little less tequila when I want less of a bite (or I'll add more seltzer water).
For fun, I made these on Facebook Live. And you can watch just how easy they are to make. (The video is under the recipe or head over to Facebook)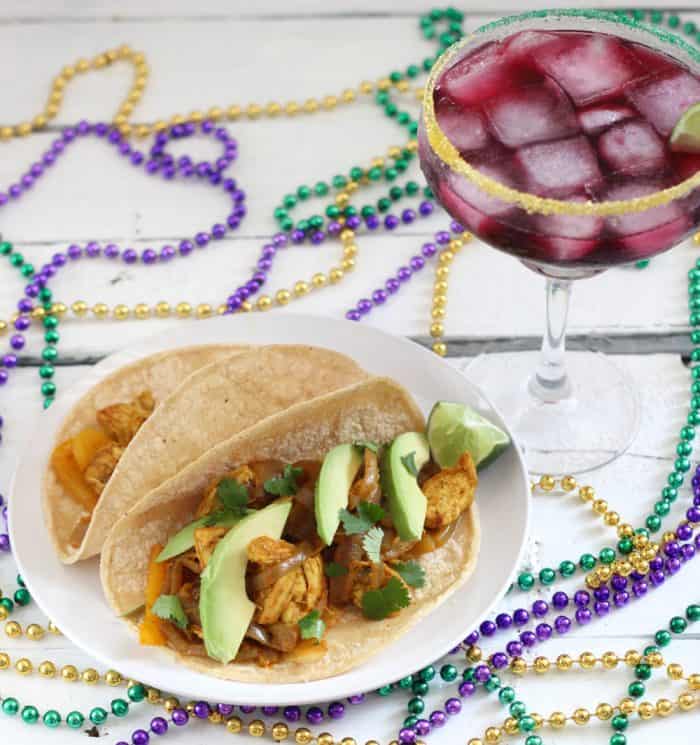 I will be enjoying these with my festive Mardi Gras tacos.
Cheers!!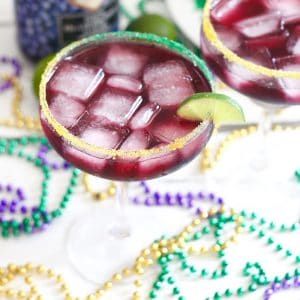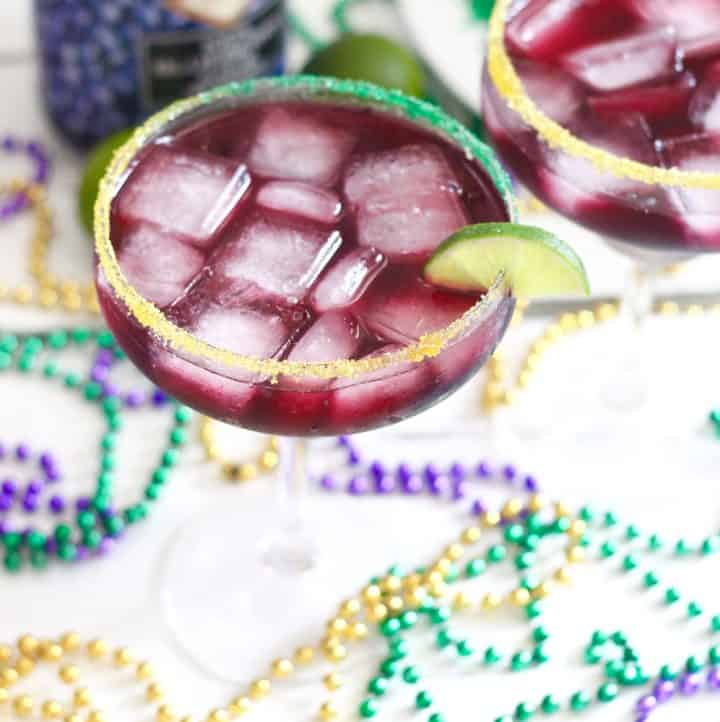 Blueberry Margaritas
This simple recipe only needs four ingredients for a festive and fruity margarita perfect for celebrating Mardi Gras, Margarita Day, or any day
Print
Rate
Ingredients
4

ounces

100% blueberry juice

½ cup

2

ounces

tequila

¼ cup

1

ounce

fresh squeezed lime juice

2 TBSP

1

ounce

triple sec

2 TBSP

colored sugar for the glass
Instructions
To decorate the glass, rub a cut lime around the rim of the glass. Place colored sugar on a plate and dip the rim of the glass into the sugar to adhere to the glass.
For the margarita:
Stir together the blueberry juice, tequila, lime juice, and triple sec. Pour into glass over ice. Enjoy!
Video
Notes
*You can easily double, triple, quadruple, etc. the recipe to make more.
*You can decorate the glass or leave plain. Colored sugar is optional 🙂
Did you try this recipe?
Be sure to leave a comment & recipe rating below. Bonus points for tagging @memeinge & #livingwellkitchen on Instagram! THANK YOU! xo
Meme
Check out the video or view on Facebook:
Pin for later: