Grapefruit Margaritas made of fresh grapefruit, lemon, and lime juices for a bright and flavorful margarita with only 6 ingredients. No added sugar and no special mix needed.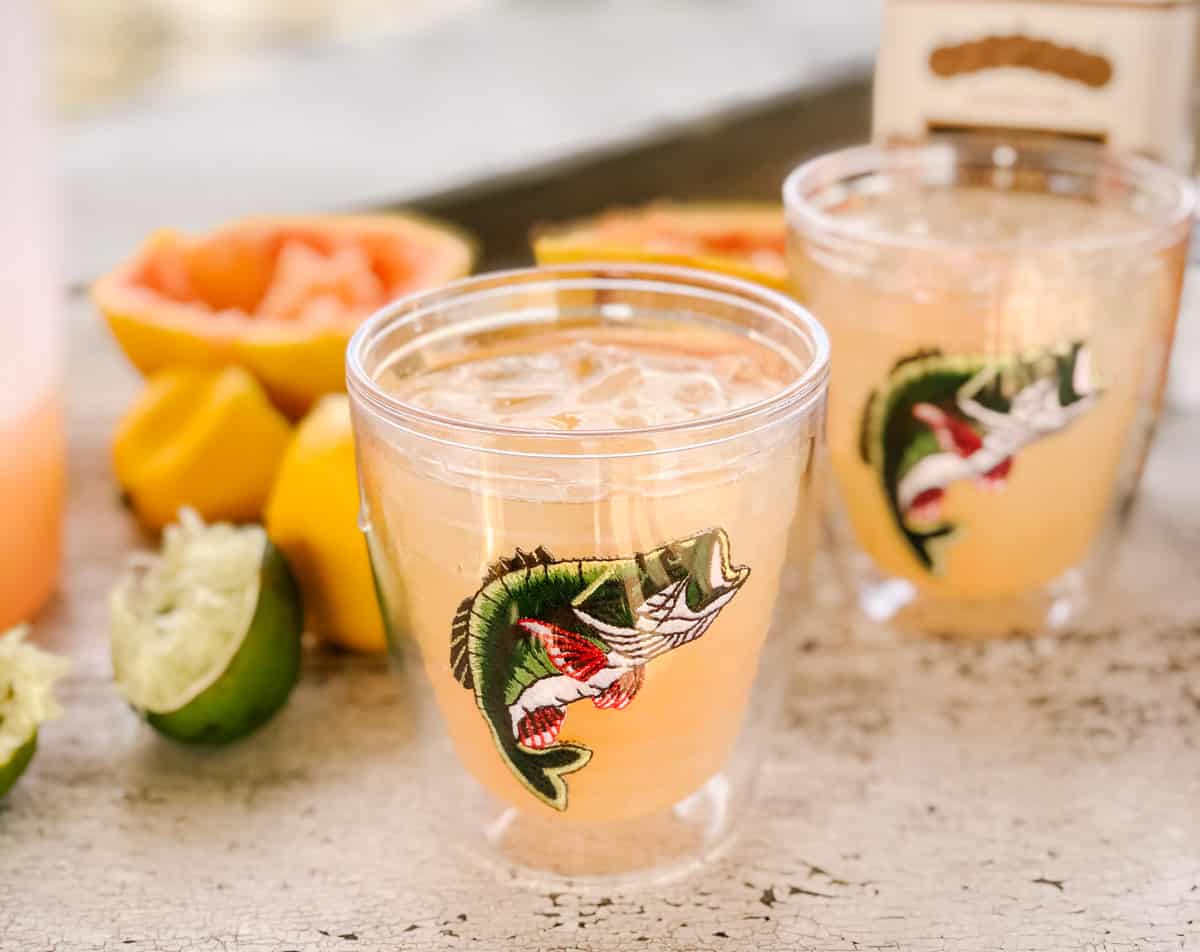 About Grapefruit Margarita
Fresh grapefruit juice with lemon and lime juice plus tequila, orange liqueur, and salt — that's all you need to make these delicious, refreshing, and delightful grapefruit margaritas.
Yes, it takes a little time to juice 4 grapefruits, 4 lemons, and 4 limes.
But the result, a lovely pitcher of grapefruit margaritas, is more than worth it! And it really only takes about 15 to 20 minutes to juice everything.
One major thing to remember is to use good tequila.
For the orange liqueur, it's less important to use a fancy one, in my opinion.
This makes a pitcher of grapefruit margaritas, but they store well in the fridge.
Or you can keep them in the freezer for a few weeks and enjoy them as grapefruit margarita slushies.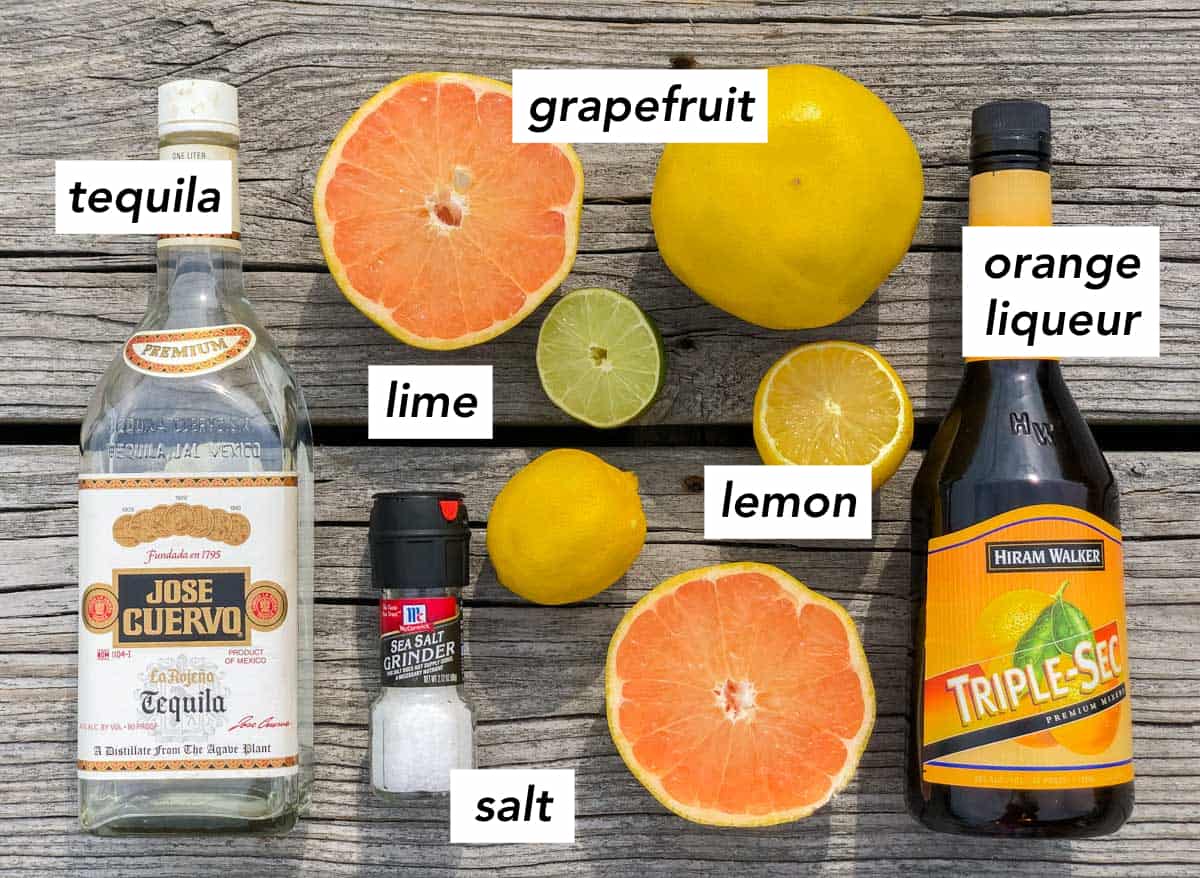 Ingredients
Grapefruit: Fresh grapefruits are best for these margaritas. Pink or Ruby Red grapefruit both work well.
When buying, look for grapefruits that have thinner skins (they are a little softer when squeezing) because they usually yield more juice.
In a pinch, store-bought grapefruit juice will be fine.
Lemons & Limes: Fresh lemon or lime juice is preferred, but bottled lemon or lime juice will work if that's all you have. Similar to grapefruit, if you are buying fresh lemons or limes, look for ones with thinner skins since they release more juice.
Salt: Only a tiny pinch of salt is needed, but it really does round out the flavors. You can use any type of salt you have: sea salt, kosher salt, or table salt.
Tequila: You want good tequila in a margarita. This is incredibly important, so please don't skimp on cheap tequila.
For a margarita, Blanco or Silver tequila works well. Other good options are Reposado or Gold (which is a mix of Blanco and Reposado).
Orange Liqueur: Triple sec, Cointreau, and Grand Marnier are all good options. In my opinion, there's really no need to buy a fancy orange liqueur.
Recipe Cost
Grapefruits 4: $3.96
Lemons 4: $2.00
Limes 4: $1.32
Salt ⅛ teaspoon: $0.01
Tequila 1 ¾ cup: $14.00
Orange Liqueur 1 cup: $3.84
TOTAL COST: $25.13 or $2.79/serving (Based on San Diego grocery stores 2023)
Note that this is not the recipe; it's simply to show the cost breakdown of ingredients. Scroll down to the full recipe to see the specific ingredients and directions.
How to Make Grapefruit Margaritas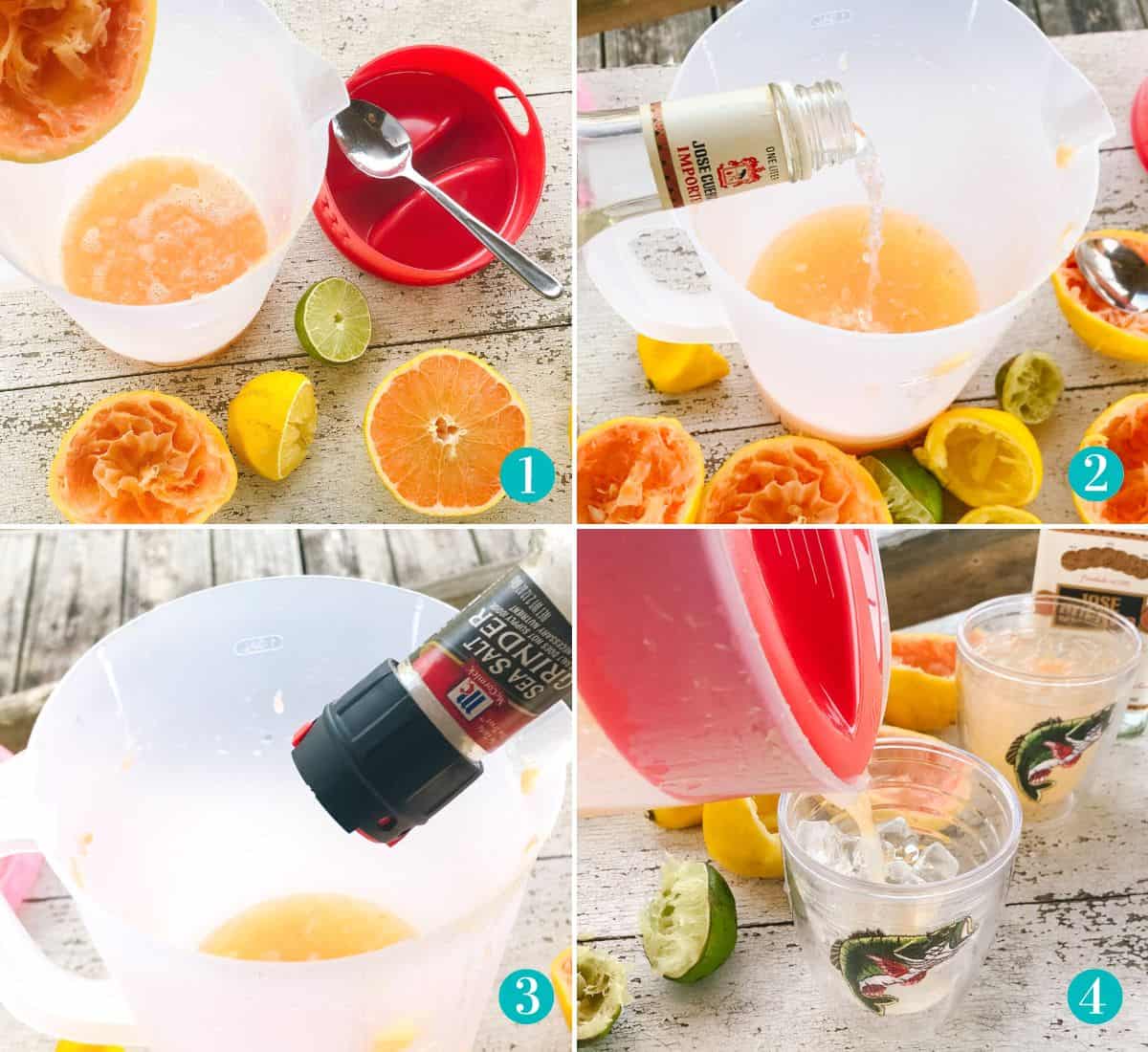 Time needed: 20 minutes.
A grapefruit margarita is simple to make! Stir all the ingredients together and enjoy!
Juice the grapefruits, lemons, and limes into a pitcher.
Pour in tequila and triple sec.
Add in salt. Stir everything together.
Pour into ice-filled glasses and enjoy.
Make a Grapefruit Margarita Slushy
Freeze in an airtight container, preferably one that has a larger surface area like a rectangular glass dish.
Let freeze for at least 8 hours.
When ready to enjoy, use a fork to scrape the grapefruit margarita into a slushy-like consistency.
Or simply add leftover Grapefruit Margaritas to a blender with ice. Use 2 parts margarita to 1 part ice. Blend, and enjoy!
Recipe Tips
*To help the limes and lemons release the maximum amount of juice, it's helpful to roll the limes and lemons on the counter with the heel of your hand.
Another option is to microwave the lime or lemon for about 10-15 seconds.
*Also, be sure to wash the citrus fruits well before slicing them. You only need to use water, but a scrub brush can help take off any stubborn dirt (especially on the grapefruits).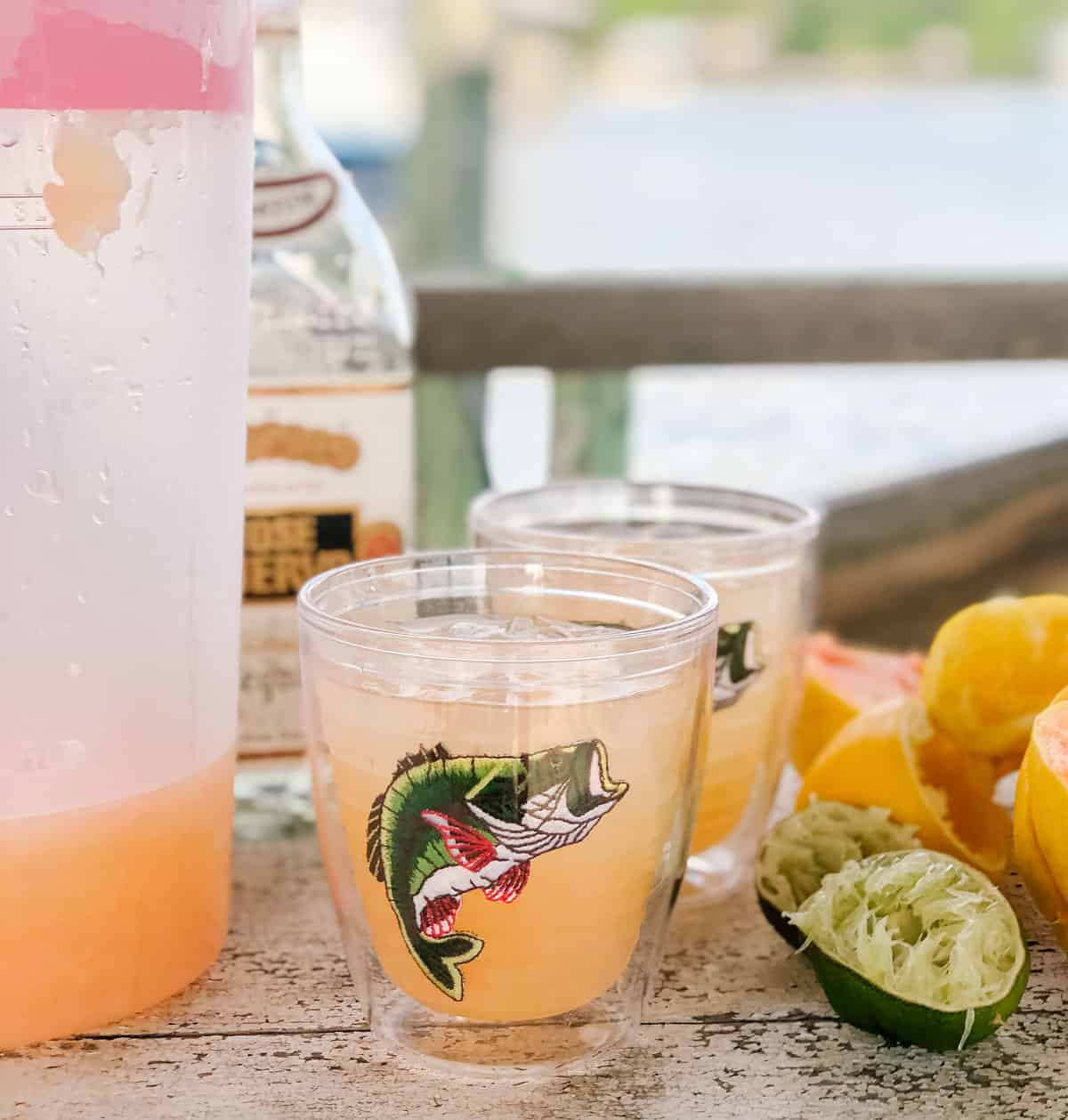 Variations
Ingredient Options
Lemons: In a pinch, you could omit the lemon and add 1 more grapefruit and 3 extra limes. Or use one orange.
Limes: Omit the limes and use 1 extra grapefruit and 1 extra lemon. Or use one orange.
Flavor Substitutions
Less tanginess: If you want them to be sweeter, you can use oranges in place of the lemon or lime.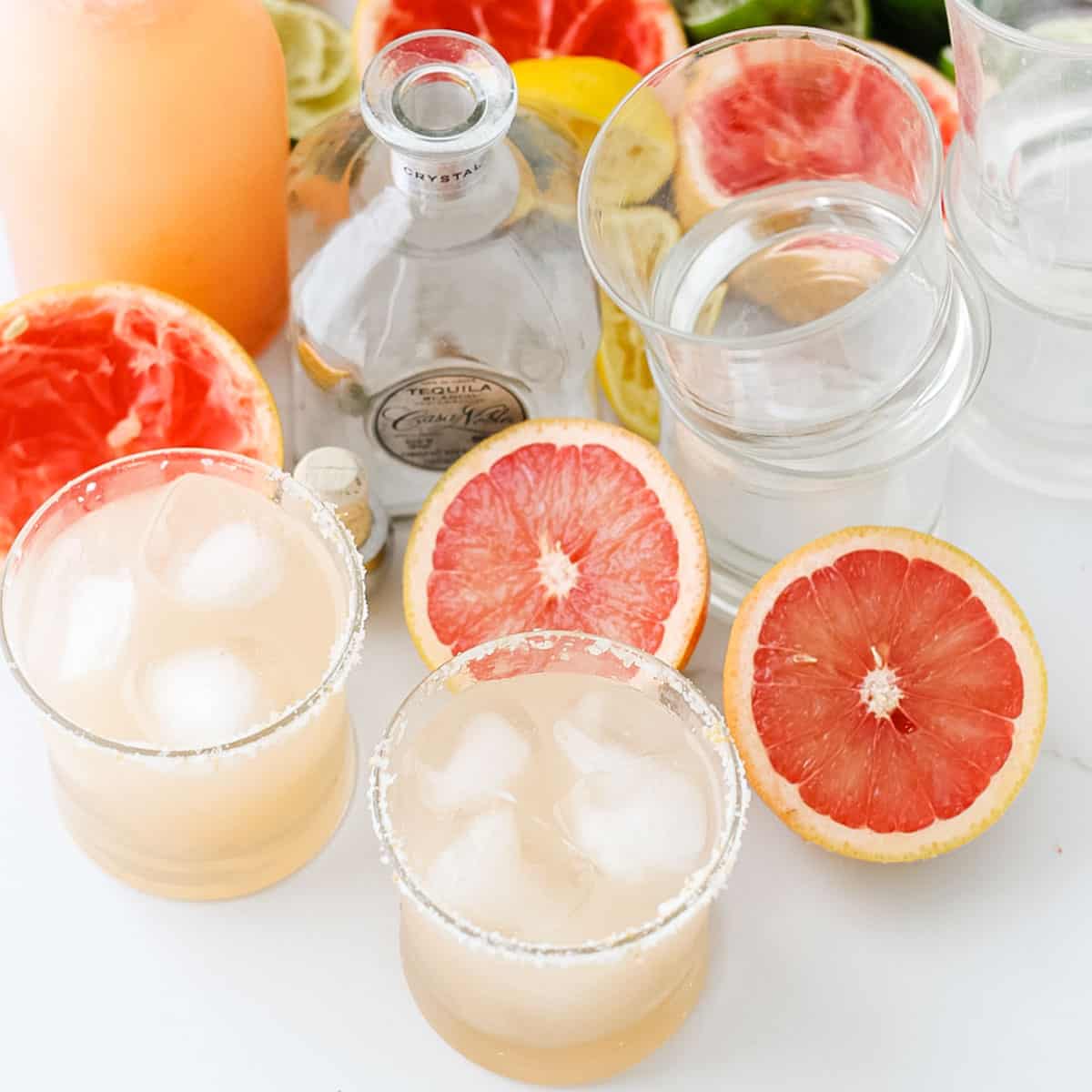 How to Make Allergy-Friendly
These are already gluten-free, dairy-free, egg-free, soy-free, vegetarian & vegan. Be sure to check the ingredients list to double-check that they are free of any allergens that concern you.
How to Fix a Mistake
Too tangy/Not sweet enough: You can a few tablespoons of simple syrup or granulated sugar. Be sure to stir well until the sugar dissolves. Another option is to add more triple sec because it is sweet.
Lacking flavor: Don't forget the salt! Add another pinch if needed. Or you can add an extra ¼ cup of tequila or orange liqueur.
Too strong: Stir in the juice from another grapefruit, lemon, or lime. You can also use a freshly squeezed orange or store-bought orange juice.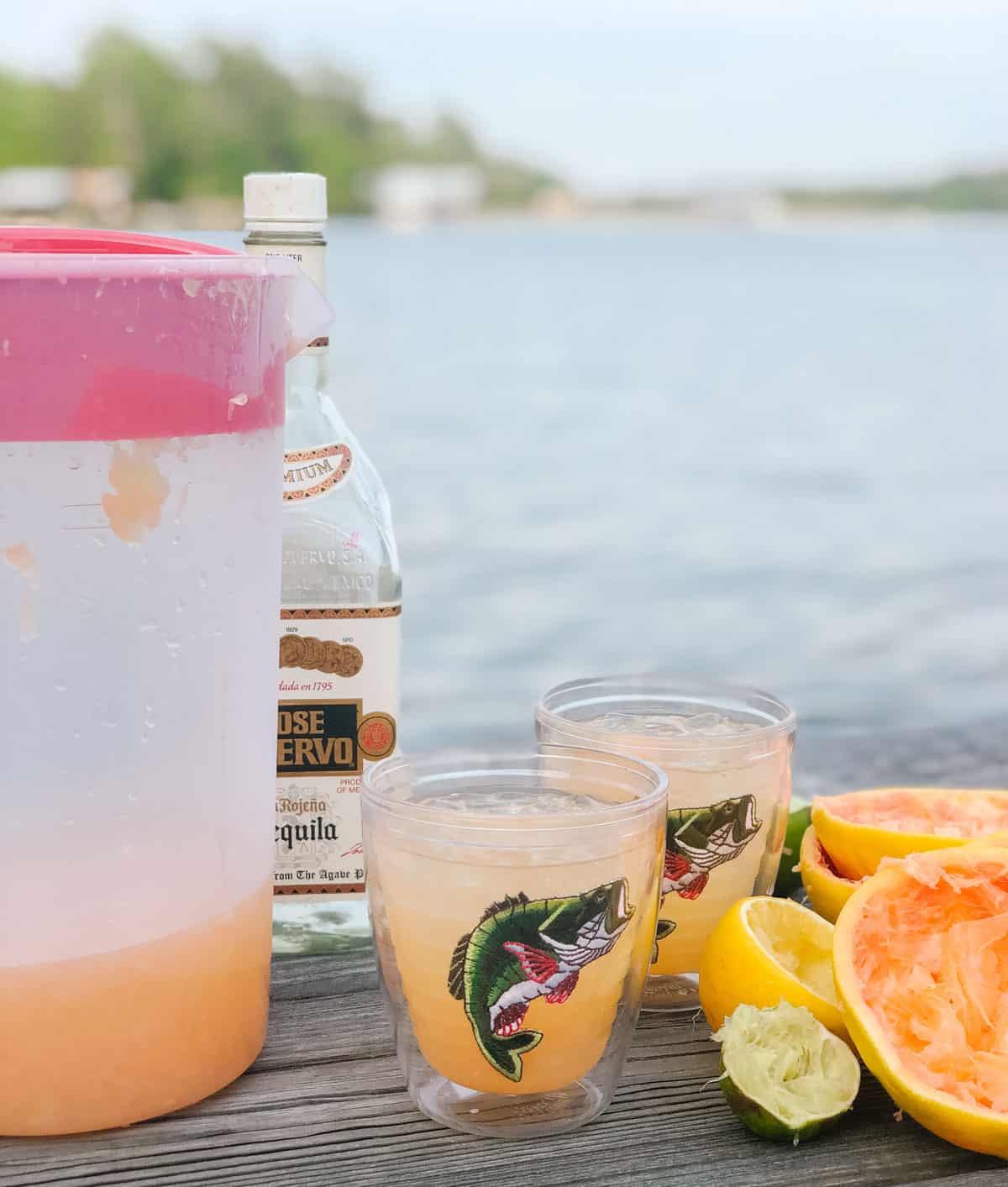 Make-Ahead Ideas
These are great for entertaining because they can be made in advance for up to 3 days. You can juice the fruit and keep it in an airtight container in the fridge for up to 4 days.
Once you've added the alcohol, the grapefruit margarita is still good for about 3 to 4 days. It'll taste fine but won't be as good as if it were freshly made.
Storage Suggestions
Keep in an airtight glass or plastic container (not a metal container as it'll react negatively with the citrus) in the fridge for up to 4 days or in the freezer for up to 4 weeks.
Defrost in the fridge. Or remove it from the freezer and scrape it with a fork to enjoy it like a slushy. Great for really hot days!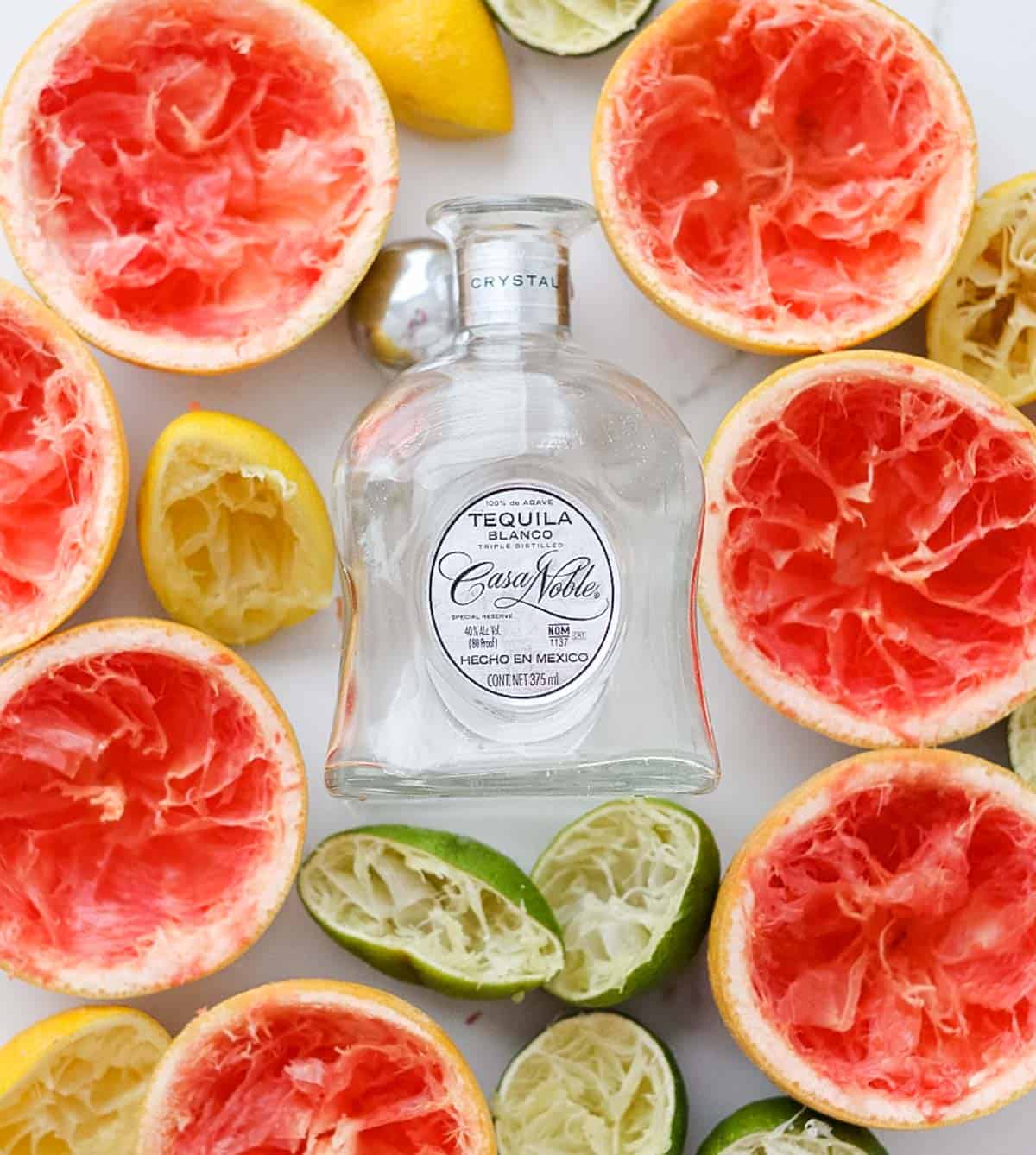 Frequently Asked Questions
What is the best tequila for a margarita?
The best tequila for margaritas is blanco or silver tequila, in my opinion. It has a more prominent flavor that works well with citrus juices. You can also use gold tequila which is a little smoother, or use reposado, which is a mix of silver and gold.
Can you freeze grapefruit margaritas?
Yes, you can freeze grapefruit margaritas! They are best kept in an airtight glass or plastic container in the freezer. I like to store them in a pitcher.
Can you use store-bought fruit juice?
I highly recommend freshly juicing the grapefruit, lemons, and limes. However, store-bought juice could work in a pinch. Preferably not all three. And you might need to add a little sugar since some store-bought juices are a little tarter.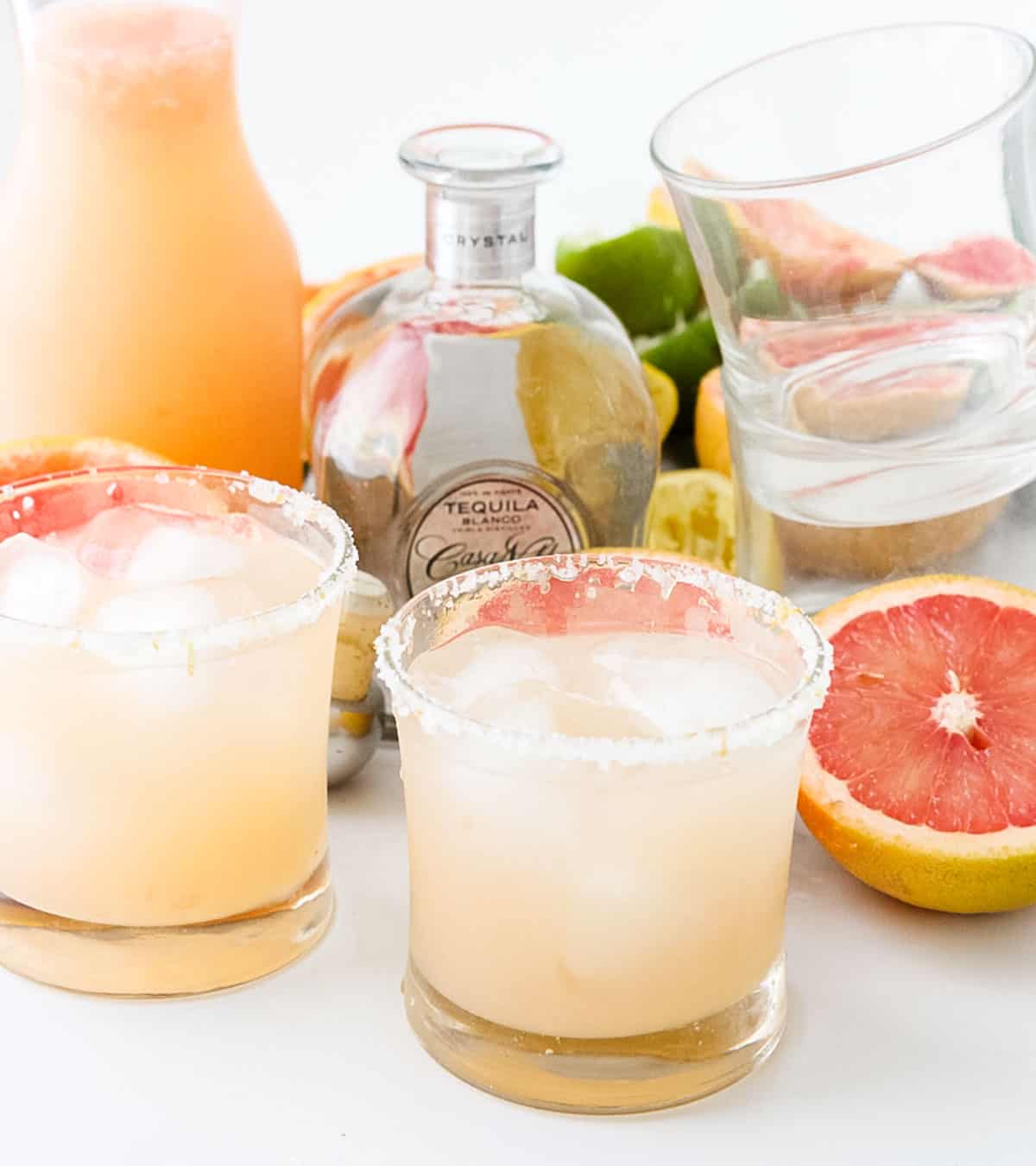 Nutrition Benefits
Like all alcoholic drinks, there aren't tons of health benefits and it's best to limit your consumption to one to two drinks.
However, these grapefruit margaritas are high in Vitamin C thanks to the citrus juices.
What to Serve with Grapefruit Margarita
You definitely need to eat when you're drinking margaritas! Chips and salsa or guacamole are great options. Or check out any of these appetizers or main meals if you need some ideas.
Final thoughts:
Oh, these are so good that you absolutely must make them! I love that you make a big pitcher which makes them great for entertaining and parties.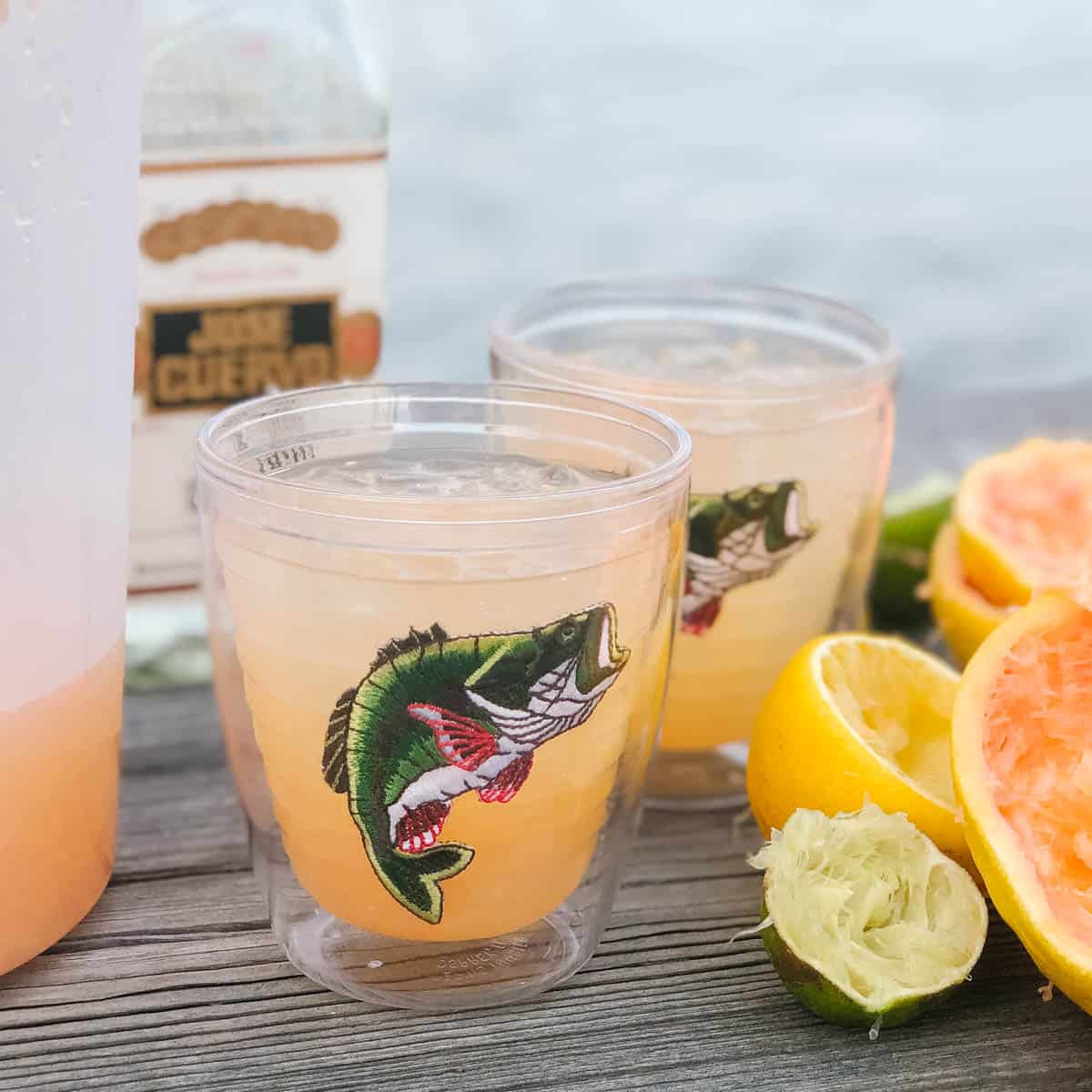 MORE MARGARITA RECIPES YOU'LL LOVE: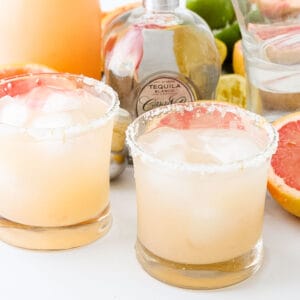 Grapefruit Margarita
Simple Grapefruit Margaritas recipe made of fresh citrus juices for a tasty cocktail with only 6 ingredients. Serves a crowd
Print
Rate
Total Cost:
$25.13 or $2.79/serving
Ingredients
4

grapefruits

4

lemons

4

limes

⅛

teaspoon

salt

1 ¾

cup

tequila

1

cup

orange liqueur

like triple sec or Grand Marnier
Instructions
Juice the grapefruits, lemons, and limes.

Stir in tequila, orange liqueur and salt.

Pour into cups filled with ice (line the rim of the glasses in salt if desired).
Notes
*4 grapefruits, 4 lemons, and 4 limes should make about 4 cups of juice. Add more citrus if desired.
*One pitcher makes about 6 ¾ cup margaritas.
*The amounts for the ingredients listed in the recipe are guidelines. Feel free to play around with the measurements based on your own taste preferences.
Did you try this recipe?
Be sure to leave a comment & recipe rating below. Bonus points for tagging @memeinge & #livingwellkitchen on Instagram! THANK YOU! xo
Meme
This post was originally published on February 22, 2015. Text, recipe, and photos have been updated.
---
Grapefruit Margarita Nutrition Facts
Nutrition Facts
Grapefruit Margarita
Amount per Serving
% Daily Value*
* Percent Daily Values are based on a 2000 calorie diet.