A deliciously cheezy vegan snack that's perfect for an afternoon break or a movie-watching bite to eat.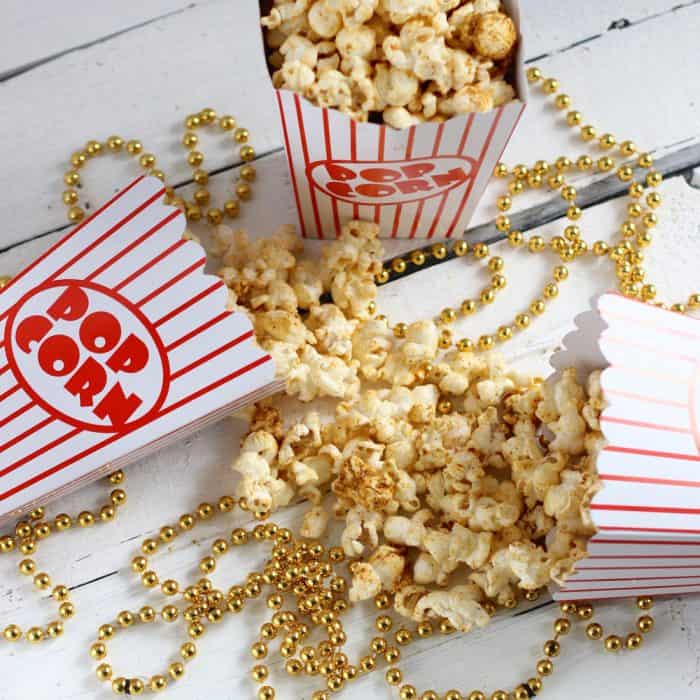 Popcorn is by far my most favorite snack.
At least five days out of the week, I have popcorn. I look forward to it daily.
I think one of the reasons I love it so much is that it has so many flavor options. Typically, I'm a popcorn purist and just have a little salt & butter on my popcorn. But occasionally (like once a week), I get all crazy and come up with new seasoning combos.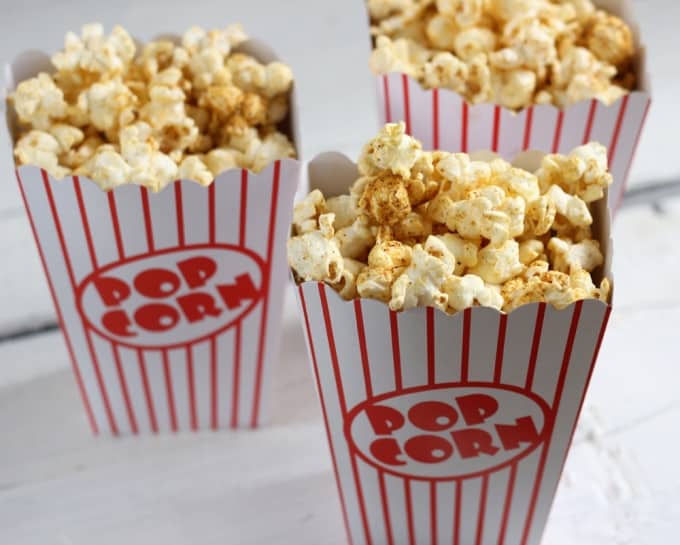 After spending countless dollars on store-bought flavored popcorn, I decided it made more sense, a lot more sense, to buy a giant container of popcorn kernels and season it myself.
And oh how right I was!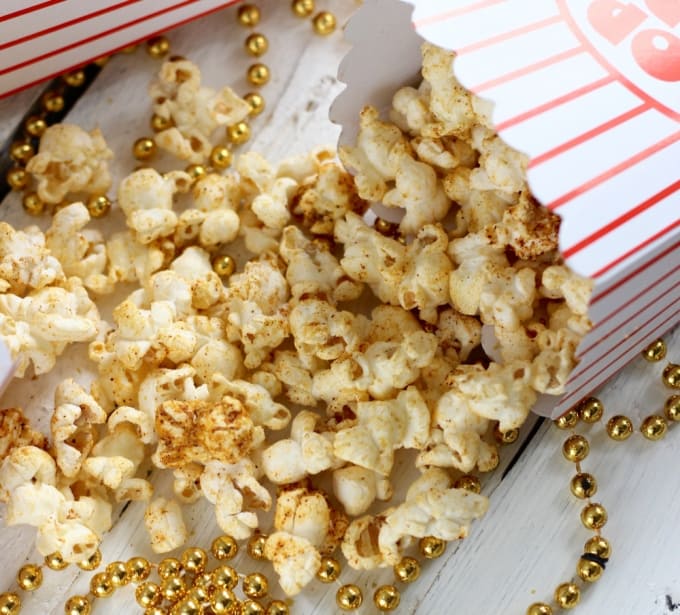 After two weeks of eating this cheezy (not cheesy because it uses nutritional yeast, so it's not technically cheese) taco flavored popcorn, I've decided that it's worthy of being shared with others.
And since the Oscars are this Sunday, I decided it'd be a perfect time to share! Because movies and popcorn go together like peas and carrots (what Oscar-winning movie is that from? hint: Jenny)
This is quite simple to make. Pop some popcorn. Toss with seasonings. Snack away.
You are welcome to pop the popcorn on the stove or in the microwave or however you prefer to pop your corn.
I pop my popcorn in my air popcorn popping machine. I love it almost as much as my mini food processor (which is a lot)
For someone who loves popcorn as much as me, it was well worth the $22 investment. And it's saving my nice pots from scorching from popping the popcorn on the stove.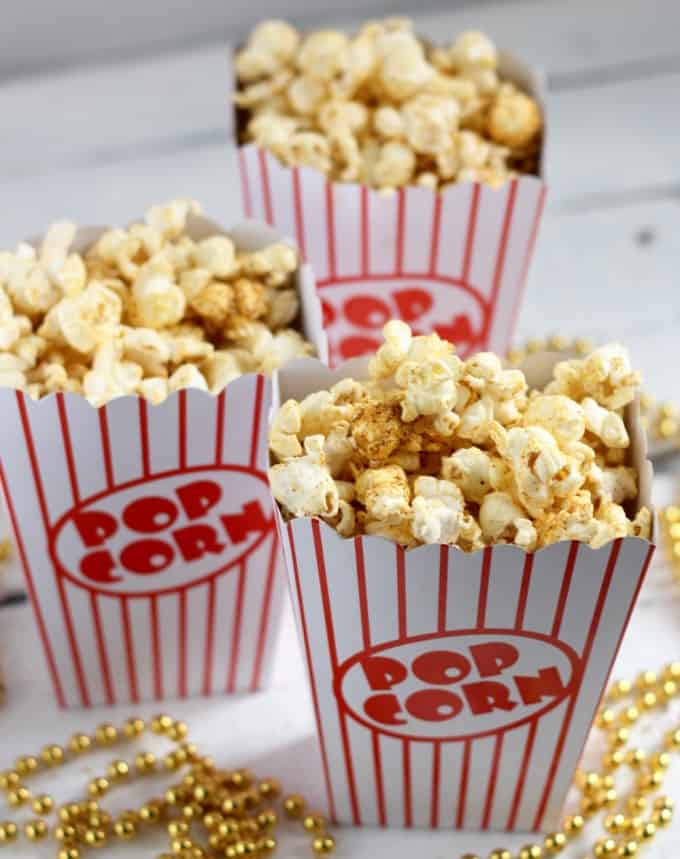 Other than that, there's not too much to say about this popcorn other than it is a fun flavor that reminds me a little bit of Doritos. But in a not-going-to-stain-your-fingers-a-creepy-color because you have no idea what's actually in it way.
You get to flavor your popcorn with real ingredients and enjoy the rewards.
So, run friend, run to the kitchen and make this cheezy taco popcorn as soon as you can 😉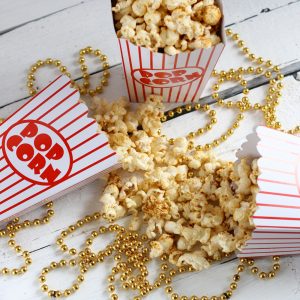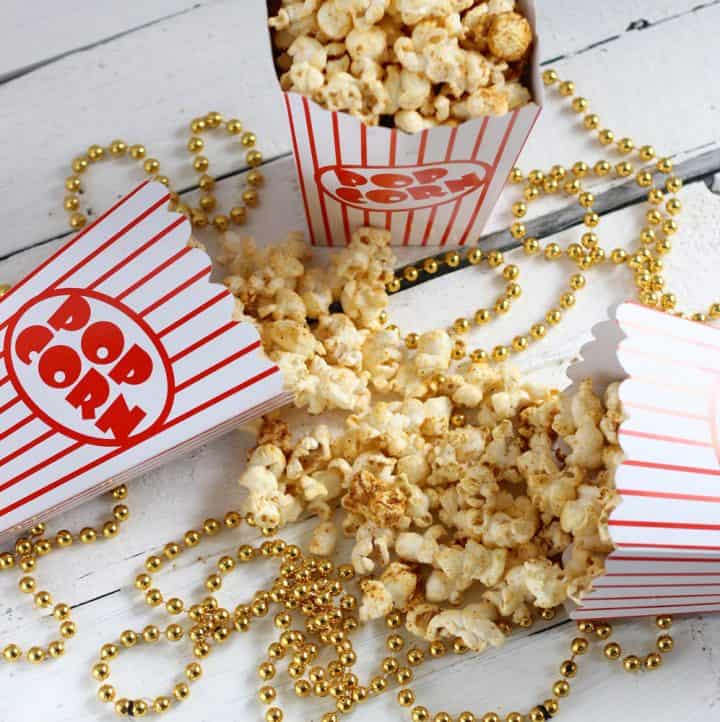 Cheezy Taco Popcorn
A deliciously cheezy vegan snack that's perfect for an afternoon break or a movie-watching bite to eat.
Print
Rate
Ingredients
⅓

cup

popcorn kernels

unpopped

1

tablespoon

olive oil

3

tablespoon

nutritional yeast

1

teaspoon

chili powder

¼

teaspoon

paprika

¼

teaspoon

sugar

¼

teaspoon

salt

⅛

teaspoon

cumin

⅛

teaspoon

cayenne pepper

optional
Instructions
Pop the popcorn.

Toss the popped corn with the remaining ingredients.

Enjoy!
Notes
*This makes 7 cups popcorn. Double or triple to serve more.
*Best enjoyed within the hour prepared.
Did you try this recipe?
Be sure to leave a comment & recipe rating below. Bonus points for tagging @memeinge & #livingwellkitchen on Instagram! THANK YOU! xo
[showhide type="post" more_text="Click here for Nutrition Facts" less_text="Clear Nutrition Facts"]
*
Nutrition Facts
Cheezy Taco Popcorn
Amount per Serving
% Daily Value*
* Percent Daily Values are based on a 2000 calorie diet.
*
[/showhide]
What to use in this recipe:
---
Meme
Doesn't this recipe look good?! You should probably pin it for later: