Cream Cheese Stuffed Peppers are baby bell peppers stuffed with a spicy cheese mixture. Only 5 ingredients for a healthy, vegetarian appetizer that's great for entertaining or snacking.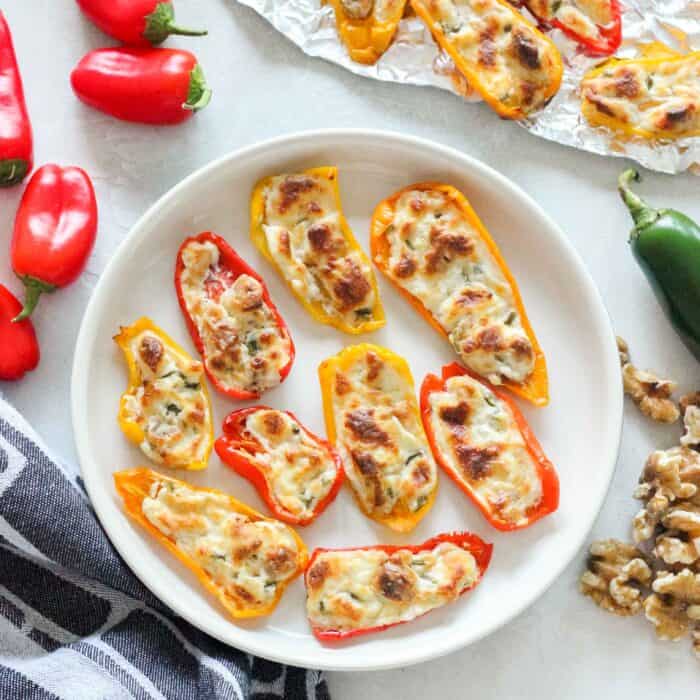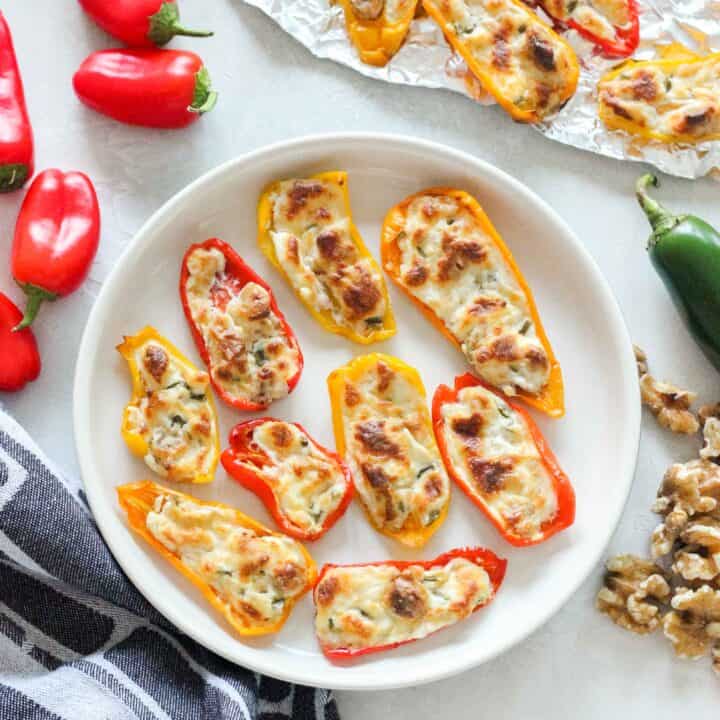 About Cream Cheese Stuffed Peppers
These cheesy stuffed baby bell peppers are exactly as the name implies: mini bell peppers are stuffed with a cheesy mixture of cream cheese, cheddar cheese, chopped walnuts, and minced jalapeño. Then the cheese-stuffed baby bell pepper halves are baked and enjoyed.
Devour hot or cold, they are an excellent appetizer to serve at parties because they are vegetarian and gluten-free. Plus, you can make them ahead of time, and it's always nice to get extra veggies at parties where vegetables are usually lacking.
The sweetness from the mini bell peppers and the richness of the cream cheese balance the spicy jalapeño cheese mixture. You get a little crunch from the walnuts for an interesting variety of textures. Sweet and spicy, crunchy and smooth, rich and light — this appetizer has multiple contrasting qualities that make it better than your boring appetizer.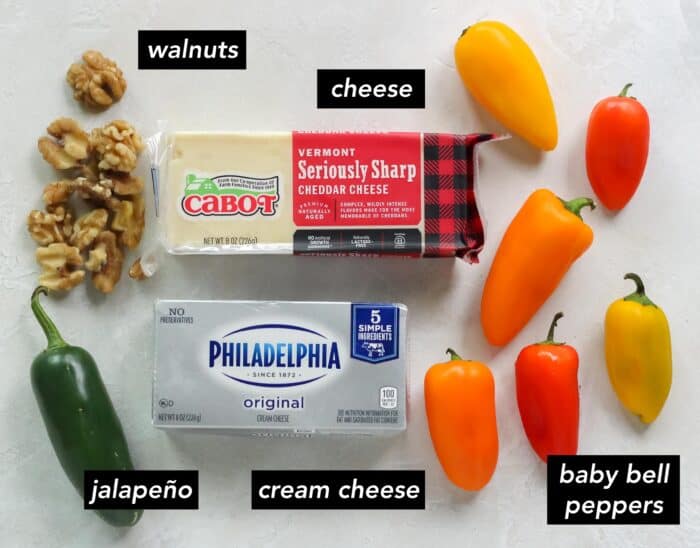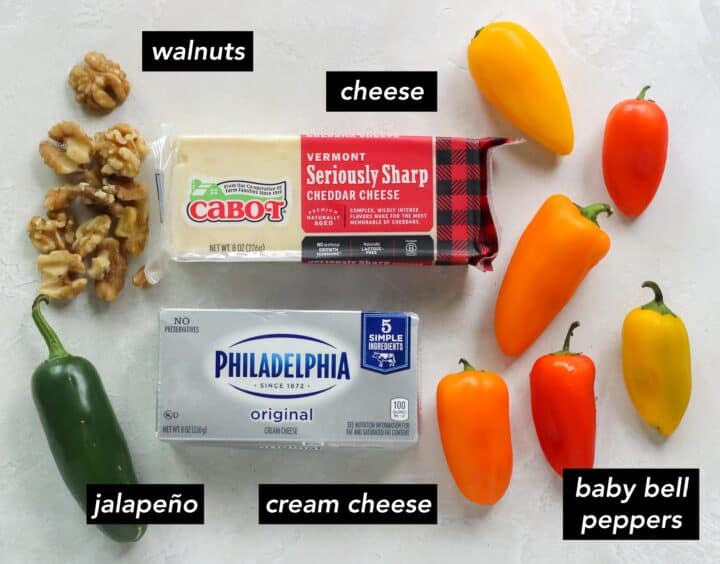 Ingredients
Bell peppers: For this recipe, baby bell peppers are the best option because you only need to slice them in half and fill them. However, if you cannot find mini bell peppers or do not want to use them, simply slice some regular-sized bell peppers into thick slices that will hold the cheese mixture when baked. I recommend using multiple colors so your appetizer is visually pleasing as well.
Cream cheese: The block cream cheese is what I use because it's more budget-friendly, but the cream cheese in the tub will also work. That being said, I alternate between using reduced-fat cream cheese and regular full-fat. I think both taste similar, and I have no preference.
Cheese: Honestly, many types of cheese will work in this recipe. I prefer sharp cheddar for a little extra flavor, but you could use any type of cheddar, mozzarella, pepper jack, Monterey Jack, or parmesan cheese.
Jalapeño: Before adding the jalapeño, I like to do a little taste to see how spicy it is since the spiciness of jalapeños varies by pepper. If the jalapeño isn't very spicy, you can add more. Add less if it's very spicy.
Don't have a jalapeño? You can substitute with 1 teaspoon red pepper flakes or ½ teaspoon cayenne pepper in a pinch. Taste the mixture and add more if needed.
Walnuts: Use raw walnuts in this recipe since you are cooking them in the bell peppers; roasted walnuts might end up being overcooked and have a burned flavor if used in this recipe. Seasoned walnuts will change the flavor of these stuffed bell peppers, so I wouldn't use them.
Not a fan of walnuts? You can use pecans, almonds, pumpkin seeds, or skip them altogether.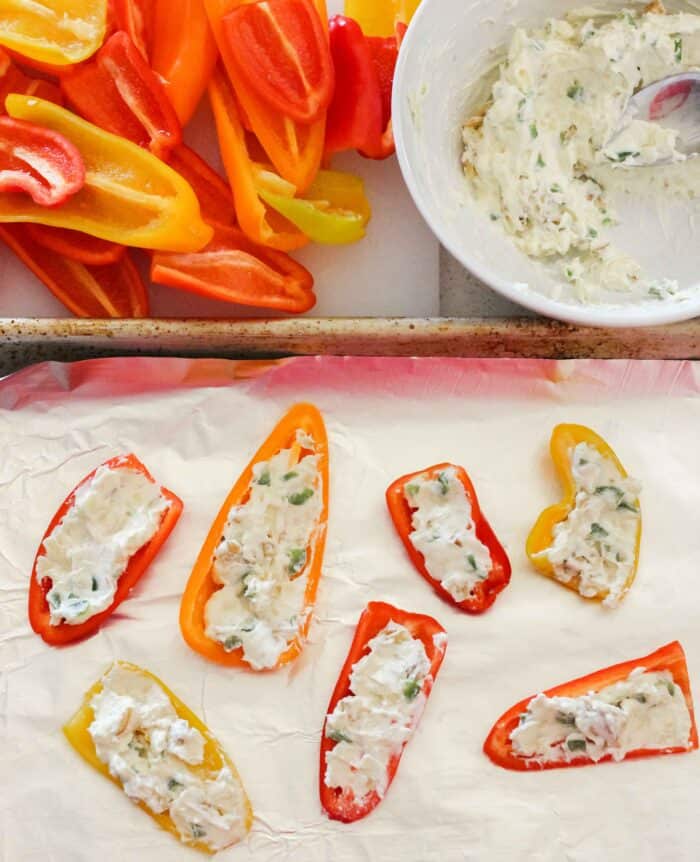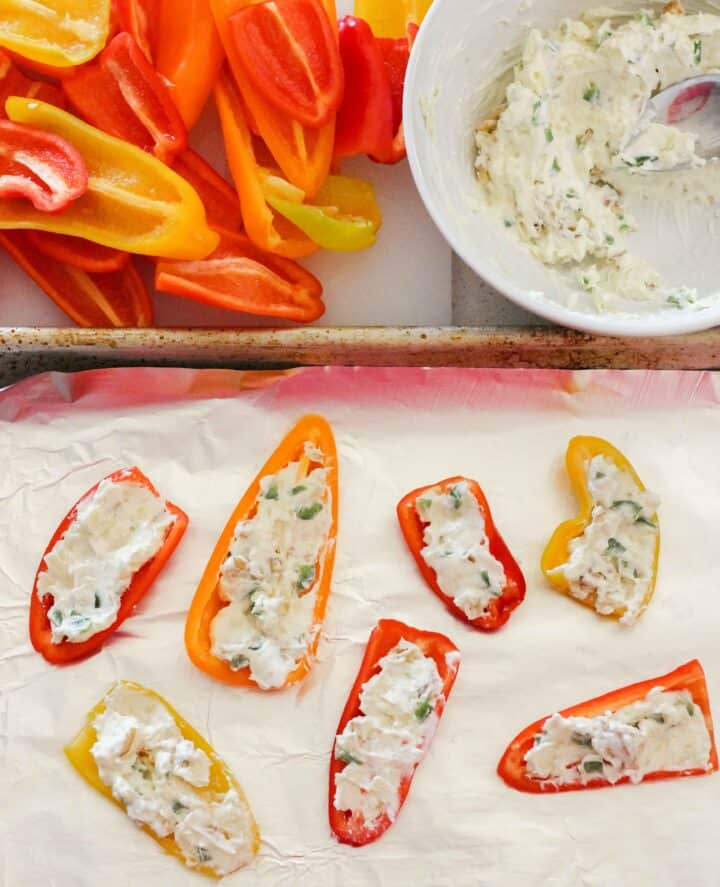 Recipe Cost
12 ounces baby bell peppers: $4
8 ounces Cream cheese: $1.90
2 ounces Cheddar cheese: $0.75
1 Jalapeño: $0.50
1-ounce Walnuts: $0.60
TOTAL COST: $7.75 or $0.97/serving (Based on San Diego grocery stores 2022)
Note that this is not the recipe; it's simply to show the cost breakdown of ingredients. Scroll down to the full recipe to see the specific ingredients and directions.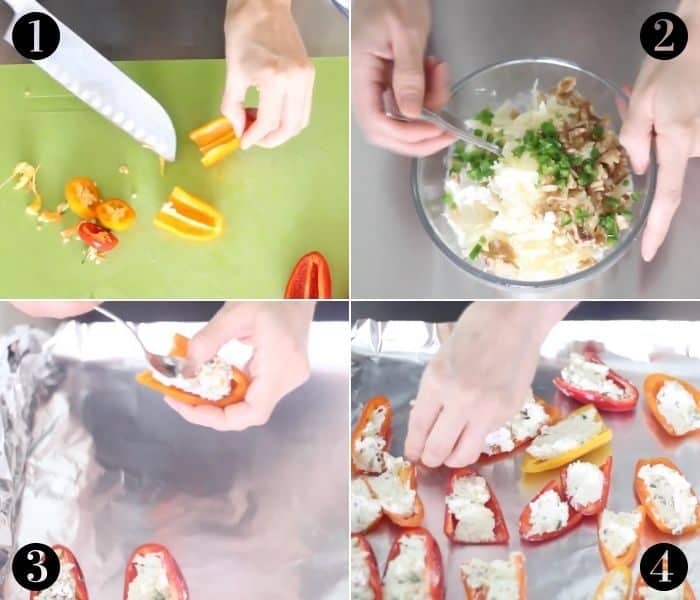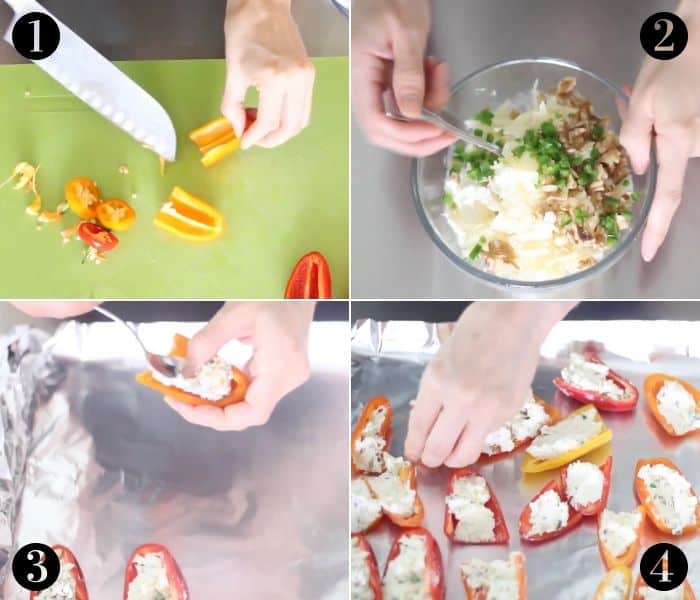 How to Make Cream Cheese Stuffed Peppers
Time needed: 40 minutes
Making these stuffed baby peppers is incredibly simple, and you can prepare them ahead of time. Here's how to make stuffed baby bell peppers:
Slice the baby bell peppers in half.

Remove the seeds and ribs

Stir together the softened cream cheese, cheddar cheese, jalapeños, and chopped walnuts.
Fill the mini bell peppers with the cream cheese mixture, and place them on a baking sheet.
Bake, and enjoy!
Recipe Tips
This recipe is pretty straightforward, but a personal preference of mine is to get the cheese in my peppers nice and browned. To do that, I bake them a little longer than needed, for about 25 minutes.
Take them out of the oven earlier if you want, but I love how baking the peppers longer brings out the sweetness of the bell peppers that pairs so well with the spicy jalapeño and the rich walnut-cheese combo. Note that the peppers will be a little softer the longer you bake them.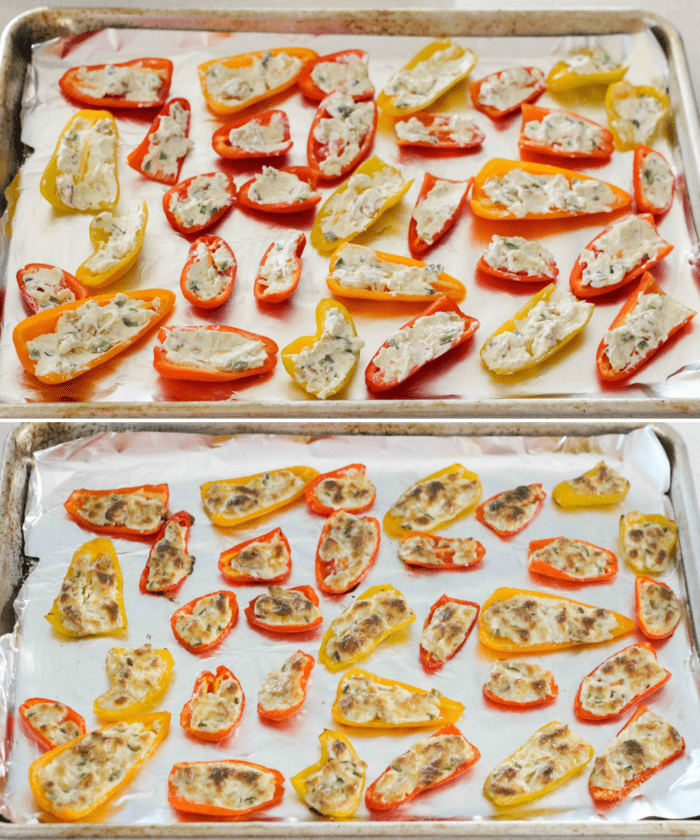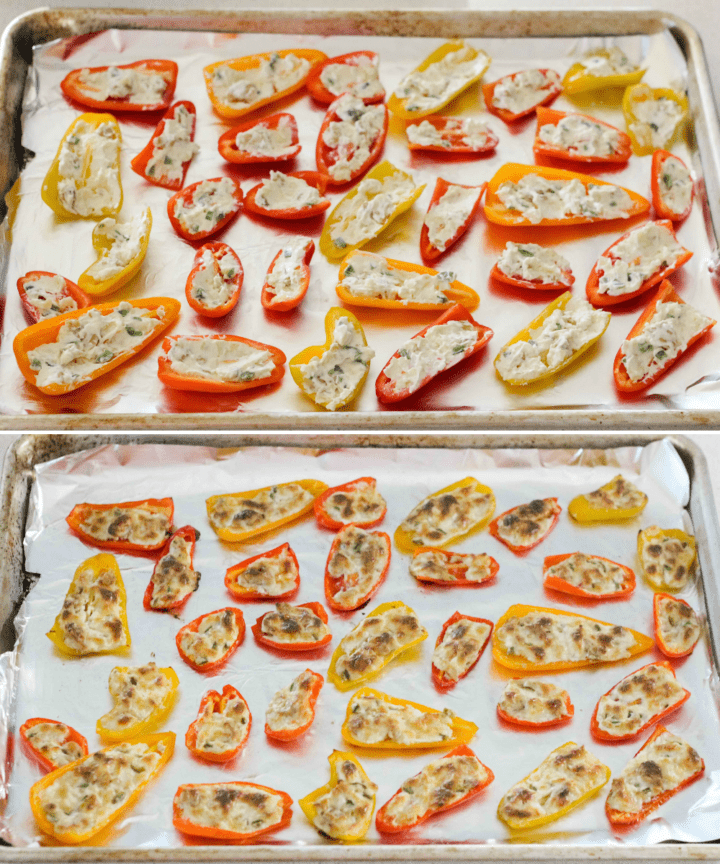 Cream Cheese Stuffed Peppers Variations
Ingredient Options
Baby bell peppers: If you cannot find mini bell peppers or do not want to use them, simply slice some regular-sized bell peppers into thick slices that will hold the cheese mixture when baked.
Jalapeños: Red pepper flakes can be used in place of the jalapeños in a pinch. If you're not a fan of spicy foods, leave out the jalapeños.
Walnuts: Any chopped nuts and some seeds like pumpkin or sunflower seeds could be substituted for walnuts.
Flavor Substitutions
Adding some chopped fresh herbs to the cheese mixture would be delicious. I think basil, parsley, cilantro, or thyme would work well here.
How to Make Allergy-Friendly
These are naturally gluten-free, egg-free, and soy-free. To make these nut-free, use pumpkin seeds or skip the nut/seed altogether. If you want these to be dairy-free, use dairy-free cream cheese and cheddar cheese.
How to Fix a Mistake
These are pretty hard to mess up, but I recommend tasting the cheese mixture before stuffing the peppers to make sure you like the way it tastes.
Too spicy: Add extra cream cheese or cheddar cheese.
Lacks flavor: Add extra jalapeño, cayenne pepper, or red pepper flakes. Be sure to add small amounts at a time so it doesn't get too spicy. If you don't want it to be spicier, you could try adding fresh chopped herbs.
Make-Ahead Ideas
To make these ahead of time, you have a few options.
The first option is the slice the peppers, remove the seeds and ribs, and combine the cheese mixture. Assemble and refrigerate until you're ready to bake.
You can also prepare and bake these ahead of time, but they don't hold up as well and the peppers get even more softened. That's why I prefer to wait to bake right before enjoying them.
Storage Suggestions
Store these in an airtight container in the fridge for up to 4 days or in the freezer for up to 1 month. Try to keep them in one layer or add a piece of foil, wax paper, or parchment between the layers. You can also wrap the extras in the foil or parchment you used to bake the stuffed peppers on.
Serve cold or at room temperature because they are yummy either way. Or you can heat them in a 350*F oven for about 10 minutes (from the refrigerator) or 20 minutes (from the freezer) until they are warmed through.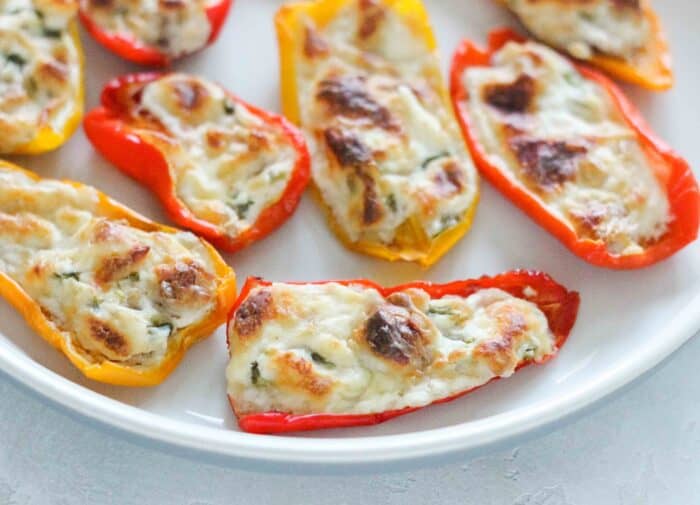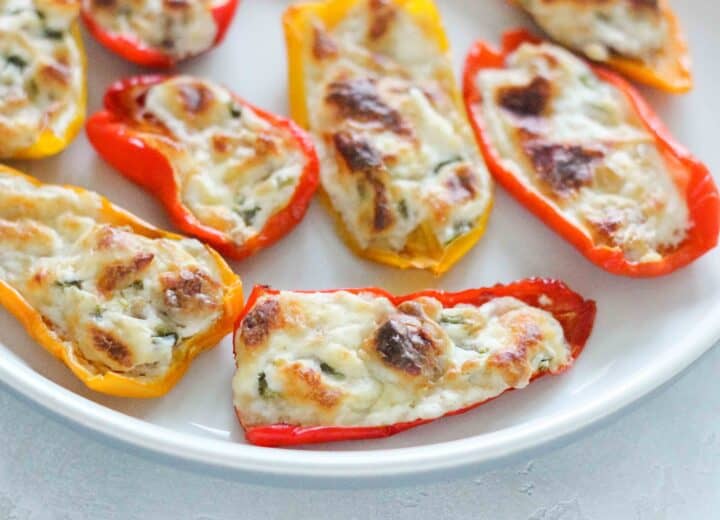 Frequently Asked Questions
How do you make cream cheese stuffed peppers cold?
Prepare them as directed, then refrigerate until ready to serve.
An alternative is to skip the baking step. They are tasty served cold & unbaked too!
Know that the bell peppers will be extra crunchy because baking the cream cheese stuffed mini peppers will soften the peppers and melt the cheese.
Can you freeze cream cheese stuffed baby peppers?
Yes, you can freeze the cream cheese stuffed baby peppers. I recommend freezing before baking so they hold up better. Assemble and freeze in an airtight container for up to one month.
When ready to serve, remove from the freezer and place on a baking sheet in a single layer. Bake until cooked through and cheese has melted and is slightly browned. This will take about 30-40 minutes but check on them as they are baking since cook times vary especially when frozen.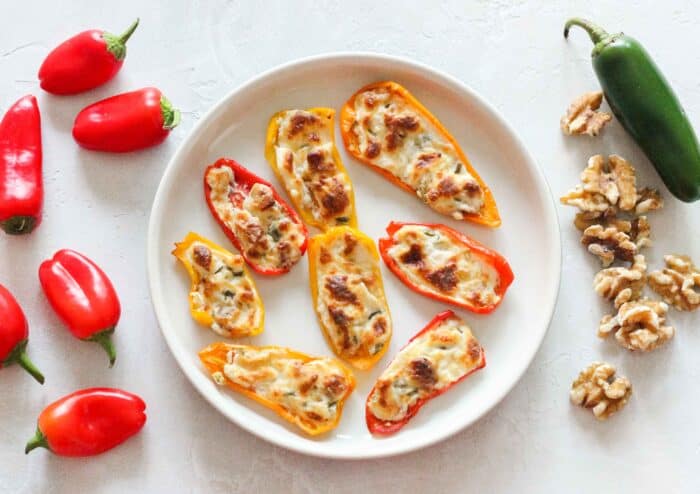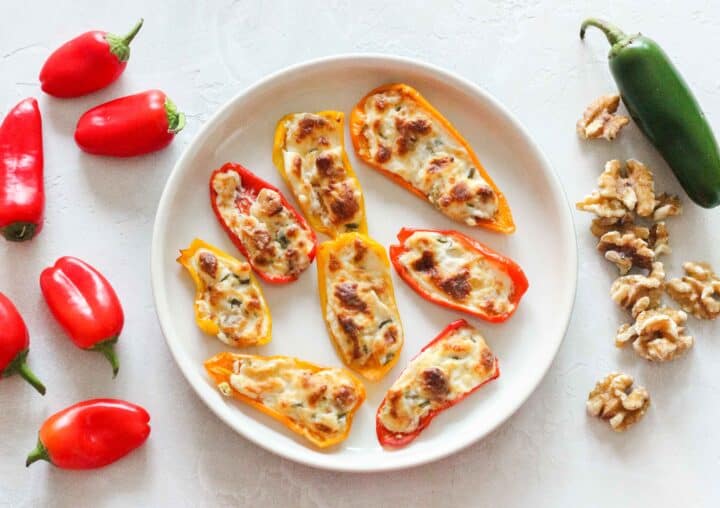 Nutrition Benefits of Cheesy Stuffed Baby Peppers
These cream cheese stuffed peppers offer more vitamins, fiber, and protein than your average party appetizer or snack.
Bell peppers are such a versatile veggie, and they can be enjoyed year-round. The colorful baby peppers are high in Vitamin C, A, B6, and Folate. They are also a good source of fiber, antioxidants, and phytochemicals.
Jalapeños have capsaicin which has been shown to have cancer-fighting and antibiotic properties as well as lower LDL cholesterol levels.
High in calcium and protein, cheese adds flavor and fat to the cheese stuffed bell peppers which help you absorb the nutrients from the bell peppers and jalapeño. Plus, the fat makes these more satisfying.
Walnuts also have fat in them to help absorb the vitamins, and some of that fat is omega-3 fatty acids which help promote brain, heart, and skin health.
What to Serve with Stuffed Baby Bell Peppers
Since this is an appetizer, serve with other appetizers like Cauliflower Tater Tots or Pineapple Salsa for more produce and/or with drinks like Jalapeño Margaritas to keep with the spicy theme. These are also great as a veggie-filled snack with some protein.
Final thoughts:
There are so many reasons these cream cheese stuffed baby peppers make the ideal appetizer or snack.
First of all, they are incredibly tasty. Plus, they're easy to prepare and only need five ingredients. You can make a bunch at a time, so cream cheese stuffed peppers are great for entertaining. And they can be made ahead of time if needed.
On top of being a crowd-pleasing appetizer, you can enjoy these for snacks.
Served fresh from the oven, at room temperature, or cold; everyone will love these.
P.S. If you love the idea of more stuffed bell pepper ideas, you should also try these hummus stuffed peppers.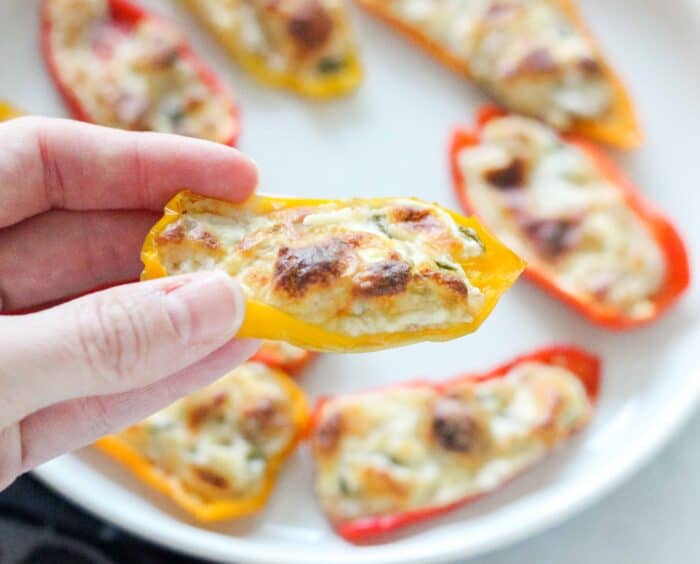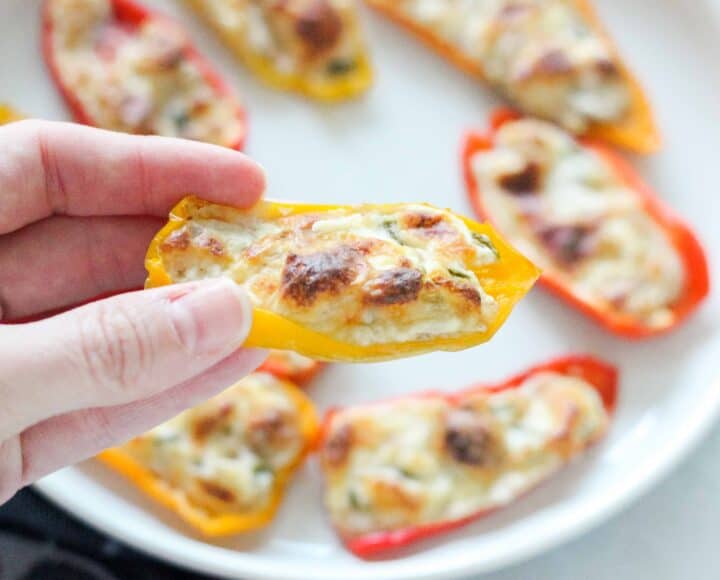 MORE CHEESY APPETIZER RECIPES YOU'LL LOVE: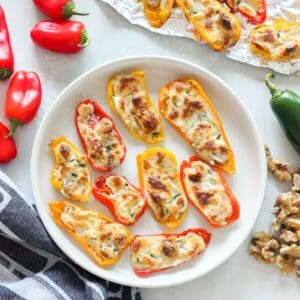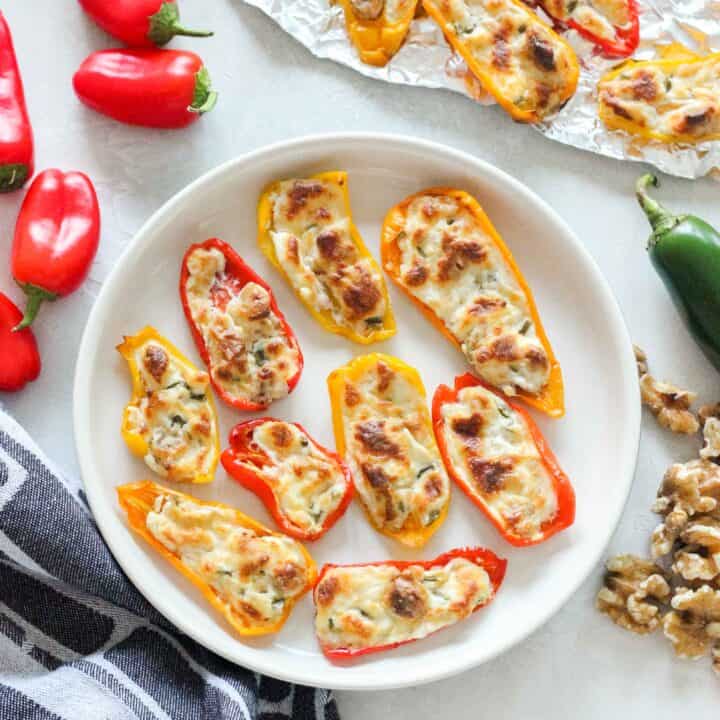 Cream Cheese Stuffed Peppers
Cheesy Stuffed Baby Bell Peppers are an irresistible appetizer of stuffed mini peppers with spicy cream cheese. This healthy, vegetarian app recipe is great for entertaining.
Print
Rate
Total Cost:
$7.75 or $0.97/serving
Ingredients
12

ounces

baby bell peppers

4

ounces

cream cheese

room temperature, reduced fat or regular

2

ounces

cheddar cheese

shredded

½

small

jalapeno

minced (about 1 tablespoon)

¼

cup

walnuts

chopped (about 1 ounce)
Instructions
Preheat the oven to 400°F. Line a baking sheet with foil or parchment paper for easier cleanup, if desired.

Slice the bell peppers in half lengthwise and discard seeds & ribs. Set aside.

In a medium bowl, stir together cream cheese, cheddar cheese, walnuts and jalapeño until combined.

Spoon mixture into the bell pepper halves and transfer to the baking sheet. Repeat with all the bell peppers. Bake for 15-25 minutes depending on how browned you want the cheese.

Serve hot or room temperature. Enjoy!
Notes
*This makes about 24 bell pepper halves. And one serving is 4 halves.
*Feel free to omit the jalapeño for a mild stuffed baby pepper.
*You can also add 1 teaspoon of chopped fresh herbs like basil, parsley, cilantro, or thyme.
*If you don't have a jalapeño, you can substitute with 1 teaspoon red pepper flakes or ½ teaspoon cayenne pepper in a pinch. Taste the mixture and add more if needed.
*One baby bell pepper is about one ounce, so you'll need around 12 baby bell peppers.
What to Use in This Recipe
Did you try this recipe?
Be sure to leave a comment & recipe rating below. Bonus points for tagging @memeinge & #livingwellkitchen on Instagram! THANK YOU! xo
Meme
This post was originally published on June 20, 2017. Text, recipe, and photos have been updated.
---
Cream Cheese Stuffed Peppers Nutrition Facts
Nutrition Facts
Cream Cheese Stuffed Peppers
Amount per Serving
% Daily Value*
* Percent Daily Values are based on a 2000 calorie diet.
*Inspired by this recipe from The Roasted Root
Doesn't this recipe look good?! You should probably share it: