Salsa Tuna Salad uses only three ingredients and is ready in less than 5 minutes, proving that pantry staples save you time, energy, and money. High in protein, fiber, and nutrients.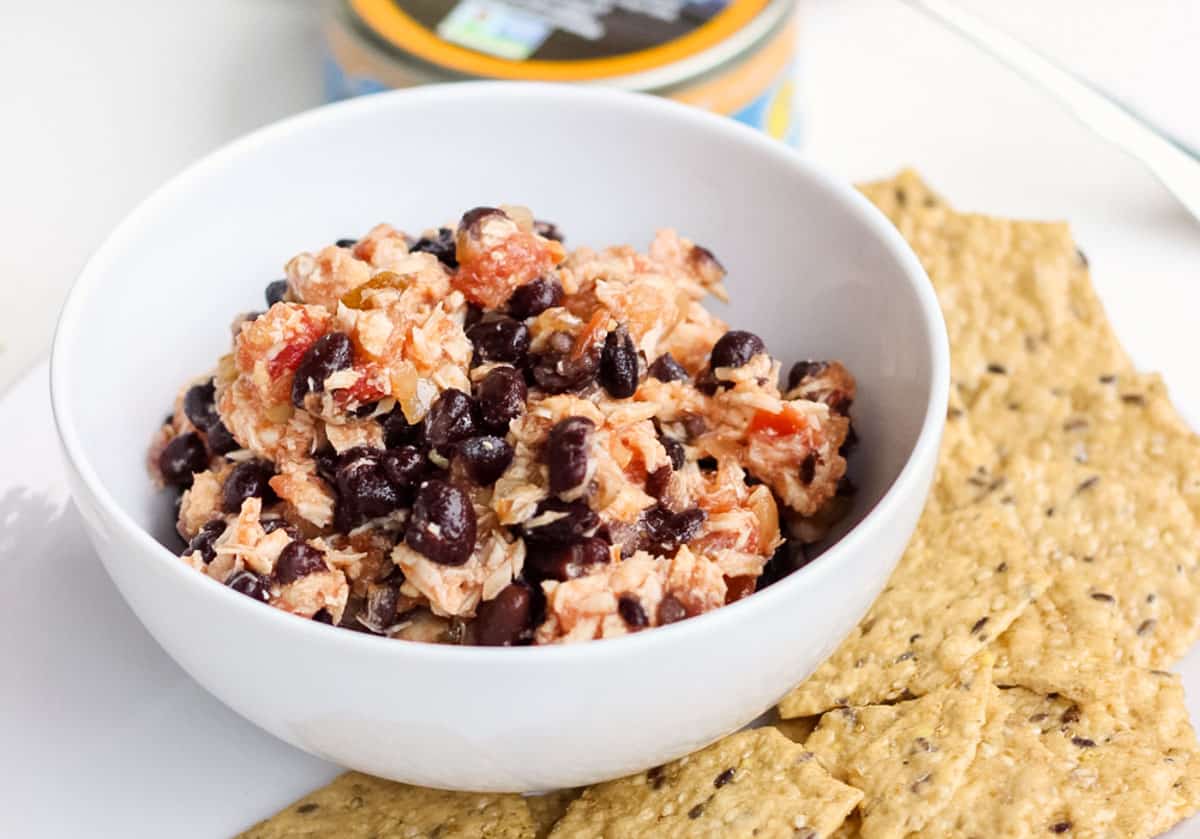 About Tuna Black Bean Salad
When you're starving, it's so nice to have pantry staples in your kitchen to help you out.
Salsa, beans, and tuna are some of my favorites.
And this recipe proves that you can enjoy nourishing meals without spending a bunch of time, money, or effort in the kitchen.
For this Salsa Tuna Black Bean Salad, you simply stir together salsa and a can of tuna. Then add a can and beans, and you're ready to enjoy however you want...
With crackers or chips, over lettuce, on a sandwich, or in a wrap - you will love this Black Bean and Tuna Salsa Salad.
Three ingredients. Three minutes. And you have a high protein, high fiber, filling meal or snack.
Ingredients
Tuna: The recipe was tested using chunk light tuna in water. Any tuna will work well.
If possible, it's helpful to buy a sustainable tuna that is pole-and-line-caught, FAD-free, school-caught, or troll-caught. However, it is often pricier, so please don't feel guilty if you are doing your best with the budget you have. Look for tuna that is MSC certified.
Salsa: Since you will taste the salsa and are using a lot of it, be sure to use a salsa you like. Mild or medium is preferable to keep it from being too spicy.
Because salsa is high in sodium, you can make your own low-sodium salsa or look for a store-bought low-sodium version if sodium is a concern.
Black beans: The beans add substance, fiber, and extra protein. I prefer no-salt-added but it doesn't make a noticeable difference unless you are trying to limit your sodium intake. Also, don't forget to rinse and drain well before adding to the salsa tuna salad.
Recipe Cost
tuna 2 cans: $1.76
salsa 1.5 cups: $1.14
beans 15-ounce can: $0.98
TOTAL COST: $3.88 or $0.97/serving (Based on San Diego grocery stores 2023)
Note that this is not the recipe; it's simply to show the cost breakdown of ingredients. Scroll down to the full recipe to see the specific ingredients and directions.
How to Make Salsa Tuna Salad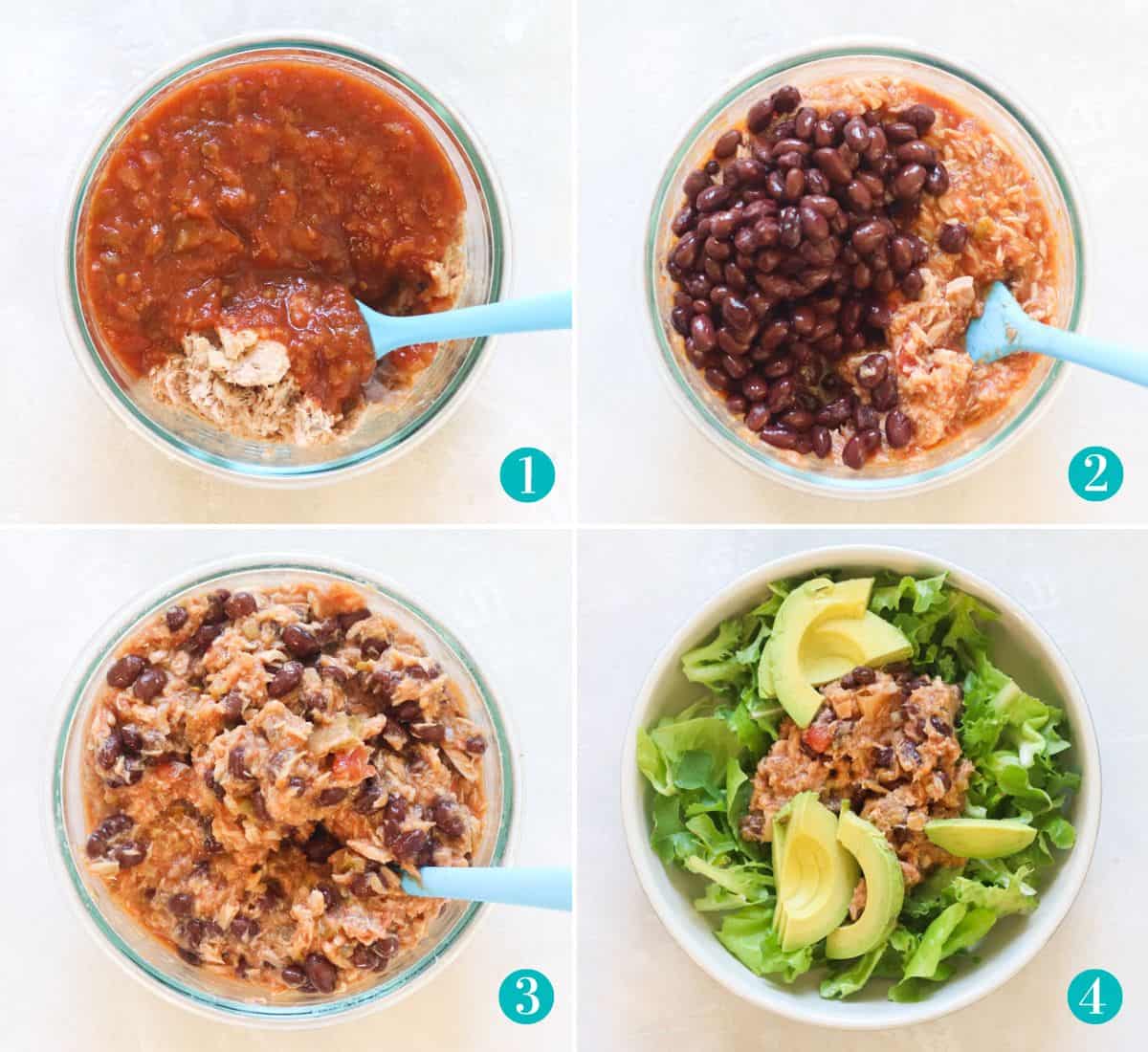 Time needed: 5 minutes.
Ready in less than 5 minutes, this Tuna Black Bean Salad is easy as it is delicious.
Stir together tuna and salsa.
Add beans.
Stir and add extra salsa if needed.
Enjoy!
Tuna Salsa Recipe Tips
*Try to use the chunky part of the salsa instead of the more liquid part, so the tuna salad isn't soupy.
The best way to do this is to shake your salsa well before adding it.
Variations
Ingredient Options
Black beans: You can use any type of bean, like kidney beans, white beans, or garbanzo beans.
Flavor Substitutions
Salsa: Change the flavor by using a different type of salsa like salsa verde or fruit salsa.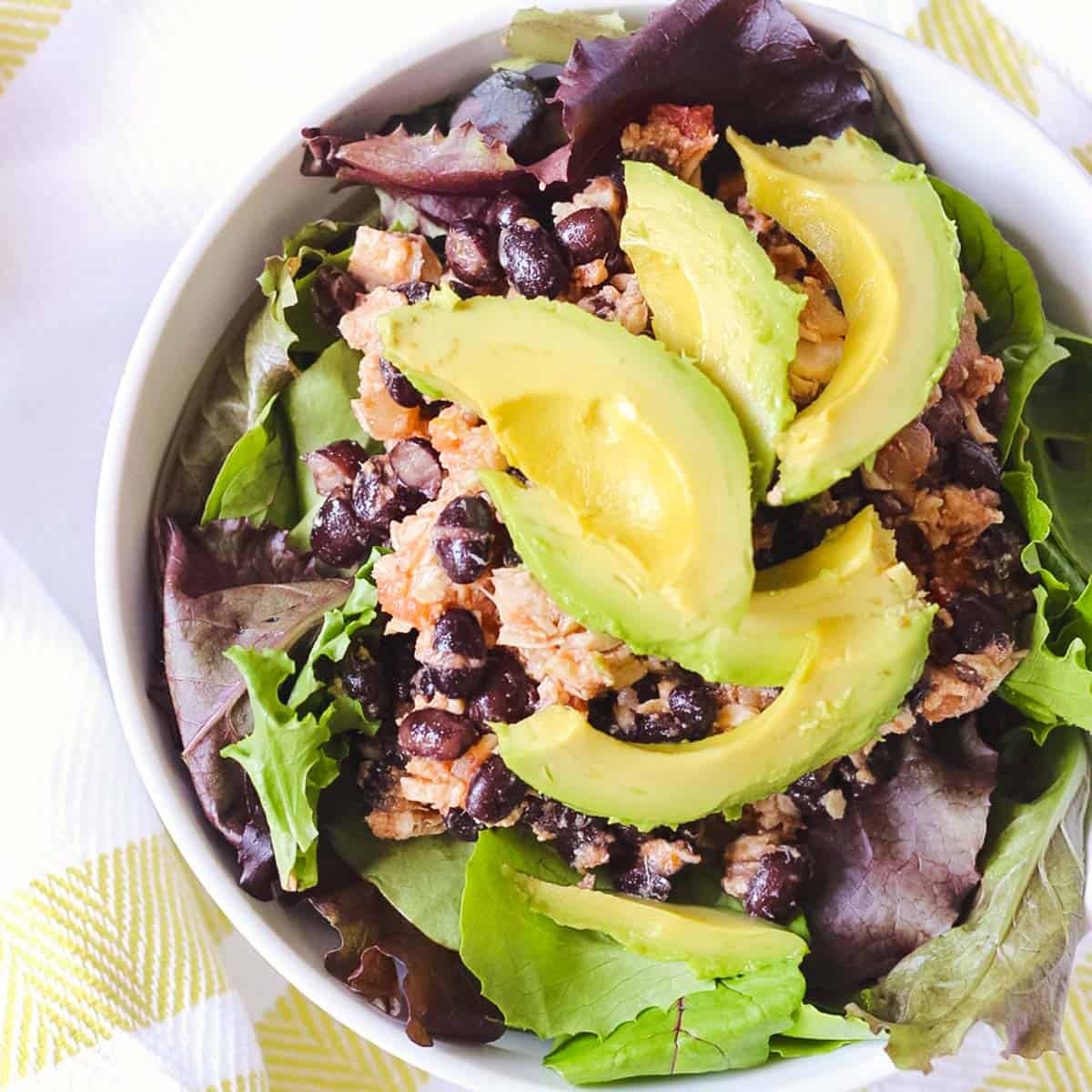 How to Make Allergy-Friendly
This is already gluten-free, dairy-free, and egg-free. It is soy-free as long as the tuna doesn't have soy in it.
How to Fix a Mistake
Too much liquid: You can drain this over a fine mesh strainer for a few minutes to remove some of the liquid.
Or serve it over lettuce so it is like a salad dressing.
Make-Ahead Ideas
This is great when made ahead. Simply prepare and refrigerate until ready to enjoy.
Storage Suggestions
Keep this salsa tuna salad in an airtight container in the fridge for up to 5 days.
Do not freeze it.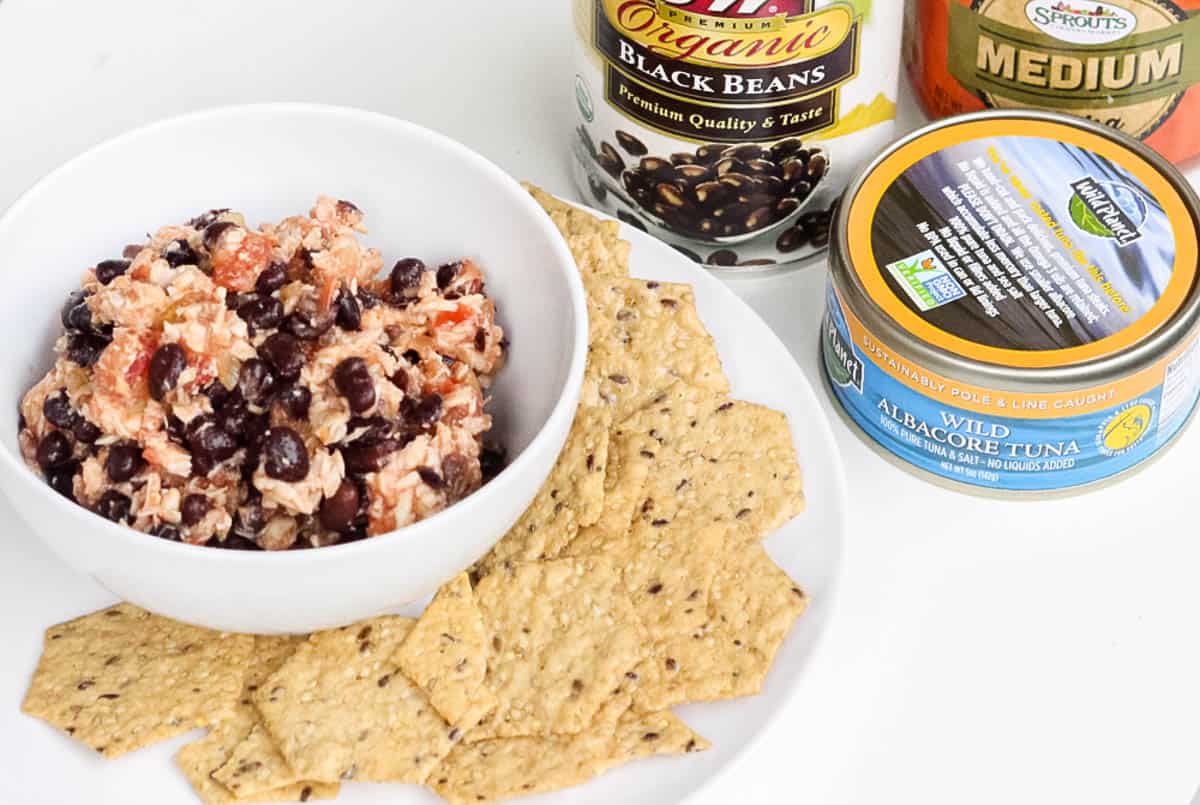 Frequently Asked Questions
What can I mix with a can of tuna?
Salsa is a delicious and nutritious ingredient to mix with canned tuna. This Salsa Tuna Recipe is budget-friendly, high in protein and fiber, and satisfying!
Nutrition Benefits
One cup of Tuna Salsa Salad has 22 grams of protein and 8 grams of fiber (⅓ of the recommended amount in a day).
Plus, it provides 18% RDA of potassium, 10% RDA and Vitamin A, and 11% RDA of iron.
And thanks to tuna, tuna black bean salad is high in omega-3 fatty acids which are beneficial for your brain, heart, and skin, among other things.
What to Serve with Tuna Black Bean Salad
I usually serve it with whole grain crackers or over lettuce. It's also tasty in a tortilla or on bread for a sandwich.
Highly recommend adding avocado if you have it.
Or serve with another source of fat like salad dressing, nuts, or cheese since it is lower in fat.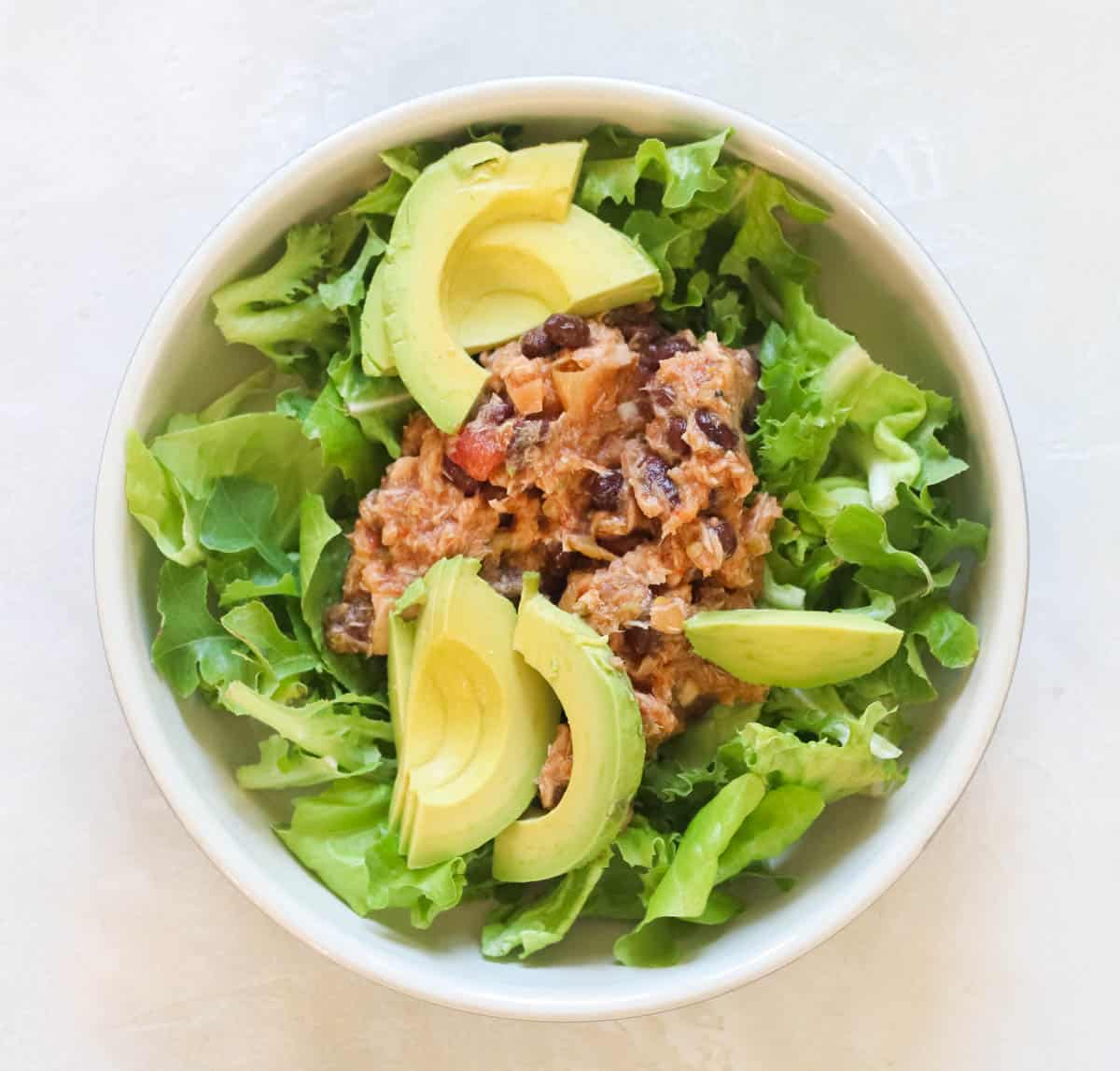 Final thoughts:
Super easy, satisfying, and quick. What more could you ask for?
Plus, costing less than $5, this Tuna Salsa Salad with Black Beans is a winner.
It'll save you in those moments you don't have the energy to cook, the time to think of what to make, or the extra money to spend on food.
MORE CANNED TUNA RECIPES YOU'LL LOVE: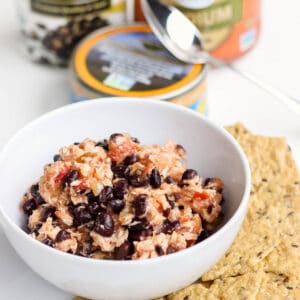 Salsa Tuna and Bean Salad
Only three ingredients and three minutes of prep time for a high protein, incredibly filling meal or snack.
Print
Rate
Total Cost:
$3.88 or $0.97/serving
Ingredients
Instructions
In a medium bowl, stir the tuna and 1 cup of salsa together, breaking up the tuna.

Add in beans and stir. If needed, add more salsa. Enjoy!
Notes
*Try to add the chunky part of the salsa instead of the more liquid part, so the tuna salad isn't soupy. The best way to do this is to shake your salsa well before adding it.
*Makes 4 cups.
Did you try this recipe?
Be sure to leave a comment & recipe rating below. Bonus points for tagging @memeinge & #livingwellkitchen on Instagram! THANK YOU! xo
Meme
This post was originally published on September 9, 2016. Text, recipe, and photos have been updated.
---
Tuna Salsa Salad Nutrition Facts
Nutrition Facts
Salsa Tuna and Bean Salad
Amount per Serving
% Daily Value*
* Percent Daily Values are based on a 2000 calorie diet.