Nutritional yeast lends a cheesy, creamy flavor for an easy, inexpensive, and flavorful vegan side dish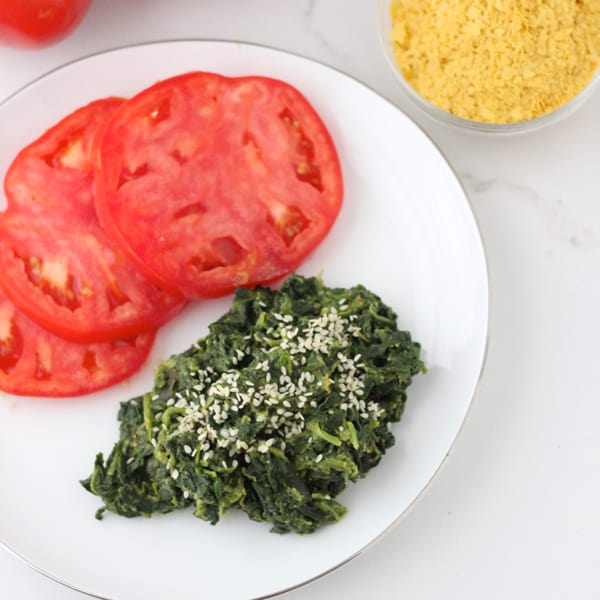 Do you ever find a great recipe that calls for an ingredient that you aren't very familiar with? Or maybe you get really excited about an ingredient and you buy a giant bag of this ingredient...
That happened to me with nutritional yeast.
Ok yes, I do actually use it often. I love making kale chips with it as well as cheezy bean dip. However, it's something that gets shoved in the back of my pantry and I totally forget about it.
Despite the fact that I don't love cleaning, this year I've done a pretty good job with spring cleaning. I donated like 8 bags of clothes; yet my kitchen is another story.
That is until I realized I can no longer allow my freezer to be so full.
When you open the freezer door, you shouldn't have to immediately jump out of the way for fear that a bag of frozen fruit or veggies or a chicken breast is going to fall on your foot (which hurts surprisingly bad fyi).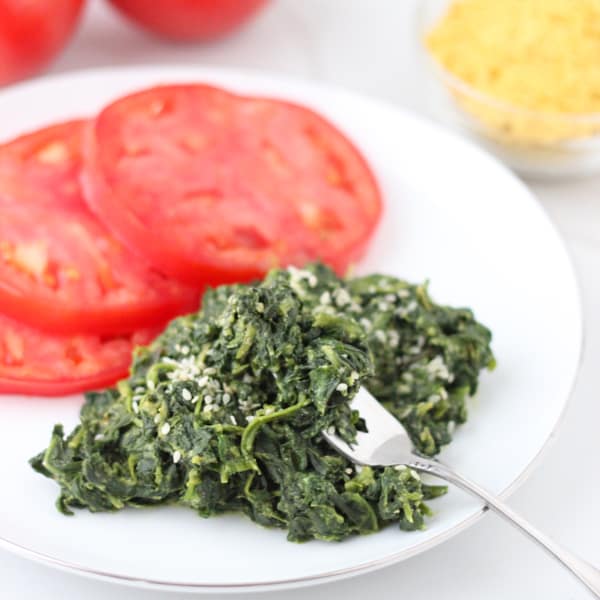 I had nine bags of frozen spinach in my freezer yesterday. Nine. Now I'm down to eight thanks to this vegan creamed spinach.
Can you guess what ingredient I used to make this creamy without adding cheese? Did you guess nutritional yeast since I just talked about it? ha, you're right!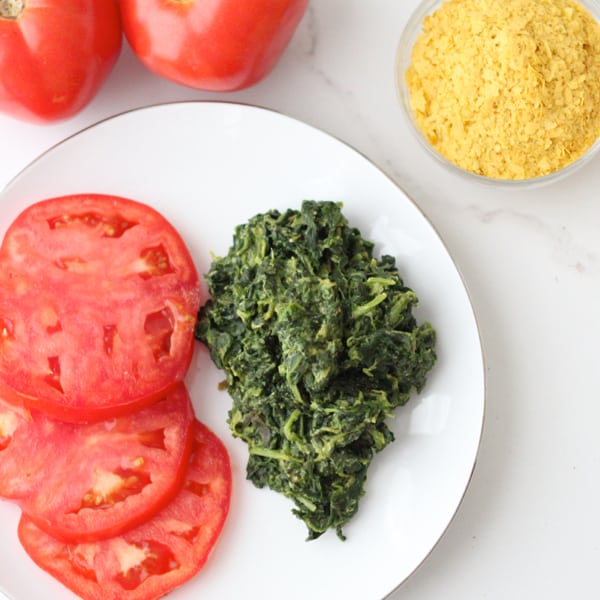 I actually started making this for a quick side dish when I was in grad school. It is inexpensive, incredibly easy, and quite nutritious.
Just boil the spinach, add a few spices, and then stir in your nutritional yeast. Ta da! You're done and you have a tasty side dish that pairs well with lots of different things.
It's actually a really good snack too since it has a nice amount of protein.
And there you have it. An easy, healthy side that uses up that nutritional yeast you have in your pantry that you just don't know what to do with it.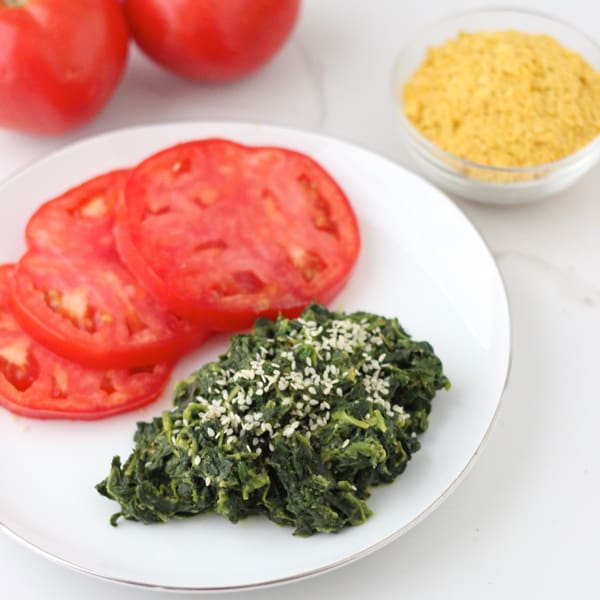 Oh and can someone please give me tips for how to make creamed spinach look pretty?!
The best I could do was sprinkle it with a few sesame seeds and hope for the best.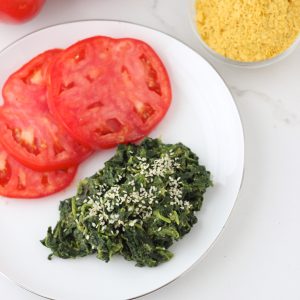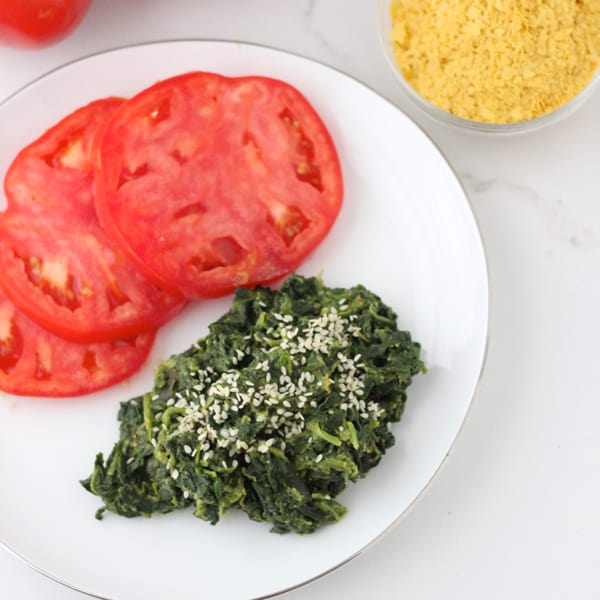 Vegan Creamed Spinach
Nutritional yeast lends a cheesy, creamy flavor for an easy, inexpensive, and flavorful vegan side dish
Print
Rate
Ingredients
16

ounce

bag frozen spinach

1 ½

cups

water

½

teaspoon

garlic powder

¼

teaspoon

salt

¼

teaspoon

onion powder

or onion flakes

⅛

teaspoon

cayenne pepper

⅛

teaspoon

nutmeg

optional

1

cup

nutritional yeast
Instructions
Put the spinach and water in a saucepan or skillet with sides. Cook over medium-high heat for 5-7 minutes, until spinach is cooked and most of the water has absorbed.

Stir in garlic powder, salt, onion powder, cayenne pepper, and nutmeg if using. Add nutritional yeast and stir well to completely combine. Remove from heat.

Serve as a side dish or as a snack. Enjoy!
Did you try this recipe?
Be sure to leave a comment & recipe rating below. Bonus points for tagging @memeinge & #livingwellkitchen on Instagram! THANK YOU! xo
Vegan Creamed Spinach Nutrition Facts
Nutrition Facts
Vegan Creamed Spinach
Amount per Serving
% Daily Value*
* Percent Daily Values are based on a 2000 calorie diet.
Meme
Here are some of my favorite nutritional yeast recipes: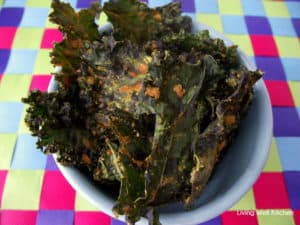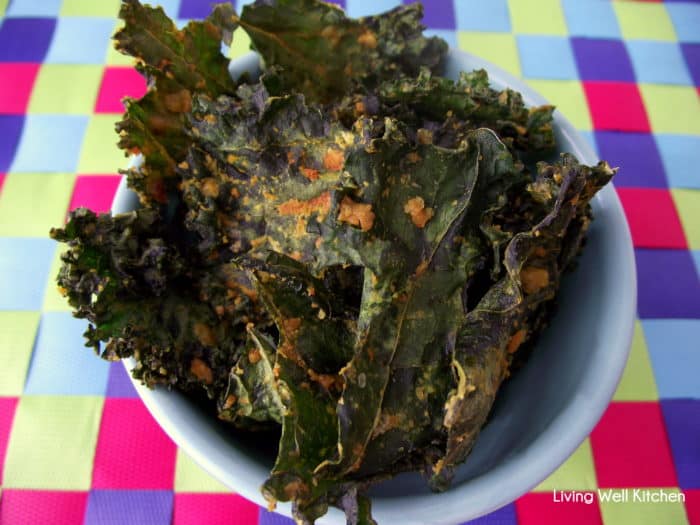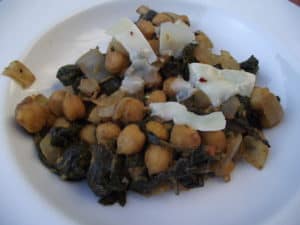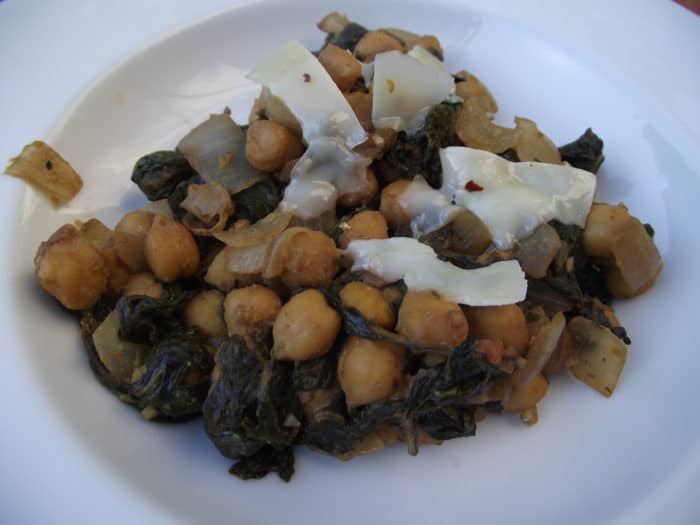 Balsamic Chickpeas and Spinach