All about Brussels sprouts including shopping & storage tips, conversions, nutrition facts, health benefits, fun facts, and recipe ideas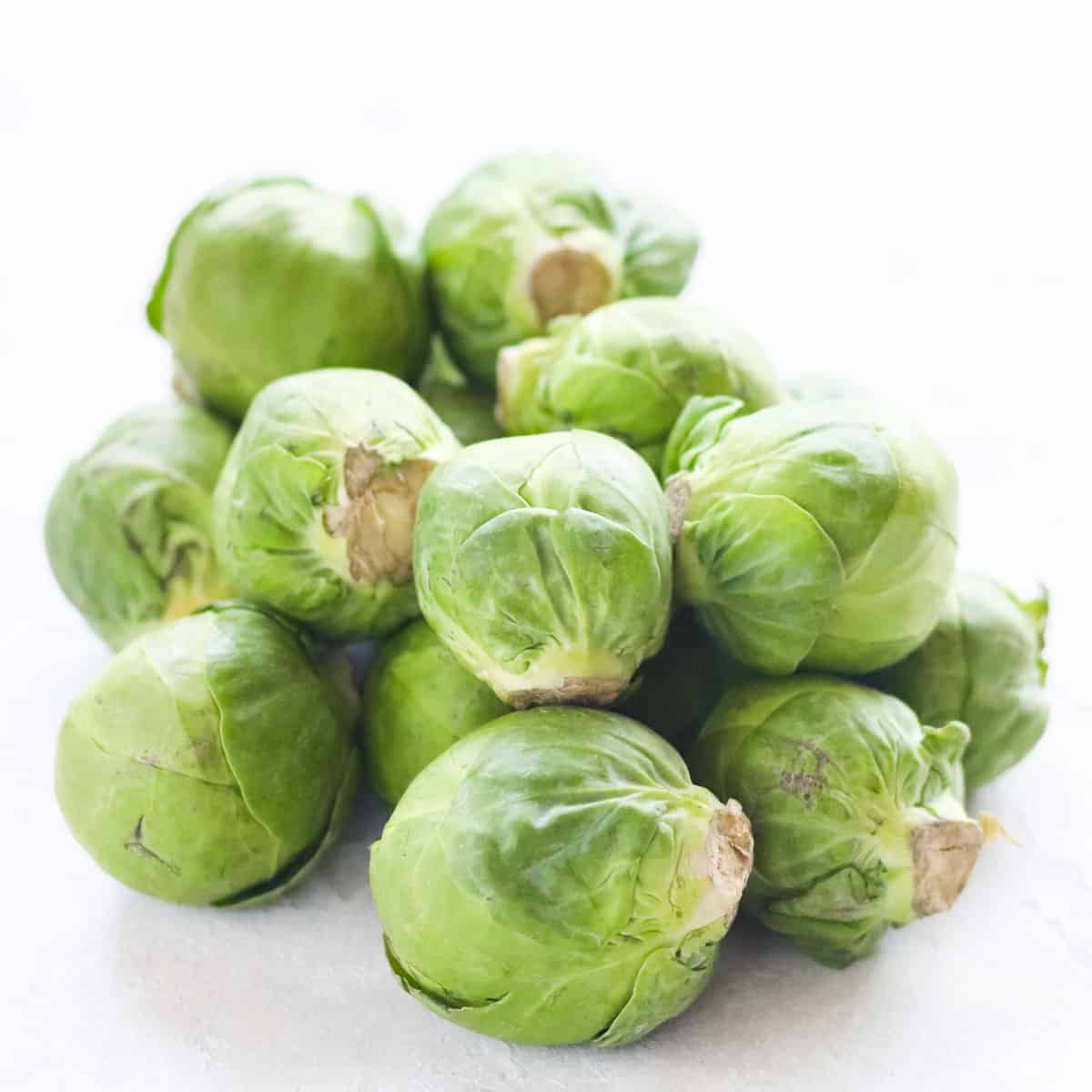 About
In season from late August until March, Brussels sprouts have gone from boring boiled Christmas veggie to fan favorite in recent years.
They're often found roasted or fried with bacon, nuts, and cheese on appetizer menus instead of the boiled small cabbage things our grandparents used to eat.
Not only are they delicious, but they are also full of vitamins, minerals, and antioxidants.
Brussels Sprouts Health Benefits
*Brussels sprouts are considered a cruciferous vegetable, and studies have shown that including green leafy veggies + cruciferous veggies in your diet can decrease your risk of cardiovascular disease by almost 16%.
*Compounds in the sprouts can help metabolize estrogen which can help with some common PMS symptoms.
*Studies have shown that eating them leads to enhanced detoxification enzyme levels.
*They contain coumestrol which has neuroprotective effects on the nervous system, a function of the female reproductive system, anti-bacterial properties, and anti-cancer effects.
*One of the few veggies that contain omega-3 fatty acids.
*High in Vitamin K, Brussels sprouts can help with blood clotting (which helps with wound healing) as well as supporting bone strength.
*Higher consumption of cruciferous vegetables is associated with a significantly decreased risk of type 2 diabetes.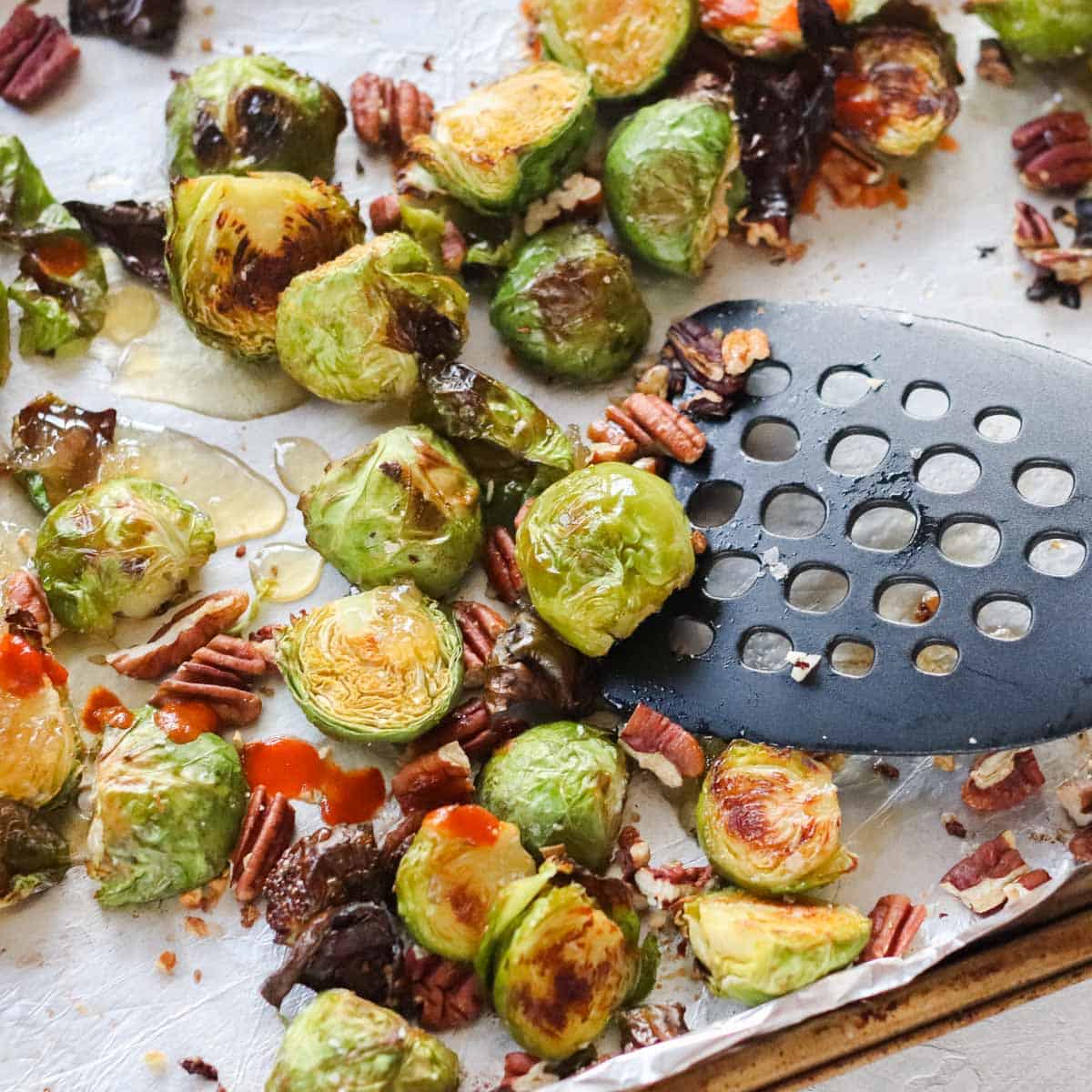 Nutrition Information
*100 grams (about 3.5 ounces or ¾ cup chopped) of raw Brussels sprouts:
43 calories
0.3g fat (0.1g saturated fat)
9g carbohydrates
3.8g fiber
3.4g protein
15% Vitamin A
142% Vitamin C
221% Vitamin K
11% Vitamin B6
15% Folate
11% Potassium
17% Manganese
9% Omega-3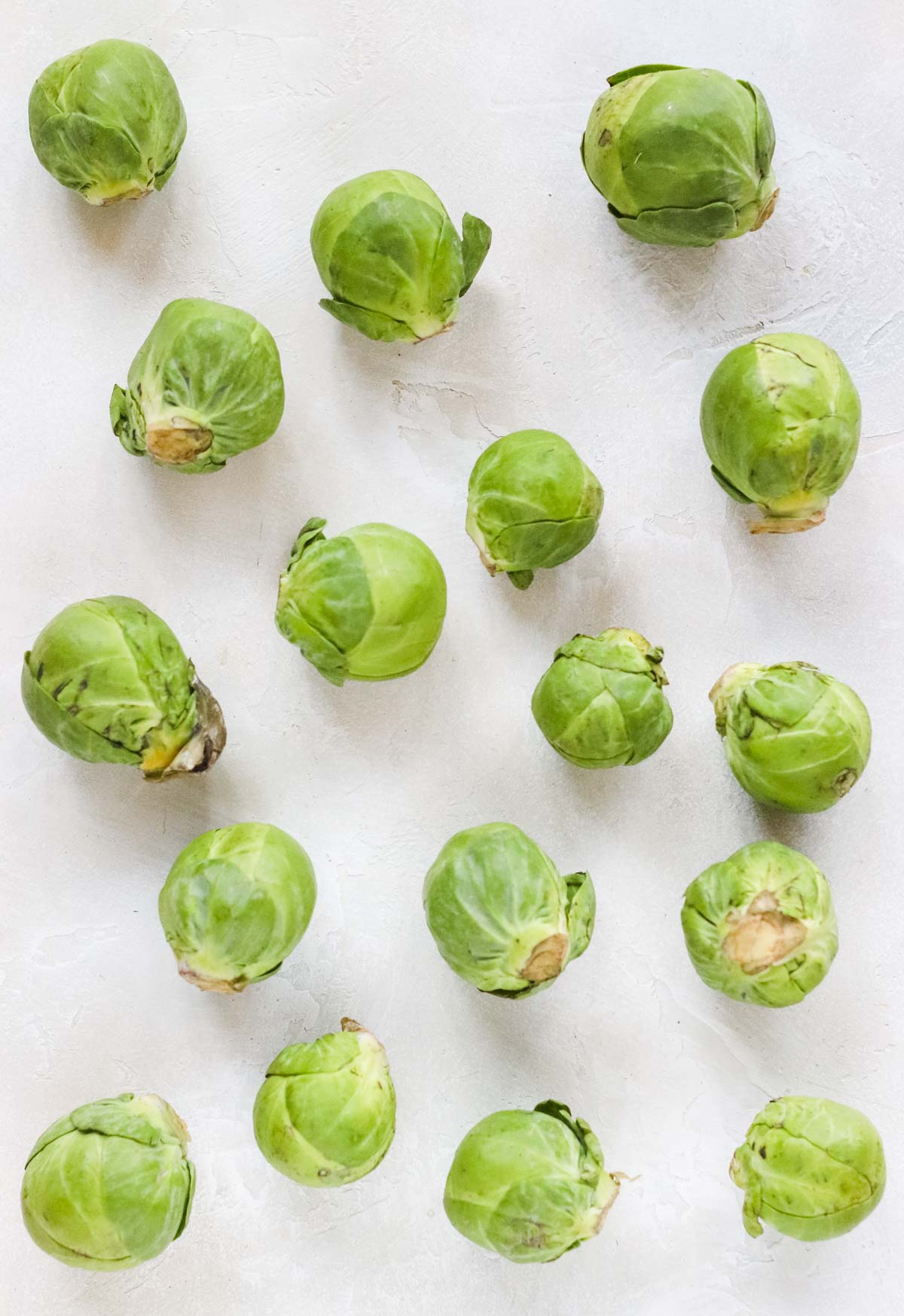 Amounts
*1 pound (16 ounces) of Brussels sprouts equals about 20 to 24 individual sprouts.
*16 ounces is about 3 cups halved.
*After roasting, 1 pound is about 2 to 2.5 cups.
Substitutions
*Cabbage, though much larger, has similar flavors to Brussels sprouts.
*For example, you could chop cabbage and use it in place of the Brussels sprouts in this Honey Sriracha Brussels Sprouts recipe.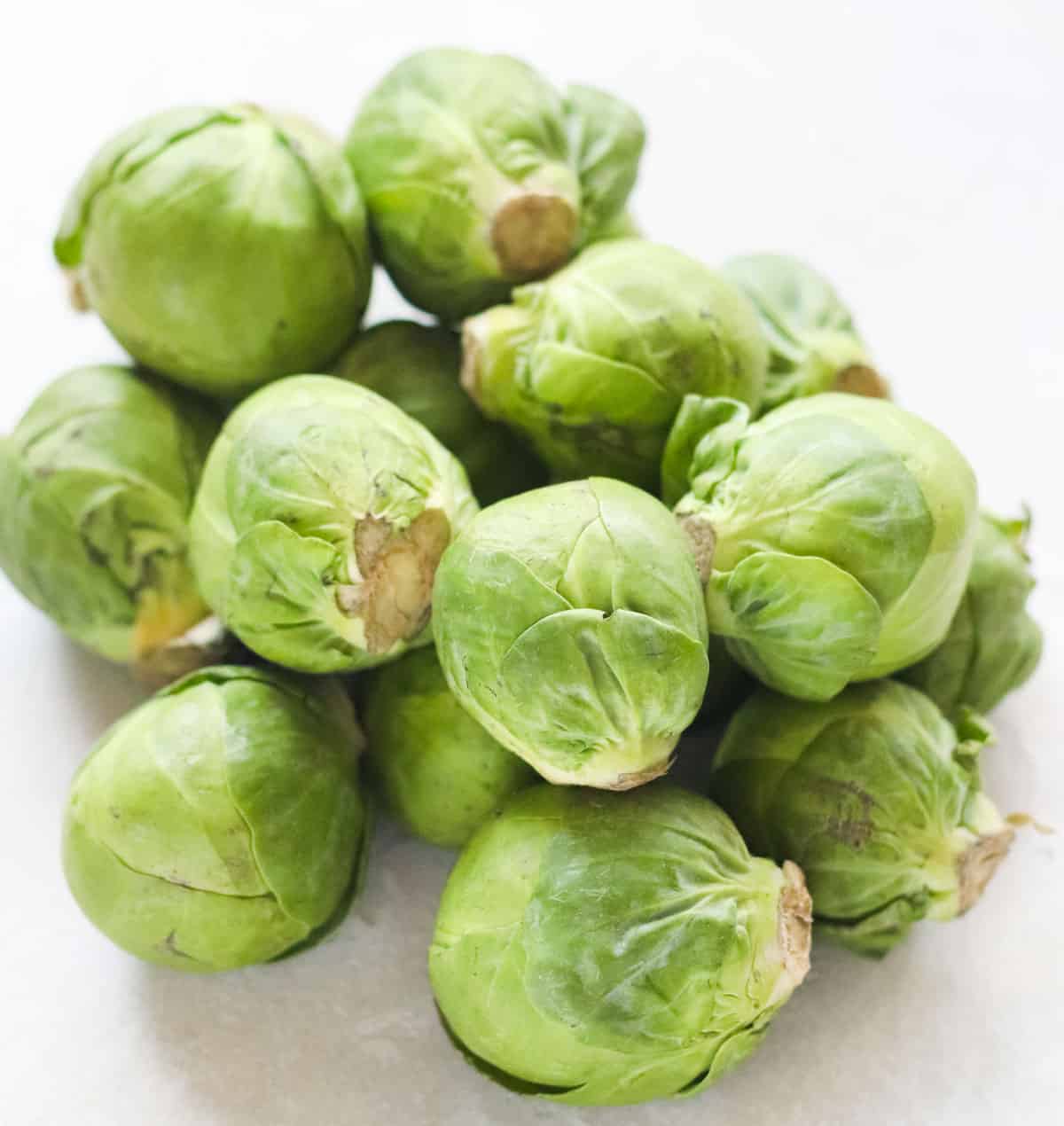 Shopping and Storage Tips
*Look for bright green Brussels sprouts with tightly packed leaves and minimal bruising or yellowing.
*Store in the fridge for up to 1 to 2 weeks, but preferably enjoy sooner since they tend to lose their nutrients and bright green color the longer they sit.
*Frozen ones are another great option since they have a longer shelf life.
Budget-Friendly Suggestions
*Frozen Brussels sprouts are usually less expensive than fresh ones. In January 2023, at a Walmart in San Diego, Great Value frozen Brussels sprouts are 12 cents per ounce vs. 19 cents per ounce for fresh.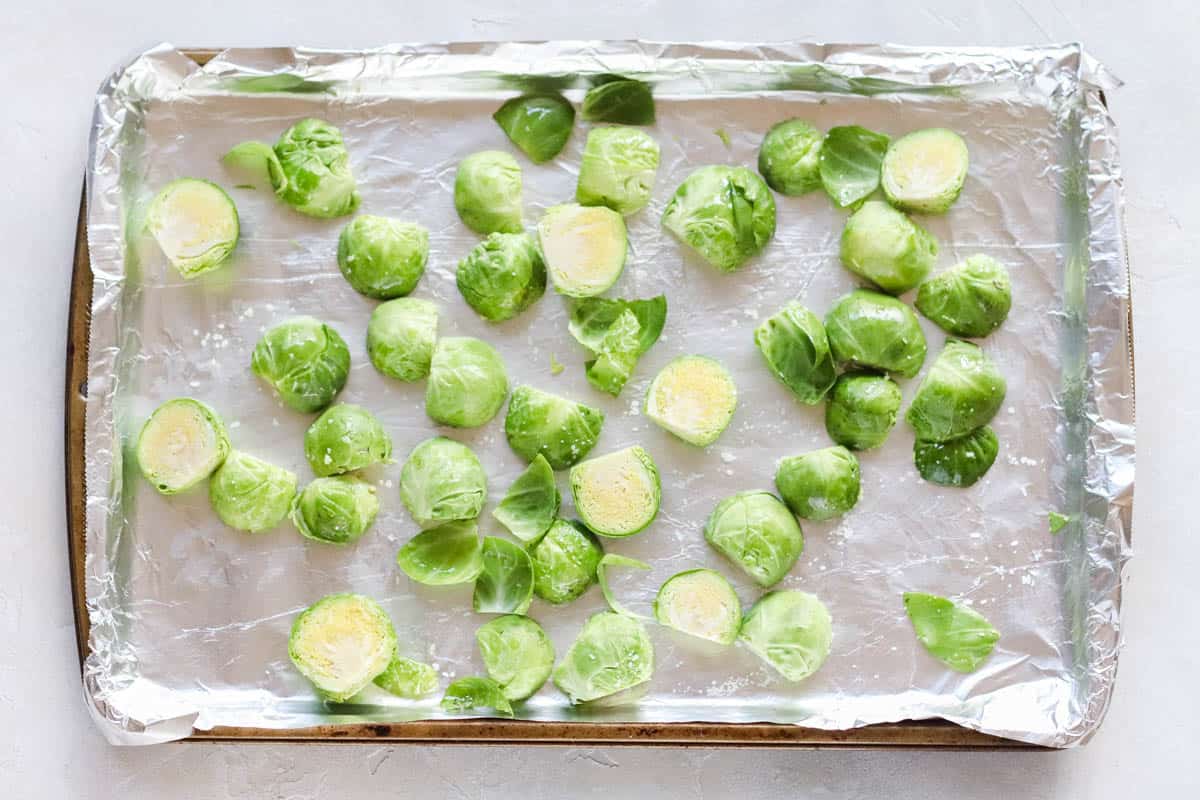 Brussels Sprouts Fun Facts
*Brussels sprouts are named after the city in Belgium so it's always capitalized and always plural. Even if you're just talking about one sprout, it's Brussels sprout.
*In the United States, they are grown mostly in California, Washington, and New York.
*If you are taking a blood thinner medication, check with your doctor to see if it's safe for you to enjoy them since they are high in Vitamin K. Vitamin K can make blood thinners less effective.
FAQ
Are Brussels sprouts baby cabbages?
No, Brussels sprouts are not just small versions of cabbages. They are in the same vegetable family and both are considered cruciferous vegetables with multiple health benefits. However, they are not the same plant.
Are Brussels sprouts safe for dogs to eat?
Yes, the American Kennel Club says that dogs can safely enjoy Brussels sprouts in small amounts. Be sure not to cook them with added salt, garlic, onions, or any other ingredients that are unsafe for dogs.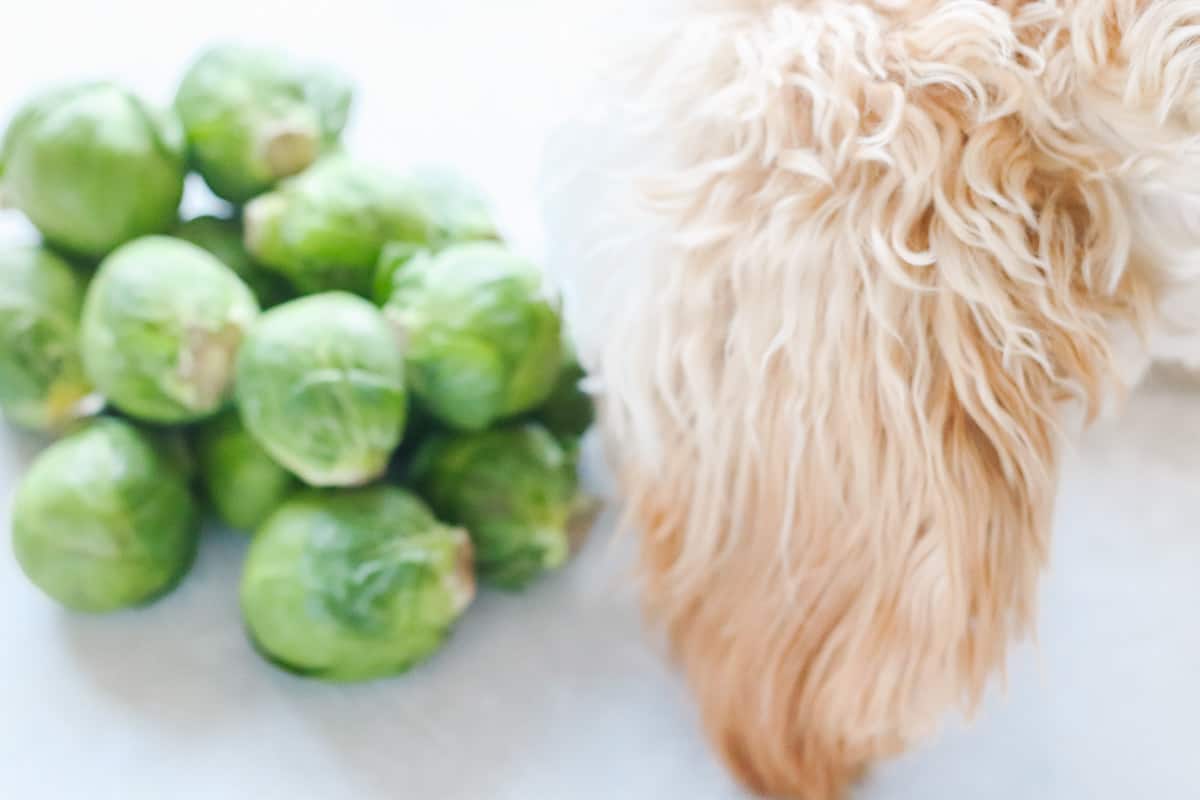 Are Brussels sprouts good for you?
Yes, Brussels sprouts are full of vitamins, minerals, antioxidants, and beneficial compounds that have anticancer
How long do Brussels sprouts last in the fridge?
Brussels sprouts last for about 7 to 14 days in the fridge. Wait to wash or prepare until just before using. However, remove any obviously damaged Brussels sprouts or yellowing leaves. Keep them in the crisper drawer.
Should I wash Brussels sprouts?
Yes, you should always wash fresh produce. It's best to wait until right before using to wash because extra moisture can cause your sprouts to go bad faster.
Cooking Tips
*Be careful not to overcook Brussels sprouts because that will release their strong sulfur compounds.
*Commonly enjoyed methods of cooking Brussels sprouts included roasting, sauteeing, and shredding to eat raw in salads.
*Boiling the Brussels sprouts is generally regarded as less pleasant. Plus, it can result in the loss of many of the Brussels sprouts nutrients and antioxidants.
*Shorter cooking times are preferred to reduce the release of nutrients as well as the smelly sulfur compounds.
Brussels Sprouts Recipes
Meme
---
Citations:
Pollock RL. The effect of green leafy and cruciferous vegetable intake on the incidence of cardiovascular disease: A meta-analysis. JRSM Cardiovasc Dis. 2016;5:2048004016661435. Published 2016 Aug 1. doi:10.1177/2048004016661435
Katz E, Nisani S, Chamovitz DA. Indole-3-carbinol: a plant hormone combatting cancer. F1000Res. 2018;7:F1000 Faculty Rev-689. Published 2018 Jun 1. doi:10.12688/f1000research.14127.1
Oliviero T, Verkerk R, Dekker M. Isothiocyanates from Brassica Vegetables-Effects of Processing, Cooking, Mastication, and Digestion. Mol Nutr Food Res. 2018;62(18):e1701069. doi:10.1002/mnfr.201701069
Jia X, Zhong L, Song Y, Hu Y, Wang G, Sun S. Consumption of citrus and cruciferous vegetables with incident type 2 diabetes mellitus based on a meta-analysis of prospective study. Prim Care Diabetes. 2016;10(4):272-280. doi:10.1016/j.pcd.2015.12.004
Abellán Á, Domínguez-Perles R, Moreno DA, García-Viguera C. Sorting out the Value of Cruciferous Sprouts as Sources of Bioactive Compounds for Nutrition and Health. Nutrients. 2019;11(2):429. Published 2019 Feb 19. doi:10.3390/nu11020429
Lim W, Jeong M, Bazer FW, Song G. Coumestrol Inhibits Proliferation and Migration of Prostate Cancer Cells by Regulating AKT, ERK½, and JNK MAPK Cell Signaling Cascades. J Cell Physiol. 2017;232(4):862-871. doi:10.1002/jcp.25494
Wisconsin Department of Public Instruction
American Kennel Club https://www.akc.org/
Nutrition Data for nutrition facts